Thirty years after the inception of Đổi Mới, Vietnam is night and day compared to its former self. Following the tragedy of war, this 1986 economic reform wholly transformed the country into what it is today, affording drastic change to the Vietnamese public through trade and open-door policies.
The generation of young Vietnamese born around this time have grown up in a fundamentally different country than their parents. As Vietnam continues to grow and change, these young people – some of the country's leading contemporary thinkers and innovators – are moving their nation forward.
This is how the concept behind The Renovation Generation, a new podcast featuring interviews from those born after the dawn of Đổi Mới, began for storytelling duo Eliza Lomas and Fabiola Buchele. Released every other week, the podcast tells the personal stories of young Vietnamese, touching upon topics of love, passion, freedom and boundaries in the context of digital evolution, globalization and capitalism.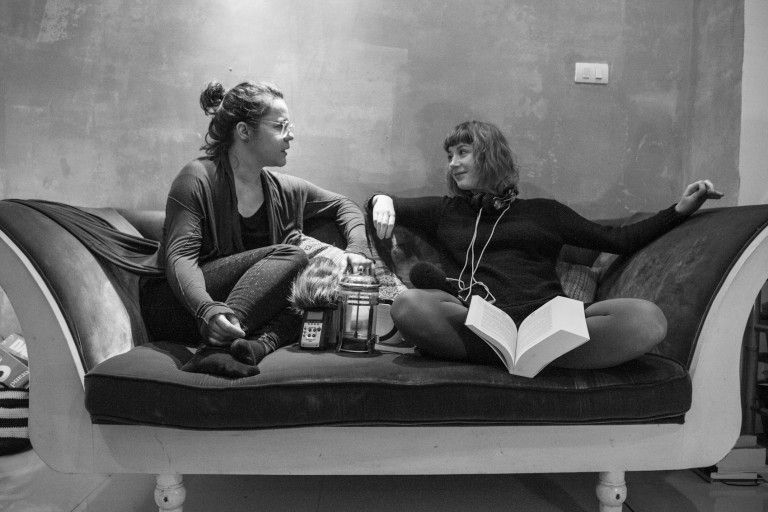 At first, the pair had only a blur of an idea about making their own podcast. "One day we sat down, talking to our Vietnamese friends, and the idea of Renovation Generation came out," Lomas tells Saigoneer.
Now three months old, the podcast has grown, prompting its creators to branch out into new themes and expand their storytelling efforts.
"Our goal is to diversify the breadth of stories. We don't want to say: 'These people all think this, all do this, or this is how Vietnam looks,'" Lomas says. Instead, The Renovation Generation combines journalism, storytelling, interviews and editing to create a non-topical platform. There is no sarcasm or scandalizing but rather a genuine intention to communicate information and a wish to understand.
Before moving to Hanoi, Lomas worked for a radio company in London. Upon arriving in the Vietnamese capital, she wished she could do something similar.
"With this podcast, it's very free since we can do what we want whereas in London, we made one-hour show with specific purposes and it had to include this or that question," says Lomas. Her interest in storytelling coincided with Buchele's interest in radio. It's been a steep learning curve for both as they start to get better at writing scripts, making sounds and formulating good questions and answers. Neither of them had any idea how disruptive the podcast would be to their lives.
Each podcast is normally 10 minutes long, however it involves a two-hour interview and three working days to create the finished product.
"There's so much work. It's stressful because I'm a huge perfectionist," Lomas explains. "Sometimes you interview one person in a month and don't interview them until next month."
However, both believe it's worth the effort, as they get chances to meet many interesting people who "are not necessarily the ones we read a lot about".
"Fundamentally, they're just artists [or] poets but being Vietnamese also keeps them in the box of being interesting," says Lomas. The pair see that rather than the influence of western culture, the massive changes of Đổi Mới lie in the exposure of the internet and job opportunities that have never existed before.
"Lots of [our interviewees] have never left Vietnam," explains Lomas. "They take influences from the internet or the TV in the same way that everyone around the world does.
"I think the changes here are not as basic as western or eastern culture. Like Nguyen Hoang Giang says [in episode 3], he takes influences from Korean or Japanese pop culture, communism or capitalism. It's all like a mess together. Or Duong Bui talks [in episode 4] about keeping her rituals that she always prays to the altar before her band performance and holds a strong belief in making her ancestors happy," Lomas continues.
As there aren't many English-language podcasts coming out of Vietnam at the moment, The Renovation Generation doesn't target any specific audience.
"The best thing so far is when our listeners, either Vietnamese or their friends, listen to the podcasts they feel thankful, like 'finally, I can hear cool radio pieces of someone who shared my experience,'" says Lomas.
While Lomas and Buchele have worked out the kinks in their podcast, they still consider it a work in progress. "When we looked back at the first episode, we knew we have made a huge improvement," says Lomas. "We also have two Vietnamese assistants who we wish to pass some skills onto to keep this as a long-term project."
[Photos via The Renovation Generation]