Nguyễn Văn Tỵ's family claims he never produced the lacquer screen of a jackfruit tree that was recently put up for bidding.
Sotheby's Hong Kong recently listed 'L'image traditionnelle d'une maison de paysan' by 20th-century painter Nguyễn Văn Tỵ with an expected sale price of HKD700,000–1 million (US$89,000–128,500) as part of the Modern Art Day Sale, which ends on October 10. The listed work comprises three panels that make a wooden screen.
However, Nguyễn Bình Minh, the painter's daughter and a former deputy director of the Vietnam Fine Arts Museum, says it is not an authentic piece.
Minh claims her father, who passed away in 1992, only painted one work focused on a jackfruit tree, the painting 'Nhà tranh gốc mít' (1958), and that the award-winning piece has been held at the Vietnam Fine Arts Museum in Hanoi since 1960. While the listing for 'L'image traditionnelle d'une maison de paysan' connects the two, she says it is not so.
The auction house did not include information on how the work came into their possession, just that it belongs to a "private French collection."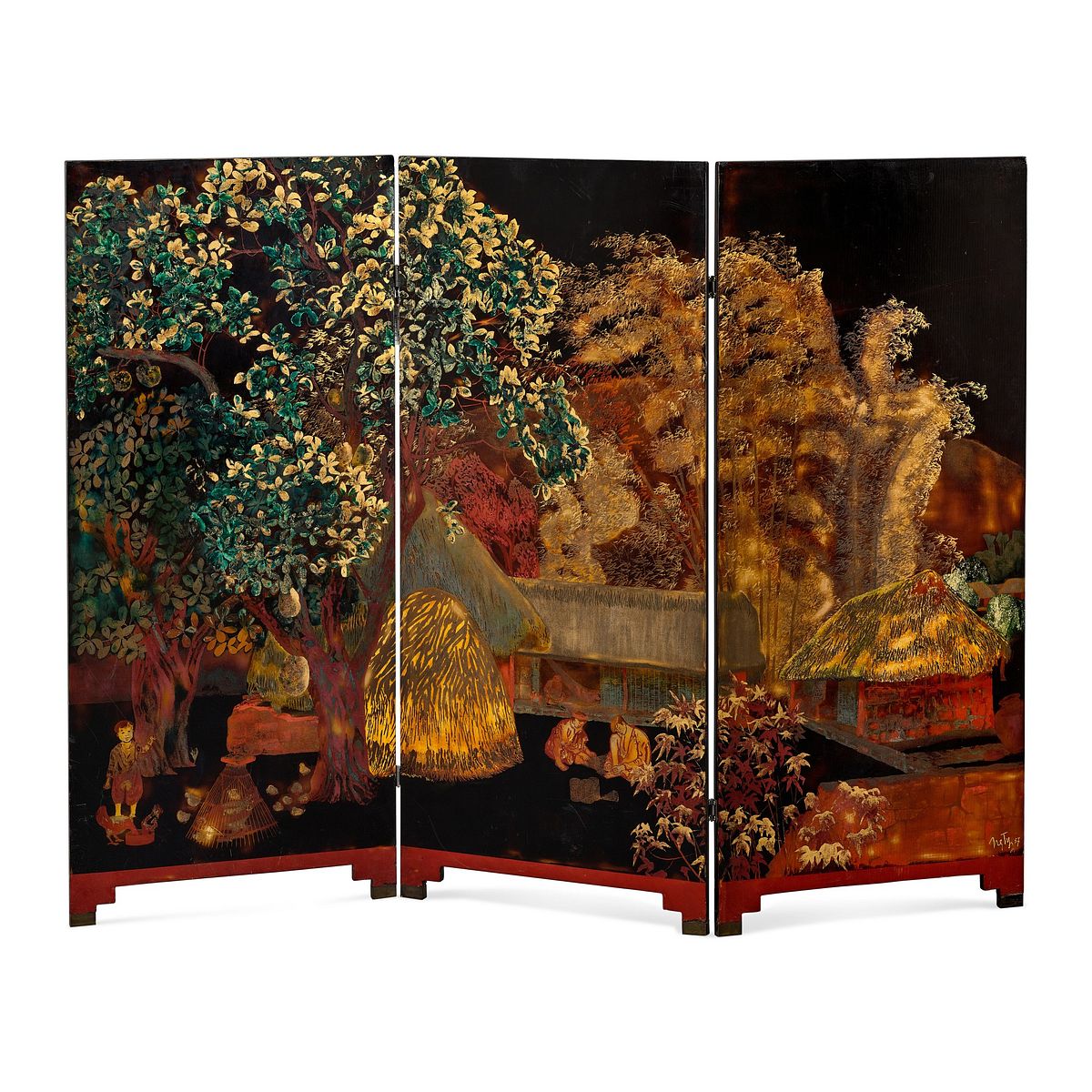 Both Minh and art researcher Ngô Kim Khôi noted how the work currently for sale differs in style, including the vibrancy of color and number of panels, from his typical work as proof of its inauthenticity. Vietnamese art curator Ace Lê adds that he finds it curious that Sotheby's made no attempt to contact the family in the lead-up to the sale.
Unfortunately, the suspicion surrounding the painting does not mean the work is being removed from the auction. Minh has said her family has no plans to contact the prestigious auction house, and Khôi questions how productive such a move would even be.
"Many auction houses just ignore the request. There is nothing we can do about it. In Vietnam, there is no organization or strict and clear laws to protect artists' copyright. That's also the reason. There are many faked paintings of the Indochina period. The auction floor is just like a market. If buyers have money, they will just sell it," he explains.
Minh said that the Vietnam Fine Arts Museum is tasked with assuring an artwork's authenticity, though neither the family nor the museum is interested in dealing with the auction house. She simply wants the public to be aware of the issue.
Sotheby's has not commented on the situation.
While Vietnamese artists have broken sales records at auction in recent years, fake works plague the industry. In 2019, Sotheby's Hong Kong removed two paintings incorrectly credited to Vietnamese artists, and others remained in question.
[Images via Sotheby's Hong Kong]