As a Saigonese who has lived abroad for half of her life, I have a huge craving for hủ tiếu khô (dry noodles), my go-to breakfast meal and a dish my family always made sure to get on our way to my mother's hometown in the Mekong Delta. Something special about the combination of the rich rice noodle, bone broth, and pork slices made us return for more. Though I later moved to the US and was exposed to other versions of dry noodle dishes and flavorful cuisines from different parts of the world, the memory of savoring a rich and topping-full hủ tiếu khô bowl from the motherland still remains in my mind.
Before I returned to Saigon, I started scrolling through social media posts for hủ tiếu places that are worth a visit in the city, hoping to find that familiar taste of the past. A month later, I was sitting on a bustling Trần Bình Trọng Street sidewalk with new friends from Saigoneer, ordering noodle bowls at 9pm. The hủ tiếu treat was the last thing on our bucket list for the night. However, for the owner and staff of this Hủ Tiếu Heo Gà eatery, their work day had just barely started. This bustling sidewalk noodle shop is one of the few eateries that open throughout the night to satisfy past-midnight cravings of local late-night owls.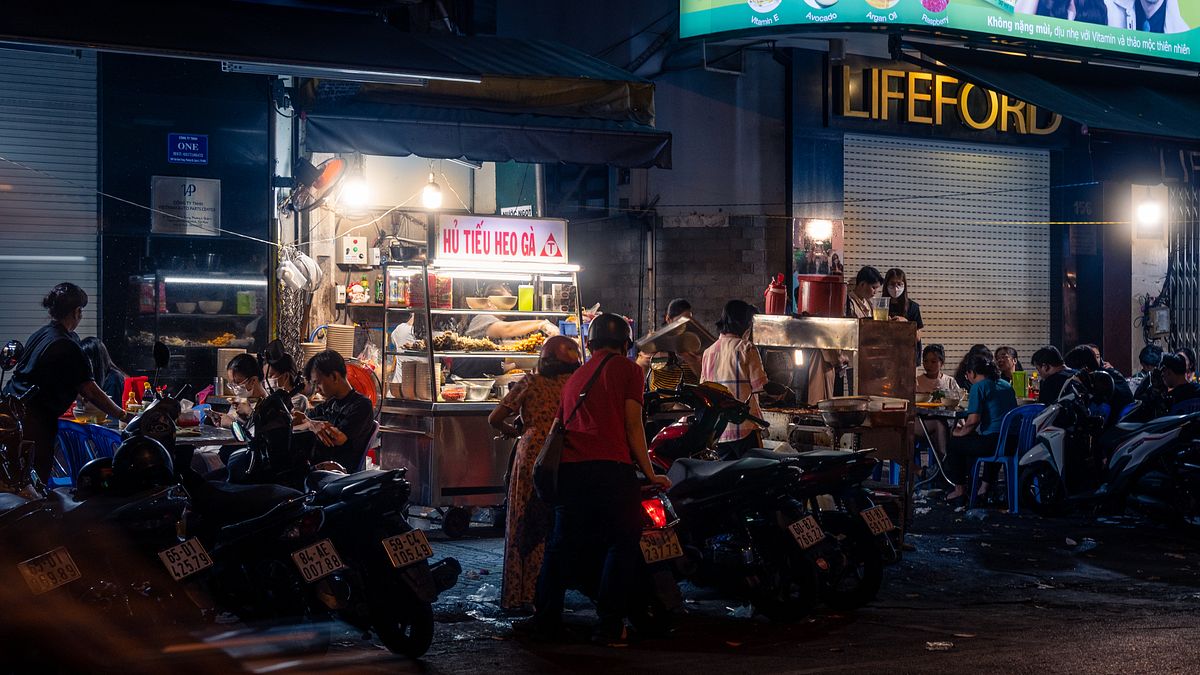 From the outside, it looks just like any ordinary outdoor noodle shop on the streets of Saigon — used napkins scattered around the floor, rows of metal tables and blue stools spanning the narrow sidewalk, and busy staff running up and down the aisle to service customers. Still, the eatery attracts a large number of people every night. The noodle place is open from 6pm to 4am six days a week and attracts so many customers that latecomers sometimes have to stand waiting to be seated.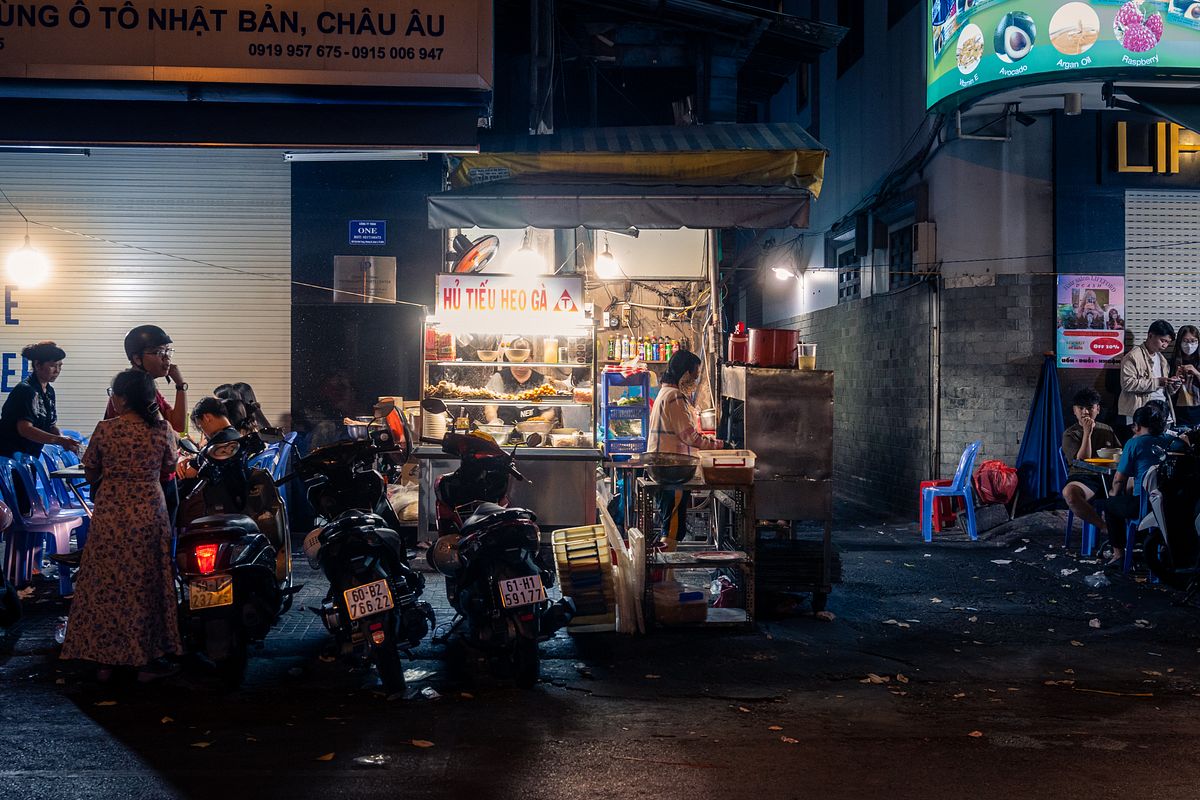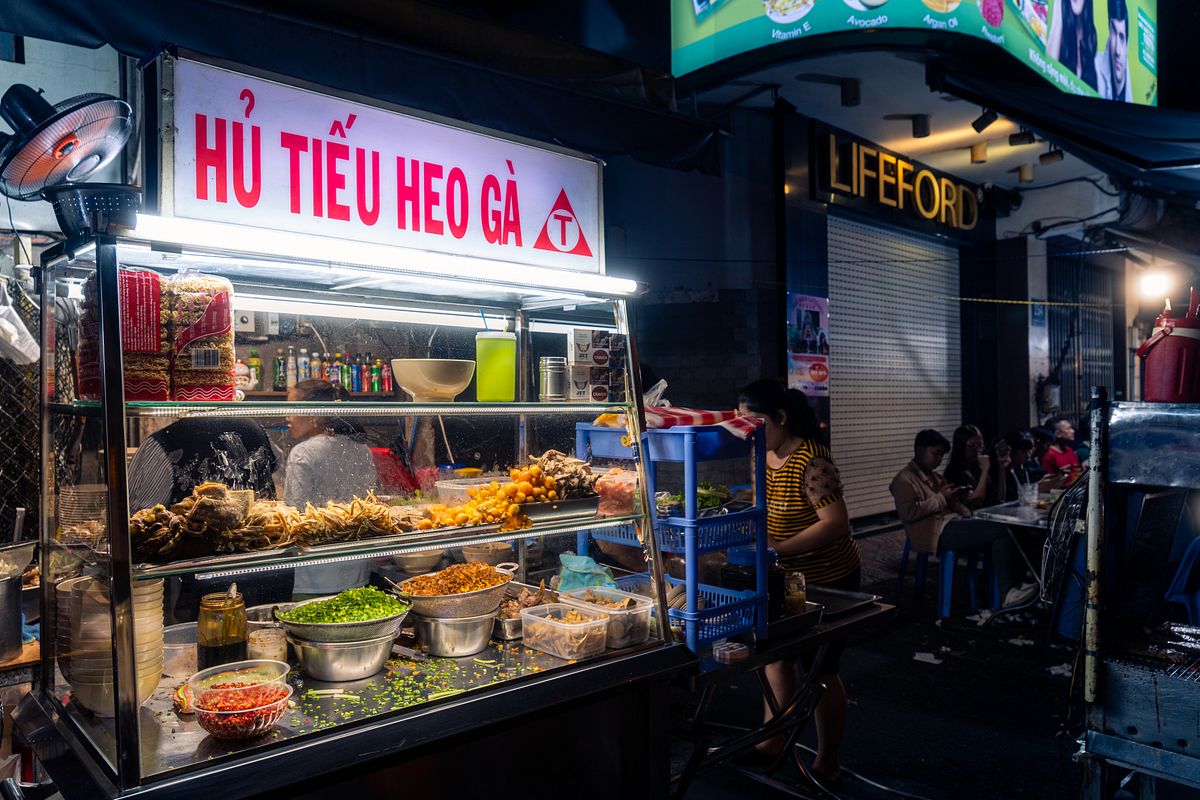 The eatery serves bánh canh, miến, nui, mì sợi, or mì gói in both dry and soup versions, but it is mainly known for its hủ tiếu heo (pork noodles) and hủ tiếu gà (chicken noodles). Hủ tiếu heo comes with topping options such as heart, liver, throat, tongue, stomach, lean meat, ham, and short ribs; while hủ tiếu gà can be served with shredded or chopped meat along with young eggs and chicken intestines. Most customers who come here opt for a "full topping" noodle bowl with a generous offering of pork and chicken intestines, meat, and a large serving of noodles.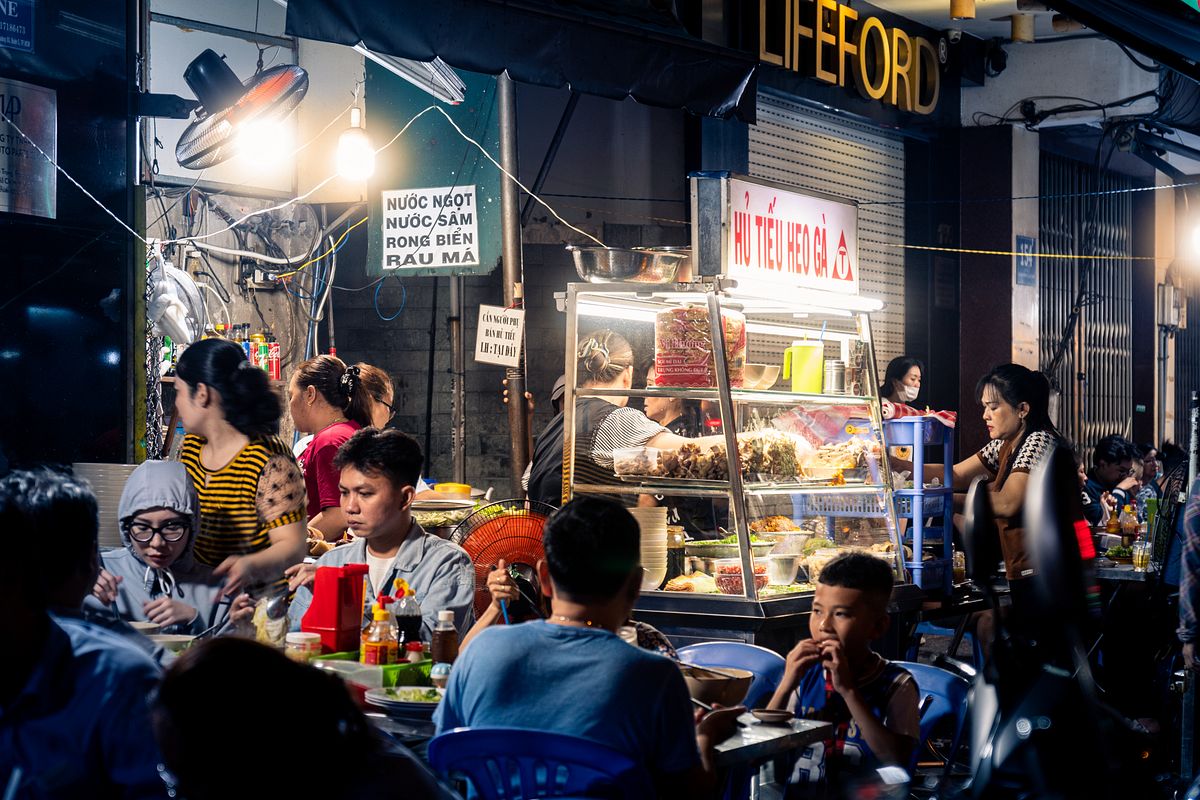 Besides satisfying people's cravings, this sidewalk noodle shop is famous for testing its customers' patience. It usually takes 25–45 minutes from when one places an order to when the food is served. Most people come here with a waiting mentality, so if you have an impatient member in your group, it might not be the most suitable stop to relieve your late-night hunger. On the other hand, if you are in for a fun challenge, the final reward won't disappoint. After all, patience is the secret to good food.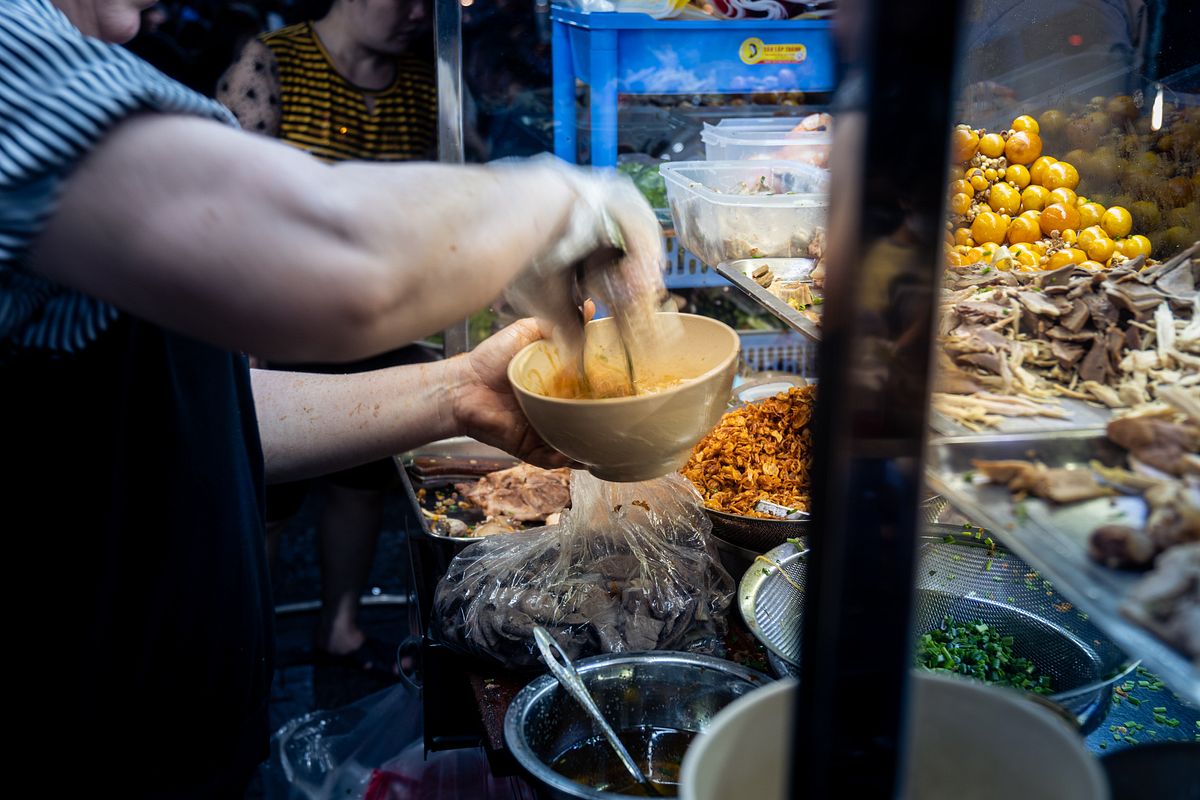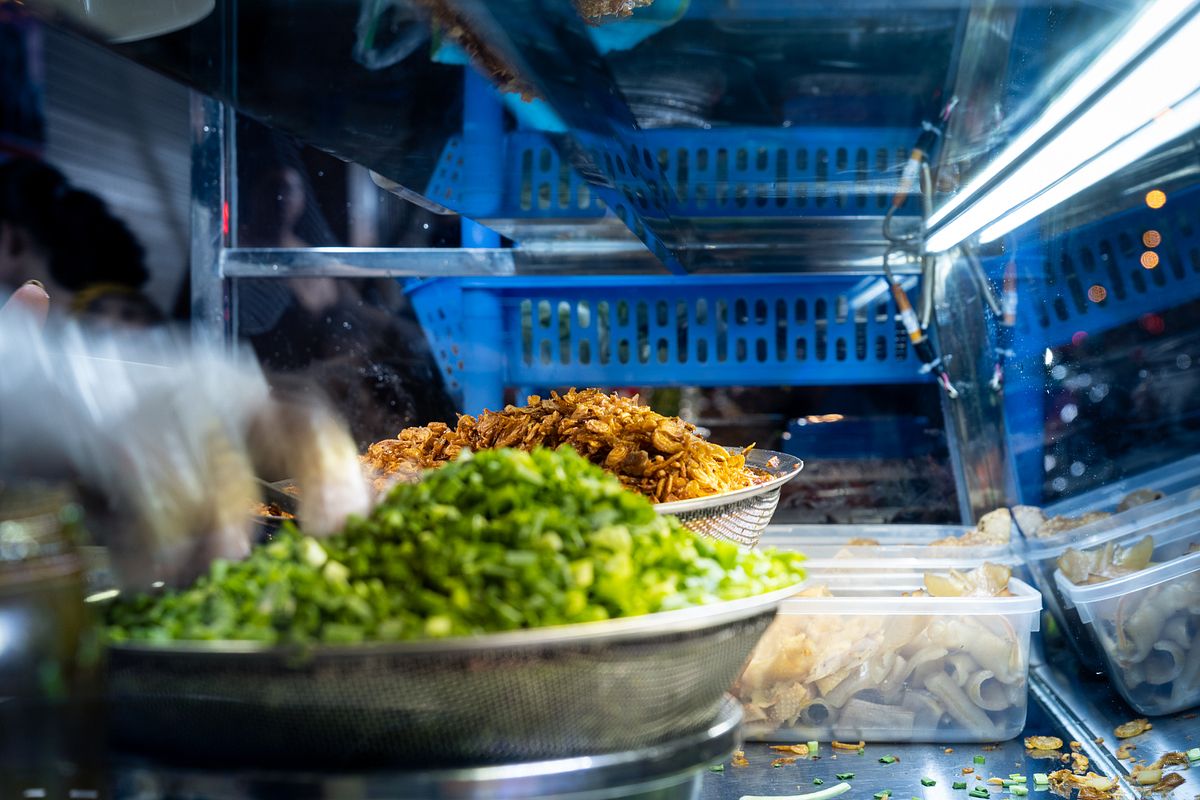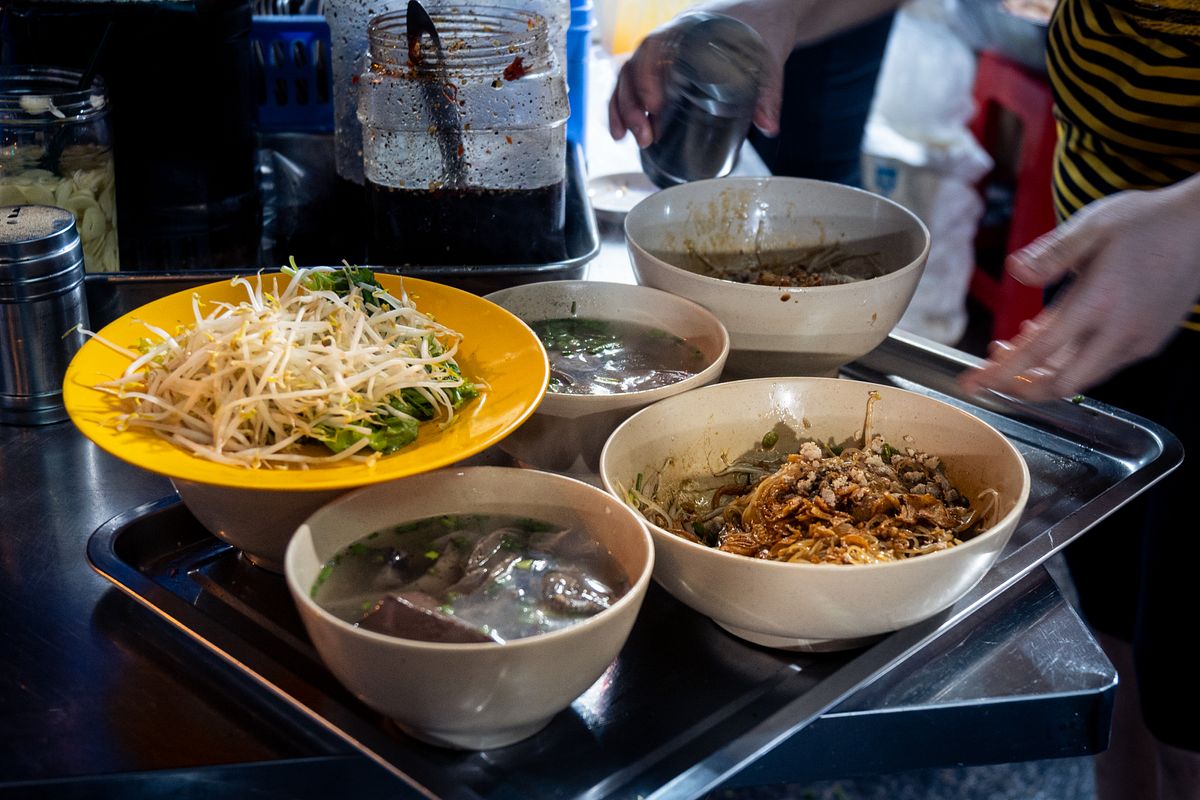 During our visit, most customers at nearby tables seemed not too bothered by the long wait. Some people casually scrolled through their phones to kill time, but the rest took this moment to catch up with friends and family members. The noodles came when they least expected it, as a reward for their patience.
The wait was short for us. Our food was brought to the table 25 minutes after we ordered. The "full-topping" dried noodle bowls overwhelmed our eyes with a layer of pork meat and intestine slices on top of a thick noodle bed. The noodles wear a proud brown-orange coat of the owner's secret family sauce. Shades of white from boiled bean sprouts, green from onions, and orange from minced pork add more to the appetizing look of the dish. The seasoning and extra sauce can make the dish oily, but customers can enjoy the noodles with fresh salad leaves to counter the heavy seasoning.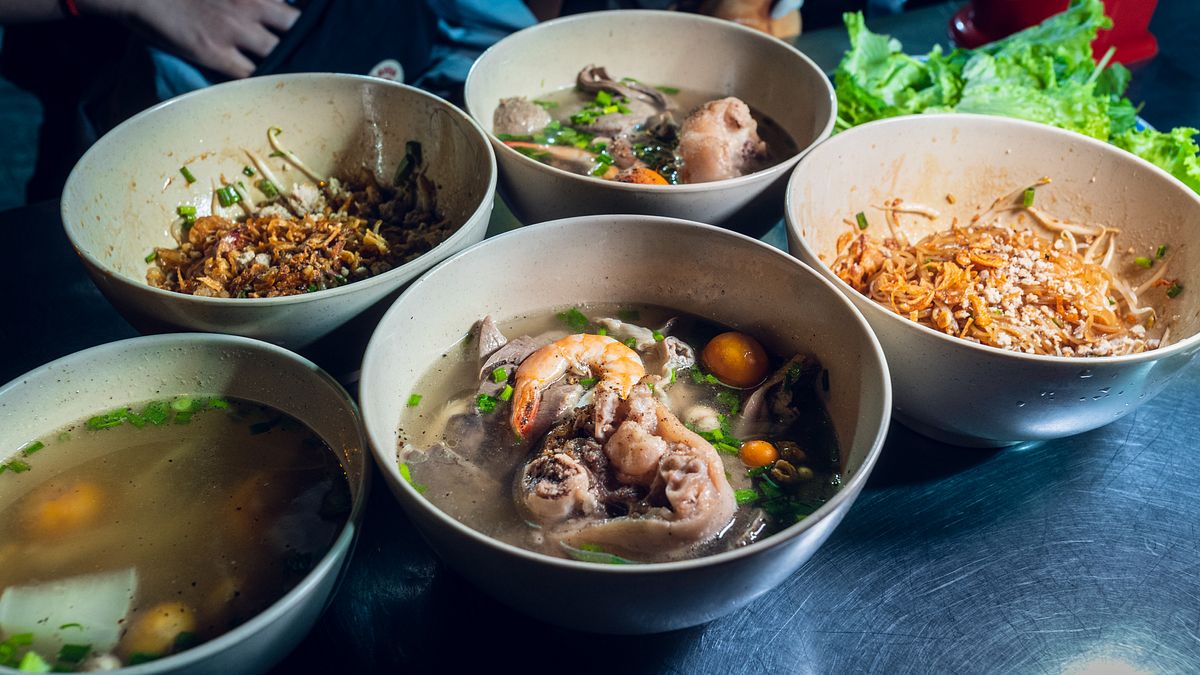 The bowl of hủ tiếu khô here is incomplete without the dipping sauce, made of soy sauce, fish sauce, and lemon juice with chili and pepper. Mixed with a perfect ratio, the sauce effectively enhances the natural flavors of the accompanying protein toppings, the citrusy lime in the broth, and the richly mixed dried noodles.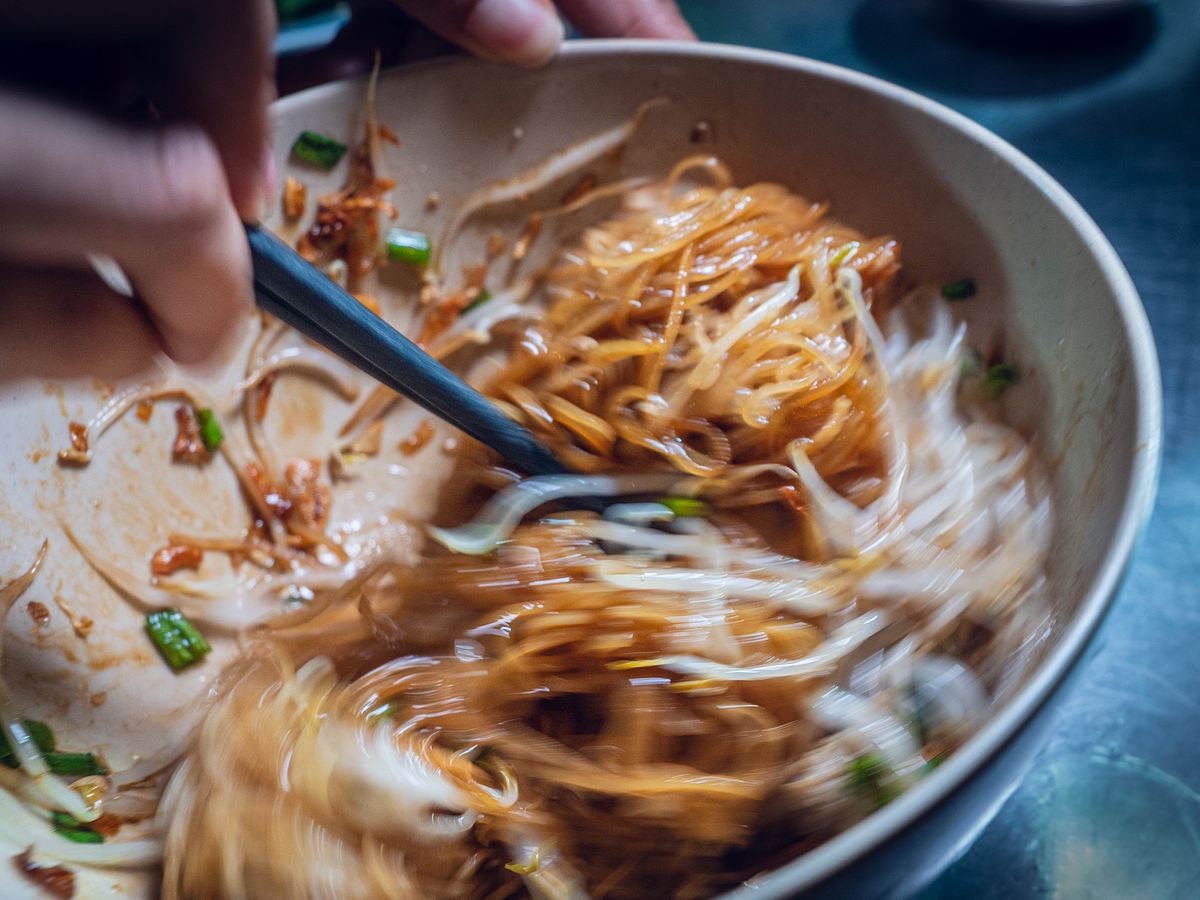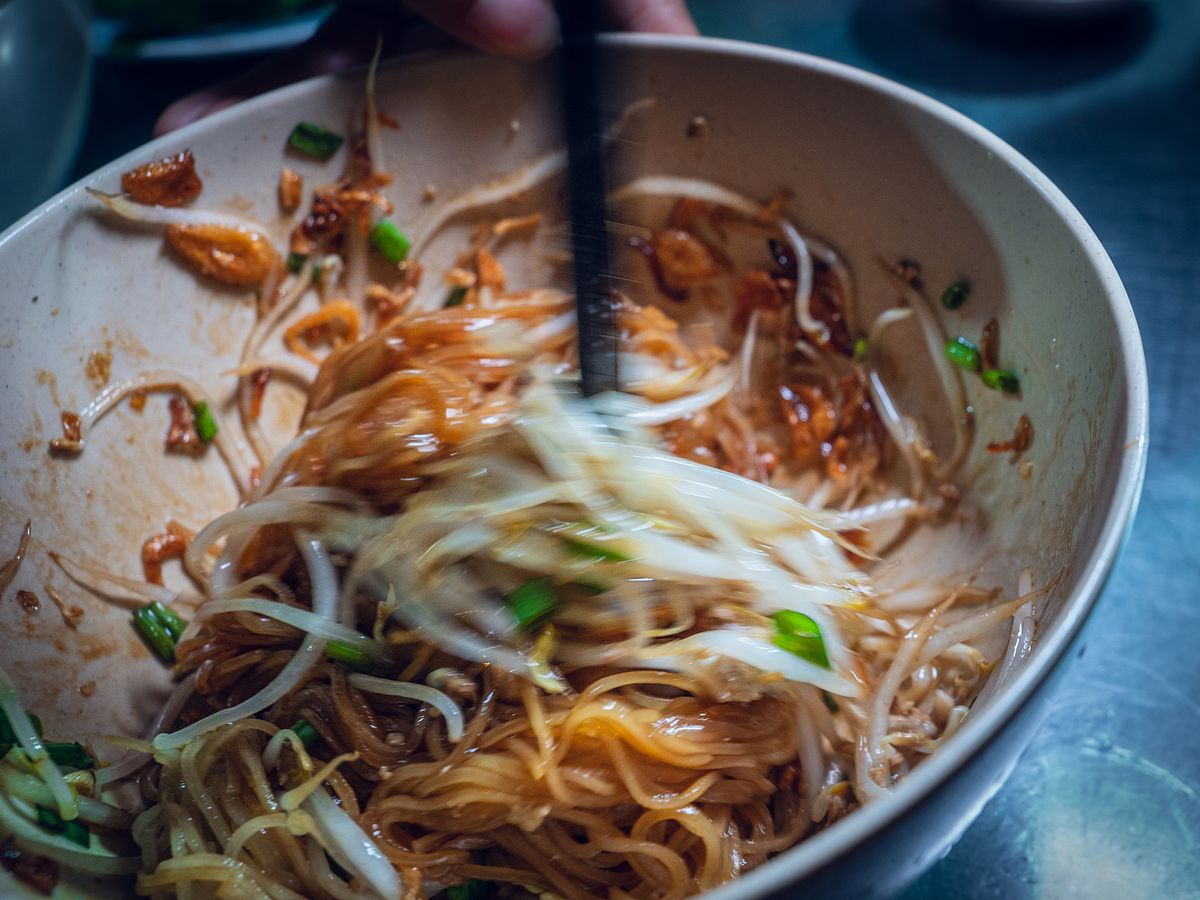 I meticulously mixed the hủ tiếu to let the sauces soak into every layer, and took a bite. There it was — the taste I'd been looking for — a combination of the rich sauce and citrusy, chewy noodles with crunchy bean sprouts and fried onions. I immediately felt at home in Saigon. The hủ tiếu khô bowl welcomed me back with unexpected flavor varieties. Unlike the typical dry noodle bowls with sweet broth that I've tried in the past, the accompanying broth is well-seasoned and tangy, with a rich, delicious taste of the cooked bones. The saltiness from the broth delicately complements the chewy dried noodles, creating a healthy balance that might please even the toughest customer. In addition, the diversity in toppings, especially with the extra three young eggs and toppings, allows one to be more creative in creating every subsequent bite.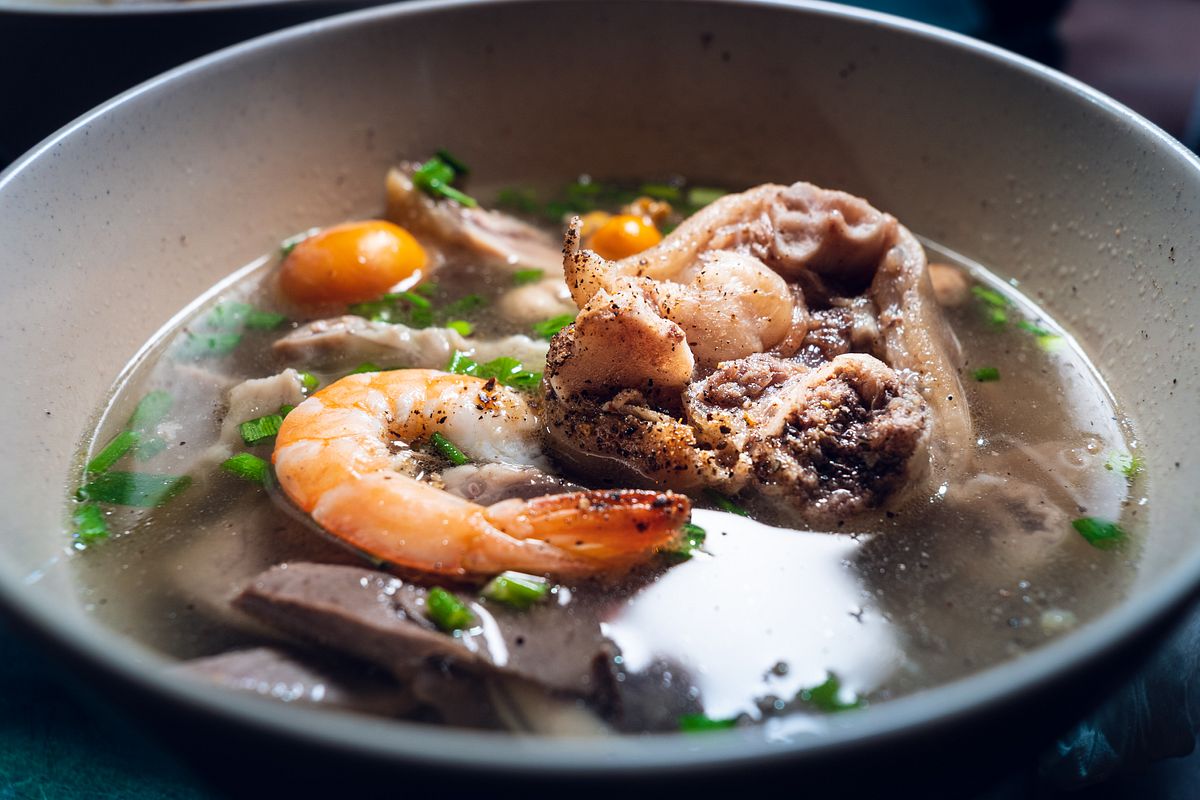 This hủ tiếu isn't meant to be enjoyed alone. It's better when you come with someone who is down for the mini waiting challenge. The mutual suffering from temporary starvation can definitely make the hủ tiếu taste better, and the wait might not feel as long. If you happen to wander around Saigon past midnight or have just arrived here for the first time, this is a noodle shop worth visiting for some late-night meals and warm company.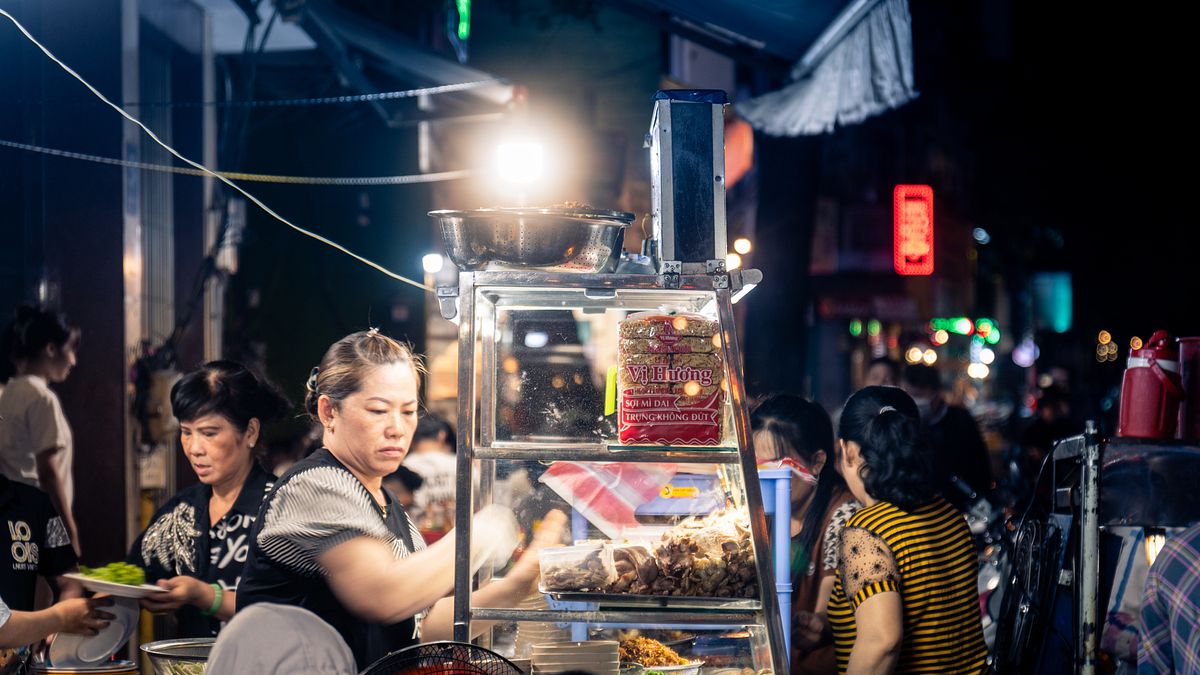 Hủ Tiếu Heo Gà is open from 6pm to 4am from Monday through Saturday. The shop is closed on Sundays.
To sum up:
Taste: 4/5
Price: 4/5
Atmosphere: 5/5
Friendliness: 3/5
Location: 3/5
Huong is a native of Saigon, hailing from the burnt, dry state of California, with a big smile and a bigger passion for travel, food, and cultural exploration.
Hủ Tiếu Heo Gà
160 Trần Bình Trọng, Ward 3, D5