After warming up our tastebuds with last week's bột chiên, we continued exploring the wonders of Thi Nghe's evening street food scene. Amid the sinh tố shops, snack carts and rice stalls, my nomming companion and I set our sights on the eye-catching bún thịt nướng operation at 38 Huynh Dinh Cua.
Why eye-catching, you ask? Because the place looks more like an assembly line than a street stall. A group of women sit outside the old, narrow house at number 38, each with their own plastic stool and a single task. Alone, their ingredients – bún, chilis, grilled meat, fresh vegetables – don't mean much, but together they form one massive, coma-inducing bowl of delicious bún thịt nướng.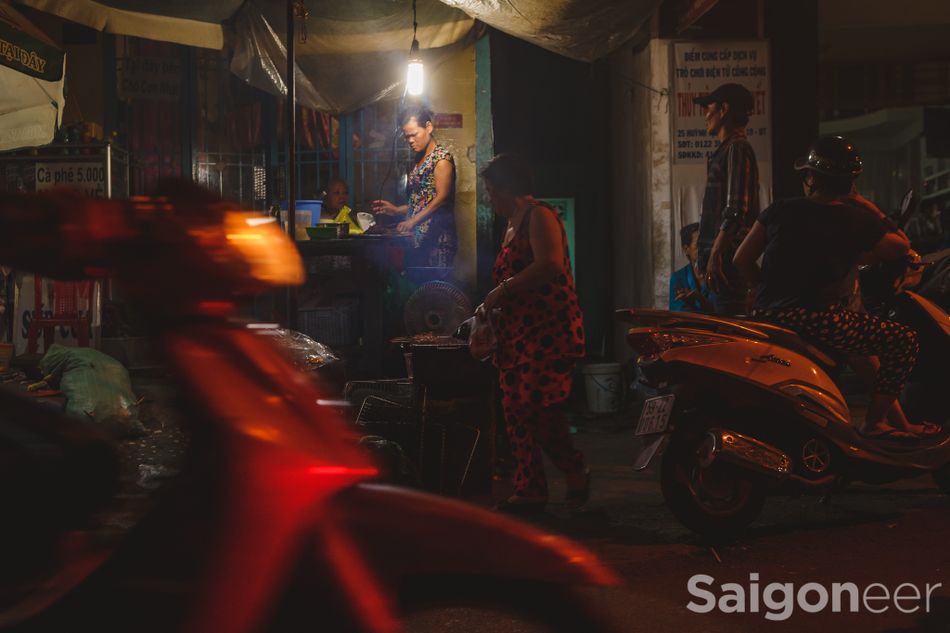 It starts with the bún distribution woman on the right, loudly chatting with her veggie coworker behind her, while the nước mắm lady and the barbecue attendant have a deep conversation with their corn-selling neighbor about housework. Each bowl is passed around, a different woman adding new ingredients to the mix.
While the operation is pretty impressive as a whole, my stomach is more attracted to the homemade barbecue off to the side. There's too much going on to turn away: the imperfections of a crooked metal stand, the burns and blemishes leftover from long-time use, the sizzling of pork on a stick, the smell of coal, the heat coming off the grill...I could go on.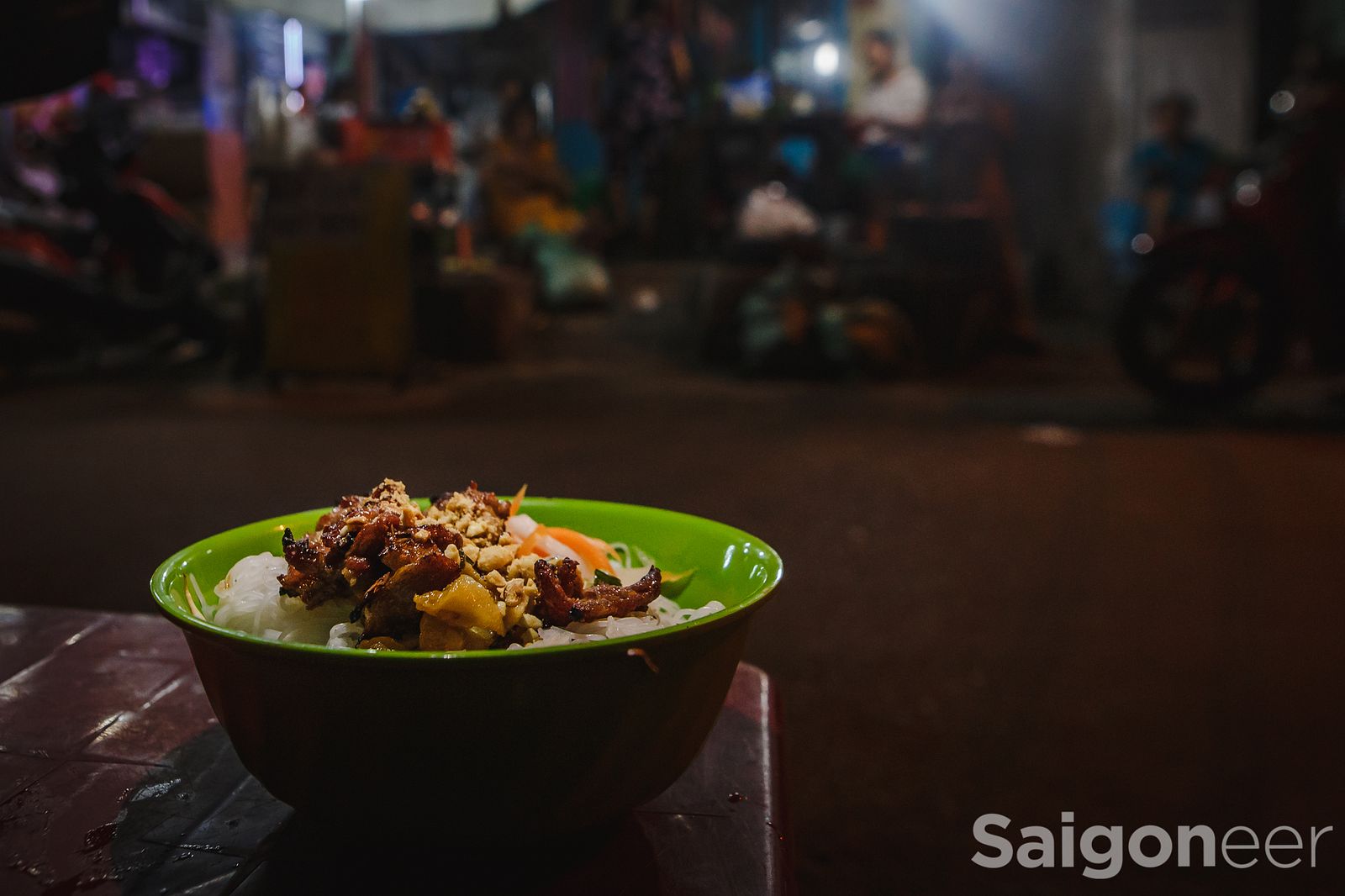 As we perused our other options, I was pleased to discover that my companion was equally fixated. The bún thịt nướng ladies, it turns out, were happy to see us, too. After a few photographs and some schmoozing, they even let us put a Saigoneer sticker on their house.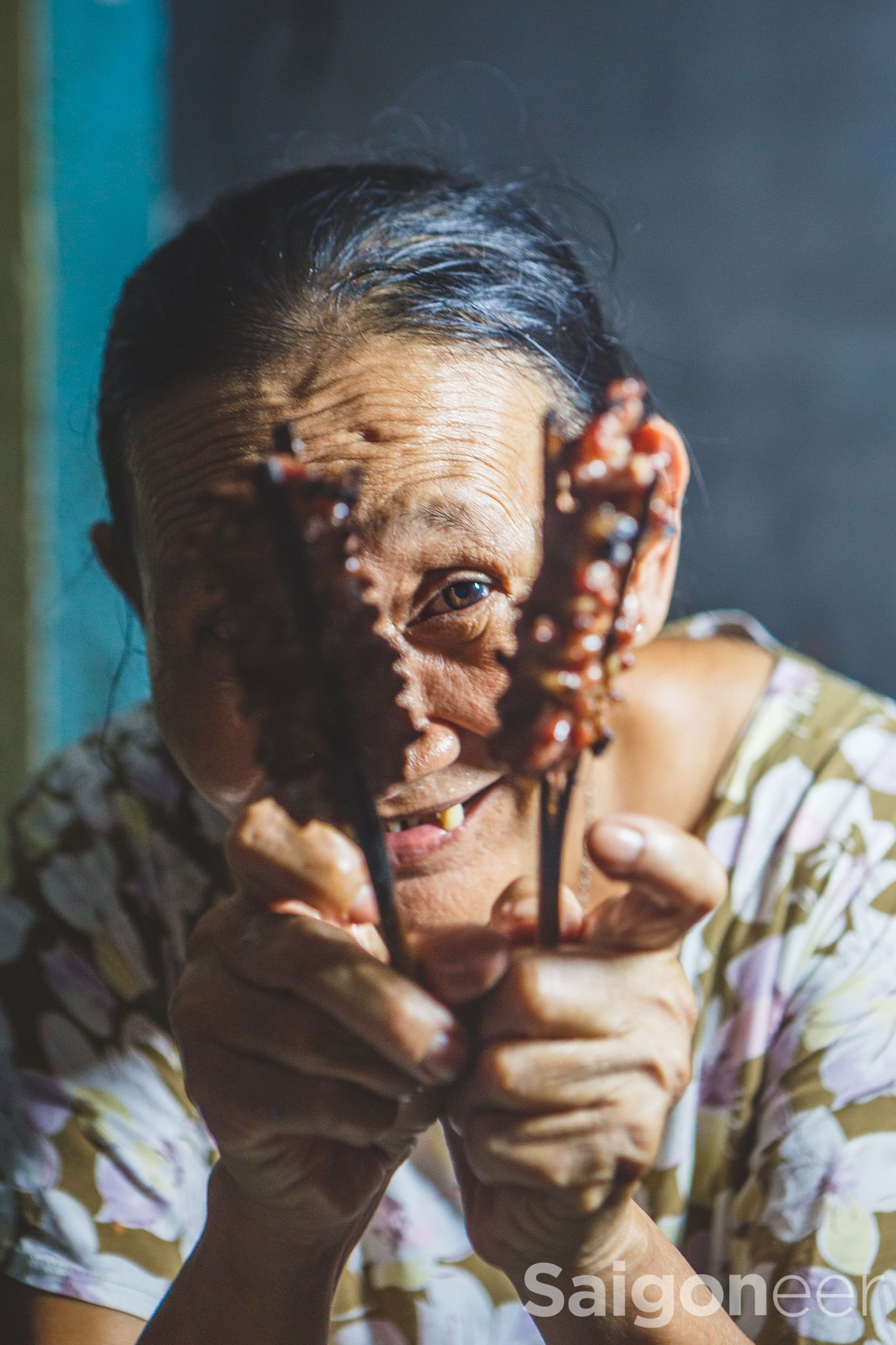 But our true mission was to eat. After bingeing on last week's bột chiên, we ordered a single bowl to share and it left me craving more. The barbecued pork was hot off the grill, the veggies were fresh and the bún just the right consistency. Topped with crushed peanuts and drowning in fish sauce, the meal was a perfect end to a beautiful evening of snacks.
To sum up
Taste: 5/5
Location: 3/5 – It's a really busy catering set up, the lighting isn't great and the tables are old and cracked, so best to order take away.
Friendliness: 5/5 – Not shy at all; they even held a loud argument as we ate.
Price: 4/5 – VND35,000/bowl
Atmosphere: 5/5 – Smell Saigon's essence in the air.
Núm is a street food addict who has been eating his way through Saigon for 25 years.
Bún thịt nướng
38 Huỳnh Định Của, Q. Bình Thạnh