Some may say that good things in life come when you least expect them, and from my encounter with this week's Hem Gem – curry fish balls and noodles – you can count me in as a firm believer in this particularly Hakuna Matata-esque philosophy.
Like all good stories in Saigon, it started with the rain, brought to a climax by a lack of raincoat, and ended in delicious food. One Saturday evening a few months ago, I was out running errands on Nguyen Trai when Saigon's fickle weather caught me off-guard.
The overcast sky turned murky in a matter of minutes, and before I could come up with a course of action, I was drenched. Like any level-minded Saigoneer, I did the best thing I could do: swerved into a hẻm, parked under someone's canopy and prayed they wouldn't shoo me away. And that's the story of how I met curry fish balls and noodles.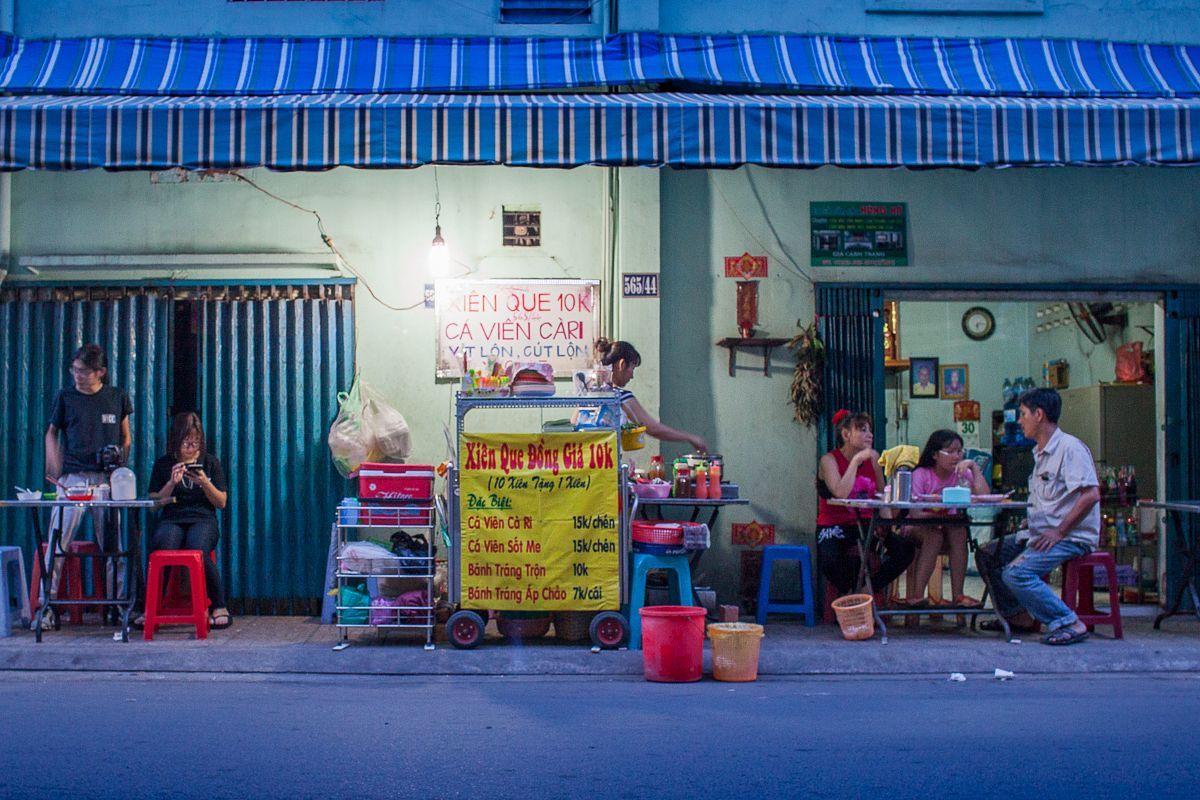 The lady, whose name I still don't know, didn't shoo me away. On the contrary, she graciously offered me a seat to wait out the early May shower. I must have looked like a mess judging by the wary look on the existing patrons' faces. Feeling guilty for taking up a seat in the stall's limited table settings and attracted by the fragrant aroma of the curry broth, I ordered a hot bowl of curry noodles, merely in the hope that it would warm me up in this dreary weather.
It turned out to be unbelievably good. The curry broth was sweet and rich in coconut milk. The sprinkle of rau răm (Vietnamese coriander) and sa tế (chili oil) added a tangy kick, balancing out the richness nicely.
Recently, I came back to the place – this time sans guilt and soaked jeans – hoping to experience once again that warm feeling in my heart while sipping coconut-y goodness on a rainy day. The stall was half set up when I arrived at five in the afternoon, but the lady was nowhere to be found.
"Bánh ướt, bún bò or curry?" asked another lady, who was manning the bún bò cart next door. I reluctantly pointed to the crusty whiteboard on the wall, serving both as an address plate and menu for the curry place. The bún bò lady casually motioned for me to grab a seat, sashayed into the alley next door and yelled out: "Quickly! Get the fish balls out; you've got a customer." It must be a common occurrence, this casual shrieking, because nobody batted an eye.
As I sat waiting for my fish balls, I realized that the hẻm looks completely different in this setting. In sunlight and dry weather, it was bustling with activities. Traffic never seemed to stop zooming by the alley, a crowded connector between Nguyen Trai and Tran Phu, both one-way streets. It's relatively large, with one car and three motorbikes fitting snuggly along the hẻm, even with a plethora of food stalls eating up the meager 1.5 meters of pavement. With my back to the wall and my hands on a cold bottle of root beer, I could sit there all day just people-watching, fish balls notwithstanding. Yet right at that moment, the curry lady arrived, with packets of… frozen fish balls.
"Sorry for keeping you waiting, but you were early. Usually we only finish setting up at 6pm," she said. She didn't remember me, of course, which saddened me because once upon a time I had made such a strong emotional connection with her curry noodles.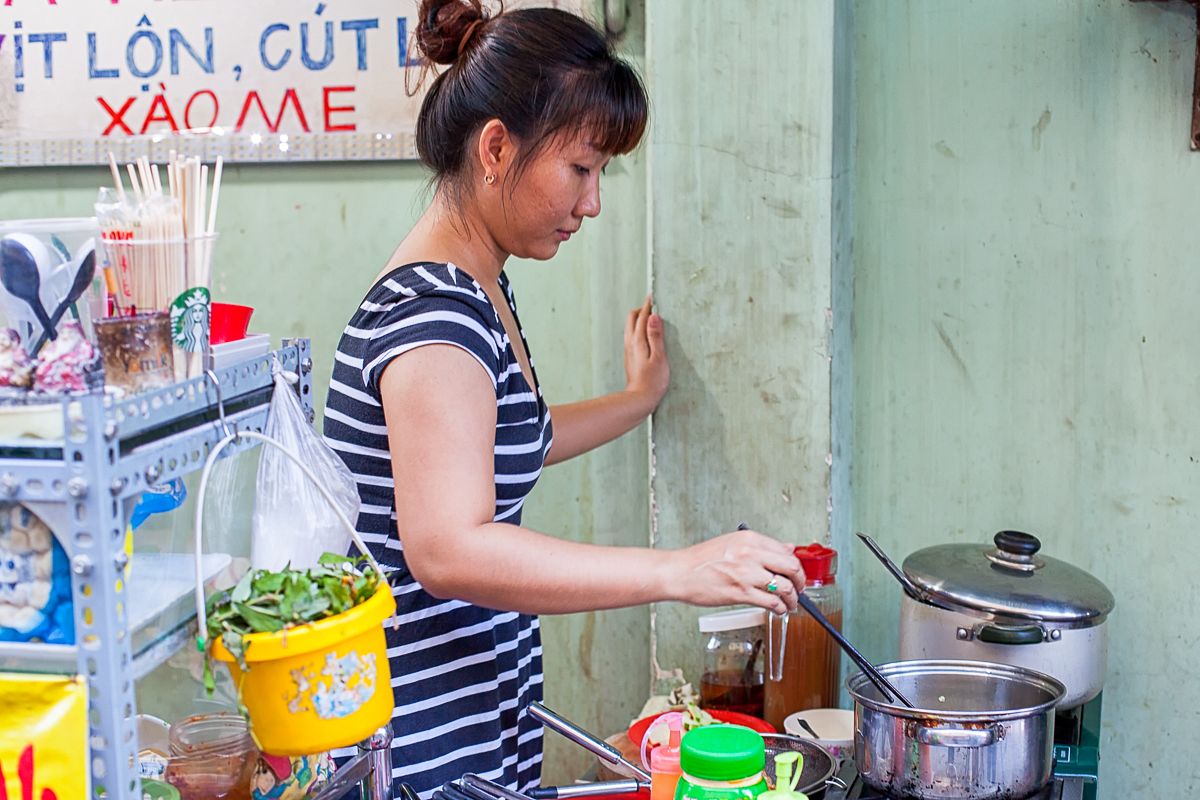 I ordered the noodles, this time adding a portion of stir-fried fish balls with tamarind sauce to my order because I can't say no to anything tamarind-related. She nodded and cooked up a storm while humming the soundtrack of a popular Hong Kong TV series to herself. In 10 minutes, my after-work snack was served, and I couldn't wait to take a sip.
Except the magic was gone. It was the same curry broth, complete with fish balls, blood pudding, chunks of okra and a healthy sprinkle of rau răm, but this time I found the broth a tad watery and the fish balls mediocre. Perhaps this was partly because I saw where they came from: straight out of that frozen packet. Or perhaps it was because of the lack of Saigon's signature shower.
Overall the dish was good, especially at only VND20,000; a decent alternative if you feel like curry but not the usual chicken or duck. The tamarind fish balls will set you back VND15,000 for a flavorful sweet-and-sour tamarind sauce that had me licking my spoon.
As I bid the curry lady goodbye and hopped on my bike to head home, I came up with a theory that could possibly make sense of this discrepancy in quality: the magical goodness I experienced that first time in the pouring rain was circumstantial goodness. It only happens once in a blue moon in Saigon, when all the elements line up: my downtrodden luck, her southern altruism and Saigon's signature rain. But without the rain, you might as well go home.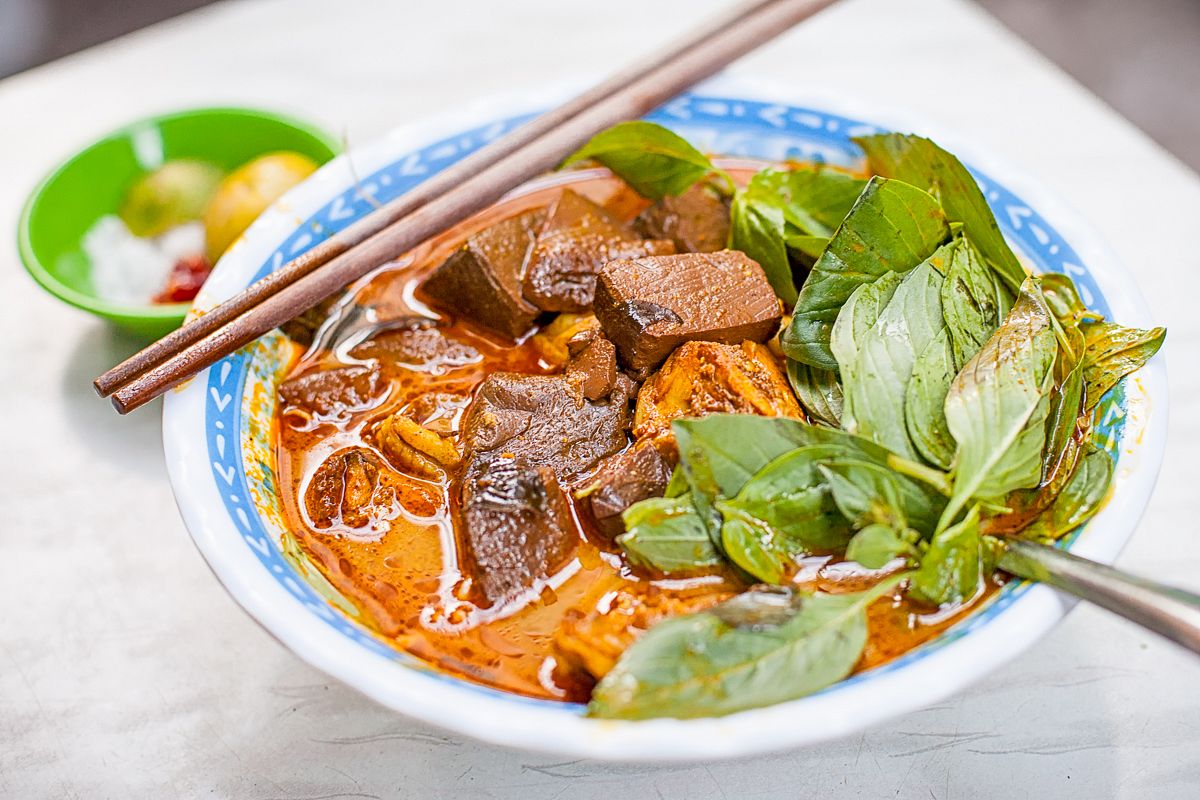 To sum up:
Taste: 3/5 – Dat tamarind sauce tho
Price: 5/5
Atmosphere: 5/5 – Great people-watching spot
Friendliness: 4/5
Location: 2/5 – Very limited number of seats
Khoi loves tamarind, is a raging millennial and will write for food.
Mì Cà Ri Cá Viên
565/44 Nguyen Trai, Ward 7, D5
---

Related Articles:
---