Just as rush hour traffic starts to pick up around me, motorbikes zipping back and forth down the wide alley, I send a message to my coworker.
"I'm here," I write. Down the street, neon signs begin to come to life, blinking and flashing.
He replies: "Wait...I'm here, too." In the tangle of alleys that populate District 4's northern edge, we've wound up at two different flan spots.
It's not hard to do. In the maze-like, food court-esque neighborhood, every nook and cranny of roadside space is occupied by another street vendor, and this area seems to be the purview of the city's bánh flan vendors.
After a quick, neighborhood-wide game of Marco Polo, we track each other down in front of Quan Quynh Hoa, a cramped corner shop facing Hoang Dieu's hẻm 195.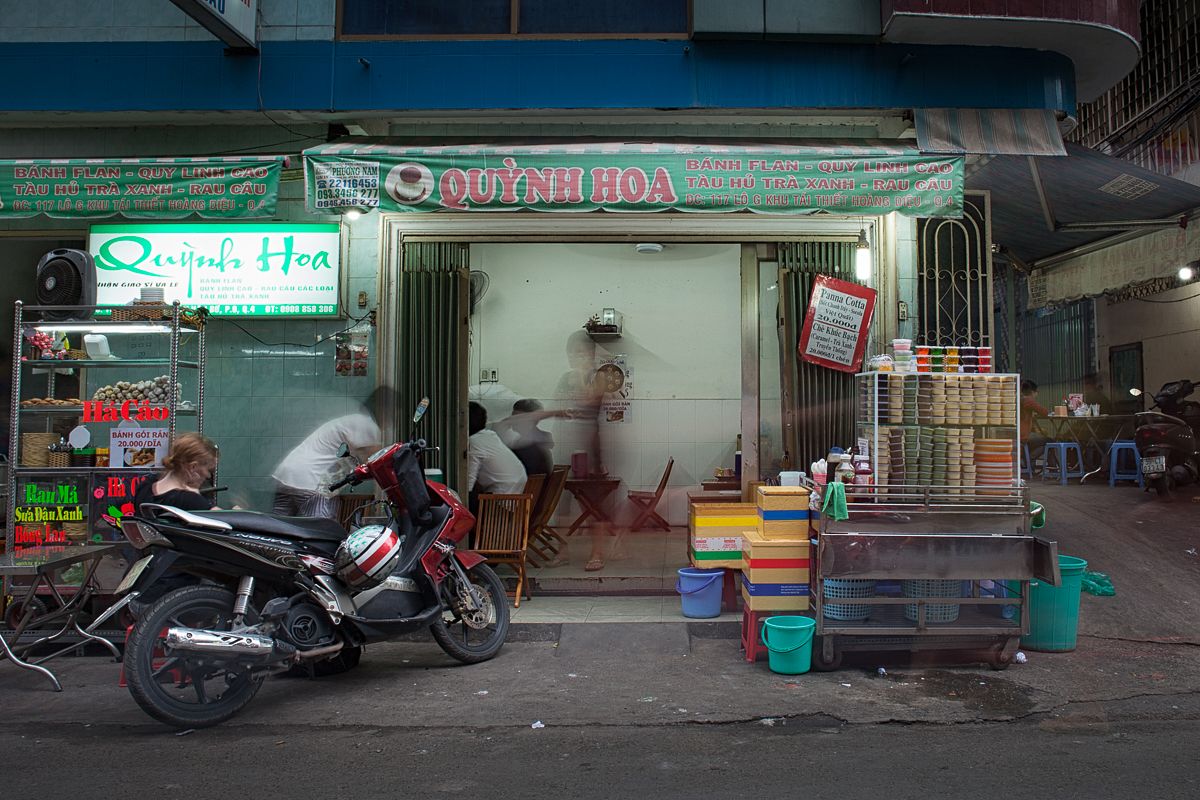 There's a strong chance you have more fingers than this shop has tables. Miniature wooden furniture lines its two walls, affording customers an indoor seating area while the street cart out front advertises its product to passersby. At 5pm on a weekday evening, Quynh Hoa's quiet neighborhood is brought to life by chaotic end-of-workday traffic, making the street a prime location for what I am henceforth calling dessert happy hour.
This glorious occasion substitutes cocktails for a spread of cheap and delicious flan, not to mention anything else you can find from the snack carts on this alley.
I know what you're thinking: how different can flans be? There may not be much expertise that goes into preparing a single-serving cup of dessert, but Quynh Hoa is notable for its range, from the original version to green tea, chocolate and cheese variations, not to mention a host of rau câu flan, crème caramel with a layer of jelly on the bottom. There is also the colorful rau câu 3D, in which a decorative flower is suspended in fruit jelly.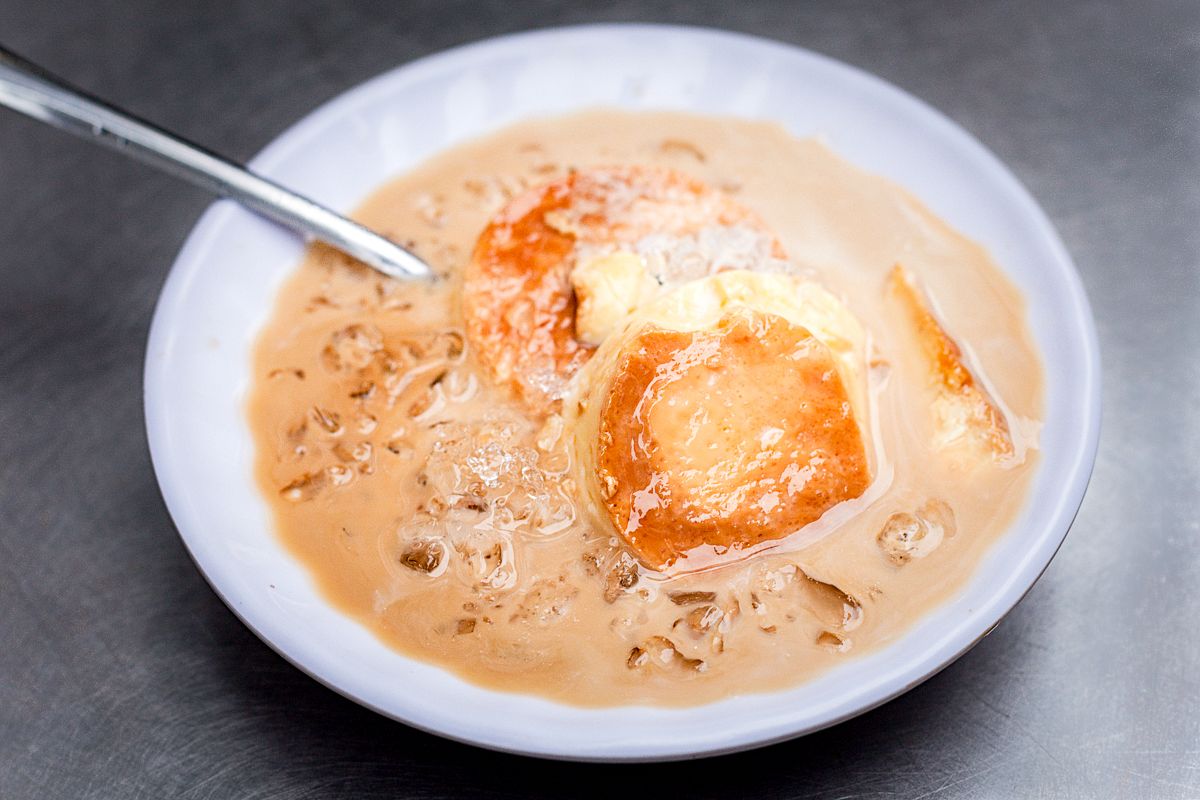 For the standard bánh flan, you'll appreciate the rich flavor of the original. The green tea has an especially strong taste while the chocolate is a bit more mellow, but all are covered in ice shavings and drizzled with coffee before serving. On the rau câu side, the above-mentioned flavors apply, as do durian, coffee, and chocolate-cheese, among others. Whatever you choose, wait a moment for some of the ice to melt before enjoying your late afternoon dessert.
After feasting on a few different flans, my coworker got up to photograph the front of the shop. Slowly but surely, two middle-aged women working a nearby snack cart edged closer to ask the younger ladies at Quynh Hoa about us. We struck up a conversation for a while, trading stories about our families and our work. As it turns out, Quynh Hoa has no particular origin story. To hear the young women tell it, the shop has always been there – "Lâu rồi," she tells me – and is open from 8am until 11 at night.
In the end, we pay our bill, a whopping VND26,000 for four servings, and head back up the alley and into the chaos of early evening.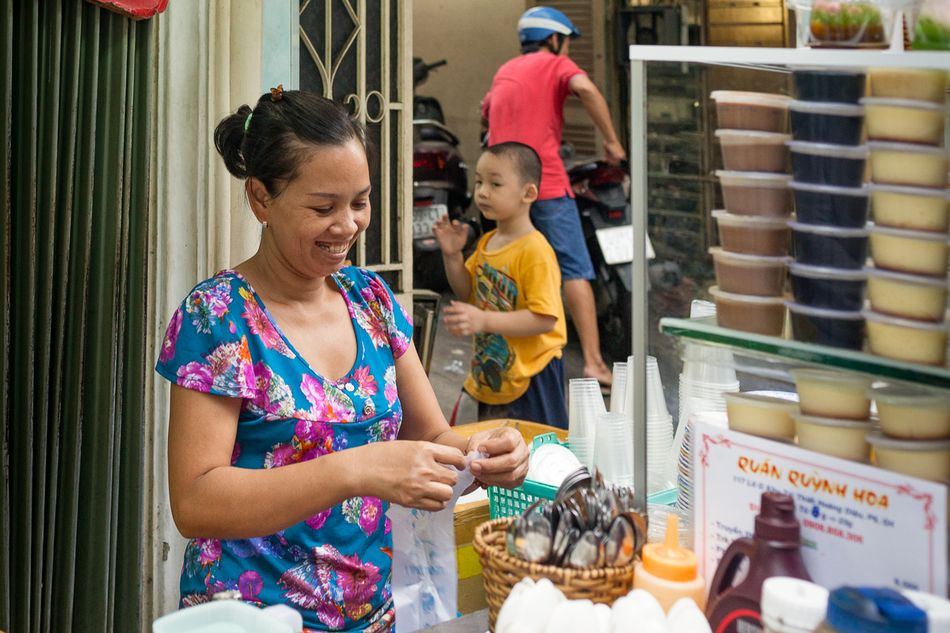 To sum up:
Taste: 4/5
Price: 5/5 – VND6,000 – VND7,000/bánh flan
Atmosphere: 4/5
Friendliness: 4/5
Location: 4/5
Dana is 70% caffeine, 50% fish sauce and hasn't taken a math class since 2004.
Bánh Flan
117 Lo G Khu Tai Thiet Hoang Dieu, Ward 9, D4
---

Related Articles:
---