Shuffling along in flip-flops and a pair of baggy shorts, Công the Enforcer arrives at our table.
"Mì ốc hến đây!" he shouts, thrusting a steaming bowl of soup into outstretched hands. As soon as the bowl is accepted, he turns on his heel and disappears to fetch another helping. It takes seven trips to serve the entire table, and then he fades into the background, standing along one of the dingy walls to observe his customers.
While he's certainly a man who gets down to business, Công the Enforcer is having a good time. He takes pride in running a successful restaurant, enjoys the power of managing a small but dedicated team and delights in seeing his diners tuck in to a bowl of mì ốc hến. Beaming from the sidelines, he watches over us as we dig in. Công the Enforcer is a hard-working, honorable businessman. Công the Enforcer is also 12. And yet, from the moment we sit down he caters to us, hurrying to and fro as he coordinates our order, shouting out the specifics like a short-order cook.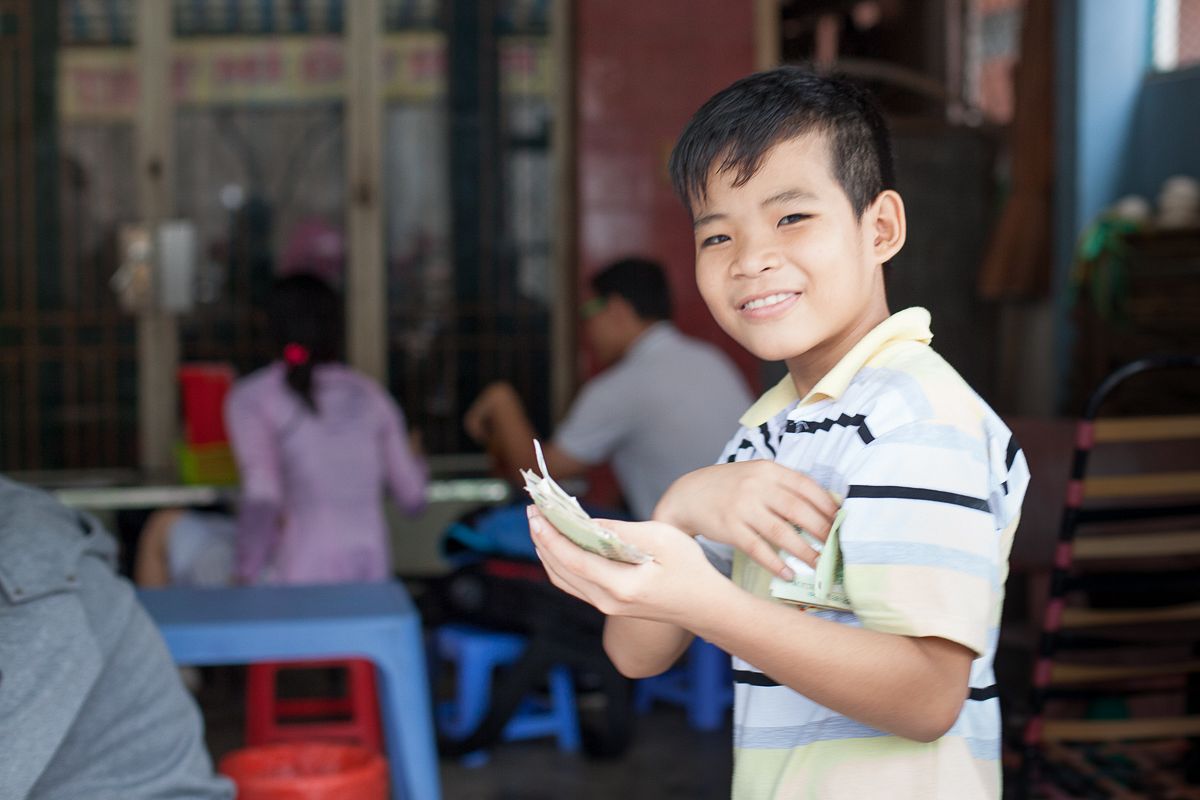 The signature dish at Tư Thủy, where Công the Enforcer supervises the floor, is mì ốc hến, a bowl of noodles featuring snails and baby clams doused in subtly sweet broth. Everyday from 8:30am to 9pm, Tư Thủy's cook ladles the tasty soup onto a pile of instant noodles, which serves as a base for the aforementioned aquatic ingredients. The entire dish is then topped off with some fresh greens and fried shallots before being whisked away by the boss himself. It's possible to mix things up a bit and substitute the mì for bún or hủ tiếu should you feel the need to be different; you can also get rid of the ốc, but we don't recommend it.
Whatever you order, it's best to spruce up the dish with a sauce of some kind. The standard condiments are available — chili sauce, soya and chili with lemongrass — as well as a tangy tamarind sauce. We tried the latter, but unfortunately it didn't pack much punch when combined with the larger dish so the tried-and-true standards are your best bet.
While you're at it, you'll also want to order a glass of trà tắc to wash your soup down. The sweet, citrus-y iced tea is like trà đá on steroids: bright, flavorful and refreshing.
As we finish off our lunch, one by one, Công the Enforcer returns, scooping up bowls and refilling empty tea glasses. Since the soup portions leave us room for more, we decide to try Tư Thủy's bánh trứng while we're at it. Once again, the boss springs into action, calling out our order and rushing over with a hot plate when it's done.
As far as snacks go, the bánh trứng is a winner. You can barely see its stark white, quail egg cakes beneath the heaps of chili sauce, mayonnaise, peanuts, dried shrimp and Vietnamese ketchup. If you closed your eyes and took a bite, you could easily mistake these tasty morsels for bánh tráng nướng, the grilled rice paper snacks you find in the hands of high schoolers and patrons of the cà phê bệt in 30-4 Park. Neither too light nor too filling, the bite-sized snacks manage to combine an impressive range of flavors onto one plate.
The far side of District 4 is a forgotten land, at least if you're an Uber driver. With lunch finished, we make several failed requests for a ride and take siesta at the same time. This is when I meet the only employee in the restaurant with more authority than Công the Enforcer: his mother. She used to be a mobile vendor, she tells me. For nine years, the boss' mum sold mì ốc hến around District 4, eventually setting up shop on Tôn Thất Thuyết a few months ago. So far, business has been steady, and of course, she's got reliable help.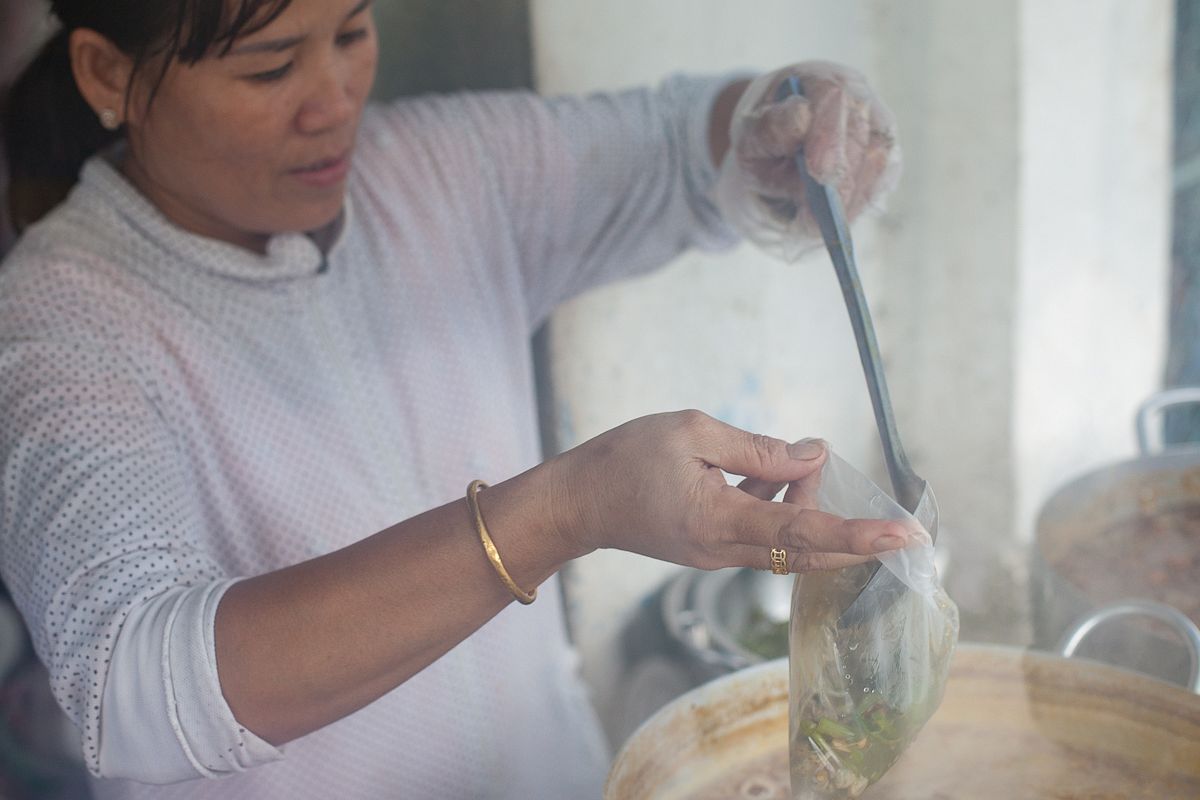 As our driver nears, we call for the bill and once again the floor manager comes over, pointing at the remnants of our lunch and rattling off prices like an auctioneer.
"Mì hến 20 ngàn, 5 tô mì ốc hến 125 ngàn là 145 ngàn, hủ tiếu ốc hến 25 ngàn là 170 ngàn rồi 7 ly trà tắc 35 ngàn là 205 ngàn..."
We collect our money and hand it over to Công the Enforcer, who pulls out a wad of cash from his waistband and begins flicking through the bills one by one, retrieving our change as he goes.
But for all his bravado, the boss is not much of a ham. As we wait for our ride, Brandon, our photographer, attempts to capture Công the Enforcer at work. Suddenly, the boss gets shy. He hides his face, turning toward his mother with a sly grin.
"Let him take a photo!" she says. "He'll bring it back to America."
Without missing a beat, Công the Enforcer stops in his tracks and raises an eyebrow. "Not China, right?"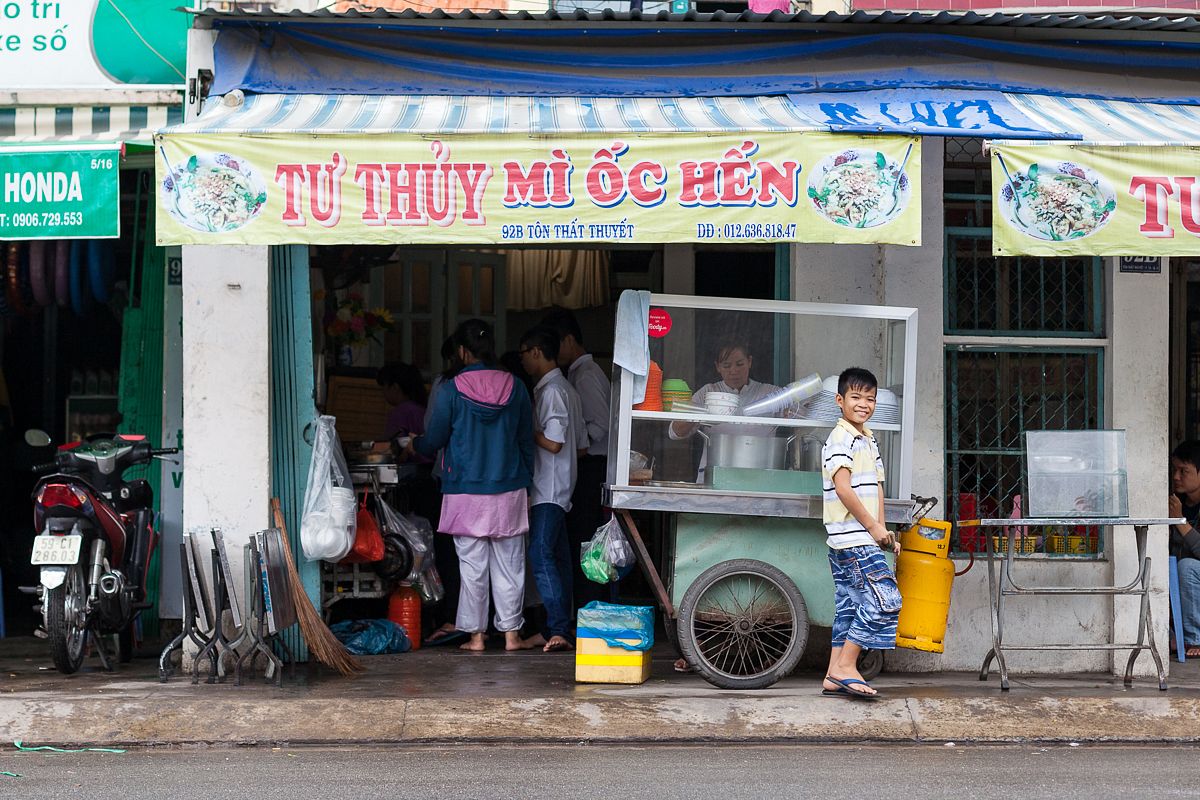 A few minutes later, our Uber finally arrives, and we begin to stand up from the tiny stools scattered throughout Tư Thủy's dining area. Our group bids goodbye to Công and his mother, who points to our table covered in dishes and says: "What's this?"
Công the Enforcer frowns, picking up a few glasses by himself before he gets an idea. His eyes light up as he looks around the room and finds a young woman of perhaps 17 standing against the wall. "Chị ơi! Dọn bàn này, chị!"
She rolls her eyes, looking at Công's mother and then at the table and grabs a rag. As we pile into the car and head back to work, Công the Enforcer is pleased with himself.
Mì Ốc Hến Tư Thủy is open from 8:30am to 9pm.
To sum up:
Taste: 3/5
Price: 5/5 — Mì ốc hến (VND25,000), bánh trứng (VND20,000), trà tắc (VND5,000)
Atmosphere: 4/5
Friendliness: 5/5
Location: 4/5
Dana is 70% caffeine, 50% fish sauce and hasn't taken a math class since 2004.
Mì Ốc Hến Tư Thủy
92B Ton That Thuyet, Ward 16, D4