One of the first things Co Suong does when we sit down in the back of her tiny District 3 cafe is bring out the newspaper clippings.
There are heaps of them, wrapped in plastic and passed to me carefully, one by one. She begins with the international write-ups, stories from Vietnamese newspapers and even teen magazines in California, before moving on to the national press and a handful of paperback books.
Cheo Leo Cafe, now in its 78th year of operation, is something of a Saigon landmark. When she goes out, Co Suong says, she is recognized in public places. Rarely does she even need to give her full name, such is the notoriety of her family's cafe.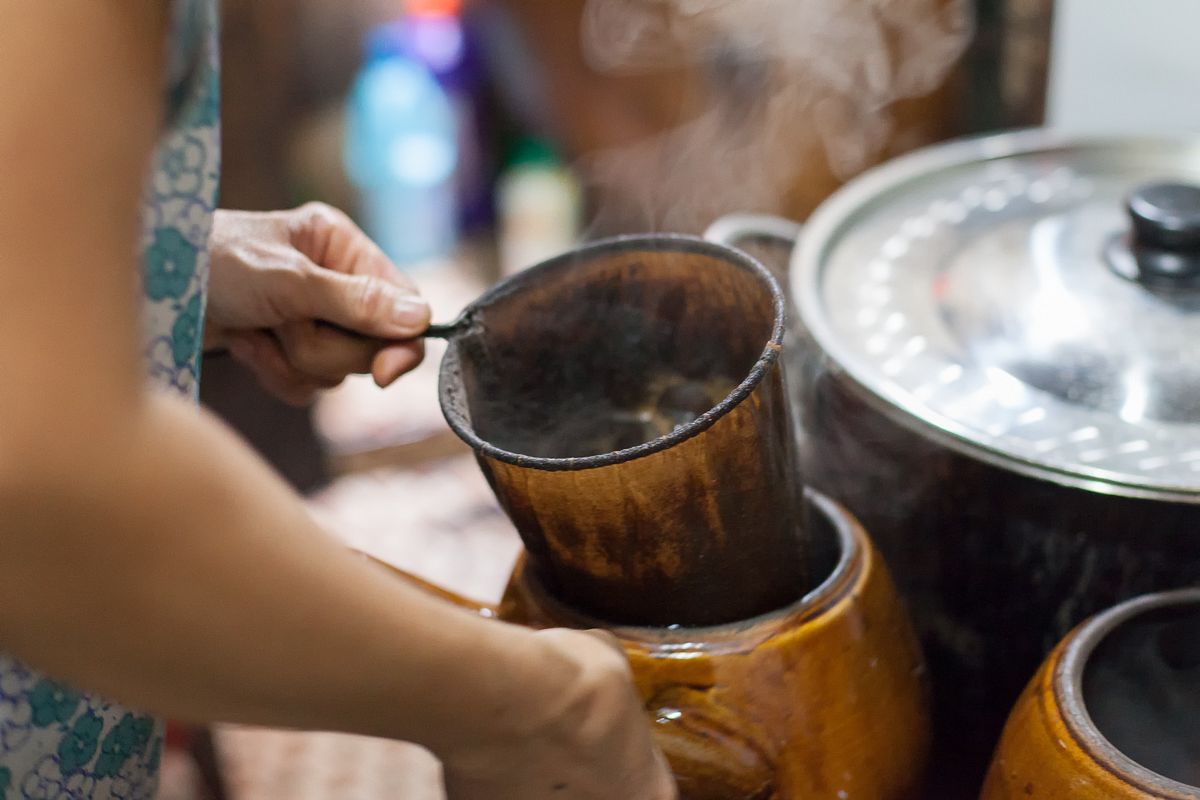 If you think the ubiquitous cà phê phin is part of Saigon's original coffee-drinking tradition, Co Suong has news for you. Before French filtered coffee made its way into homes and cafes across town, there was cà phê vợt. Known to English speakers as "stocking coffee", this method was originally the purview of Cho Lon's coffee vendors and involved a long, stocking-like fabric filter, a charcoal stove and traditional claypots.
Vinh Ngo, Co Suong's father, began selling cà phê vợt at Cheo Leo in 1938. Under the tutelage of Saigon's Chinese coffee vendors, Ngo mastered the art of this particular brewing method. He learned to collect and water a few days in advance and store it in a large, concealed claypot. When the time came to make a cuppa, Ngo would fire up the charcoal stove and boil water. He filtered his coffee through the stocking twice, pouring it in the first time to release the beans' flavor before reusing the same water to filter the beverage again. Hot coffee went in a claypot warming on the stove, cold coffee went into a separate claypot away from the coals.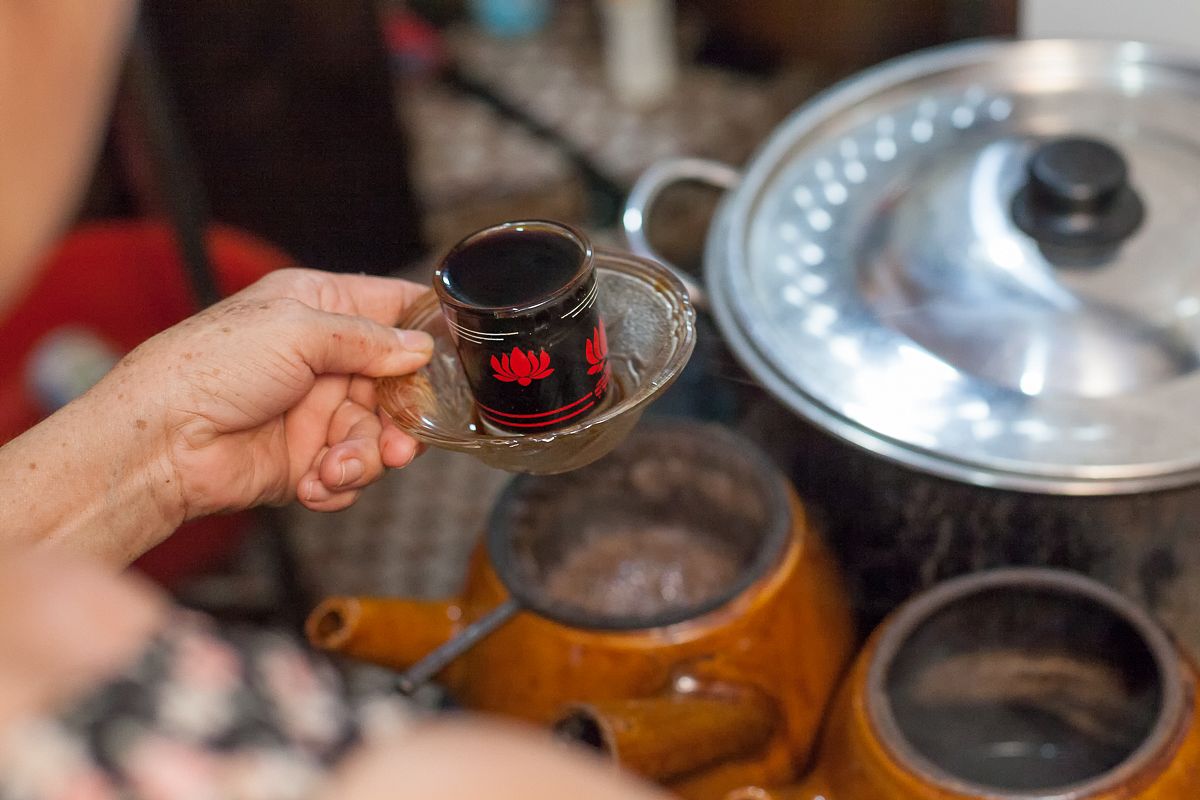 Since then, Co Suong and her two sisters, now the proprietors of Cheo Leo, have made their coffee in exactly the same fashion. Even the beans haven't changed: Co Suong still buys her coffee from the descendants of her father's old business contacts, and Suong and her sisters, none of whom are married, have carried on the family's coffee-making business.
Not all Saigon traditions age well, but it only takes one cup of Cheo Leo coffee to understand the appeal. Cheo Leo's cà phê sữa đá is lighter and less syrupy than street coffee with a clean finish. Co Suong credits the filter for keeping large particles out of the coffee. She holds one up, a sturdy bag fastened around a metal ring. Unlike the porous base of your average phin, vợt filters are thick and must be changed every two weeks.
Another thing that hasn't changed at Cheo Leo is its décor. The shop's interior is decked out in blue and white, paint peeling off the ceiling. In the cramped back room where Co Suong's coffee-filled claypots reside, the thick layer of soot caked onto the wall bears testament to the many years she and her sisters have been in business.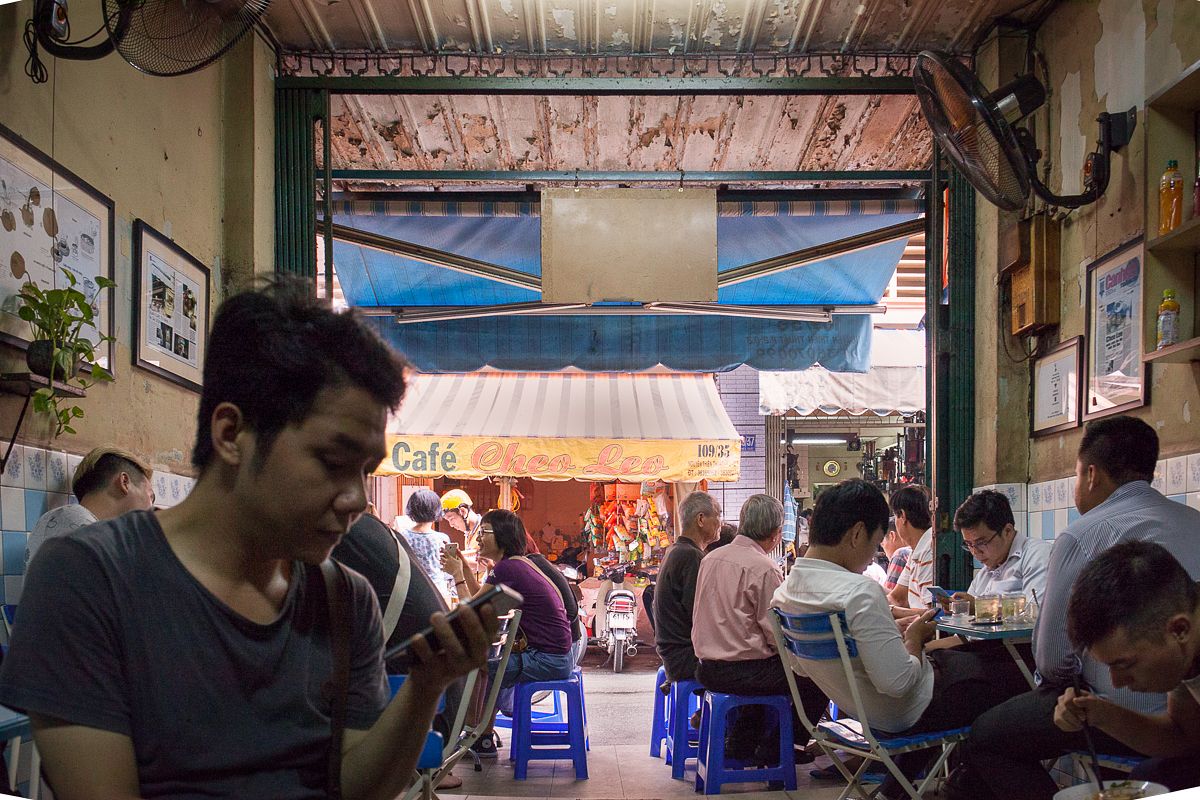 So, too, do Co Suong's customers. Over two hours, she knows nearly everyone who comes into the shop, some of whom she's served for years, even decades. In the early days, she says, the shop on District 3's Nguyen Thien Thuat was isolated; the city hadn't yet expanded to reach her father's shop. It wasn't until the 1960s that Saigon began to stretch toward the family's modest café, and according to Suong, 1972 was Cheo Leo's best year.
But on the day when I visit, only a single table at the front of the shop is occupied by elderly men: everyone else in the shop is from a younger generation, snapping selfies and sending texts as they sip their coffee. Thanks to media coverage and the power of the internet, Cheo Leo has caught the attention of young Saigoneers hoping to rediscover the city's past. While the shop's future is unclear – with no children to carry on the family tradition, Co Suong is not sure how long Cheo Leo will last – she is content to see business carry on as usual, smiling and chatting with her customers, young and old, over a good cup of coffee.
To sum up:
Taste: 5/5
Price: 5/5
Atmosphere: 5/5
Friendliness: 5/5
Location: 5/5
Dana is 70% caffeine, 50% fish sauce and hasn't taken a math class since 2004.
Cà phê vợt
109/36 Nguyen Thien Thuat, Ward 2, D3