My uncle used to say that you haven't had real crab until you have to cook and dismantle one. For this week's Hẻm Gem, Saigoneer takes you on a trip to do just that, relishing real crabs by breaking them apart with your bare hands. So put away your ceviche and crab croquettes and maybe do some hand muscle exercises because you're gonna need them to properly enjoy a hearty bowl of bánh canh ghẹ muối ớt xanh.
I'll admit that I had some reservations before going to the eatery, simply because of the place's name. The bánh canh ghẹ, or crab soup with chewy rice noodles I understand, but it's not common that you come across a street food stall that features a condiment so heavily in its branding. Saigon is home to scores of street food stalls that could differ dramatically in terms of a cuisine's origin, flavor and execution, but usually the nomenclature of Saigon street vendors is either owner-, address-, or location-oriented. To demonstrate the three naming conventions, we have chị Hiền's cơm tấm, Quán 94, where crabs star in a one-crustacean show, and Ky Dong's therapeutic phở gà. Sometimes, the dish's price could feature in the name, in the case of Binh Thanh's Pho Mot Do –literally "one-dollar phở" – but rarely a condiment.
Muối ớt xanh just means green chili salt, which I'm sure would go great with any seafood, but it can be one-dimensional at times, flavor-wise. So for this humble dipping sauce to make its way onto the District 10 soup spot's banner, it must be some damn good green chili concoction.
It started out as a casual call for lunch in the Saigoneer office, but after a glance at the glorious sight of the bánh canh bowl – I mean, just look at how the crab glistens in the photo above – it doesn't take much convincing to get everyone on board for a trip to District 10's food paradise on Nguyen Tri Phuong. You might recognize the name of the street as home to the best duck noodles in town, but as someone who has spent an embarrassing amount of time indulging in the delicacies of this enticing food 'hood, I can assure you that Nguyen Tri Phuong is the gastronomical gift that keeps on giving.
Our cab arrives at the soup vendor around noon, and lady luck is on our side as the dining area looks rather empty compared to the stall's usual jam-packed, spilling-onto-the-pavement evening crowd. The bánh canh ghẹ place is divided into two sections: one is smaller and houses the kitchen while the other is newer and more spacious, featuring a tank of live ghẹ, or blue crab, the star of this shindig. We opt for the new section, but just a side note: beware of the strong sea essence emanating from the crab bath.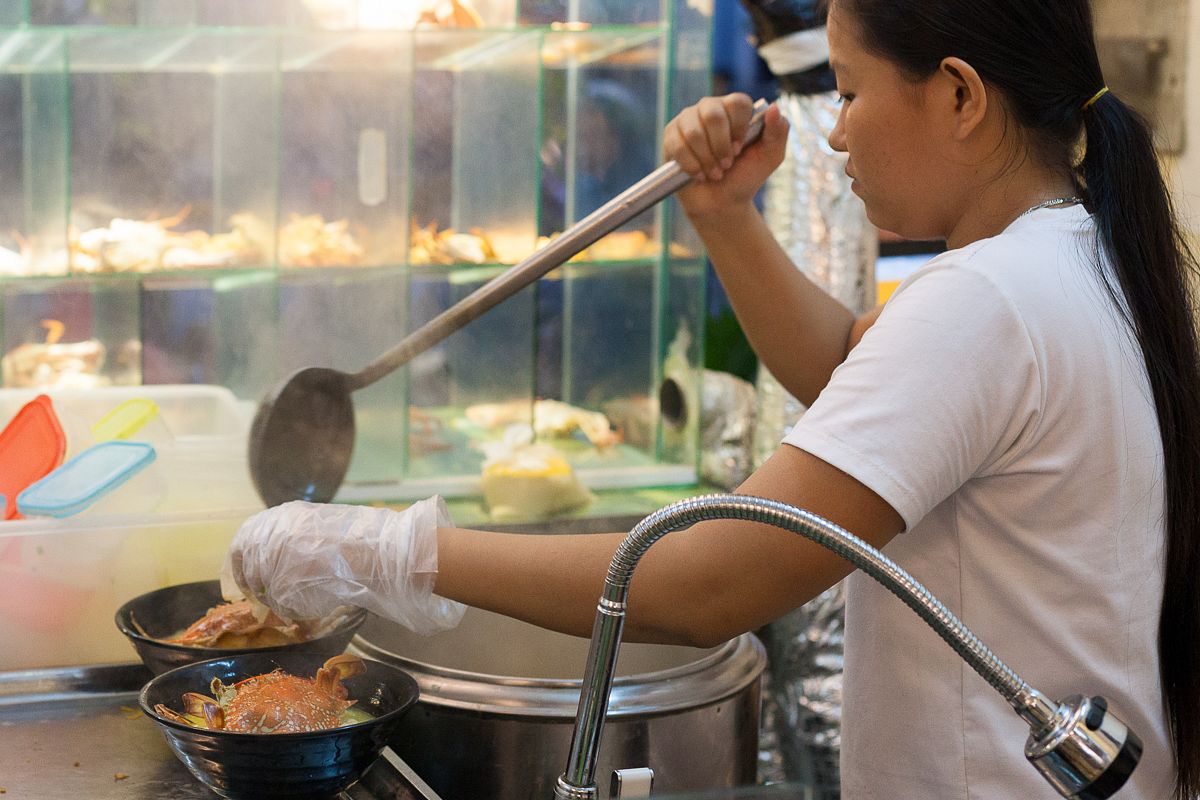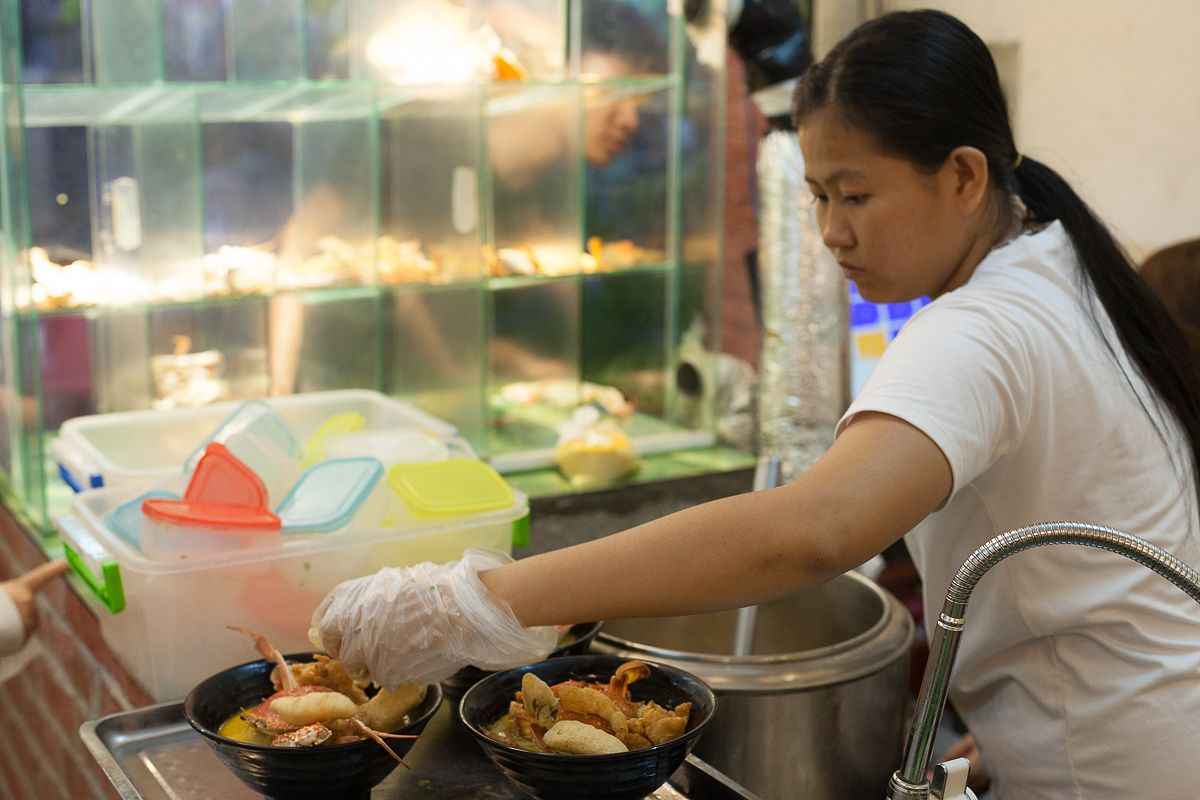 The menu at Banh Canh Ghe Muoi Ot Xanh is decidedly simple: only bánh canh, with a whole spectrum of crab sizes catering to shellfish connoisseurs of all eating capacities. A small bowl of bánh canh will set you back VND50,000, while the medium and large ones cost VND65,000 and VND80,000, respectively. There's also a special "large 1" option at VND90,000 per person, but as crab soup newbies we didn't think we were ready for it yet.
The dining room is spacious and smells strongly of the sea, but what catches my eyes is the muối ớt xanh – the centerpiece of the table – in a pretty glass container that slightly resembles an ashtray. Upon tasting this elusive concoction, it immediately dawns on me why the sauce made its way into the branding: muối ớt xanh is a wonderful seafood elixir. The name might lead you to believe it's dominated by saltiness, but there's more to this sauce than meets the eye. Apart from green chili and salt, the condiment also has lime juice, lime zest and a touch of sugar to fill out the sweet-savory balance. If the sauce is this good just on spoons and fingertips, who knows what it will do to crustaceans?
Our bánh canh bowls finally arrive, to an immediate chorus of oohs and aahs, and then complete silence as we temporarily sever our friendship to devote the next hour or so of our lives to the long-awaited crab soup. The noodle portion looks mouthwatering, with an intimidating ghẹ smacked right in the middle on a bed of creamy noodles and a sprinkle of soup staples like chopped spring onions and black pepper.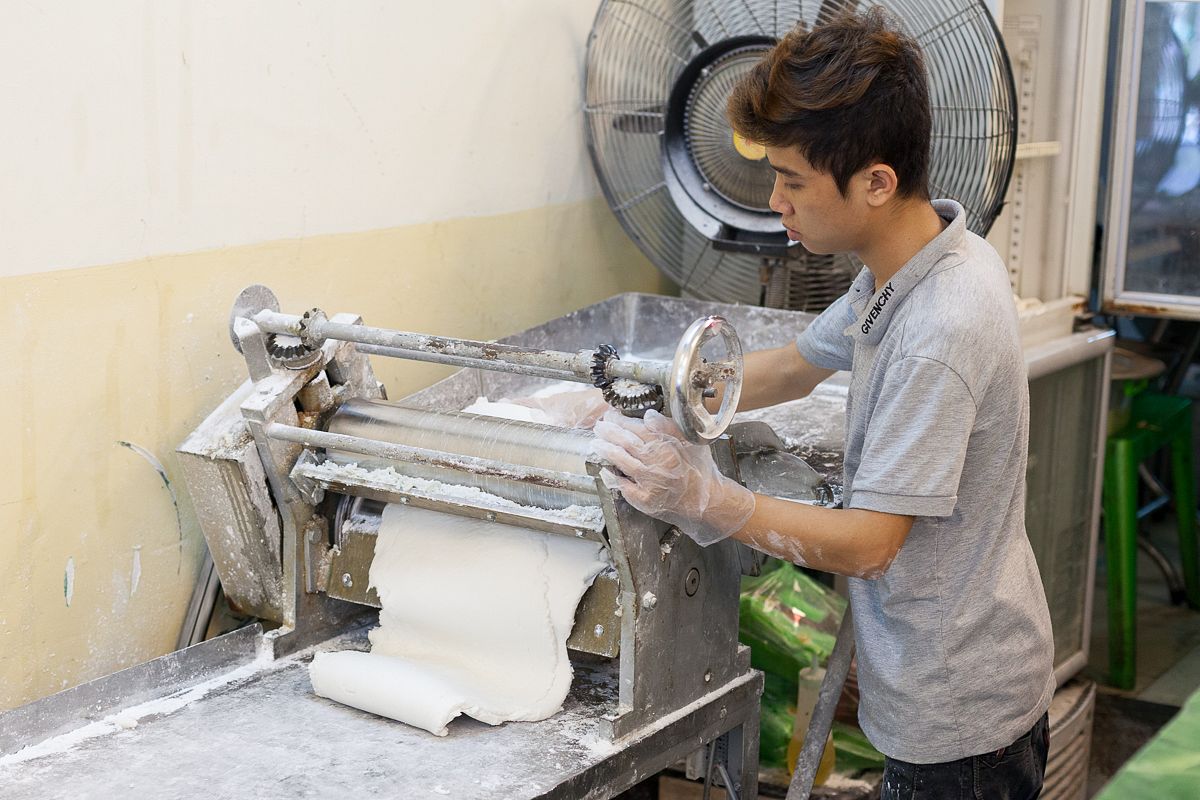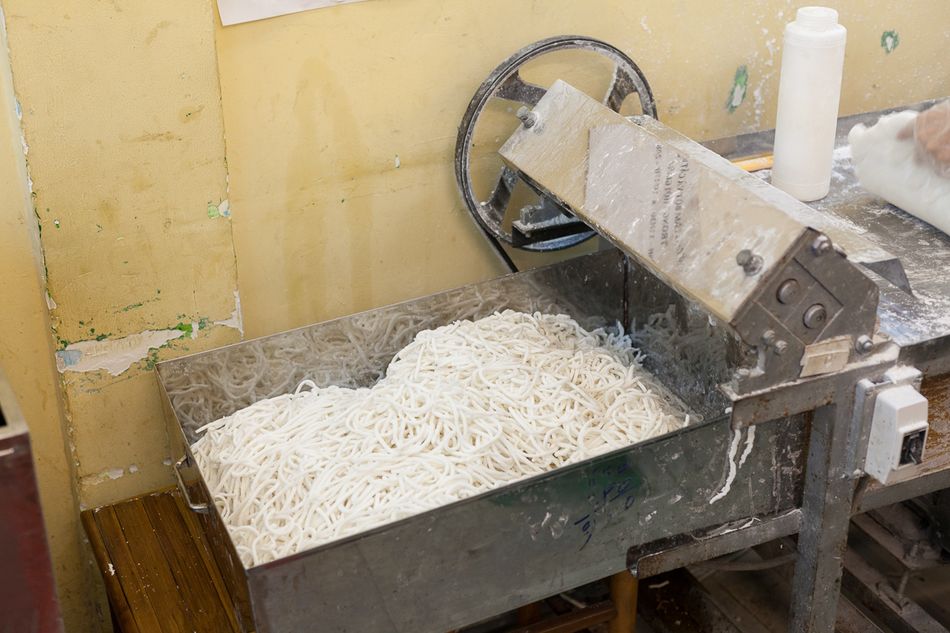 However nothing is conventional about this soup. From the broth to the strands of noodle, they're not what you would normally expect from a bowl of bánh canh. The broth is decadently rich, both from the crustacean and coconut milk, while the beige noodles are chewy in an almost udon-esque way. This richness has the potential to be overpowering, but luckily there's the sour muối ớt xanh that adds much-needed freshness to balance things out.
The blue crab, while very fresh, is just a normal steamed crab that's honestly the least impressive component of the dish, in my opinion. I ordered the medium-sized portion, and shelling the beast is too much of an ordeal considering the disappointing end result. So Saigoneers, should you decide to one day attempt to have the "real crab" experience, don't be afraid to go for the larger sizes.
All told, having crab the "real" way is a fulfilling experience because every element of the dish works so well together, from the freshness of the ghẹ and the rich broth to that sweet-and-sour muối ớt xanh. At the end of our meal, the waitress brings out small metallic bowls filled with cinnamon-infused water to help wash that pungent whiff of seafood off our hands, but I don't think it helps much. My hands still faintly reek of crab and cinnamon on our way back, not that I mind it. Without the war wounds, how are we supposed to convince people that we battled the beast and emerged victorious?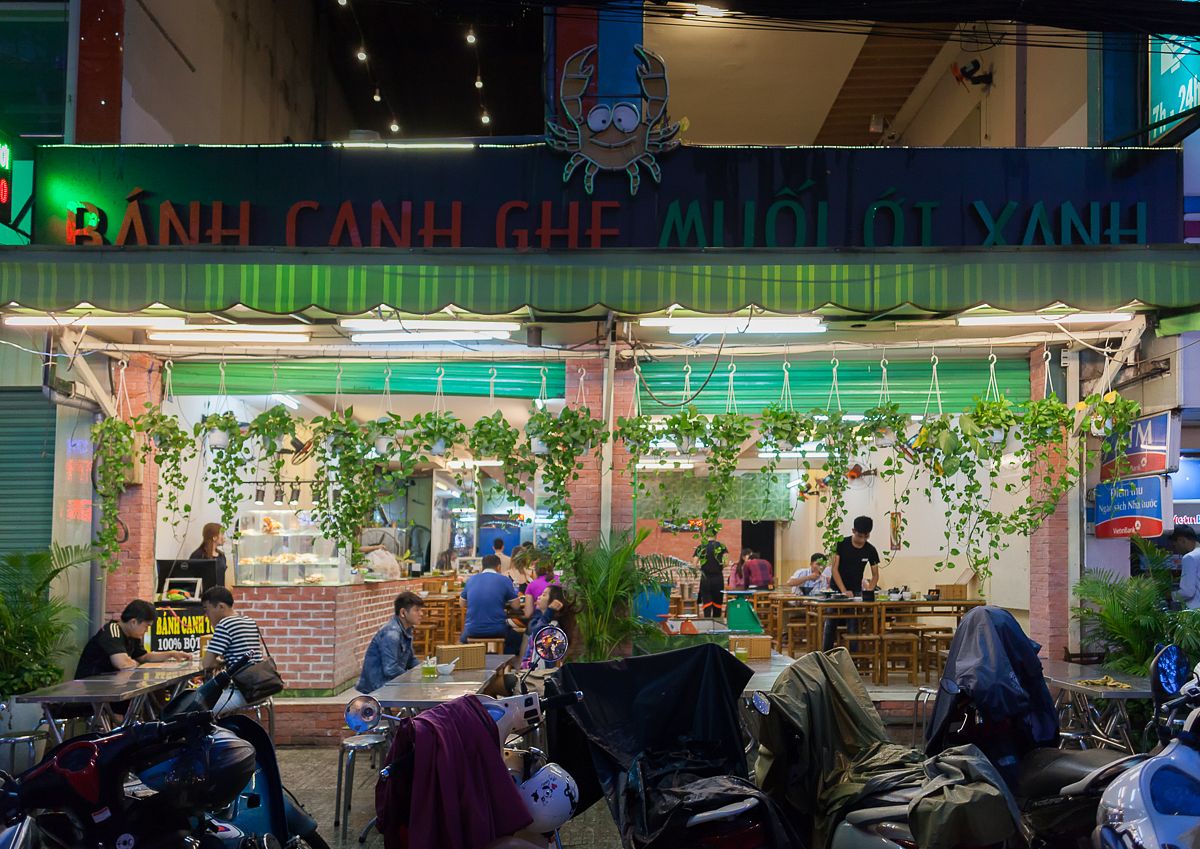 To sum up:
Taste: 5/5
Price: 4/5
Atmosphere: 4/5
Friendliness: 4/5
Location: 4/5
Khoi loves tamarind, is a raging millennial and will write for food.
Bánh Canh Ghẹ Muối Ớt Xanh
484 Nguyen Tri Phuong, Ward 9, D10