It's impossible to pass the newest Pasteur Street Brewing Company (PSBC) taproom at the corner of Lý Tự Trọng and Thủ Khoa Huân in central District 1, and not take note of the lively, inviting space.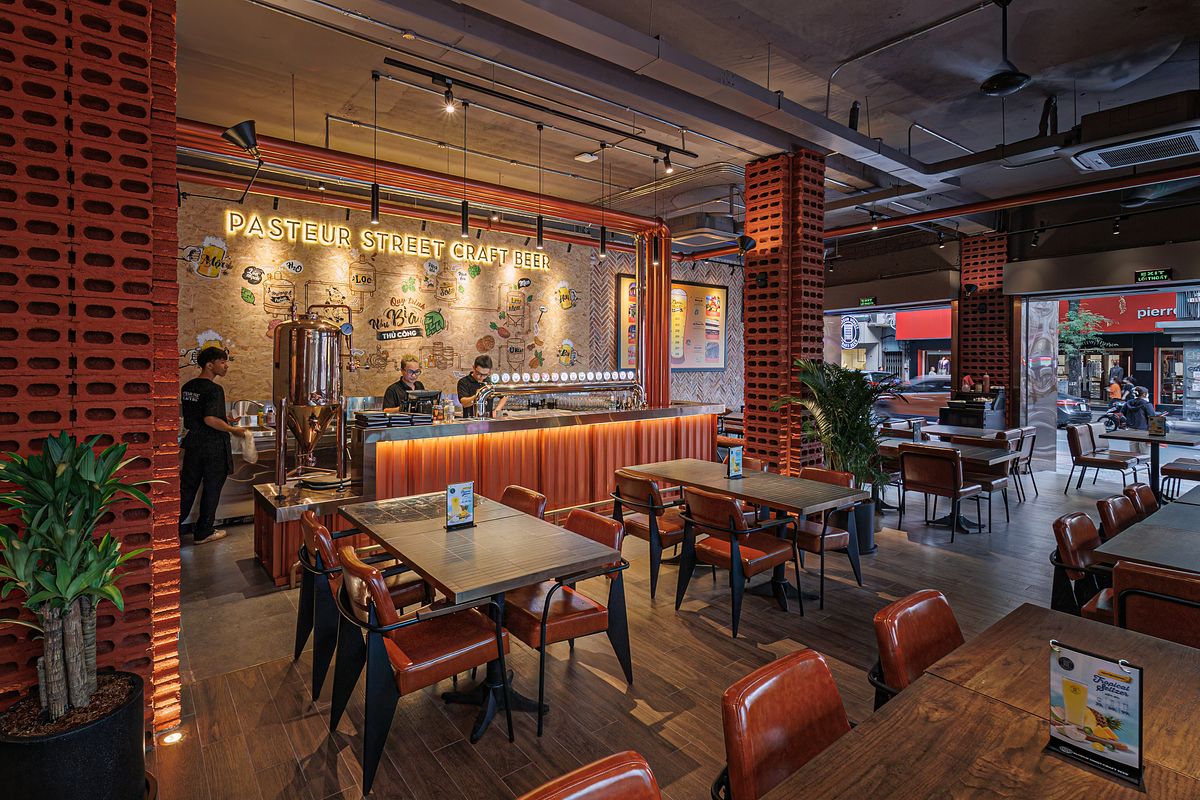 The bright copper pipes accenting the open floor plan are reminiscent of a working brewery that gave the recently-opened Hoàng Sa taproom its trendy nhậu spot vibe. Meanwhile, a playful illustration of beer's brewing steps stretches behind the bar to educate craft beer newcomers about the process. The artwork calls to mind the mural that has long been a social media hotspot outside the Original 144 Pasteur Street location. And if you've been to PSBC's District 3 location you'll likely recognize the photos of the Jasmine IPA, Passionfruit Wheat Ale and Pomelo IPA alongside the fresh local ingredients used to make them that hang on the wall of this new location. These small details all combine to create a cohesive identity ensuring guests that the Pasteur Street beers they know and love along with the friendly service they expect are available at 110 - 112 Lý Tự Trọng.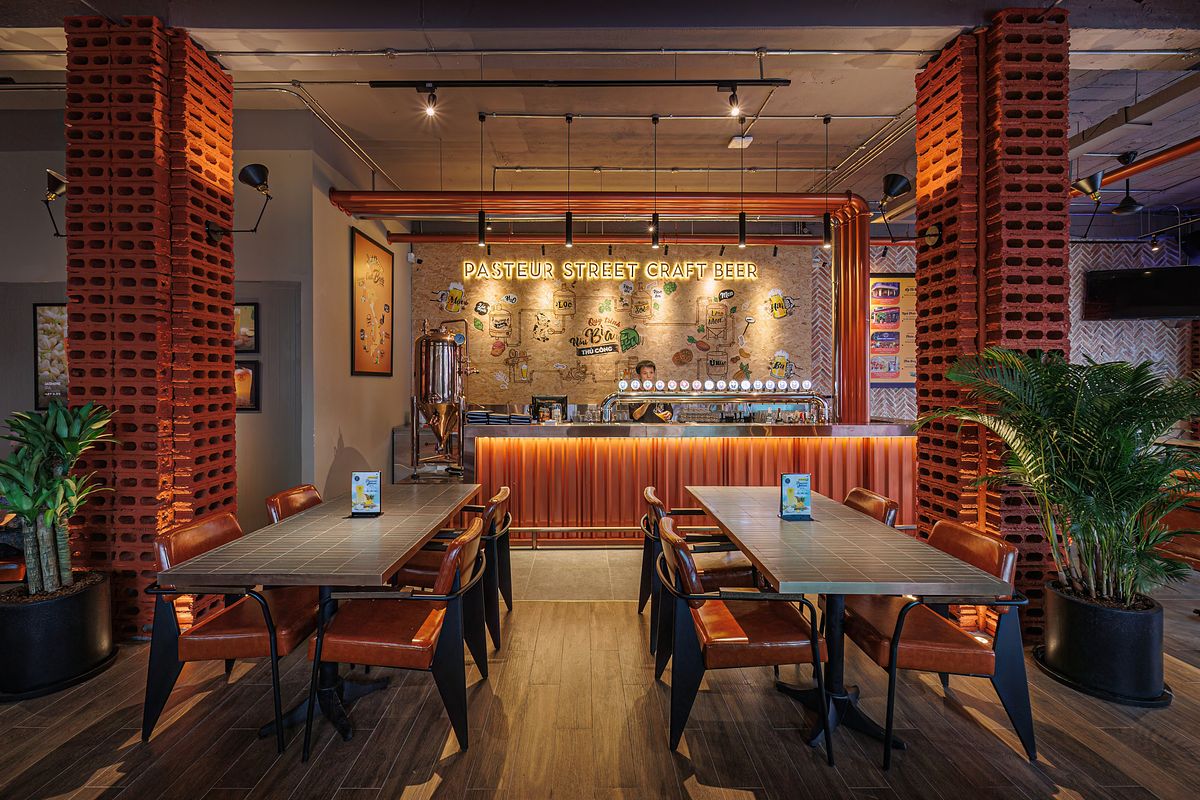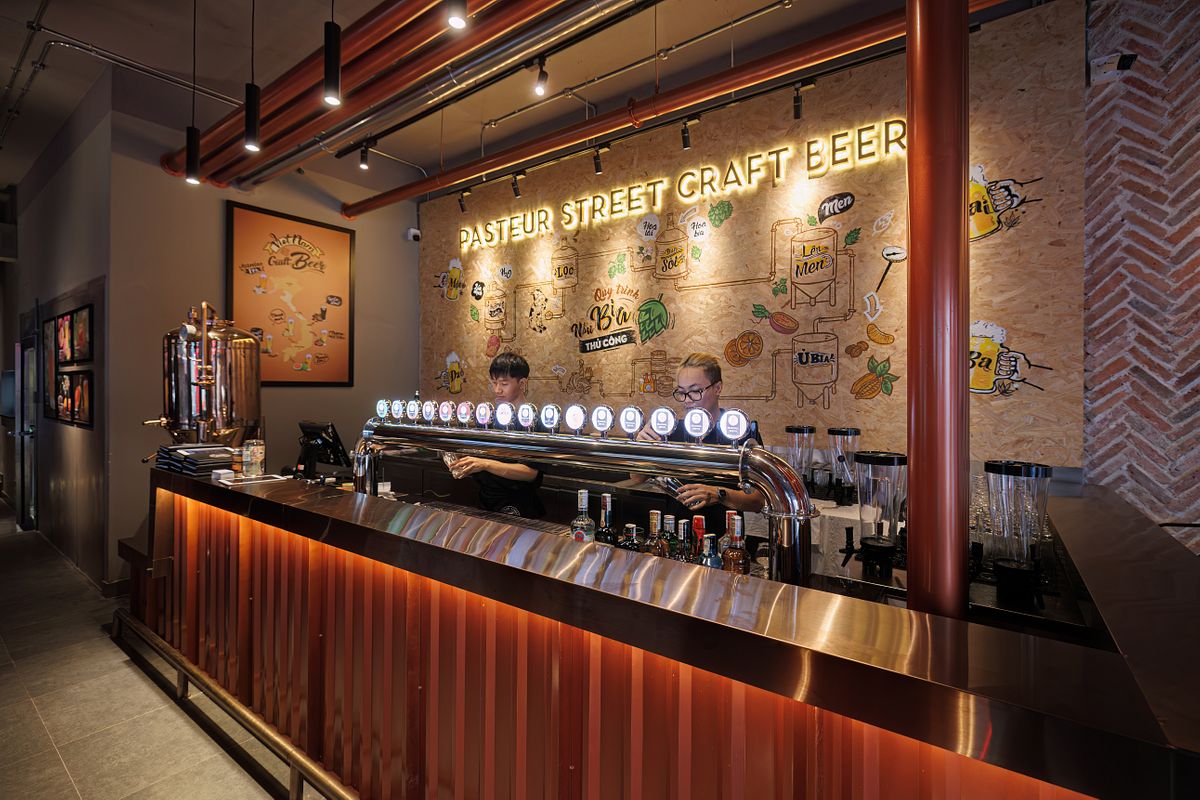 The new taproom, a convenient two-minute walk from iconic Bến Thành Market, however, represents a change in the aesthetic vision of the brewery. Until now, each PSBC location was designed relatively independently, but this one seeks to unify all their best parts and showcase craft beer and the Pasteur Street brand to create a standard to follow going forward.
In just three weeks the spacious ground floor was transformed into an elegant but cozy venue that accommodates 72 people indoors and 28 outside at full capacity. Priority was given to affording visitors a comfortable venue where they can relax and also take in great views of the busy street outside. The cool atmosphere allows tourists and locals alike to learn more about craft beer in general and the legacy of PSBC specifically and experience why its best enjoyed amongst friends, family and co-workers.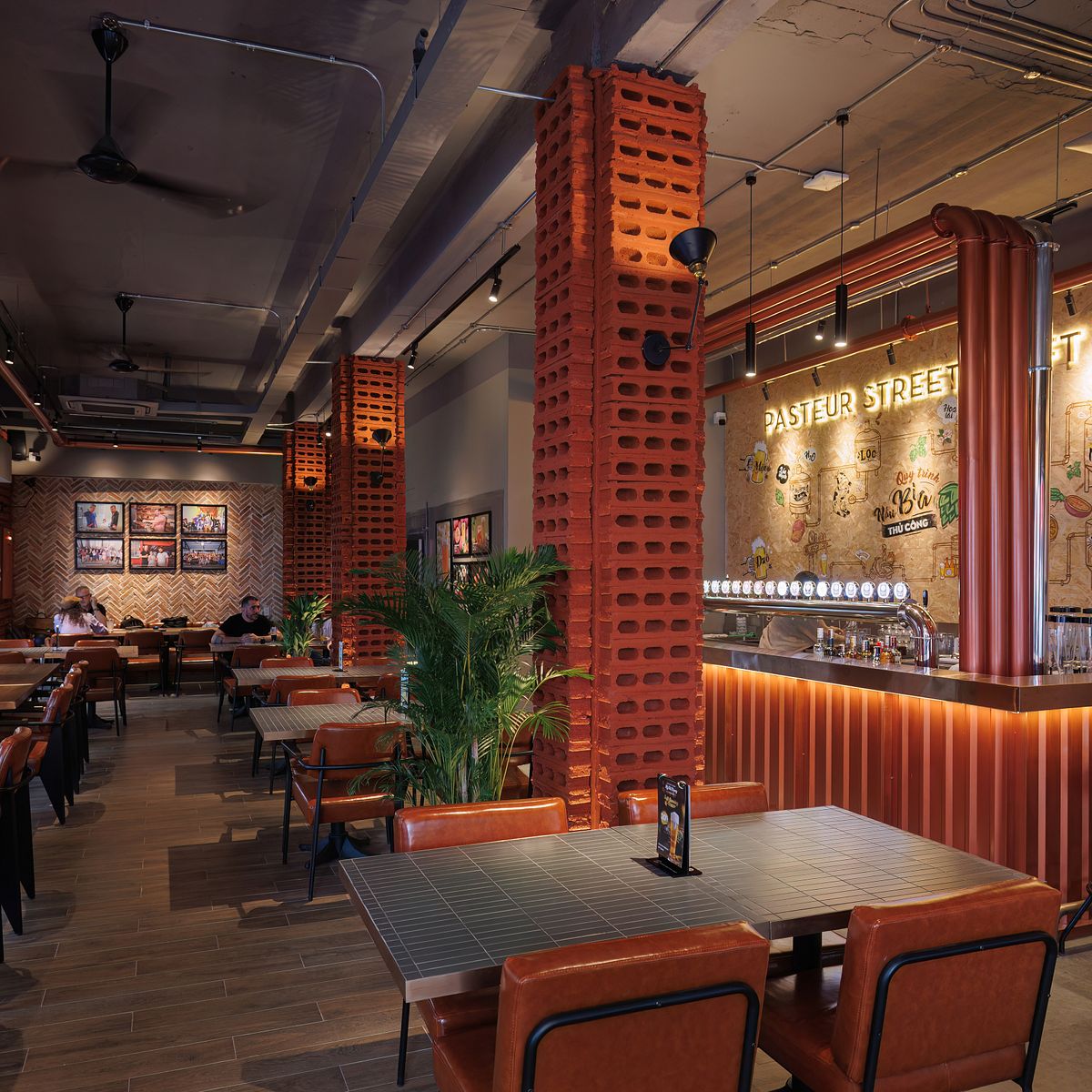 To design the new Taproom, Tom Duncan, the company's Interim CEO, started and guided conversations while promoting as much input and ownership from the local team as possible. With more than 30 years in the beer industry, he has experienced numerous successes and some failures to draw upon. He joined PSBC in an advisory role several years ago and has recently taken on more responsibility to help steer the company toward its lofty goals.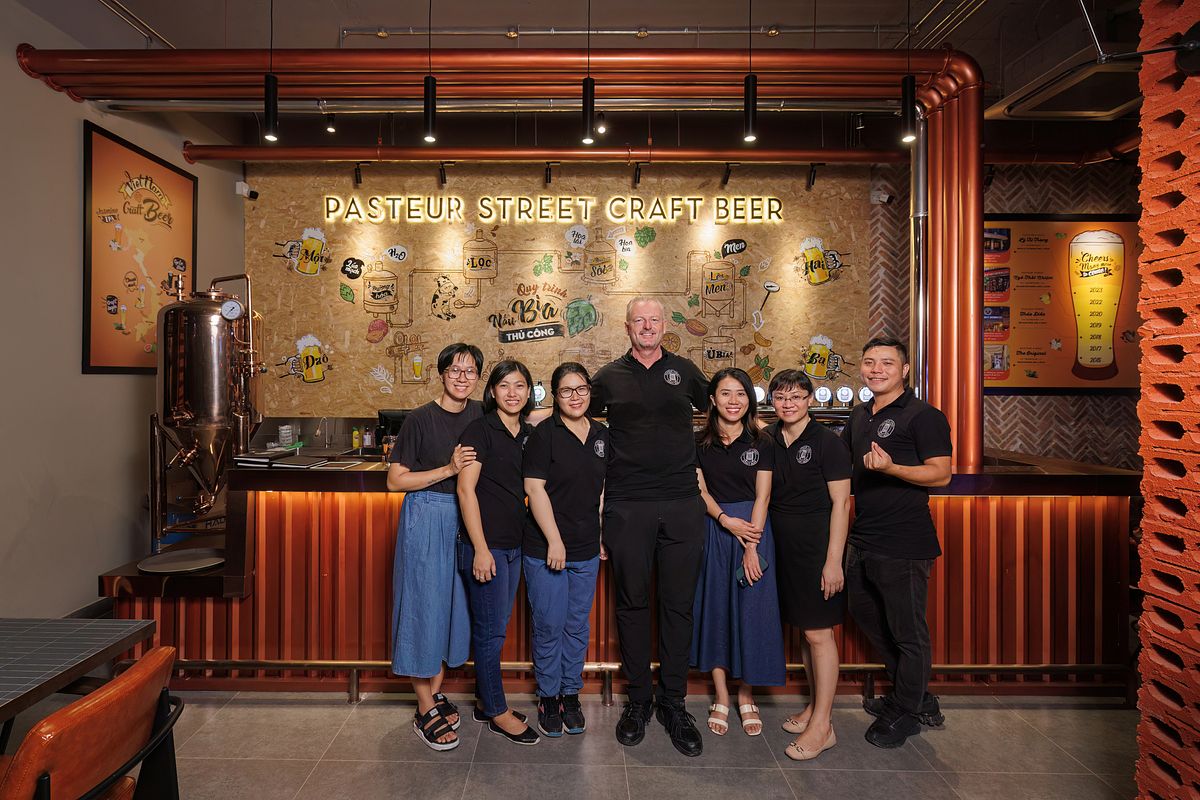 In certain communities, such as those consisting of ex-pats, Pasteur Street may seem ubiquitous. But really the awareness amongst all of Saigon's more than 10 million residents is rather low according to Duncan, and familiarity with them declines the further one strays from the southern metropolis. Reaching local audiences outside of District 1 is PSBC's mission for the future.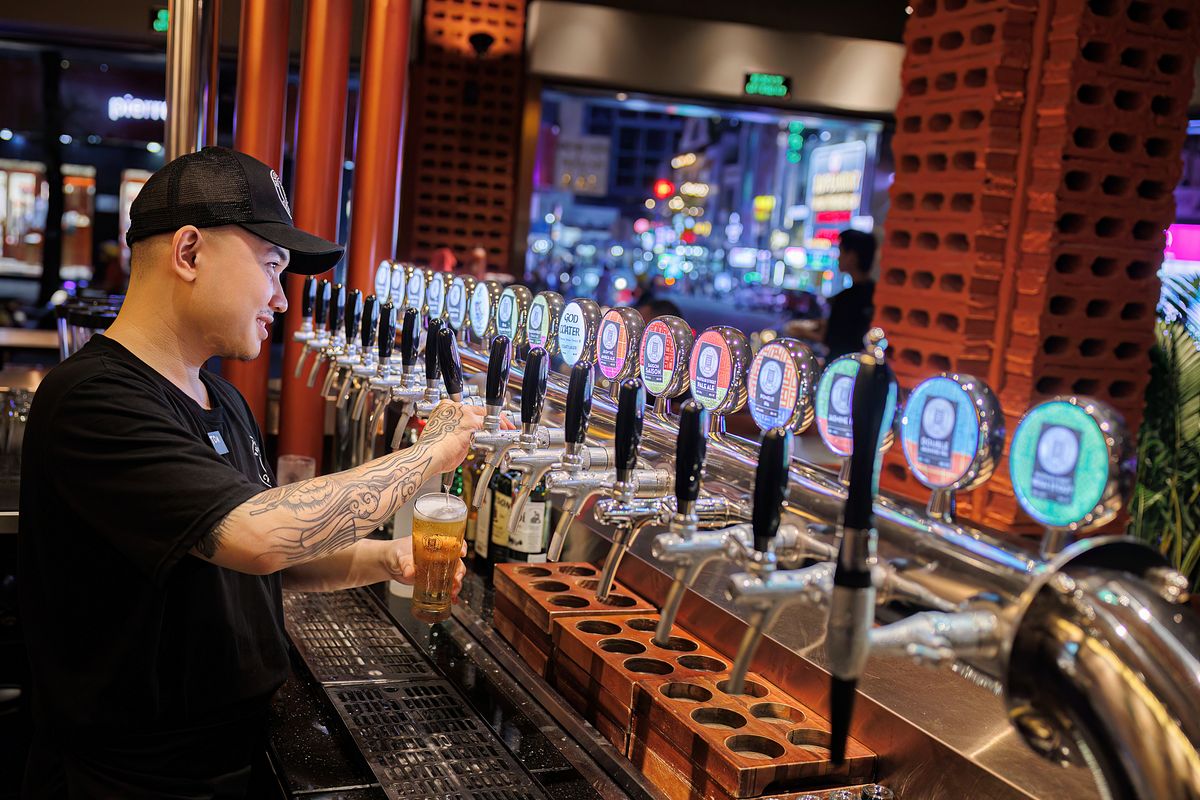 The new taproom's location represents one part of their plans to make their goal a reality. Given its proximity to tourism areas, one could reasonably assume it is catering to tourists, but it's quite the opposite. The prominence on a busy road serves as not only a convenient meeting place for locals working in D1 offices and residents of nearby District 4 to come and hang out, relax and people-watch, but also functions as a billboard for anyone merely passing through. Seeing the friendly, energetic spot filled with locals alongside tourists drinking and eating will pique the interest of those who haven't yet decided to explore craft beer.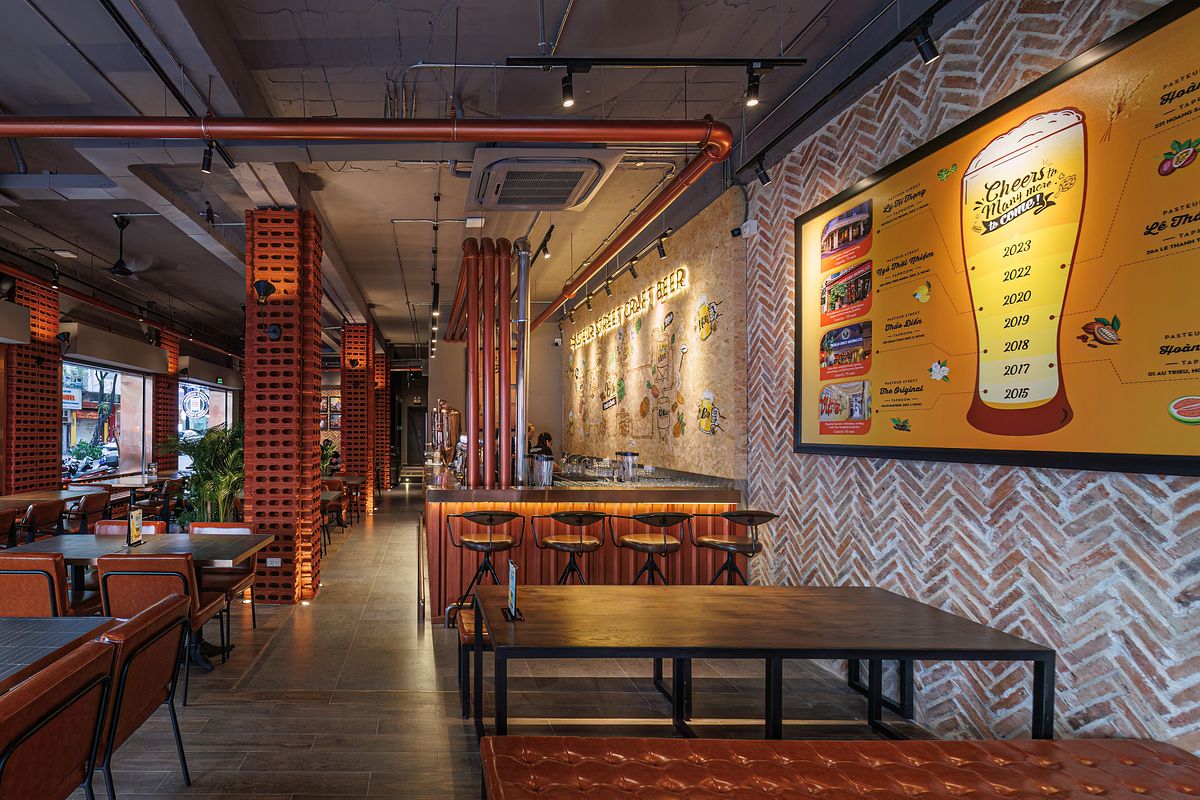 More than just name recognition for PSBC, Duncan notes that for craft beer to grow in Vietnam will require craft beer companies to educate local consumers about craft beer. This explains the prominent mural of the process as well as the fermentation tank beside the taps and jars of fresh ingredients, such as jasmine flowers, malts and hops, that customers can touch and smell. The staff have been trained to have an appreciation for craft beer and a firm understanding of why it's special to effectively guide guests through a sampling so they too can come to love it.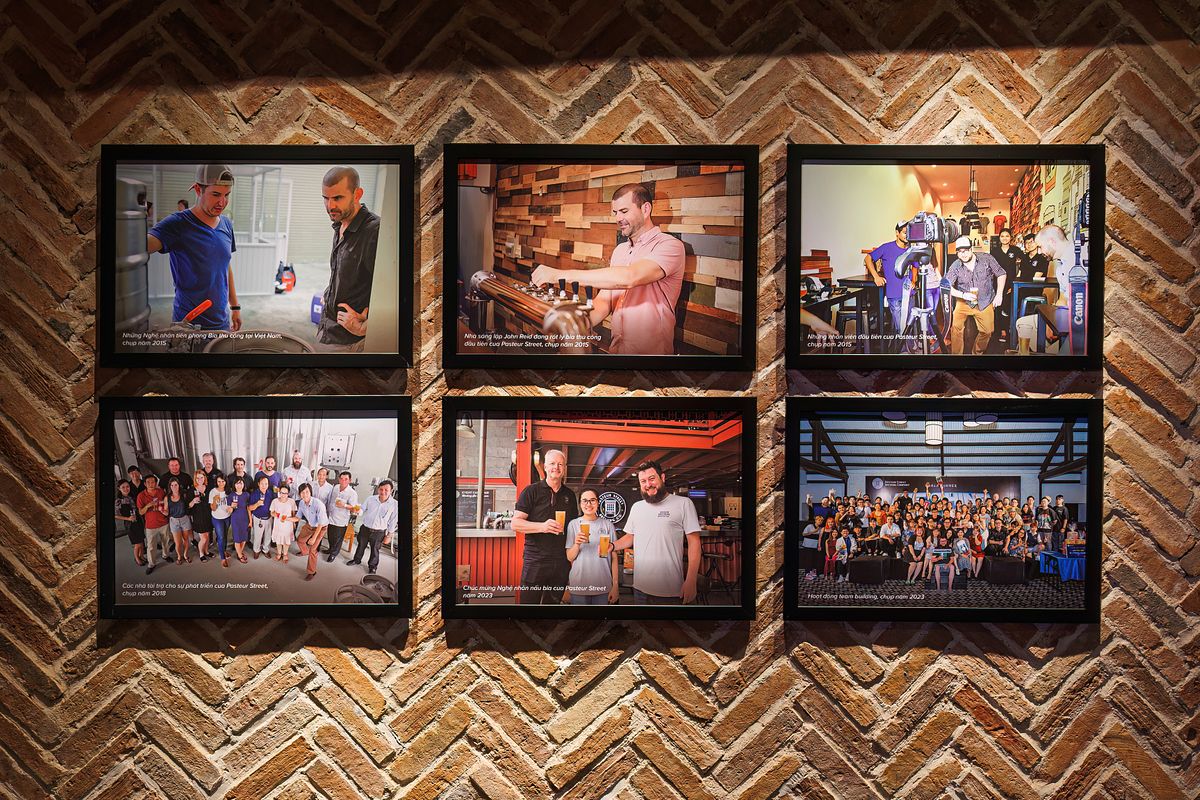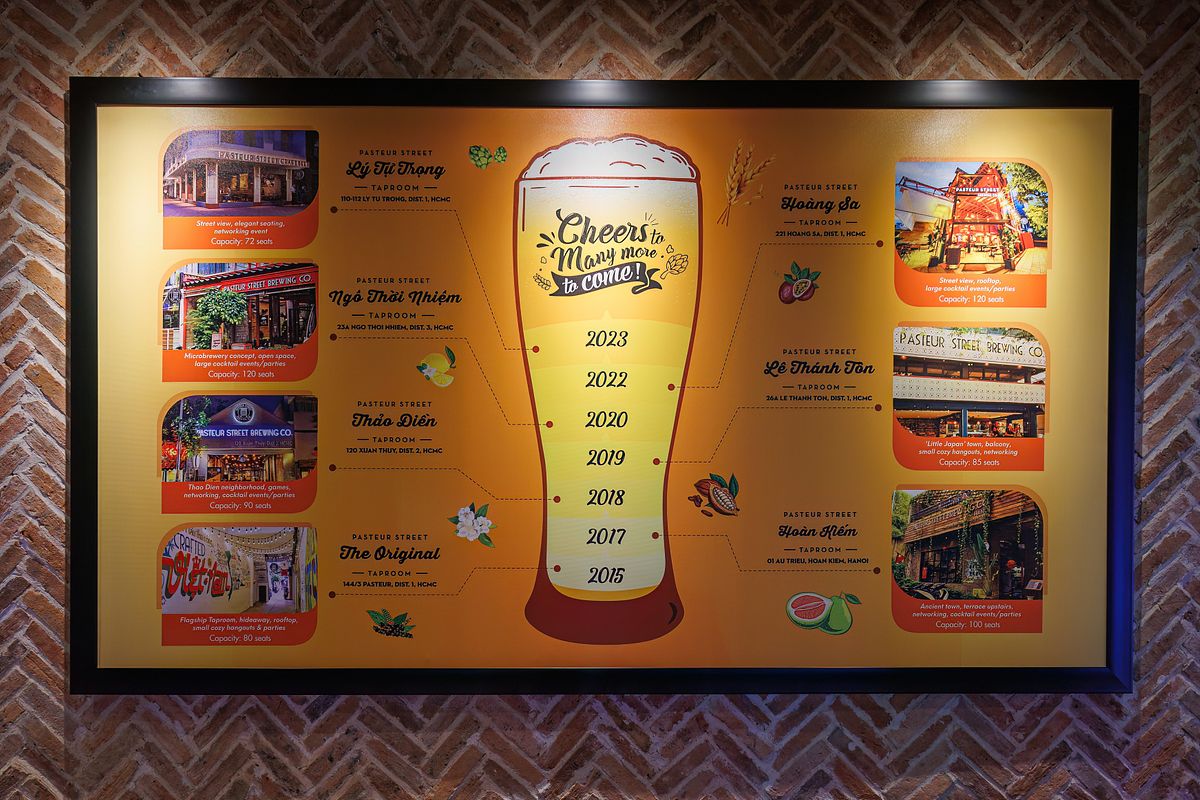 The emphasis on local clientele is apparent in the language used throughout the new taproom as well. The captions below the photos chronicling PBSC's journey since it was founded in 2014 are all in Vietnamese as is the brewing process mural. If they want to grow craft beer with a greater reach across the nation supported by new taprooms and expanded distribution, it will be thanks to adoption by local drinkers. Similarly, important internal decisions and efforts will be increasingly made by the Vietnamese team. Duncan explains that success over the next few years will mean he can step back and watch from a distance as PSBC continues to grow and thrive as it reaches new audiences throughout the country.
To get a great view of what this future looks like, or just enjoy some great beers and delicious food in a warm, relaxed environment, one simply has to visit the new Lý Tự Trọng outlet.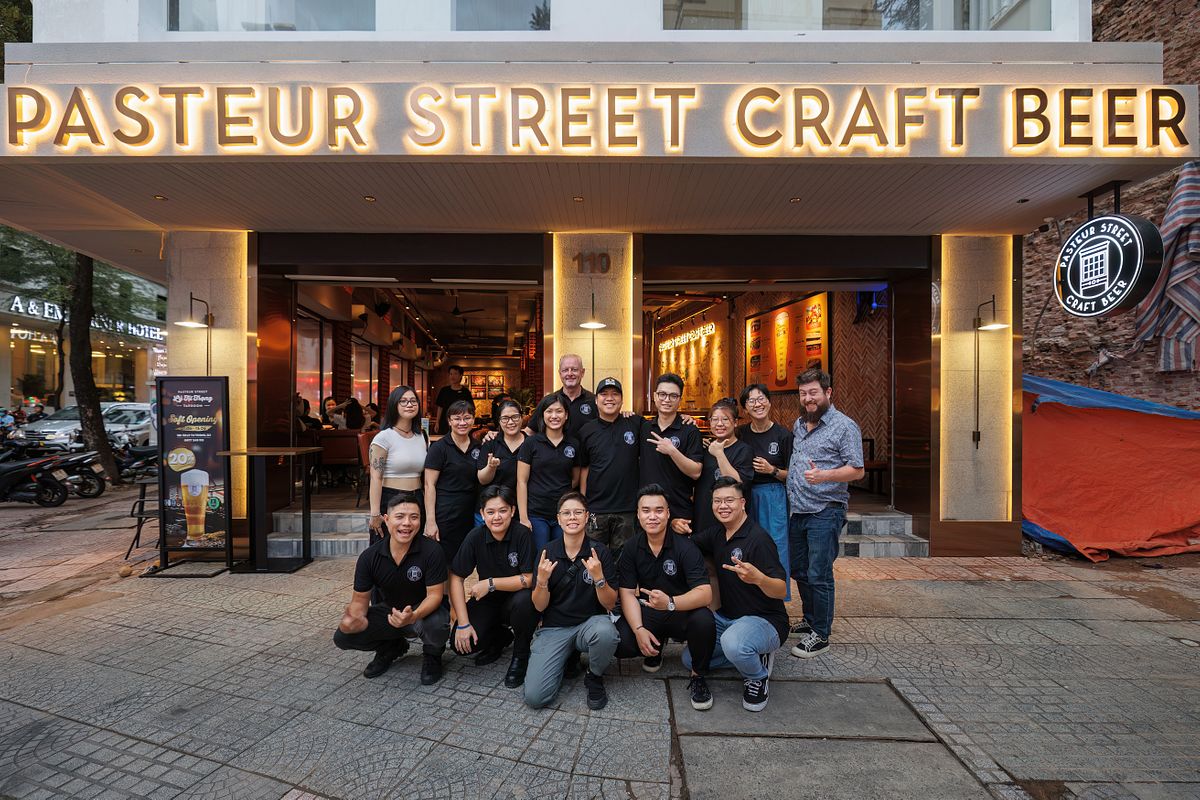 [Photos shot on May 31 before the official opening]
Pasteur Street Brewing's website
Pasteur Street Brewing's Facebook Page
+84 28 3823 9562
110 - 112 Lý Tự Trọng, D1 Ho Chi Minh City
144 Pasteur Street, D1, Ho Chi Minh City
26A Lê Thánh Tôn D1, Ho Chi Minh City
23A Ngô Thời Nhiệm, D3, Ho Chi Minh City
221 Hoàng Sa, Tân Định, D1, Ho Chi Minh City
120 Xuân Thủy D2, Ho Chi Minh City