Nguyen Dac Xuan is having a good week.
Xuan, a Hue cultural researcher, has spent the better part of 36 years searching for the long-lost Dan Duong Palace, former residence and resting place of 16th-century Emperor Quang Trung, reports Zing.
As it turns out, an archaeology team in Hue may have uncovered the foundations of the palace last week. During a 15-day investigation, researchers uncovered large rocks stacked atop one another in a manner that suggests the foundation of a building.
At five excavation sites, located near Thuyen Lam Pagoda, Van Phuoc Pagoda and two households along Hue's Dien Bien Phu Street, archaeologists unearthed not only a stone foundation but also ceramics and fragments of pottery, reports Nguoi Lao Dong. According to Xuan, the quality of these items suggests they did not belong to common people but instead to someone of higher standing.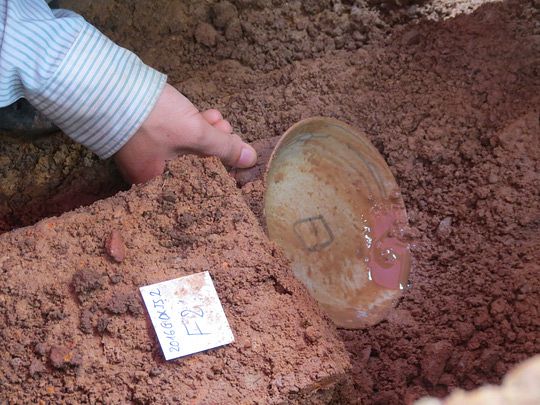 While Xuan believes wholeheartedly that this is the discovery which he has sought his entire working life, Dr. Bui Van Liem, deputy director of the Institute of Archaeology, was a little more cautious.
According to Dr. Liem, there is reason to believe the foundation may belong to Dan Duong Palace, however a long road remains before archaeologists make any official claims. For now, research teams will gather evidence and other items from the excavation sites. This process is expected to take three months, however rainy season could create complications, as excavation sites must be shielded from the rain.
Once complete, researchers will convene to create a final report, and Dr. Liem expects the findings will be announced sometime next year.
Before he became an emperor, Quang Trung was one of the three brothers who led the country's historic Tay Son Rebellion. Prior to taking the throne, Quang Trung was known by a name you'll undoubtedly recognize: Nguyen Hue. Together with his brothers, Nguyen Nhac and Nguyen Lu, he brought down the Le dynasty as well as the feuding Nguyen and Trinh Lords, ruling the country from 1788 until his death in 1792.
On his deathbed, Quang Trung demanded his burial be kept secret in order to prevent outside powers from knowing. According to Nguoi Lao Dong, even some of the emperor's close aides did not learn of his passing until months later. In order to avoid suspicion, Quang Trung was buried in Dan Duong Palace, transforming the structure from a royal dwelling to a tomb. The burial was largely orchestrated by his son, Prince Canh Thinh, and the actual whereabouts of Quang Trung's tomb have been a mystery ever since.
[Photo via Tuoi Tre]
---
Related Articles:
---