Environmental devastation, irresponsible development, economic imperilment, social ills, war legacies and the abandonment of cultural traditions and connections: these multifaceted, interconnected realities threaten Vietnam's Mekong Delta region.
Domestic and international journalism investigates the fraught topics, occasionally focusing on personal and human experiences within stories told via facts, statistics, dollar signs and acronyms. Art, however, also has an essential role in sharing the delta's narrative. The poems of witness and experience found in Drowning Dragon Slips by Burning Plain by Khải Đơn allow readers to feel the dire conditions; an essential element for understanding them.
Ruminating on a land of complexities
Born in Đồng Nai, for nearly 10 years, Phạm Lan Phương, best known under her pen name Khải Đơn, had covered issues related to Vietnam and the Mekong Delta for Vietnamese and international news publications, before embarking on a Master of Fine Arts degree in creative writing and starting a popular bilingual newsletter. She has published numerous books in Vietnamese, but Drowning Dragon Slips by Burning Plain is her first English-language poetry collection. She opens it with an invitation to "venture into my world: The Mekong Delta – The Land of abundance, The infinite horizon of rice, hiding a violent and faceless past."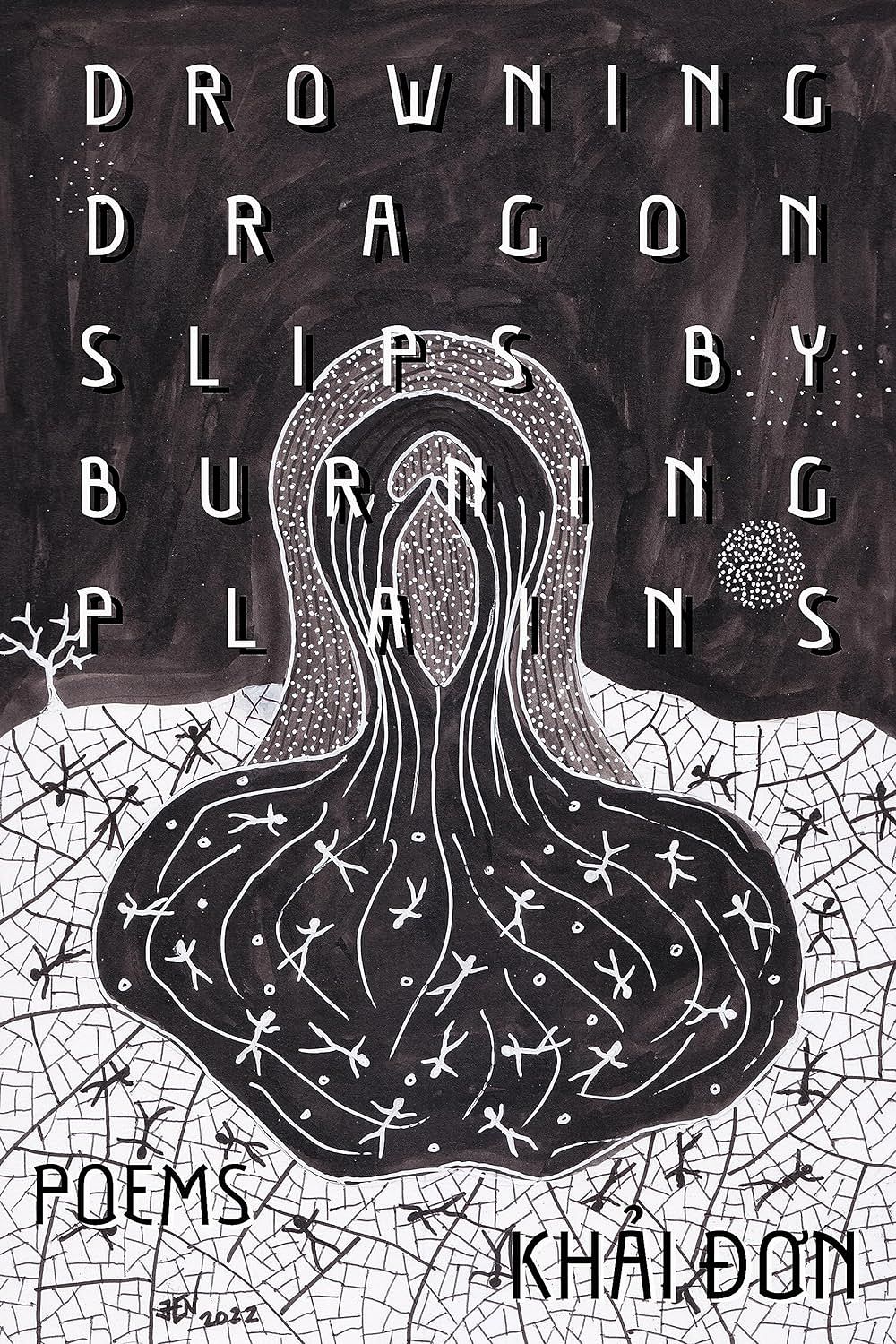 The Mekong Delta is not a land of clear divides. Much like the way its soil, shores and waterways blur together, people and nature blend and overlap in Khải Đơn's poetry. In the book's opening poem, for example, the speaker notes: "Mangroves tangle and grow out of my shins." Elsewhere, a nursing baby is its mother's "little lotus" and simply, "One's life was defined by the beloving air, the sound, the vegetables they grow, the spices and herbs they harvested, the land and mud touching their feet. Their lives were the land's life itself." By describing the delta's residents via imagery of its geography and non-human inhabitants, Khải Đơn emphasizes their connectedness, which adds emotional resonance to the catastrophic degradations that abound.
By describing the delta's residents via imagery of its geography and non-human inhabitants, Khải Đơn emphasizes their connectedness, which adds emotional resonance to the catastrophic degradations that abound.
The connections between people and earth flow the opposite direction as well via frequent personifications of the delta. Mountains "cover their eyes," "slow rapids lick," and a "dune heaves on the river chest." In the poem 'Origin of Dams,' the Mekong River itself speaks, articulating how the construction of dams, introduced as a female entity, "spins a root into my ears, searching my beats and cells. My face sinks in the muddy field, listening to her pulses growing out of my brain sutures." Such deft descriptions of the region's natural environments underscore how the delta and humans are linked, each with the ability to determine the development and destroy the other. Moreover, the poems compel readers to extend the feelings of love, pain and sorrow regularly reserved for humans to the region's nature.
Weaving truths and emotions, journalism and poetry
Books of contemporary poetry published in America frequently orbit singular themes or topics, approaching one or several specific subjects from different angles. Drowning Dragon fits within this trend and readers could list most major issues related to the delta and identify corresponding poems in the book concerned with them. There are poems that investigate the impacts of bridge construction, greedy land developers, a lack of educational opportunities for young women, unskilled labor migration, sand mining, domestic violence and alcohol abuse, floods and erosion, and exploitation of soil for rice cultivation as well as the previously mentioned poem about dams. Khải Đơn's talent for captivating images and metaphors, in addition to mastery of untethered structures and perspectives, exemplifies how poetry can bring emotional immediacy to subjects typically reserved for academic or journalistic texts.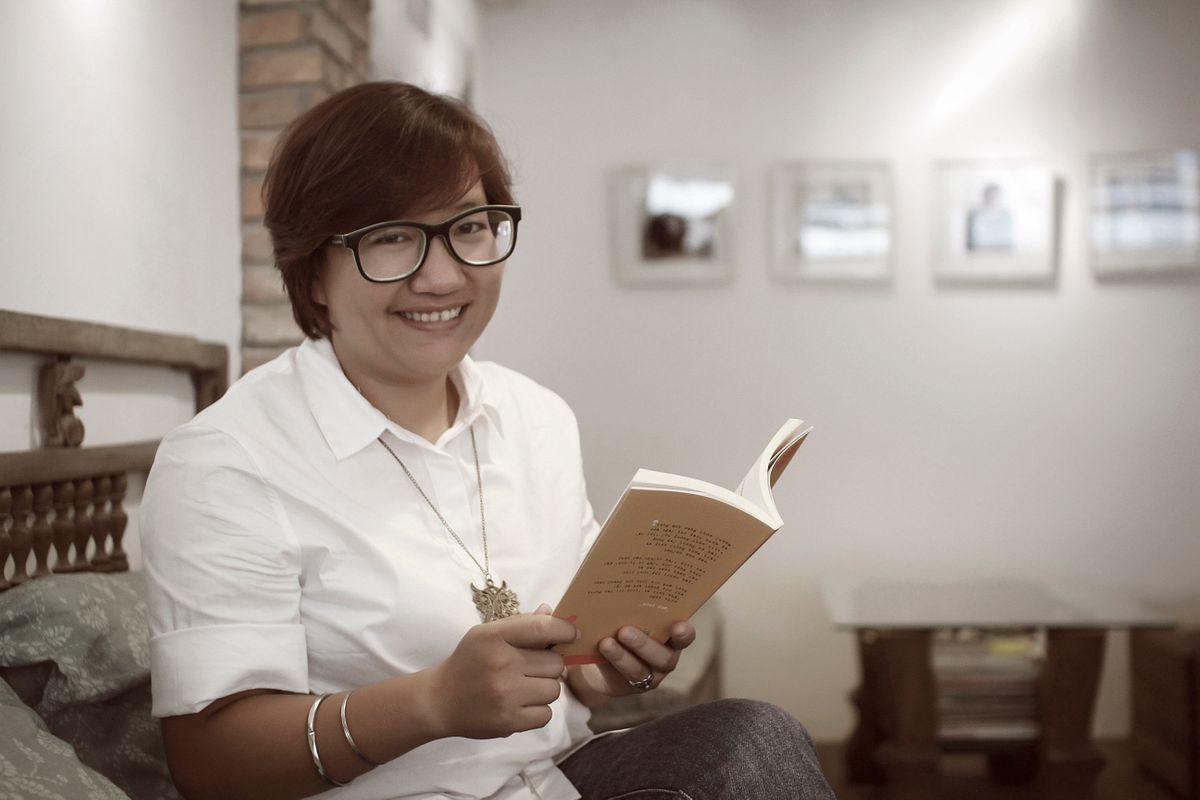 Another significant difference between the conventional rules of reportage and poetry is an allowance for uncertainty, contradiction and an implicit admission of the limitations of truth. Khải Đơn considers the later in the profound 'Writing my Past into Your Present of Watching the Disgraced Truth.' In it she admits:
I have trust issues with the present. It transforms like snakes, sneaking between facts and assumptions, between desire and capability, between imagination and reality, between newspapers and erased papers. It sheds the old skin, shrugging off and slipping into the present, like new, no trace back to the old shell. I struggle between the entanglements of snakes, with other thready snaky bodies, my journalist colleagues and me to weave a "truth" out for the daily manifestation of life, slipping and deforming. We tangle each other up like wool balls of snake in the hand of a cat-god, playful and untrustworthy, betraying its every moment.
This book confirms that the permission poetry gives to employ surrealism, spirituality and metaphysics, uncited declarations, unsupported claims, evidence-free emotions, and searchings without conclusions holds great power in the hands of a talented writer often constrained by stricter genres. Still, elements of Khải Đơn's journalism background enter and inform her poetry. For example, several poems are constructed with language lifted from official government reports and news articles. Meanwhile, the stand-out long prose piece 'Erosion,' which documents the speaker's grandmother's passing, the fates of members of a multi-generational delta family living on at-risk land, a flower farmer in Sa Đéc, and a sand miner could easily be published as an essay that aims to spotlight the impact of larger political realities and decisions on individual lives.
Singular poems, let alone books of poems, can very rarely be summarized to any particular point. This holds true for Drowning Dragon Slips by Burning Plain, despite its focus on environment-related issues in the Mekong Delta. But while there is not one singular emotion the book leaves readers with, the final poem's final image is apt for its over-reaching tone. In it, the speaker admits to her father that she cannot remember where her grandfather is buried. He responds by pointing at the rising tide. In the preceding poems, currents swallow homes and memories while lives are drowned thanks to greed and negligence. So, certainly, that rising tide portends only misery.
Drowning Dragon Slips by Burning Plain promises a rewarding reading experience for diverse audiences. Those approaching it from backgrounds of informed interest in the Mekong Delta will no doubt appreciate how it articulates feelings and experiences that cannot be expressed in peer-reviewed works. Meanwhile, poetry enthusiasts will admire its elegant crafting and the ways in which it expands the topics where poetry can claim relevancy. It is not an uplifting or hope-inspiring read, but it is a powerful means for gaining an intimate understanding of the Mekong Delta.