One of my favorite parts about being in a new city is dropping by any random neighborhood and just walking around until my feet get sore. Walking affords me the leisurely pace and multi-dimensional freedom to look up, look down, peek at things and places, and stop along the track to let my senses be pleasantly overwhelmed by the onslaught of urban quirks.
As a native Saigoneer, I know your window for recreational walking more often than not gets slammed shut the moment you park your butt on a motorbike and learn how to ride that thing to the sunset. I have driven on the streets of Chợ Lớn countless times — during my daily commute home, on the way to my trusted cat food shop in District 6, to get my monthly fix of street dim sum — but there has never been time to roam this colorful neighborhood just for the sake of exploring.
This year, right before Tết Nguyên Tiêu, I managed to drag the Saigoneer editorial team out of their secluded caves to head to some of my favorite haunts in District 5, and experience everything in between. Within three hours of a humid February afternoon, we stuffed ourselves full of chonky há cảo, sampled obscure Chinese chè, but most importantly, became marginally less uncultured.
From our first iteration of Saigoneer Stroll, here are some recommendations on how to spend an afternoon in Chợ Lớn, Saigoneer-style.
1. Miếu Nhị Phủ
Address: 264 Hải Thượng Lãn Ông, Ward 14, D5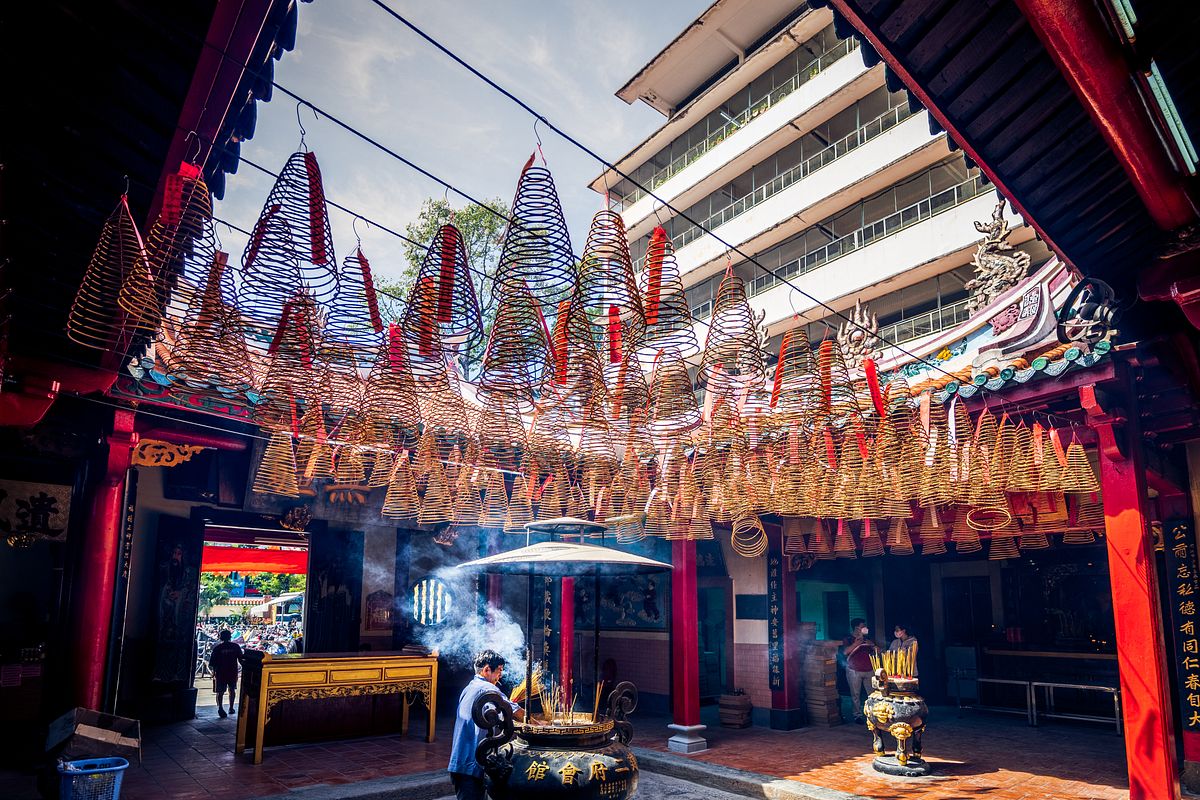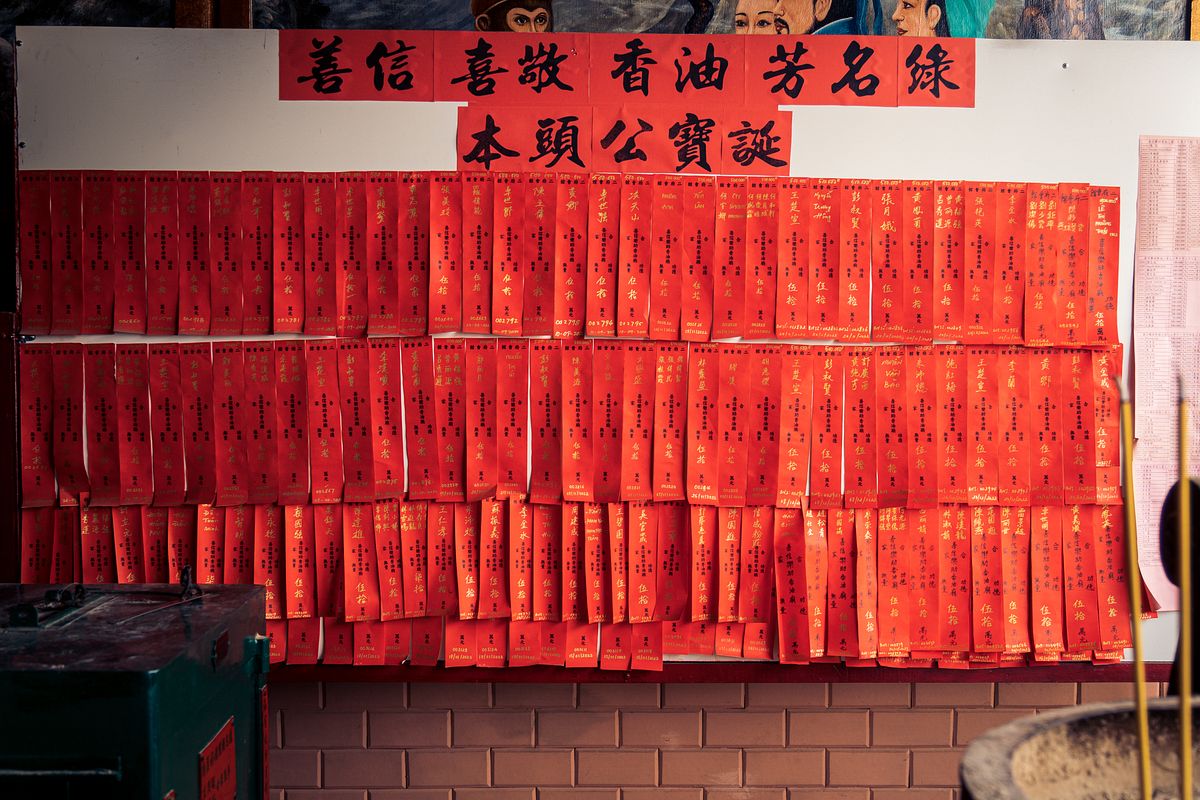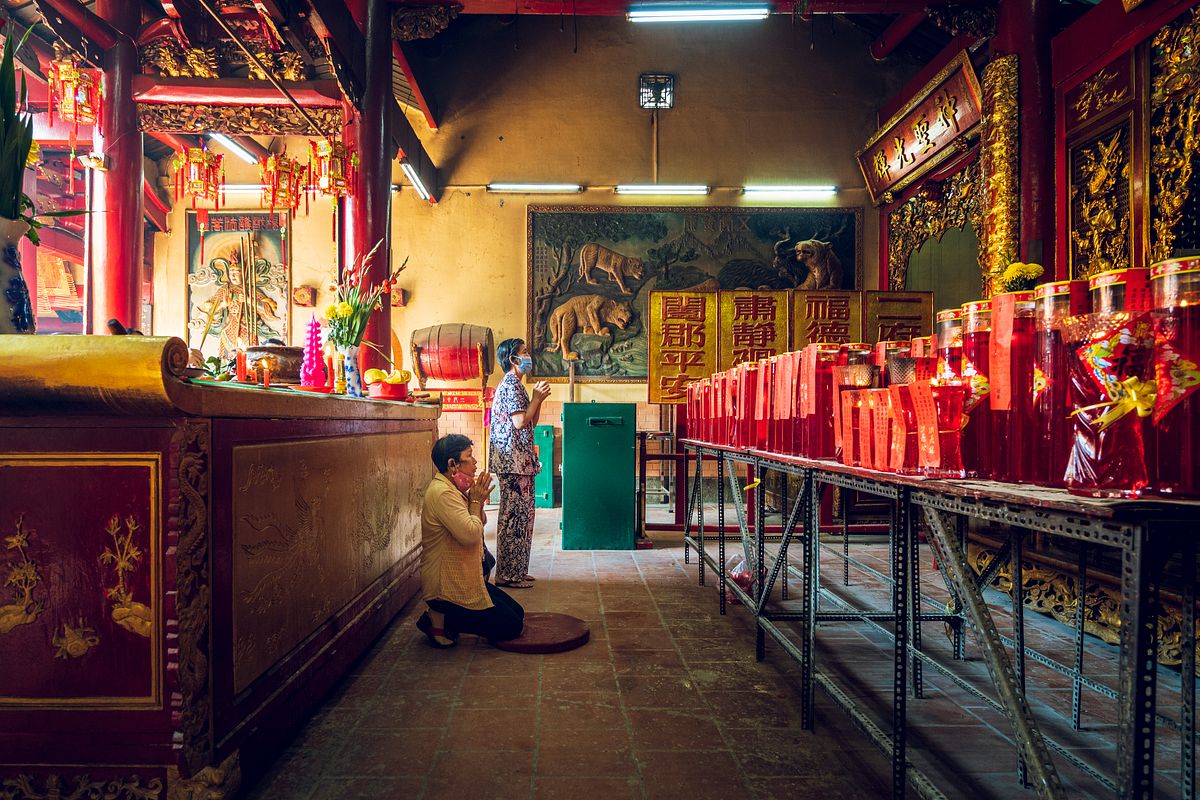 With a spacious courtyard, Miếu Nhị Phủ's parking lot is the perfect starting point to entrust our motorbikes. The humble temple was constructed by Hokkien immigrants in Chợ Lớn at the beginning of the 18th century as both a place of worship and a hội quán (guild hall) where the Hoa Vietnamese families celebrate important occasions and hold community events.
Features:
Basking in the contemplative atmosphere here may help with notification fatigue.
Light an incense or two to ask for good health for your family, or for him to text you back (success not guaranteed).
Cost: VND5,000 per motorbike
Tips: Wear long skirts or pants and sleeved shirts if you want to pop inside the temple.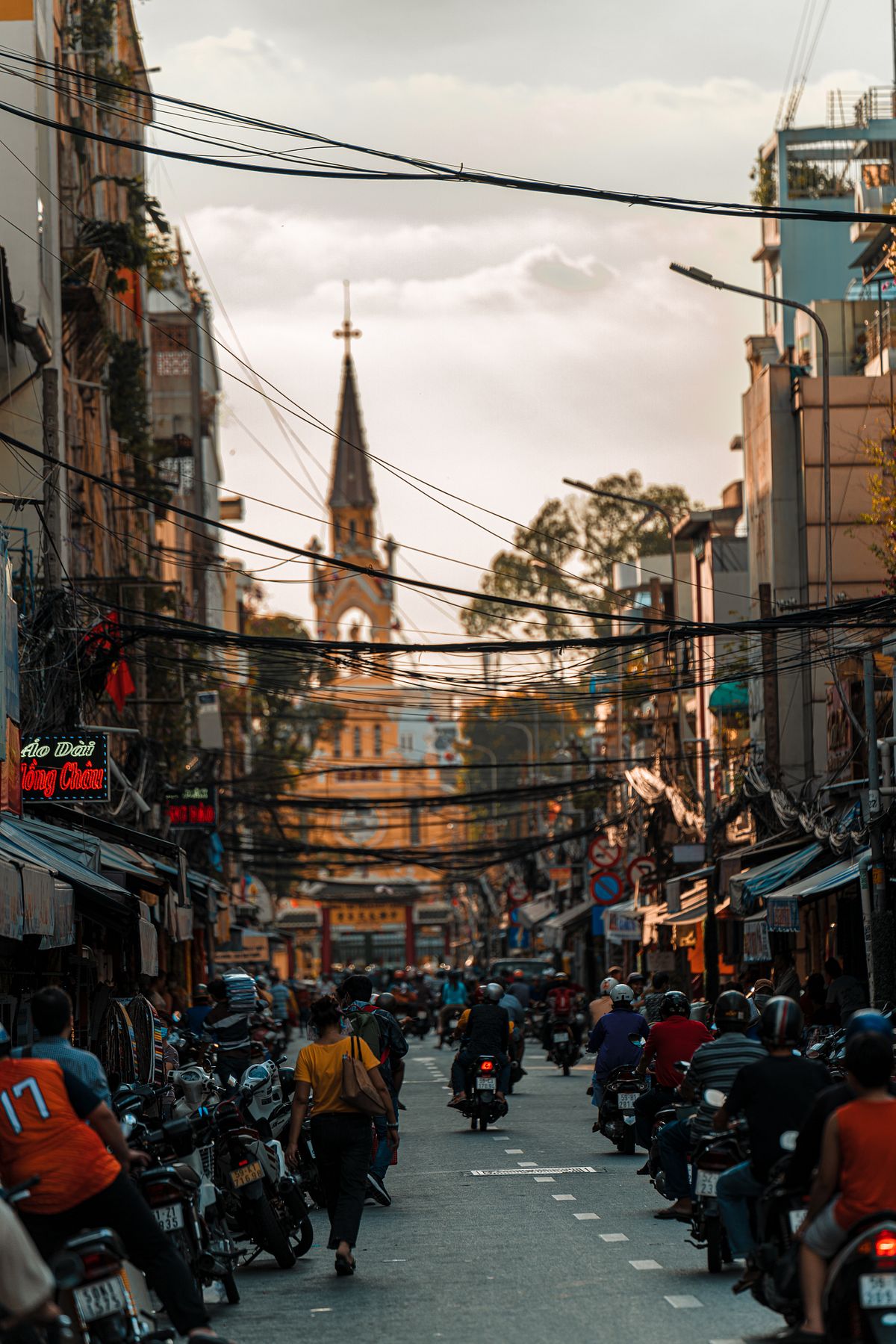 2. Đồng Khánh Trade Center / Soái Kình Lâm Market
Address: Trần Hưng Đạo B Street between Phùng Hưng and Học Lạc streets.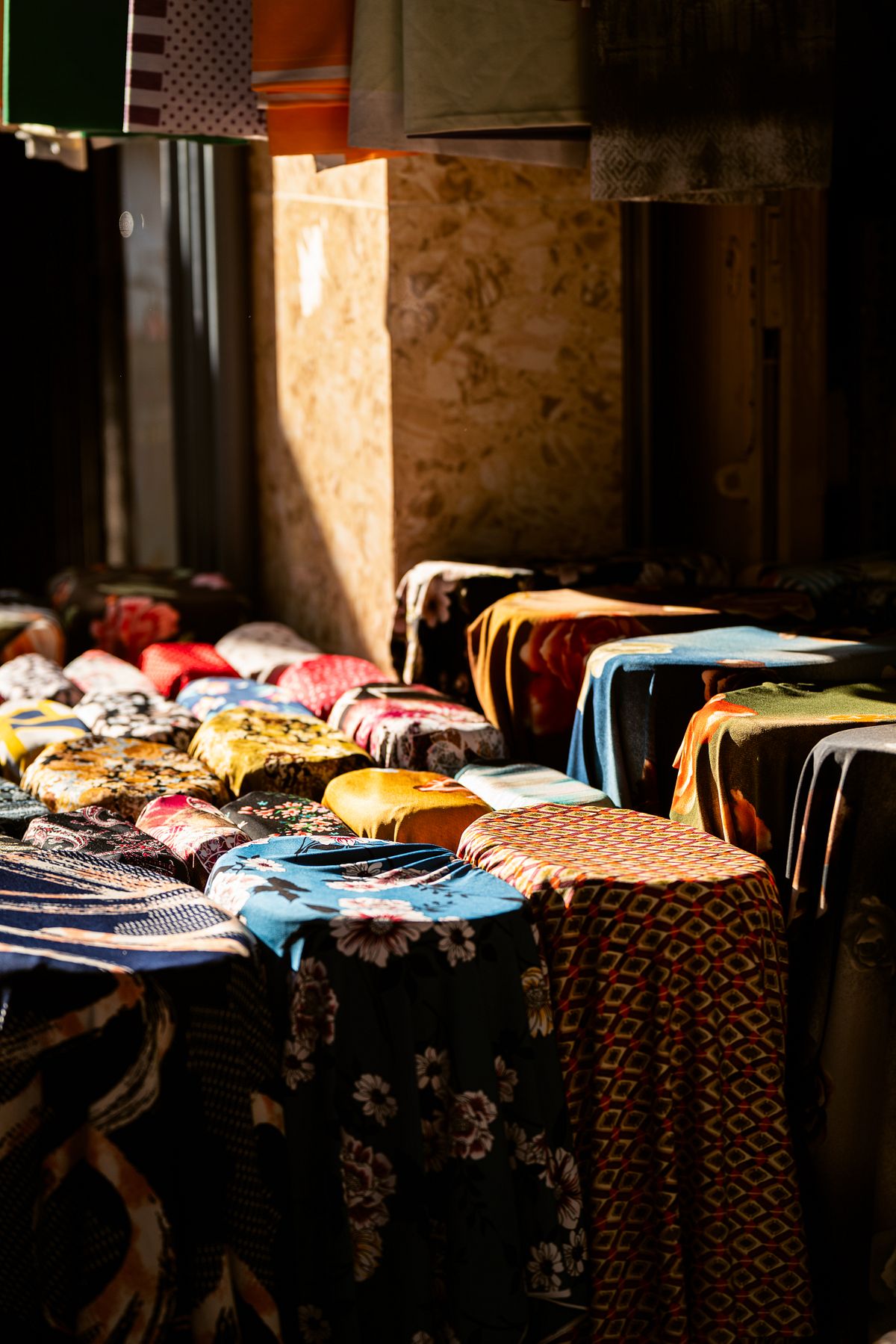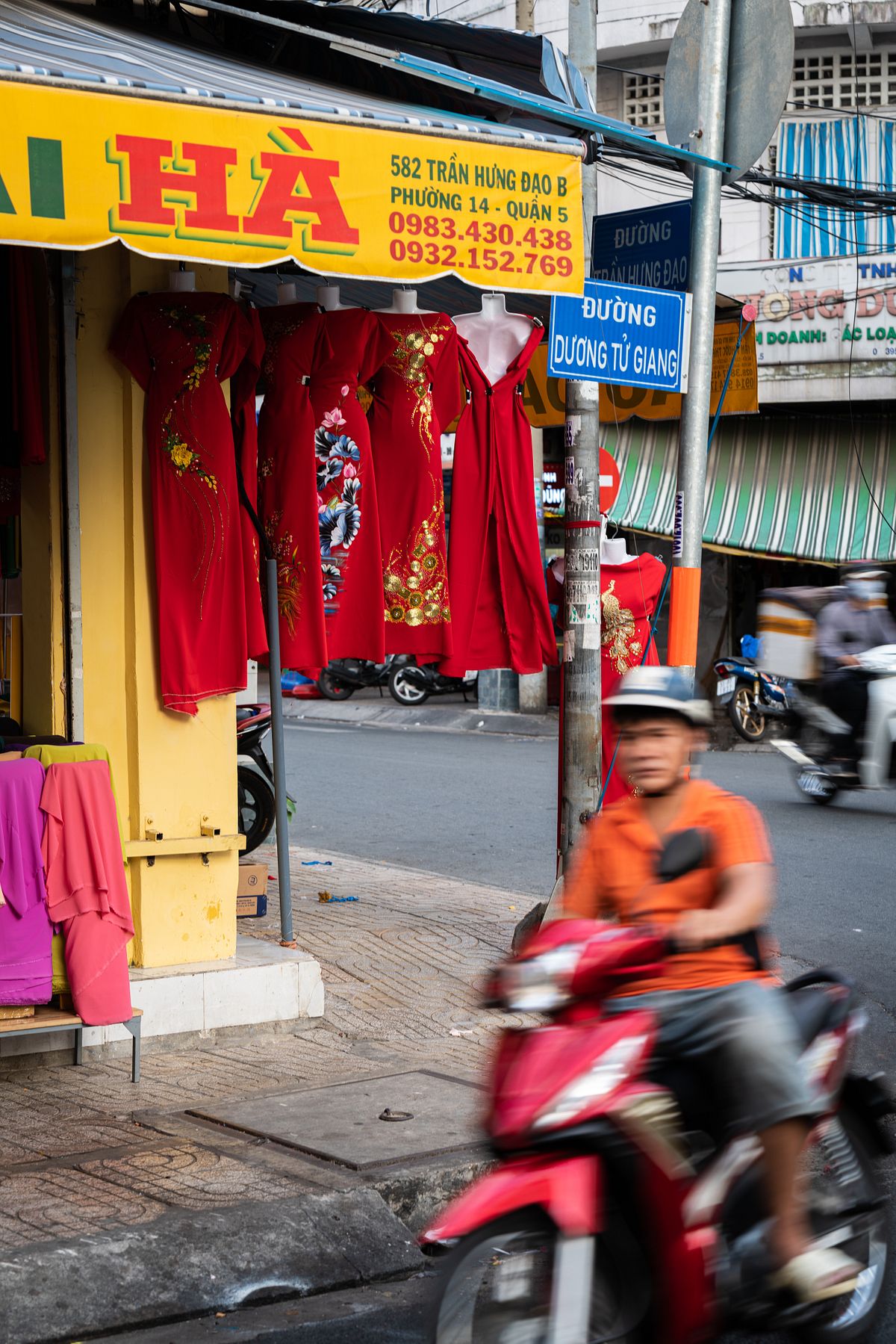 As Saigon's largest wholesale fabric market, Đồng Khánh Trade Center and the surrounding stores carry a kaleidoscope of patterns, colors, and textures when it comes to textiles. This three-decade-old commercial area is exhilarating to walk past even for those not fashionably attuned. Colors! People carting around giant rolls of fabrics! Woah, is that a Pikachu-patterned áo dài?
Features:
This street has more hues than Crayola and more patterns than Photoshop.
Caressing textile sheets is surprisingly cooling and therapeutic, veering towards the ASMR category.
Cost: Free if you're just looking.
Tips: Compliment their fabric selections if you want to photograph their stock.
3. St. Francis Xavier Church
Address: 25 Học Lạc, Ward 14, D5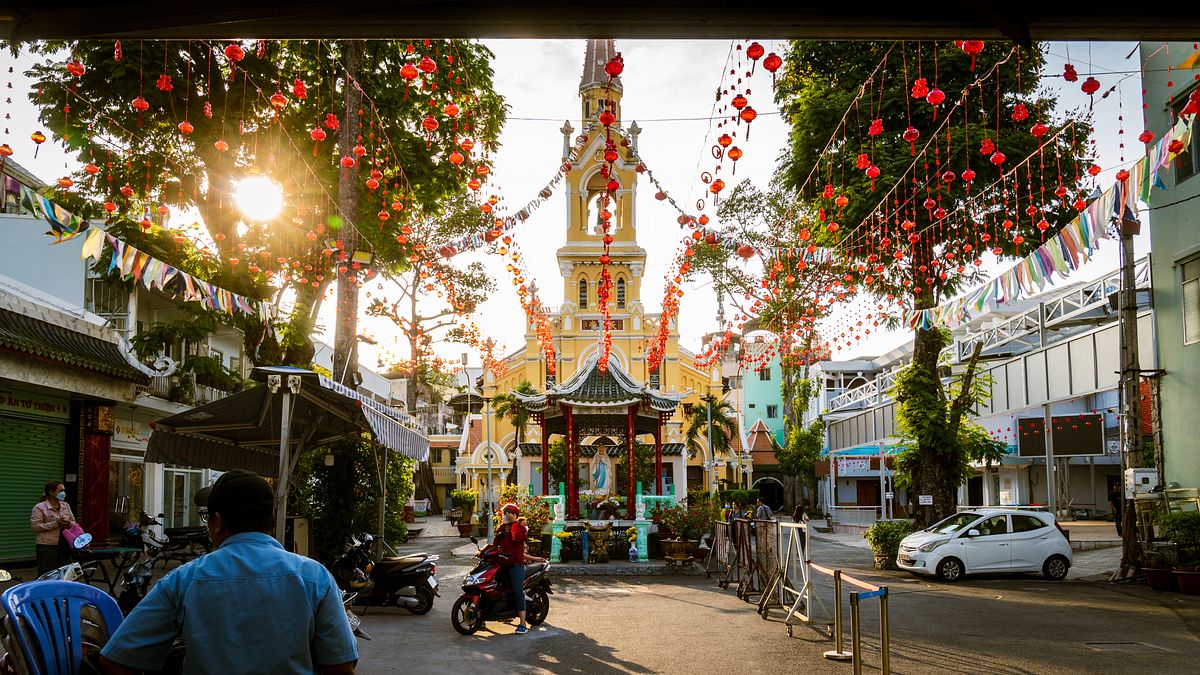 The first bricks that went into the construction of this picturesque church were laid on December 3, 1900, on the Feast of St. Francis Xavier, so it was named after Saint Francis Xavier. Still, few Vietnamese would recognize this name, as it's often known by the affectionate nickname Nhà Thờ Cha Tam (the Church of Father Tam), after the first pastor who oversaw the church's construction.
Features:
An interesting blend of European Gothic, French colonial, and Hoa Vietnamese architectural styles.
Chinese-language services
Cost: Free
Tips: Leave your sins outside the door.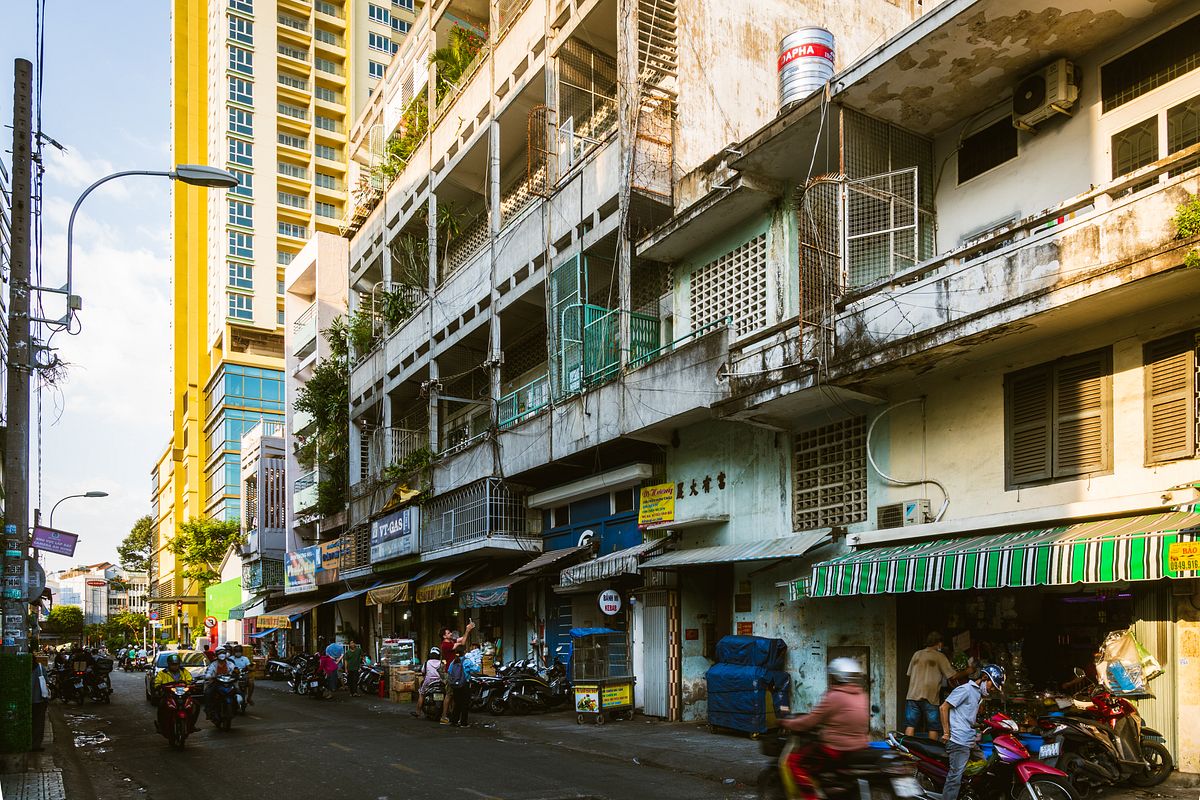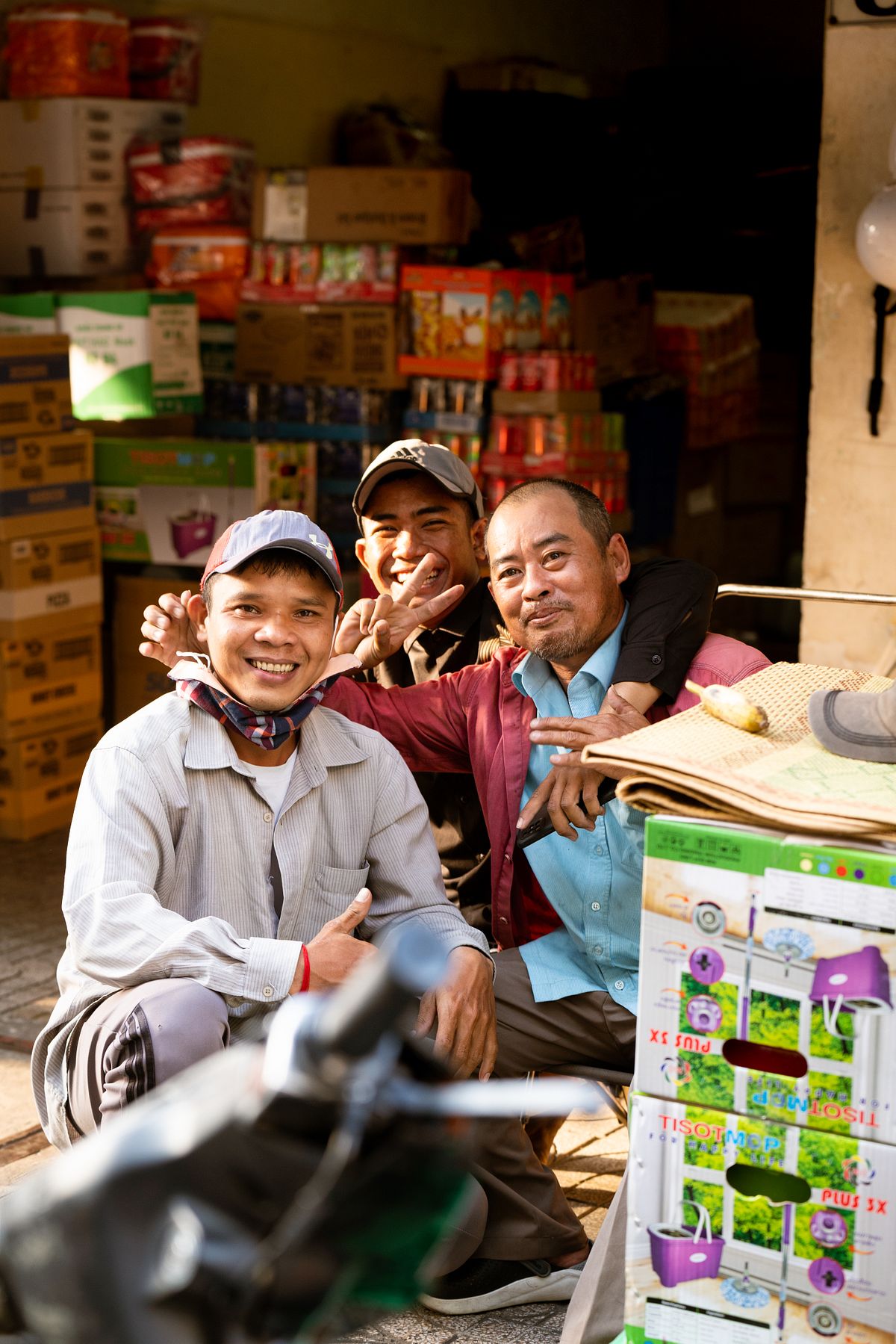 4. Dimsum Học Lạc
Address: 38B Học Lạc, Ward 14, D5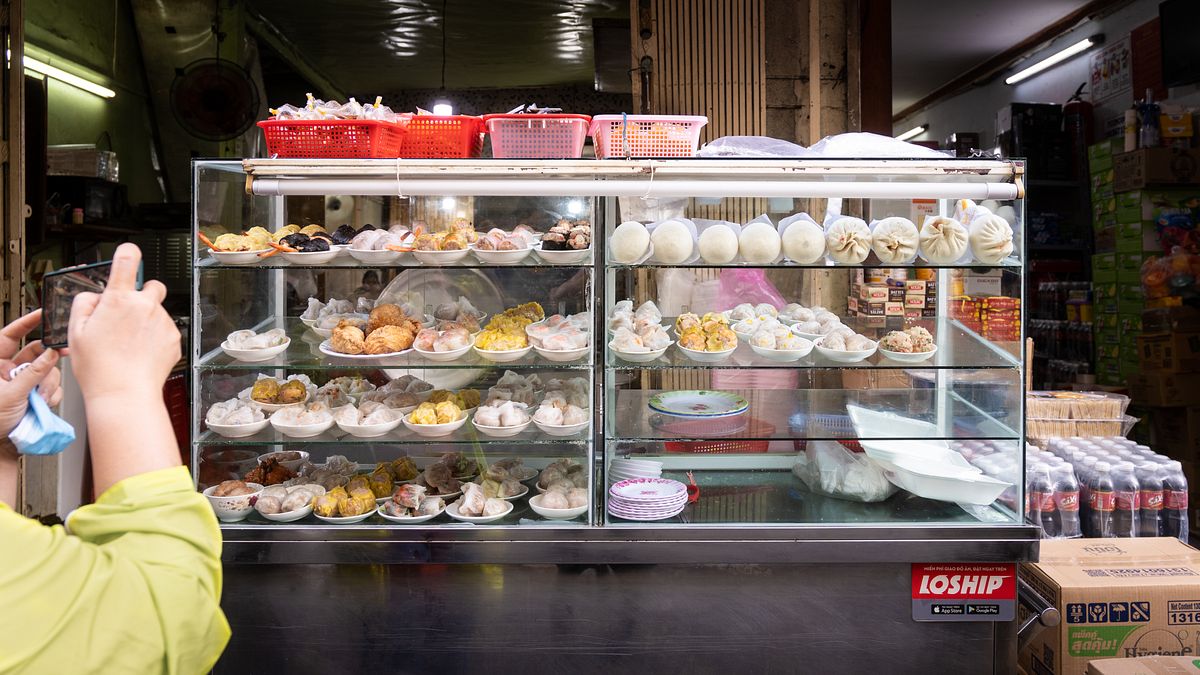 It's snack time! Dimsum Học Lạc is homey, intimate, and quite hot inside, but serves up some of the largest dumplings I have ever encountered in Saigon. They are chonky. By the time we got to this point, we were ravenous and decided to order a plate of everything on the display. Big mistake. The owner, bless her heart, decided to just bring up half and double-check with us, because she had 22(!) types of different dimsum. Thankfully, the homemade soy milk helped wash down our eager overordering.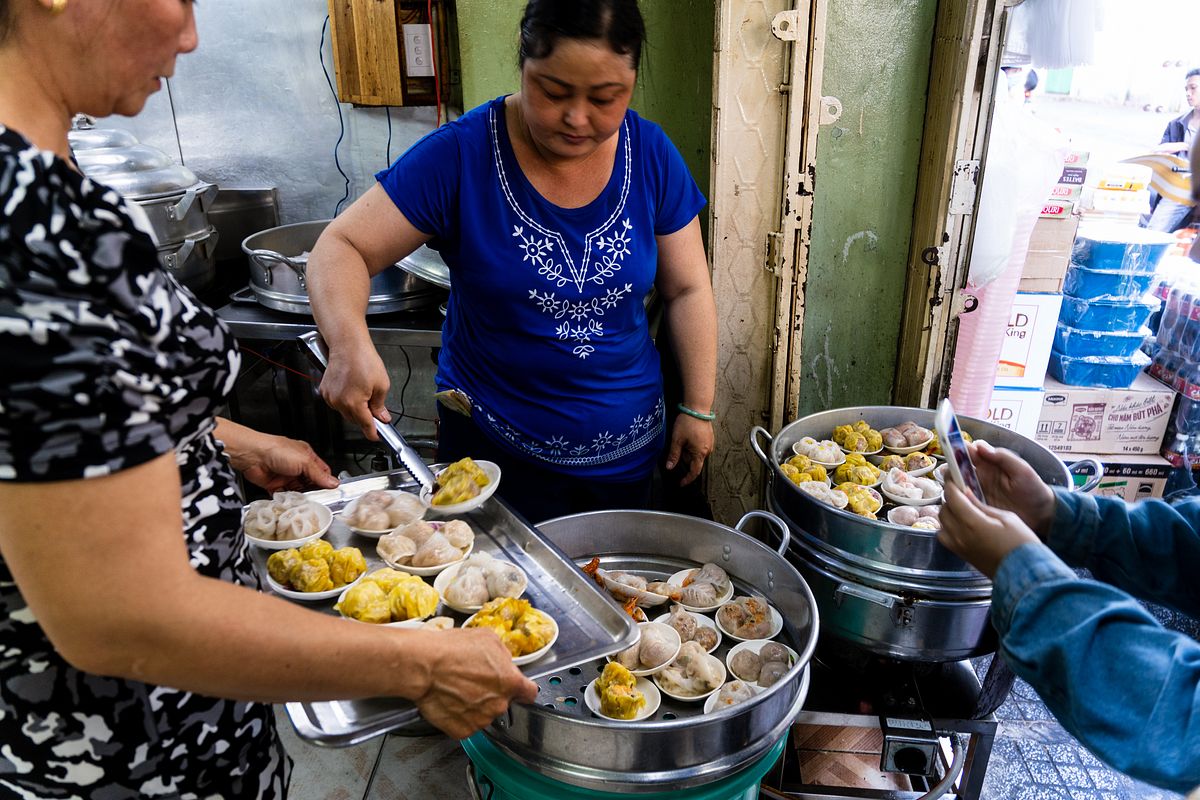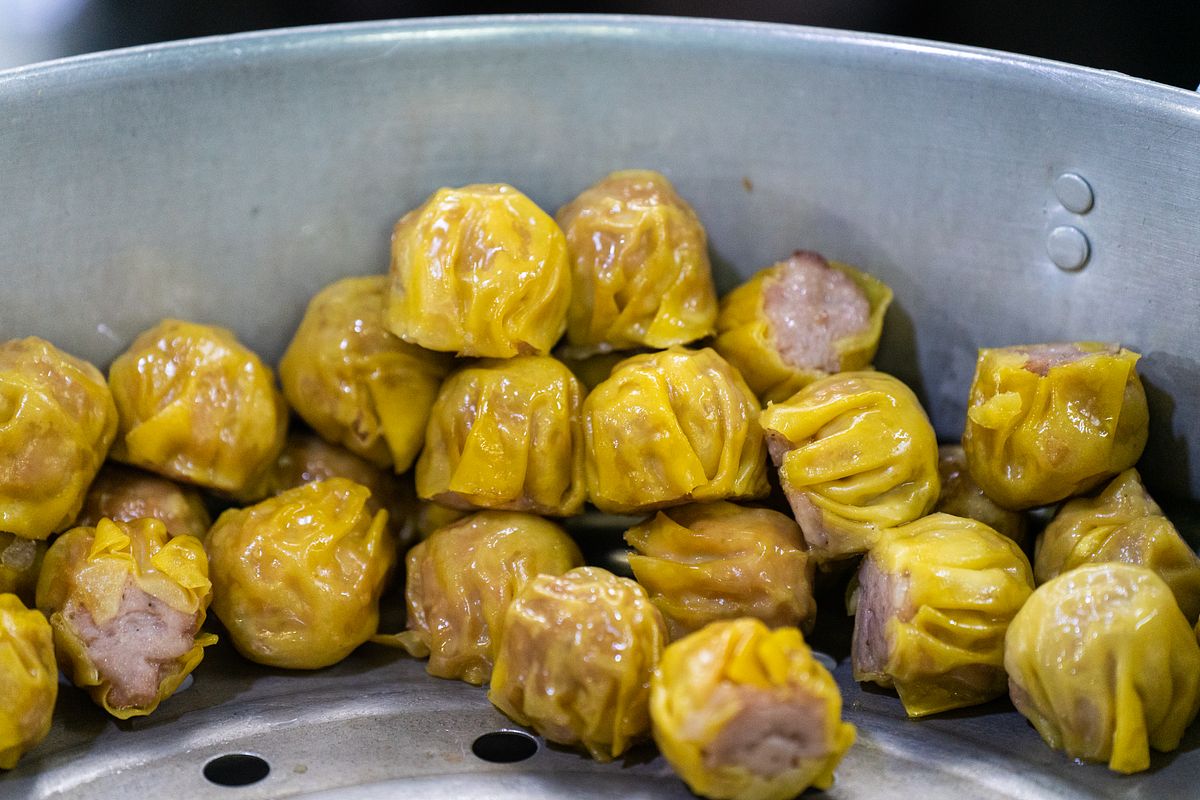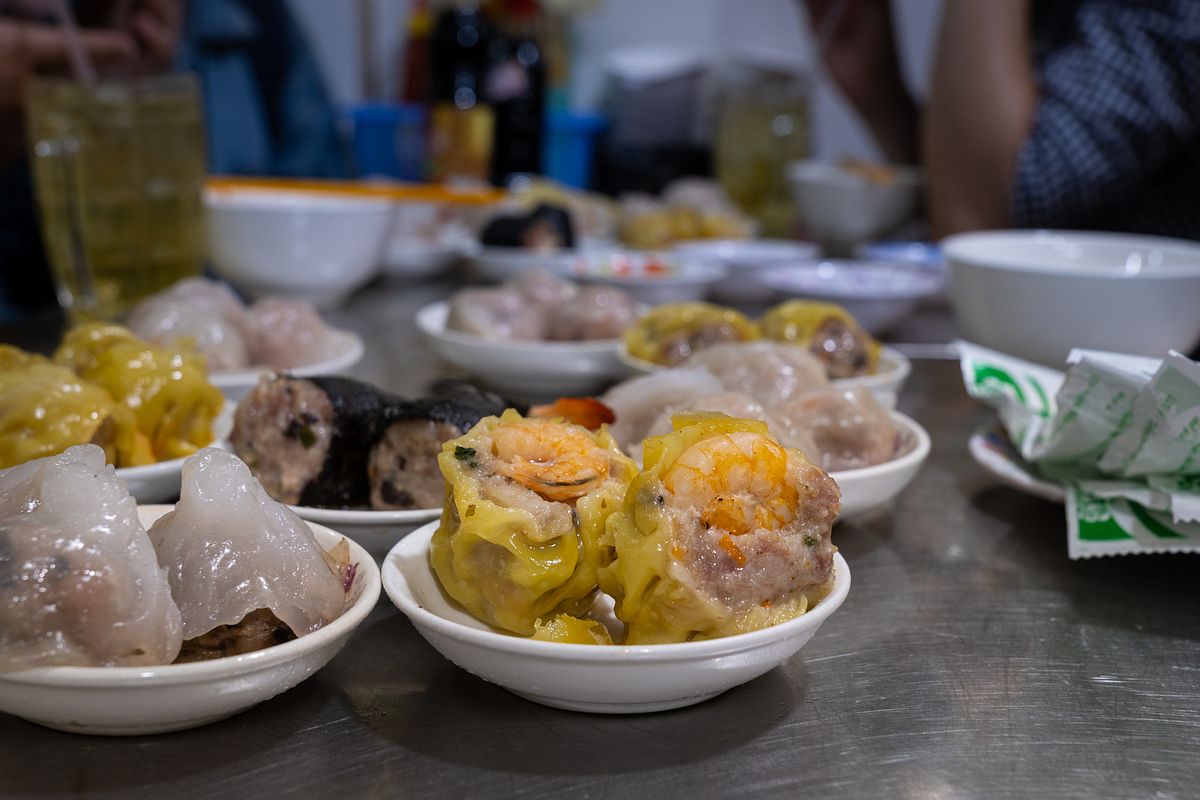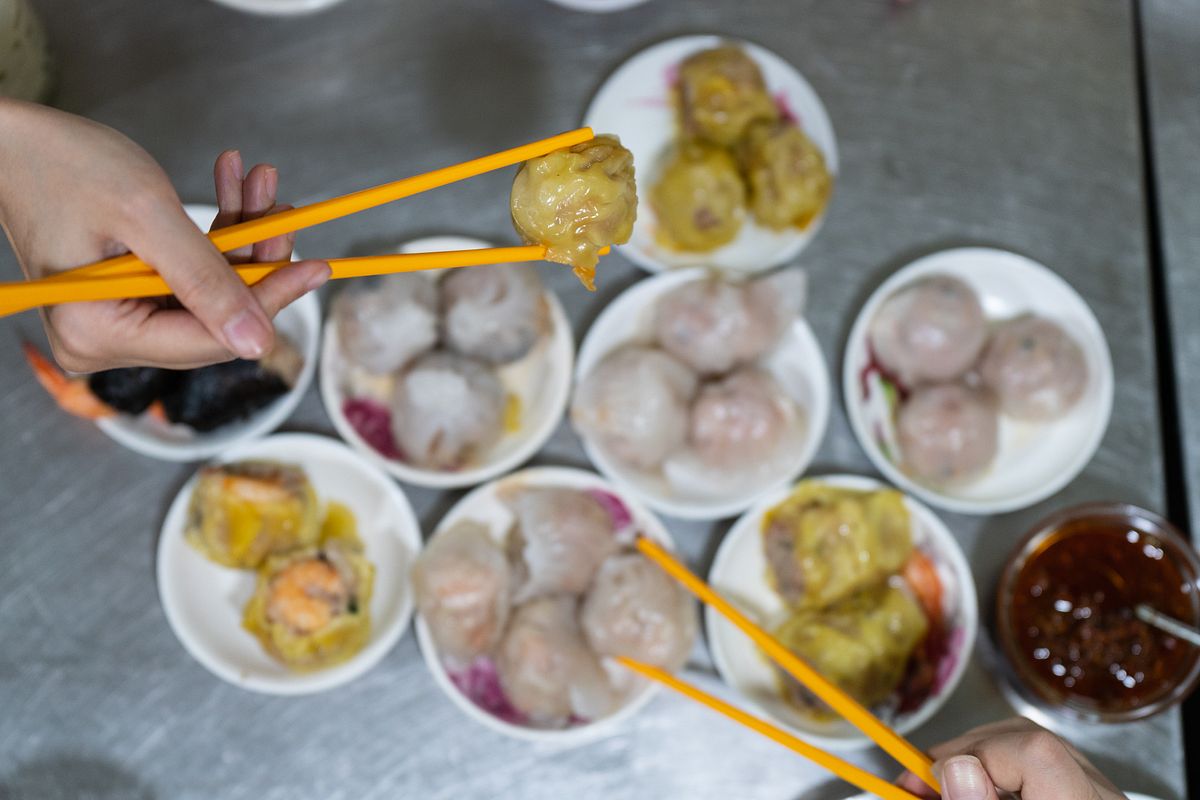 Dish of the day: Anything seaweed-wrapped, including the crab stick and fresh shrimp versions.
Cost: VND50,000–90,000 per person
Tips:
Don't be greedy little pigs like we were and order everything on the menu.
Prepare cash because no bank transfer or app-based payment is available.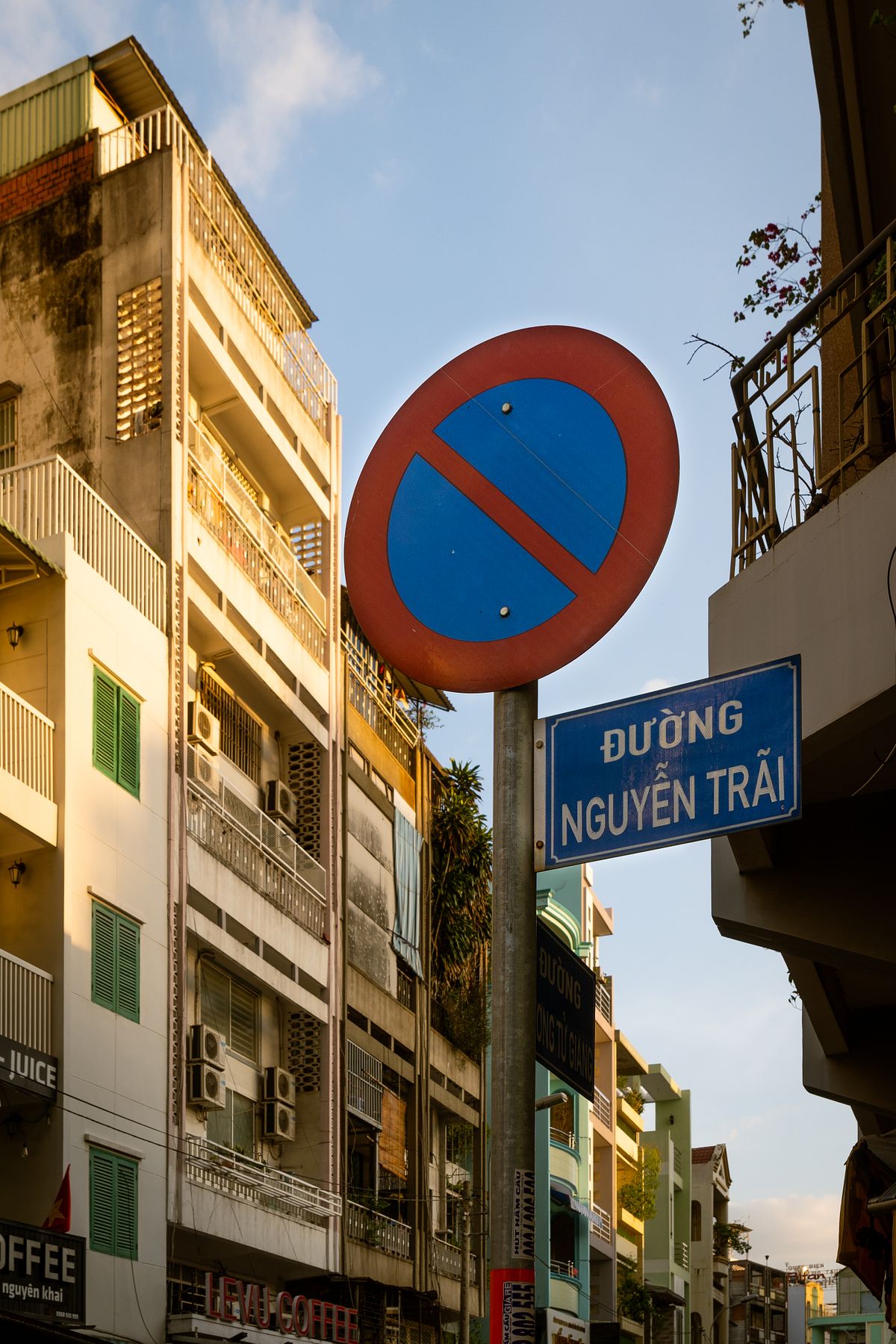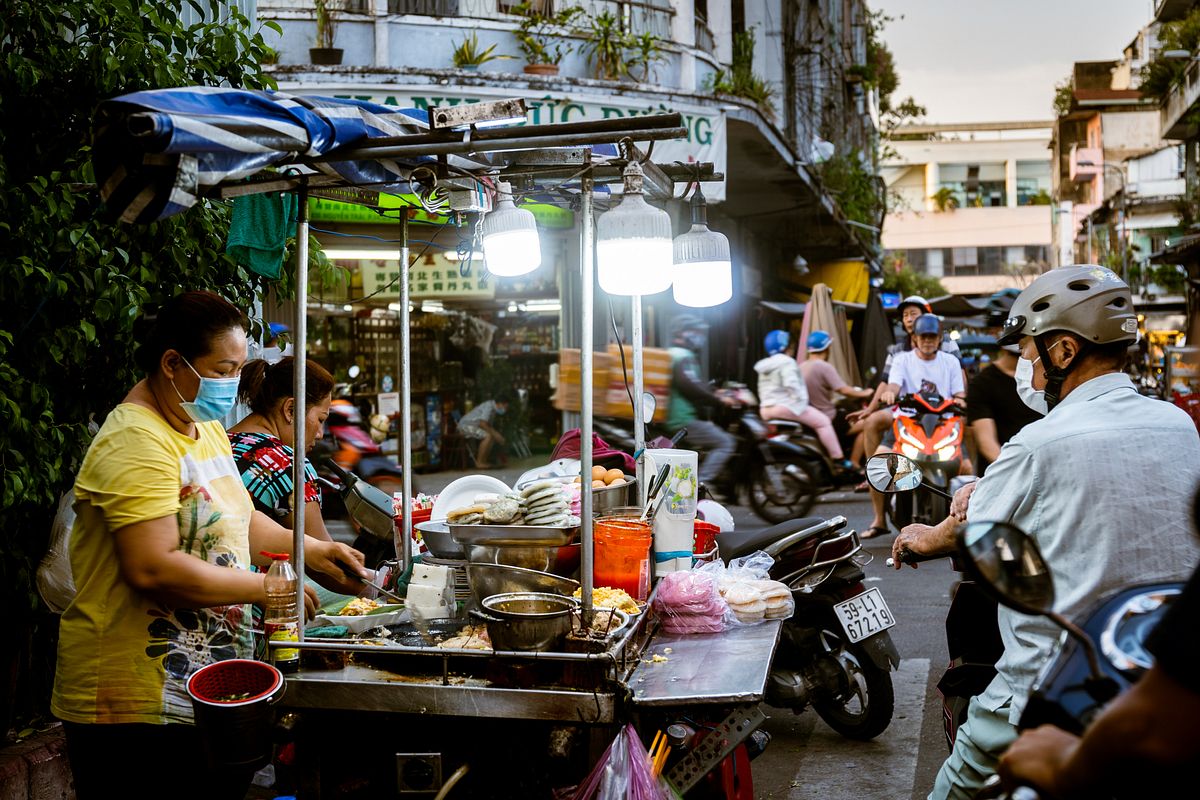 5. Chè Lâm Thạnh
Address: 486 Trần Hưng Đạo, Ward 14, D5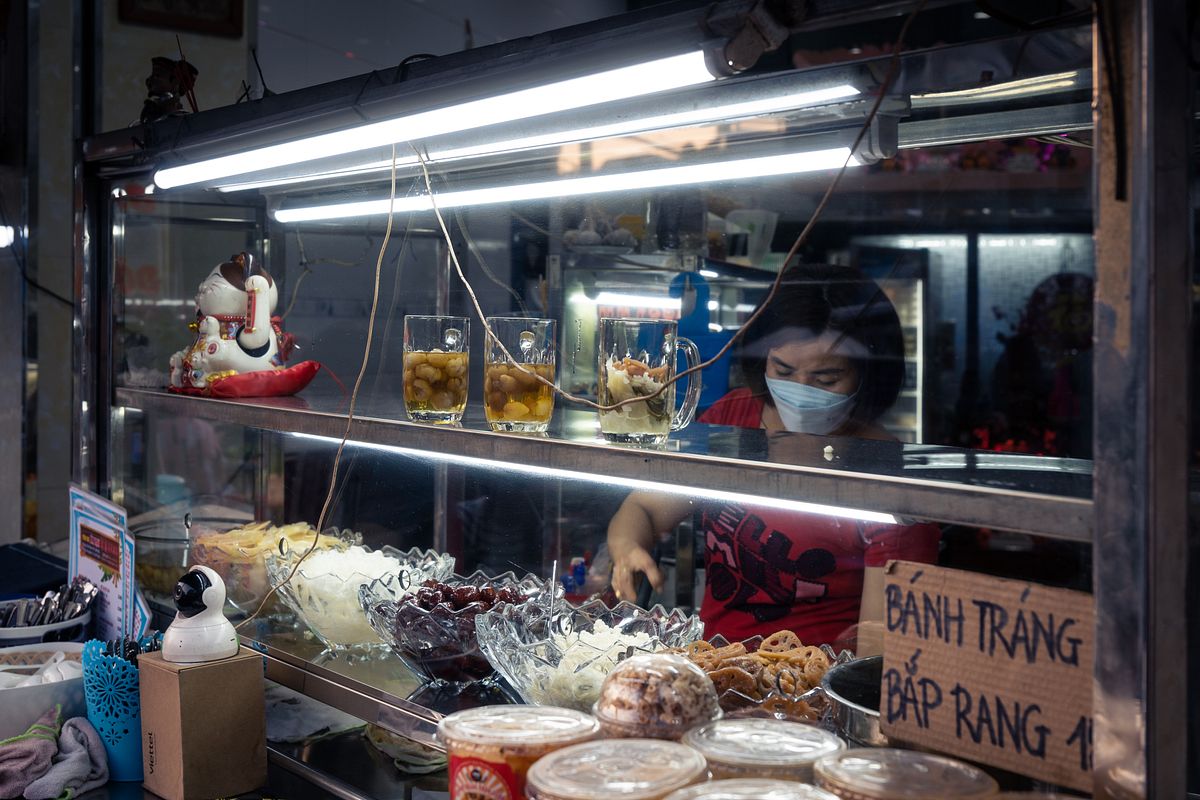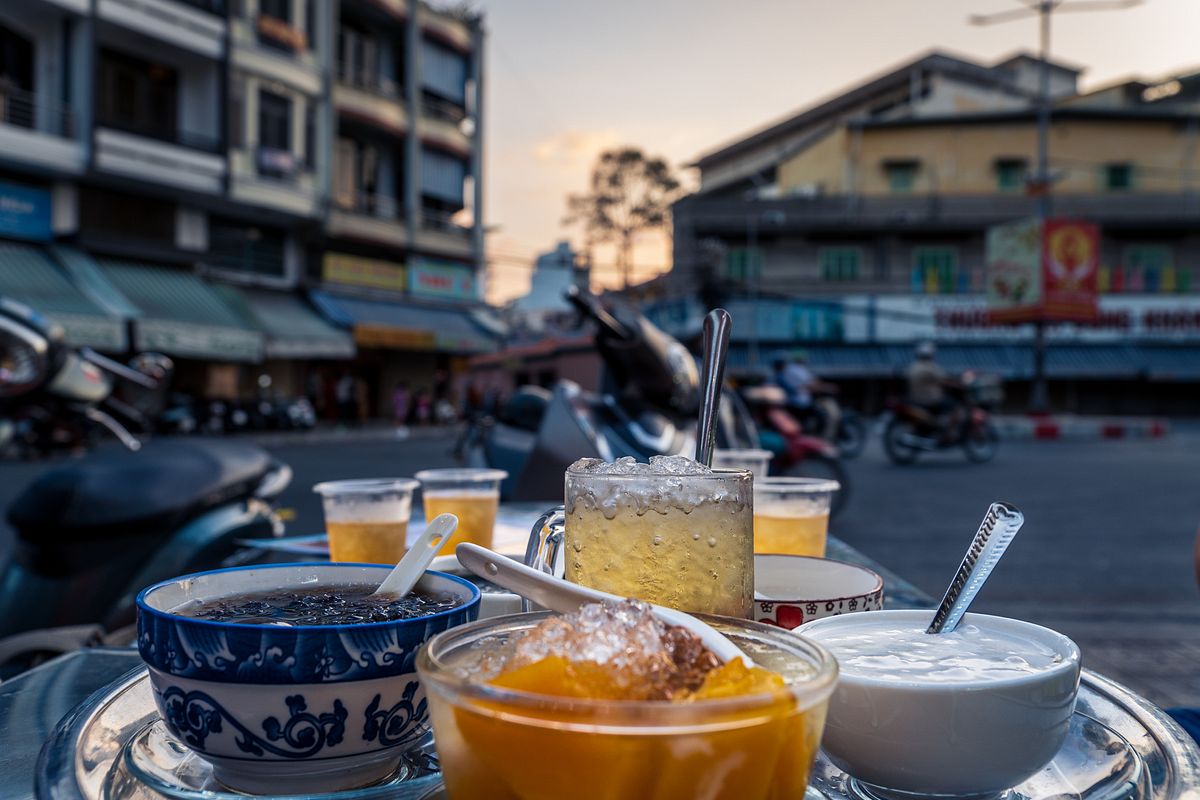 Located right on the ring of a quaint roundabout, Chè Lâm Thạnh's hard to miss even though its shopfront is modestly decorated. A sizable glass display showcasing dessert toppings will immediately catch your eyes and water your mouth. On a hot day, sitting at one of its metallic tables overlooking the roundabout with a tall glass of iced chè is a pleasant treat.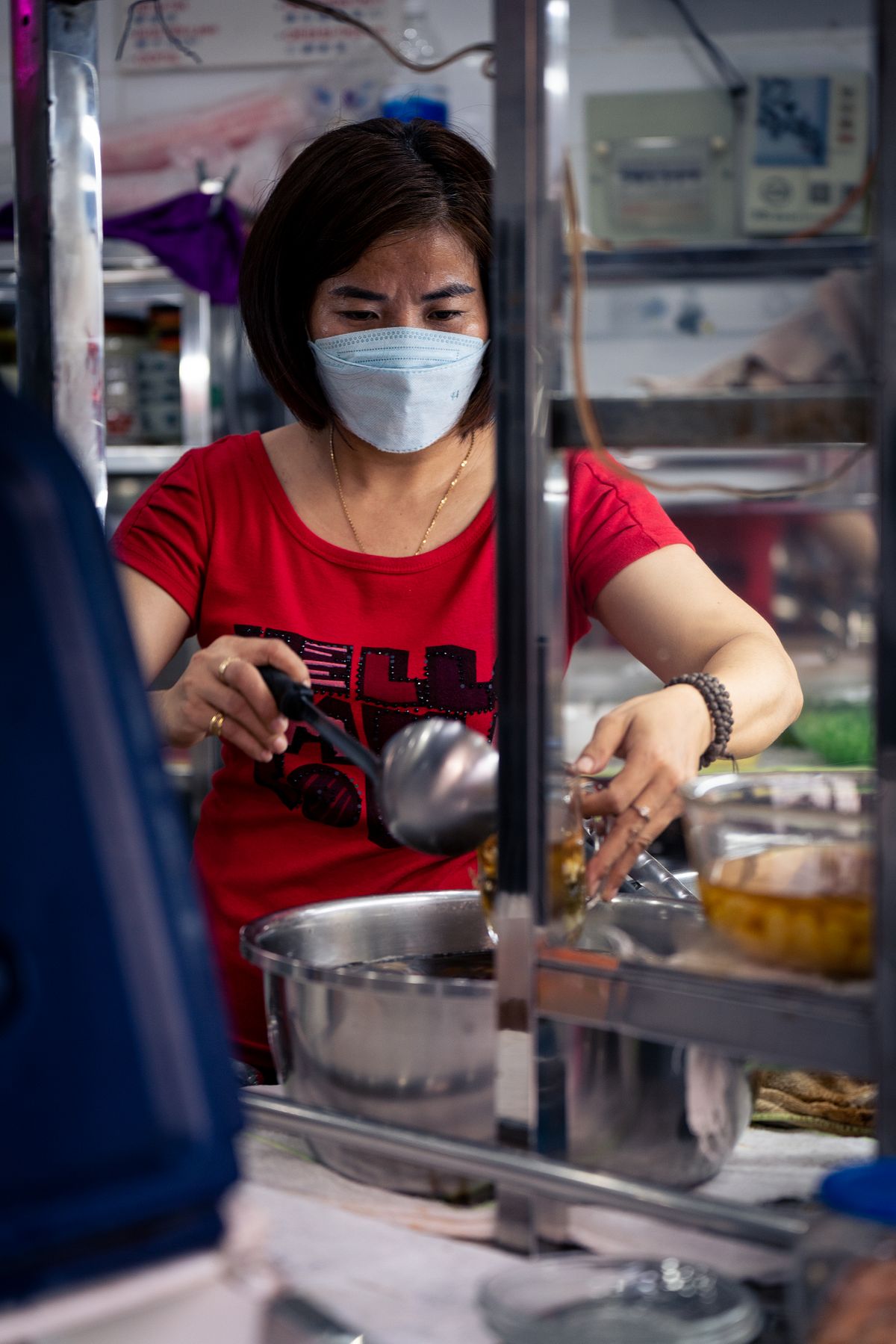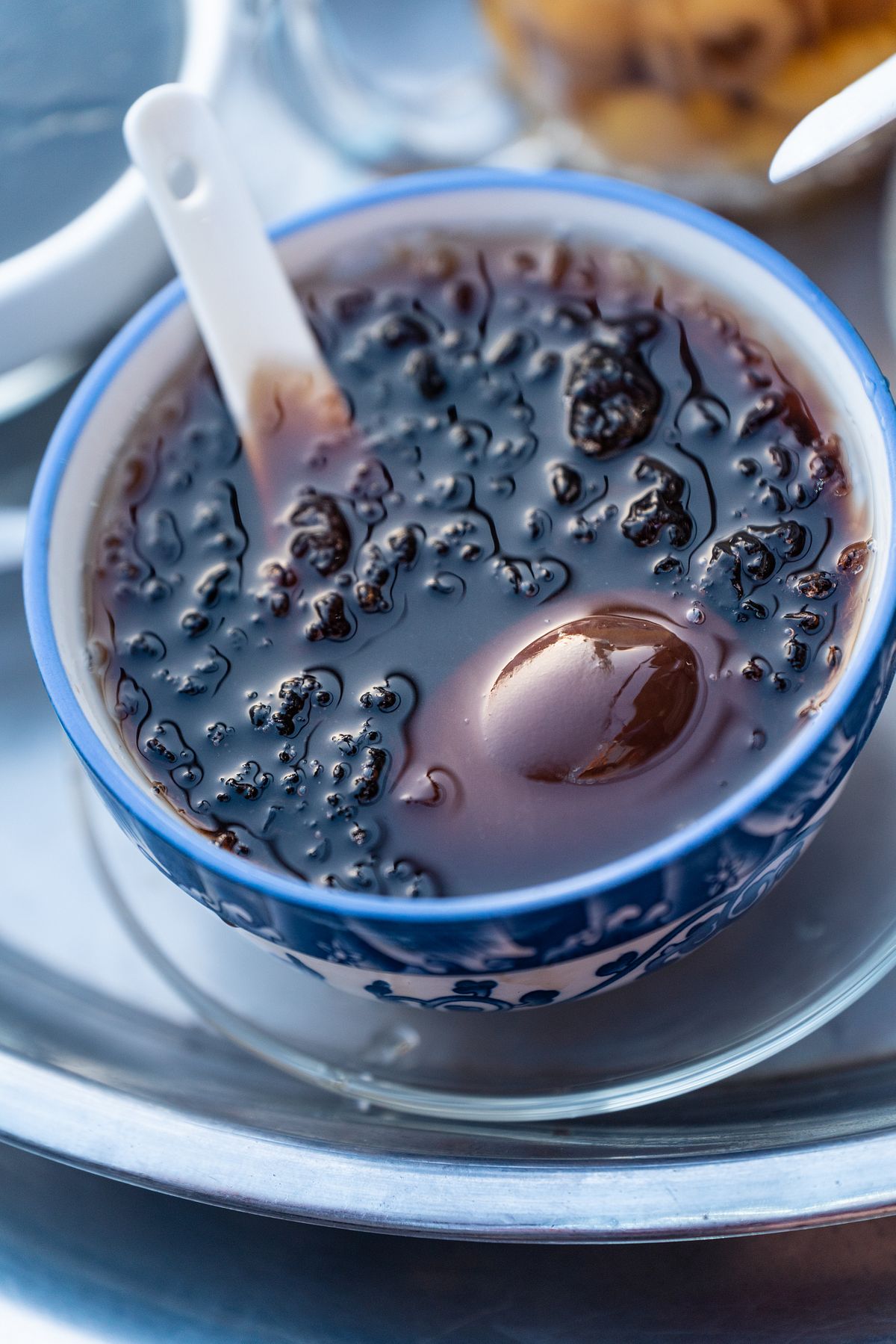 Most fascinating dessert: Tea egg, a traditional Chinese snack of boiled egg simmered in tea and spices. It straddles the delicate thread between savory and sweet and might not appeal to everyone, but it's very much worth a try.
Cost: VND35,000 per person
Tips: Be adventurous, order weird-sounding desserts. You only live once.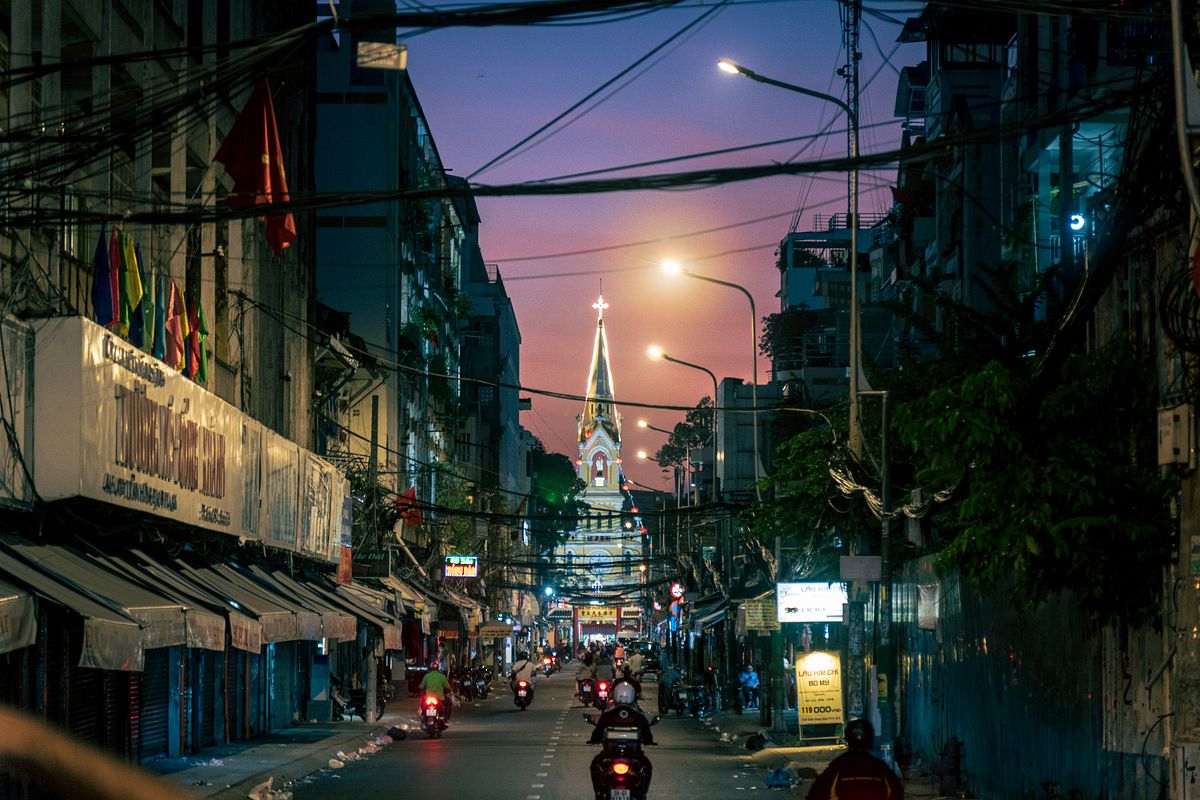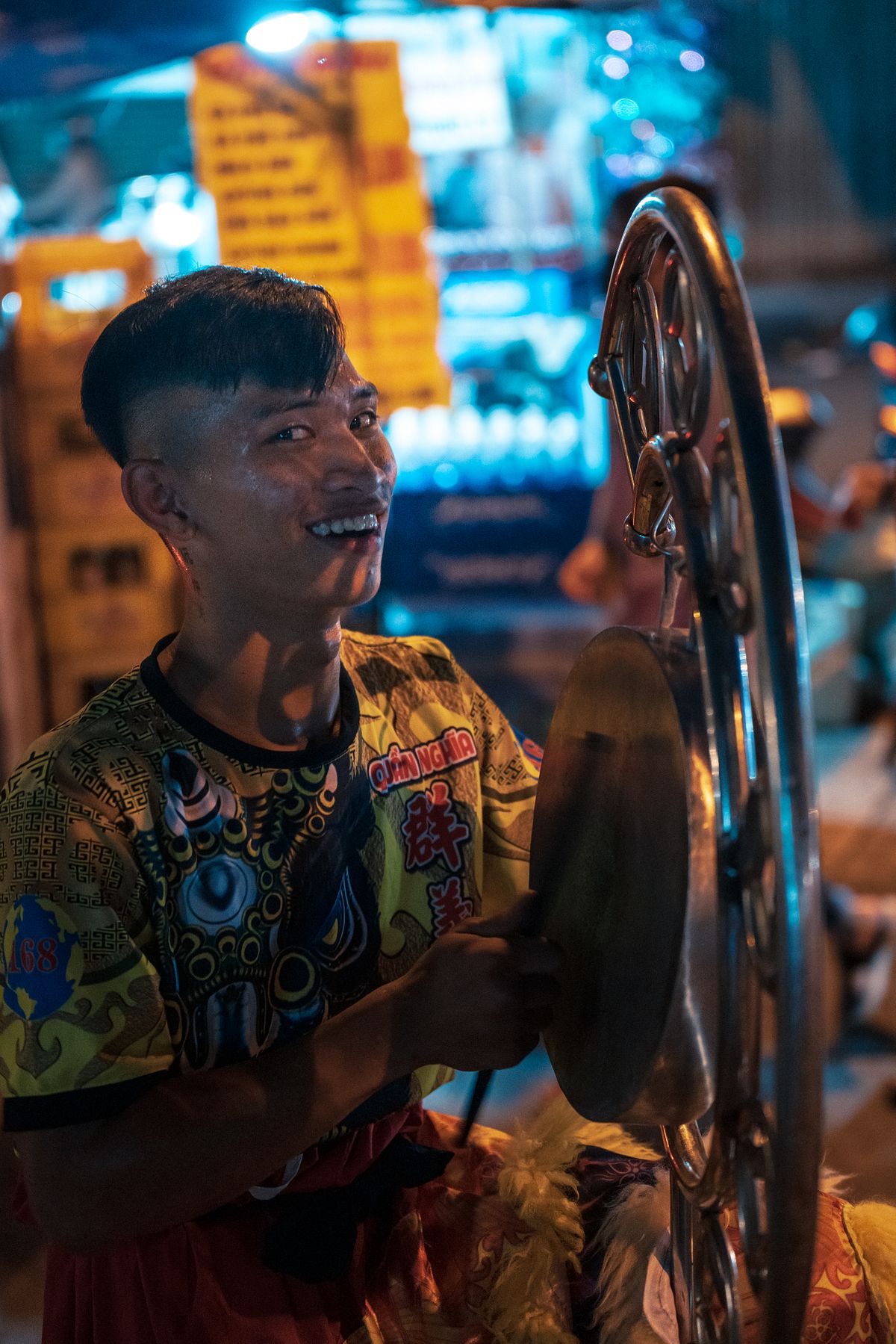 6. Khổ Qua Cà Chớn
Address: 202 Phùng Hưng, Ward 14, D5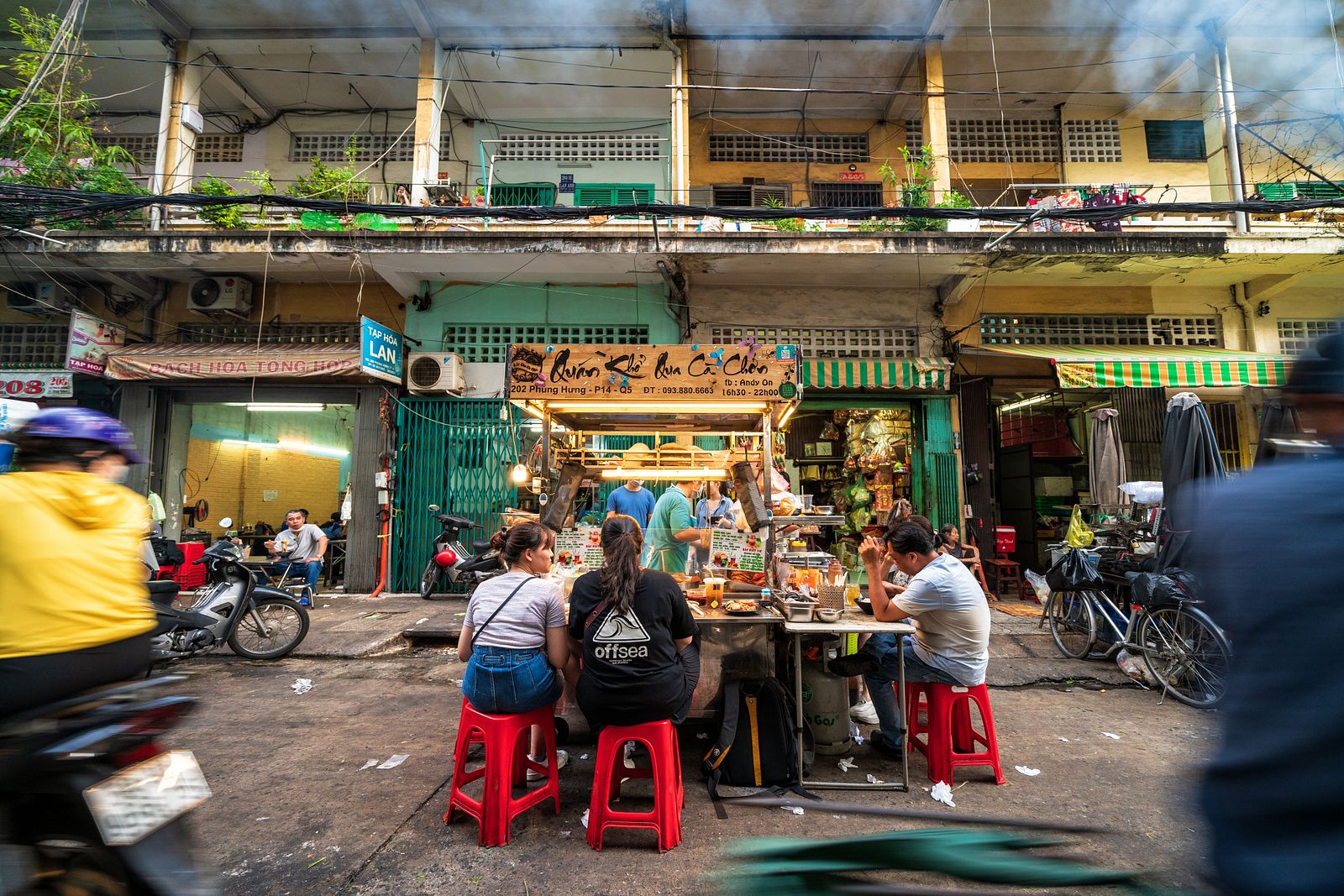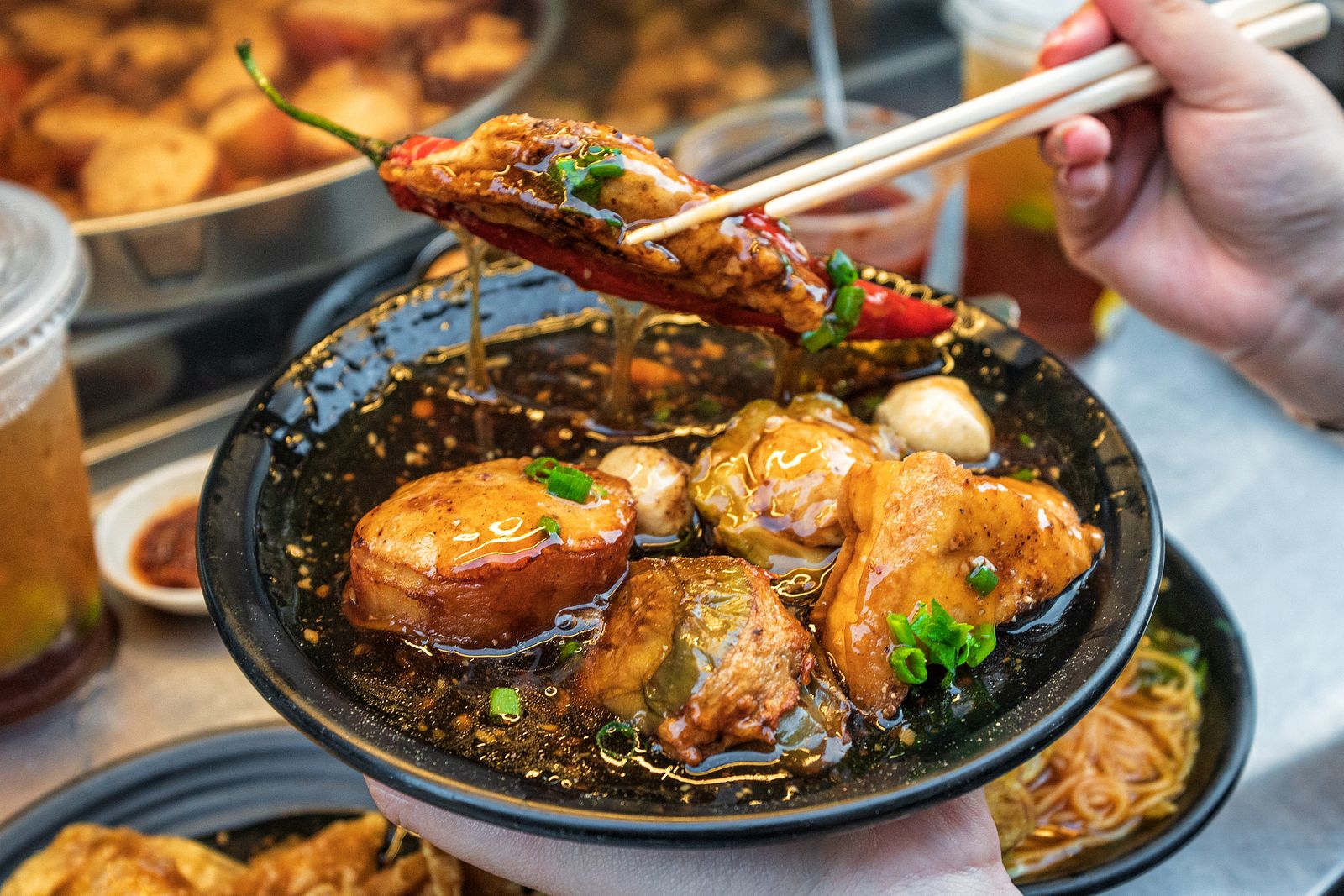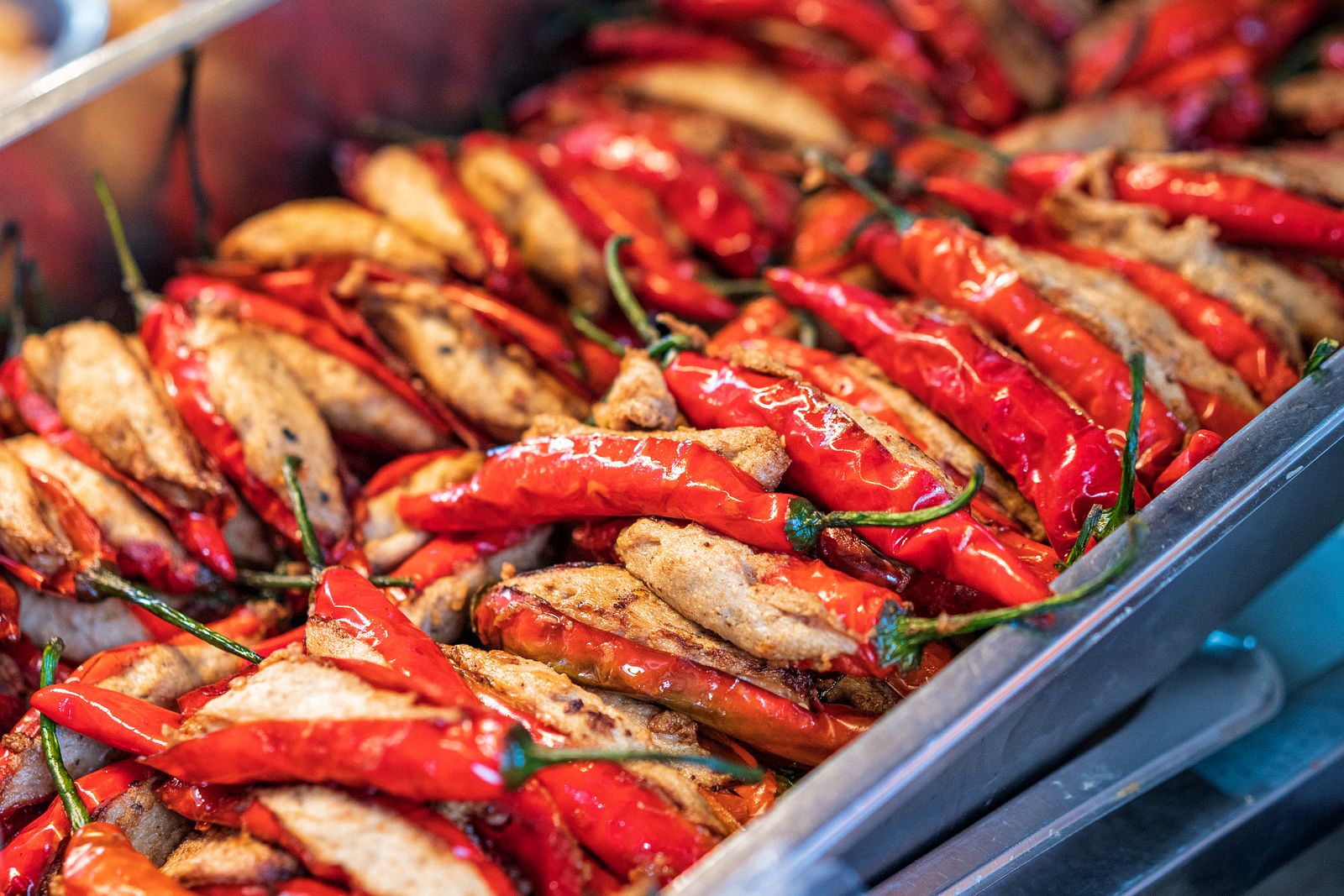 Chợ Lớn is the bedrock of numerous culinary styles, one of which is Hakka from central Chinese immigrants in southern China. Hakka people then migrated even further southwards to populate Southeast Asian countries, including Vietnam, Singapore and Malaysia. This cart right in the middle of Phùng Hưng Market sells khổ qua cà ớt, the Vietnamese version of yong tau foo — a wide selection of vegetables and tofus stuffed with fish paste eaten in a savory broth. It's the perfect low-carb snack to have for dinner.
Features:
Khổ qua cà ớt
Chinese-style sticky rice
Short ribs noodles
Cost: VND45,000
Tips: If bitter gourds don't tickle your fancy, request to leave them out.
7. Rang Rang Coffee
Address: 122 Châu Văn Liêm, Ward 11, D5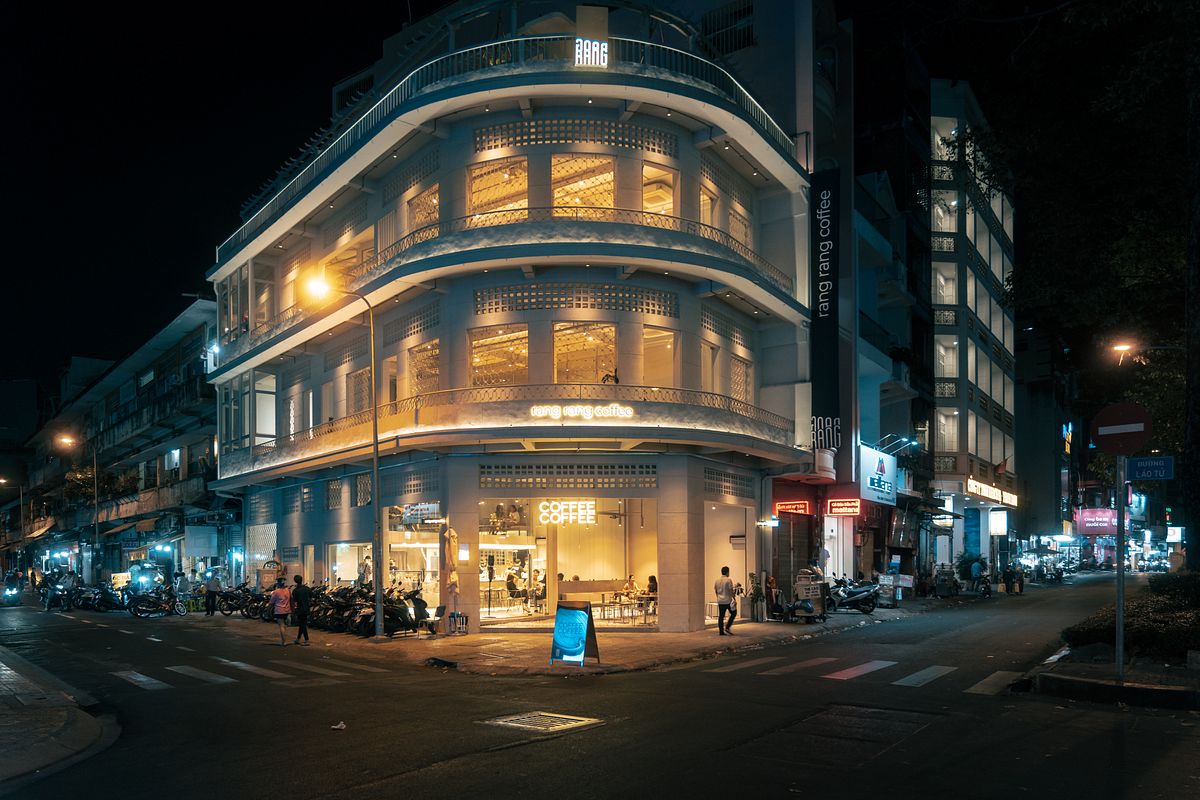 After hours of walking in the sweltering humidity of Saigon, what's better than some refreshing air-conditioning and elaborate caffeinated bean juice? Rang Rang Coffee is the kind of Saigon chain whose aesthetics one either adores or detests: futuristic, vaguely clinical and spaceship-inspired. This location, however, is based in a beautiful three-story shophouse with an enthralling view of the busy Châu Văn Liêm Boulevard at night. If one doesn't fancy coffee drinks, at least treat it like a bathroom break.
Features:
An extensive range of coffee-based drinks.
Every metal surface everywhere all at once.
The strongest bum gun in Saigon. Seriously, this thing can blow your dick off. I am not kidding.
Cost: VND65,000–85,000
Tips: Outside seats overlooking the street are the best in house, even though they are not air-conditioned.
Photos by Nguyễn Lương Cao Nhân, Alberto Prieto.
Top graphic by Mai Khanh.