It would be a grave sin to discuss Saigon's street food scene without a proper mention of vịt lột.
It is a tricky statement that I have no precise means to prove. The statistics bureau probably doesn't deem the dish important enough to keep count of the number of vịt lộn Saigoneers consume annually, or the distribution of vịt lộn vendors across every square kilometer of the city. And yet, it doesn't need to prove its importance, as the pervasive presence of brittle vịt lộn shells that our soles pick up is proof beyond a reasonable doubt.
Growing up in a working-class neighborhood, I became accustomed to bumping into a vịt lộn stall every other block. They all look similar: shamrock green plastic tableware, steam rising from an aluminum pot, and a case of beer or Coke in the corner. Everyone can easily make their own list of friendly neighborhood vịt lộn establishments. While it is undeniable that bánh tráng nướng and gỏi khô bò have their fair share of admirers, vịt lộn reigns supreme when it comes to coverage and familiarity.
Vịt lộn stands out more for its spiritual than gastronomic qualities. The mere act of eating it is akin to performing a ritual for some Vietnamese people, at least the ones serious about improving their fortune. Superstitious belief states that one should only eat and crack the eggs in odd numbers, then stomp the shell afterward to flip their luck. Vịt lộn's status as a cheap, slightly rustic food also means that taste often becomes an afterthought of both the cook and eater in this tedious process. As a self-proclaimed vịt lộn enthusiast, I set out to find a vịt lộn stall in Saigon that can challenge the status quo.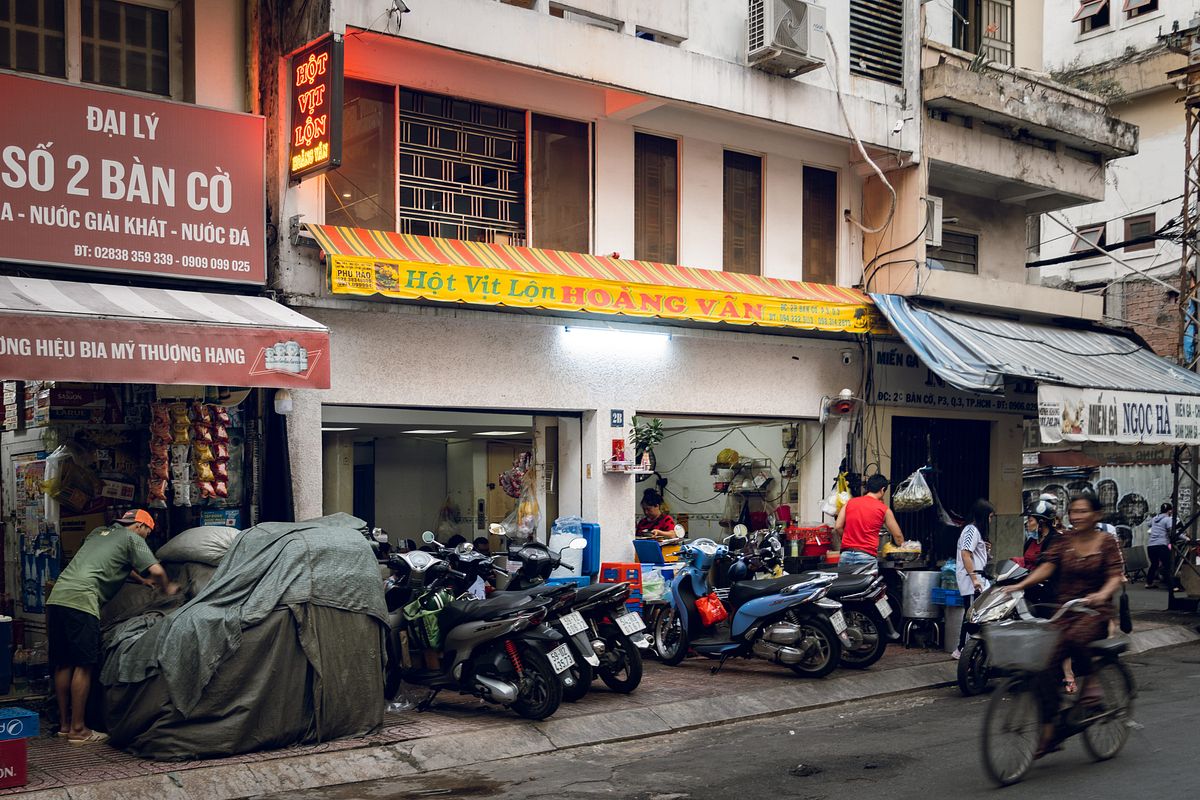 Tucked away in the lively Bàn Cờ Market in District 3, Hột Vịt Hoàng Vân beckons with its spacious interior and vibrant energy, surpassing many other vịt lộn vendors I've had the pleasure of trying. As we stepped into the eatery during the peak hours, the place was abuzz with activity — every seat occupied, a constant flow of customers in and out, eagerly indulging in the treats. It was a feast for the senses, right from the moment we entered. Boisterously boiling pots filled the air with the aroma of dozens of duck eggs, while a luscious brown tamarind sauce enveloped the quail eggs. Pairs of chicken feet were grilled over a crackling charcoal stove beside them.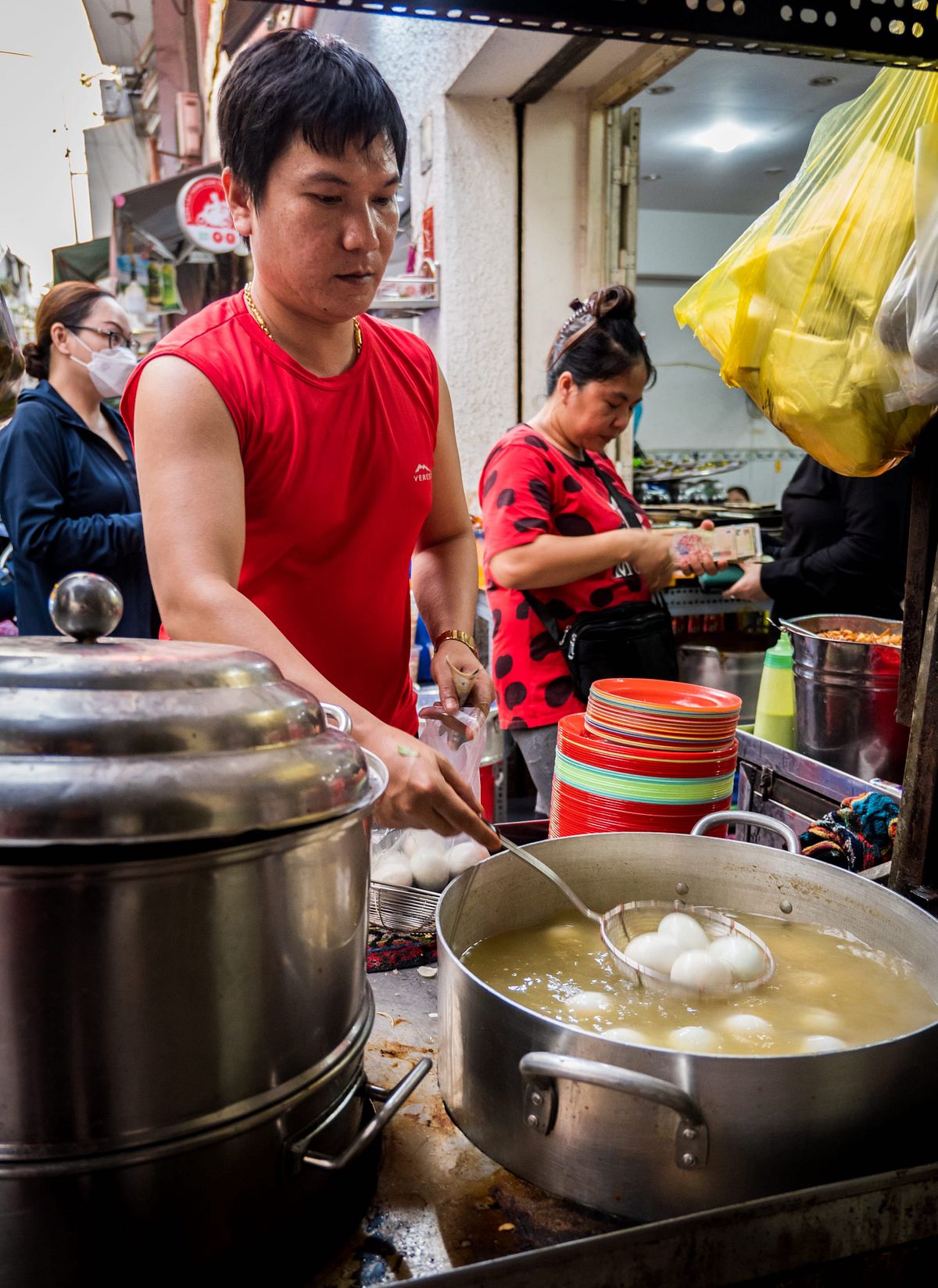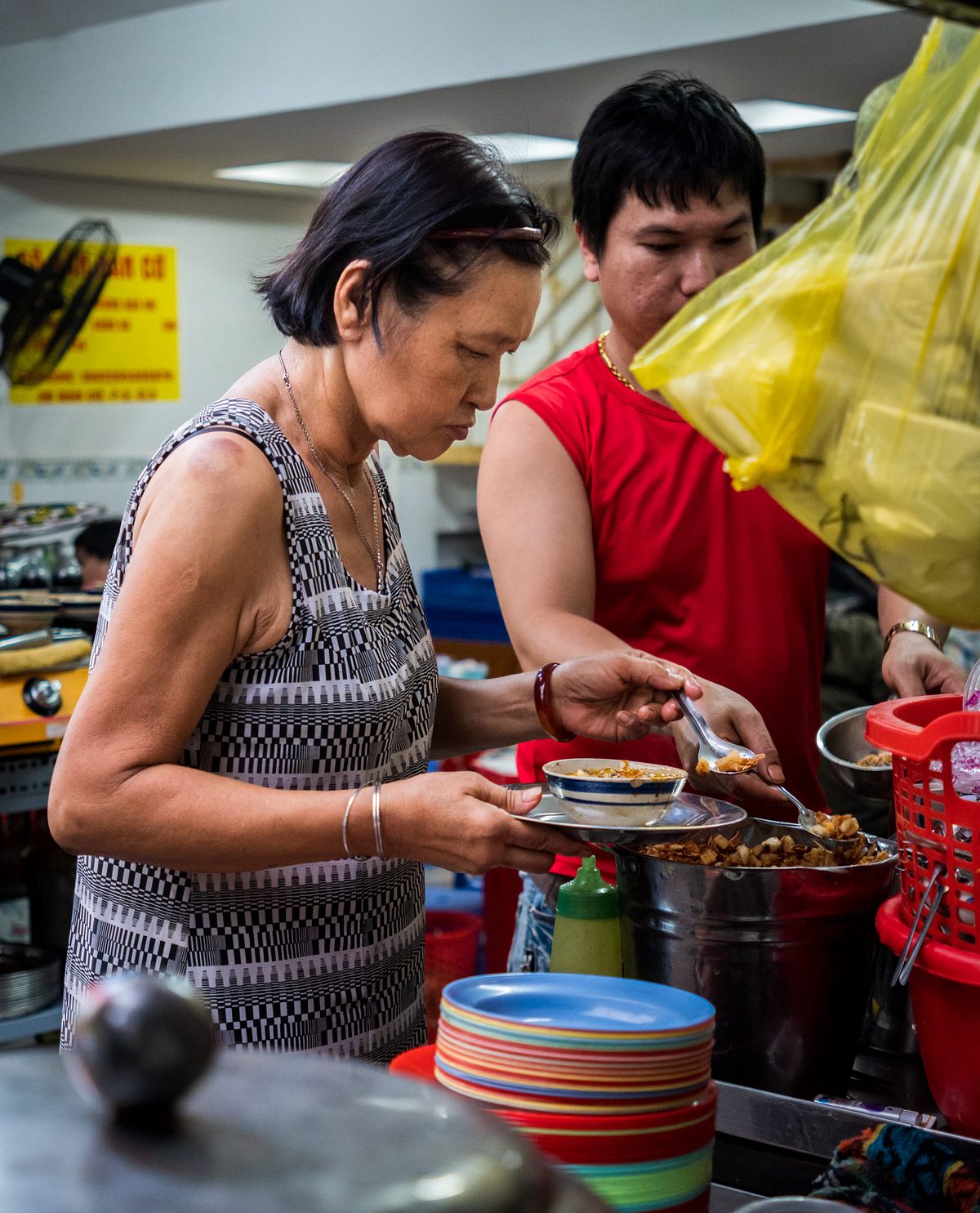 While we awaited our turn to savor the delightful offerings, curiosity got the better of me. I couldn't resist striking up a conversation to uncover the secret behind the success of this seemingly humble shop. It was then I discovered that the place owes much of its success to the charismatic Vân — Hột Vịt Hoàng Vân's namesake, heart and soul. Born into the roots of Vĩnh Long's countryside, she carries with her more than a decade's worth of street wisdom. So far, Vân has served meals to blue-collar workers, run a hủ tiếu cart, and even sold lottery tickets. However, it was her fortuitous encounter with vịt lộn that altered the course of her life and catapulted her into street culinary stardom.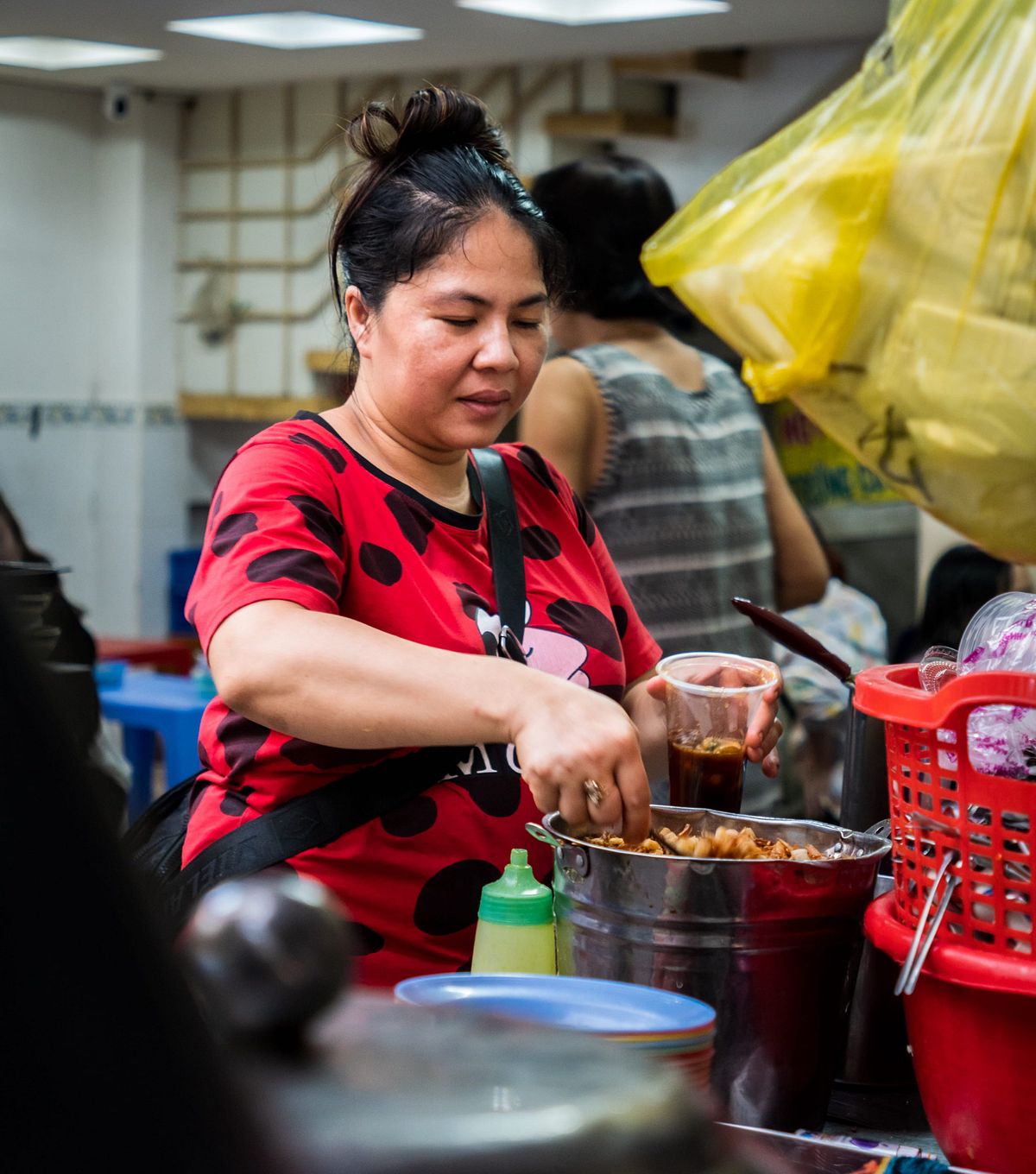 "Back in the day, I used to sell from a cart near Ward 13," she said, pointing across the street. "But since it was a roadside stall, it was often confiscated by the local authority." It wasn't until last year, thanks to the kindness of good samaritans, that she managed to save up enough money to open a more upscale shop. With this new space, she was able to attract more customers and now serves over 3,000 eggs a day. From being a single mother wandering the city to make ends meet, Vân was able to turn her eatery into a business that can provide her family with a comfortable home and a stable livelihood. "As long as you run your business with good faith and integrity, people will come to support you."
Peeling off the cracked shell pieces one by one, I noticed that the yolk of the balut appeared to be softer and more tender compared to the ones I had previously eaten. When I dipped a piece of the rich, creamy yolk into the tangy, spicy salt and pepper mix, accompanied by a handful of rau răm, I instantly understood why she could sell thousands of them each day.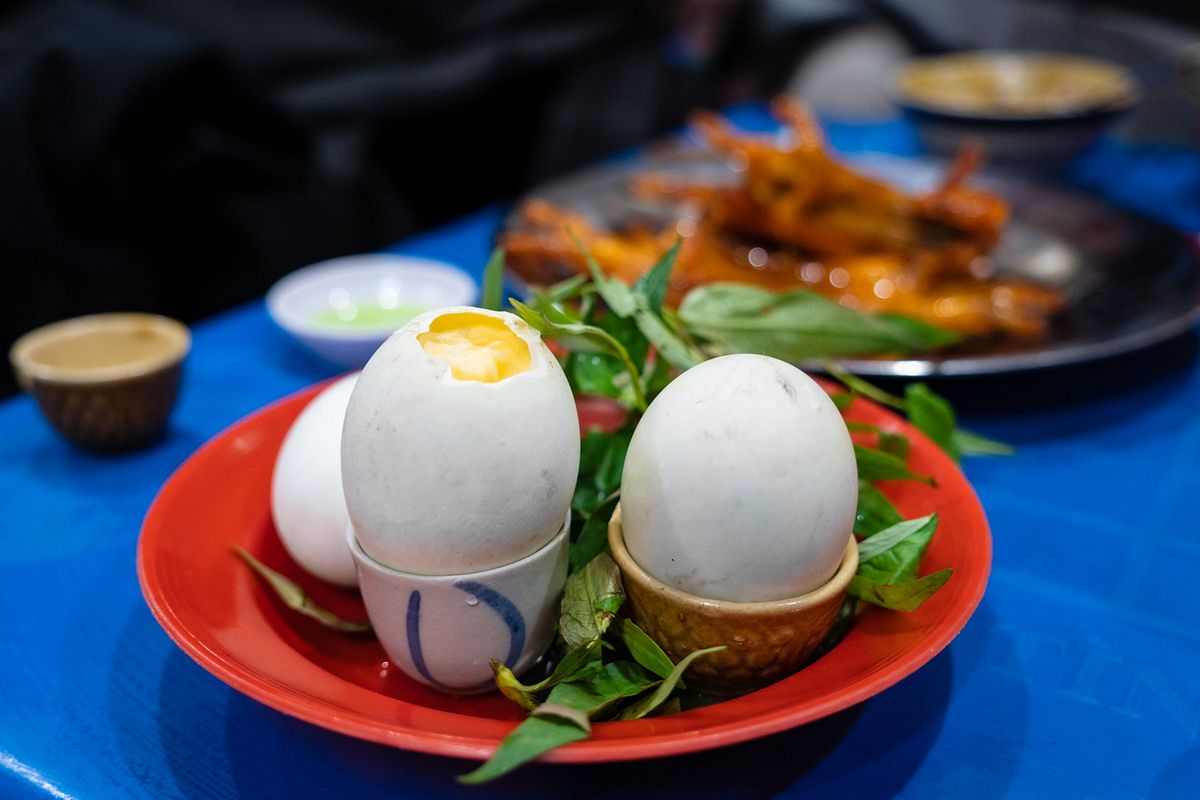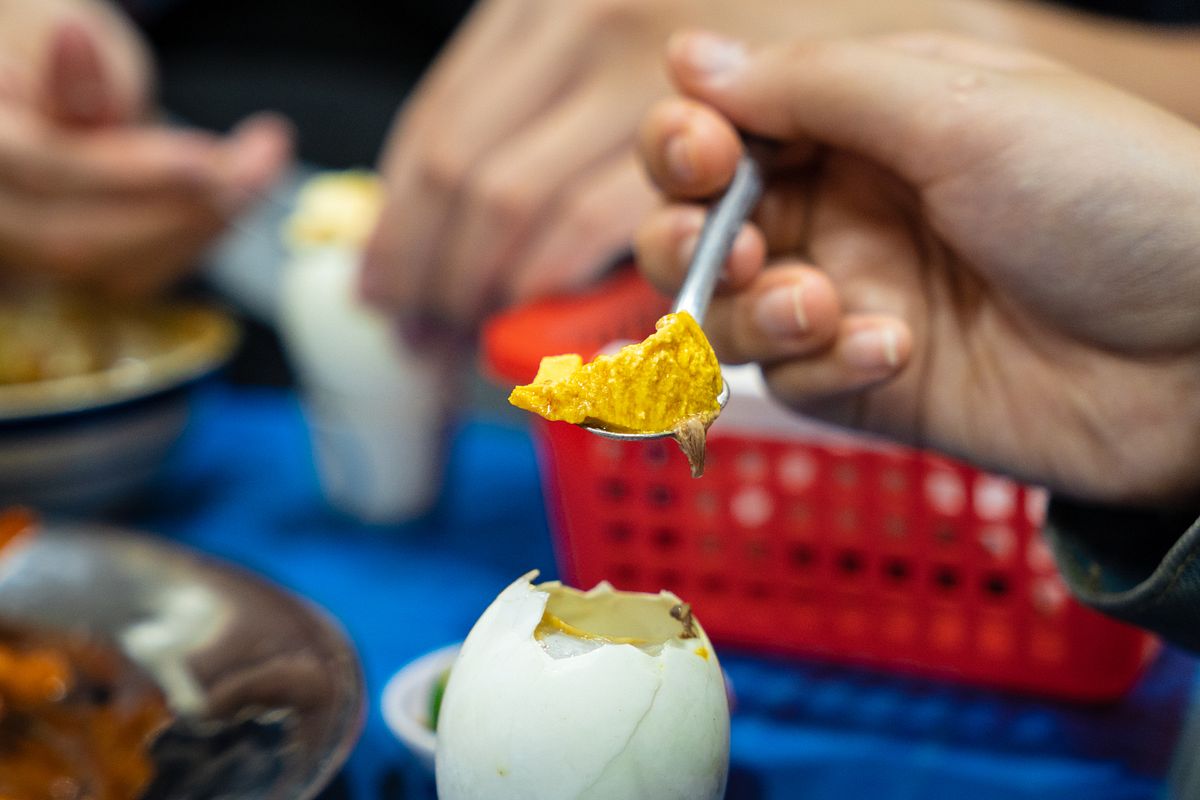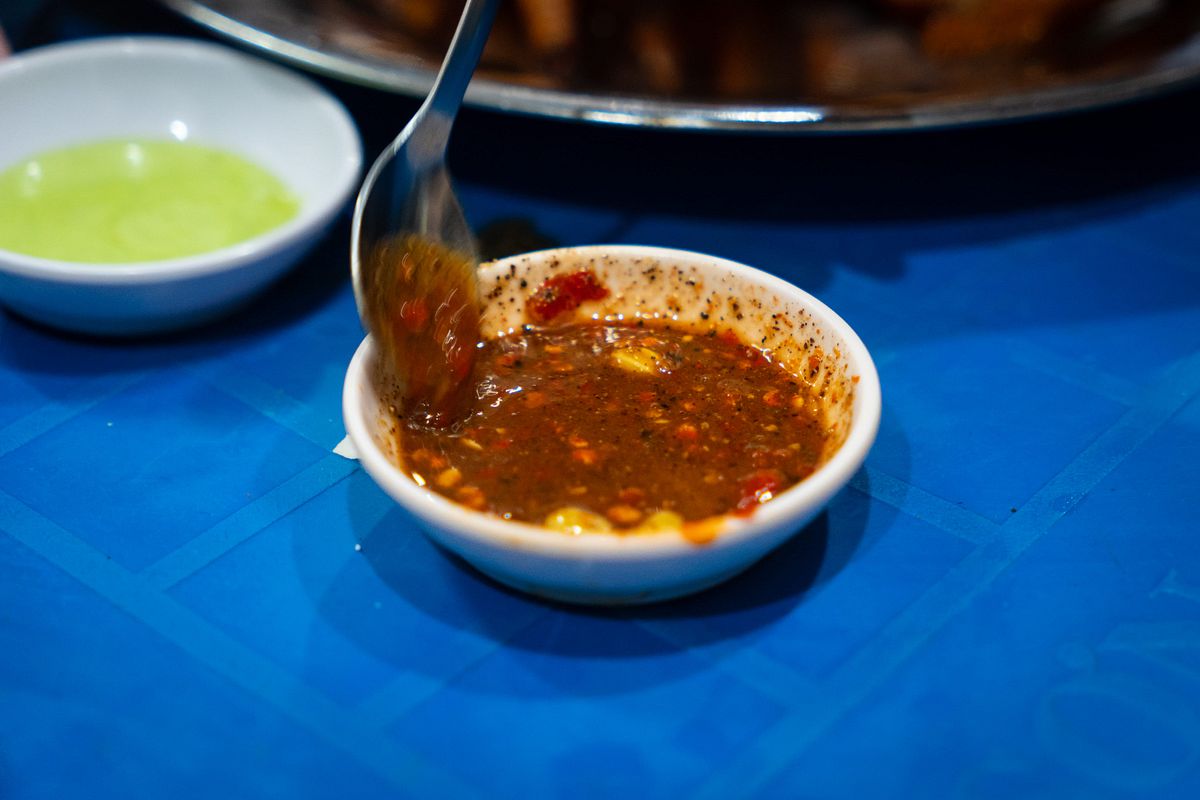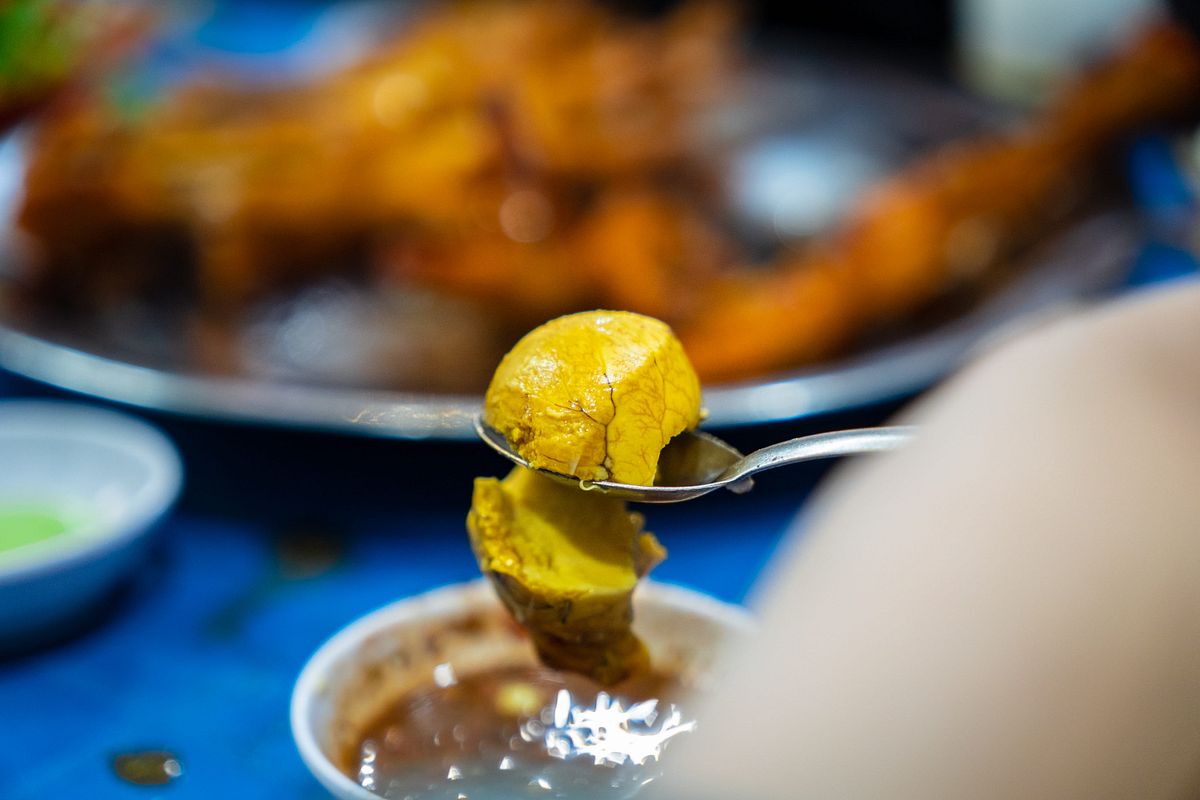 "It's because I boil them with coconut water, dear. I boil them for 35 minutes and then steam them with ginger. That way, the eggs acquire a nice aroma and the meat becomes sweeter. If boiled in cold water, they would turn unpleasantly pungent. But you won't even catch a whiff of it when you enter my house!" Vân eagerly presented the entire process to me. It seemed that she didn't have any intention of keeping her business secrets as secrets.
She explained that this knowledge was, in fact, acquired just through "hustling" and "learning on the job." She carefully sources each ingredient, including the eggs from free-range ducks in Vĩnh Long. The ducks' diet of grains and insects contributes to their yolks' deep yellow color and slightly nutty flavor. Even the Vietnamese coriander is transported daily from her hometown to Saigon to ensure freshness.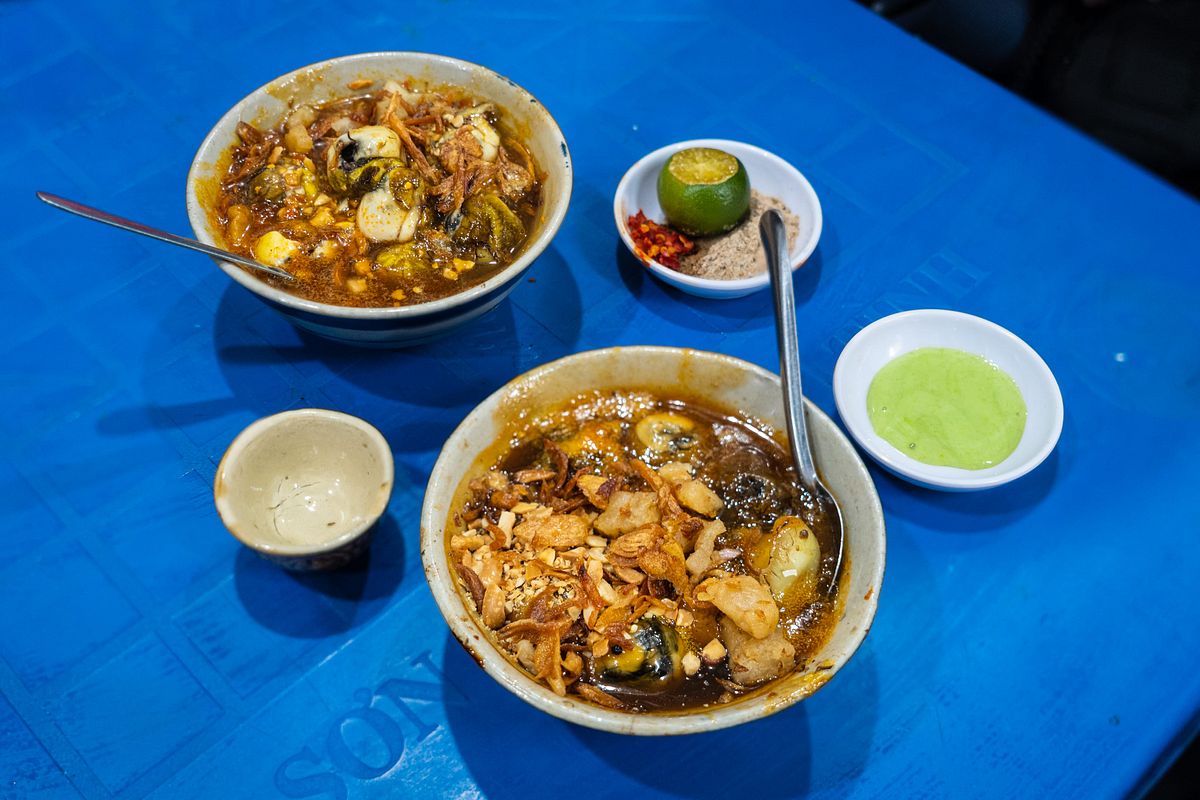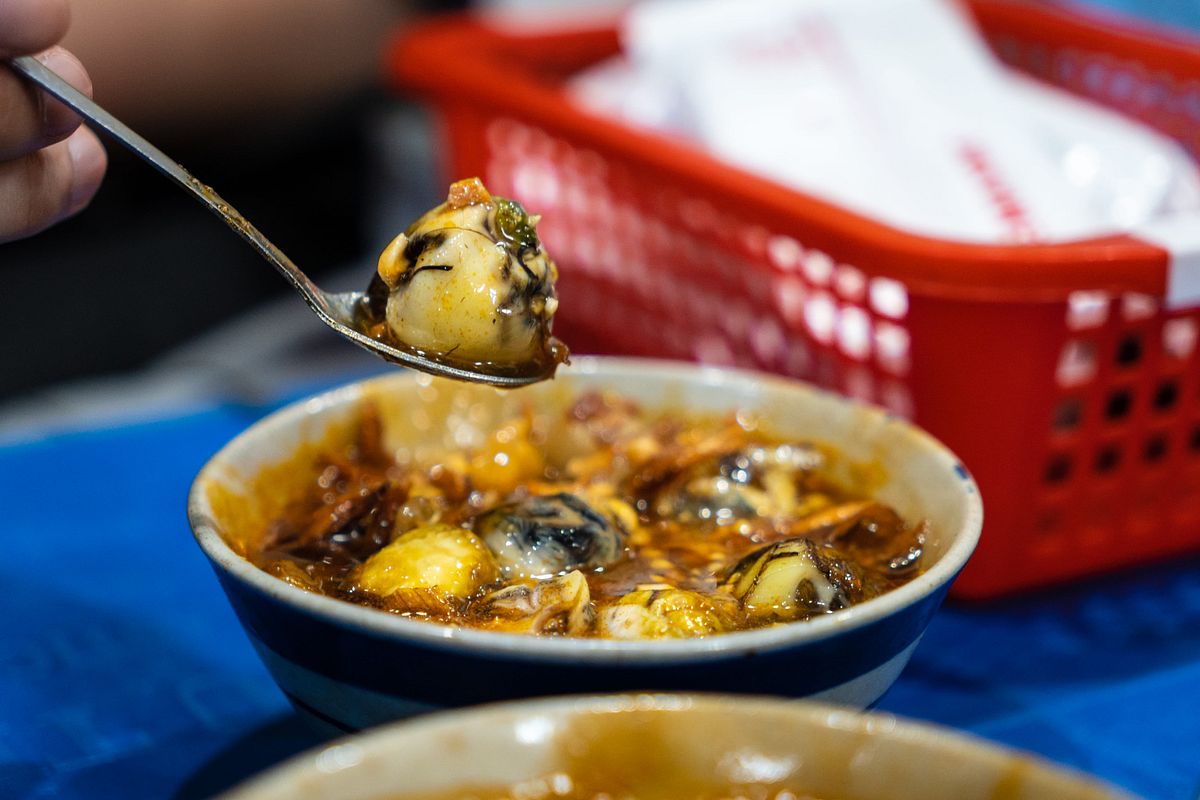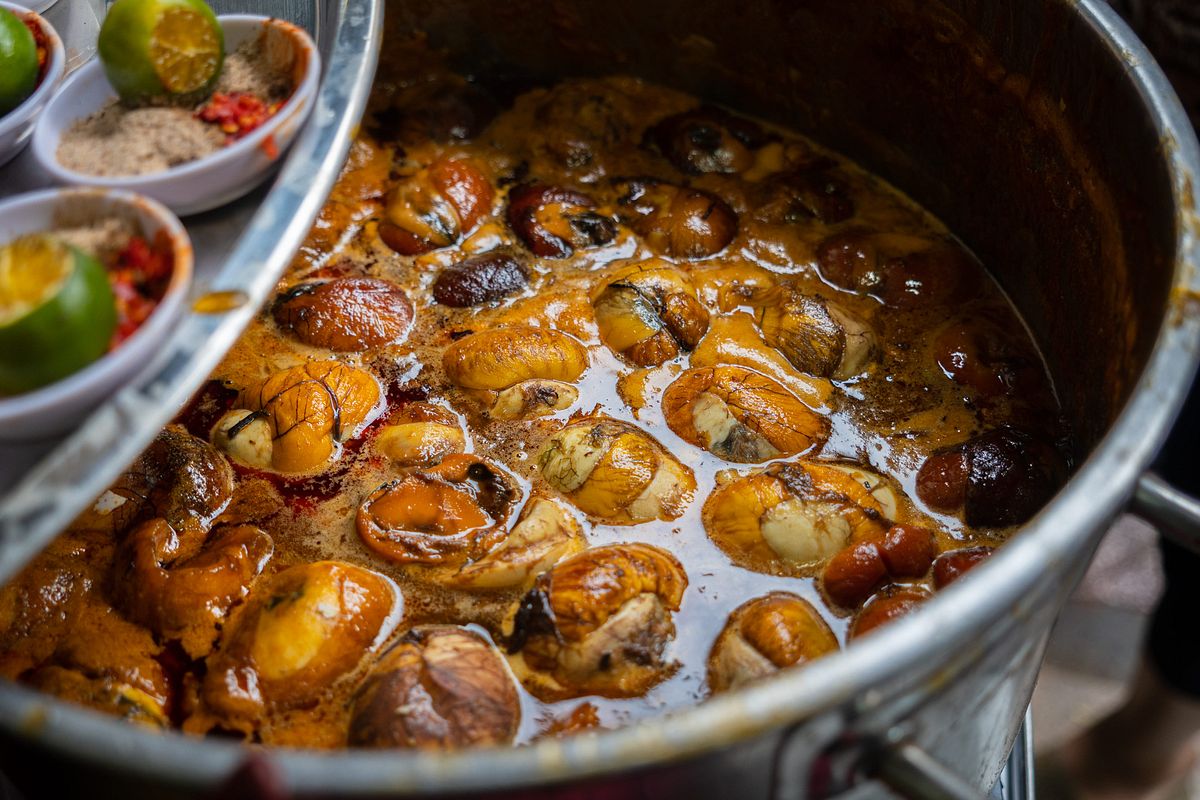 Another stand-out dish from the menu is cút lộn xào me, or quail egg in tamarind sauce. The sauce, prepared by Vân herself, uses a simple recipe of caramelized sugar and fish sauce. "I don't use any MSG. I only cook with this brand of fish sauce called Nam Ngư. Only this kind gets the flavor right," she proudly declared, waving two bottles of fish sauce as if she was its brand ambassador.
In addition to the sauce, each plate of cút lộn is adorned with a layer of fried shallots and pork greaves, prepared by Vân's seven-member family since early morning. The fruit of their labor is an enticing medley of flavors — sweet and tangy, without being overpowering — and a delightful texture that combines the softness of the yolk with the crispiness of the greaves. During peak hours, the shop transforms into a "self-service" model. In a steamer, condiment dishes filled with salt and pepper, freshly ground from pure rock salt and Đắk Lắk peppercorns, accompany bowls of cút lộn xào me. Those who wish to have a fix can simply help themselves.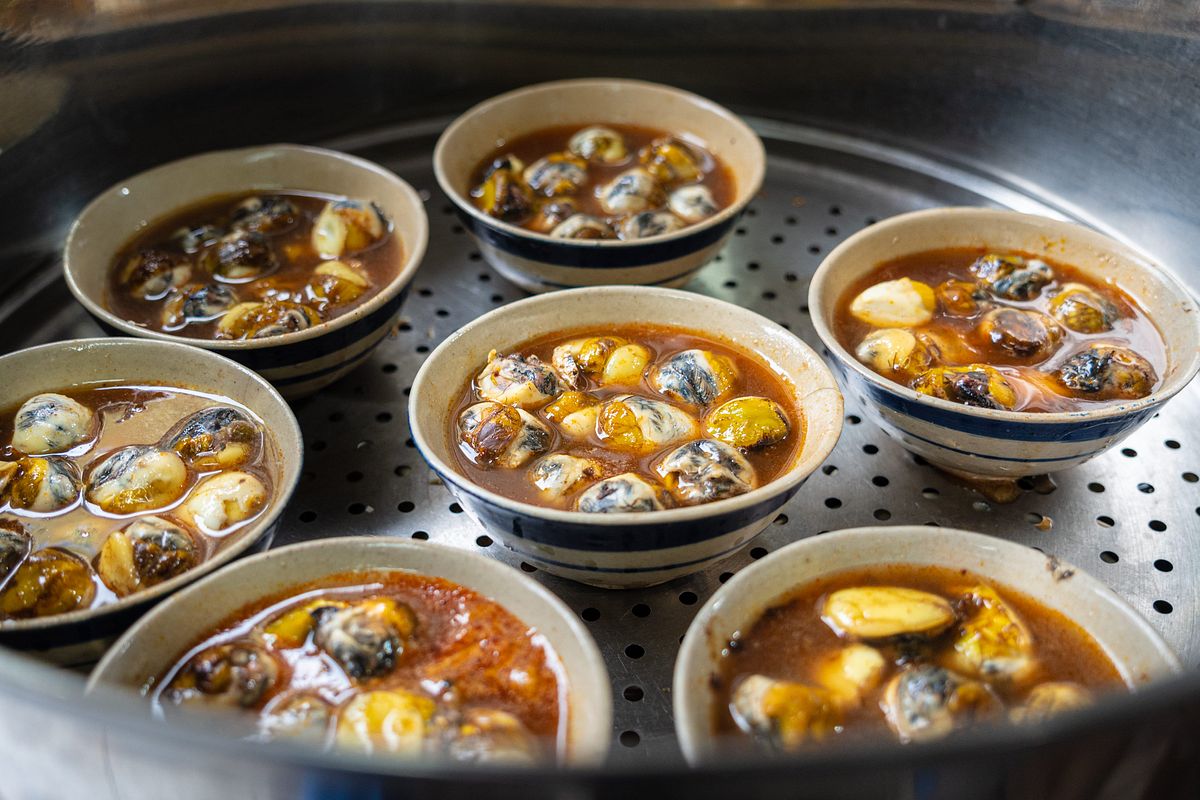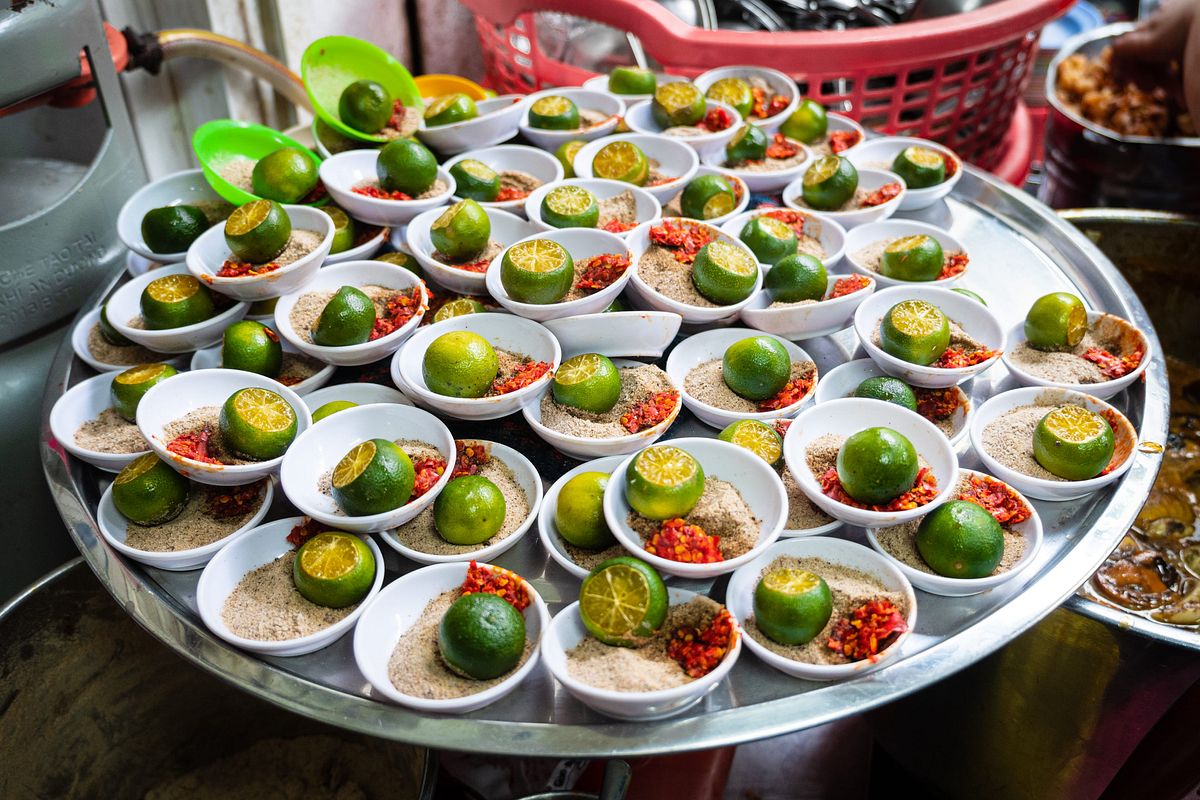 Each item at Vân's costs a mere VND8,000–20,000, so our appetites were quickly satisfied with an abundance of vịt lộn, cút lộn and chicken feet (though not exceptional, still an enjoyable snack to nibble on). It was only when I looked at the battlefield on our table that I realized how we had been so consumed with the meal that we lost count of the number of eggs we had stuffed ourselves with.
Panic raced across my mind: Am I tempting my fate? Should I order one more to balance the equilibrium? But then, I recalled the Vietnamese saying — "Ăn được là phúc" or "To eat is a blessing." Perhaps having the opportunity to savor a delicious dish, at an incredibly affordable price, cooked by a passionate chef, was already a stroke of incredible luck for the day. Standing at the blurry boundary between fortune and misfortune, I made a resolute decision: "Excuse me, could I have one more cút lộn, please!"
Hột Vịt Lộn Hoàng Vân is open from 3 a.m to 10 p.m.
To sum up:
Taste: 4/5
Price: 5/5
Atmosphere: 4/5
Friendliness: 4/5
Location: 3.5/5
Hột Vịt Lộn Hoàng Vân
2B Bàn Cờ, District 3, HCMC