When I was growing up in California, every couple of months, plastic containers of sliced fried egg, chicken, and chả lụa would line the kitchen counter. This medley of ingredients would usually mean bún thang for dinner — which, in turn, signaled that the dinner was a special occasion.
Back then, the chicken broth's sweet, slightly gingery scent didn't emerge for the mundane; it only filled our household on birthdays or the last days of school. I was always excited to see those containers, and would snack on the spongey strands of egg omelet before they garnished the bowls of rice vermicelli. The sparing presence of bún thang in my mom's meal rotation wasn't unique to bún thang itself: every Vietnamese soup she cooked was coveted amongst our household's meals of largely non-Vietnamese cuisine.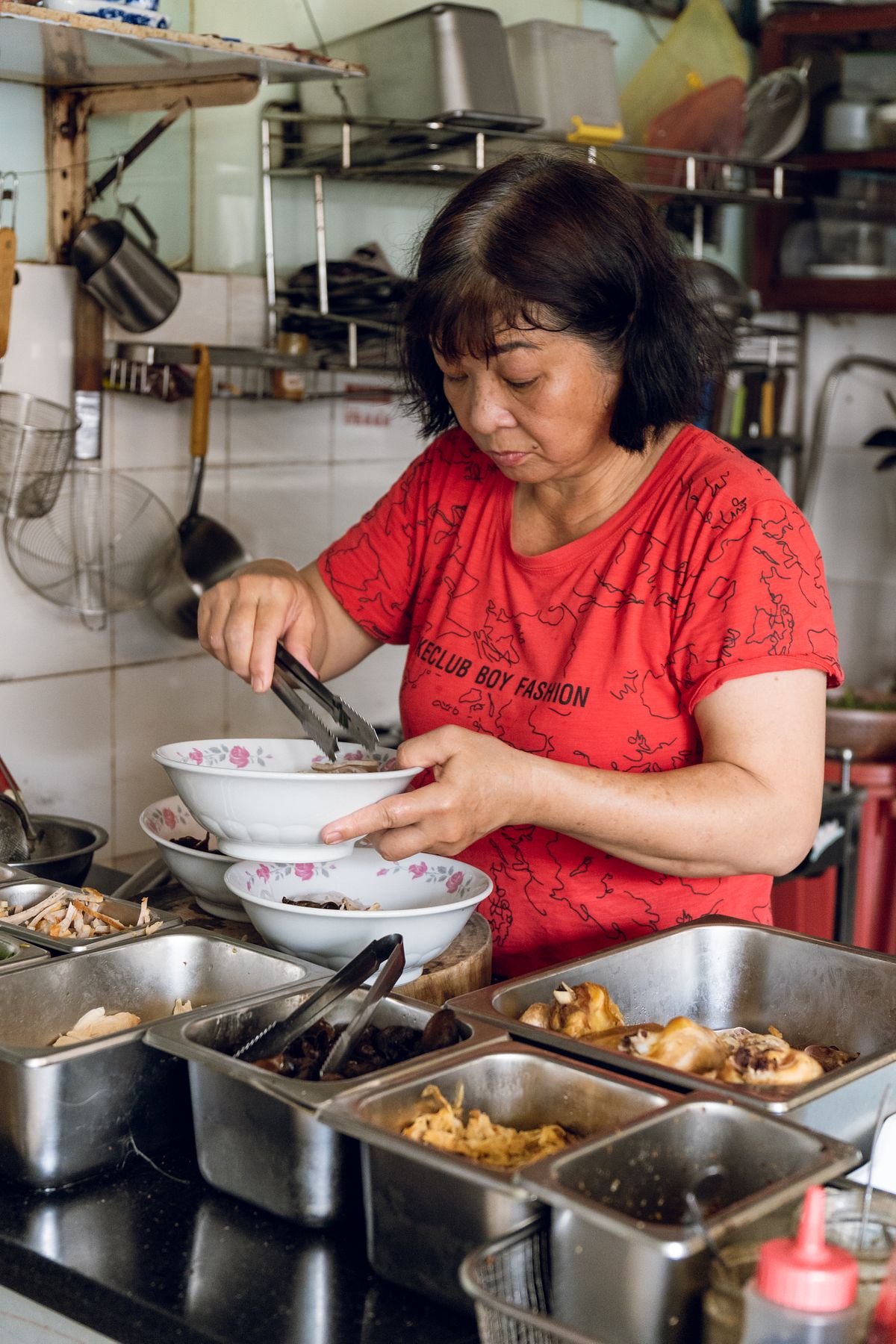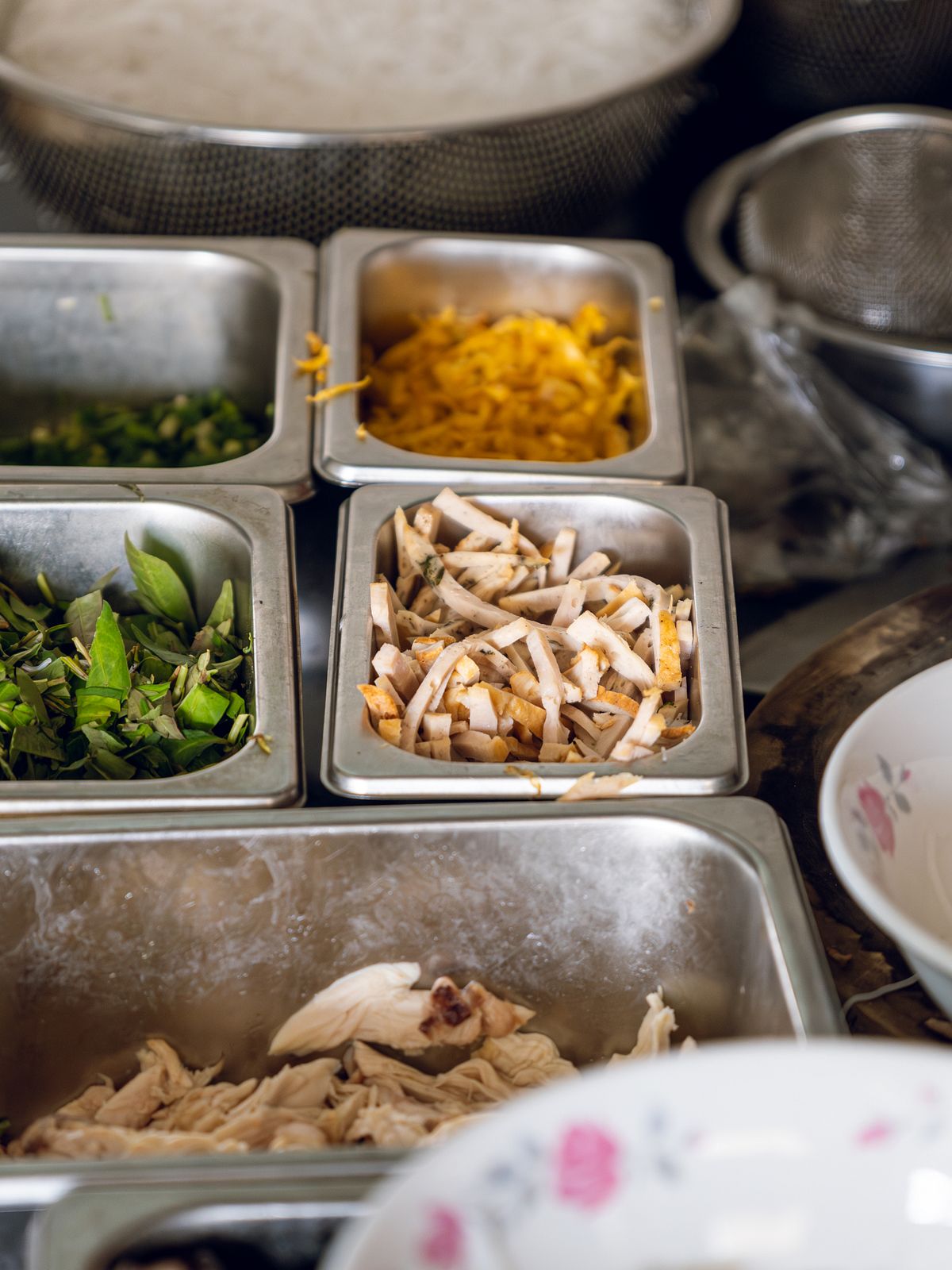 My mom and dad were both born in Saigon but raised in the US. The youngest of each of their families, they left the city as toddlers and ended up in different parts of Southern California. I thus have the distinct experience of being a child of immigrant parents who, oftentimes, don't fit the archetype of immigrant parents at all. They didn't teach me to speak Vietnamese; they're pretty culturally liberal. Most nights, we'd have pasta, rosemary chicken, steak and mashed potatoes.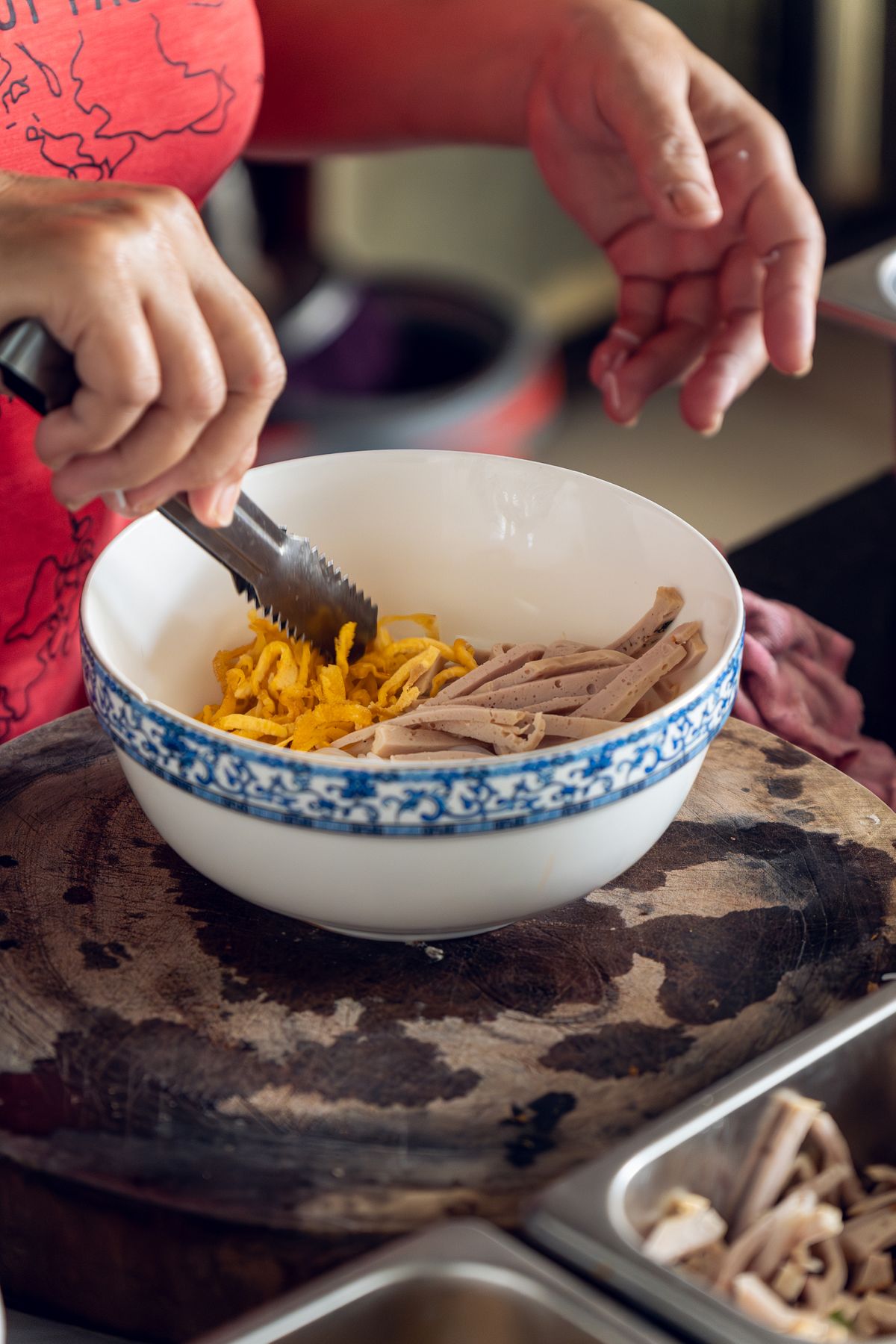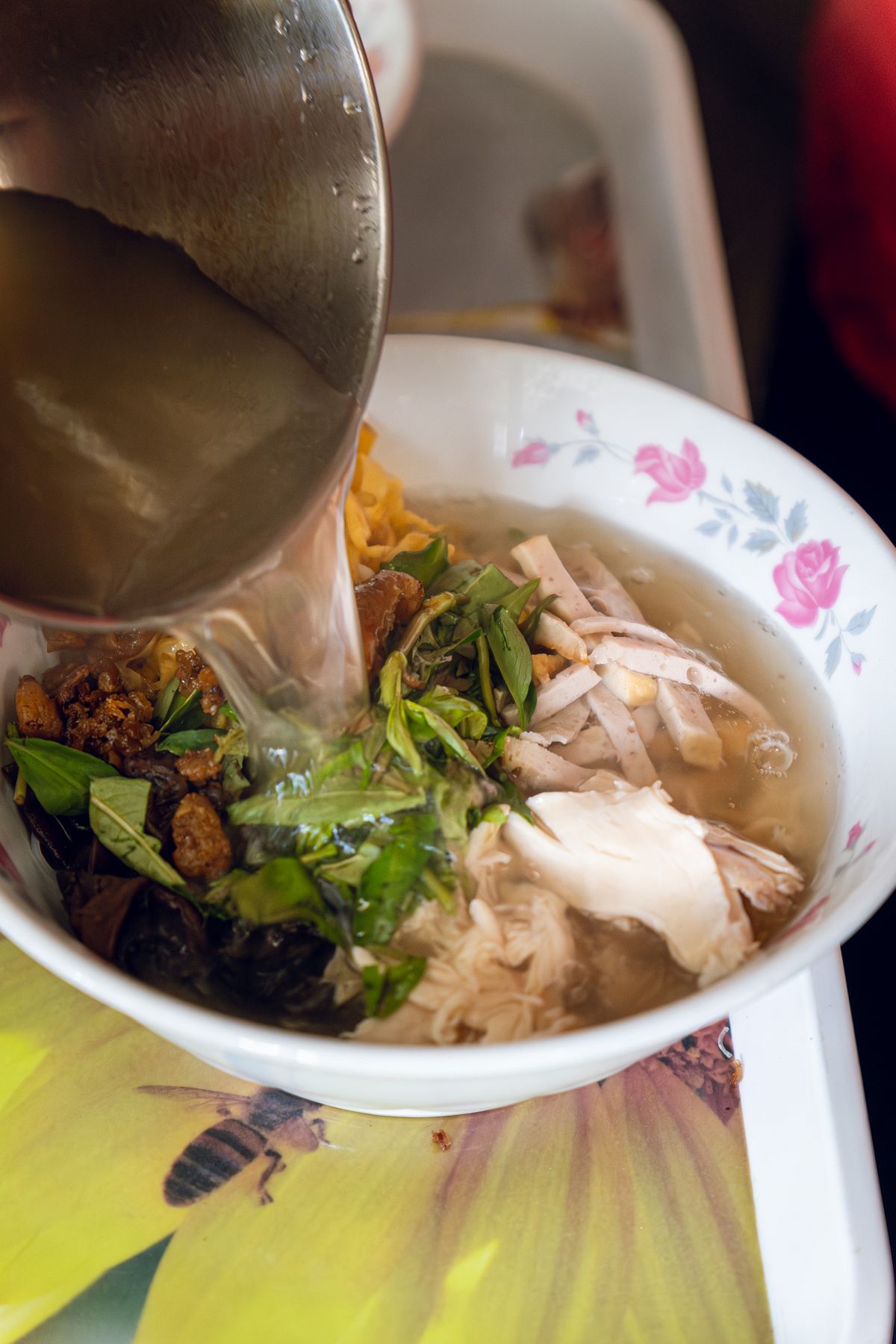 Bún thang was, somehow, one of the few Vietnamese dishes that subverted my preference for western food. The piping-hot chicken broth is clear and light, flavored to taste with mắm tôm, crushed ớt, and a hearty dose of black pepper; and every spoonful is perfectly composed of noodles, egg, and chả lụa. It's something that I've only ever had at home. While I've since expanded my palate to embrace Vietnamese food of all kinds, bún thang is still perhaps my favorite — even if by virtue of comfort alone. So when I moved to Saigon for the summer, thrust into a sprawling, unfamiliar city, I knew I had to look for bún thang.
I found it at Bún Thang 50.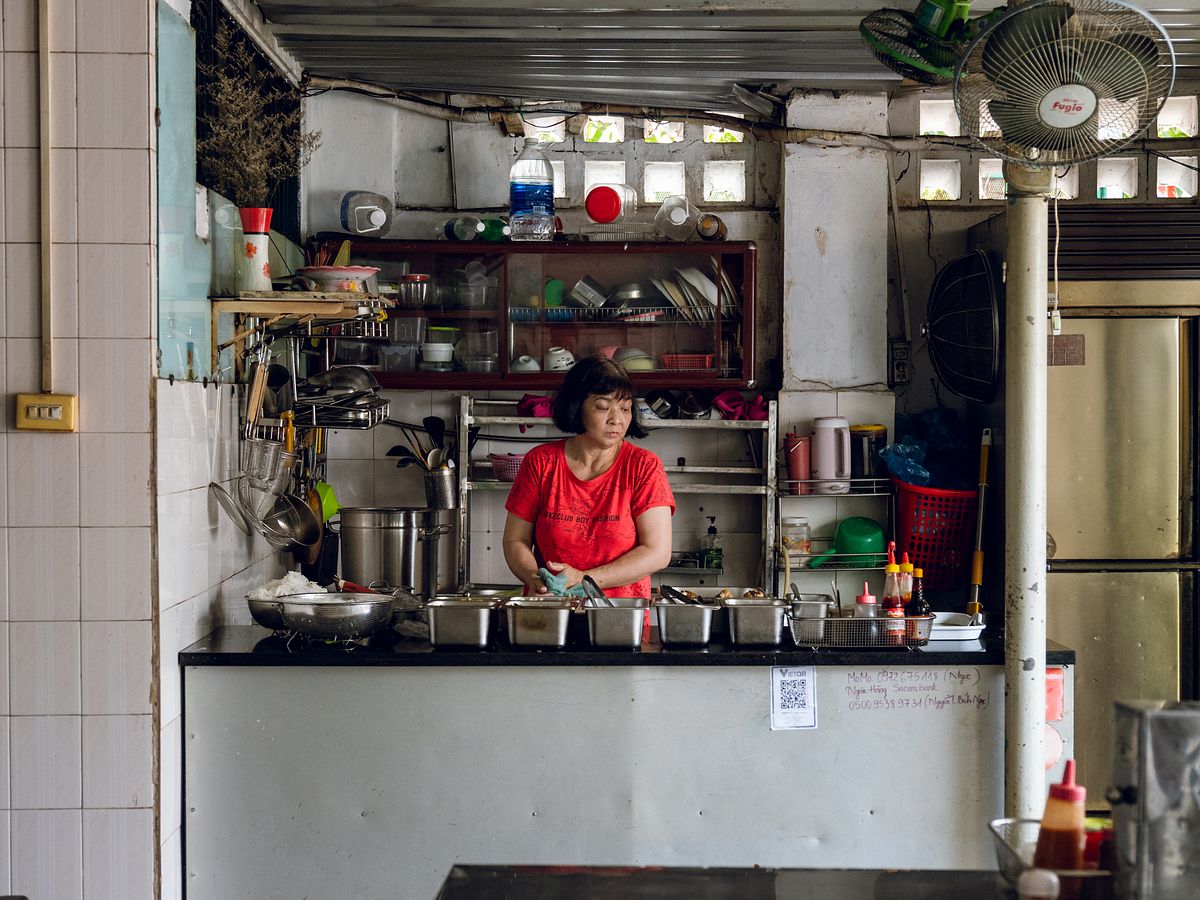 Tucked away in a quiet street of Phú Nhuận, this restaurant is one of the rare places in Saigon that specializes in bún thang — making it easy to discover through a quick Google search. The thing is Saigon residents probably aren't searching for bún thang very often.
As a second-generation Vietnamese American, my patchwork exposure to Vietnamese food was uninformed by geographic specificity. Only recently did I realize my naivete about Vietnam's geographically varied cuisine, and that a Hanoian dish like bún thang, for example, might not have a foothold in Saigon. I had no idea it was peculiar for it to be in the repertoire of my Saigon-born mother. When I asked her about it this past month, she said that the recipe was passed down from her mother, who is also from the south. My grandma's memory is fading, so we might never concretely know the origins of bún thang in my family, but my mom suspects that my grandma learned the recipe from my grandpa, who is from the north.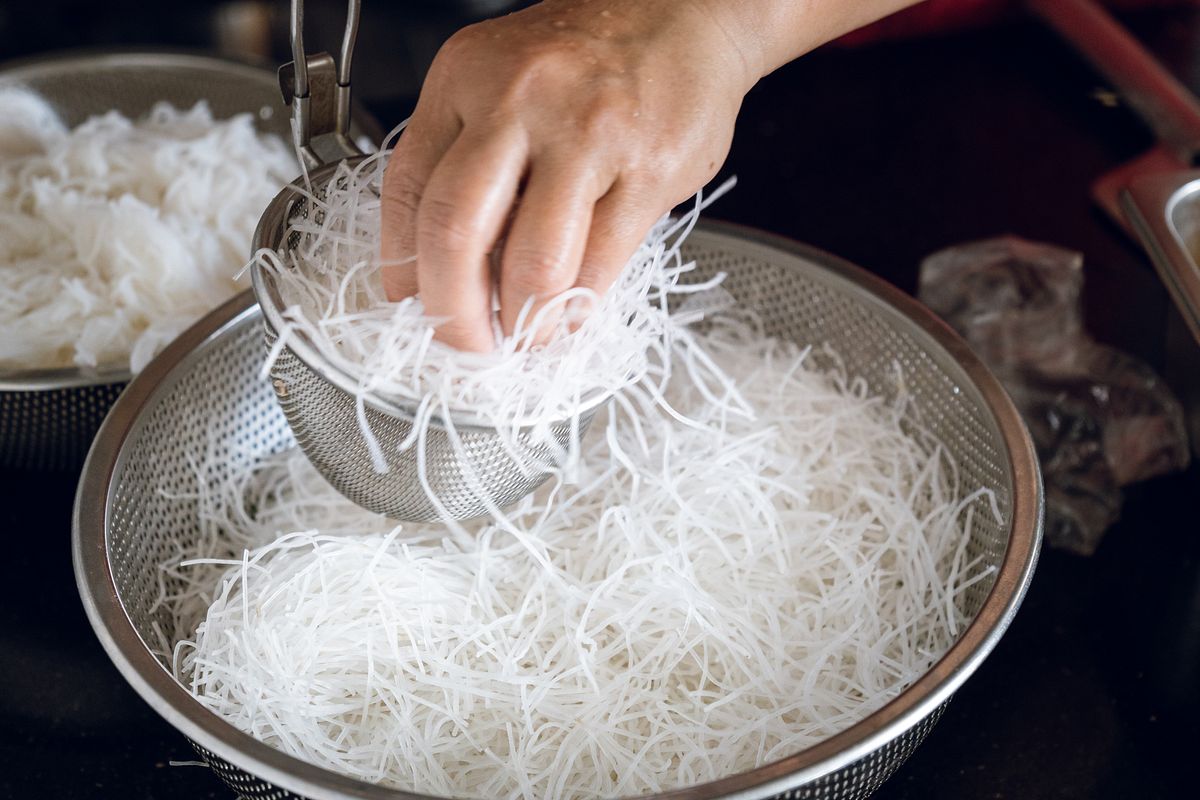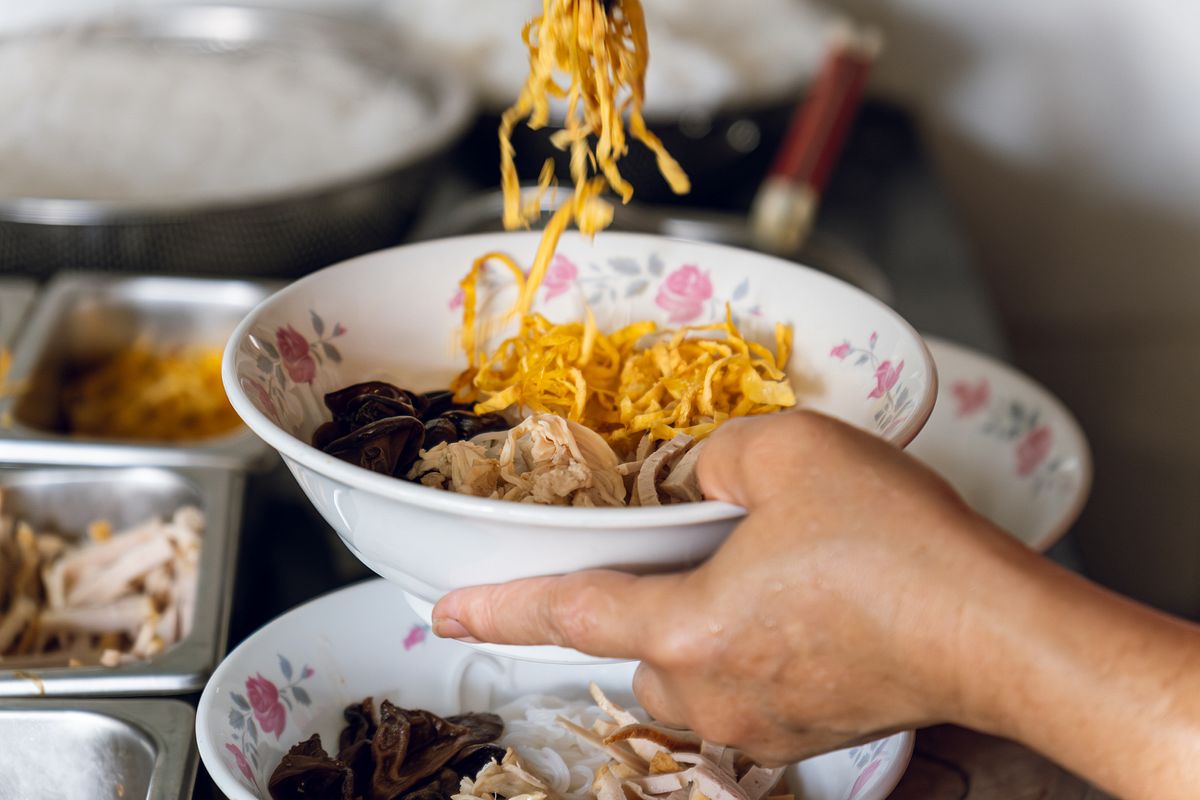 Unsurprisingly, Bún Thang 50 is operated by a northern Vietnamese family. They moved to Saigon in the 1970s and opened the restaurant in the 1990s. It has the intimate feel of a family-owned shop: the dining space borders what is presumably their living room; the small plastic cups provided for complimentary tea are cutely, childishly decorated with cartoon flowers.
I wandered into the shop at around 9am during my first few days in Saigon, eager to participate in the brilliant norm of noodles for breakfast. The tables aren't crowded, but a few women cycle in and out, devouring their bowls before getting on with the day.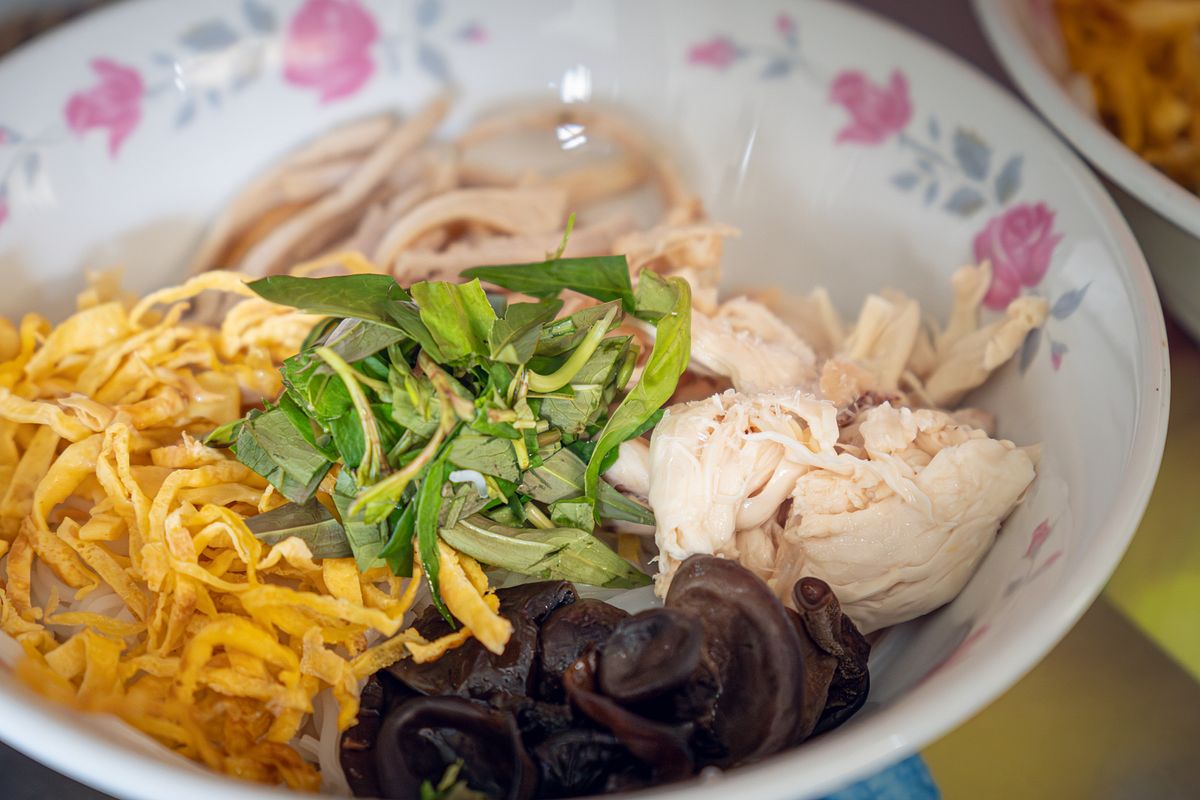 While the menu offers other noodle soup options, the titular bún thang is likely the primary draw. I order a bowl of bún thang Hà Nội (VND40,000). In the open kitchen, the vendor assembles it from a row of metal containers which are reminiscent of the plastic containers that materialize in my own home. She ladles in the chicken broth.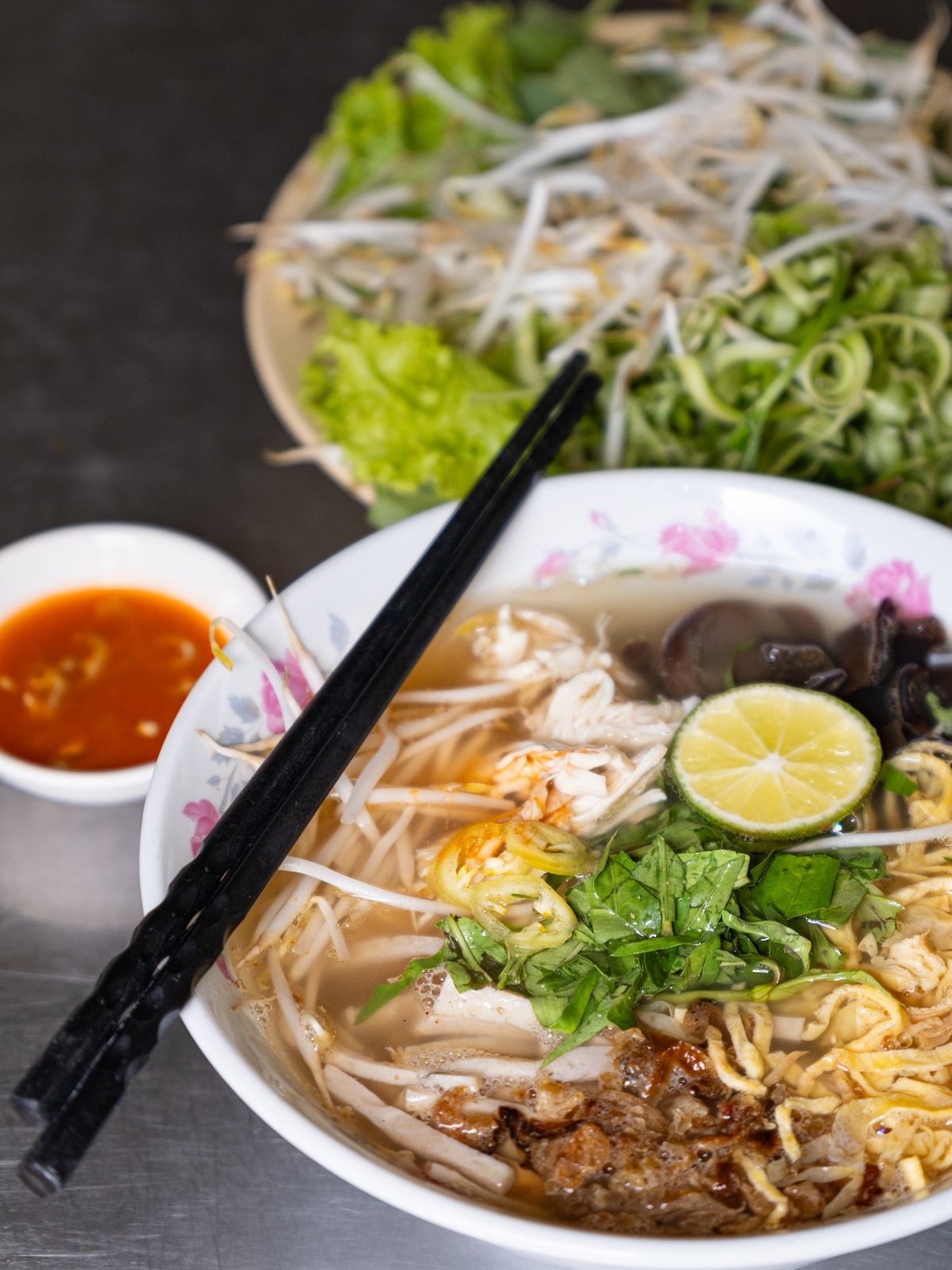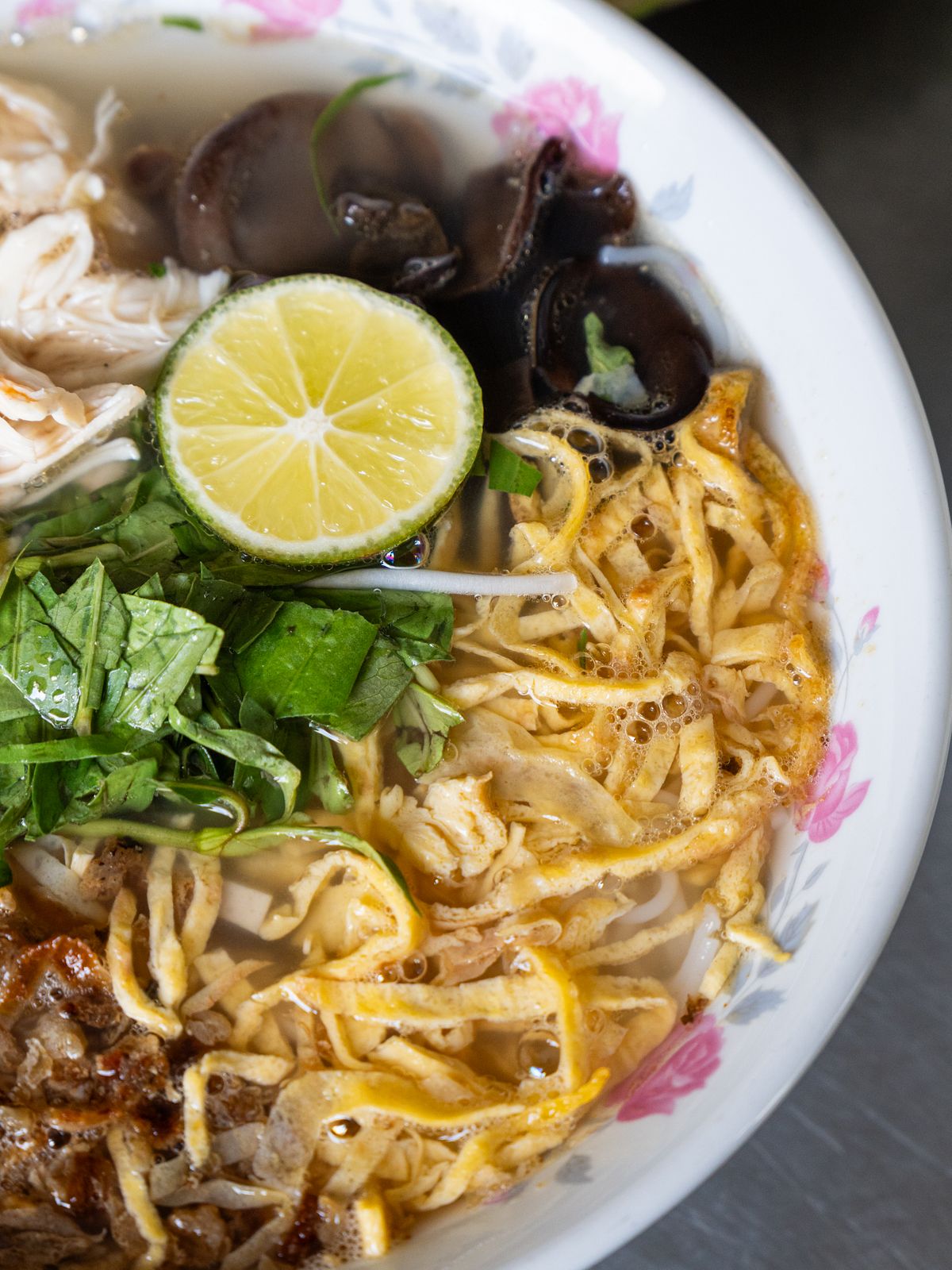 Soon, the bún thang — along with a plate of fresh herbs — arrives on the metal tabletop. The toppings each occupy their own satisfying little sections of the bowl, with a bright green pile of rau răm at its center. A squirt of mắm tôm and several chili slices later, the bowl is ready to be mixed and eaten.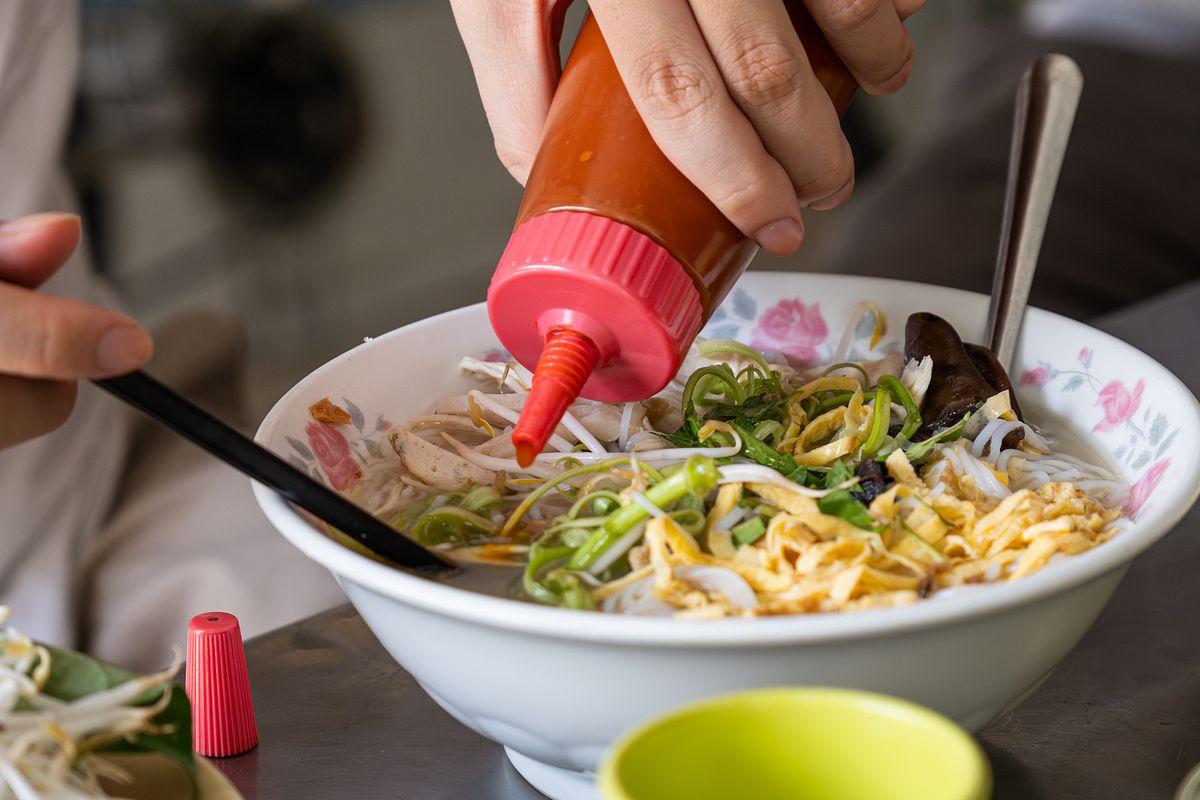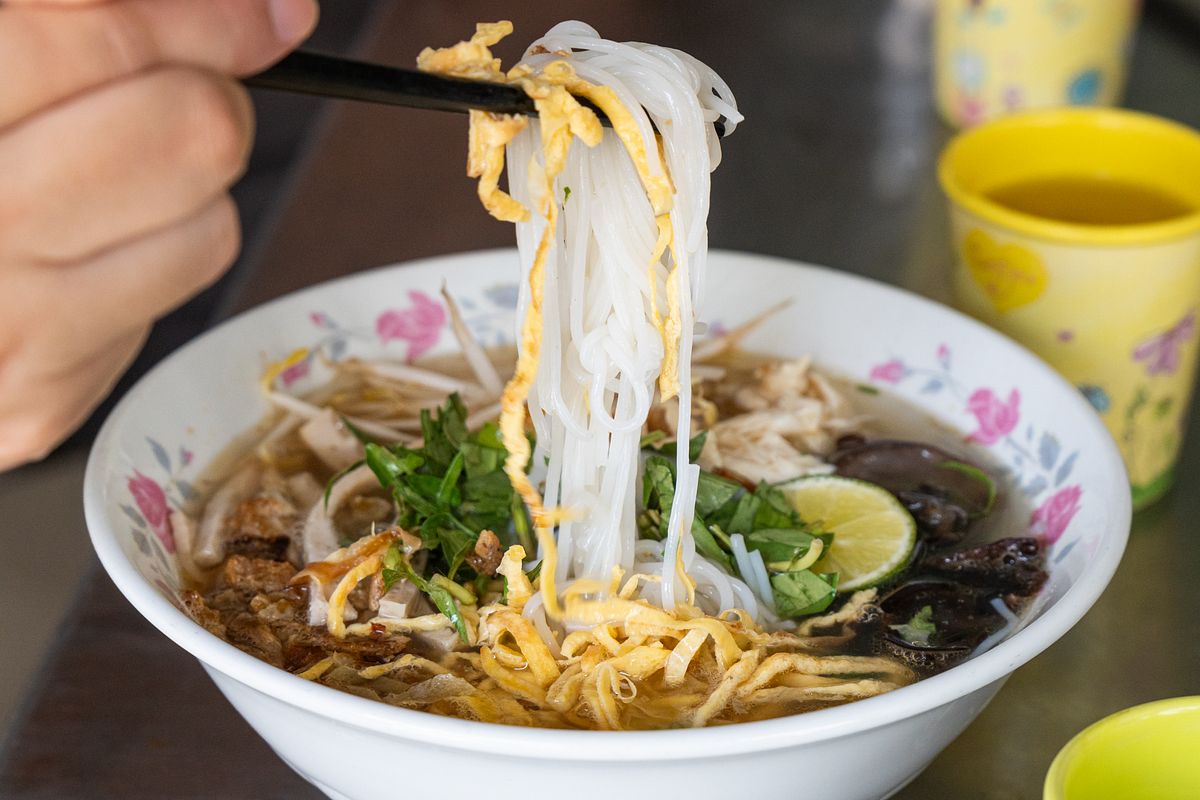 In my mind, bún thang is a dish that's only made by my mom; I've always been baselessly skeptical if any other version can taste the same. Indeed, Bún Thang 50's bowl diverges from what I'm used to in some ways. Its toppings include wood-ear and shiitake mushrooms — traditional bún thang ingredients that eluded our family recipe. The noodles here also stand out thanks to the shop's addition of crispy, chewy bits of pork greaves, and the unmistakably northern touch of dill in the shreds of chả lụa.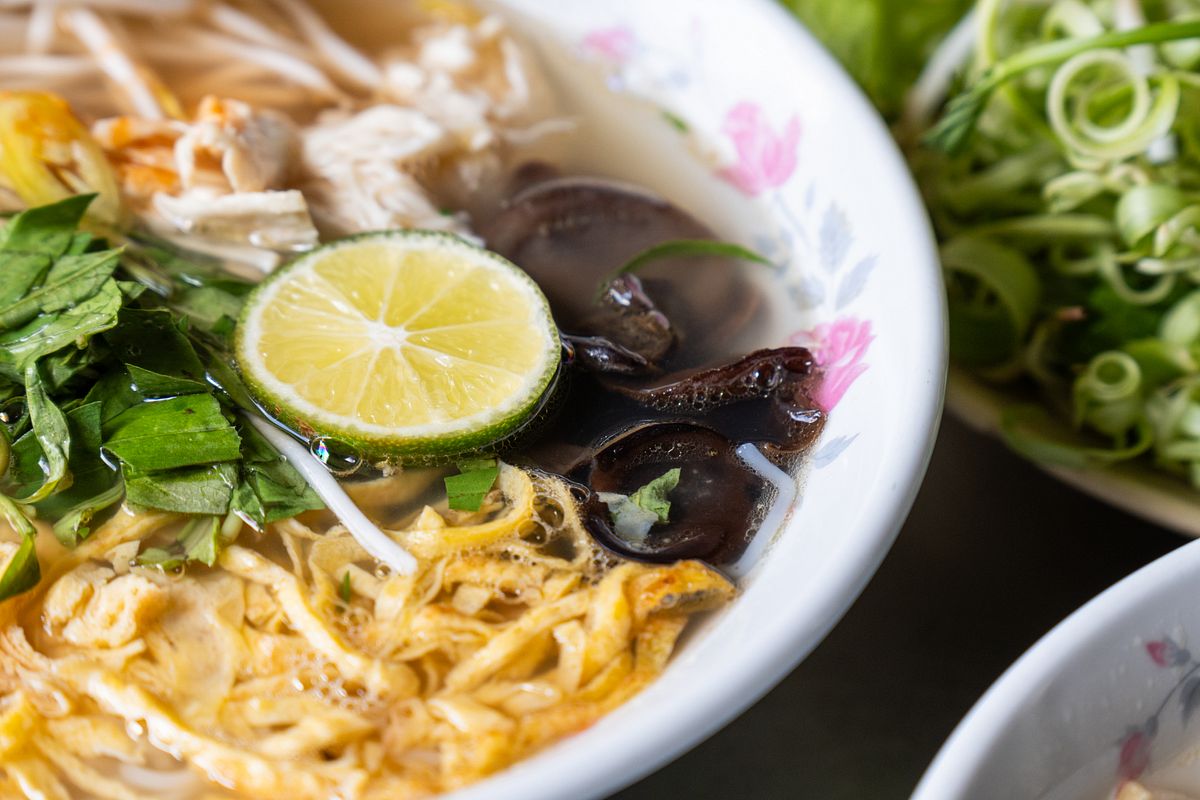 For me, this bún thang at once echoes the soul-soothing, celebratory dish I so anticipated seeing in my childhood kitchen, while sprucing it up with new flavor and textural deviations. The mushrooms and pork greaves are a welcome reprieve, balancing the otherwise purely soft mixture of egg, chicken, and chả lụa; the broth is a bit stronger and fattier than my mom's. This bún thang, then, is both a taste of home and an exciting reminder that I'm somewhere else entirely.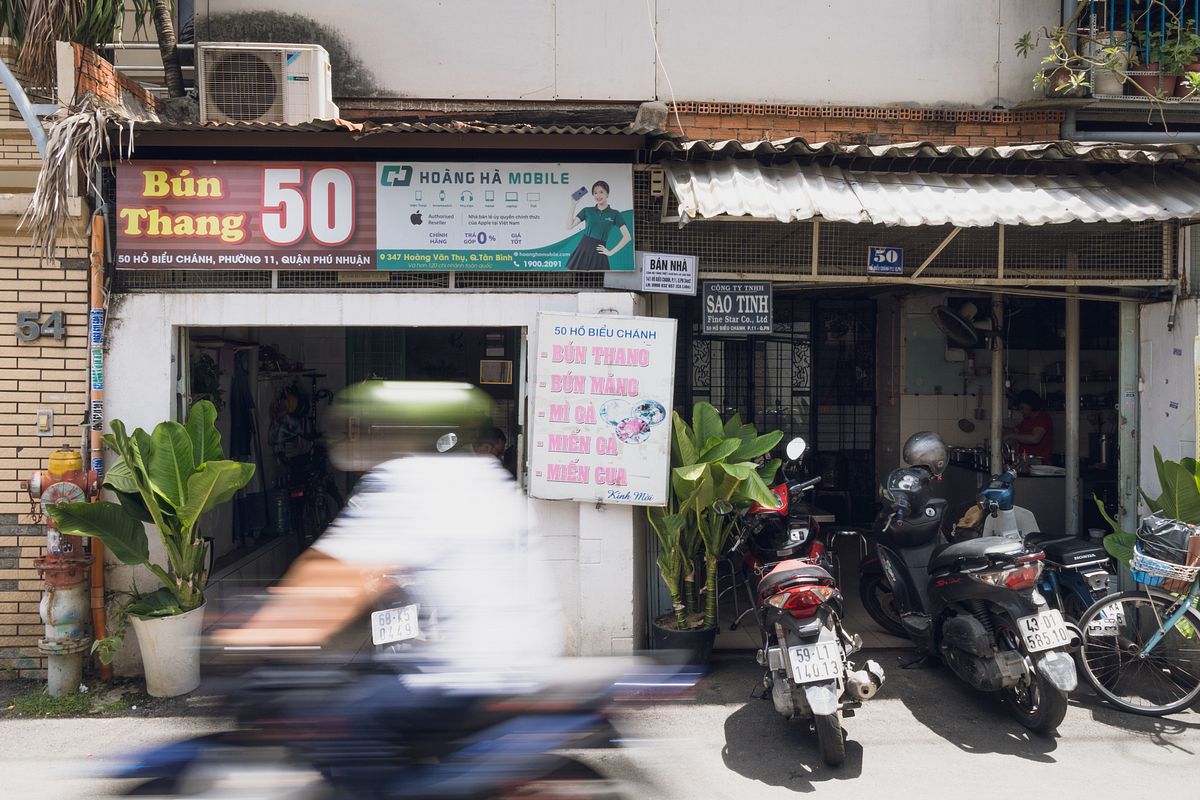 Bún Thang 50 is open from 6am to 9pm.
Bún Thang 50
50 Hồ Biểu Chánh, Ward 12, Phú Nhuận District, HCMC