Growing up in Saigon before the surge of foreign dessert trends like milk tea, cheese tarts, and bingsu, the humble and affordable Milo powder found in almost every grocery store and street vendor was the pinnacle of my childhood dessert universe. Be it a bowl of shaved ice, a cup of milk tea, or a luscious smoothie, I was that determined child who would unabashedly mix Milo powder or cocoa into my beverages to "enhance" their flavors. The harmonious interplay of the powder's bitterness blending with the sweetness of milk, against the backdrop of chilly ice, created the perfect concoction for Saigon's sweltering climate.
Returning to the scorching Saigon summer after spending two months in the chilly East African winter, an undeniable yearning for cocoa-infused refreshments overcame me. Thus began my expedition into Saigon's dessert kingdom. A decade had elapsed since I last lived in Vietnam, and new Milo-infused treats had proudly claimed their spots in the city's diverse dessert scene. The creative options were boundless, from iced Milo paired with bread, Milo sponge cake, Milo melts, and Milo-laden shaved ice to deep-fried Milo pastries and sumptuous coconut Milo cake. Delving into the enticing universe of Milo-flavored creations, I stumbled upon the revival of my childhood Milo snacks, now reborn as "Milo dầm."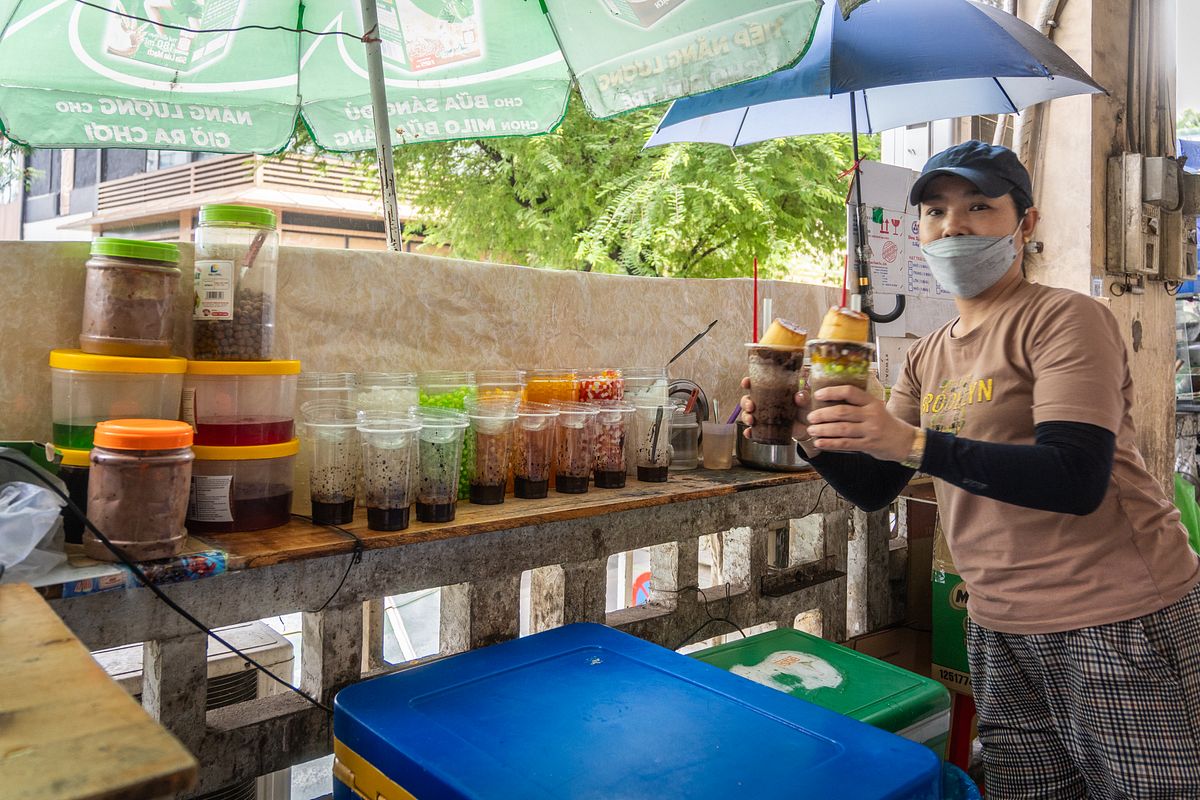 Through a recommendation from a Saigoneer colleague, I set out to visit one of the first creators of this drink (allegedly). Milo dầm, or Milo milkshake, has stood the test of time. Even today, it remains a cherished treasure among Saigon's snack connoisseurs, celebrated for its distinct and delightful taste. The concoction itself is simple: shaved ice adorned with layers of cocoa powder mixed with condensed milk, and a sprinkle of Milo powder. Despite the simplicity, its sweet allure is hard to ignore. This beloved treat has recently undergone a creative evolution, giving birth to the Milo dầm craze, now paired with a medley of toppings.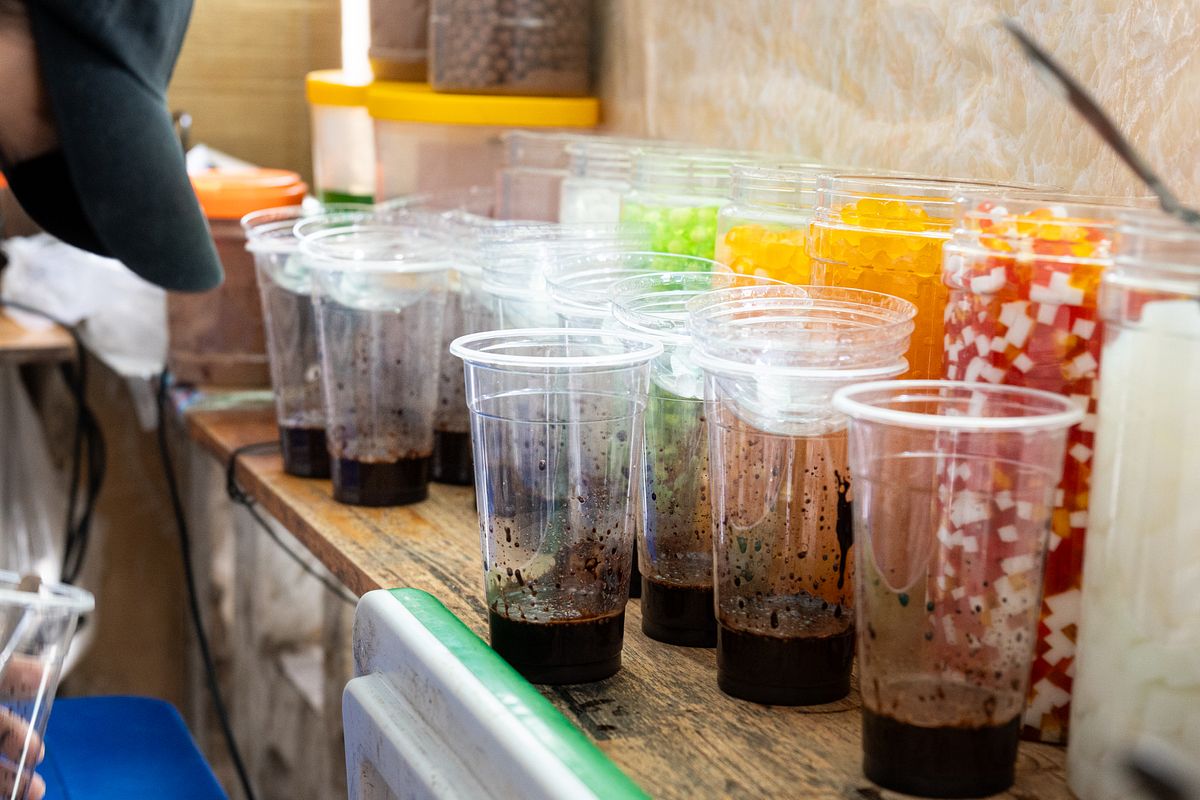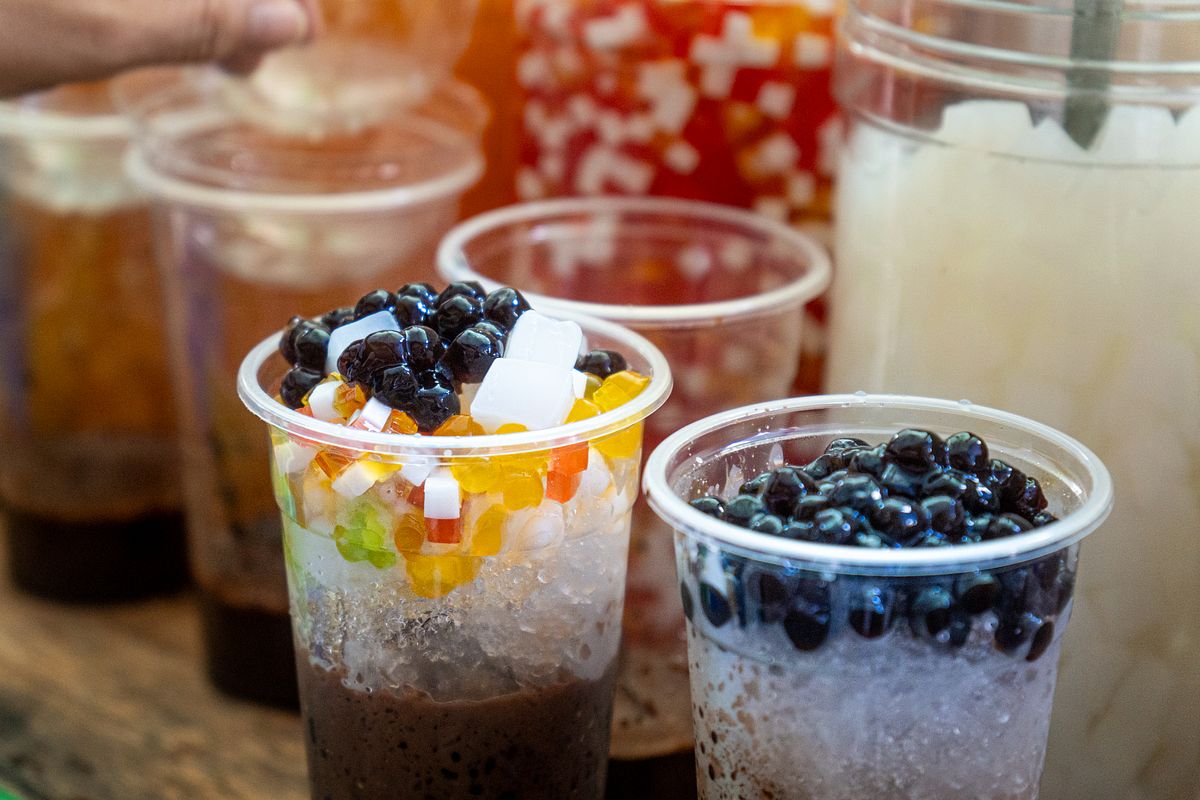 Based in a long open-air corridor on the first floor of an old apartment building on Tôn Thất Thiệp Street in District 1, the Milo stall is a family-owned cart in front of the friendly owners' door. The stall has been around for almost a decade. Climbing up the steps of the old building complex, I was greeted with an array of eye-catching, colorful jelly toppings and long rows of Milo-filled cups. I ordered a fully loaded Milo dầm with an assortment of toppings.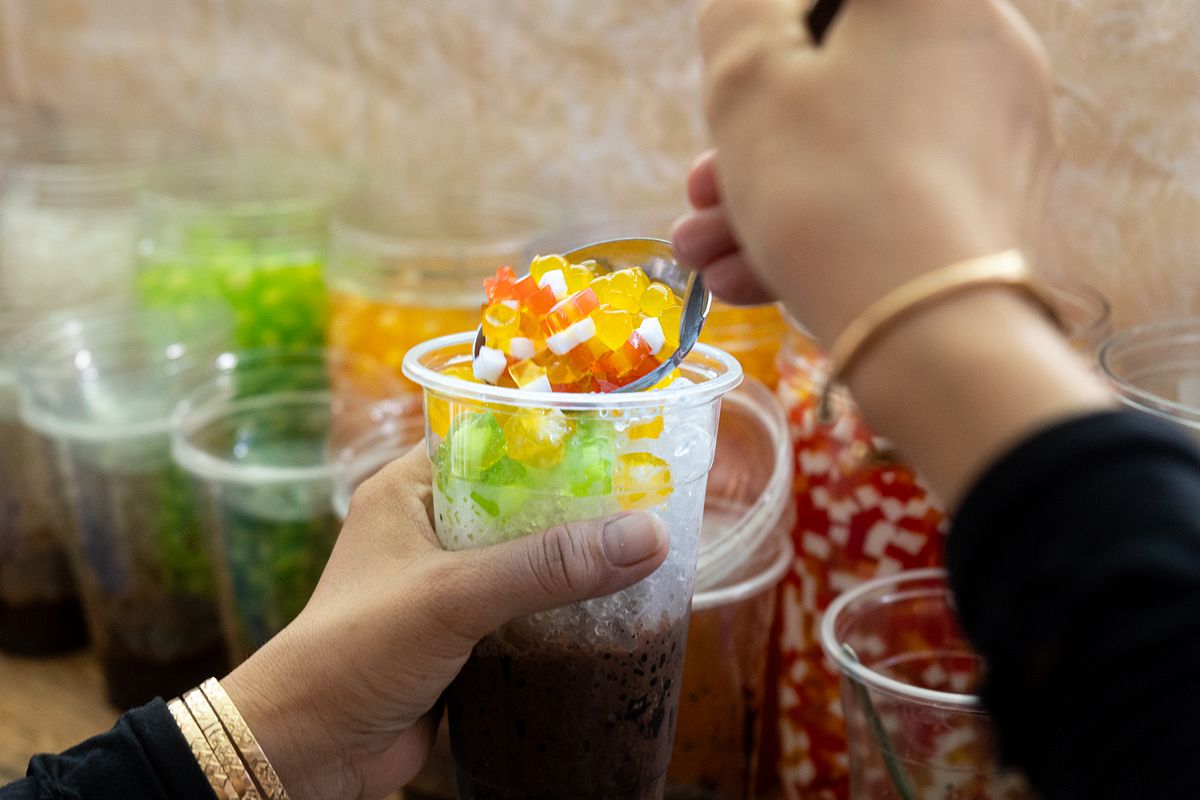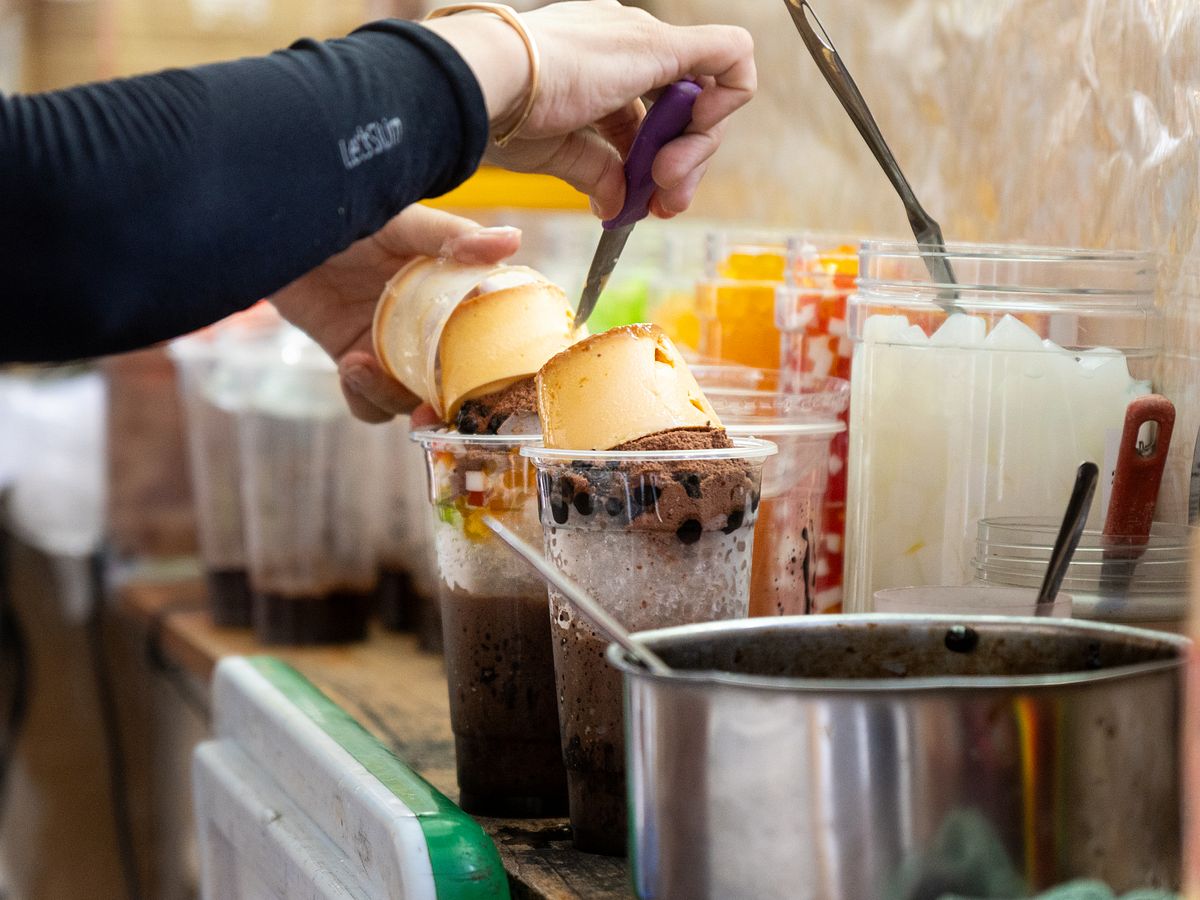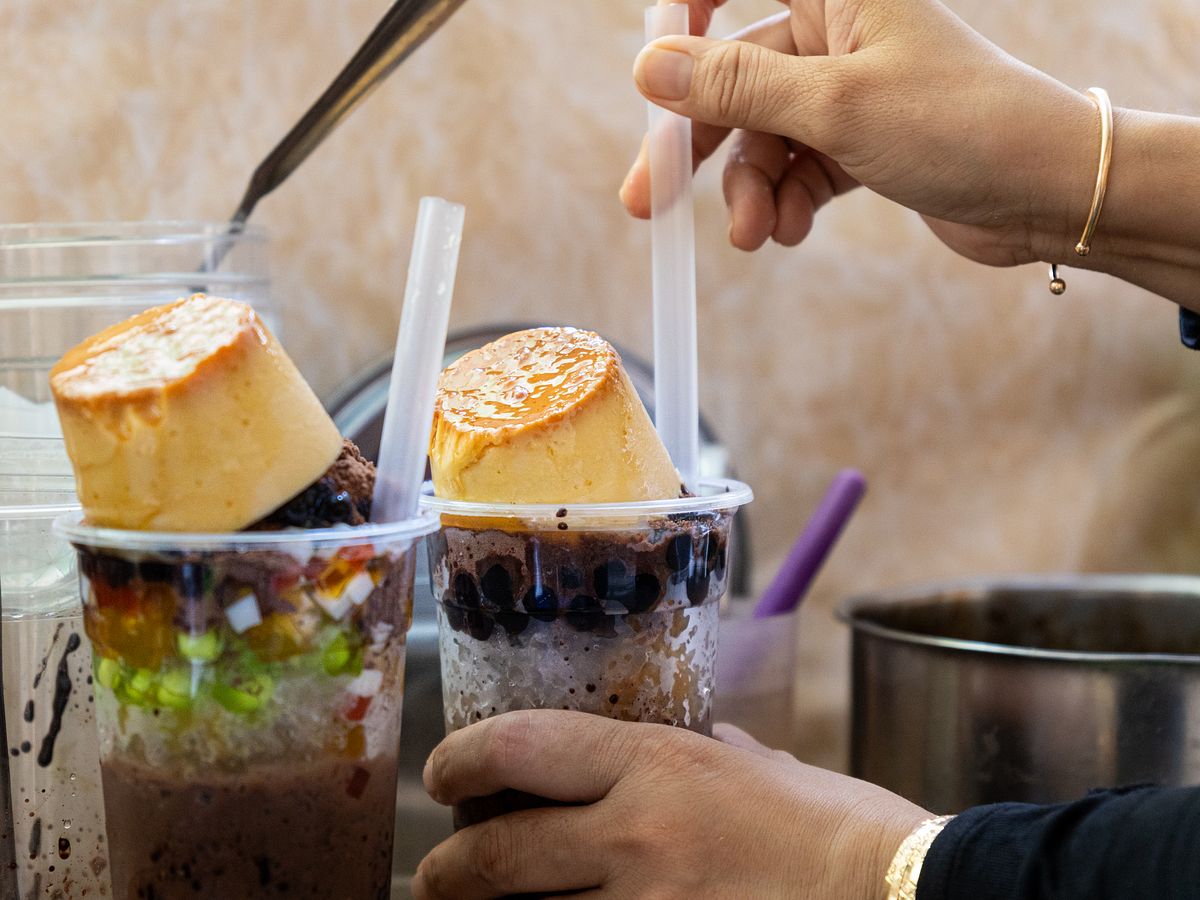 The Milo dầm arrived in a truly sizable cup with chewy and sweet boba pearls. The Milo base itself carried a robust cocoa flavor, accentuated by the additional layer of Milo powder on top. The flavor reminds me of my childhood days, when I constantly searched for these refreshing snacks after school. The cocoa base is spread over a layer of shaved ice and mixed with fresh milk to create a shake-like concoction. The owner adds a layer of black sugar boba pearls and various colorful jellies and pearls to complete the ensemble. As for the boba pearls, they're chewy without being overly soft, striking a perfect balance in texture. The cocoa mixture is prepared according to the owners' secret recipe, silky and richly bitter yet harmoniously sweet. For those who seek a sweet, refreshing reward after long hours of work or exhausting physical activity, this treat is a perfect option.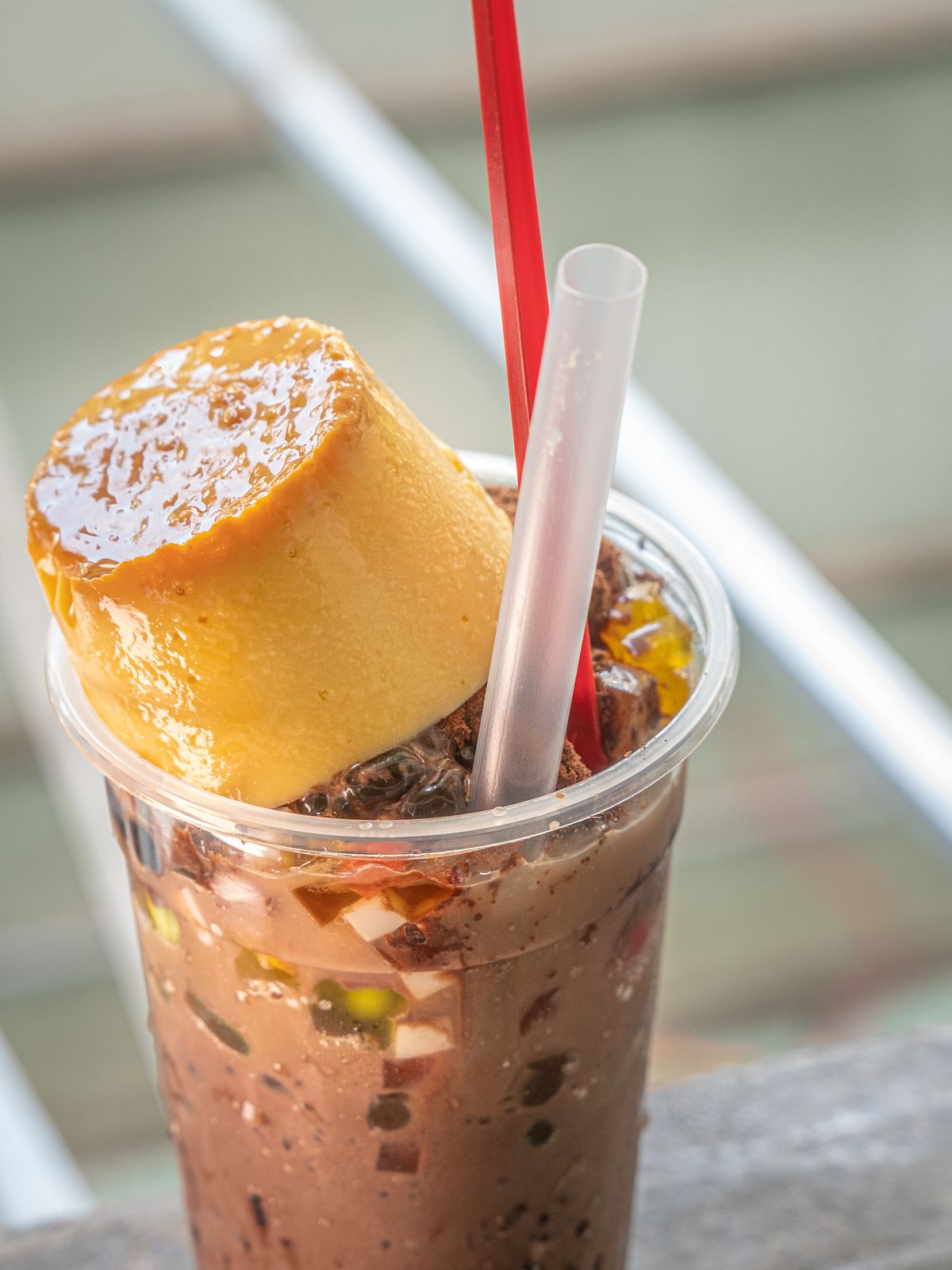 The highlight of this Milo dầm is undoubtedly the enormous flan resembling a plump little piglet perched atop the drink. The flan puddings were made by the owner early in the morning to maintain the fresh creamy flavors and soft textures. They stand out due to their larger size compared to those served by other shops. The puddings are rich with the flavor of eggs and milk and exude a delightful aroma. I took a spoonful of Milo with a generous serving of toppings and a bit of the flan, and savored the interplay of cocoa and egg melting in my mouth.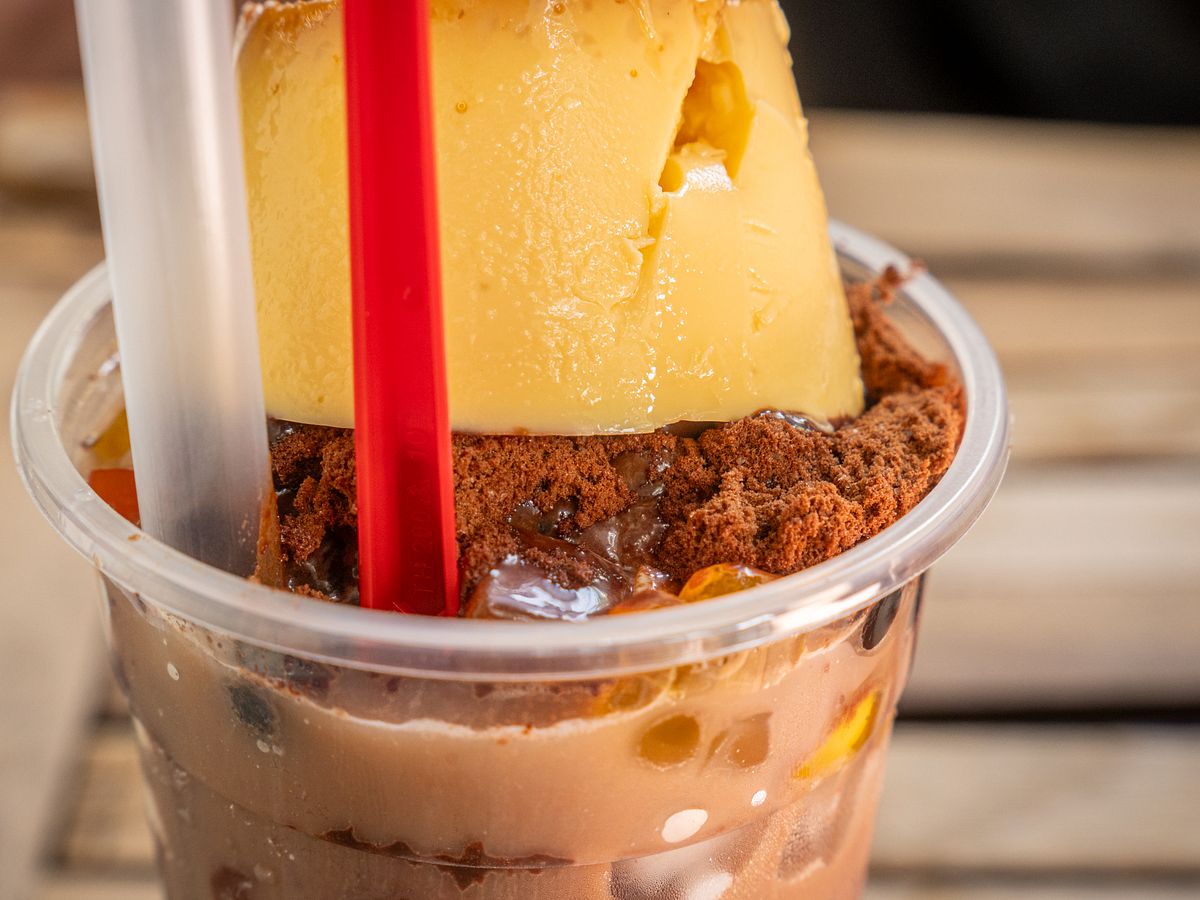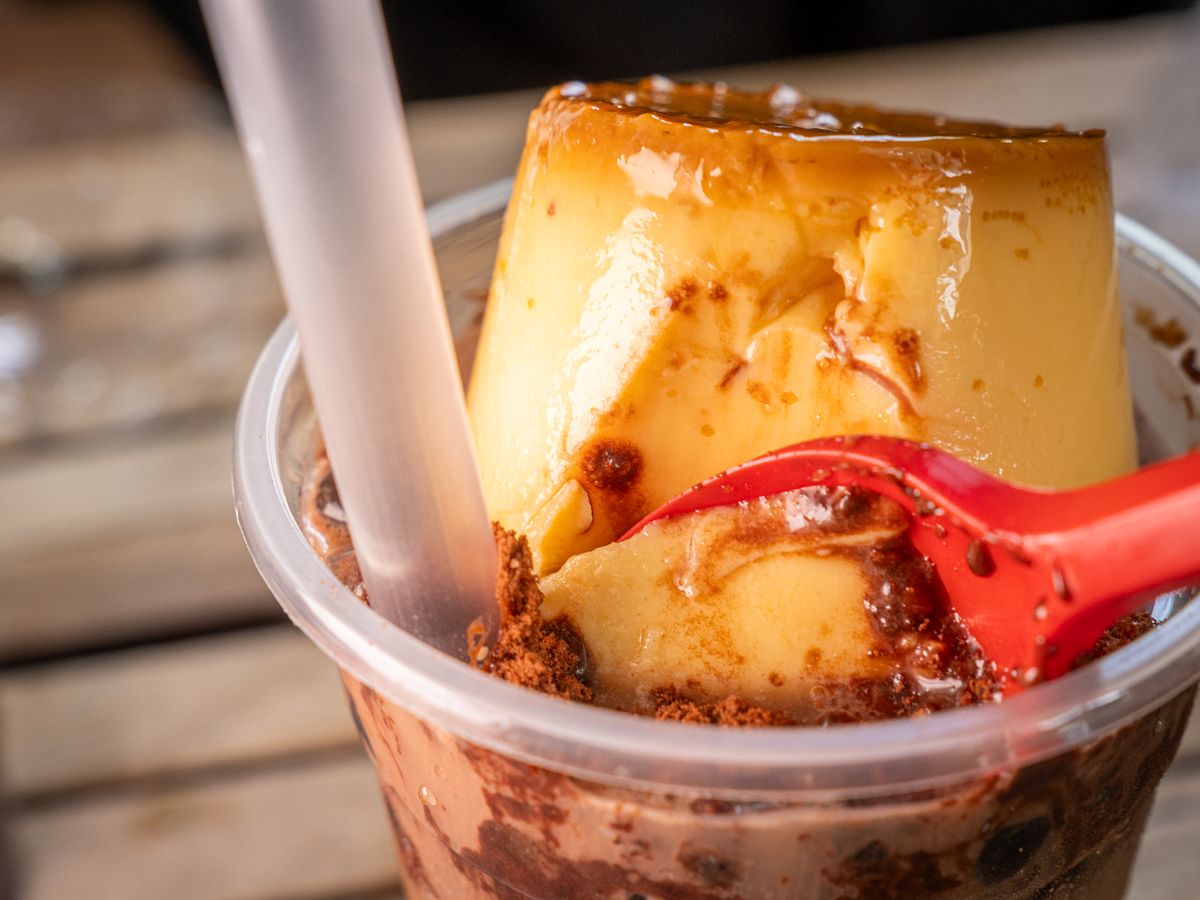 This plump and rich cup of Milo dầm is a splendid representation of how global snacking cultures fuse in Saigon. Milo powder first appeared in Vietnam in 1994, imported from Australia. In 1997, the first Milo powder product was manufactured in Đồng Nai Province, and since then, jars of "Made in Vietnam" Milo have become a staple in many Vietnamese households, particularly popular amongst Saigon's young population. Boba pearls, on the other hand, originated from Taiwan. As part of the global expansion of bubble tea, boba pearls gradually made their way into Vietnam and were used to create other mouth-watering desserts. The star of the dish, flan pudding, followed the footsteps of Spanish priests and made its way into Vietnam during the French colonial period. Well received in Vietnam due to its delicate texture and rich flavor, the flan evolved further and is now enjoyed on its own or served with various toppings and variations. Thus, the Milo dầm's creative metamorphosis has seamlessly integrated Saigon's diverse culinary scenes while sustaining the childhood flavors that appeal to many generations of Saigon snack enthusiasts.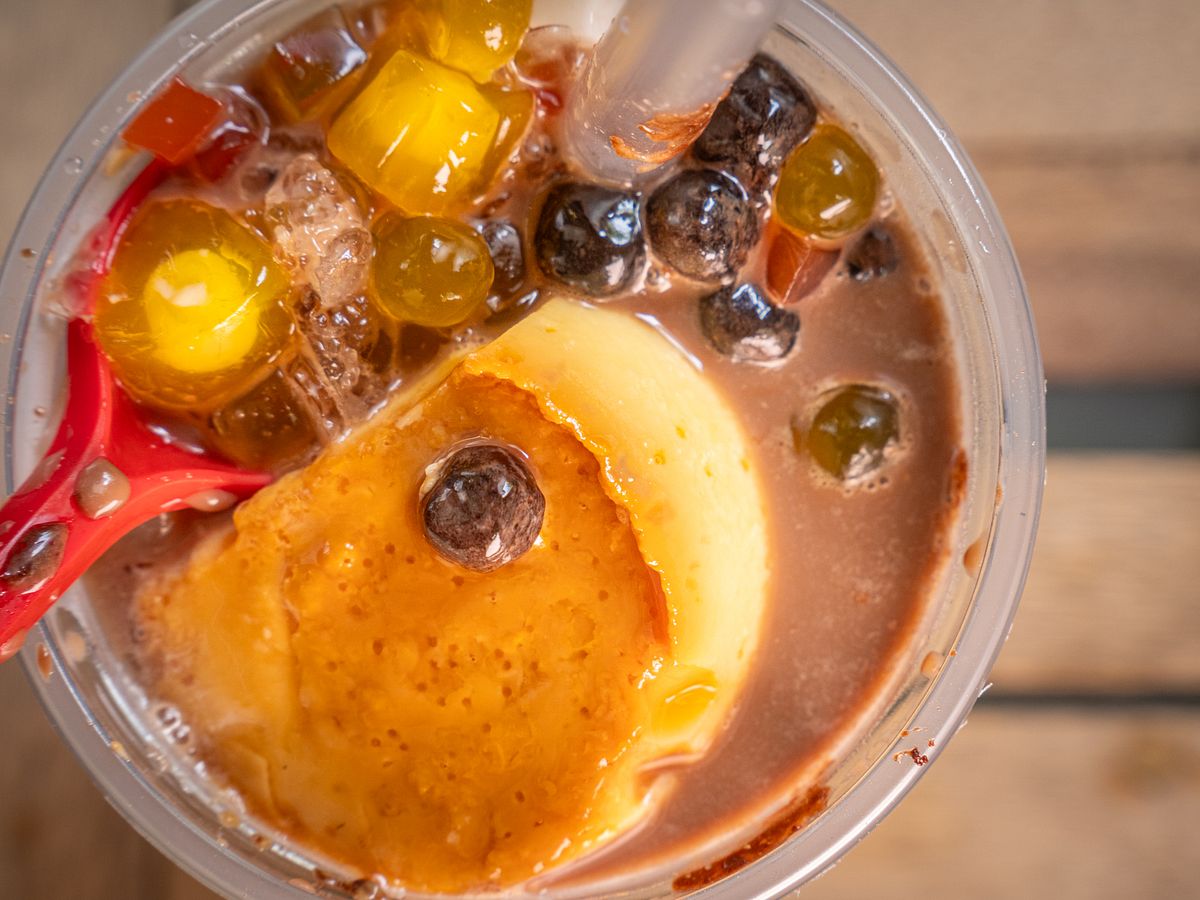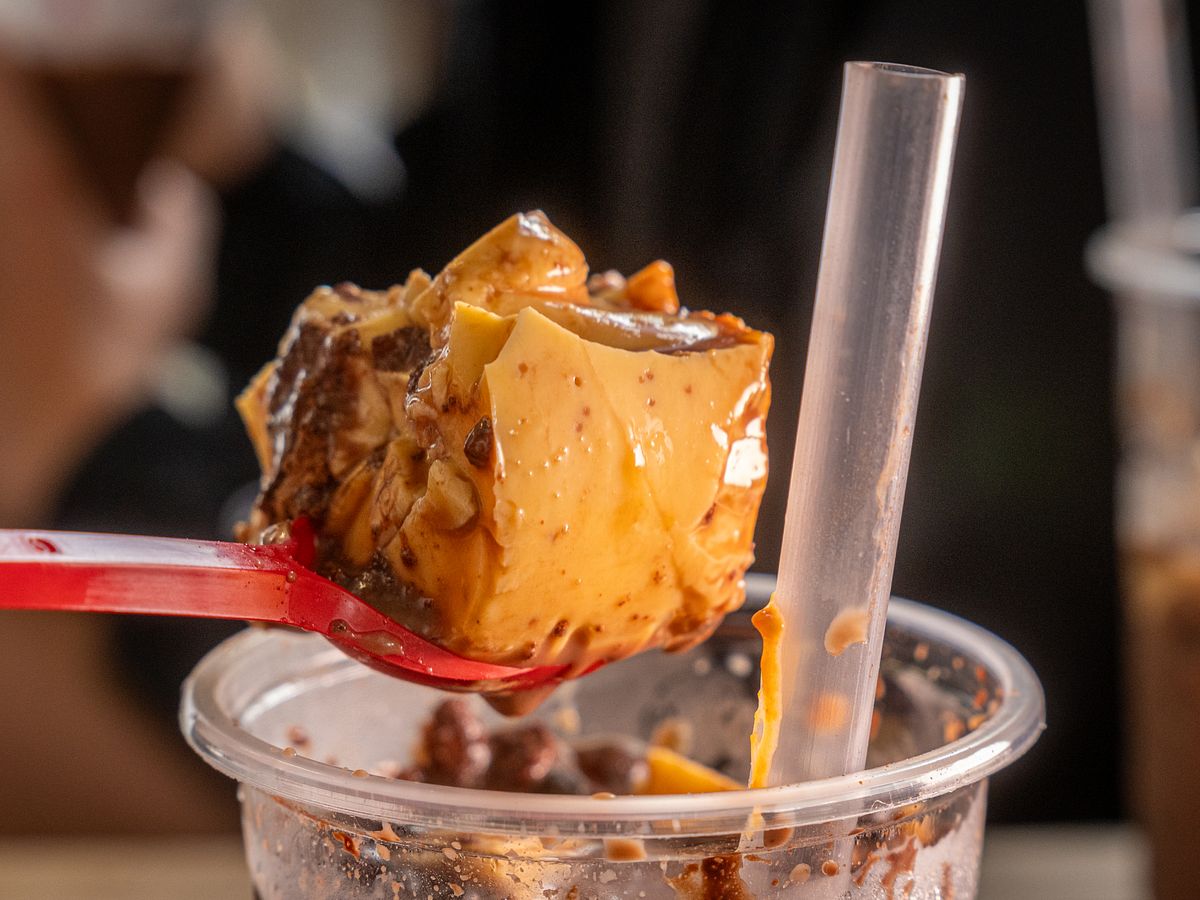 Located right next to Nguyễn Huệ Walking Street, this particular dessert place offers a captivating view of the iconic Bitexco Financial Tower and the bustling street of District 1. As the sun sets, the establishment comes alive with patrons. "When Milo dầm with toppings became trendy among young people 3–4 years ago, there used to be a long line of students waiting to order their desserts around 4–5pm every afternoon," says the owner. And it remains popular among its young patrons, who either come after school or work with friends or order Milo dầm to go for the day.
Standing the test of time, Milo dầm connects both our past and the present, embodying the spirit of Saigon's ever-evolving culinary scene. For us Saigon natives, it is more than just a beverage; it's a nostalgic indulgence that reminds us of our carefree childhood memories. The owner shared with a smile: "I hope everyone can take their time when enjoying this drink and savoring every moment, from the gradual sips, the physical mixing of the drinks, to the bites of boba pearls. That's precisely why it's called 'Milo dầm,' because it takes you back in time, and captures the essence of unhurried, indulgent enjoyment."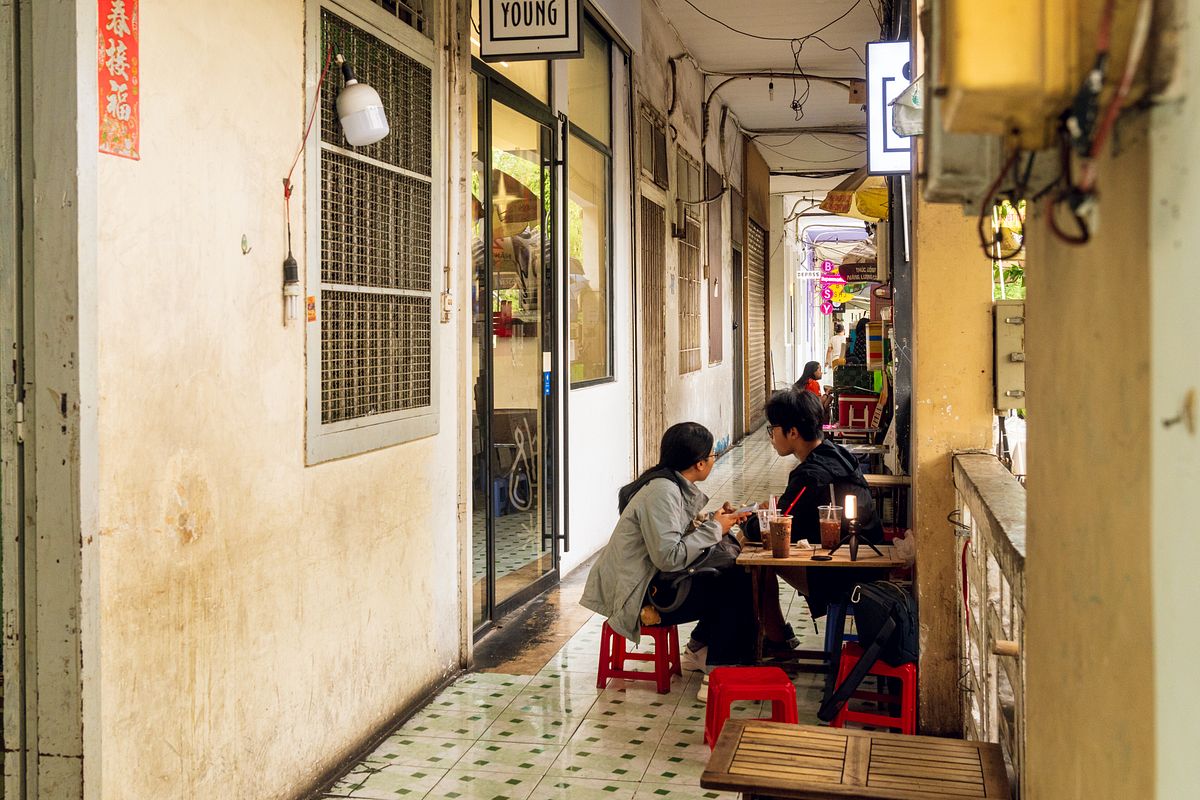 Cacao Dầm Chính Gốc is open from 10am to 10pm. Go to the first floor of the apartment block for the original address.
To sum up:
Taste: 4/5
Price: 4/5 — VND45,000 for a portion with full toppings.
Atmosphere: 5/5
Friendliness: 4/5
Location: 5/5
Hương is a native of Saigon, hailing from the burnt, dry state of California, with a big smile and a bigger passion for travel, food, and cultural exploration.
Cacao Dầm Chính Gốc
First Floor, 42 Tôn Thất Thiệp, Bến Nghé Ward, D1, HCMC