On the way to Phú Thọ Indoor Sports Stadium in District 11, make a turn off 666/74 Ba Tháng Hai, go all the way to the far corner, and you'll discover Triển Chiêu Quán's bright yellow sign. Park underneath the canopy, walk up the ramp, and you'll notice something stands out, but you might not know why — bunches of caramel-colored noodles in the kitchen area waiting to be enjoyed.
Dried, flattened, and blanched in boiling water, the chewy, brownish bánh đa noodle hails from Hải Phòng. In an ideal world, at some point in life, you will find yourself in the major northern port city, upstream from the mouth of the Cấm River, sitting under those royal poinciana flowers and hovering over a steamy bowl of bánh đa cua Hải Phòng, the city's most famous delicacy.
"One day," I told myself, looking at the picture of this scene hanging on the wall at Triển Chiêu Quán in District 10. But, the line of sight to my imagined escape was broken and auspiciously brightened. Bluish skies and reddish flowers were replaced by bluish bowls and reddish noodles being carried toward me. A colorful concoction of flavor headed my way:
Purplish brown mushrooms.
Orange-and-pink crab and shrimp.
Red chili peppers, tomatoes and fermented chili sauce.
Brown fried shallots, fried fish, and fish cake.
Light green chives, chopped onions, and cilantro.
And dark green morning glory and betel leaf-wrapped sausages.
The swirl of colors fills my first bowl of bánh đa cua Hải Phòng, the first of many to come.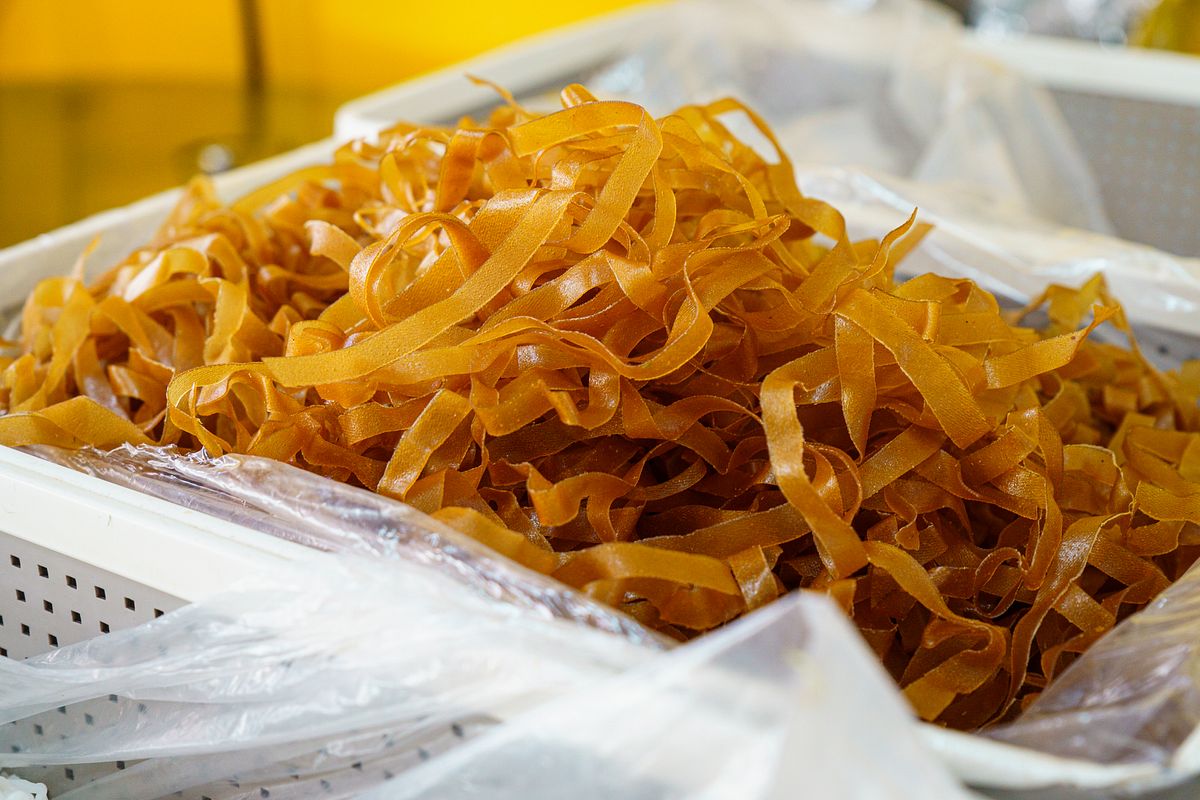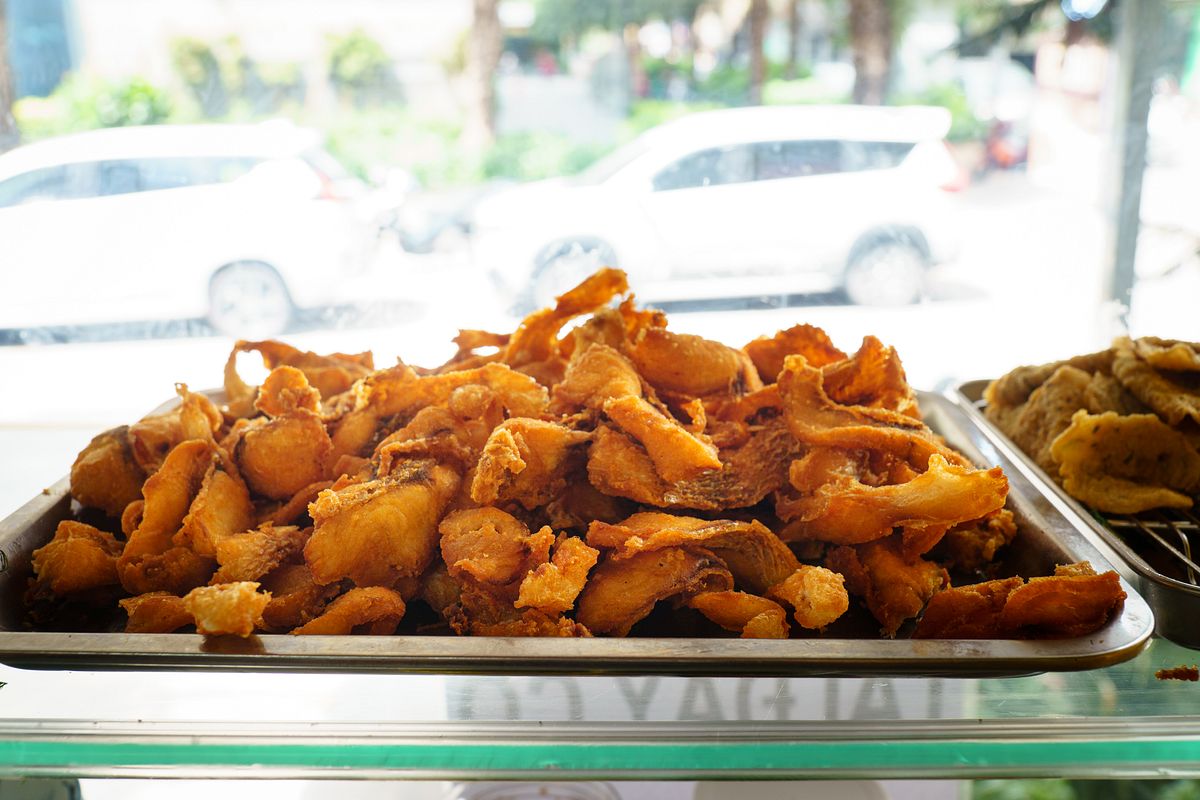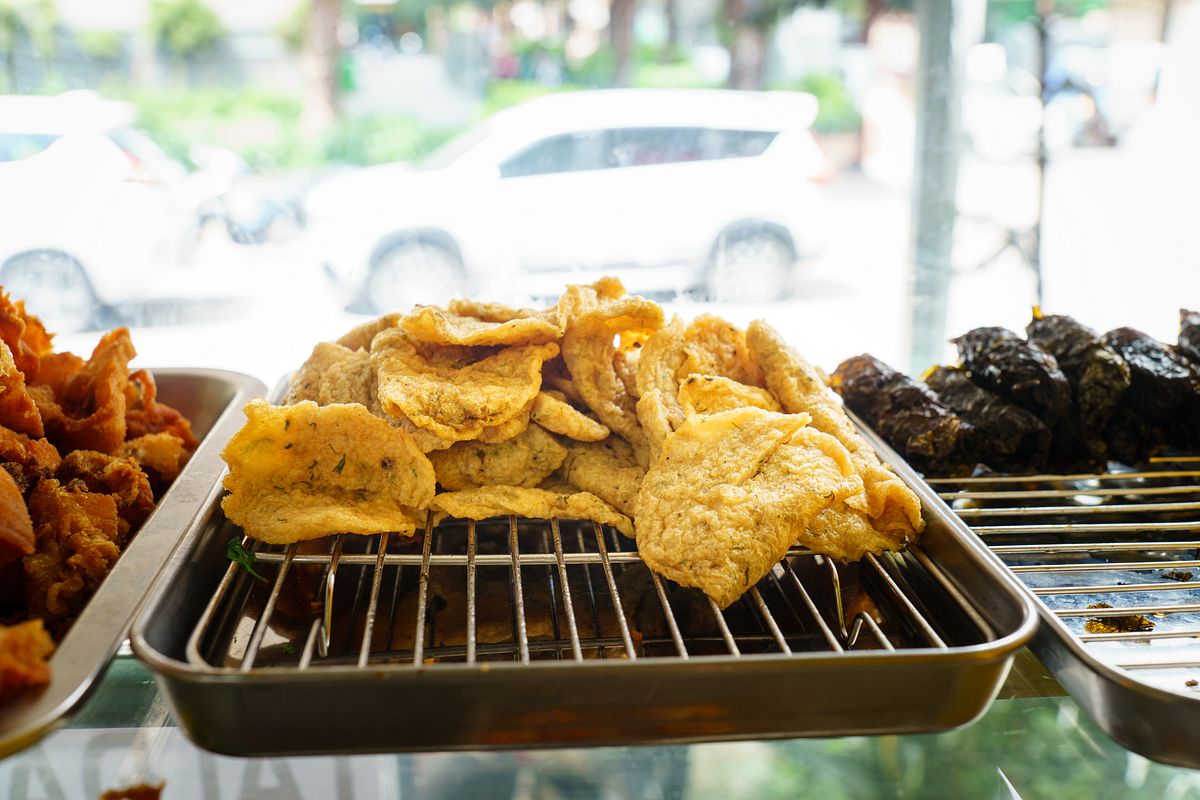 Molasses is the ingredient that makes bánh đa stand out amongst bins of bún and miến, creating that signature brown color. That, and compared to bún, miến, and other noodles I've at least tried, bánh đa left me feeling noticeably more filled afterward. It's more like eating fettuccine than spaghetti, except instead of dousing your plate with butter and cheese, bánh đa is engulfed in a seafood-based broth.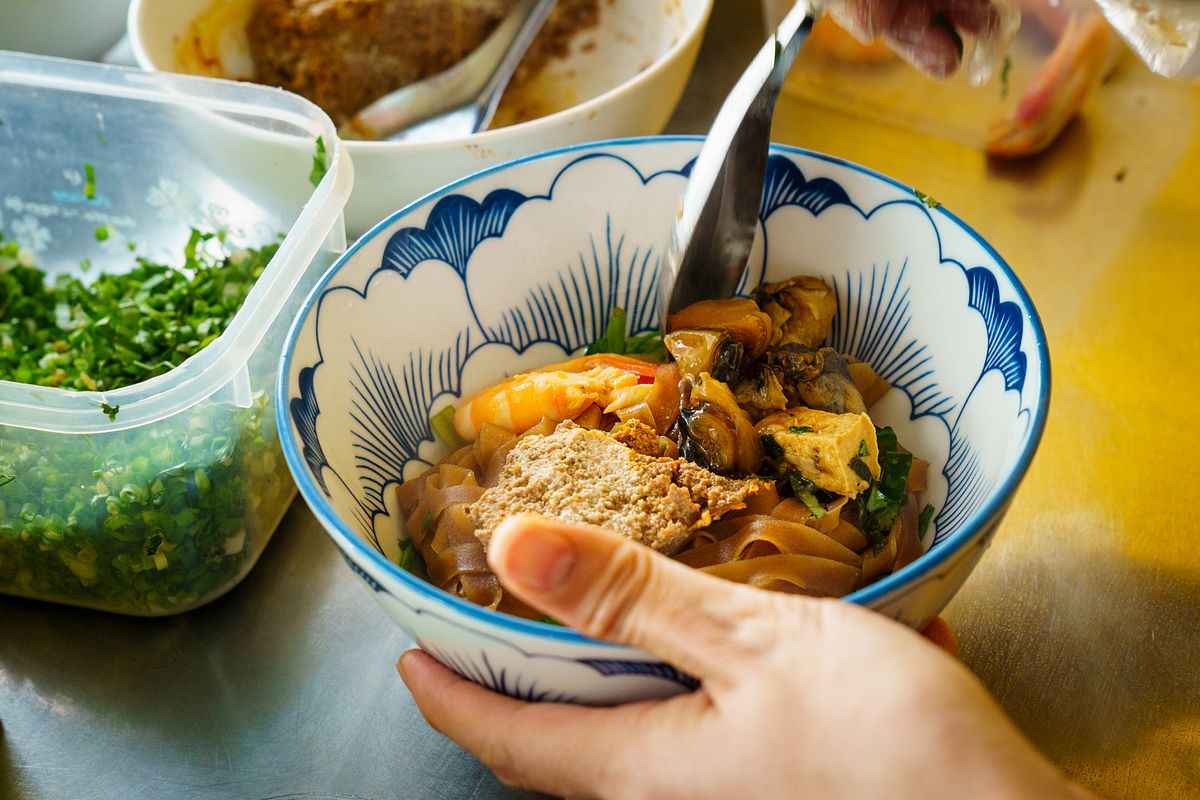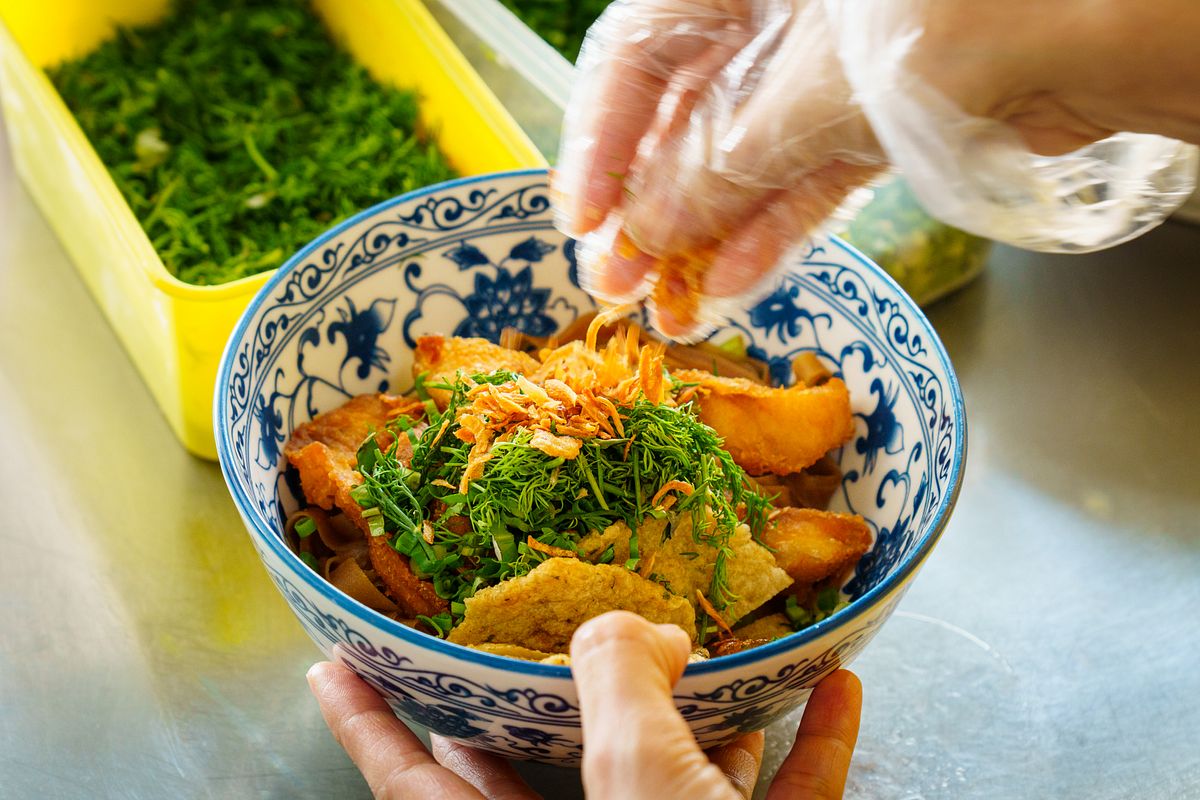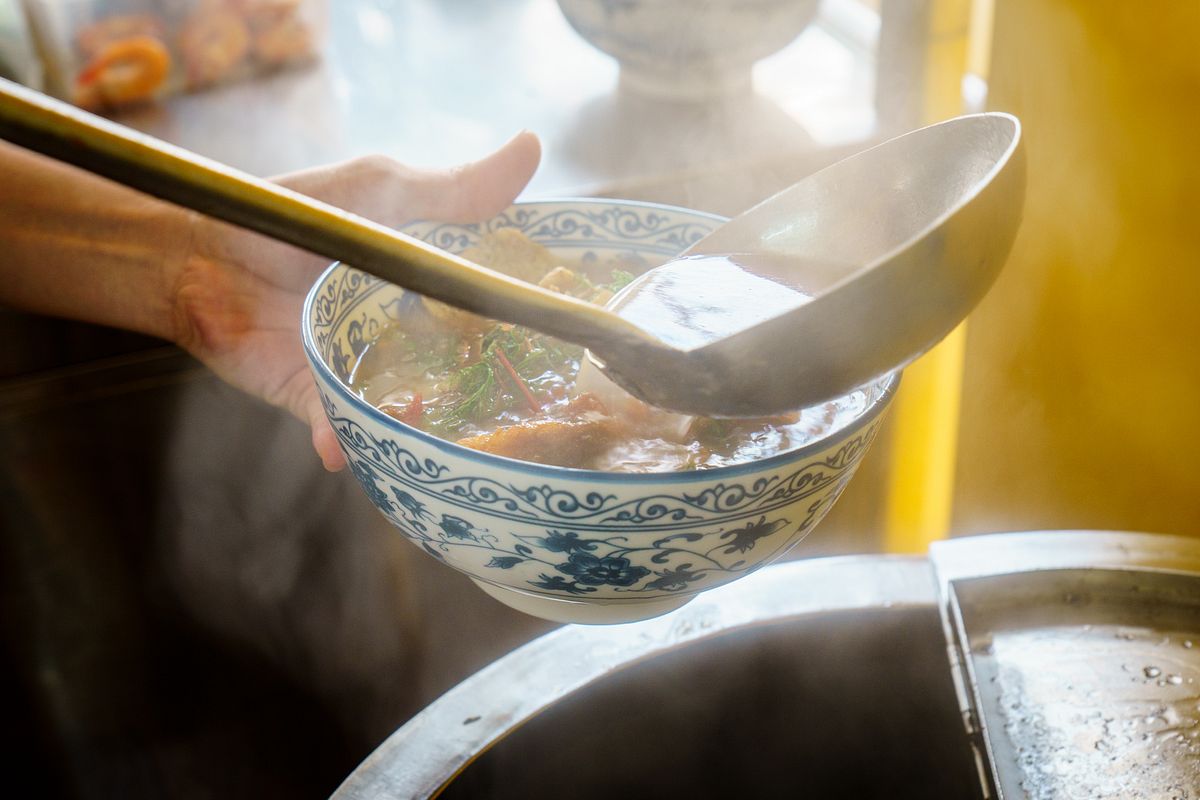 One item in all our bowls left us perplexed to the point of asking the owner for clarification: the betel leaf-wrapped pork and mushroom sausages that we originally presumed to be bò lá lốt.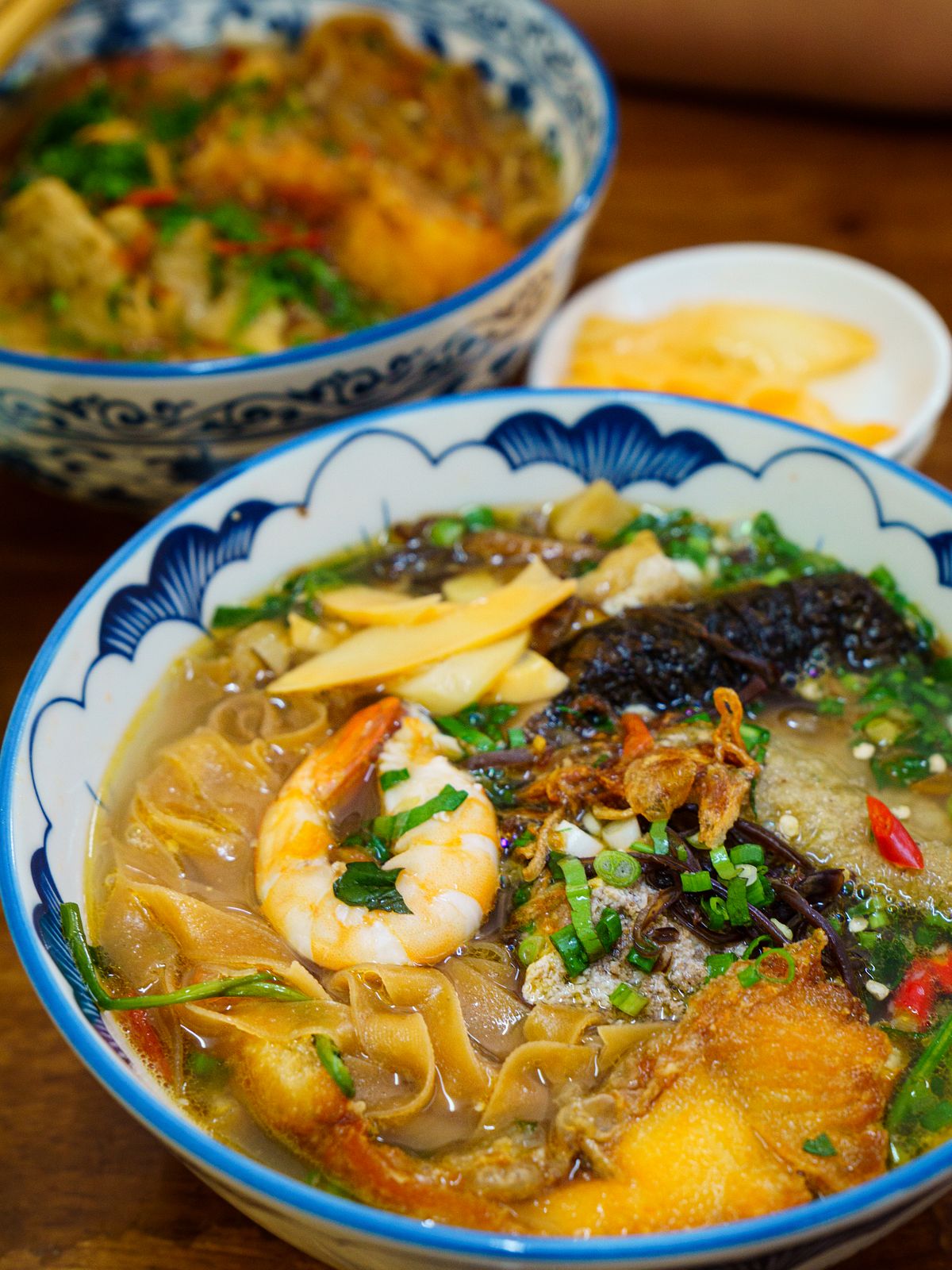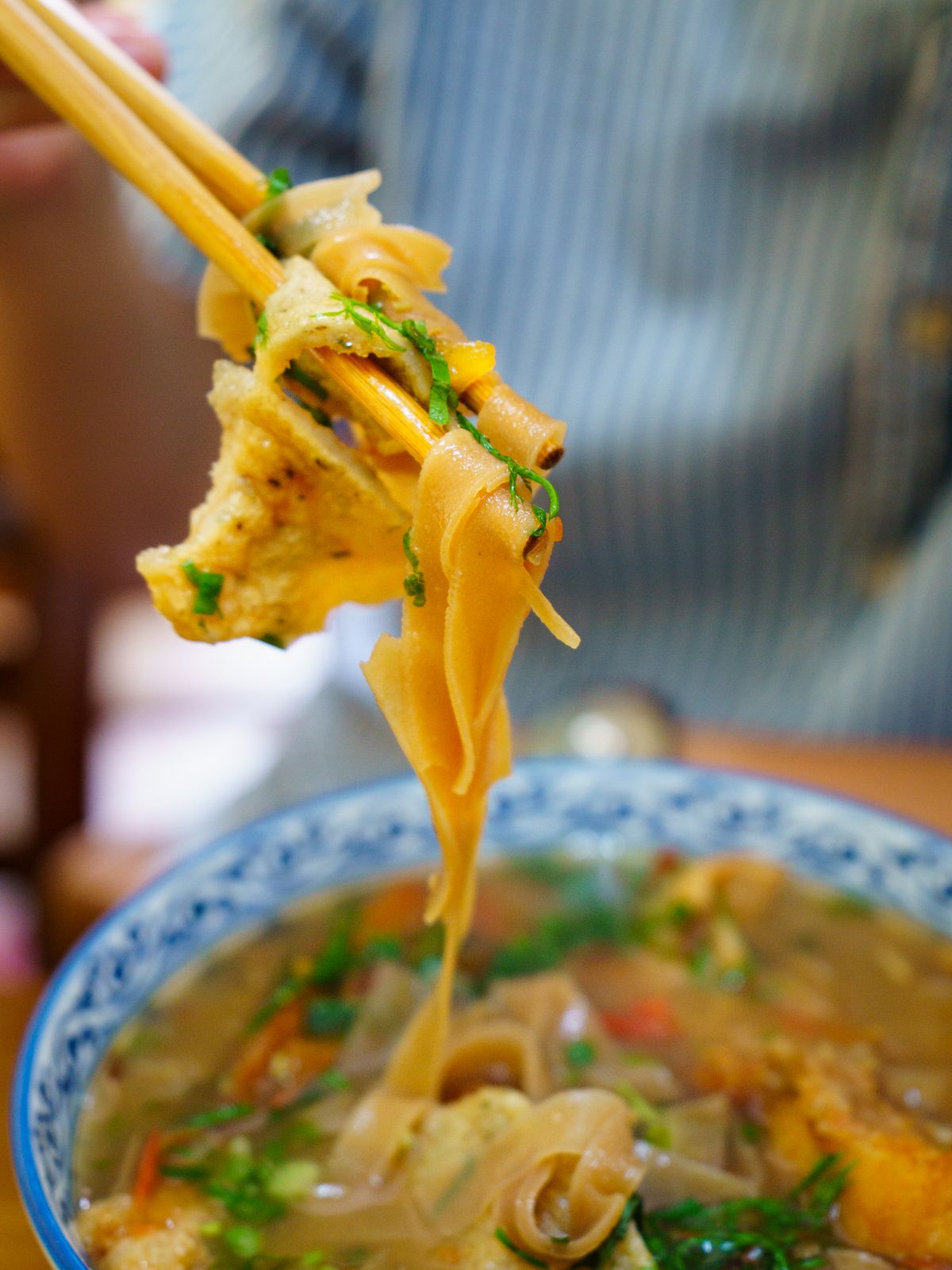 At Triển Chiêu Quán, I ordered the bánh đa thập cẩm (VND55,000), while my colleagues went with dry bánh đa trộn (VND65,000) and bánh đa cua (VND45,000). In between bites, I drank trà đá, while our editor went for nước sấu Hà Nội, a northern classic. The owner of the shop told us her mother pickled the sấu fruit herself and flew it down to Saigon, seemingly bringing together north and south in food and drink.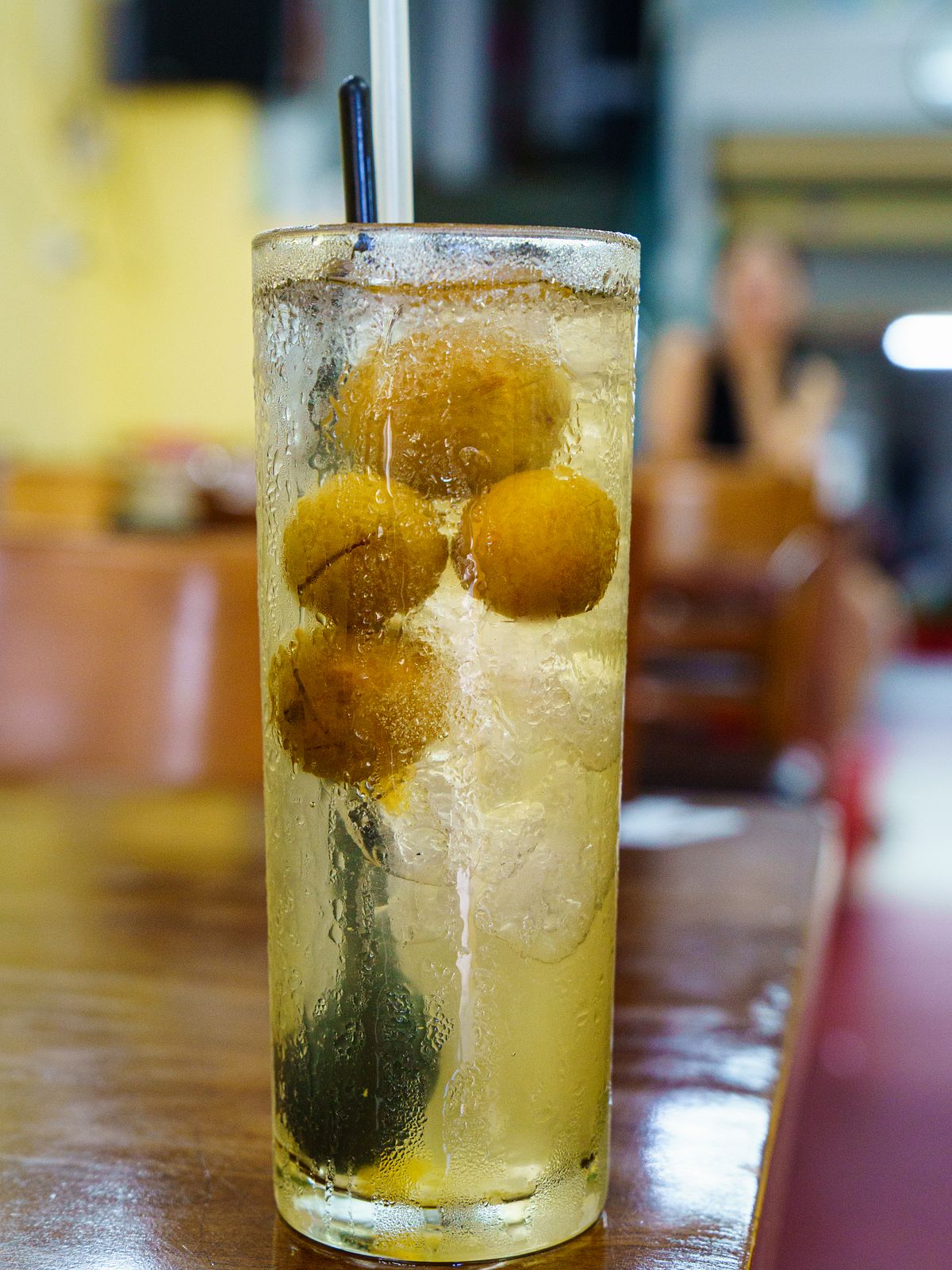 To date, I have yet to make the journey to Hải Phòng to indulge in their local specialty, so for now, I'll settle for reveling in the next best option: returning again and again to Triển Chiêu Quán to enjoy a delightful bowl of bánh đa cua Hải Phòng while I daydream, gaze at the photo on the wall and plan my future escape to its source.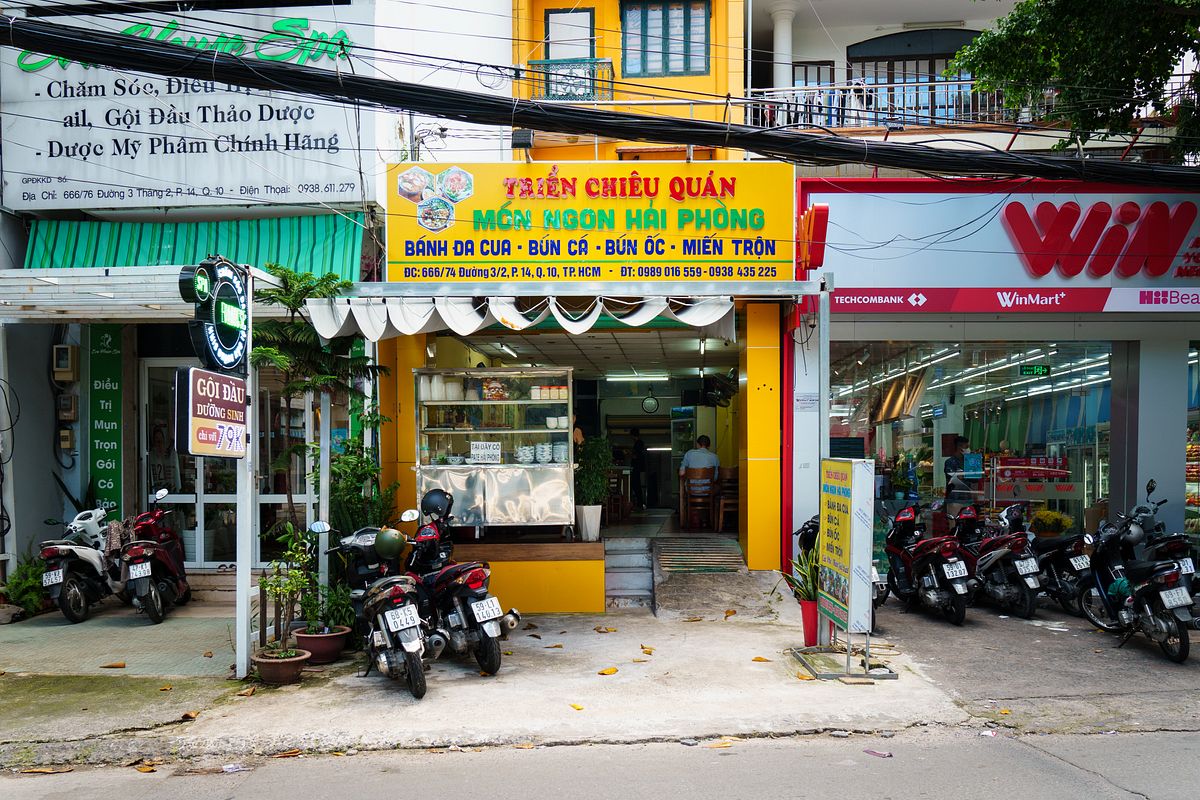 Triển Chiêu Quán is open from 6:30am to 8:30pm.
Triển Chiêu Quán
666/74 3 Tháng 2, Ward 14, D10, HCMC