When Saigoneer's office relocated from District 1's downtown to District 3 earlier this year, one of the instantly noticeable changes was the increase in affordable eating options.
As much as we enjoyed our daily view of the Notre Dame Cathedral, it was great comfort going from being surrounded by upscale and gimmicky restaurants to the fundamentals of Saigon's street food scene — a meal sold straight from a cart where the chef often triples as the cashier and the janitor.
Upon arriving on Nguyễn Thông Street, we gleefully left our lunchboxes at home to make space for the gastronomical possibilities that might arise by exploring our new neighborhood. Among the local eateries, there was certainly no shortage of bún bò and cơm phần, as well as a Michelin-approved Hẻm Gems that has been running for 40 years.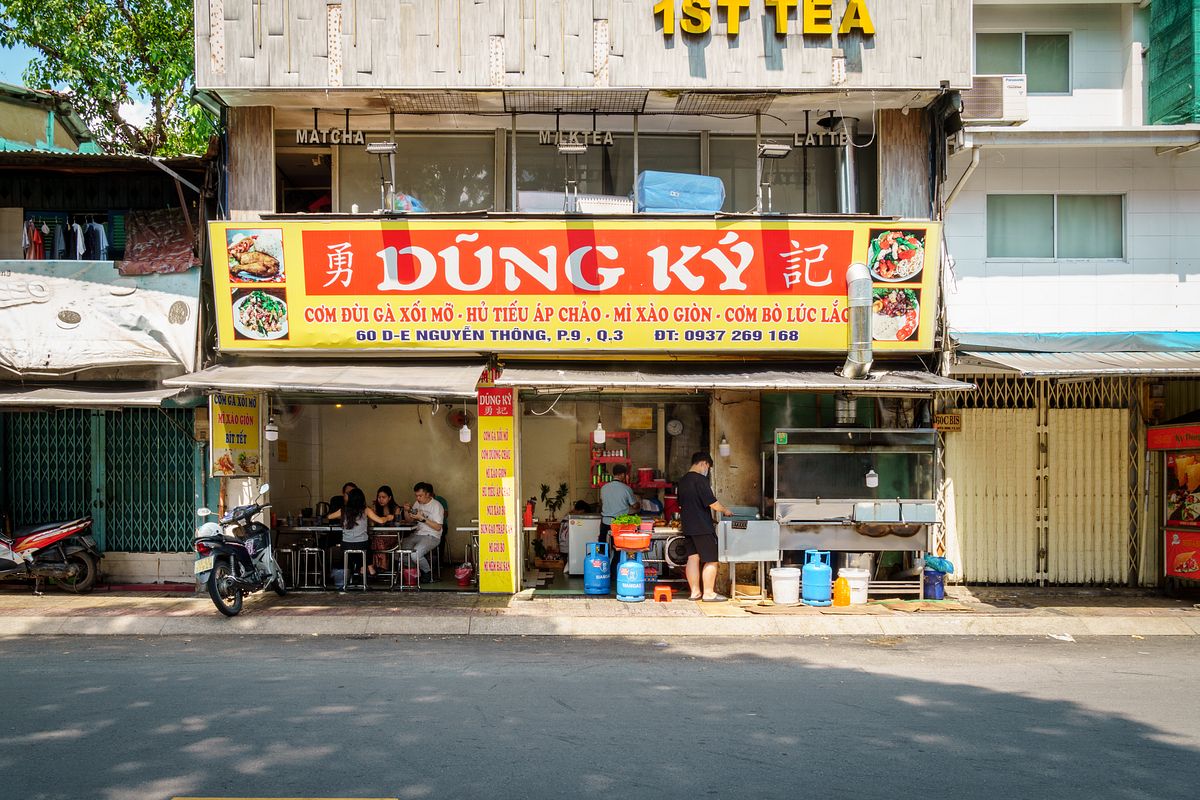 What I found most delectable, though, was the sight of Dũng Ký's shopfront. In Saigon's hectic noontime, lunching is a fairly unanimated affair where the vendors vend and the diners dine in still silence, half of their energy already spent bearing the scorching sun. Dũng Ký, where heat and entropy are in full swing, begs to differ. Its kitchen extends onto the pavement and diffuses spice-laced aromas and cacophonous metal-on-metal clinks into the air. Guests chatter rowdily as the staff uses all of their strength to vocally relay each order to the cooks. The scene is as lively as it is greasy.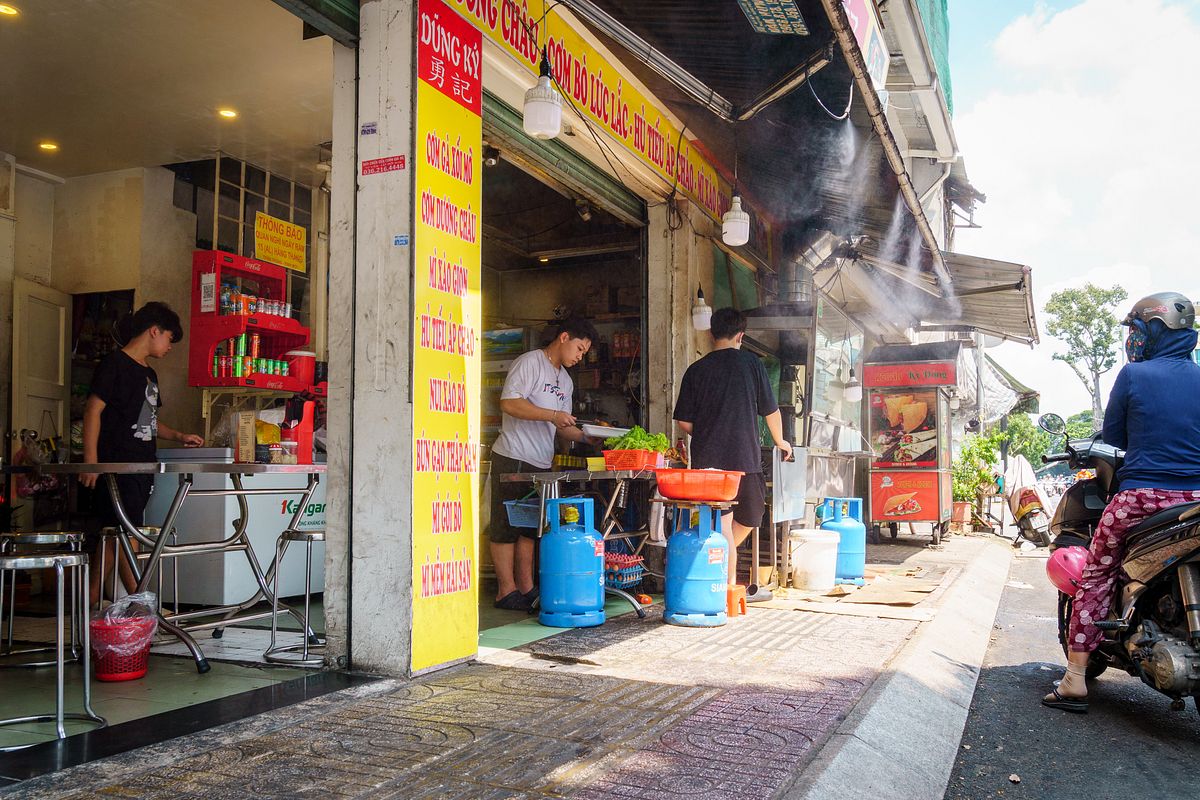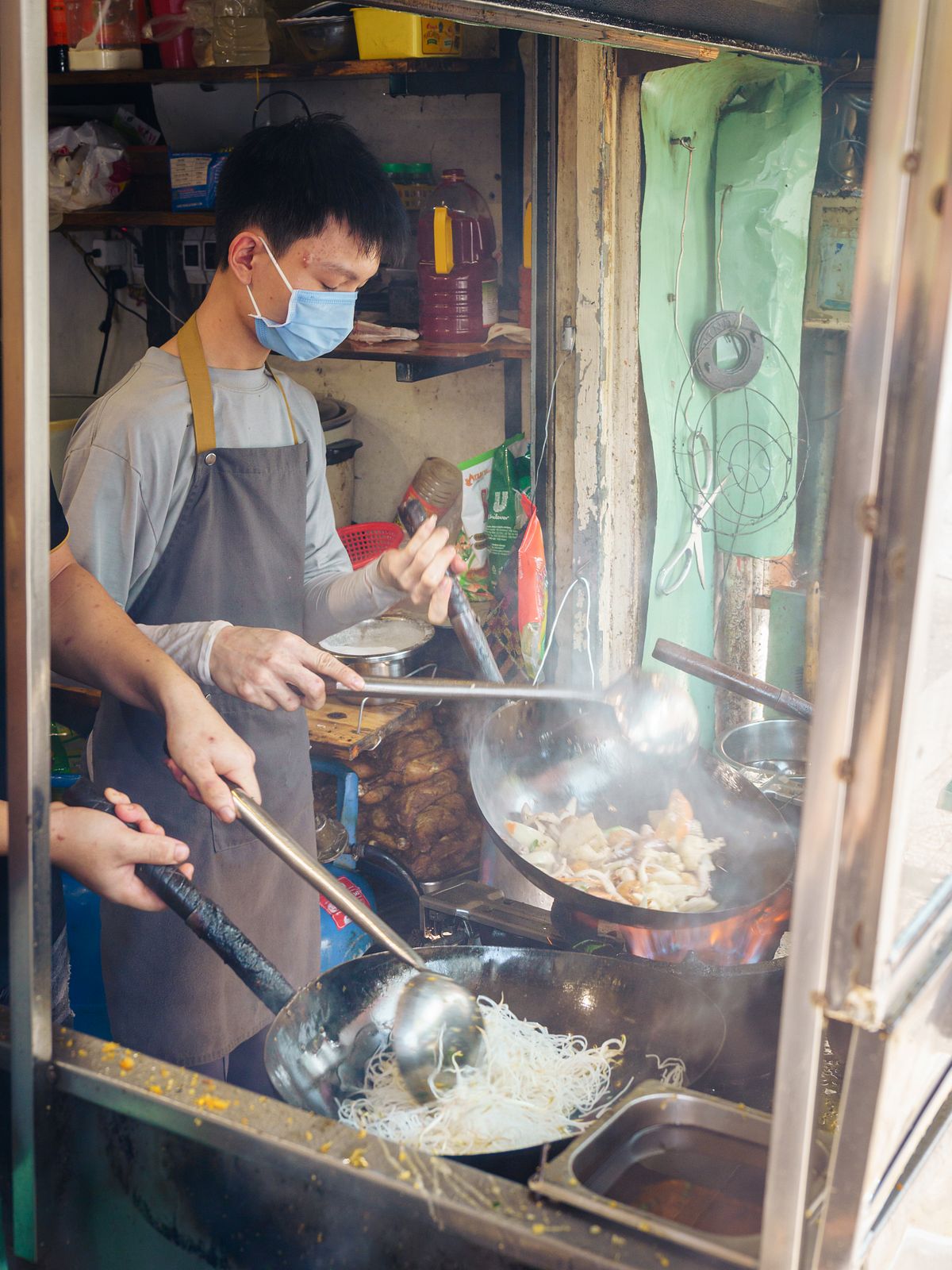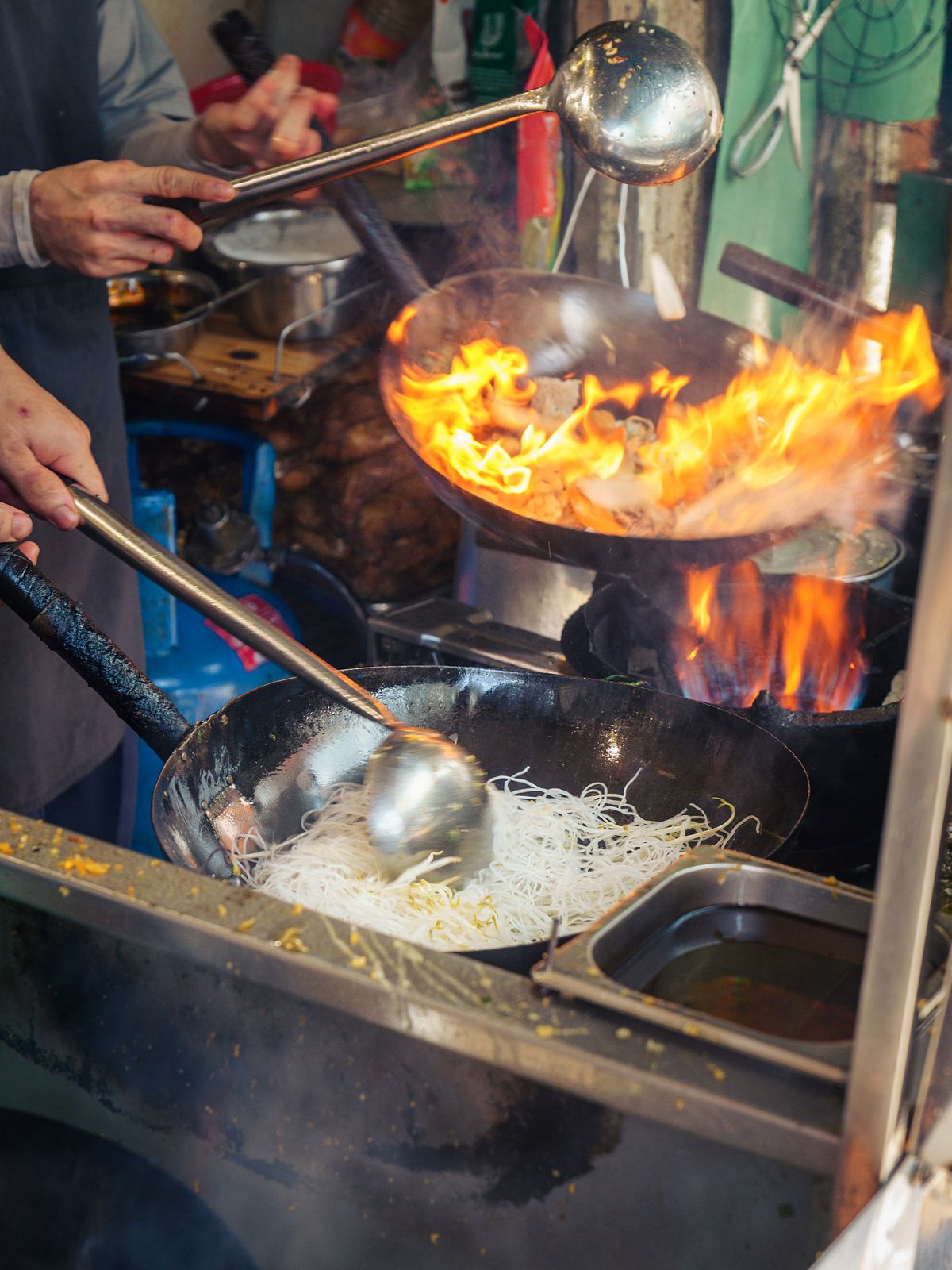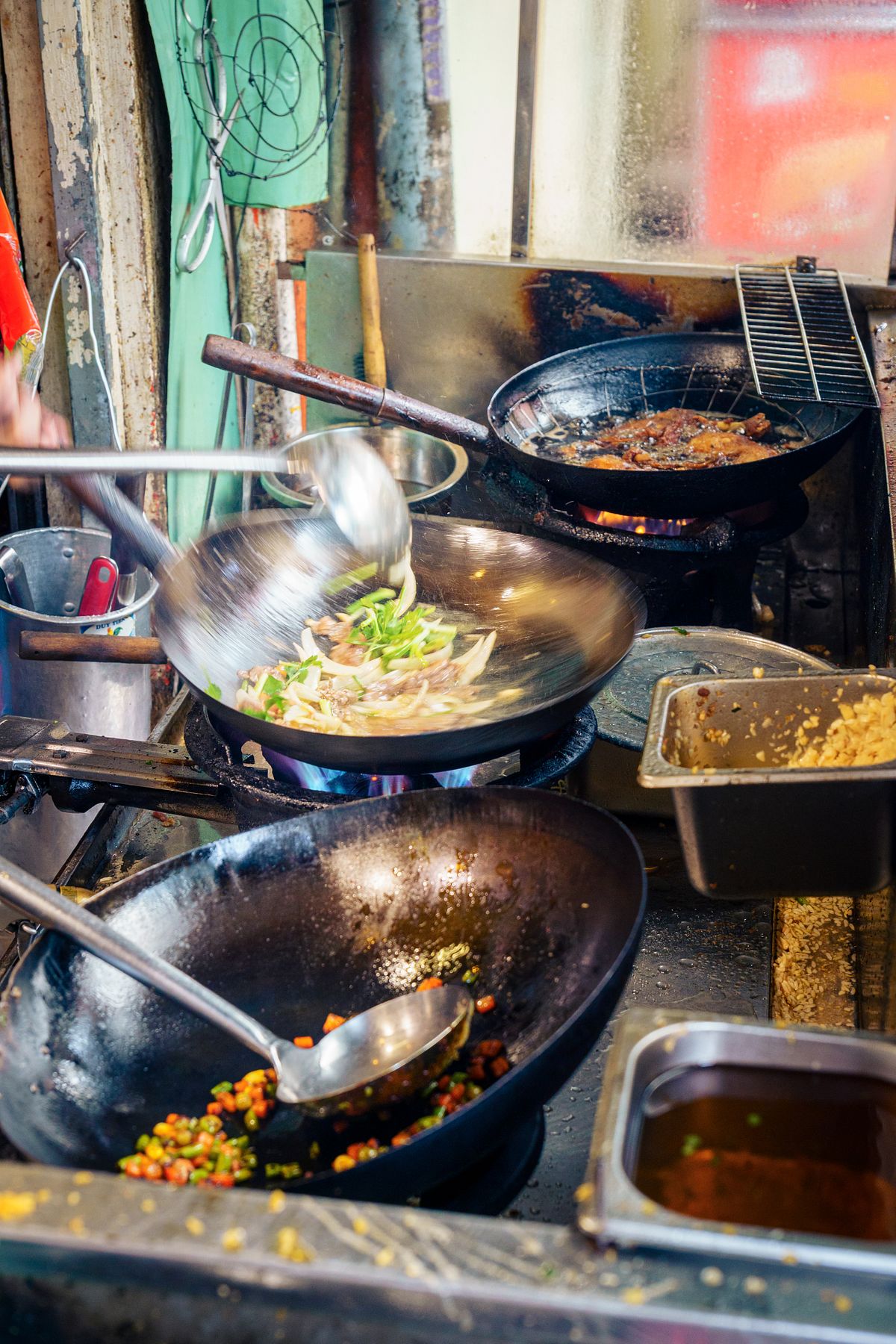 The humble eatery primarily serves Cantonese-style cuisine comprising a variety of dishes. The recipes are somewhat similar: a carbohydrate base such as noodles or rice, a side of protein, and a whole lot of oily goodness to mix it all together — stir-fry galore, in short. Though Cantonese dishes like these aren't hard to find in Saigon, they are less common to come by in areas farther away from the Chinese communes of Chợ Lớn's districts. As an admirer of unapologetically calorie-dense food, I have been taking advantage of this outpost of Chinese cuisine on days where I need an extra power boost. And its best dish? Hands down, mì xào giòn.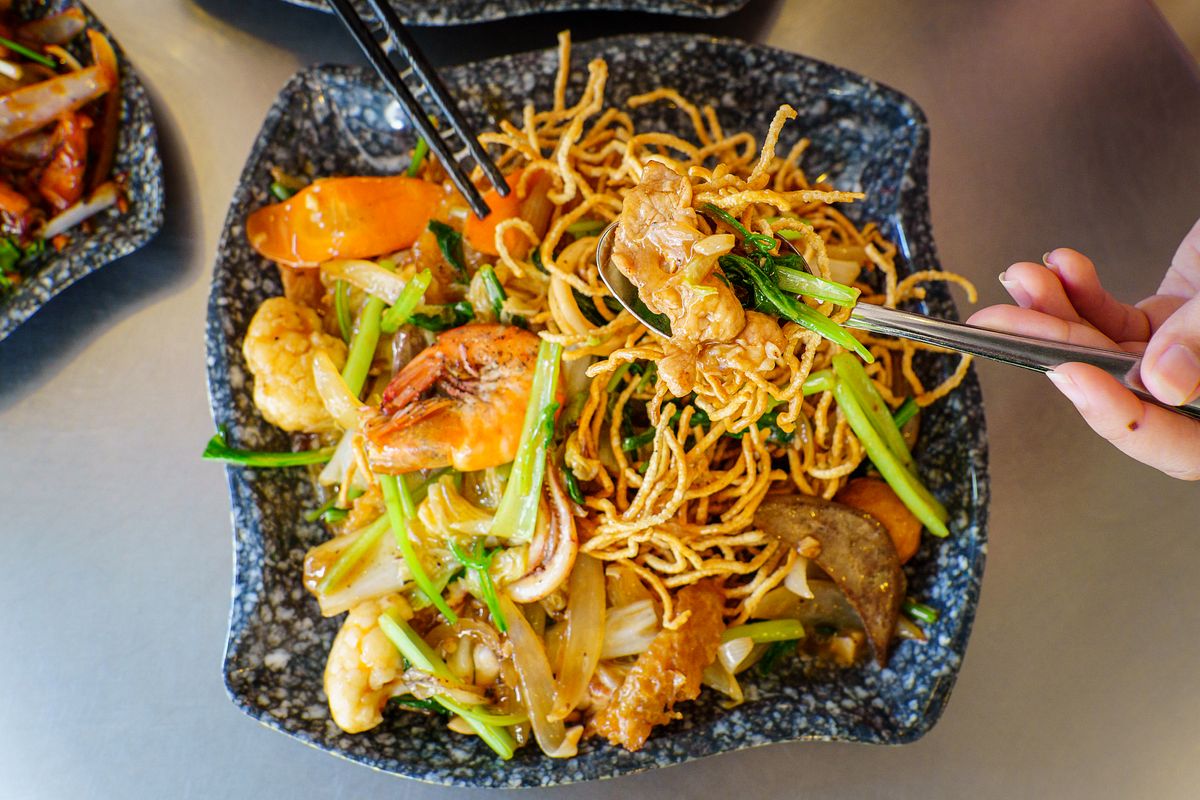 Mì xào giòn, or crispy fried noodle, is believed to have originated from the region of Guangdong in Southern China. The noodles, made out of wheat flour, is flash-fried until they turn lightly golden-brown, then bunched together like a nest to make an excellent bed for the other ingredients. Though one can theoretically throw anything into the mix, seafood is traditionally used as "toppings." Leafy greens, like bok choy, are added to keep a healthy balance to an otherwise heavy dish. And as with many other great noodles, the secret is in the sauce. A combination of light and dark soy sauce, oyster sauce, garlic, and other seasonings creates a savory sauce that delivers a satisfying gloss enveloping the noodles.
At Dũng Ký, mì xào giòn is serious business. First-timers might be taken by surprise by how behemoth the serving is, especially if they go in expecting a typical lunch-sized meal like I did. Adorned with heaps of fish maw, fish balls, beef, prawns, and liver slices, a plate of mì xào giòn special can easily feed two adults. One can dive in immediately if they prefer a crispier bite, as the sauce hasn't set in and the noodle still retains its original form, or leave it to drench a little in the sauce for a softer touch. Any chopstick-full of mì will introduce a concoction of umami flavor from the groovy sauce. Each ingredient's texture competes for your palate's attention: the squid fresh and chewy, the cabbage, onion, and cauliflower crunchy, and the noodles, if properly soaked, will melt right in your mouth.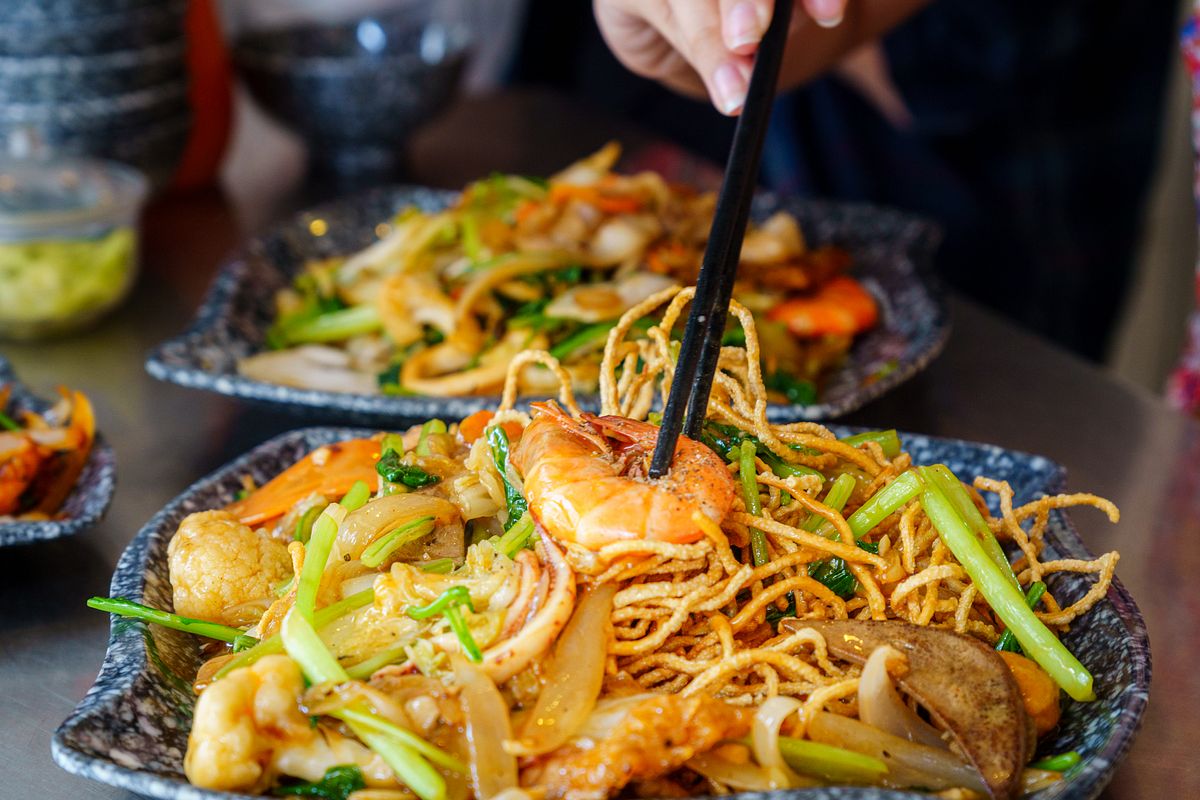 According to Dũng, the owner of Dũng Ký, this mì xào giòn adheres exactly to the recipe that was passed down through generations of his Cantonese lineage. He had previously helped with his siblings' restaurants elsewhere before opening up his own here two years ago. "There are so many shops in District 5 already, so I chose this location because it's more ideal. It offers good visibility, lots of foot traffic, and fewer competing restaurants," he explains. Dũng Ký is very much a family business, with Dũng overseeing the day-to-day preparation and operation of the shop, while his nephew and cousin take charge of the kitchen, where we could see them putting on a visual feast of flames and smoke combining the ingredients.
Dũng also reveals that the secret to his hearty noodles is not just in the sauce, it's also in the cookware, and the noodle itself. "Heat control is crucial, if it's slightly too hot, or not hot enough, it won't taste good. That's why I had to order this wok from China. Vietnamese woks are too thin and won't be able to reach the right temperature." He continues by pointing to a batch of unused noodles: "You know how other places' noodle gets soggy on the outside and but they stay tough on the inside? Ours isn't like that, it's fluffy, like prawn crackers, and when drenched, it all melts away instead of retaining a hardened core. We have to make a special order at a store in Chợ Lớn to get this specific type of noodle."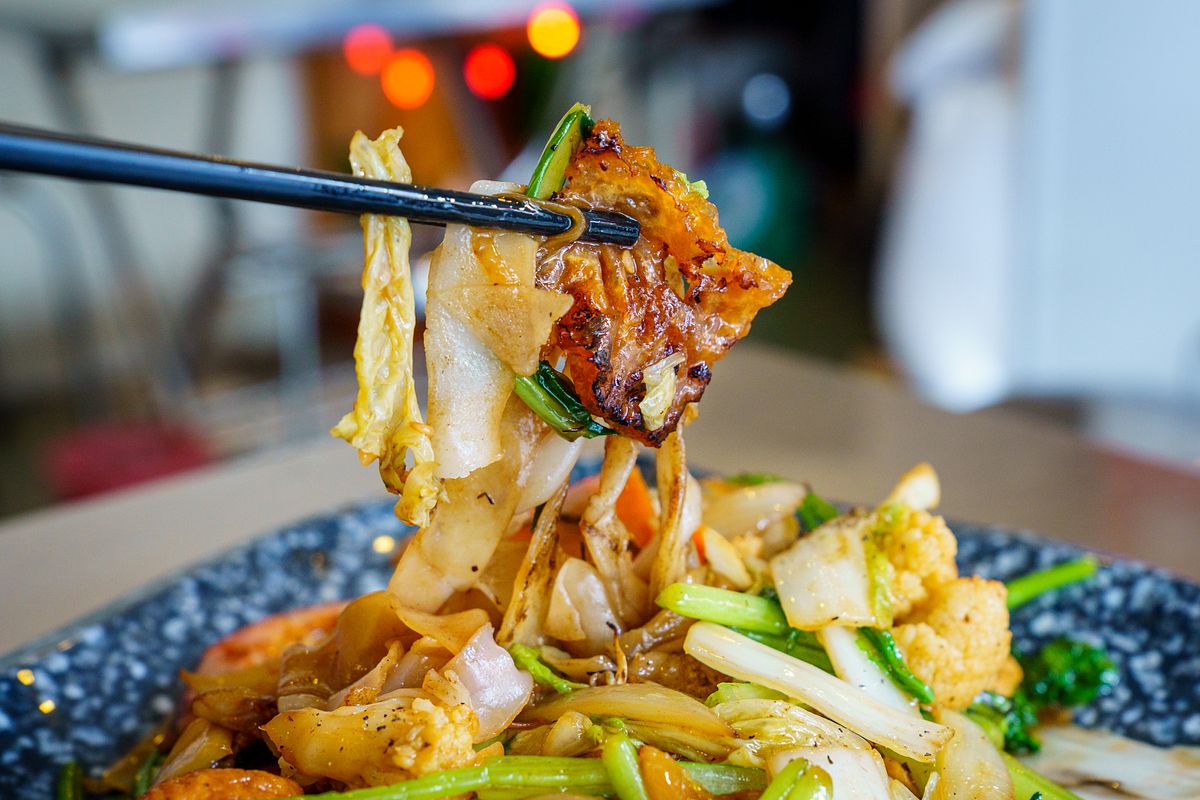 One can substitute the crispy version with hủ tiếu mềm, which will significantly alter your experience with the dish — the noodle picks up more sauce, but lacks the interesting mouthfeel, and takes up the space of other toppings on chopsticks — and for that, I consider it an unworthy alternative. Instead, mì xào giòn's biggest contender for the title of Dũng Ký's best dish is cơm chiên sụn gà nước mắm, or fried rice with chicken cartilage in fish sauce. "Instead of using frozen rice, we use newly cooked rice that is made from a special type of grain. It doesn't stick together and has a fluffy texture," Dũng shares. According to him, the dish is one of the best-selling items and is a new, non-Cantonese creation that he has incorporated into the restaurant's menu to keep up with local taste.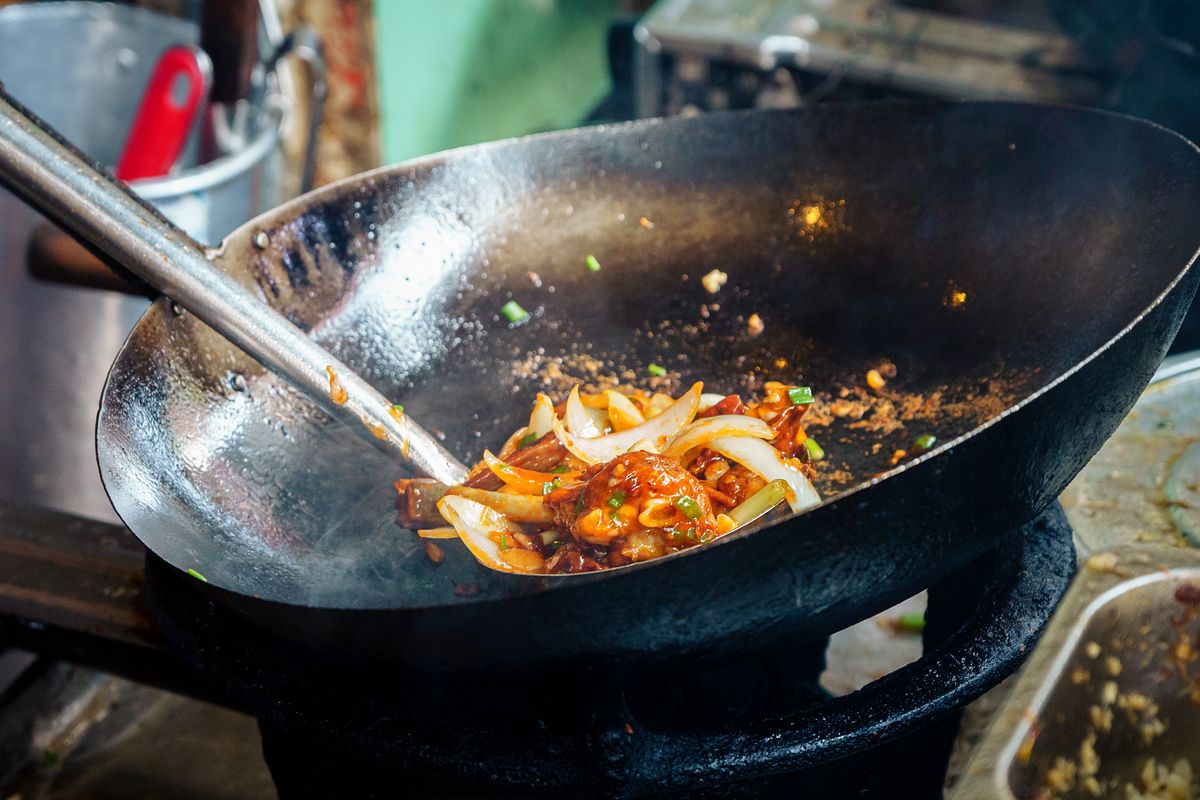 While Dũng Ký's other offerings are no less delightful, their mì xào giòn holds a special place in my heart, not only because of its taste, but also because the one incident that forever binds me to Nguyễn Thông's street lore, and Saigoneer's hall of humiliating experience. The story goes like this:
"Once upon a time at a small, bustling diner named Dũng Ký, Uyên found herself on a mission to satisfy her cravings for some mouthwatering mì xào giòn. The scent of sizzling onions wafted through the air, making her stomach grumble with anticipation. But, as luck would have it, just as she skipped away with her mì xào giòn in hand, she felt a sudden, unexpected slip under her foot. In a split second, she was airborne, flailing her arms in an attempt to regain balance. She crashed onto the hard ground. A collective gasp of surprise and concern swept through the diner, all eyes turned in her direction. She tripped over a puddle of grease that had spilled from the wok, similar to how blood was spilling from her left knee. Her quest for food had turned into an example for kitchen safety booklets of what not to do. The very next day, the staff put up a slippage hazard sign as a cautionary tale for prospective patrons to not suffer the same horrible fate. Despite her injury, Uyên still finished her mì xào giòn and it somehow tasted even better after the mishap. Perhaps it's because she knew she went down doing what she loved the most: getting food, and falling for it, over and over again."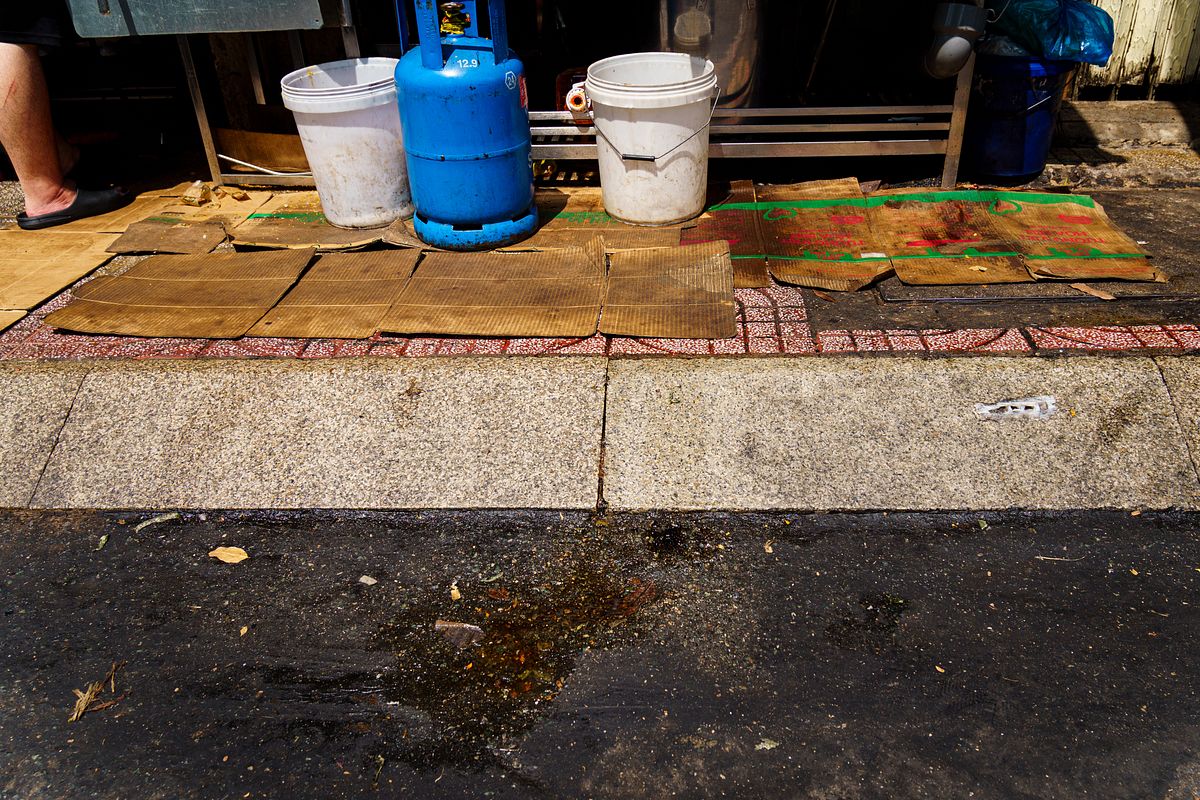 Dũng Ký is open from 10am to 10pm.
Uyên is an editor and kumquat tea addict based in Saigon. For a career, she writes to fuel her eating and eats to fuel her writing.
To sum up:
Taste: 4.5/5
Price: 4/5
Atmosphere: 4/5
Friendliness: 4/5
Location: 4/5
Dũng Ký
60 Nguyễn Thông, Ward 9, D3, HCMC