Stand outside a market at closing time and you'll bear witness to the daily routines of its swift, unceremonious demise. After sunset, Binh Thanh District's Ba Chieu Market transforms before your eyes from a vibrant center of activity to a ghost town of empty street stalls, rubbish and unusual smells. Like turning on the lights after a wild Saturday night, it ain't pretty.
But located in one of the most questionable areas of Ba Chieu is a famous sticky rice place that is worth braving the eerie phenomenon of a market after hours. The streetside spot has long been a part of my childhood, thanks to its unique location and signature xá xíu, that most heavenly Chinese roast pork. I'm not sure exactly how old the place is, but it's been on this earth at least as long as I have – 25 years.
Surprise, surprise: like any good street food haunt, the place has no address. But if you look for the intersection of Bui Huu Nghia and Vu Tung Streets, you shall be rewarded in the form of a fluorescent-lit roadside paradise on the side of the big market building.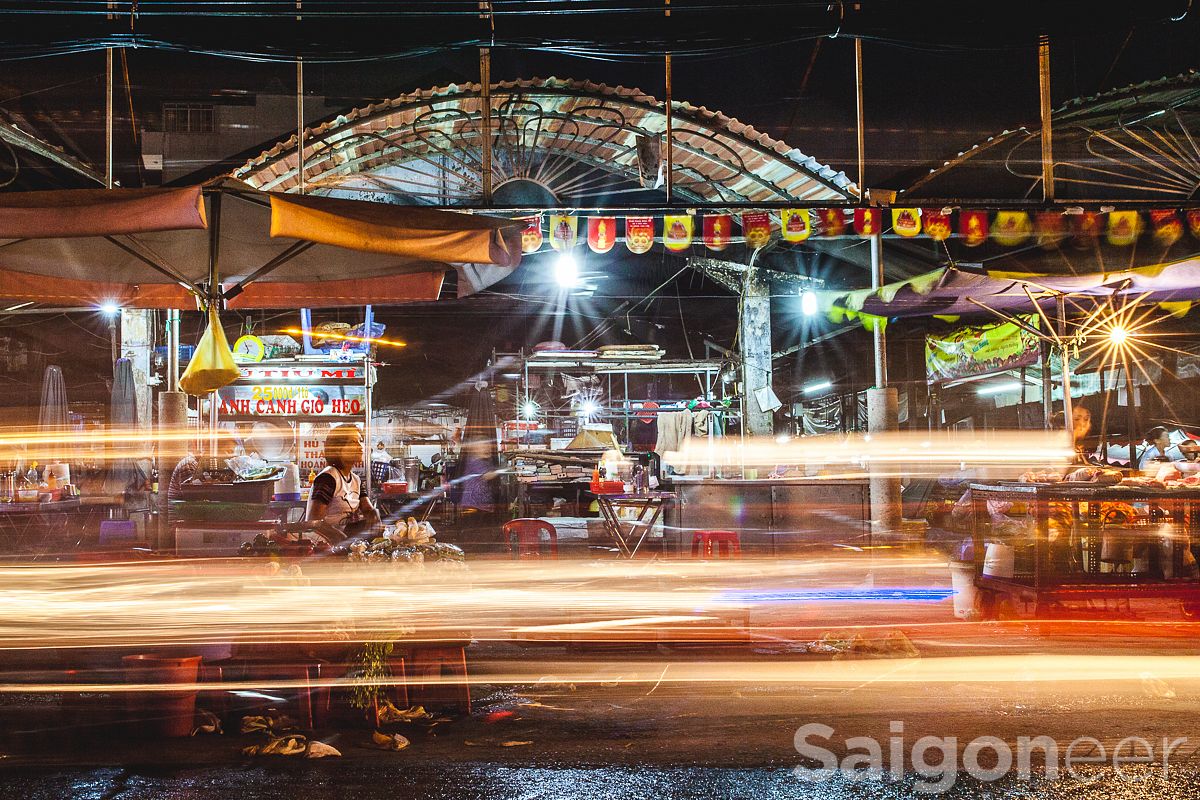 While it's a not-so-glamorous aspect of the spot, I feel the need to point out that there is a constant foul odor which, for me, ties in with the identity of the place. I'm not sugar-coating it: the smell is bad. But besides the odor, there's plenty going on at this xôi gà eatery everyday from 3pm to 12 midnight.
As the name suggests, one order of xôi gà includes sticky rice and a fried chicken drumstick, but you can also opt for one of two twists on the original: xá xíu or shredded chicken. The recipe is simple: put xôi in a banana leaf, add chicken (or your preferred meat) and top with ground shrimp, soy sauce and mỡ hành – a delicious combination of oil and onions – for flavor.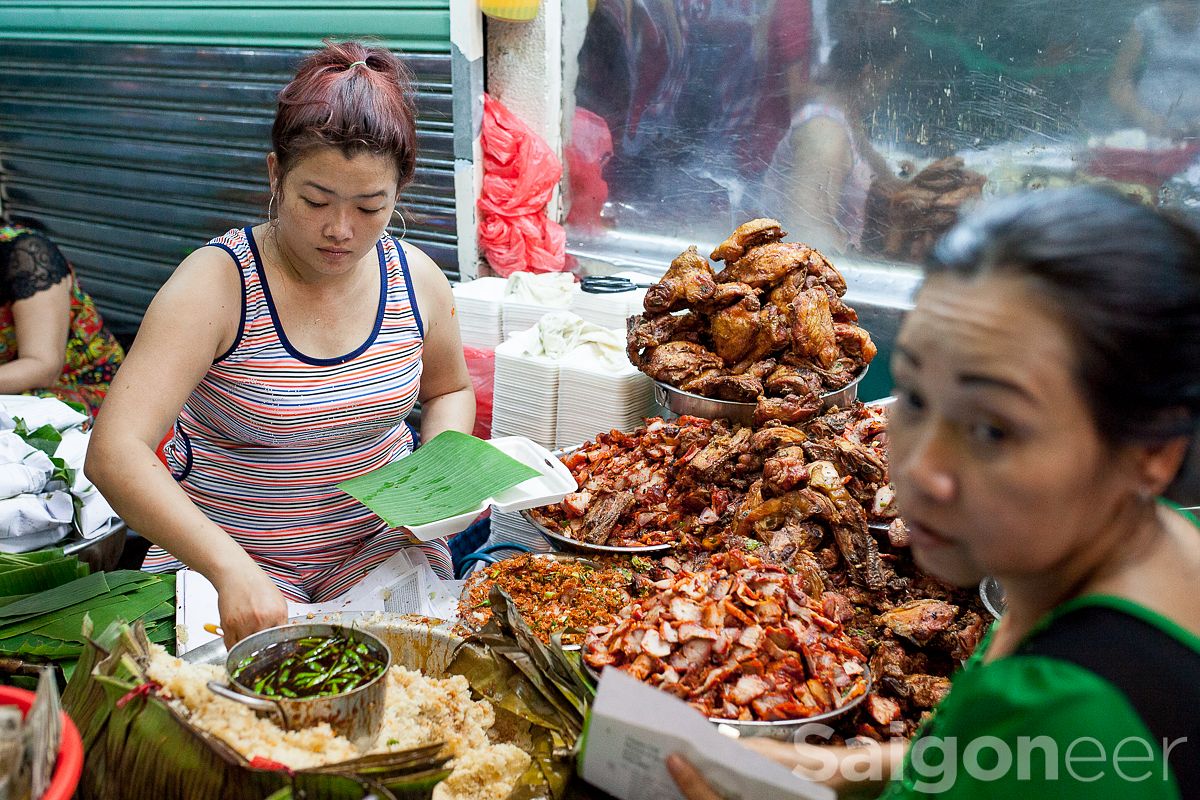 If you look closely at this particular place's setup, you'll see the secret sauce. It should be noted that any street food establishment worth your dong should have a secret sauce. If the surest way to a person's heart is through their stomach, condiments are the vehicle that'll get you there.
Before adding anything else, the xôi gà ladies will apply this strange concoction to the sticky rice. If I had to guess, I'd say the mystery sauce comes from making xá xíu. It's a delicate and time-consuming process to combine five different kinds of spices with pork. Once complete, you can cook raw xá xíu in many different ways, but for the secret gravy it seems they put it on a stove and let the heat do the work.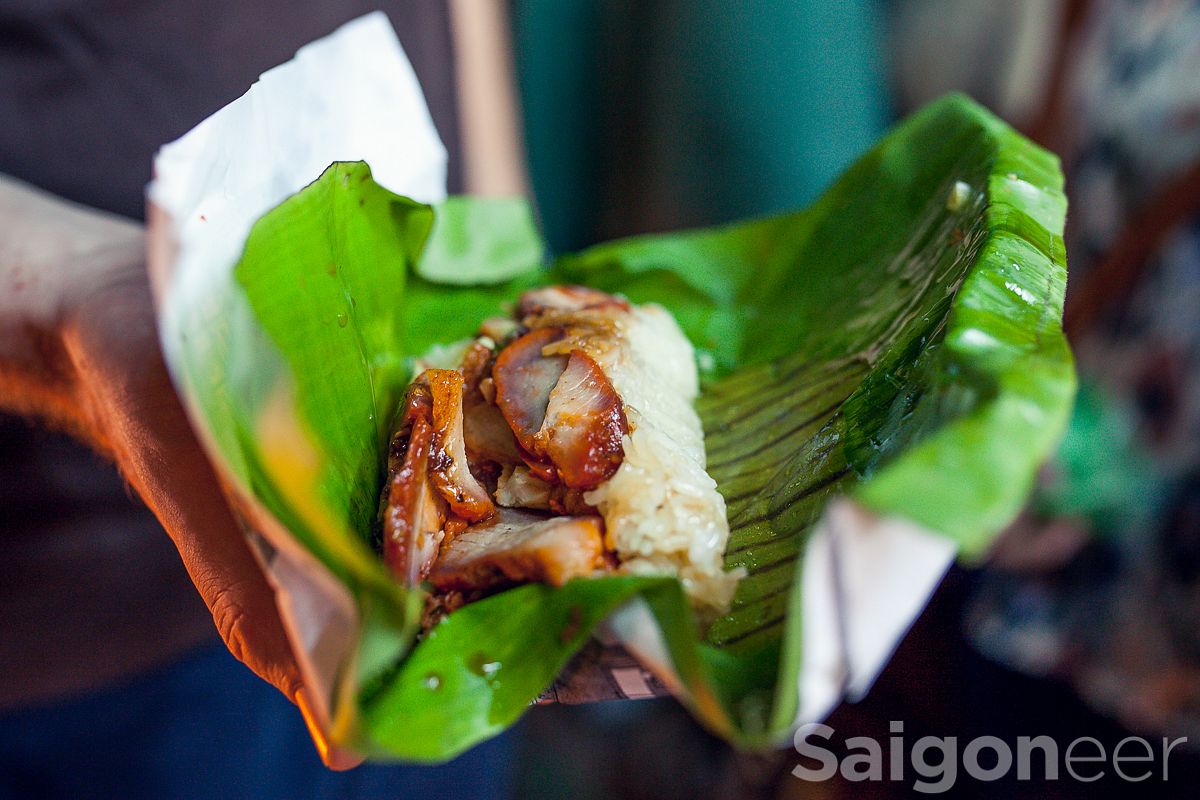 Despite being the headliner of the place, their chicken drumsticks aren't my top choice, but I love the xá xíu. That said, though, the rest of my family really loves the chicken, so I suppose that makes it worth an endorsement. No matter what you get, don't underestimate the ground shrimp. There's a subtle magic in there; somehow, you don't crave them until after they're gone.
Finally, note the packaging in which you receive the xôi gà: there aren't many places that use banana leaves and newspaper wraps anymore. These days, they just don't make street food like they used to.
To sum up
Location : 1/5 – Perhaps the worst place ever for an eatery.
Friendliness : 2/5 – Busy ladies can turn into cursing ladies if you annoy them.
Atmosphere : 2/5 – If you are into the night market scene then it's alright.
Taste : 5/5
Price : 4/5 – VND17,000 for xá xíu, VND20,000 for chicken drumsticks. They also offer extra toppings for hungry diners; just ask.
Núm is a street food addict who has been eating his way through Saigon for 25 years.
Xoi ga
Ba Chieu Market, Binh Thanh District
---

Related Articles:
---