The most memorable eating experiences are the ones that take time. Of all the meals Saigon's sidewalks can offer, the best require a pilgrimage to some faraway district and a series of trial-and-error expeditions down darkened alleys in search of your meal's exact location. Once you finally arrive, there's another wait – perhaps for a place to sit, perhaps for the food itself – before the final prize arrives at your table.
In scheduling this week's Hẻm Gem, I encountered phrases like "no name", "no address" and "somewhere near here". With all the additional legwork it took just to get to the bánh bèo spot at 130 Dinh Bo Linh – we spent a solid couple of blocks charging the wrong direction up a road packed with rush hour traffic – it's hard not to remember.
When we finally found the place, a modest little spot in Binh Thanh District, it felt decidedly average: ground floor of a residential house, busy street, portable tables and chairs as well as a sidewalk extension of the restaurant. Like many snack spots, they set up shop around 3pm and sell into the evening. The main surprise was a set of rather unappetizing cups of "food" displayed within the shop's cart, which later turned out to be just for show. A word to the wise: globs of yellow paint do not resemble fresh mung bean.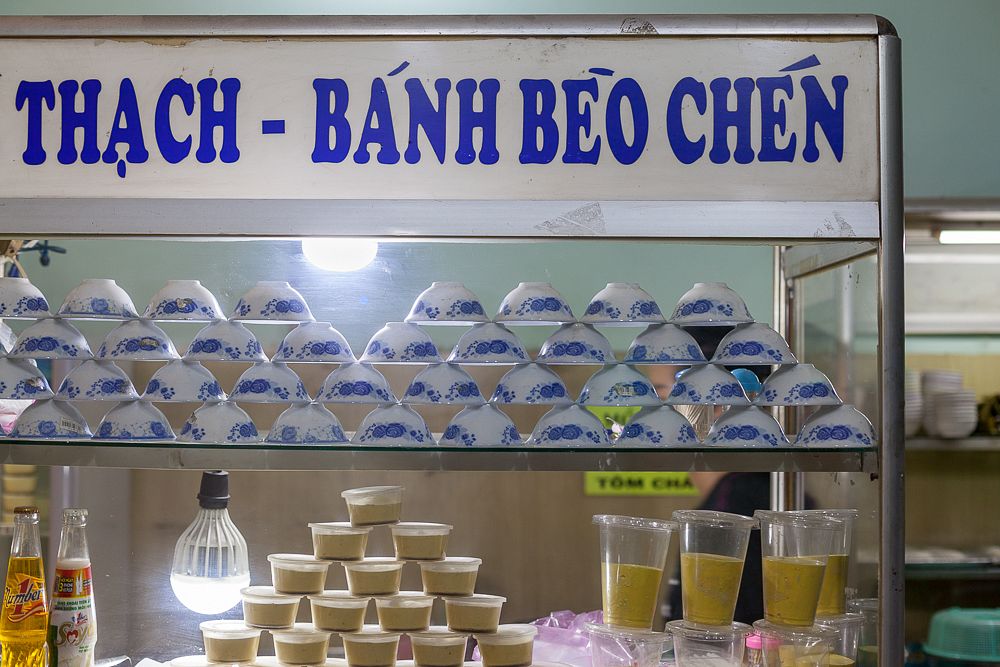 This bánh bèo spot serves several varieties of small, savory rice cakes as well as a range of desserts. To start, we ordered some of the standard bánh bèo – steamed, savory rice cakes topped with minced pork, crushed shrimp and the all-glorious condiment mỡ hành – as well as bánh bèo cốt dừa and bánh ít trần.
We tried the original first. It was neither sweet, bland nor particularly delicious until the fish sauce was added so you're doing yourself a disservice by avoiding the sauce. Never avoid the sauce. Ever.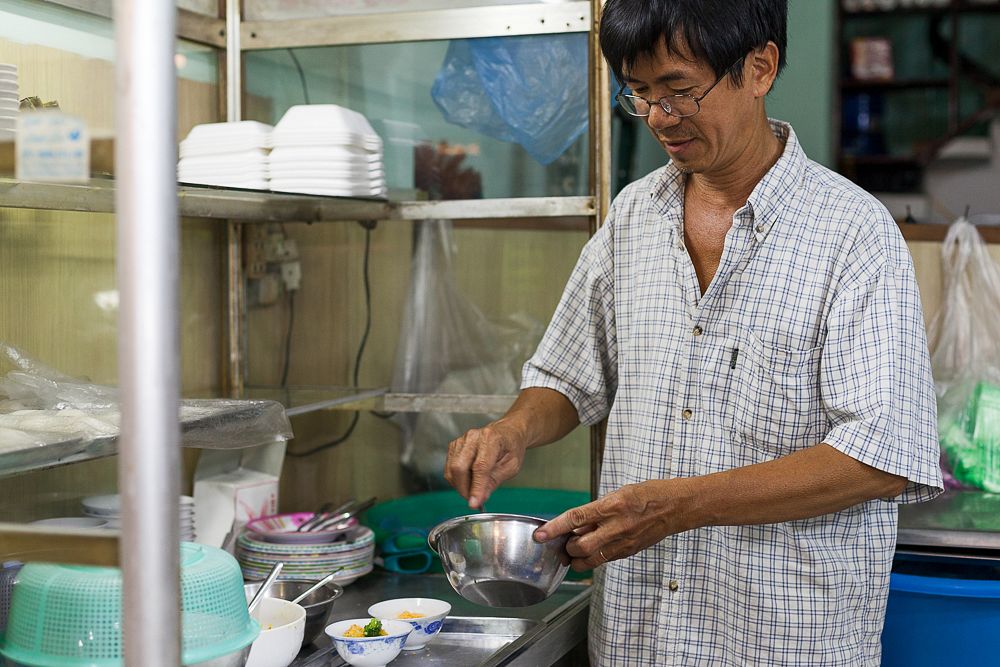 Next up was the bánh ít trần. It was, in essence, a miniature bánh bao-like snack: steamed with meat and a quail egg inside, only this tiny morsel came in a bowl and featured a stickier version of rice flour than bánh bao. Because it had more protein, this one was heartier and, again, the fish sauce was necessary to bring out the flavor of the whole dish.
Finally, the bánh bèo cốt dừa was a coconut-infused version, which came with most of the same fixings as the other two, minus the pork. This was perhaps the greatest surprise of the three: these flavors shouldn't work together. Coconut is sweet, shrimp is salty and fish sauce carries its own unique flavor which seems, at first thought, to run contrary to these other ingredients.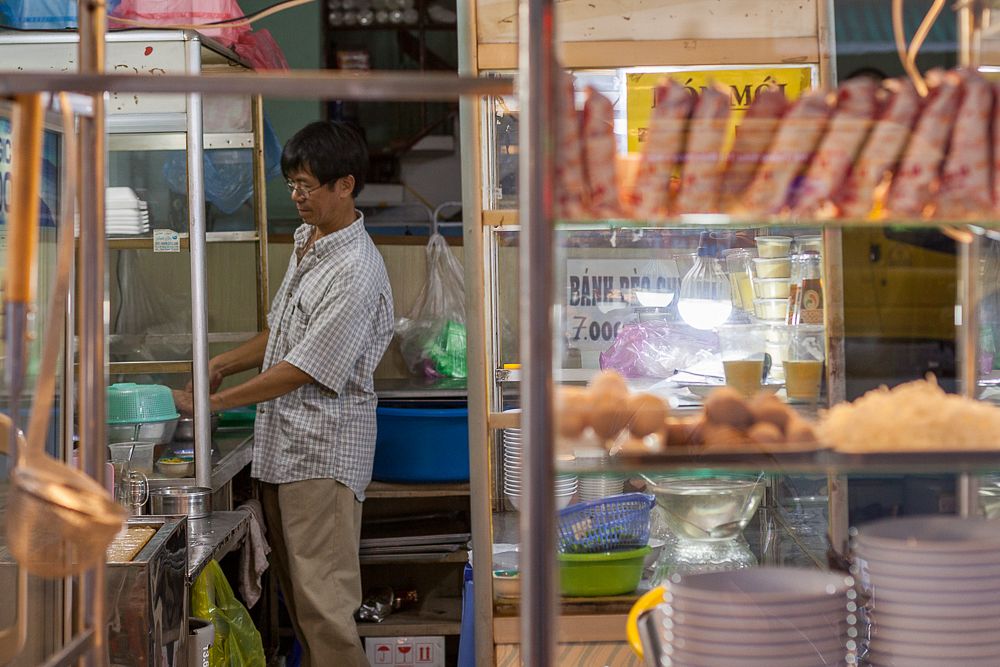 For me, this was one of those times when my tongue had absolutely no idea what to think. So many flavors at once stretches the taste buds and questions your conventions on what certain ingredients, when mixed together, should and shouldn't taste like. In the end, even though my taste buds were a bit confused, my brain knew what to think: this is delicious.
Another highlight of this spot's bánh bèo chén is that the owner hasn't stuck to the script. He's been running the shop for 16 years and several of the bánh bèo on the menu are his original creations. Of course, he sticks to tradition on your standard serving, but the friendly owner also branches out, mixing different flavors and techniques from various parts of Vietnam. In the end, these unique recipes require him to go the extra mile, but his primary focus is on the end result: it takes some time, but ultimately it's worth it.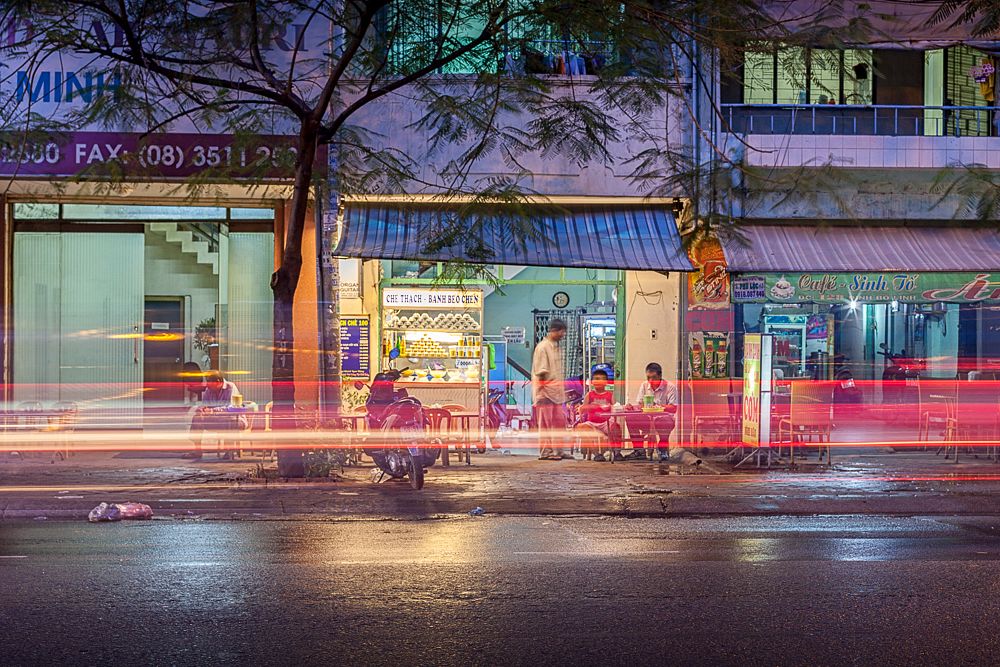 To sum up:
Taste: 4/5
Price: 5/5
Atmosphere: 2/5
Friendliness: 4/5
Location: 3/5
Kyle likes eating, walking down random hẻms and drinking enough cà phê đá to kill an elephant.
Bánh bèo chén
130 Dinh Bo Linh, Ward 26, Binh Thanh District
---

Related Articles:
---