If life is all about balance so, too, is food.
Vietnam knows this well enough; people have spent centuries perfecting the hallowed blend of spicy, sweet, sour, salty and bitter tastes. When it comes to dessert, the five flavors might be a touch too much complexity for the humble art of chè but there is certainly a yin and yang balance found in sampling this Vietnamese dessert.
In the street food utopia that is District 10's Nguyen Tri Phuong, the bright, refreshing flavor of Nguyet Hy's chè bưởi is a perfect match for the sharp cut of Y Phuong's famed chè Thái. The two dessert spots, both of which draw considerable evening crowds, have diversified since their early days and now include other menu items – from snacks and fruit platters to full-blown meals – but their signature chè is the reason these venues remain in business.
The first stop on a double-barreled afternoon chè excursion is Che Thai Nguyet Hy (280 Nguyen Tri Phuong). Though its signage upsells the shop's chè Thái, it's their chè bưởi that is the true masterpiece.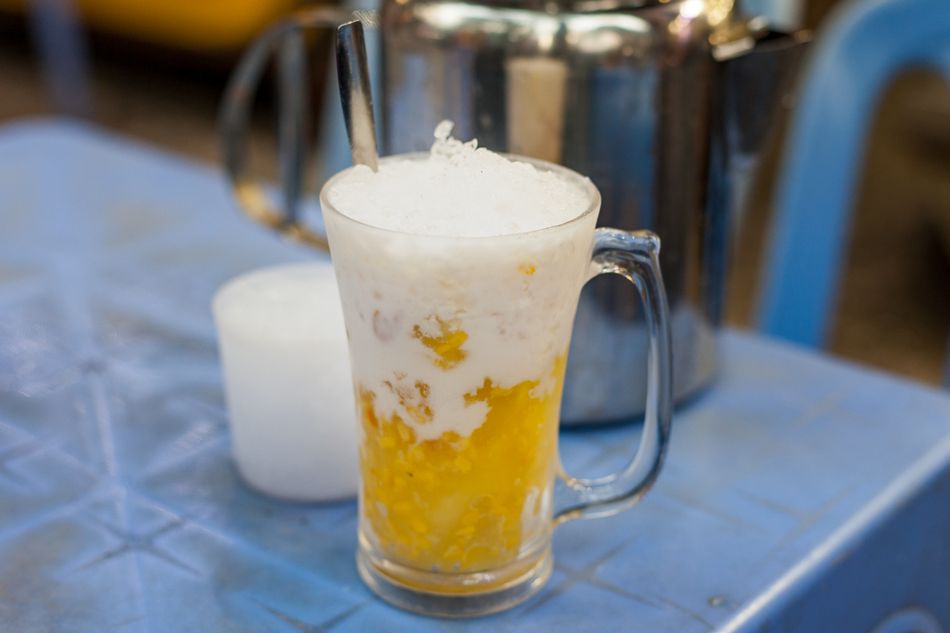 Admittedly, it's not the sexiest in terms of presentation – a pile of jellied pomelo peel slopped into a mug and topped with mung bean, coconut cream and a handful of peanuts – but the smooth, mellow, slightly sweet taste more than makes up for the visuals. In our three-person group, I alone enjoy the snack: our photographer is hard at work snapping pictures of the venue, while my fellow chè enthusiast holds out for the next stop. As I dig in to the cool mug of chè bưởi, our group is thrown off balance.
Atmosphere, too, is a major player in the Nguyen Tri Phuong chè experience. From late afternoon onward, the blue plastic furniture outside Nguyet Hy fills up with schoolkids, office workers and families with young kids sitting down to an end-of-workday treat. Outside, teens hustle back and forth, weaving between stainless steel vats of assorted chè. Traffic races down the street, lit by the glow of several fluorescent tube lights somehow fastened to a nearby tree. It's a pretty thrown-together setup, but it works.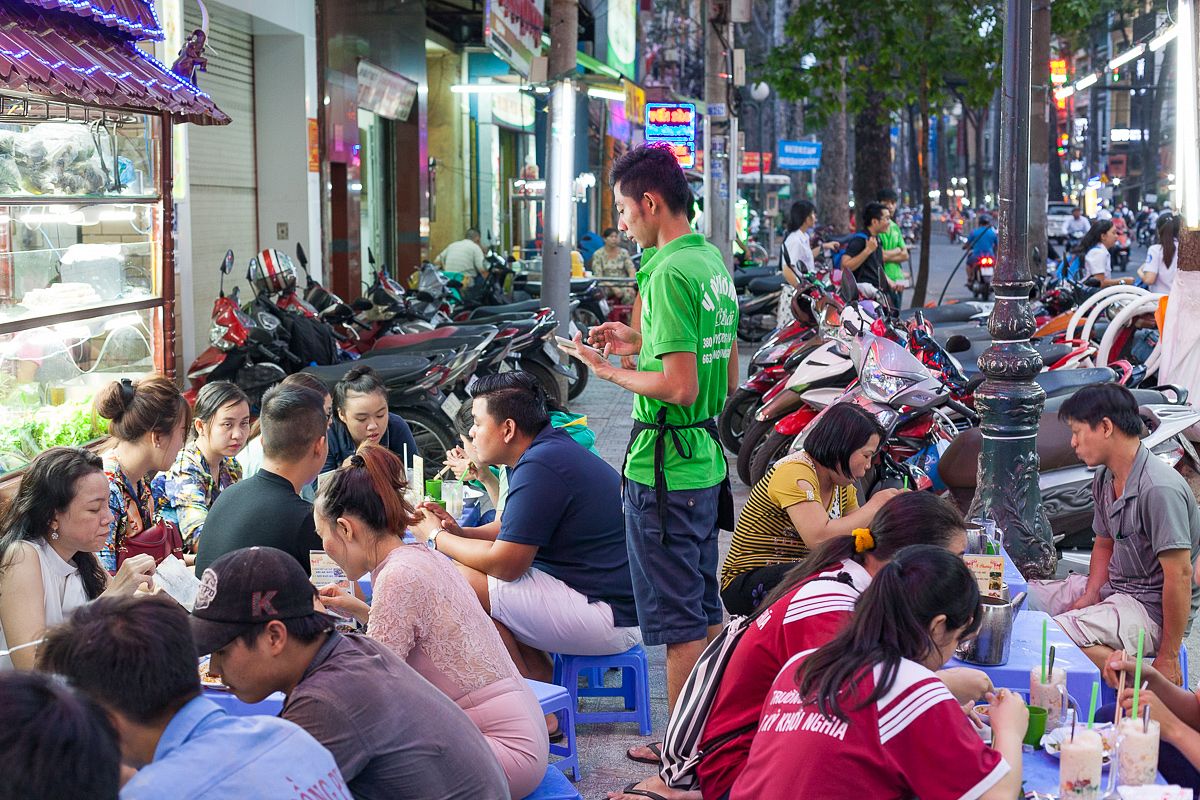 Further down the road, dessert happy hour is in full swing and Y Phuong (380 Nguyen Tri Phuong) is packed. Young servers scurry out of the kitchen, through the indoor dining area, past a massive food cart obstructing the entrance on one side of the open-front shop and out to the sidewalk. Little paper Thai flags protrude from several of the full-fledged meals, while Y Phuong's durian-scented chè Thái is doled out with a little less fanfare, in part due to its popularity.
Our order brings my chè partner and I back to equal footing. The second dessert of the evening is both colorful and pungent: from the moment we sit down, wafts of durian pour out of the shop inside and envelope the air around us. Y Phuong's chè Thái includes not only a puréed version of the highly flavored fruit but also chunks of jackfruit, thốt nốt, seedless longan and râu cau.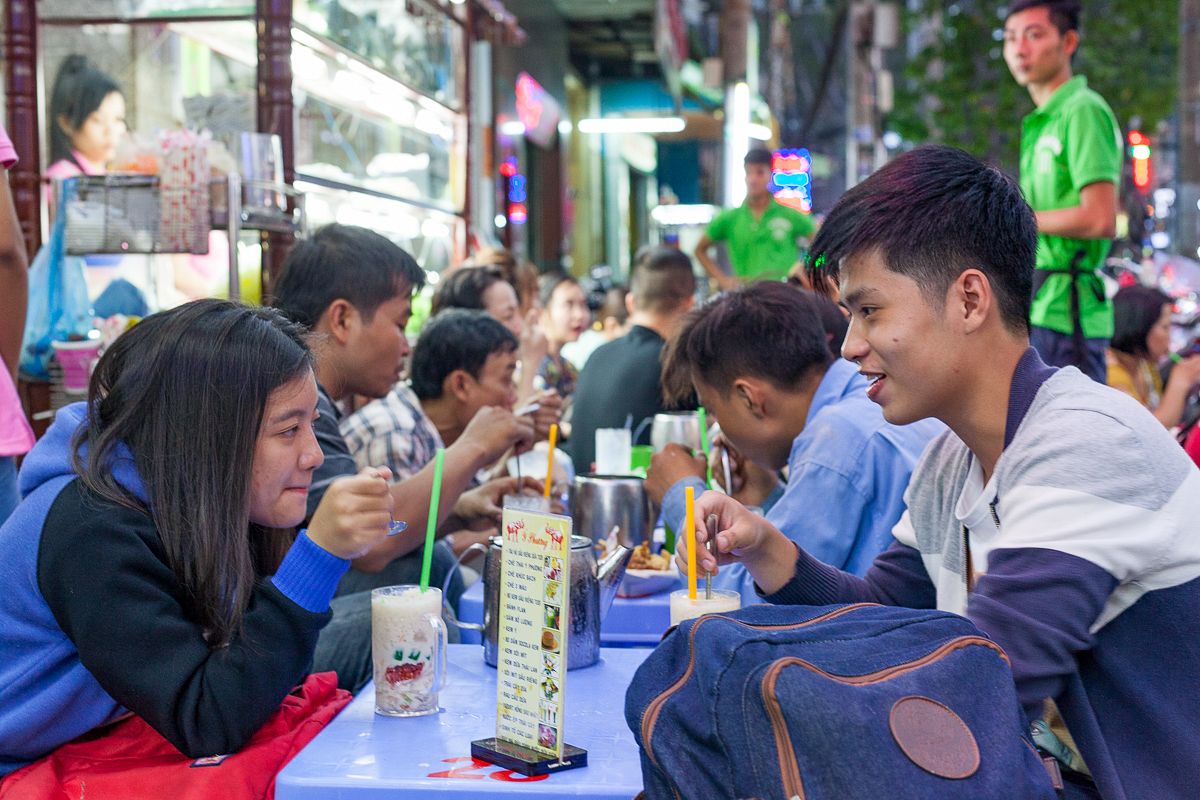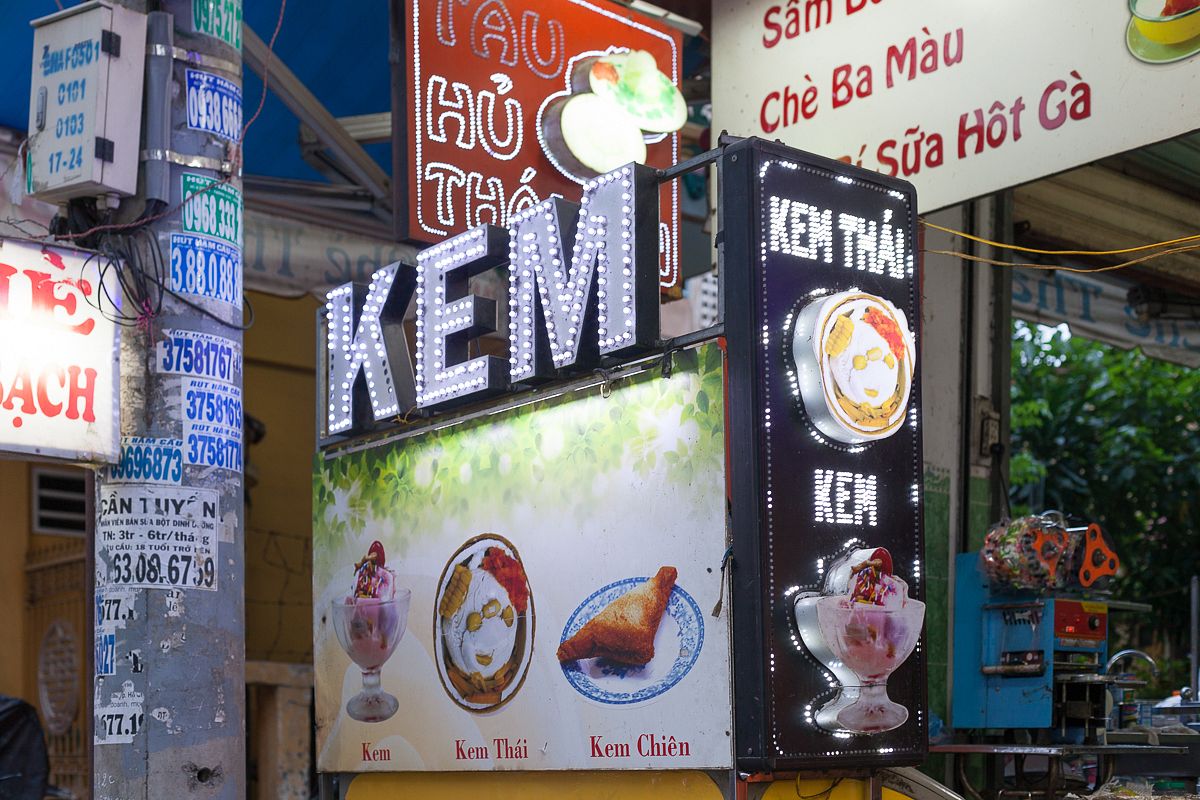 While I have long been an opponent of the spiky – and, to me, garbage-flavored – durian, I did make an effort to try out Y Phuong's signature dessert. It turns out the fruit is still not for me, but the chè Thái's other ingredients are fresh and delicious. My durian-loving coworker gives his stamp of approval. He polishes off the glass of chè Thái, and the two of us, now full, lapse into a contented silence. With our quest to find the yin and yang of chè now complete, we hang around, watching the foot traffic breeze by our table and chatting up the spunky middle-aged woman with the cash, lulled into relaxation by good food, good company and the bustling back-and-forth of a busy street.
To sum up:
Taste: 4/5
Price: 5/5
Atmosphere: 5/5
Friendliness: 4/5
Location: 4/5
Dana is 70% caffeine, 50% fish sauce and hasn't taken a math class since 2004.
Chè bưởi and chè Thái
Nguyen Tri Phuong, Ward 4, D10
---
Related Articles:
---