In the pantheon of great street food locations in Saigon, many of my favorite places to chow down can barely even be considered restaurants. Is there really a need for four walls and real furniture when the food is amazing?
Quan Chi Bang certainly falls into this category. Located down an alley next to the gas station in front of Tan Son Nhat, the setup doesn't exactly scream great food. The hẻm is lit by an enormous billboard aimed at people exiting the airport, lending something of a nighttime prison yard feel to the setting.
A grill at the hẻm entrance offers a hint of what is on the menu, while a line of the usual plastic chairs and tables stretches down a wall. A small storefront where dishes are prepared is the main giveaway that a business exists here.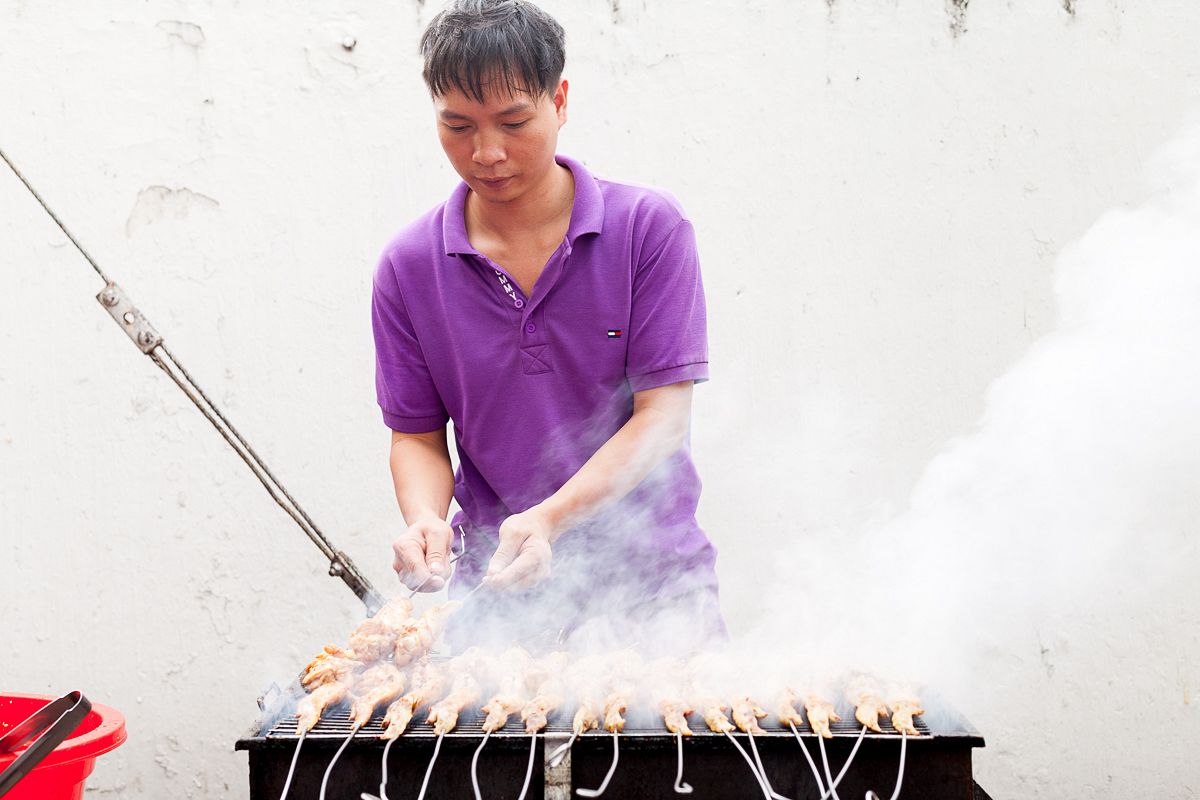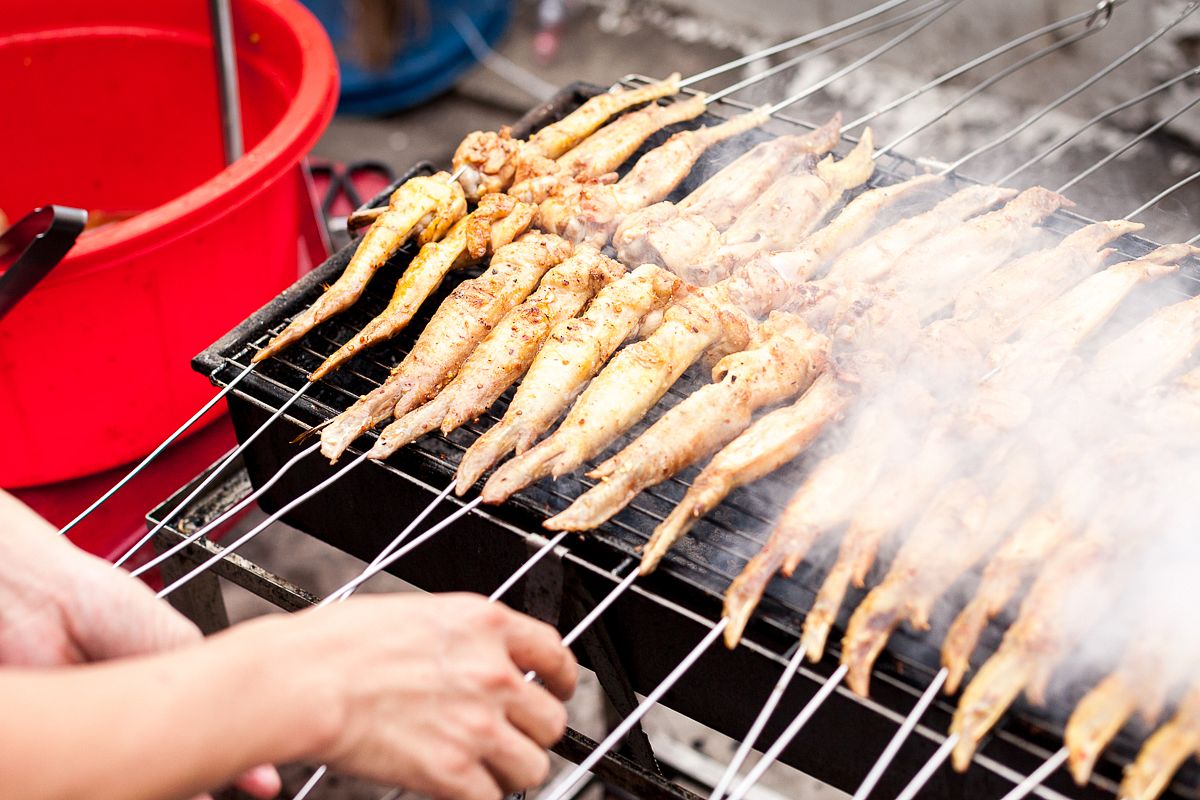 Chi Bang's menu has expanded over the years, but the main draw remains cánh gà nướng, or grilled chicken wings. These aren't the trifling little wings one may see at the nearest KFC, however: Chi Bang's wings are big, meaty suckers that will impress even the most discerning carnivores.
My colleague Brandon, Saigoneer's intrepid photographer, joined me on this chicken expedition, and we immediately ordered a plate of wings (VND17,000 per wing). The servers aren't big on small talk, but they are efficient. In no time, a heap of protein landed on the table and we dug in, lightly burning our fingers in the process.
I'm not completely sure what the chefs use to flavor their chicken, but it works like gangbusters. The juicy chicken is perfectly cooked and tender enough to come off the bone with ease. Our conversation took a pause as we resorted to caveman-like grunts of pleasure.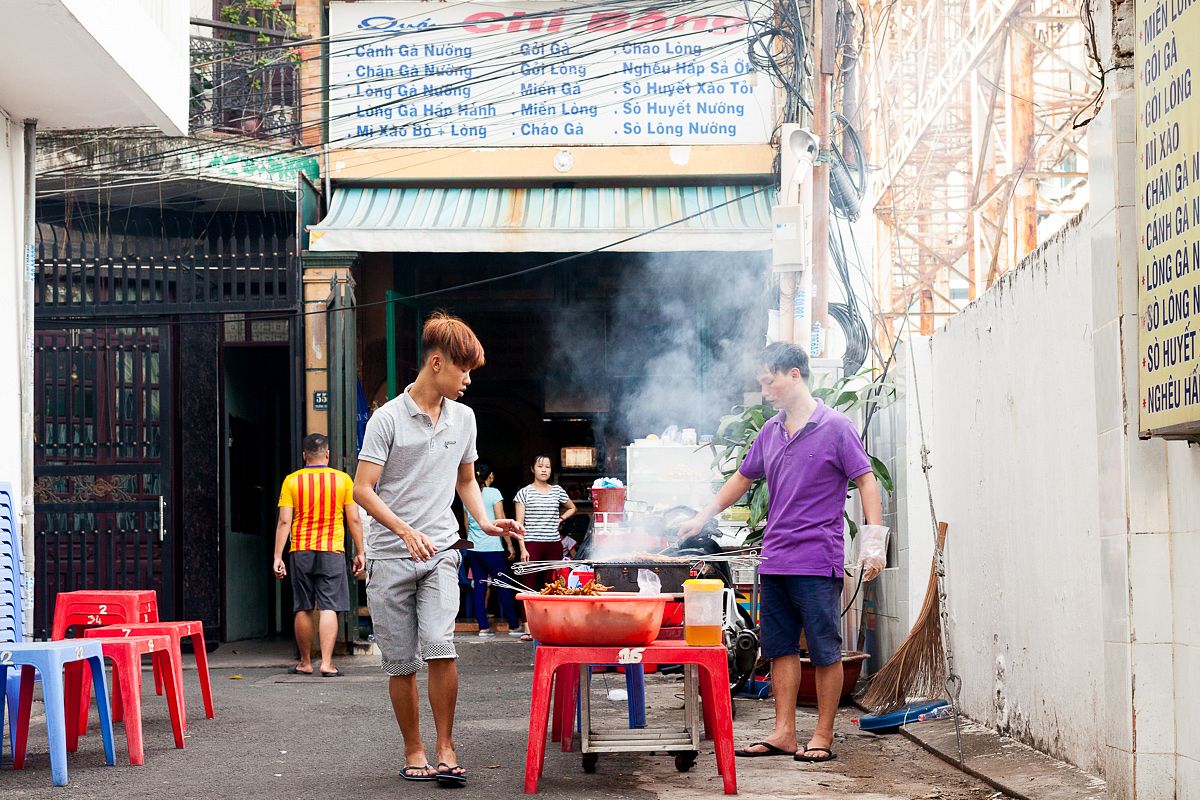 We would've been content to just eat chicken all night, but for the sake of journalistic thoroughness we decided to also try the gỏi gà, or chicken salad (VND70,000), and miến gà, glass noodle soup with chicken (VND35,000).

To be honest these dishes weren't anything special. The miến gà was perfectly fine, but no better than you can get elsewhere, while the gà in the gỏi gà consisted of the less desirable parts of a chicken.
The menu features a number of other nhậu staples, including grilled chicken feet, dried squid and a selection of shellfish, along with the usual array of local bottled beer.
However, there's no denying that the wings are the main attraction here. Even if you have no reason to head to the airport, they are worth braving the traffic on Truong Son, and if you are catching a flight, forget about Burger King and hit Chi Bang beforehand.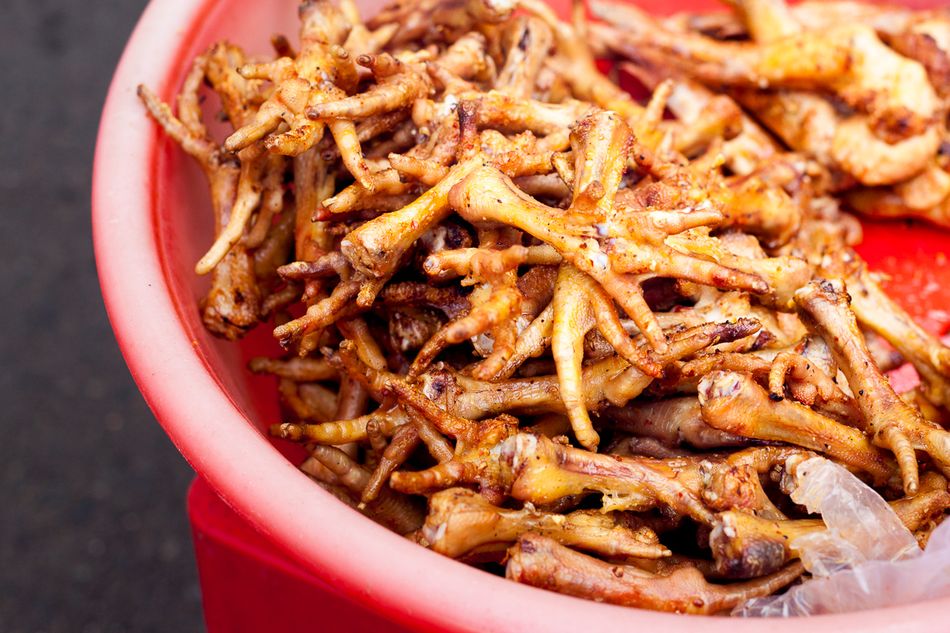 To sum up:
Taste: 5/5
Price: 4/5
Atmosphere: 3/5
Friendliness: 3/5
Location: 4/5
Michael has almost no sense of smell and was an on-screen extra in Jurassic World. You can usually find him with a craft beer in hand.
Quan Chi Bang
89 Truong Son, Ward 2, Tan Binh District
---

Related Articles:
---