On days when the thought of biting into a slab of greasy fried pork fills your gut with mild disgust, Saigon's scores of vegetarian eateries are exactly what you need to cleanse your palate.
When it comes to food, Saigon doesn't discriminate: there's something for everybody. From spicy goat curry to subtly sweet chè, meaty, braised pork belly to refreshing vegetarian options, the metropolis goes to great lengths to satisfy every resident's dietary needs. This week's Hẻm Gem is a seemingly nondescript vegetarian food stall whose dishes, I dare say, might pack even more flavor than your average cơm trưa place.
Located on Phan Xich Long Street just opposite Hoan My Hospital, it's quite possible for one to miss Com Chay 27 altogether while commuting on this busy Phu Nhuan District road. We made the mistake of going to 27 Phan Xich Long on our way to the vendor because Com Chay 27 was actually named after its previous location, which now boasts a cơm trưa joint that, albeit delicious-looking, was not what we had in mind. Head to the tube house at 430 Phan Xich Long instead for a fulfilling vegetarian meal.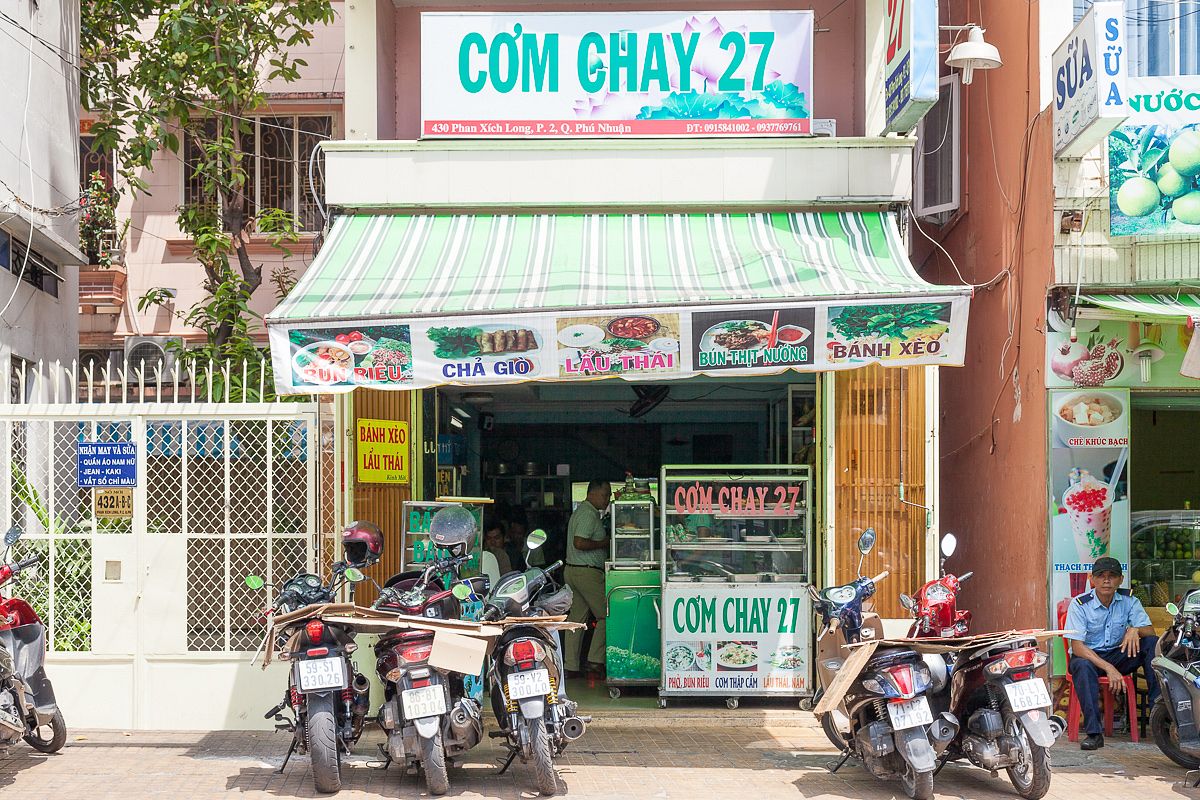 There's no doubt that Buddhism has a strong influence on Vietnamese culture. Although only around 12% of the population strictly practices Buddhism and follows rituals such as chanting sutras or sticking to a strict non-meat diet, a large portion of Vietnamese also observe religious activities during specific days of the lunar calendar. This has given rise to scores of vegetarian eateries to cater to this crowd of casual followers.
The owner of the restaurant is cô Khanh, a mild-mannered, soft-spoken woman to whom we instantly took a liking because of her unwavering calmness in the face of constant trivial questions from our ragtag band of first-time vegetarian eaters.
According to Khanh, Com Chay 27 opened its doors for the first time around 10 years ago with her mother, a devout Buddhist, as the main chef. A vegetarian her whole life, Khanh's mother married her faith with her kickass cooking chops and managed to build a name for the restaurant as one of the neighborhood's must-try options.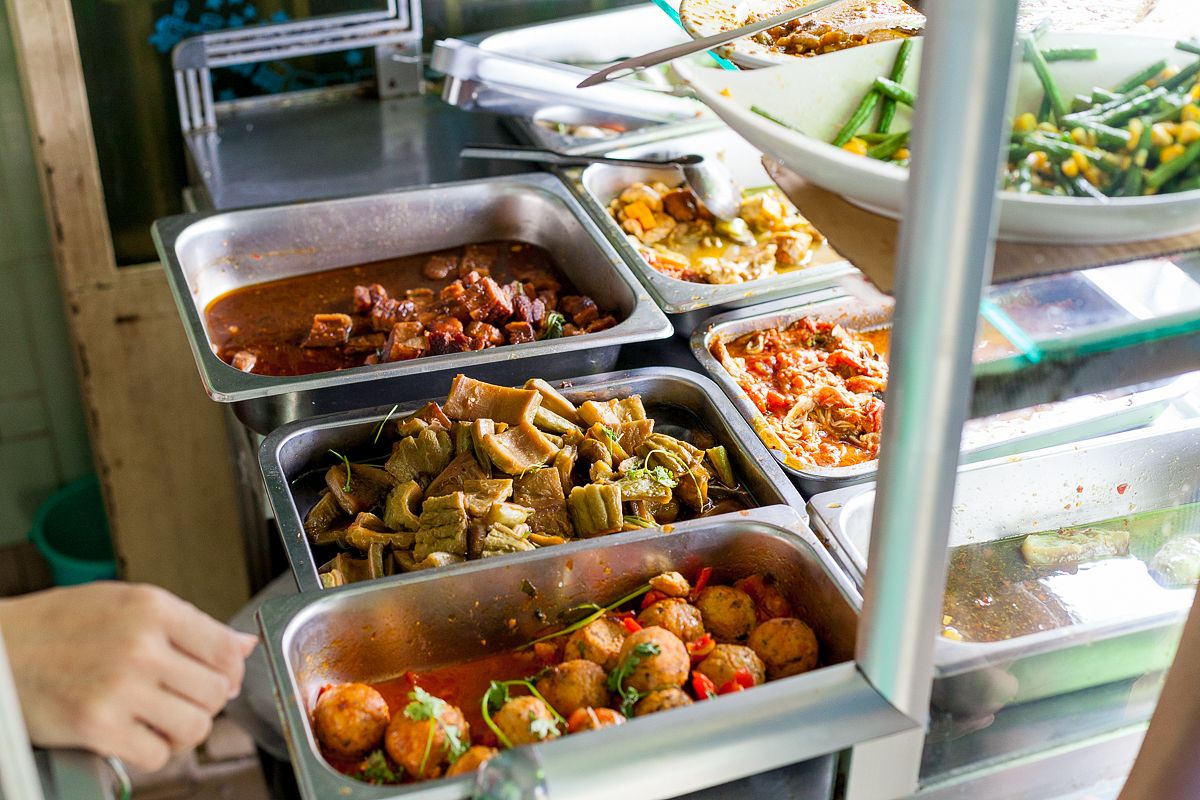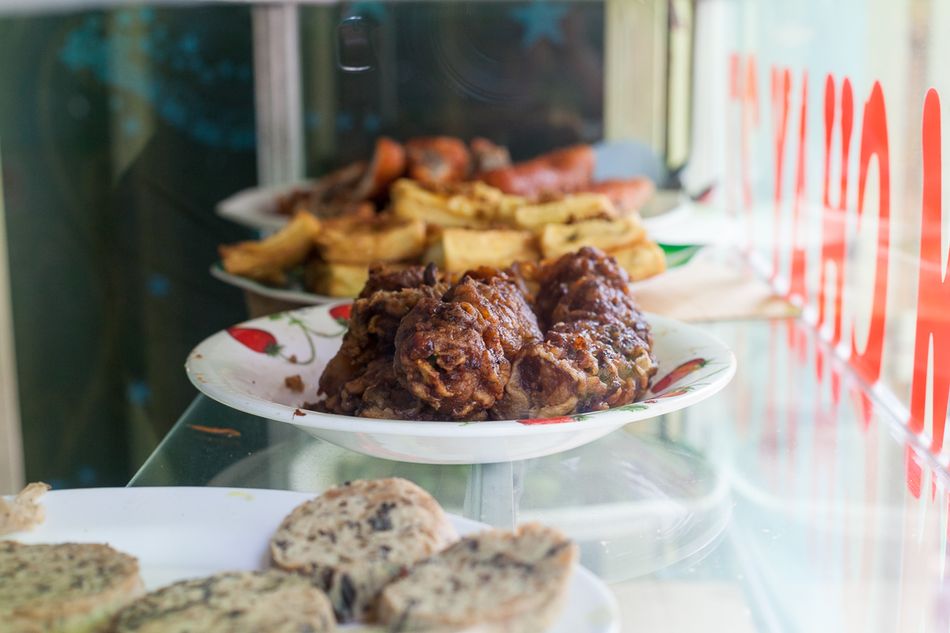 Every day, Khanh and her sister wake up at 4am to prepare necessary ingredients for the restaurant, which actually has a range of dishes throughout the day. In the morning, Com Chay 27 breaks out the array of soup options: phở, hủ tiếu, bún bò Huế and more, all vegetarian. The lunch crowd usually enjoys 15 to 20 different dishes, ranging from mock chicken legs to stir-fired curry mushrooms. And lastly, should you feel a hankering for vegan dishes in the evening, drop by to give cô Khanh's meatless bánh xèo a try.
For our lunch, we decided to go with the curry mushrooms, braised pork belly, xíu mại and stir-fried pork with pineapple. While the four of us have vastly different ideas of which dish is the best one of the day, we all agree that cô Khanh's strong suit lies in the way she seasons her food: simple but not simplistic.
The xíu mại is made up of mashed tofu and wood mushroom, while the pork is fashioned out of mì căn, or wheat gluten, which manages to come surprisingly close to the texture of actual pork.
I'm not a religious person by any means, as I've been so spoiled by Saigon's banquet of delicious meat dishes that there's no turning back. But as I made my way through the morsels of braised mock pork on Com Chay 27's humble clay plates, it brought back fond memories of childhood: it was a full moon once again and my mom, who loves Buddhism more because of its silvery mysticism than its teachings, enthusiastically informed the family that our lunch today would be vegetarian, to my dad's chagrin and my excitement.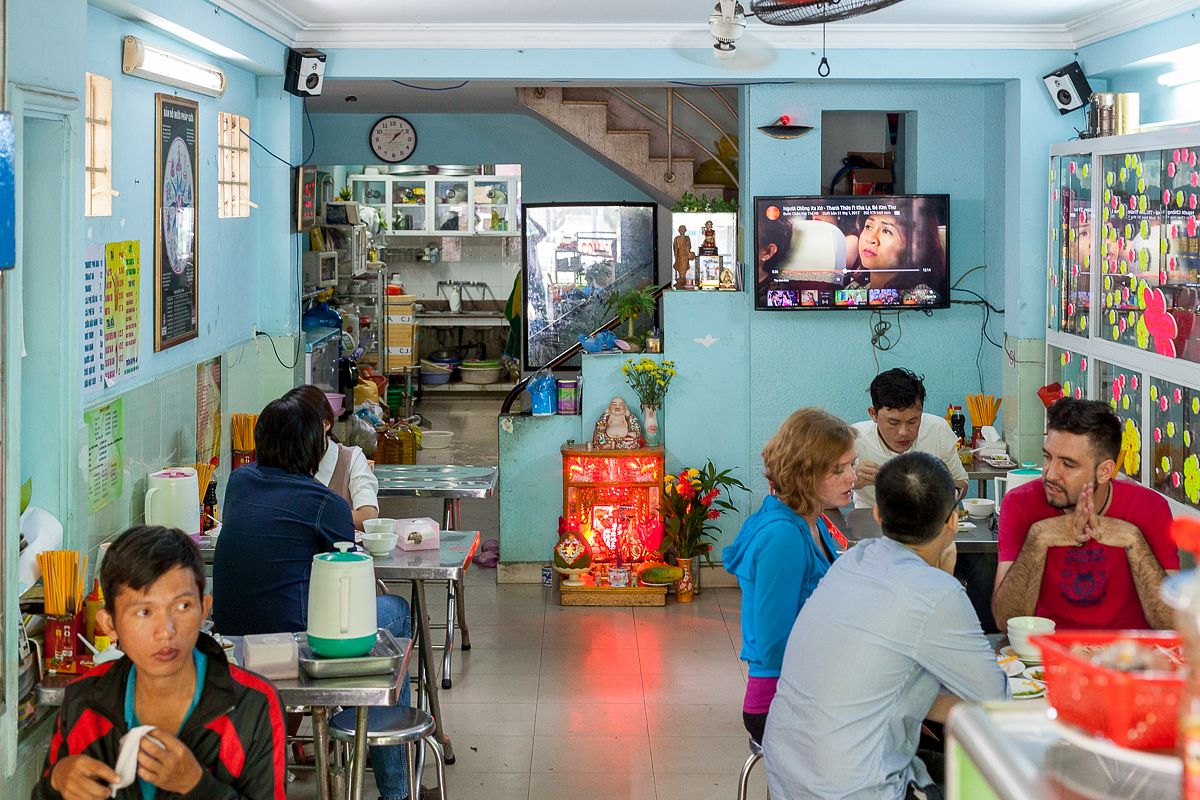 To sum up:
Taste: 5/5
Price: 5/5 – cơm trưa portions start from VND22,000 per plate
Atmosphere: 4/5
Friendliness: 5/5
Location: 4/5
Khoi loves chicken, is a raging millennial and will write for food.
Cơm Chay 27
430 Phan Xich Long, Ward 2, Phu Nhuan District
---

Related Articles:
---