Mien Meo Mieng / Contemporary Art from Vietnam – the most comprehensive exhibition of contemporary Vietnamese art ever presented in Sweden – features installations, drawings, paintings, videos and sculptures from 14 contemporary Vietnamese artists. Produced by Bildmuseet and organized by artist-curator Tran Luong and assistant curator Le Thuan Uyen, the exhibits at Mien Meo Mieng – which translates to The Land of Distortion – revolve around the topics of war, economic changes and Vietnamese society, highlighting the delicate art of subtleties and hidden messages which characterizes the country's contemporary art. Below is a look at the career and work of 10 of the artists displayed at Bildmuseet.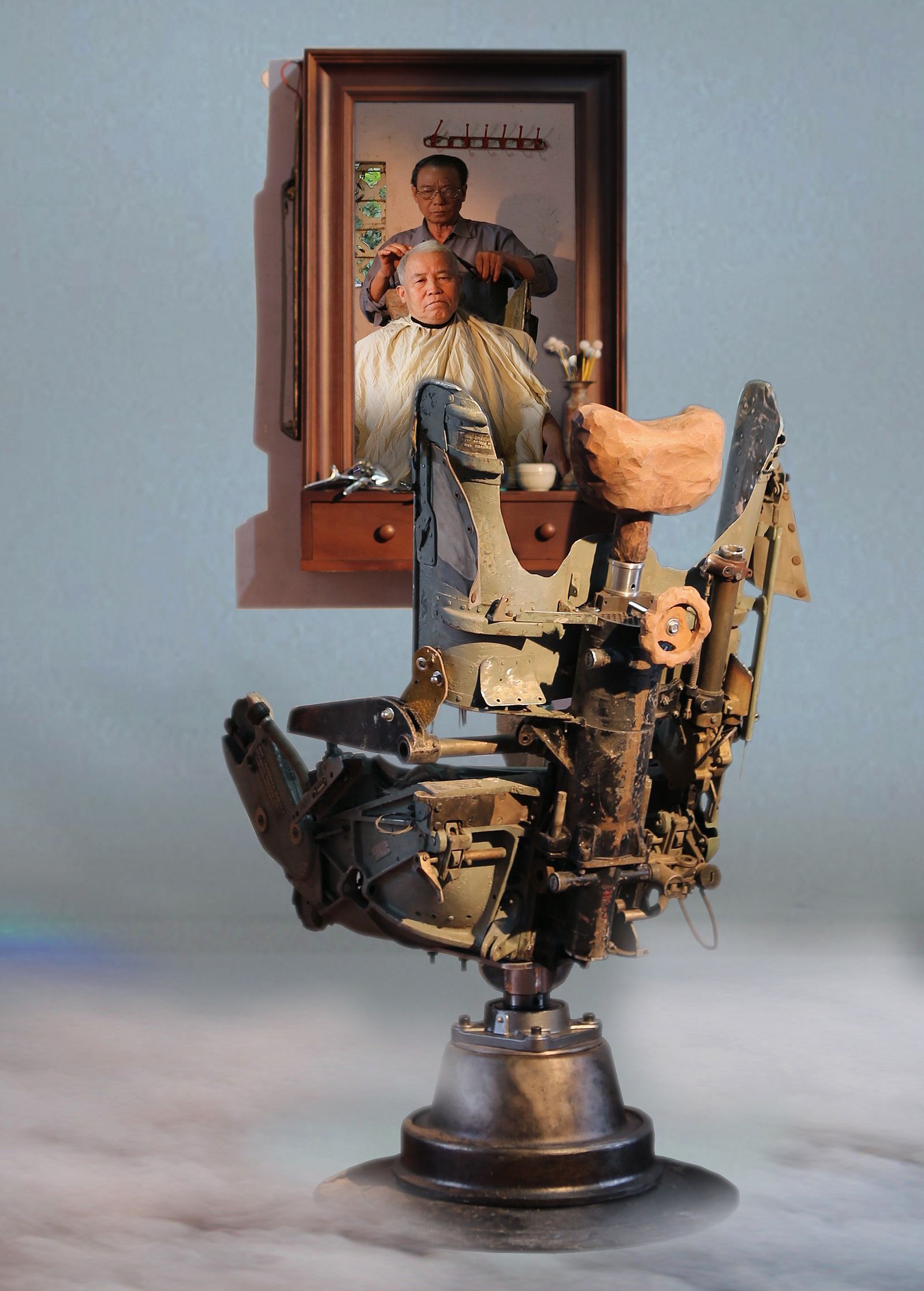 Bang Nhat Linh's art resembles his collection of war memorabilia. With his early life shaped by stories and artifacts from the war, Linh's installations focus on the relationship between individuals and remnants of conflict. To achieve this, he uses everything from bullets and bombs to helicopter tails as material for building vases, clocks and see-saws. The visual artist also employs war-time photography and videos to explore the present's relationship with the tumultuous past.
His work has previously been exhibited across Vietnam, most recently by Nha San Collective, where his solo exhibition The Vacant Chair – a video installation that evokes the relationship between the turmoil following the war and its survivors – was presented in September.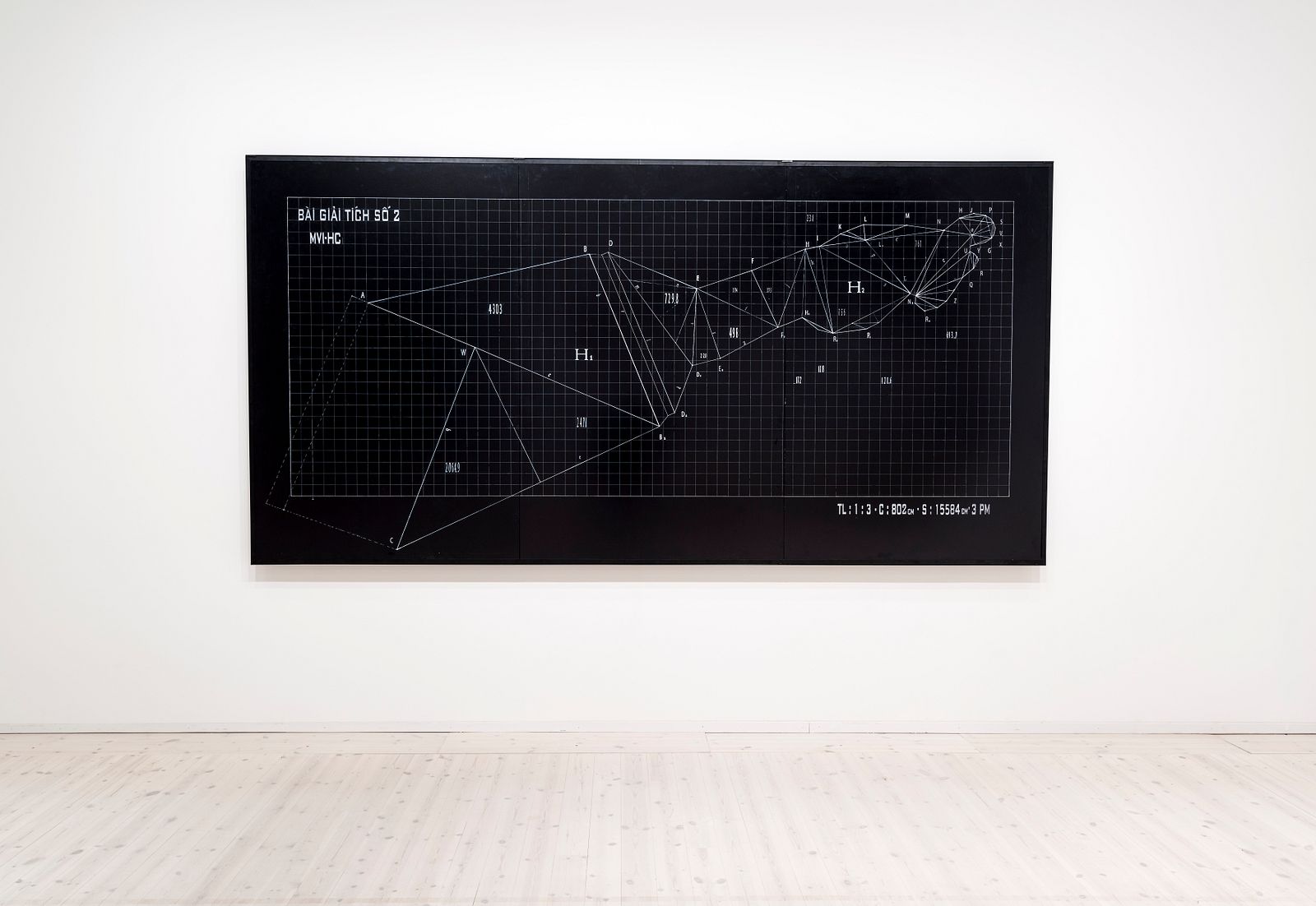 Nguyen Huy An
Born and raised in Hanoi, Nguyen Huy An investigates the dark side of intimate human emotions and memory, which often take the form of simple shapes alone in large spaces. This idea can be seen in The Great Puddle, which was displayed in 2013 at the Singapore Biennale's If the World Changed. The dark outline of a bureaucrat's writing desk and its shadow, rendered in Chinese ink, is simple and isolated in a large space, but also imbued with history and traditions. An's work, whether it be a drawing or an installation, is minimalist in style but brimming with hidden meanings.
An is also a co-founder of the performance art collective The Appendix Group (Phu Luc); his work has been presented internationally – in Singapore, Japan and China – as well as across Vietnam, including at San Art, Galerie Quynh, Vietnam National Museum of Art and at Nha San Studio.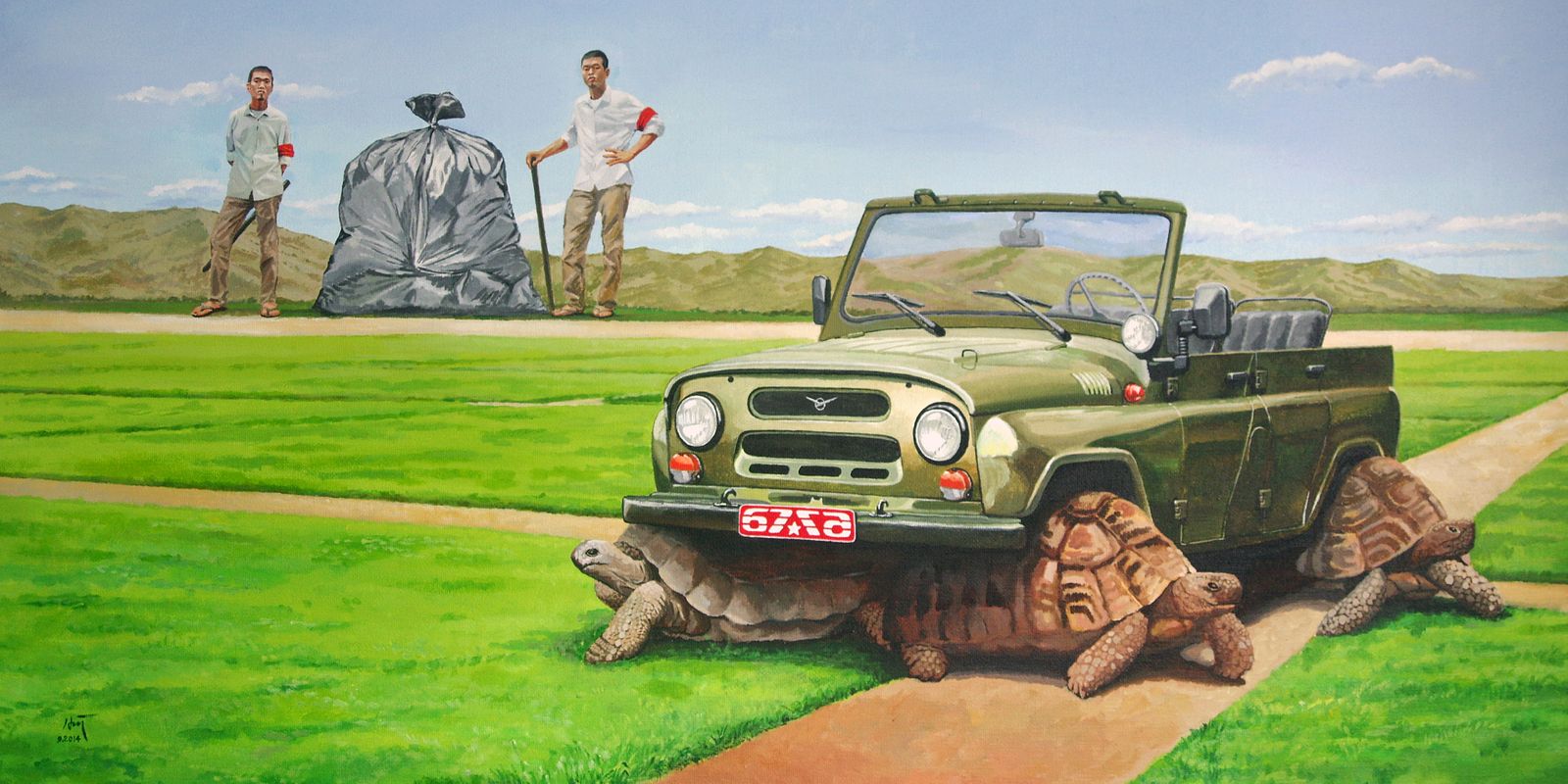 Nguyen Manh Hung
It comes as no surprise that Nguyen Manh Hung's father was a fighter jet pilot. The tension between urbanization and militarization, often in the form of warplanes, and traditional rural lifestyles permeates Hung's surrealist works. While the 2D and 3D works depicting scenes of conflict are dramatic, they all carry an easy sense of humor. Although widely known for his paintings, the Saigon-based artist has employed the medium of installation to further develop his exploration of conflict within urban society, as seen in his first solo show One Planet at Galerie Quynh in 2013.
Hung's work has been displayed in solo and group exhibitions in Vietnam and Europe.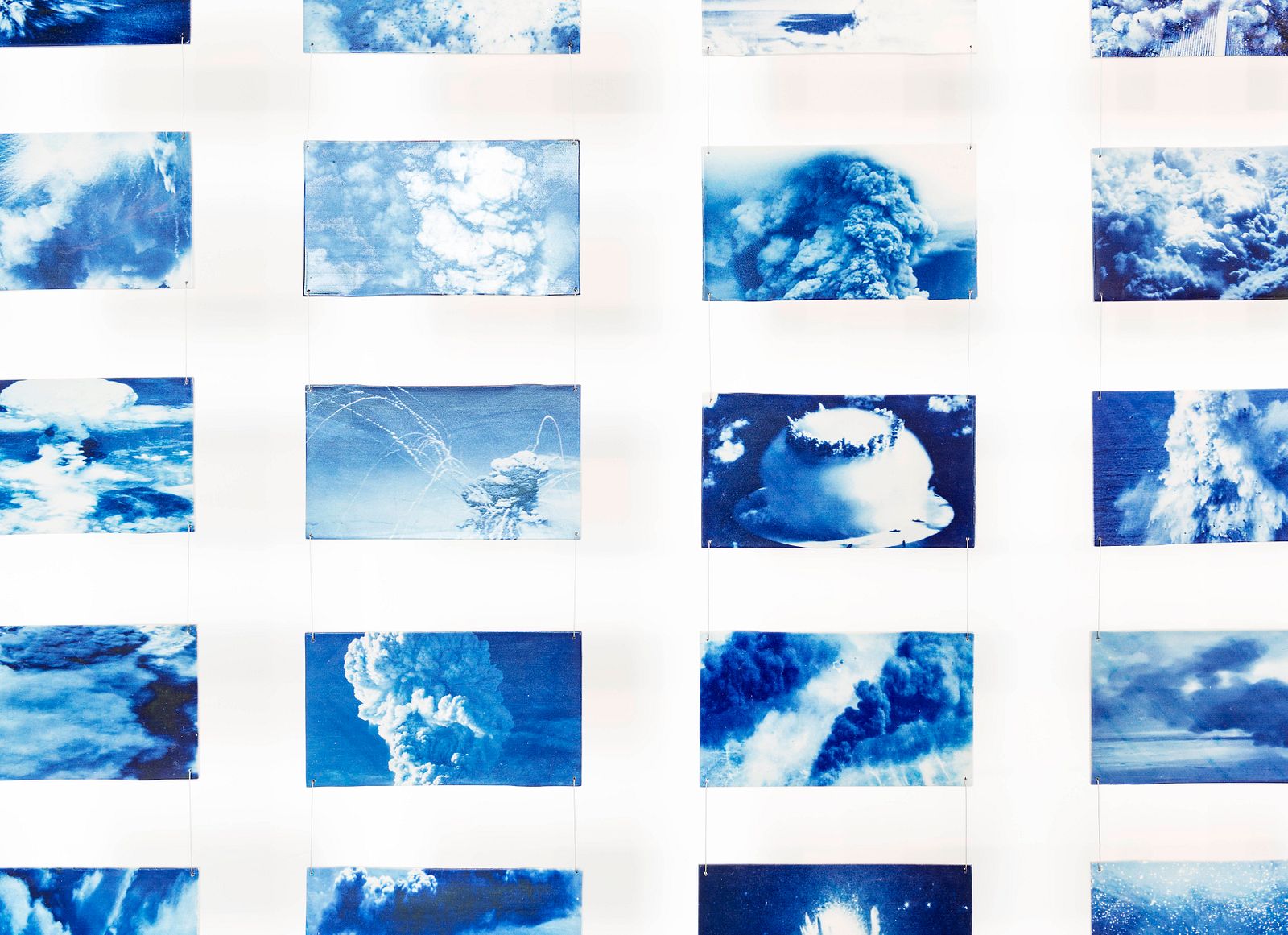 Nguyen Phuong Linh
Nguyen Phuong Linh was literally born into art, as she is the daughter of one of the founders of Nha San Studio, the first non-profit studio for experimental art in Vietnam. She continues to have a meaningful relationship with fictional and real spaces, as seen in her The Dust Project, for which she collected dust from various objects and sites (a relative's altar, bridges the artist had crossed, soldiers' gravesites, etc.). The multidisciplinary Hanoian artist's sensual artworks analyze the lingering effect of the past on collective and personal memories as well as the visible and invisible duality of everyday imagery. This can be seen in Sanctified Clouds, a collection of prints applied on Vietnamese ceramics, where she cropped off the smoke created by bombs from around the world to make them resemble everyday clouds with the aim of highlighting how something so beautiful, glorious and ephemeral can hide the long-lasting effect of wars.
Alongside exhibiting across Asia, Europe and the US, Linh co-founded Nha san COLLECTIVE in 2013; she has curated various exhibitions and assisted artist Danh Vo with his large-scale installation at the Venice Biennale in 2013.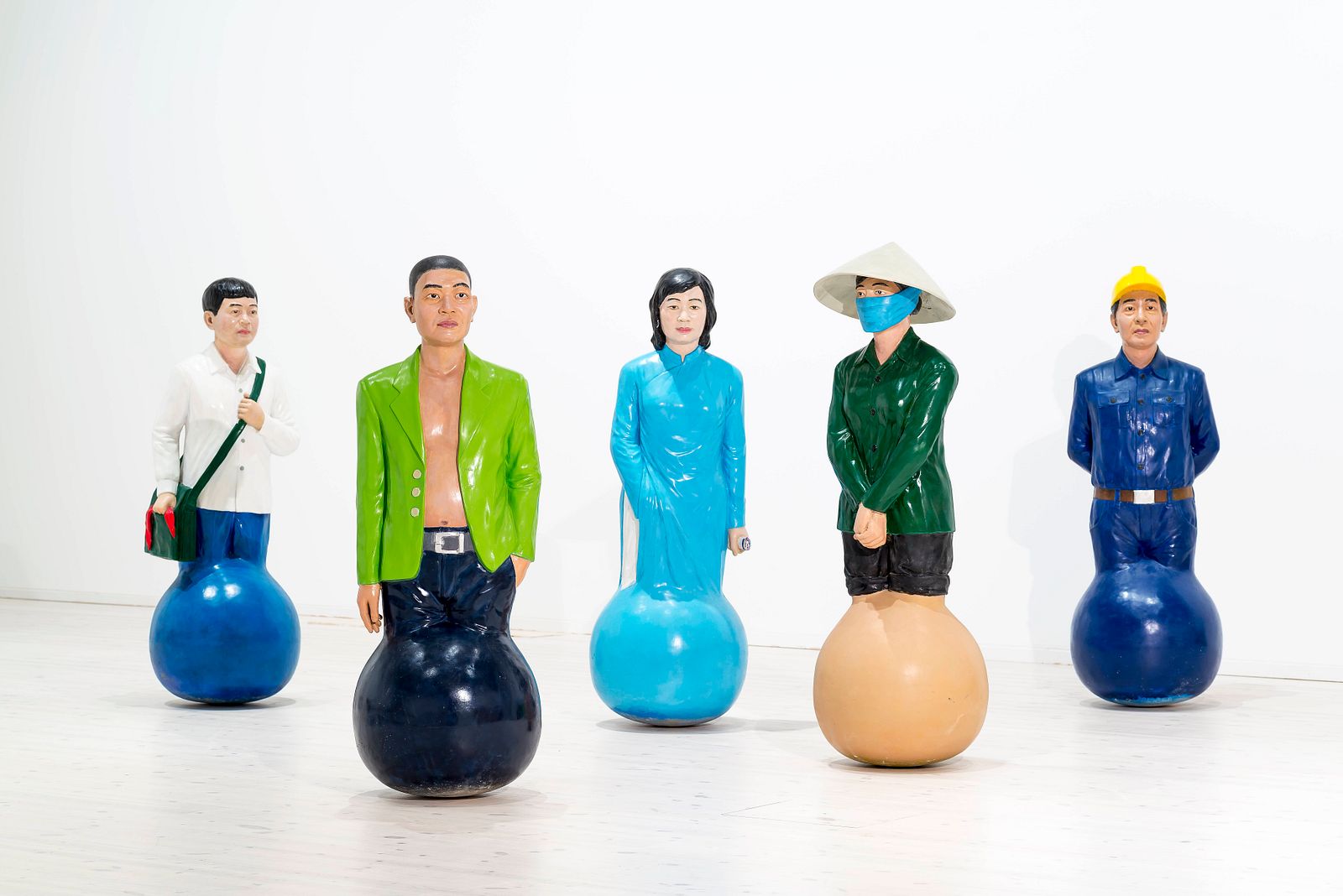 Nguyen Tran Nam
The Vietnamese spirit has been celebrated around the world, first at Singapore's 2013 Biennale and now at Bildmuseet, thanks to Nguyen Tran Nam's installation We Never Fell. The five fiberglass balancing sculpted figures, which visitors are encouraged to push, never fall: a commentary on Vietnam's difficult past and the resilience of its people. However, when dealing with the turmoil of war, Nam's work also displays the hopelessness and sorrow experienced by so many.
Born in Hung Yen, Nam utilizes cynical yet often humorous sculptures and installations to delve into historical and political events as well as their effects on single individuals and communities. Nam's body of work is both uplifting and pessimistic: on one hand, he admires the resilience of human beings, while on the other he questions the justification of sacrifice men face for political, religious or personal convictions.
Nam's work has been shown internationally, including Asia, the US, Australia, and Europe.
---

Related Articles:
---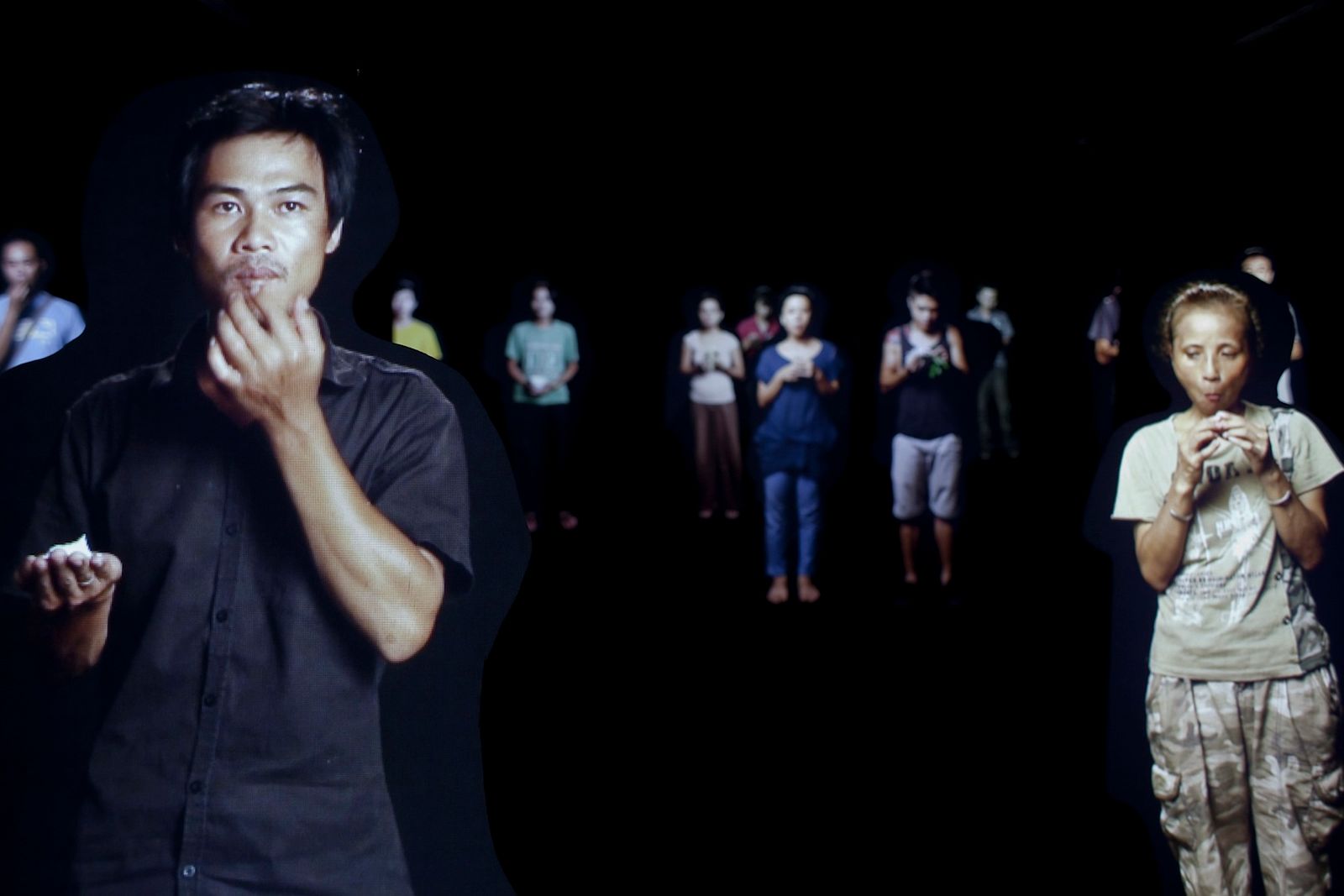 Nguyen Trinh Thi
Both the survival and depiction of identity are often at the center of Nguyen Trinh Thi's documentaries and films. Thi has subverted famous films (Forrest Gump, Apocalypse Now) and re-examined the politics of acclaimed filmmakers. Throughout her career, the recurring themes of the roles of artists in society as well as of the individual among the collective have surfaced in her video installations. In Unsubtitled, a sound and video installation featuring large cutouts of standing figures, a group of people is filmed while they are eating alone. This piece aims to reinforce the artist's belief that it possible to maintain a sense of individuality and freedom while simultaneously building a cohesive and harmonious society.
Nguyen Trinh Thi lives and works in Hanoi where, in 2009, she founded DOCLAB, an independent place for cinema, documentary and art films. Her artwork has been screened/exhibited in Vietnam (San Art, the Goethe Institut Hanoi and Nha San Studio) as well as in international venues such as the Tate Modern and White Chapel Gallery in London, the Singapore Biennale and the Jakarta Biennale.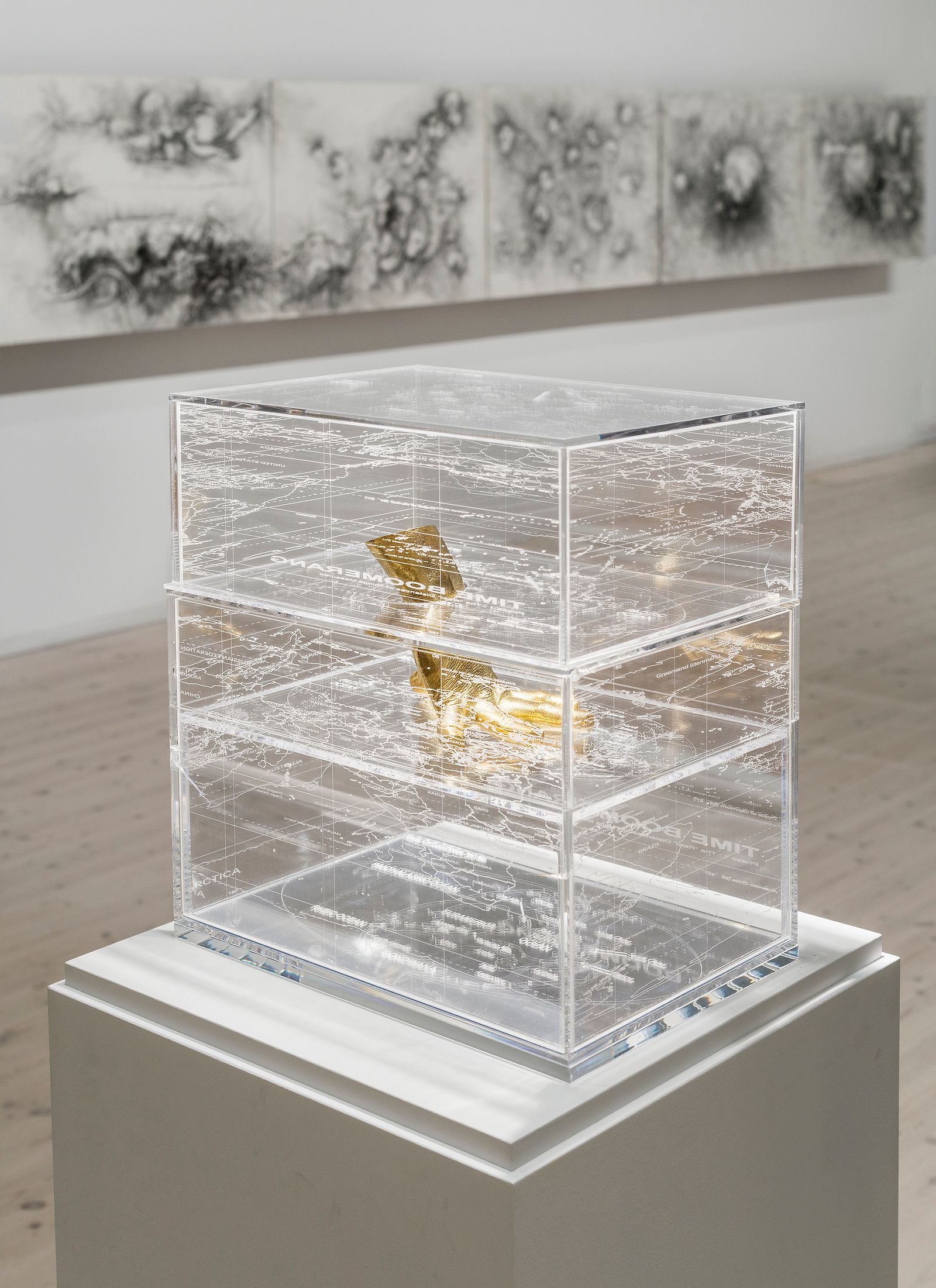 Nguyen UuDam
Nguyen UuDam's new 3 channel video installation Serpent Tails – which will be displayed at the Asia Pacific Triennial this November - will be close to the heart of any Saigonese. Along with Waltz of the Machines, the three-minute single-channel video from which it grew, Serpent Tails depicts a choreographed motorbike ride through the city in an effort to raise awareness of their impact on the city and question individual relationships.
The video Waltz is part with the sculpture Time Boomerang: PHASE 1: The "Real" Distances of Things Measured of the multi-phased project shown at Mien Meo Mieng.
Born in Kontum, UuDam earned a Bachelor of Arts from UCLA as well as an MFA from the School of Visual Arts in New York. He is a versatile artist who works with various media – sculpture, painting, robotic art, video and photography – in his ongoing investigation of the relationship between the individual and his or her country as well as the individual and the masses.
In his robotic apps artwork License 2 Draw, which earned him the Jury Selection prize at the 18th Japan Media Arts Festival, UuDam extends his investigation to the rapports between countries around the world. Nguyen UuDam lives in Ho Chi Minh City; he is the co-founder of XEM magazine and he lectures across Asia and the US.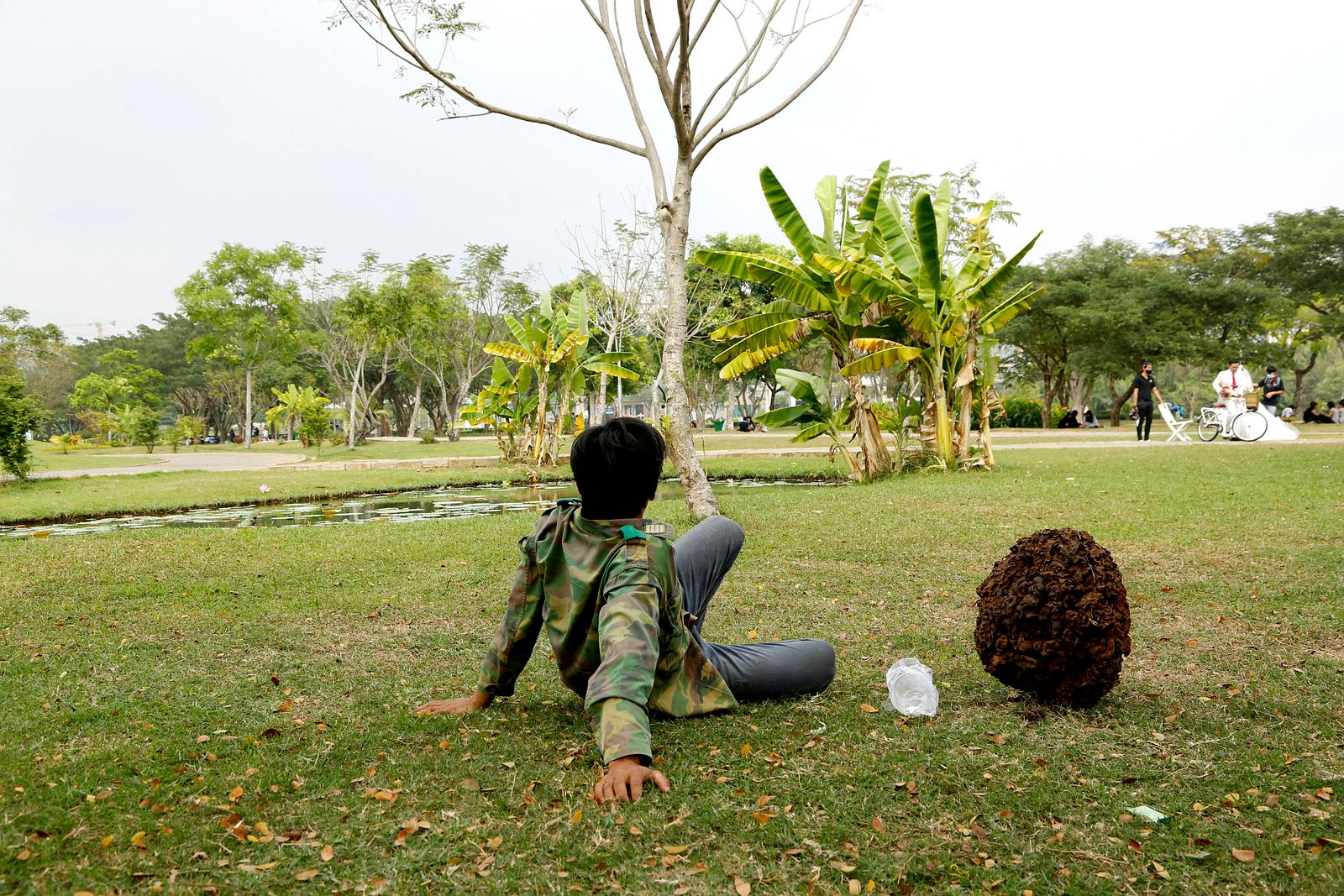 Truong Cong Tung
Truong Cong Tung likes dirt and magic gardens. At least, these are two of his most recent subjects. Working across different media – video installation, painting and found objects – Tung explores unexplained phenomena and reality. His installations, as well as the process of creating them, pose questions about the nature of belief and society. Tung's research process in the supernatural and Vietnamese oral traditions includes trips to different locations, from which he collects objects, as well as literary research. The artist's imaginative personal interpretation and empathy during his investigation surface throughout his various projects, as he poses the question of whether the supernatural is real or fictional, a cure or a curse.
Tung graduated from the Ho Chi Minh City University of Fine Arts in 2010, where he studied lacquer painting. His work has been exhibited in Asia and Europe.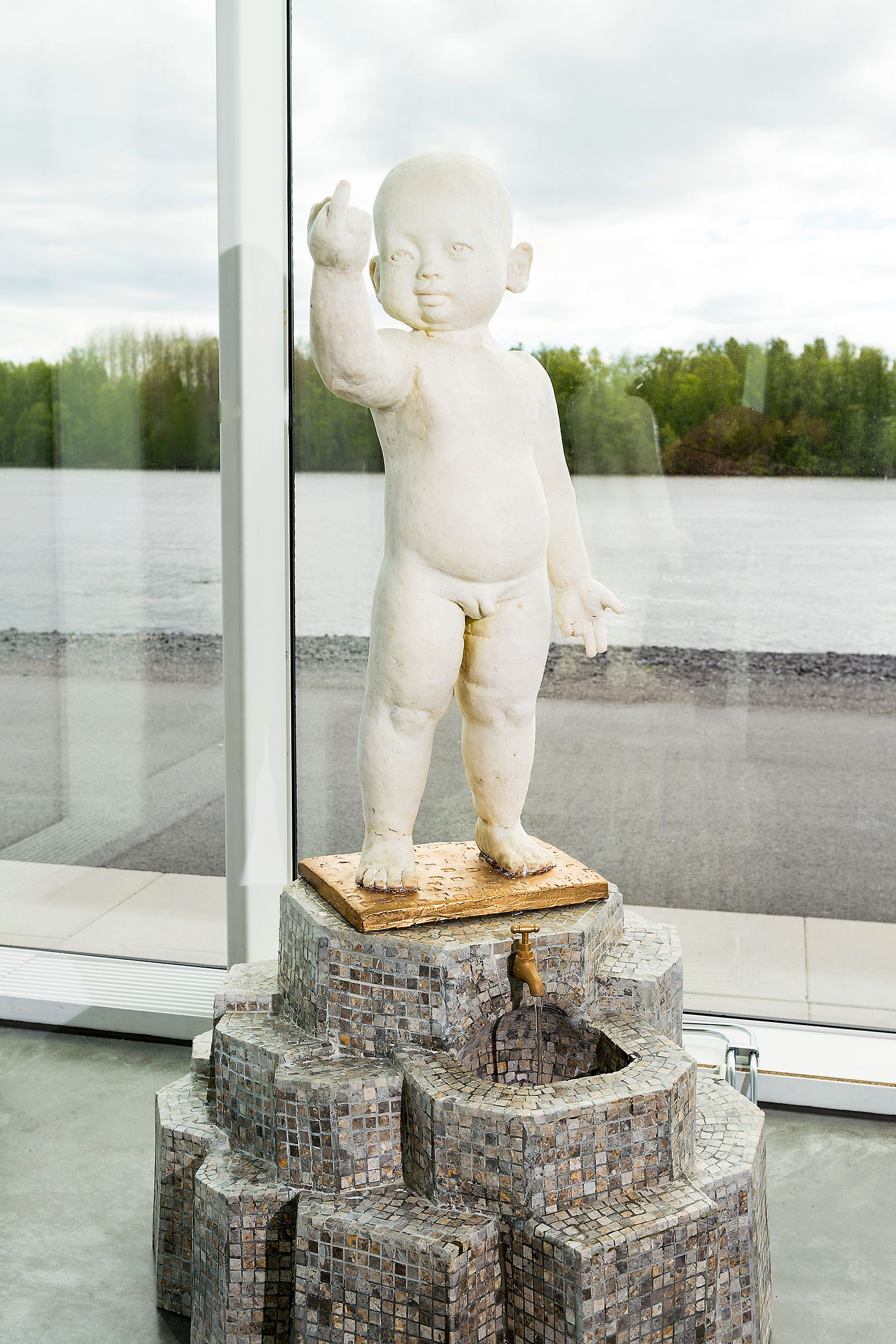 Vu Hong Ninh
Vu Hong Ninh shocks his audience, and he does it out of concern. For his Little Soap Boy, which is now on display at Mien Meo Mieng, Ninh draws from religious figures and artistic traditions from Asia (Buddha) and Europe (the cherub). The centerpiece of the installation consists of a statute of a baby with its middle finger up – an ancient and widely known gesture of protest. The soap boy, which is made from actual soap that visitors are invited to use to wash their hands, and the rude gesture is a comment on the fading purity Ninh sees in today's society: honesty in human behavior is slowly degrading just as the soap from the sculpture erodes.
The 32-year-old artist graduated from Vietnam University of Fine Art in 2009; his body of work also includes video art in order to analyze human behavior from different cultures and traditions.
Vu Hong Ninh has exhibited his work in Vietnam, including the group show Tam Ta at San Art, Hanoi's Dao Anh Khanh Studio and the Hue Festival, as well as in Japan and Europe.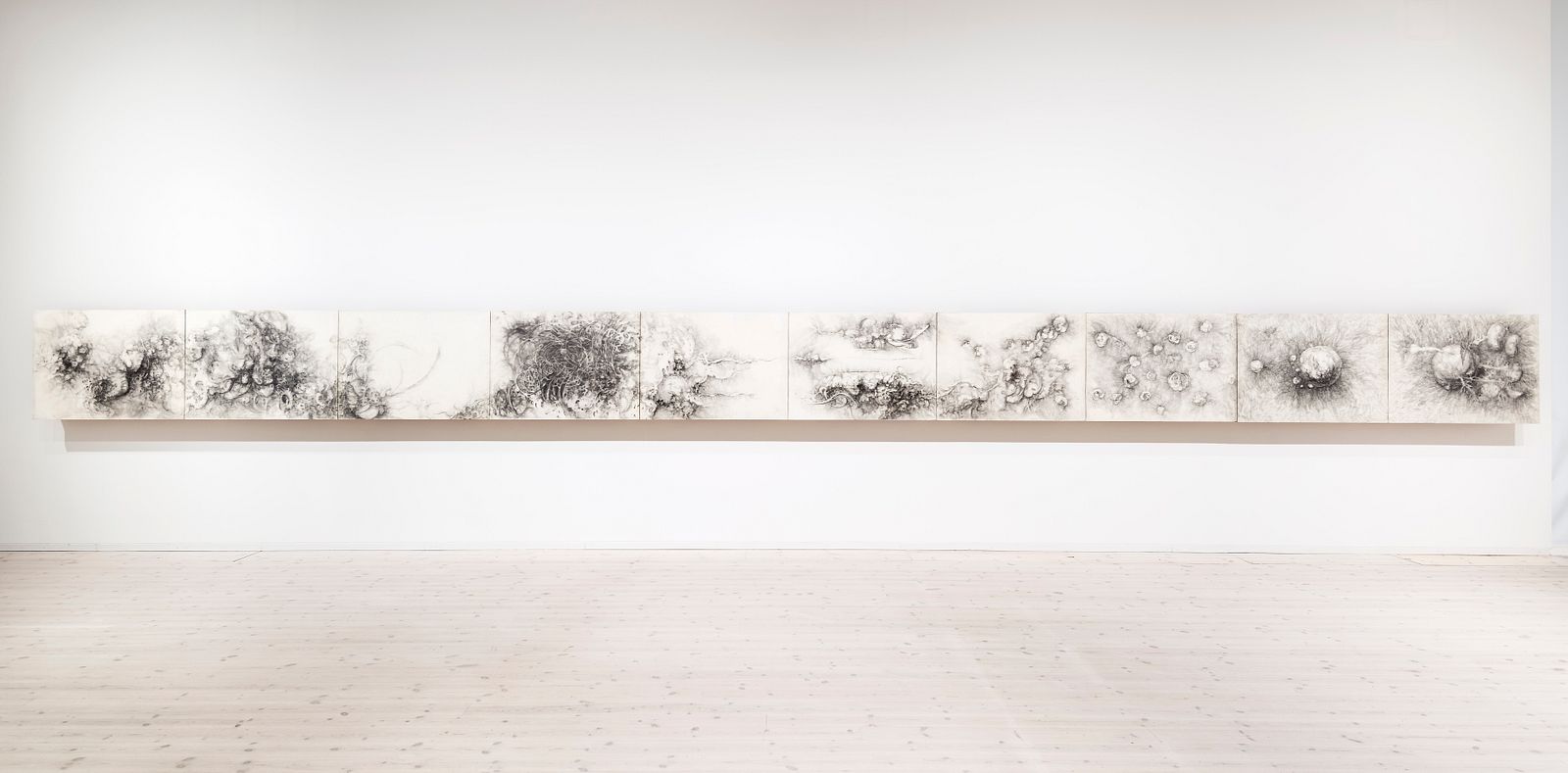 Trieu Minh Hai
Hanoi-based artist Trieu Minh Hai had his first solo show this year at Nha San Collective. A graduate from University of Fine Arts with a background in engineering, Hai's multi-canvas piece Latcarf-Fractal reflects the artist's formation by marrying art with science. As the name suggests – fractal comes from the Latin fractus, which means broken or fractured and refers to the fractional geometric shapes created in nature – the artwork consists of sets of drawings rooted in the science of fractals, as well as its influences in art and cinema. Hai's fascination with the subject matter led him to investigate the fine balance between art and science, two seemingly opposing disciplines, which results in detailed and rich drawings that still possess the evocative power of visual art.
Mien Meo Mieng / Contemporary Art from Vietnam has been on display at Bildmuseet since June 14 and will end this Sunday, November 1.
[Top image: Pham Tran Viet Nam, "Oration for 10 Types of Human Beings", 2014-2015. Photo by Mikael Lundgren. Courtesy of the artist.]