I hit Dam Sen Waterpark on a scorcher, one of those days when the colour of the morning sky is as deep and synthetic as a blueberry Slurpee.
The park, buried deep within District 11, is a sweet reward for those who dare brave Saigon's heat, traffic and roundabouts by motorbike to find it – as I eventually do. There are waterslides of all heights and speeds, pools, kids' areas, snack bars and a merry-go-round river. The grounds are well-kempt, there's plenty of foliage and you're required to check your ennui at the gates!
Waterslides
The slides are the real stars of this water world. Chute yourself down the colourful tubes of torrent sans accoutrements or descend on a soft sled a la Olympic skeleton. Some slides, like Black Thunder, are ridden on inflatable rafts. I balk at giving the Boomerang a go – it's four-stories tall! – an enormous, watery half pipe that elicits thrills by subjecting riders to a pendulum action.
The Kamikaze, a black diamond run in skier parlance, is of similar height but with a couple plateaus thrown in to keep your shorts from riding up your neck.
I plunge down the Twister Space Bowl with as much gusto as a 12-year old version of me, snort a waterfall around the second curve and plop out unexpectedly, via centripetal force, at the bottom. My sinuses are tingling from the chlorine, but it's a race to the top for another run!
Peculiarly, in one of those glorious dichotomies that could happen only in this part of the world, there is a swiftly moving open sewer just over the fence from Black Thunder (apt name, when you think about it).
Wave Pool
The wave pool is fronted by a sea of plastic loungers and skirted by palms.
Waves buck and crash every now and then, which seems insufficient. Why not keep the pseudo surf rolling fulltime? Maybe the electrical apparatus sucks too much juice, or more likely – and more vitally – there'd be none of that crackling anticipation that precedes the launching of the phoney waves if they were sloshing about ad infinitum. Surely, the wave pool would lose its novelty, come to be seen as just another chlorinated pond that didn't do anything, when in fact it'd be doing a marvellous thing, more than most pools. At any rate, grab an inflatable donut and bob the day away like you're limbless. Note that body surfin' these babies won't be possible until after the Killer Tsunami upgrade is installed.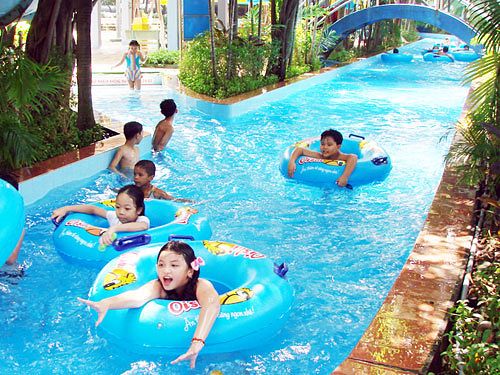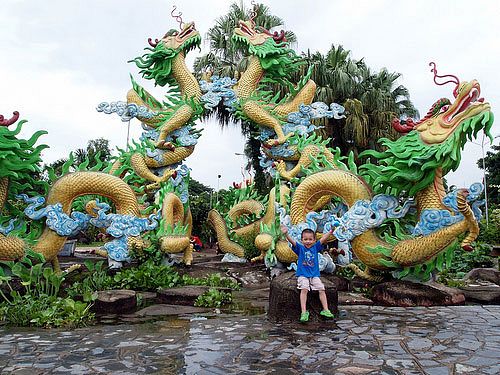 Zip Line
These days, zip lines are all the rage. You can glide through jungles, forests, central business districts (true story: Vancouver, Canada installed one during its 2010 Winter Olympics festivities) – any locale that boasts a bird's eye view or a liquid landing pad, as at Dam Sen.
Grab the handlebars of the roller pulley and step off the elevated platform. You can't chicken out and coast to the other side; partway across, the pulley violently dead-ends against a rubber stopper, discharging you into the drink below. The dude ahead of me was getting quite a kick out of nailing backflips on the plunge into the pool, but I don't recommend this and take no responsibility for water rash incurred.
Wandering River
Feeling baked, dazed and glazed?
Don't worry, stay quiescent by remaining motive: sink into Wandering River, an infinity pool (so to speak) that encircles much of the park.
Indeed, you could spend your whole day completing revolutions – and possibly contemplating them – without lifting your backside from the centre of an inflatable rubber ring.
The current moves just fast enough to keep you floating along at a satisfying clip, and the shade cast by the trees and slides is a relief when you've capped your sunshine quota. (Wandering River also doubles as a quasi-clandestine snogging spot for frisky teen couples.)
Details
Admission ranges from free to VND120,000 based on one's height (no joke) age, and the time of day.
It's cheaper to go after 4PM, but getting sunburned is part of the fun. Go mid-week and you might just have the place to yourself.
Closed Tuesdays.