Vietnamese banknotes are characterized by beautiful colors and illustrations that capture some of Vietnam's most famous locations (and Ho Chi Minh, of course). We've previously written about their history but have you ever taken a moment to look closely at the images on the back of your dong notes?
VND20,000 - Hoi An Bridge Pagoda (The Japanese Bridge)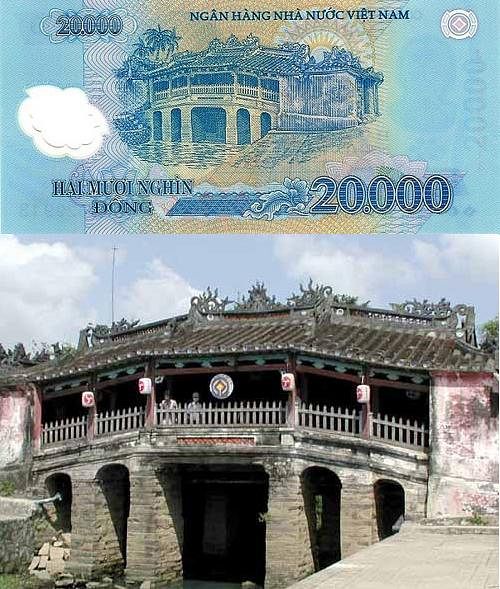 Once a bustling international port, Hoi An has been heavily influenced by Chinese, Dutch and Japanese merchants. Today, this foreign influence is preserved in the form of architectural reminders such as the Japanese bridge.
Built by the town's Japanese community in the late 16th century, it connected the Japanese residents on the western side of the canal with the Chinese merchants on the east.
The bridge has been rebuilt and modified several times and has remained in its current form since 1986.
VND50,000 - Nghenh Luong Dinh and Phu Van Lau (Hanoi)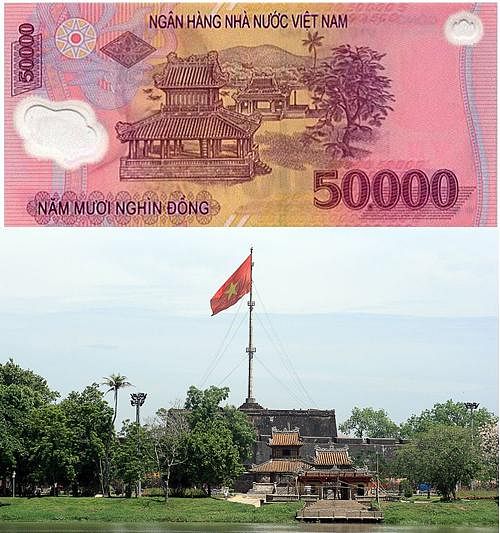 There are actually two separate locations on this banknote:
1) Nghinh Luong Dinh (background) is located on Hue's Perfume River and was built by the kings of the Nguyen Dynasty to enjoy better views of the waterway.
2) Built by King Gia Long in the early 19th century, Phu Van Lau (foreground) was a place for listing the decrees and words of the king and the results of royal examinations. Later, under King Minh Mang, the words "khuynh cai ha ma" (anyone who passes this house must take off his hat and get off the horse) were carved into the entrance. Mang also used it as a venue to hold fights between elephants and tigers.
VND100,000 - Khue Van Cac Temple (Hanoi)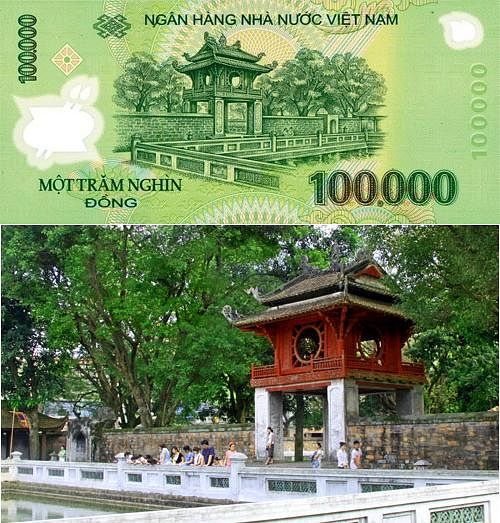 Built in 1070 and reconstructed during the Tran dynasty (1225 – 1400), Khue Van Cac temple has served as an architectural record of various dynastic styles and is home to many national relics. With increased focus on preservation, it underwent major restorations in 1910, 1954 and 2000.
Vietnam's first university, the the "Quốc Tử Giám" or Imperial Academy was established in the temple's walls in 1076 as a center of education for Vietnam's bureaucrats, nobles, royalty and other members of the elite. The school operated continuously until 1779 when a new academy was built in the new imperial capital at Hue.
Under French occupation, the temple was listed as a historic monument and was restored under the auspices of the École française d'Extrême-Orient (French School of the Far East).
VND200,000 - Ha Long Bay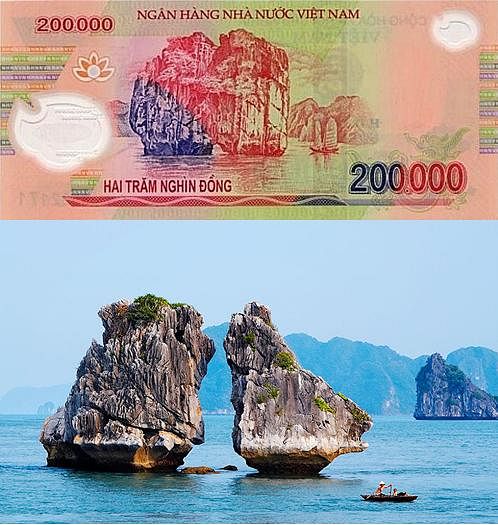 Probably the most obvious location on these banknotes, Ha Long Bay once served as a pivotal location for deflecting Chinese and Mongol invasions and is now a UNESCO site and one Vietnam's most popular tourist attractions. 500 years ago, Nguyễn Trãi praised the beauty of Hạ Long Bay in his verseLộ nhập Vân Đồn, in which he called it "rock wonder in the sky".
In 1288, General Tran Hung Dao halted Kublai Khan' Mongol armies from sailing up the nearby Bạch Đằng River by installing steel-tipped wooden stakes at high tide, sinking the Mongol fleet as the tide went out.
VND500,000 Ho Chi Minh's Family Home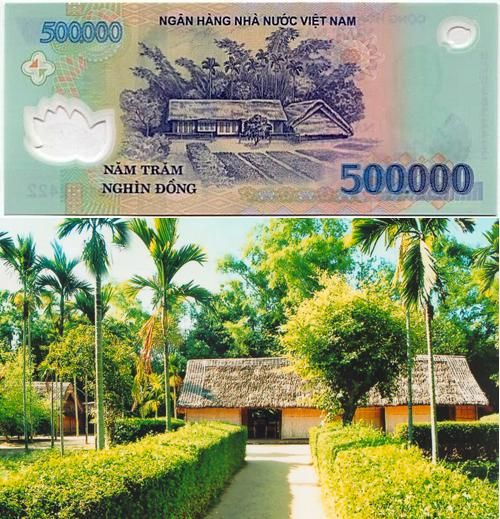 Located in Sen village of Kim Lien commune, Nam Dan district, Nghe An province, this house was built in 1901 with donations from local residents when Uncle Ho's father, Nguyen Sinh Sac, scored high marks on his national examinations.
Sen village was recognized as one of the national cultural historical relics by the Ministry of Culture and Information (now the Ministry of Culture, Sports and Tourism) in 1979.
[h/t Vietnam Net // Photo via Joey Yen]