The answers to life's burning questions are often found in unlikely places. A cozy 'birds' nest' café at the end of a crumbling alley fits that stereotype rather well. At 7.30 every Wednesday night, locals and foreigners alike can be found there, huddling up against well-stocked bookshelves, sipping tea and shaping realities. This is the Hanoi Philosophy Forum.
The driving force behind the event, Jon Dallas, is an American with a background in Philosophy and Performing Arts. Though he's initiated a number of creative projects across Hanoi, and the group is clearly popular, Dallas had humble intentions when he first set it up.
"I'm a person who is extremely motivated by other people," he tells Saigoneer. "I never intended to be a leader of these groups, but there was a void. I felt like I wanted to hang out and share cool ideas with people, so I created these groups in order to do that."
Since March 2017, the group has focused on a different philosopher or idea each week, with past themes including Nationalism, Jordan Peterson, and a whole series on Existentialism. A core group of around 30 members attends regularly, though most sessions see a higher turnout.
Unsurprisingly, it's the more controversial and modern topics that pull the biggest crowds. A recent talk on polyamory drew in a crowd of 130 people overall — by far the most popular event held to date. More recently, they held a philosophy night with an open mic format, with speakers giving one-, five- or 10-minute talks on subjects such as free will or 'the Singularity.'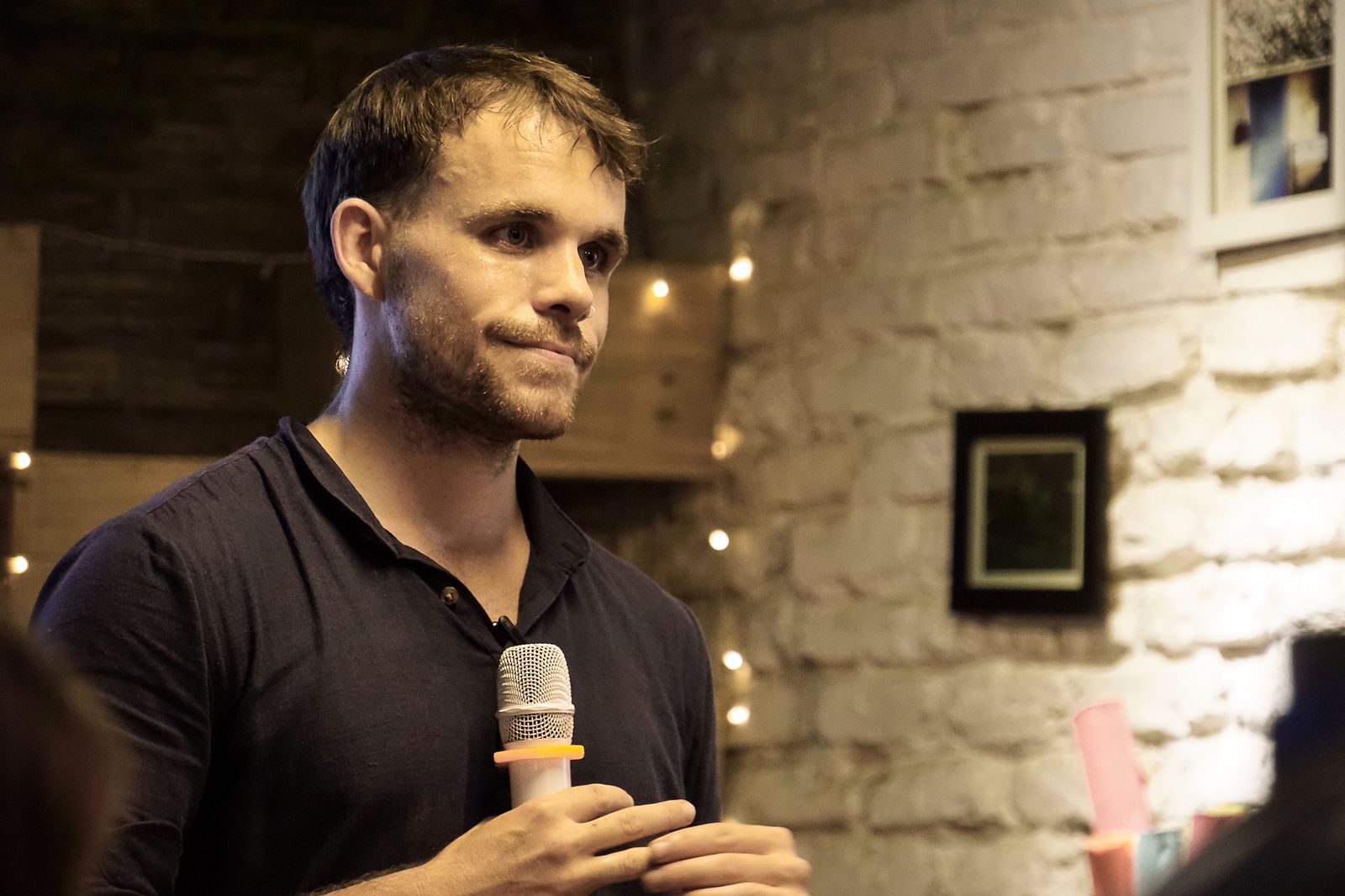 "The goal," Dallas adds, "is to provide a platform for everyone to share. We all have big ideas that are best told in long form but general conversations only allow for a minute each way. That's a solid way to build an idea with another person and that's a cool thing to do. But sometimes, there's an idea that you've had for a long time that you want to get out, and it's really hard to do so in those normal conversations. Feminism, rationalism, snowboarding or electronic music — whatever it is that you dig, let us know why and we'll discuss it."
The venue, To Chim Xanh Cafe (Bluebirds' Nest), acts as a great setting for this platform and each session provides a compelling insight into the minds of those who reside in the city. Each meet-up comprises of an array of characters — some with clear, loud agendas to be shared; some more meek and timid; some keen to make new connections and friends and others who just want to observe.
For some members, like Rob Gillespie, the overwhelming value of the group has been the opportunity to meet people and connect. Hanoi is known for having an ever growing 'bubble' of expats and some residents find it difficult to bridge the gap between social groups.
"I'd spend time going out just not meeting people I really resonate with," he says. "My friend Mai brought me to a meeting and it was so wonderful. I learned about some new philosophy, challenged some of my own ideas and beliefs and made some great new friends. Jon has created this wonderful community and in the times today I find that creating community is the most important thing we can do."
Pham Thanh Hai, another regular attendee, feels the forum "opens up an opportunity for Hanoians to access great ideas, and to explore the world in a different way, with people who have the same desire to learn and to share." Hai notes the accessible nature of the sessions, likening it to "that same feeling when you go out with your friends and after going home, you don't remember anything in particular, but the feeling remains with you… And you will ask your friends out again sometime."
For Dallas, the aim is clear: "While the goal is to have a space where foreigners and Vietnamese are sharing about deep moral structures in a way that is invaluable, I also think, in general right now in the world, there's almost nothing that you could be doing better than just bringing people together, regardless of the circumstance."
The sense of community and unity Dallas has created really is palpable at the meetings, as is the clear desire to get to grips with complex and significant ideas. This drive for community, however, doesn't always fit comfortably with some of the opinions the ideas bring out in people. Yet at a time where the echo chambers people exist in are becoming both more visible and more pronounced, disagreement can be a worthwhile tool for increasing empathy.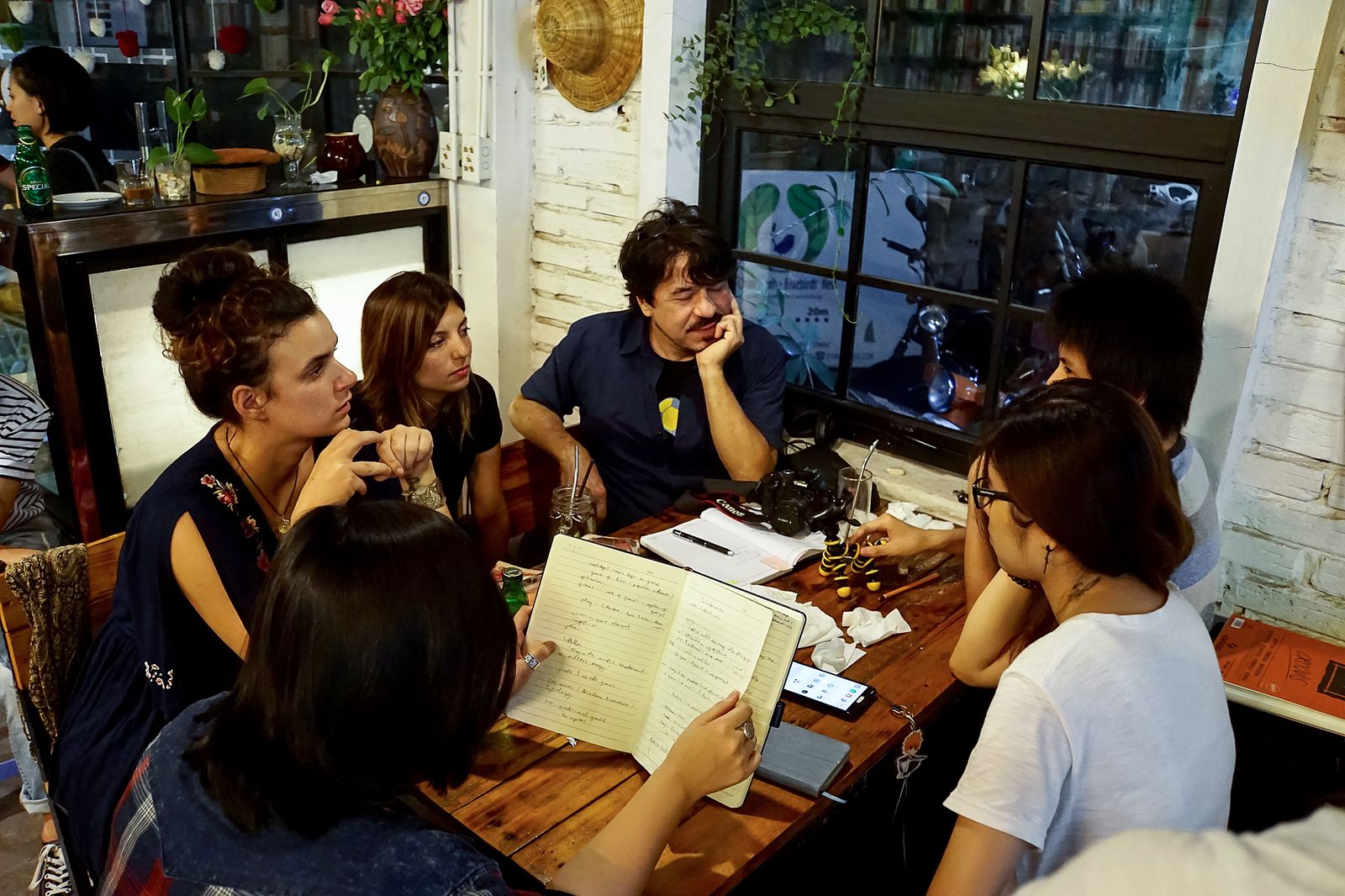 At a recent meeting focusing on the issue of cultural appropriation, one attendee shared that he had expected to be surrounded by like-minded people, but instead found his perspective was in the minority. That evening, tense discussions led to greater understanding, although perhaps not to greater friendships.
So is the desire simply to create a space where discussion acts as a vehicle for confirming each other's beliefs and enables small groups to sit comfortably together in solidarity? Sometimes, the answer to that question is yes. Sometimes, that respite is needed. But one gets the sense that Dallas has higher hopes than this.
The community aspect is incredibly important, but so is the opportunity for learning. If differences of opinion are not provided within a space where they can safely go head to head, then understanding will remain limited. Community and conflict rarely go hand-in-hand, but then again, philosophical debate doesn't always stick to the business of providing comfort.
Dallas, passionate and articulate as ever, has absolutely no doubts about the importance of the space he's helped to create. He's also aware, however, that some people might feel hesitant about attending and he has a clear message for them.
"Philosophy used to be a sort of therapy for the soul," he says. "We all have these questions that are burning inside of us and the idea that this process should be exclusive is just insane to me. I want this to be as accessible a venue as possible, always."
"Every single opinion matters. Some attendees have master's degrees in philosophy and for others, it's the first time exploring these concepts. The policy of the group is simple," he concludes, "regardless of where you sit on that spectrum, we want to hear your voice."
---

Related Articles:
---