There is a German proverb – "Alle guten dinge sind drei" – which refers to the joy gained from one's efforts. Living in the digital age, we are blessed – or cursed, depending on your point of view – with instant access to unlimited information.
We don't get the same satisfaction which previous generations experienced when searching for a good old book and taking in the smell of rigid, stained pages.
Though sadly disappearing, there are still corners of Saigon where small shops are maintaining analog book culture.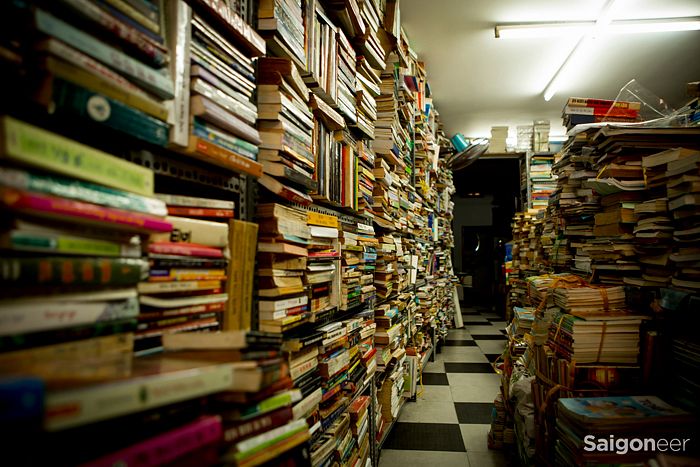 Before 1975, books were typically sold by street vendors rather than proper stores. Stacks of books were spread out on the pavement and placed on top of a piece of cloth so that when the police came, vendors could quickly grab the four ends and run.
Interestingly enough, this kind of "bookstore" still exists today on streets such as Ba Thang Hai, Ky Dong and Nguyen Thi Minh Khai.
As time went on, just like most businesses in Vietnam, old book vendors gathered on one particular street. This collection of booksellers wandered around District 1 but usually could be found on Le Loi, Nguyen Hue and Nguyen Thi Minh Khai.
The age of the book street has come and gone, save for a section of Flower Street during Tet, and old book vendors are scattered about, though some congregate on District 10's Tran Nhan Ton Street and Tran Huy Lieu Street in Phu Nhuan District.
Books once paved both sidewalks on District 3's Nguyen Thi Minh Khai, but is now home to only one or two shops such as Quang Huy bookstore. Like most old bookstores, the shelves in front attract modern customers with the latest best-sellers. Those who prefer the aged, yellow-paged variety must explore the store's inner depths, where piles of dust-covered books are stacked up to the ceiling, containing volumes both in Vietnamese and foreign languages.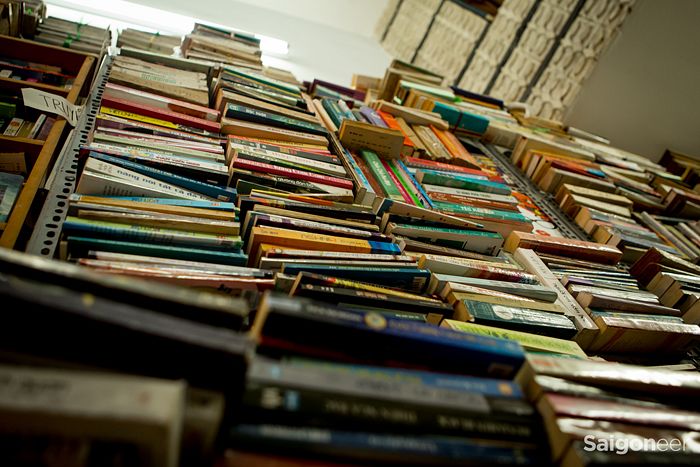 While a rarity in District 3, it seems even harder to buy old books in bustling District 1. You can try your luck at the small bookshops that sit in the backpacker area, but a bit further down, at 337 Tran Hung Dao, stands one old, forlorn bookshop with tattered walls and shelves filled with old books and magazines.
With around 15 small shops along Tran Nhan Ton Street, this is probably the first place for old book lovers to begin their quest. Here, books are fairly well-organized into sections such as comic books, pre-1975 magazines and famous literary works of both Vietnamese and English authors, dating back to the mid-20th century. But just because they're well-organized doesn't mean things are neat: books are piled on shelves, in cabinets or simply stacked on plastic chairs.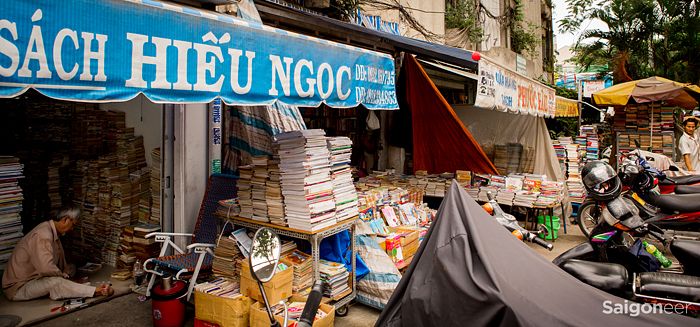 While bookshops on Tran Nhan Ton mainly specialize in older editions, at the other end of the city shops on Tran Huy Lieu Street mix the old and the new, though fewer than five shops here still offer a nostalgic selection of books.
When asked, an owner of one of these bookshops agreed that the book business is dying, at least partially due to the domination of technology. "Nobody feels the need, or should I say, the good feeling of holding a real book anymore," he told Saigoneer with a sigh. And as he made this statement, my eyes wandered to the cafe across the street where everyone seemed to be enjoying the company of their phones.