Everywhere I go in Vietnam, I keep my eyes peeled for the incredible birds that call this country home. Sometimes I don't even realize that I'm doing it. I scan the horizon above low hills for migratory hawks. I stare into breaks in the foliage for passing buttonquail. I peer into rice paddies, fingers crossed for a cryptic snipe. And, of course, there's Facebook. I refresh Facebook over and over again, waiting for the arrival of the mandarin duck. Its scientific name is Aix galericulata, which one assumes means "prettiest goddamn duck in the world."
In actuality, "aix" is an Ancient Greek word first used by Aristotle to refer to an unknown diving bird while "galericulata" is the Latin for a wig, derived from galerum, a cap or bonnet. This is the kind of bird so utterly magnificent that you basically assume you'll never see it. Mandarin ducks breed in the dense and isolated forests on the edge of rivers and lakes in far eastern Russia, China, and Hokkaido, Japan; the total number tallies up to just a few thousand pairs. During the winters they migrate southwards, fleeing the subarctic temperatures of their breeding grounds for the warmer swamps and flooded fields in central China. And every winter there is a single family group that decides to fly a little farther than the rest: about a thousand kilometers farther, to a hidden lake in northern Vietnam.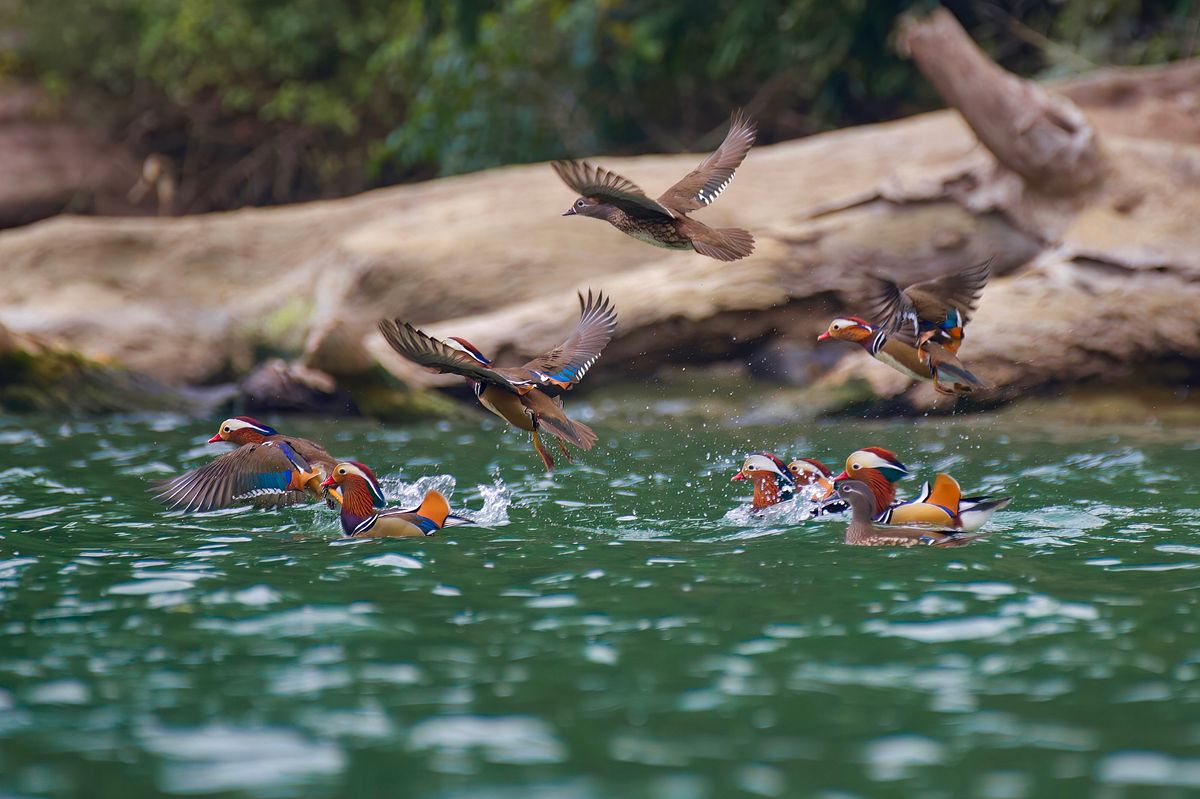 Ba Bể is the largest natural lake in the country, and the heart of Ba Bể National Park. While only four hours from Hanoi by car, this treasure of the northern mountains is often skipped by Sa Pa trekkers and Hà Giang road trippers. But it is not ignored, thank goodness, by the Vietnamese birdwatching community. Steep limestone cliffs and primary forest all around the lakeshore make Ba Bể a hidden haven for birds, including the too-beautiful-to-be-allowed mandarin duck. My search for the duck during the migratory season begins online, where Vietnamese birdwatchers share their photos, tips and secrets.
Birdwatchers like Nguyễn Mạnh Hiệp, a senior official at the Vietnam Administration of Forestry, who keeps tabs on the ducks by staying in contact with national park rangers. There's also Nguyễn Thanh Sơn, an office worker and wildlife lover in Hanoi who, like me, relies on a network of bird and photography enthusiasts to let him know when incredible species like the mandarin duck are spotted. This winter, when the prodigal ducks returned, photos of them immediately began to pop up among this insular community of dedicated birders. Sơn decided one afternoon that he had to see them, and the next morning he was up at 3am to make his way north. I was on a business trip in Thailand when they appeared, and the moment I returned to Hanoi I was on my way, too, not wasting the hour it would have taken to go home and drop off my luggage.
Mandarin duck is the kind of bird so utterly magnificent that you basically assume you'll never see it.
The passage into Ba Bể felt very much like entering another world — so much so that it's worth saying this, despite the cliché. I joined my friend Bùi Đức Tiến, Vice President of the Vietnam Bird Conservation Society, and together we caught an early morning boat from town that coursed down a narrow river feeding the lake. We passed through an enormous limestone cave, coming out on the other end to the secluded sanctuary of Ba Bể. I was, of course, deeply anxious. We did not yet see the duck. It was far from certain that we would see the duck. I'm not sure I can describe how much I wanted to see the duck.
And then, there it was. It was Tiến, of course, who spotted it first: a single male, perched on a tree that overhangs the water. We cut the engine and coasted towards it. I lay on my stomach on the bow, steadying my camera and holding my breath. The duck, who has, in the past weeks, flown on little wings across a significant portion of the Asian continent, was totally relaxed. He was, without exaggeration, one of the most beautiful birds on a planet so richly populated with beautiful birds. Purple, indigo and chestnut splayed from his body at odd angles, like ornate shavings of tinted glass. What a thing it is to behold.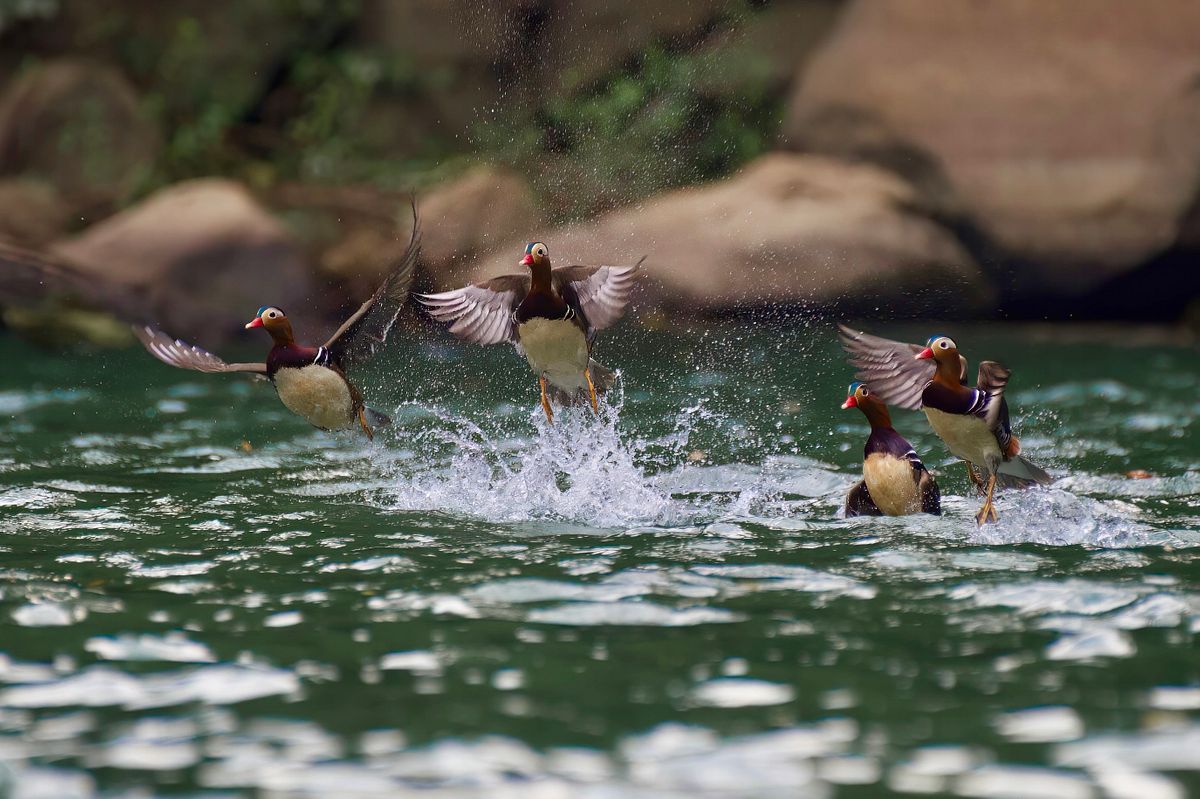 The Vietnamese name for these ducks, chim uyên ương, can be literally translated as "love bird." Vietnamese novelist and translator Nguyễn Hiền Trang points out that the name comes from the Chinese language: yuanyang (鸳鸯). In both Vietnam and in China, these ducks have a cultural significance dating back millennia. Mandarin ducks first started to show up in ancient Chinese poetry more than 1,500 years ago, appearing as symbols of both romantic and fraternal love. In Vietnam, terra cotta mandarin ducks decorated palace and pagoda towers during the Lý and Trần dynasties. The ducks even make a few appearances in the classic Vietnamese narrative poem 'Chinh Phụ Ngâm Khúc' once again as symbols of devotion and love.
Why symbols of love, you ask? The answer is in their duality. With ostentatiously colored males and much more modest females, the mandarin duck embodies the balance of yin and yang — gendered forms of the feminine earth below and the masculine firmament above. Perhaps owing to this legend, people across the ducks' migratory route believe them to mate for life. But while lifelong monogamy isn't unheard of in the world of birds, I regret to inform you that, in the case of these ducks, it is indeed a love story that's too good to be true. Male mandarin ducks may be beautiful, but they are also carousing ruffians, hilariously unfaithful lovers, and absentee fathers.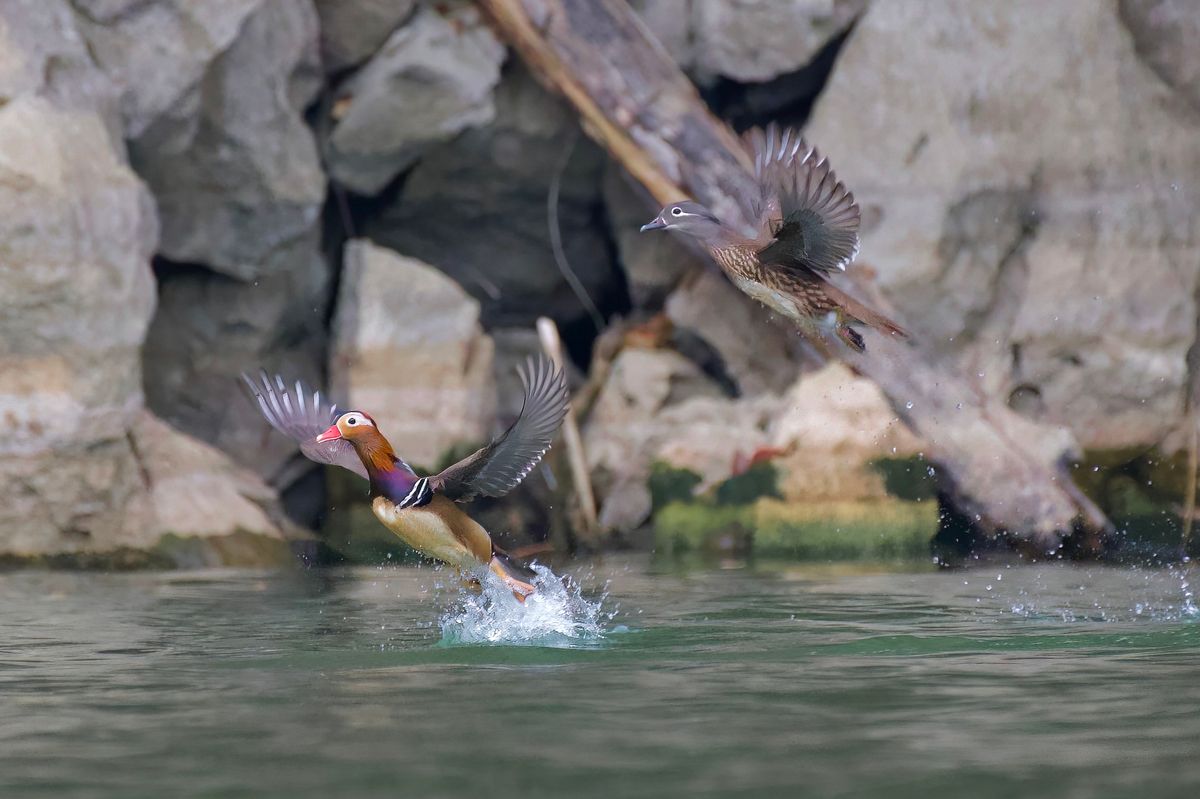 But that name, love birds, still rings true. One of the joys of birdwatching is escaping the self, and spending time appreciating an animal entirely on its own terms, and in its own world. Love birds may better describe the feelings that the mandarin ducks give us than it does their talent for monogamy. Judging by their prominent place in ancient Vietnamese culture, we can guess that there used to be a whole lot more of these ducks flying around than just this one family, at this one hidden lake. But with a growing number of Vietnamese people committed to protecting these creatures, we can hope that they will remain safe for generations to come. That's what we could all use in times like these, I think. More birds. More love.