After a two-year stint as an English teacher in Saigon, Nick Melhuish decided that it was time to call it quits. He moved to Da Lat with his partner Brianna and his dog Sausage to open a bed & breakfast and roastery called the London Saigon Coffee Company.
"I knew I had to immerse myself in the coffee business," Melhuish told Saigoneer about his idea to move to the highlands city. "The back end stuff that people aren't aware about. People talk about coffee processing like its an abstract idea."
Most baristas and roasters from countries that do not grow coffee domestically have few opportunities to interact with farmers and processors.
We visited the Alexander Specialty Coffee Estate, a coffee-processing workshop run by Jyun, who hails from Taiwan. Jyun and his business partner, Jane, are both certified coffee Q graders from Taiwan. They spend three months each year in Da Lat acquiring quality coffee cherries from local farmers and carefully processing them into green unroasted coffee.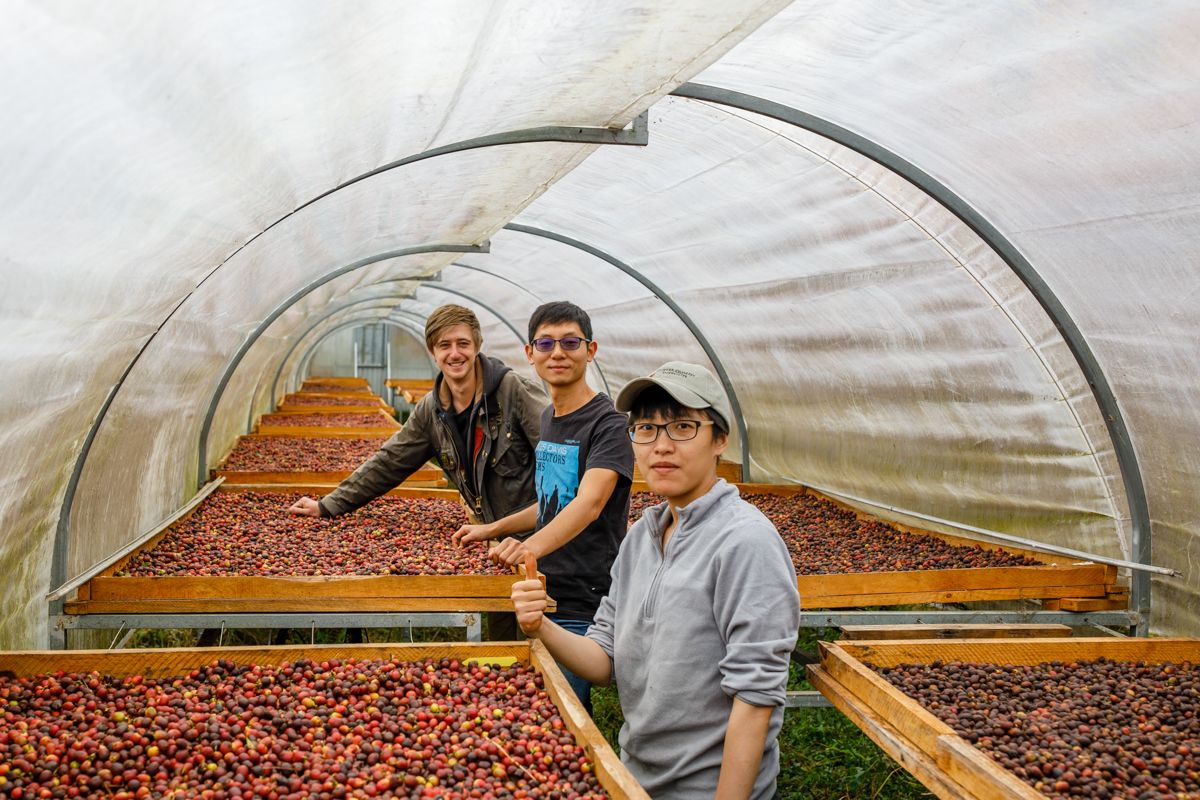 Beyond processing coffee for export to Taiwan, the duo spends the rest of their time educating neighboring coffee producers and providing seedlings of different varietals to them.
One of the biggest barriers to good cupping quality is the immense difficulty of picking cherries at their peak ripeness, right before they began to become too ripe, which results in unwanted fermentation. Universally low wages of cherry pickers give them little incentive to select only ripe cherries; they are paid by the kilogram. Unbeknownst to most, coffee cherries on individual trees almost never turn ripe at the same time, making menial work even tougher.
We spent that morning doing an informal cupping session of Jyun's roasted beans. I asked him briefly about the status of Vietnamese coffee in a specialty coffee-loving country like Taiwan.
"There are three kinds of people. The first [type] dislike anything from Vietnam. The conversation ends when you mention Vietnam. The second group has never seen Vietnamese beans; they become very curious. And the last group are those who have visited Da Lat; they know about the quality," he explained.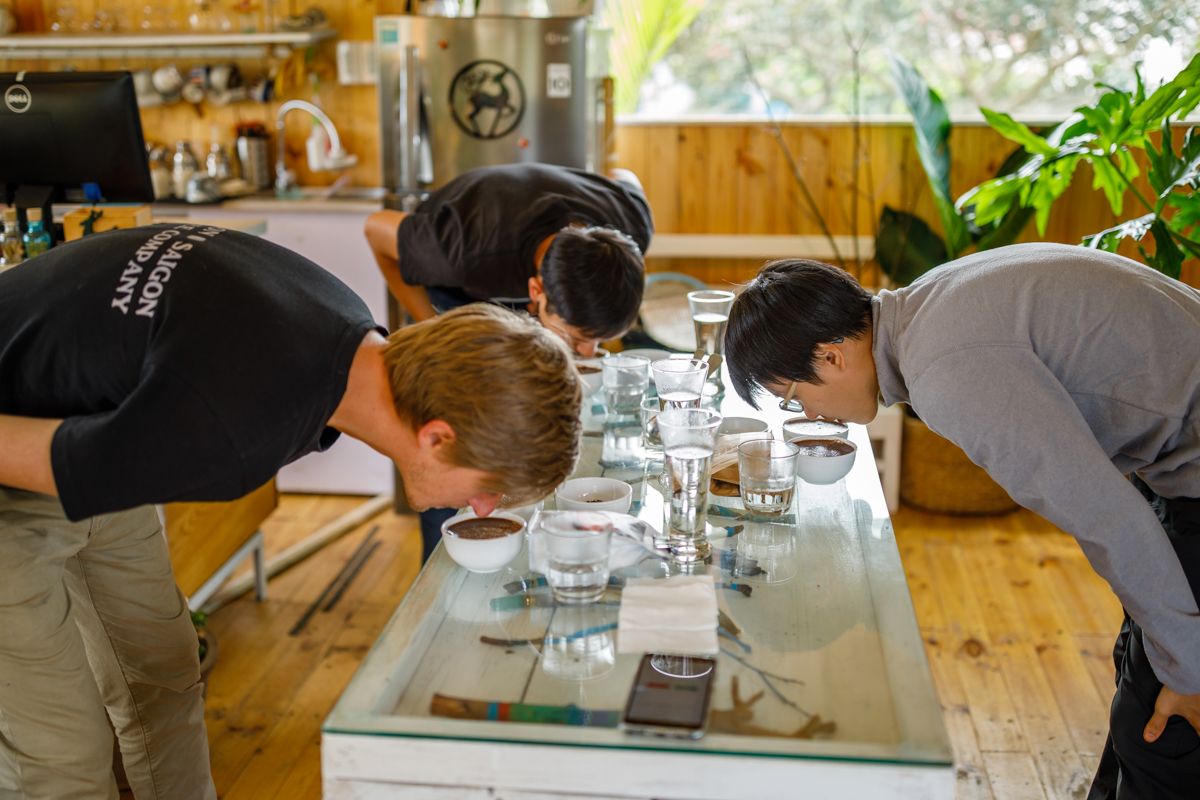 Jyun hopes to develop Alexander Specialty Coffee Estate into a homestay, cafe and coffee-processing workshop that offers a well-rounded experience for tourists. Melhuish also runs a vegan restaurant that serves up specialty coffee from London Saigon Coffee Company, as well as a daily rotation of guest coffees from nearby farms and roasters.
Our final mission was a pilgrimage to meet the enigmatic Mr. Ngoc, who grows and produces a good amount of Typica and Bourbon coffee; Arabica varietals that are scarce and highly sought after in a market dominated by Robusta and Catimor hybrids. Based in Cau Dat Village, 12 kilometers from central Da Lat, Ngoc is working to change the dynamics of coffee farming.
"My core belief is to bring everybody up together, to grow together. [But] we need to do it step by step. Compared to the rest of the coffee world, Vietnam is still an infant," he shared.
Melhuish and Ngoc share a similar philosophy and have become good friends. To Ngoc, education is key. He recently formed a cooperative which consists of more than 20 farms in the vicinity, increasing income for the village and allowing him to spread his farming techniques to other farmers to enhance quality and yield.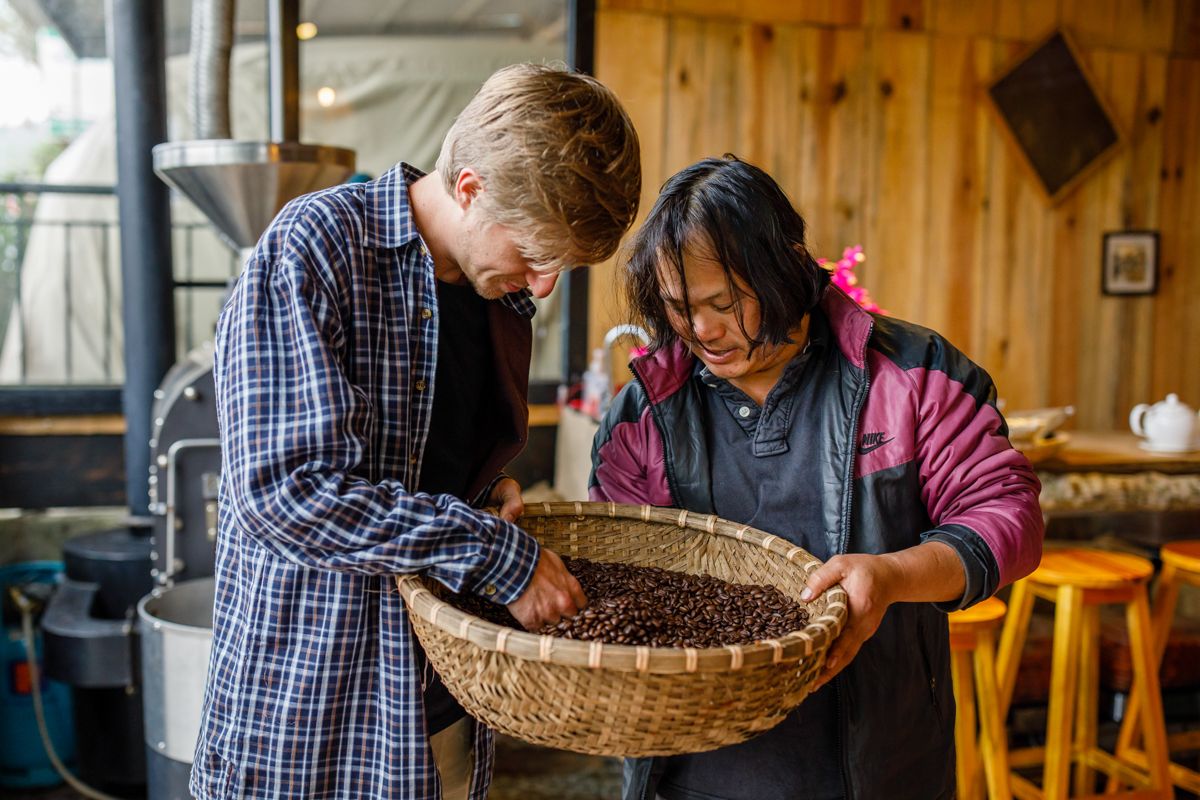 Ngoc explained that the density of the mist in the highlands provides coffee trees with a good supply of nitrogen, producing coffee cherries with higher levels of sugar and lamented that "the biggest problem we face now is the lack of a hulling machine for natural process coffee."
Natural process coffee is named without even an ounce of jargon or mystery. Picked coffee cherries are dried naturally, and the flesh surrounding the beans ferments without much human intervention. The dried flesh is thus also notoriously difficult to remove.
"Oh, my Taiwanese friend is importing some [natural process coffee]. I'll ask him for you," Melhuish said, recalling a recent conversation with Jyun at his workshop.
"Okay! I want to buy one," Ngoc exclaimed.
---