More often than not, the best things in Saigon take place on the sidewalk. Whether moonlighting as a parking lot or a restaurant, a barbershop or a spa, the lề đường is a rich eco system of all things Vietnam. One afternoon, as I trundled down Truong Dinh alongside Saigon's many motorbikes, a row of beautifully-framed calligraphy paintings caught my eye. Red, black and white, their eloquent letters stopped me in my tracks. Here, amid the busy and dust-filled Saigon traffic, was a corner of calm and tranquility.
---
Related Articles:
- A Bold Move: The Story Of A Saigon Jiu Jitsu Artist
- [Video] The Saigon Shoemaker Who Made Kicks For Kings - Part 2
- [Video] Inside The Mind And Shop Of A Saigon Bike Fanatic

---
Thư Pháp, or calligraphy, is an ancient art form with Chinese origins. Thư means 'script' and pháp means 'rule', making this the rule of writing. In Vietnam, Chinese characters were replaced by romanized script during the 17th century, creating a fusion of east and west. Over time, Vietnamese calligraphy's own unique style evolved, serving as a vessel for the country's many artistic traditions.
From afar I saw the sidewalk calligrapher, hunched over a small plastic table. He seemed isolated from the constant thrum of the thousands of bike engines. Lost in his own world, the man focused solely on the movements of his brush: precise, effortless strokes that looped and curved across the page. I knew right then that this was a master. I sat there for a moment, wishing I could capture the moment, before Saigon's steady stream of motorbikes took me away. I had to come back and speak to him.
A few days later, notebook in hand, I return. We exchange greetings and I sit with him while he works. Nguyen Hai is a humble man who is wholly passionate about his craft. Through books and an enthusiasm for the art, Hai taught himself calligraphy over 12 years ago. What started as an interest is now his livelihood, and it was the encouragement of famed calligrapher Bui Hien which led Hai to choose this path.
Today, Hai plies his trade on the sidewalk of Truong Dinh, overlooking the crush of traffic that rolls down Dien Bien Phu. This has been his spot for the past eight years, Hai says. In fact, Truong Dinh used to be the calligraphy street of Saigon, with several artists running the length of the block, but due to strict regulations on street vending, Hai is the only one left of the old timers.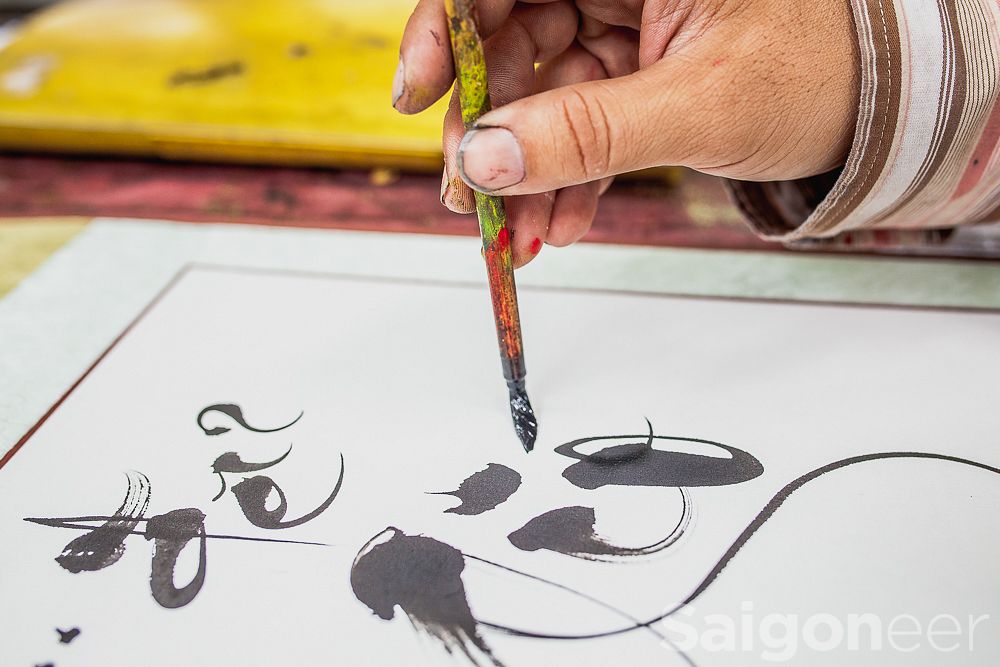 "The police used to come and clear me up. Those times were hard," he recalls. "They're more understanding nowadays, though. I'm not mad at them; they were only doing their job."
Also a poet, Hai fuses his calligraphy with poetry to create a multifaceted work of art. What started as an interest is now his business model: upon request, Hai uses the names of his clients as the centerpiece of a poem which is then written in beautiful calligraphy.
While catering to so many different customers may seem difficult, Hai finds there are common themes in Vietnamese culture which often help to anticipate what that person might prefer. Younger people are often aspirational, he explains, therefore their pieces usually speak of striving towards success. Older customers develop a heightened sense of family values, which Hai uses to write verses wishing happiness upon the customers' loved ones.
As western trends catch on and Vietnamese society changes, many traditions and values are being lost. Calligraphy is moving toward this same fate, however people like Hai are part of a small few fighting to preserve local culture. Though calligraphy can easily be recreated, manually or digitally, this instant version of the long-held art has begun to cheapen its impact on the public. For Hai and his fellow calligraphers, such hasty renditions lack hồn, a term often used in calligraphy meaning the spirit of a piece. But he also recognizes that the old ways can't resist evolution.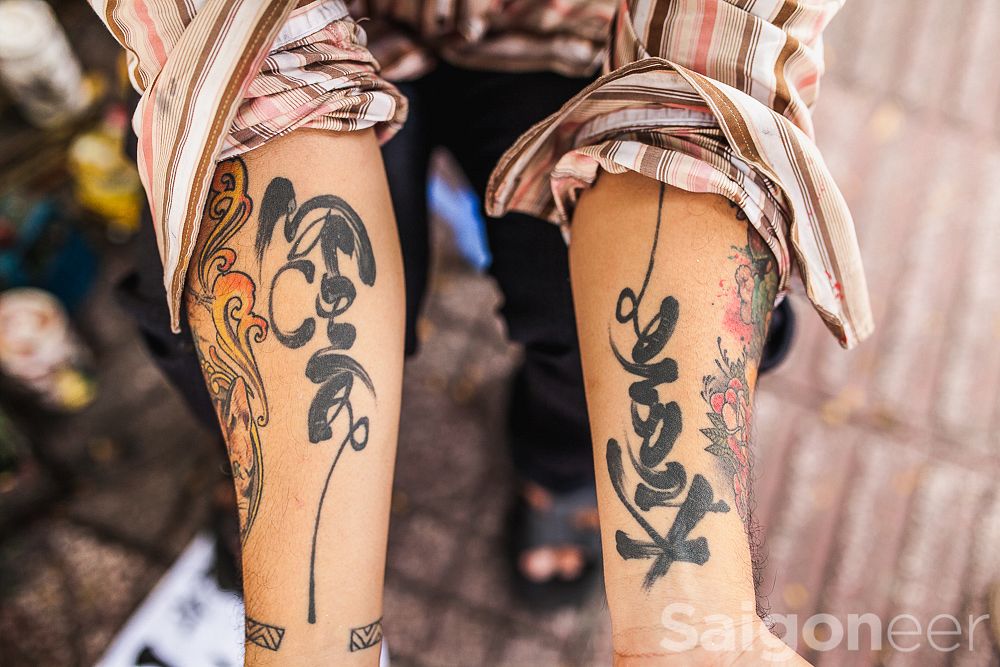 "It's not the younger generation's fault that they don't understand calligraphy," he says. "Calligraphy has to catch up to the younger generation."
Hai has given this problem a lot of thought. Though most of his clientele are middle-aged, he knows he'll have to make adjustments if he wants to keep calligraphy alive in these changing times.
That's where English comes in. Though he speaks very little, Hai aims to harmonize Vietnamese calligraphy with the English language to create a wider appeal for younger generations. He hopes to one day open a calligraphy center in Saigon where the art can be recognized and studied.
"If I win the lottery, that's the first thing I'm going to do," he says.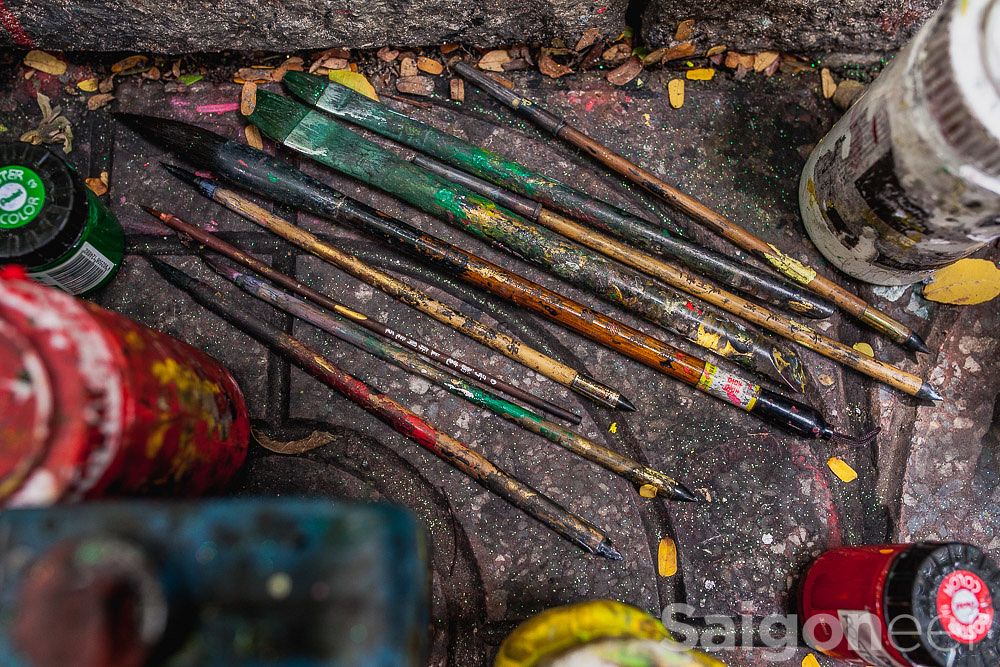 While the fight against Vietnam's fast-changing society may seem like a losing battle, it's also made Hai open to trying new things. It is rare for the master of a traditional art to leave such room for new possibility, but this is what sets Hai apart from the many calligraphers of Saigon. Adding modern touches to his age-old craft may be unorthodox, but Hai accepts that change is necessary for survival.
"We need to be brave and try because if we don't the art will die for sure," he explains.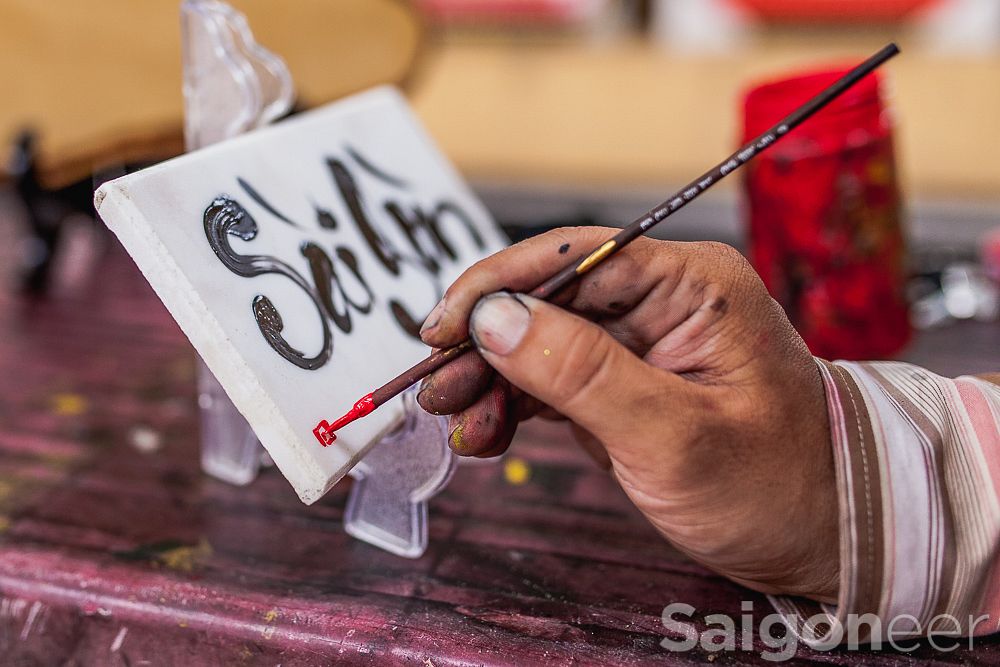 Brush in hand and a red fan on his lap, Hai smiles and returns to his writing. The rumblings of the city begin again. As I head off, back into the chaos of Saigon, Hai stays in his spot on the sidewalk, day in and day out, pursuing the art he loves.
For more of Nguyen Hai's work, visit his Facebook page. You can also find him on the intersection of Truong Dinh and Dien Bien Phu. Look for the a row of calligraphy paintings leaning on a yellow wall.
Shing Chan is a young writer and photographer currently interning at Saigoneer. For more of his work, visit his blog at www.visualishing.tumblr.com.