Years ago, the first time I ate cao lầu, I committed a cardinal sin. As I gazed upon my freshly assembled bowl of noodles, without much thought, I asked the waitress for more sauce.
She was cleaning the nearby table when she heard the request. After pausing for half a second, she smiled and said that she would be back with more sauce. The exchange seemed to have tickled my eating companion, a friend who's a self-proclaimed mì Quảng and cao lầu fanatic and who has made it his latest side quest to educate me on the delicacies of his home turf.
"What?" I raised my eyebrow at his smirk. "Nothing. Just that cao lầu is not a soup, so don't ask for more sauce next time," he explained while deftly maneuvering acrobatic moves with his chopsticks to make sure the noodles and herbs are well-mixed. As southerners, we are big and proud eaters. And I mean big not just in the physical sense, though we do have our fair share of grandiose ốc feasts and upsized phở, but also in our eating personality. More broth to heartily slurp to our heart's content, more beer towers to oil conversations all through the night, more beef slices in our bowl of phở just because we can. So when I see a bowl of noodles with half-full broth, I ask for more.
As it turns out, central Vietnamese cuisine has little patience for southern hearty and gluttonous antics, and people up there like their cao lầu just so — with moderately warm sauce that barely submerges the bed of noodles. One might think: this dish has four main ingredients, how fastidious can it be? The answer is very fastidious. Legend has it that to make the noodles, one has to soak them in ash water made from burning a tree indigenous to the Chàm Islands near Hội An. The rice flour must be mixed with fresh water from Bá Lễ, a decades-old well in town. Fresh herbs to garnish the dish, on the other hand, have to come from Trà Quế Village.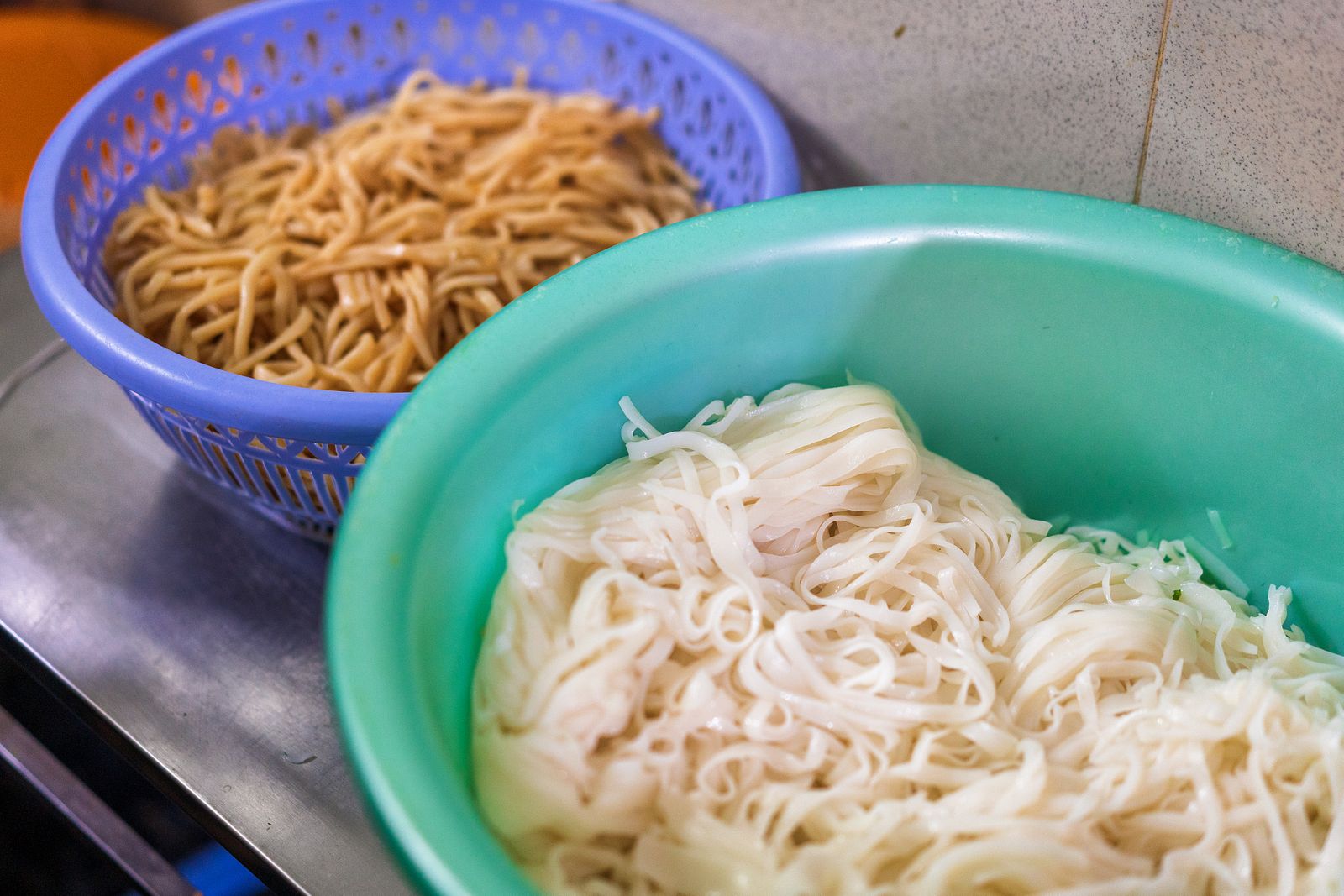 Rationally, I understand the specificity: each ingredient has its own chemical makeup that's unique to the soil, air and water of Hoi An — all of which give the dish a special taste that transcends its rather rustic appearance. Still, that's an impossible standard to live up to for cooks everywhere who aspire to replicate the elusive cao lầu at home. The mythology of cao lầu, moreover, has turned me off trying to find it elsewhere, because why bother when the attempt might turn out subpar anyway, even when I know that Saigon has a sizable community of residents who hail from central Vietnam who might do the dish justice. Which is why I'm grateful to have taken a leap of faith to try out the cao lầu rendition at Mì Quảng Trí Hội An.
This particular neighborhood in Tân Bình District, as I've come to learn, is a treasure trove of central Vietnam fare. It could be confusing for first-timers as there are up to eight streets all named Bàu Cát, all in the proximity of Bà Hoa Market, which itself houses scores of eateries doling out heaps of bánh bèo, mì Quảng, shrimp paste, rice crackers, etc. Mì Quảng Trí Hội An is a nondescript residential house on Bàu Cát 2, an otherwise quaint street sheltered by rows of luxuriant trees.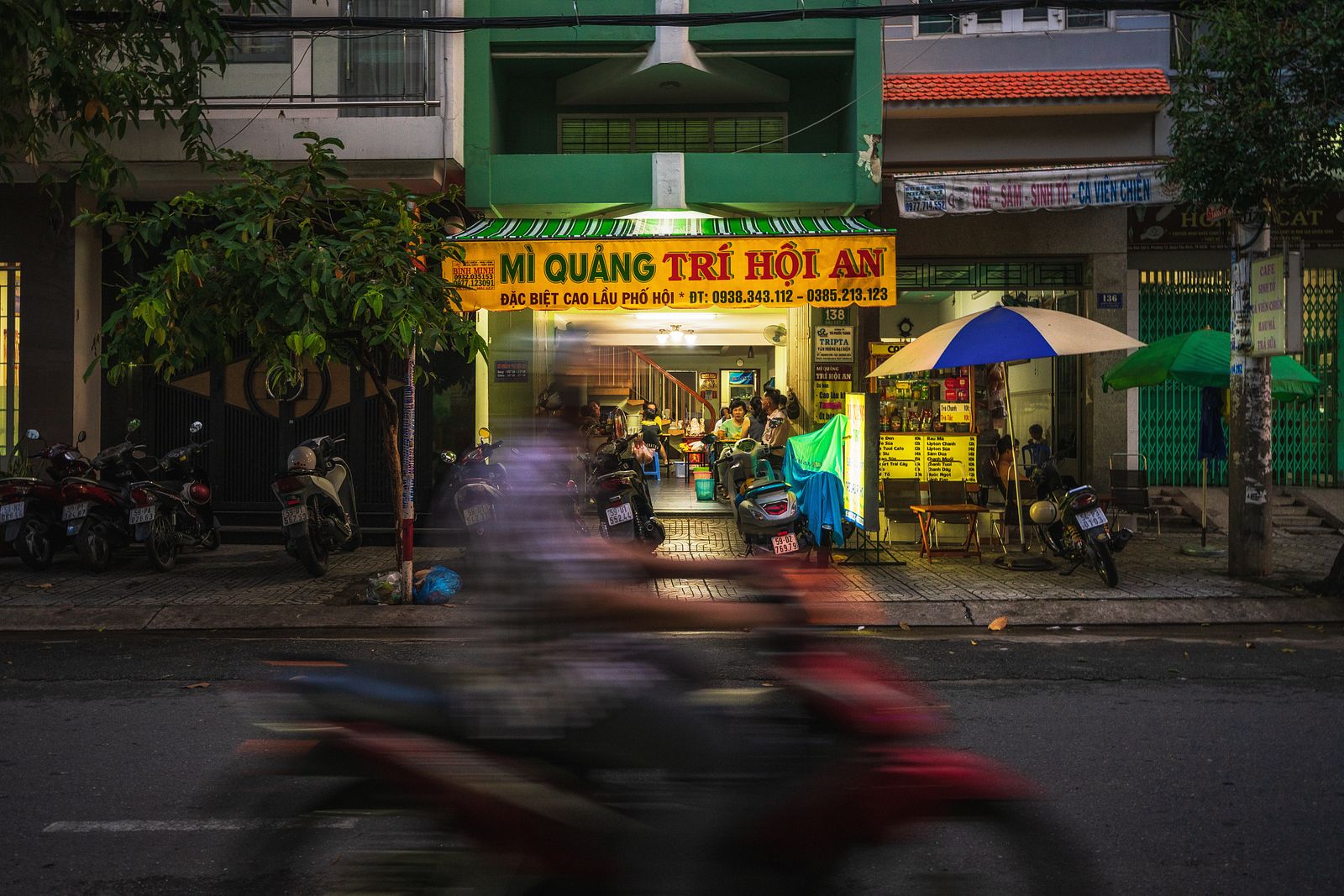 According to an intern who led us to its doors, the restaurant has been a favorite spot of her parents, who are true-blue Đà Nẵngers, for decades. It only offers two main dishes, mì Quảng in several permutations, and cao lầu, along with some bean desserts that we were also very excited to sink our teeth in. True to its name, the restaurant is run by a former Hội An resident who settled in Saigon a long time ago, so I have utter faith in its recreation of the highly acclaimed cao lầu.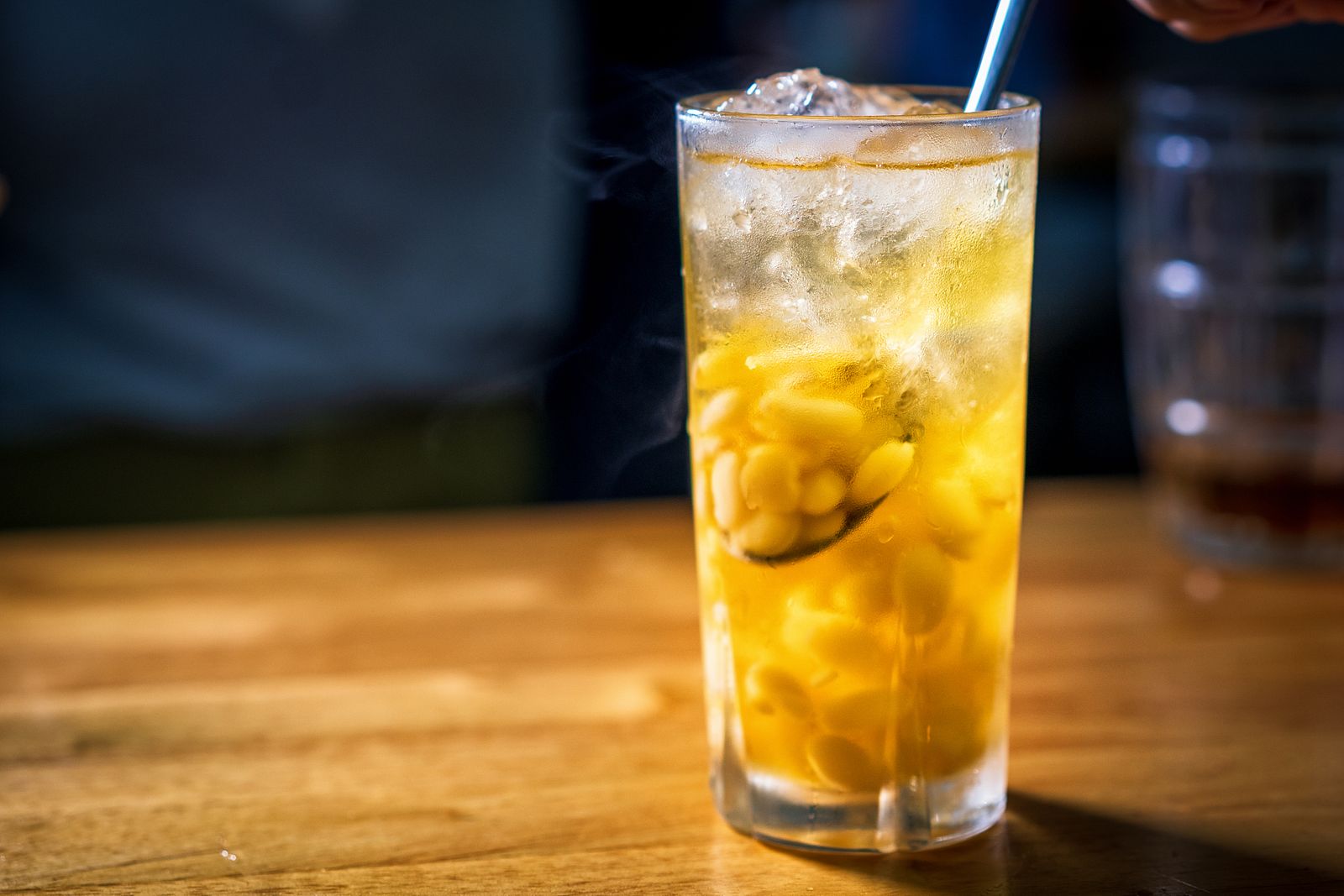 It's impossible to render on paper the range of feelings that were swelling in me the moment our portion of cao lầu materialized on the table. Over the years, like a beloved relative who has long passed away, the idea of cao lầu has faded into an abstraction of itself in me. I remember how it made me feel, but its impressions on my senses have become a postcard lodged deep inside the distant drawers of my mind, its details obscured by shadows. So to see it in the flesh evoked a host of visceral reactions.
Slabs of browned pork that emit a gentle waft of five spice; bits of fluffy, crunchy crackers; a bundle of fresh herbs and beansprouts awash in a glistening sheen of sauce. And underneath, the most important components of all: thick strands of noodles marinating in a pool of mahogany, translucent sauce.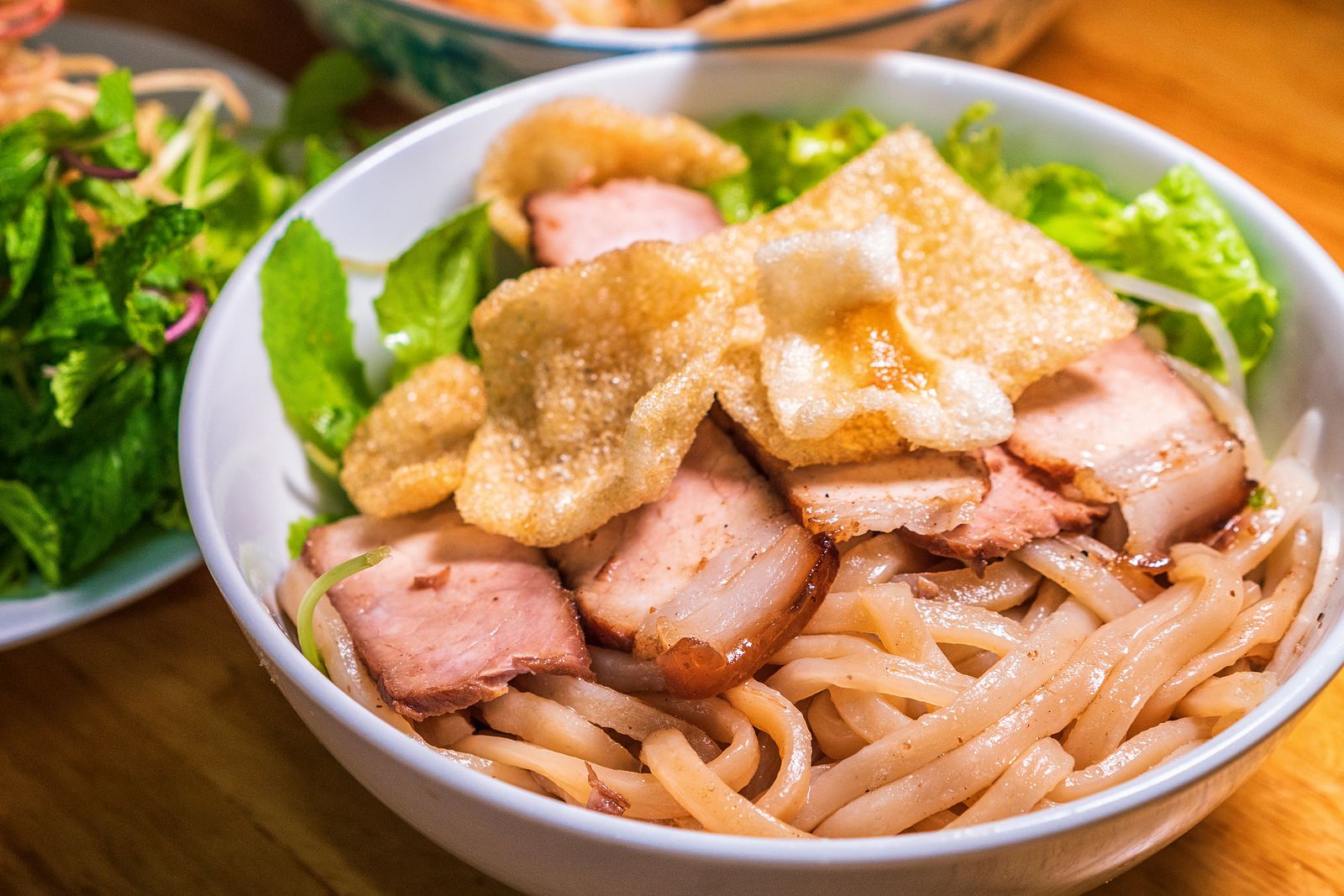 Perhaps the closest cousin to cao lầu noodles is Japan's udon, albeit only in shape and texture. Cao lầu noodles have an incredible bite that doesn't go away even after being soaked in the soy sauce. Its taste is also "cleaner" than udon, which has a doughy tang due to its wheat flour component. These slices of marinated pork will be the best you taste this month, or even year, as they're perfectly cooked with just the right amount of fat still attached. Its flavor is a call back to cao lầu's Chinese origins — full of spice, soy, a subtle sweetness and a punch of umami that brings to mind char siu.
At VND35,000, a bowl of cao lầu at Mì Quảng Trí Hội An is such a steal that I'm sad they're not located closer to me, so I can pay them a visit more often. Moreover, what makes this place special is that their price hasn't changed through the years despite Saigon's recurring rounds of inflation.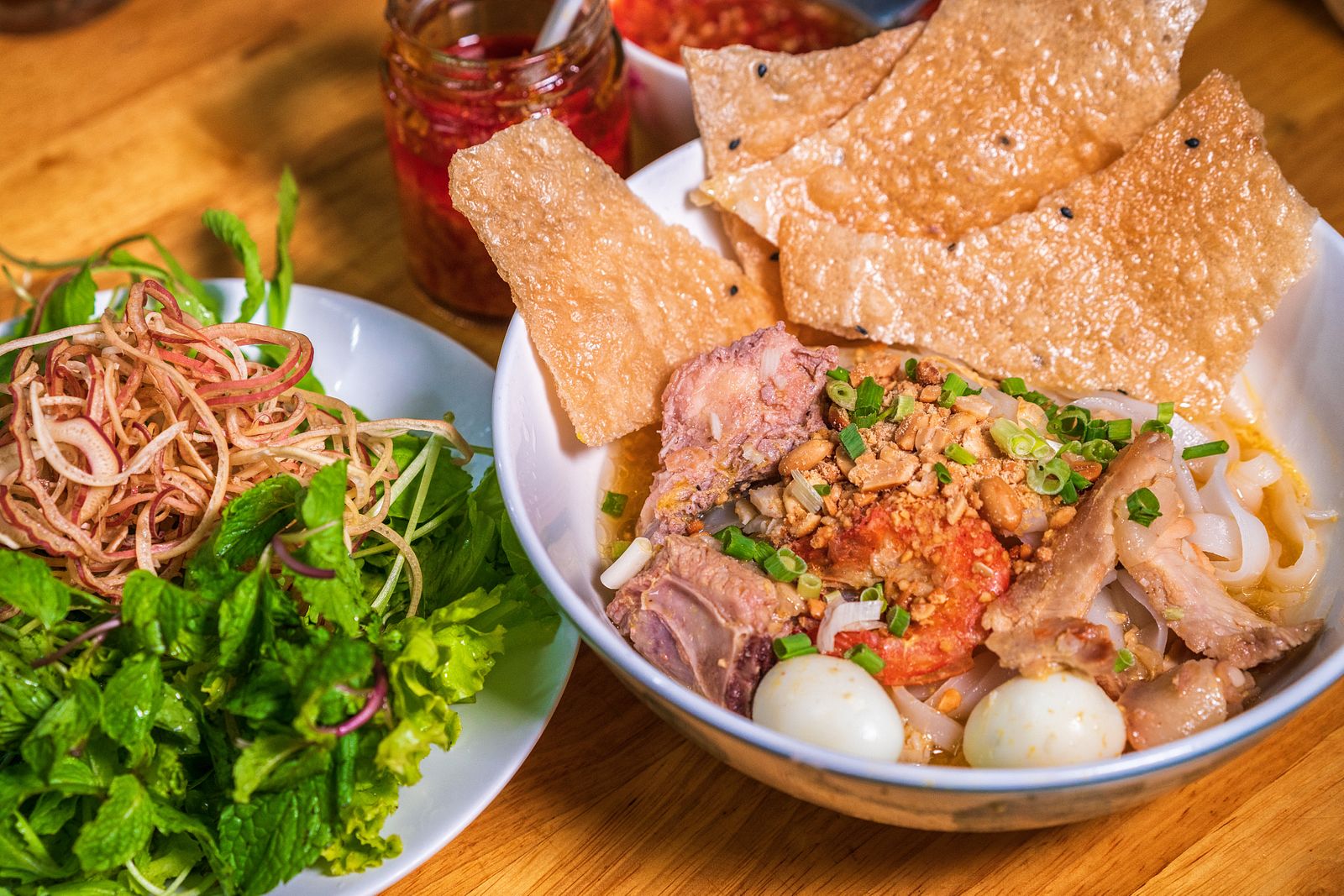 Apart from a superb cao lầu, Trí Hội An's mì Quảng is also a solid bowl of noodles, though it didn't inspire such emotions in me the way the cao lầu did, perhaps because mì Quảng is relatively well-represented in Saigon's food map. Wash down your noodles with a glass of refreshing iced trà đậu ván, an herbal tea made from roasted hyacinth bean, a taste that can only be described as gangster pandan meets smokiness.
As I polished off my bowl of cao lầu, one question remained — is this the best cao lầu in Saigon? To be honest, I don't know, but it's close enough that I will physically fight anyone who says otherwise.
Mì Quảng Trí Hội An is open from 7am to 1pm and 5pm to 9pm.
To sum up:
Taste: 6/5
Price: 5/5
Atmosphere: 4/5
Friendliness: 4/5
Location: 4/5
Khôi loves tamarind, is a raging millennial and will write for food.
Mì Quảng Trí Hội An
138 Bàu Cát 2, Ward 12, Tân Bình