What brings you to coffee shops? Novelty beverages, mellow playlists, a feeling of home, proximity, or just simply convenience — all are valid attributes that have endeared me to many of my favorite cafes in Saigon. But what about those unnerving times when you're out and about, minding your own business, when it quickly dawns on you that your business is about to become everyone's business if you can't find a bathroom, stat? Which cafes would you turn to?
As a person living with mild anxiety, I've spent many waking hours crunching hypothetical social scenarios in my head, mostly to prepare for disasters. For instance, noticing that I have forgotten to zip my pants, assuming someone's pregnant when they're not, or bumping into an ex and their new lover at FamilyMart. These are cringe-inducing, but one can get over it eventually, but one hypothetical is particularly harrowing: pooping myself in public is my greatest fear.
Saigon's public bathroom availability is dismal, to say the least; Tuổi Trẻ estimates that there are only 200 public toilets across the city, many of which are ill-maintained or often closed. Hence, while roaming in town, one often has to depend on the mercy of restaurants and cafes for bathroom emergencies. Pooping comfortably, I believe, is a basic human right usually overlooked, so I set out to compile this list to shine the limelight on a rarely celebrated amenity in Saigon's cafe scene: an excellent bathroom.
I never expected to experience such a paradigm shift before starting to work on this article. Everyone in Saigon has their own personal reasons why they shower some coffee shops with love and others with scorn. In my mind, cafes are divided into purposes: several are better for working than shooting the shit with friends, but a few are only reserved for when I need a decadent sweet treat; a bathroom visit wasn't one of them, until now. Shifting the focus to a decent bathroom completely changed the way I perceive my list of favorites, because, when assessed using a list of Best Bathroom criteria, surprisingly few of them pass. Thus began my wild goose chase across the city on the lookout for the next best thrones based on these five pillars of judging, in order of importance:
Hygiene: The most straightforward criterion. Is it dry? Is it clean? Are there animal species that shouldn't be there? Even though, thankfully, most cafes I visit can satisfy these requirements, more popular chains and locations tend to score lower on hygiene as staff can't keep up with the volume of bathroom visits.

Amenities: Must-haves are toilet paper, bum guns, soaps, working sinks, and doors. I am unsure if Vietnam invented the bum gun, but I am immensely proud of how we as a nation have collectively decided to make the bum gun a countrywide feature in bathrooms. Can you believe there are entire countries, like Singapore and the US, where people walk around with minuscule dingleberries in their pants? No bum gun equals an immediate disqualification, sorry Cheese Coffee.

Privacy: Can anyone hear you? Are there awkwardly placed windows? Look, we're all adults here, and pooping can get loud sometimes, so an excellent bathroom should be secure enough to contain all sights, smells, and sounds within, for both the sake of you and the people washing their hands outside. No cubicles.

Accessibility: How many toilets are there? How long is the queue? How easy is it to get to the bathroom the quickest way possible? Do you have to waddle up four floors while clenching your butt? The parking arrangement is not directly related to the bathroom quality, but good contenders should have parking as close to the bathroom as possible. For this reason, department store cafes are instantly disqualified.

Ambiance: When all the basics have been covered with aplomb, some little touches can improve your bathroom comfort and serve to demonstrate the cafe operator's attention to detail and good taste. Additional points are given to elegant decor, plants, lighting, music, scents, and more.
Despite the headline, the list of Saigon cafes with fantastic bathrooms provided below is not exhaustive because, even with the rigorous research and field experience I have conducted, there is no way I, or any Saigoneer for that matter, can realistically assess all of the city's coffee shops. Here is my personal Top 5, let me know yours.
5. Saveur Cafe
Address: 11 Nguyễn Văn Nguyễn, Tân Định Ward, D1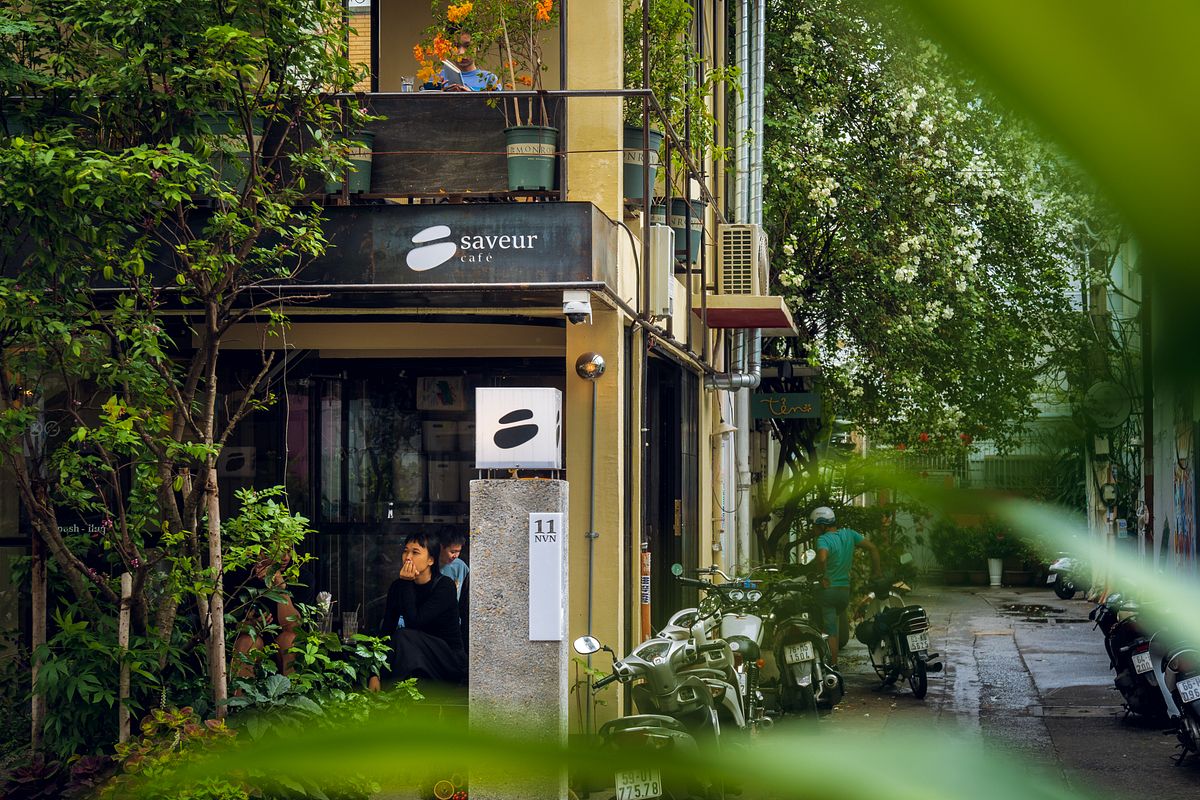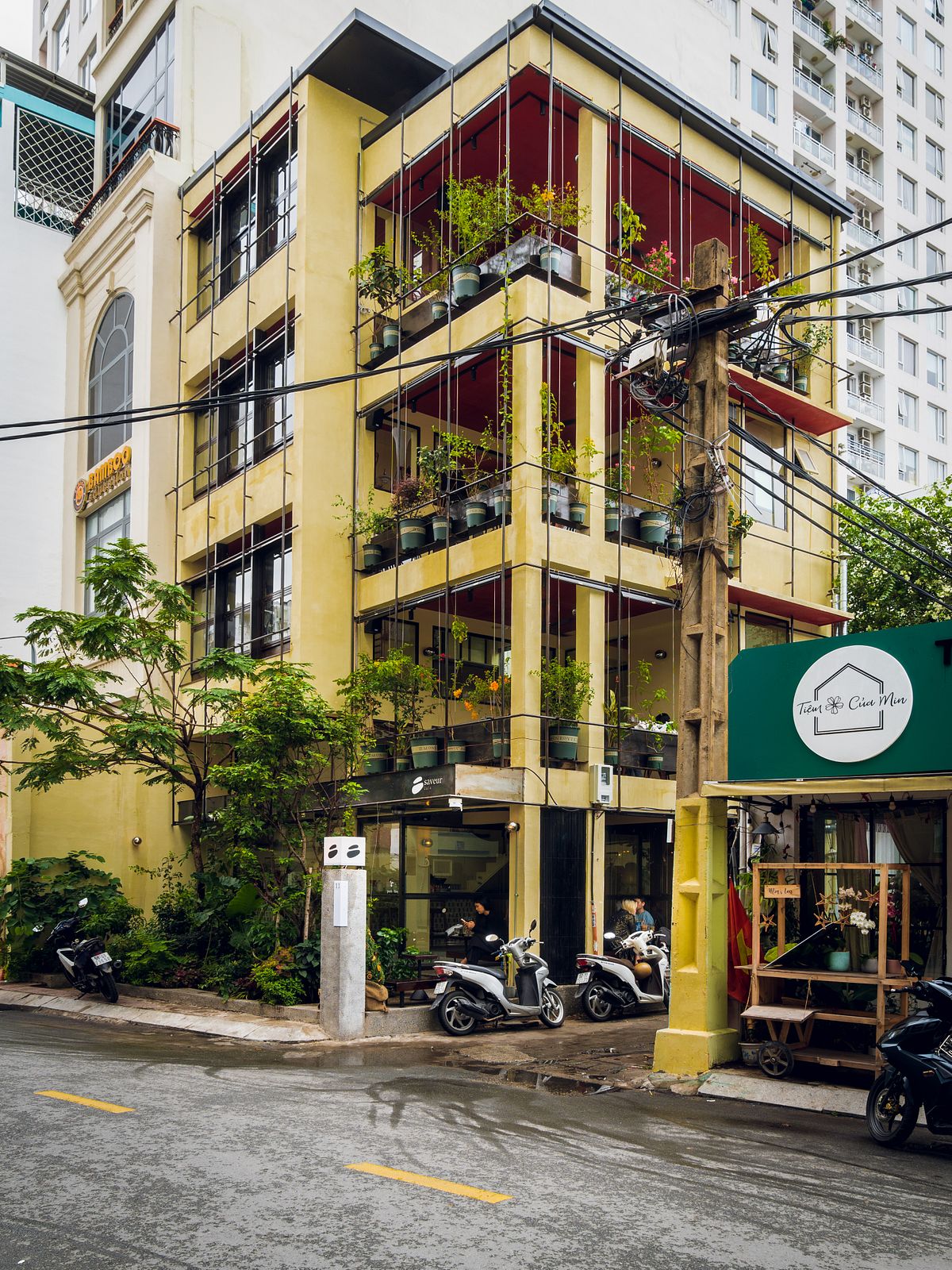 As the youngest honoree in this list, Saveur's newness plays in its favor for its facilities have not been defiled by a history of destructive poopers and atrocious aimers. Its two bathrooms, located right atop each other, are graced by floor-to-ceiling navy blue rectangular tiles that evoke a sleek sense of cleanliness. Above, petite windows let in natural lighting and can serve as an escape hatch should one find oneself cornered by zombies in an apocalypse. Saveur's bathrooms also boast a warm aroma thanks to MUJI scent sticks in the corner next to a neat napkin holder. The pièce de résistance is really its sinks, which are located outside the toilets and covered in the same tiles. A glass window sits behind, allowing the sun to peek in, casting elegant shadows as you wash your hands. From the consistency in interior design to the choice of locations, it's obvious that the operator considers bathrooms an integral organelle in this cafe cell, and not an afterthought. While the parking situation and chairs are decent, Saveur offers quite expensive drinks that are unfortunately just milquetoast in taste, so take your wallet into consideration before dropping by.
Hygiene: 5/5
Amenities: 4.5/5
Privacy: 4.5/5
Accessibility: 4/5
Ambiance: 4.5/5
4. The Seventh Barista
Address: 63 Street No. 14, Khu ven sông, D7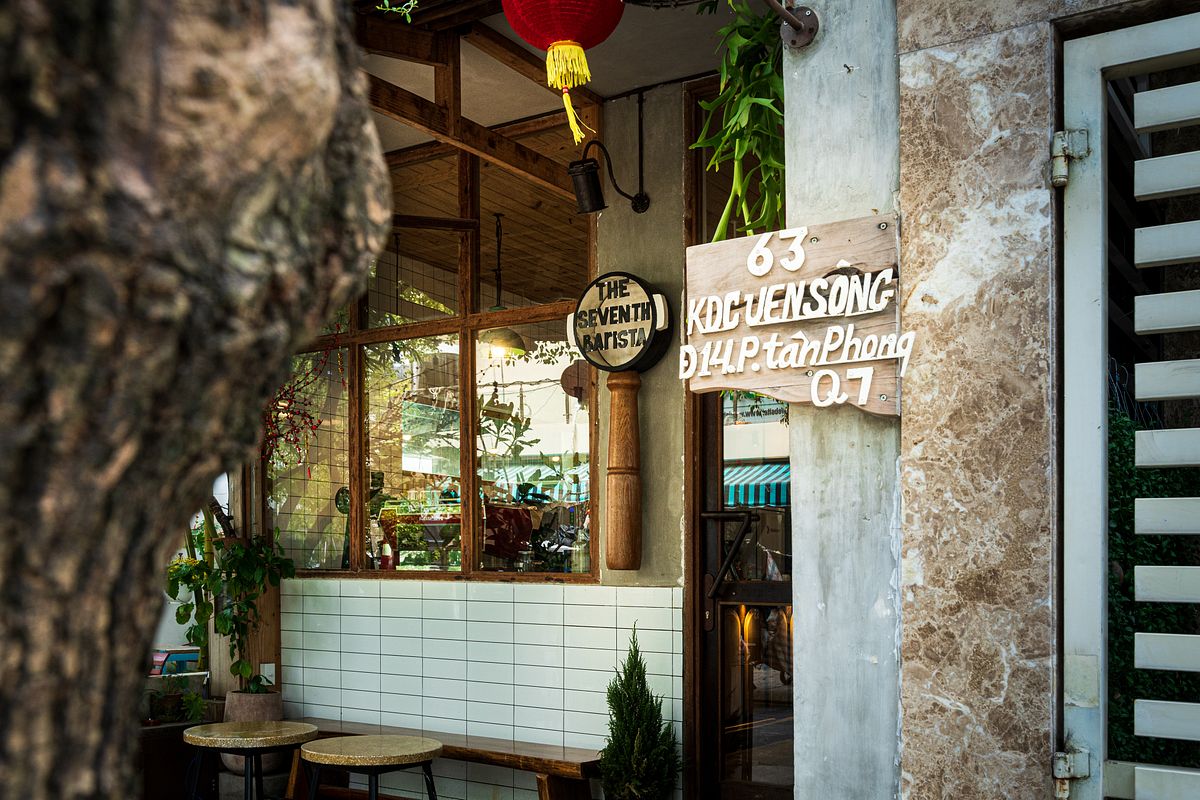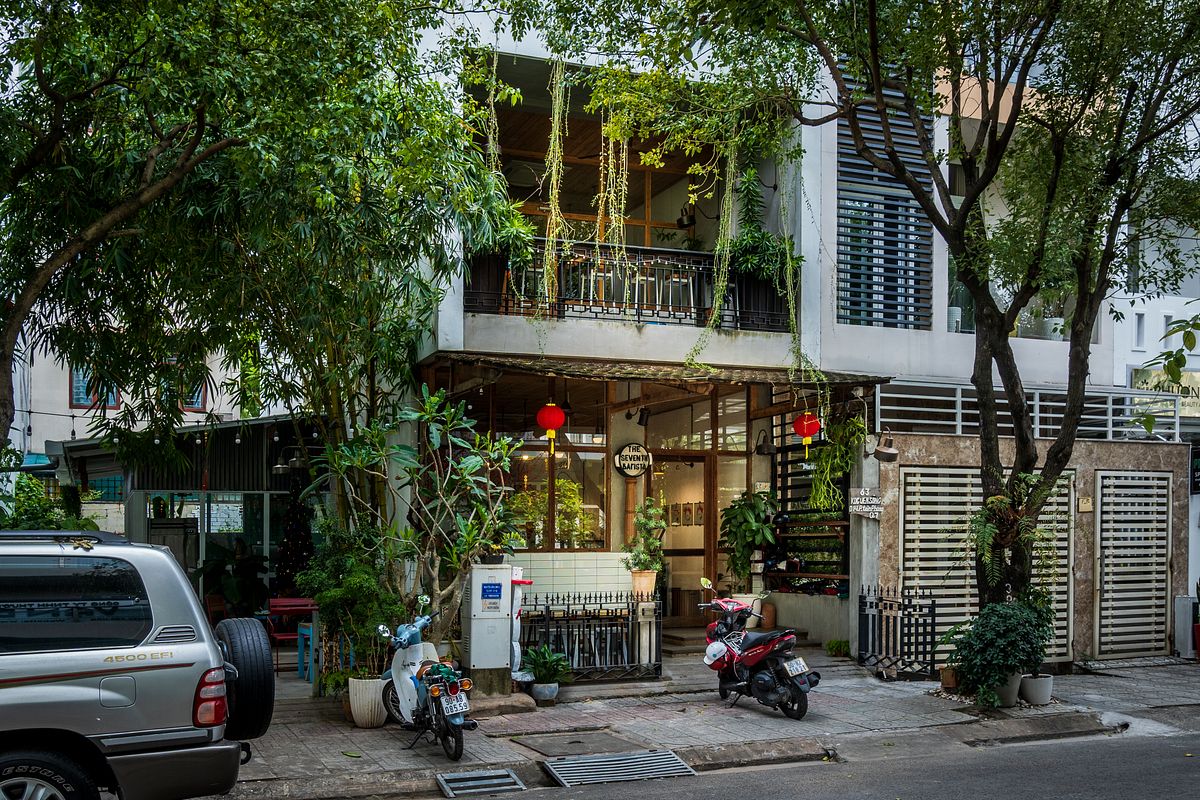 The more coffee shops I visit as research for this list, the more I realize the importance of going back to basics. Spaceship bathrooms and avant-garde toilets might be cool and novel, but sometimes it's the familiarity of well-frequented favorites that soothes you. The Seventh Barista is a rustic cafe nestled in a beautiful house in the middle of nowhere District 7. Its bathroom only has one toilet for both genders, but one that's maintained well and decorated in the same pastoral brushstrokes that sweep across the cafe's interior. A bundle of dried flowers hangs on the bare wooden door, an opaque window above that lets in natural light, a small pot of peace lilies on a shelf: it feels like you're in your friend's home during a cordial visit filled with witty banters, fragrant tea and languorous jazz instead of a busy public bathroom. I like peeing in the presence of dried flower bundles. Every one of us should make it our life goal to only settle for bathrooms with dried flowers because we deserve it. Know your value, wear your crown, write your own story.
Hygiene: 5/5
Amenities: 5/5
Privacy: 4/5
Accessibility: 4/5
Ambiance: 5/5
3. Epic Coffee Roaster
Address: 49 Ngô Thời Nhiệm, Ward 6, D3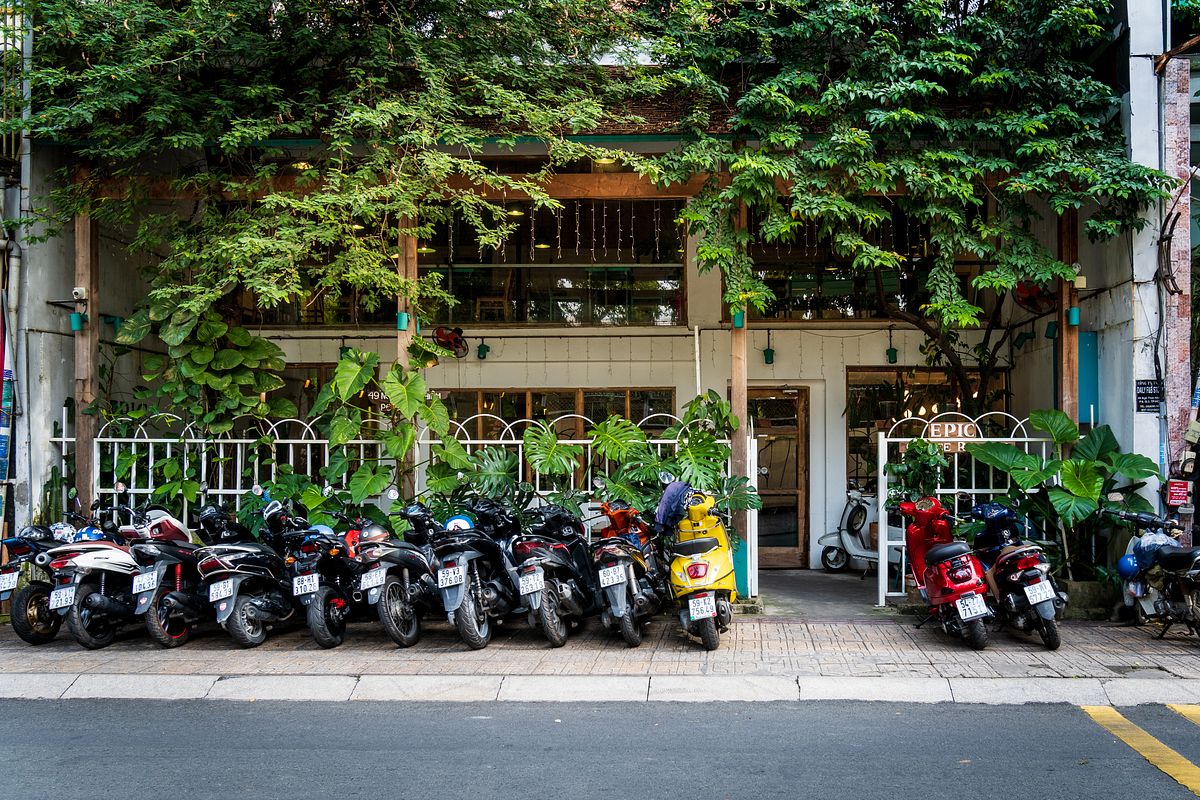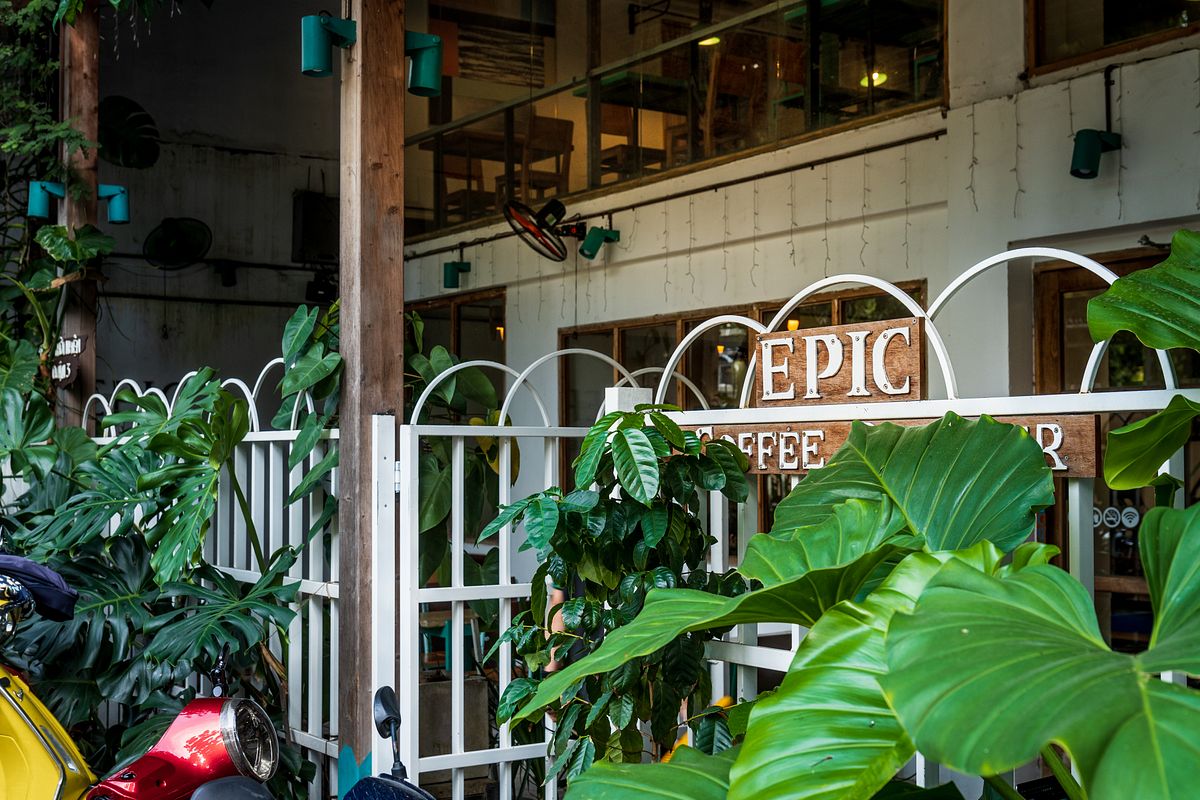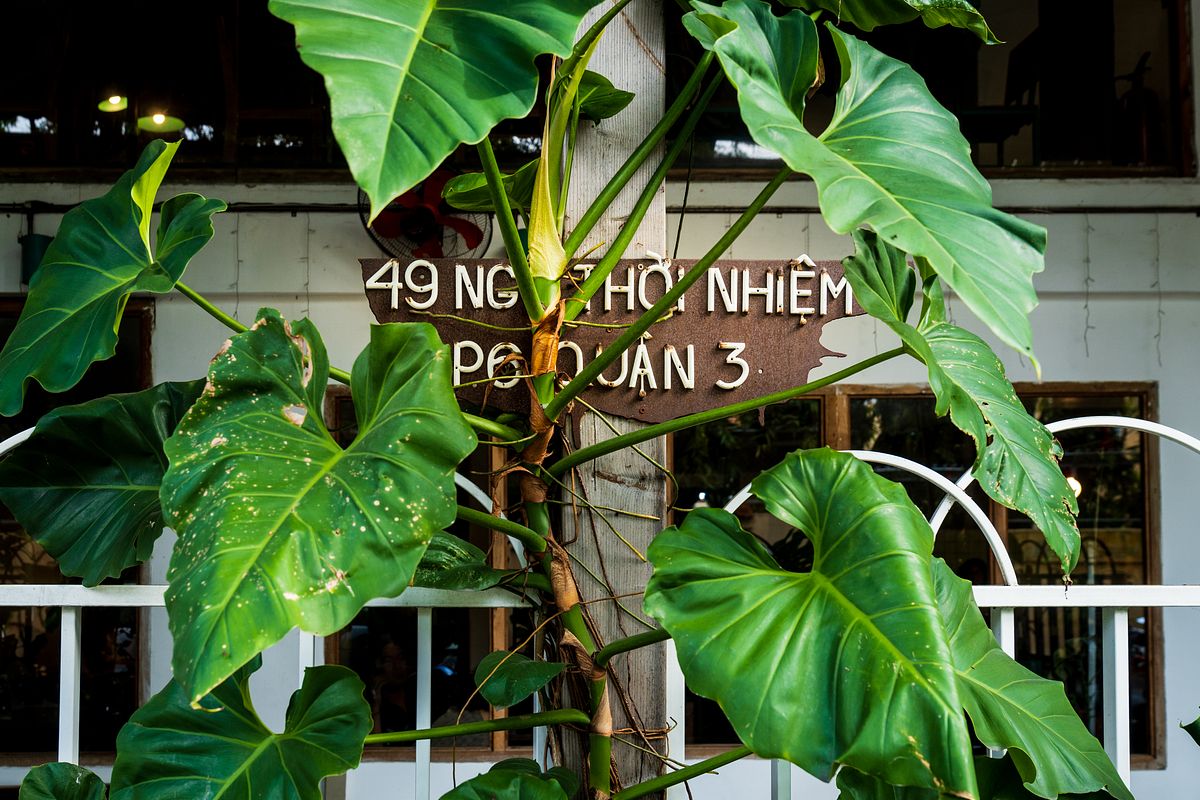 Epic is a new-to-me cafe that has quickly climbed the ranking as one of my most appreciated spots in the city to visit, be it to work, to spend time with a new page-turner, or to void bodily chambers. Sequestered away from prying eyes by a brick divider, the bathroom is sectioned into two toilets, one for each gender, opening into a communal washing area. Apart from satisfying every item in the Amenities list and being dependably dry every time, it also reflects a conscious effort to convey a serene mood to patrons. A tender ceiling light, a glass vase housing a lonesome pothos vine yearning for a minute in the sun, turquoise tiles on the wall, artfully smeared cement on the ceiling, and the scent of lemony freshener lingering sheepishly in the air — this is a throne that welcomes you to take your time to enjoy life to the fullest. Even though this list was compiled purely based on the merits of cafe bathrooms, Epic also excels in being a cozy coffee shop with comfy chairs, affordable drinks, and surprisingly tasteful wall paintings.
Hygiene: 5/5
Amenities: 5/5
Privacy: 4/5
Accessibility: 5/5
Ambiance: 4.5/5
2. The Vagabond Pâtisserie & Café
Address: 9 Trần Cao Vân, Đa Kao Ward, D1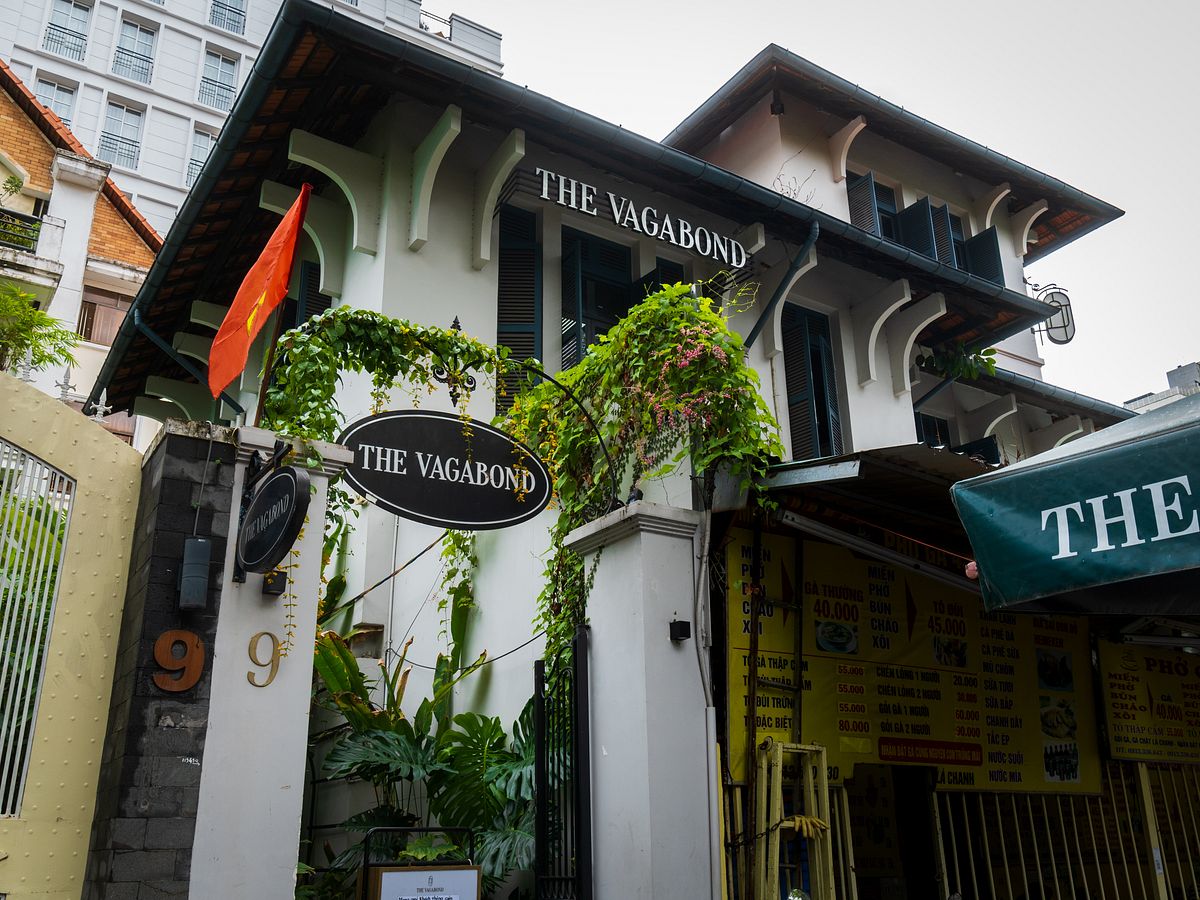 If you decide to visit the bathroom here, it will be one of the most expensive poops you've ever taken in Saigon. Rising to fame due to word of mouth and its extravagant desserts, The Vagabond is perhaps the most illustrious pâtisserie in the city, and for good reasons too. Everything about this cakery, from its French colonial architecture to intricate pastries, screams good taste — well, not literally screaming, because The Vagabond is too classy for that. The bathrooms, one for each gender, are no exception as they are decked out in restrained elegance, featuring marble sinks, wall sconces, paintings, dried flowers, and even a dedicated speaker for ambiance music. The design intention is clear and harmonious amid the rest of the building's architectural flow, demonstrating the owner's vision. Finesse, of course, doesn't come cheap as the cafe's desserts and drinks are on the expensive side, but you can get away with coffees and a croissant which are in the VND50,000—68,000 range.
Hygiene: 5/5
Amenities: 5/5
Privacy: 4.5/5
Accessibility: 4/5
Ambiance: 5/5
1. Chidori
Address: 362 Vĩnh Viễn, Ward 8, D10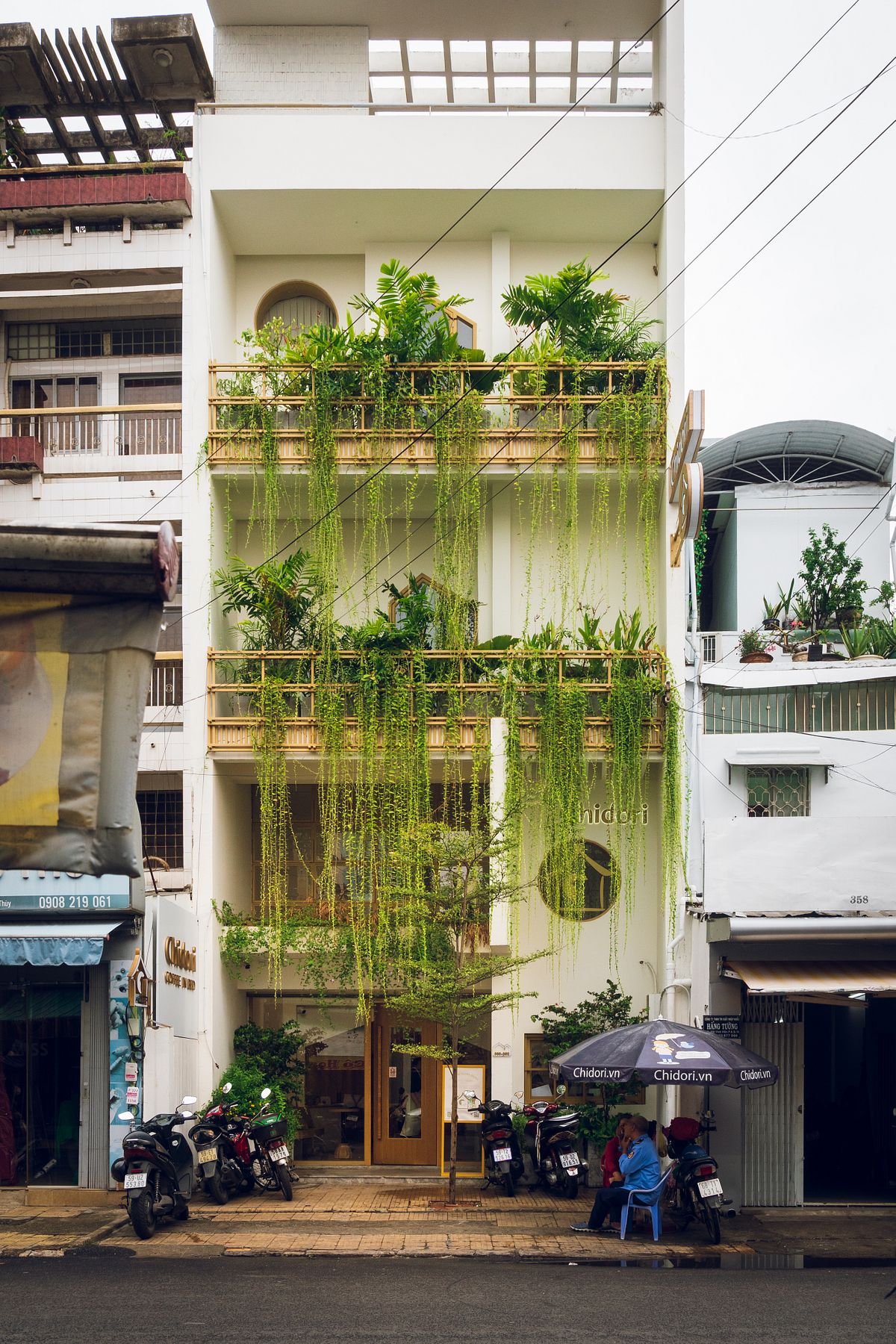 Saigon's seekers of comfort are no strangers to Chidori, a Japanese chain of in-bed coffee shops offering booths for patrons to lounge, relax, or even take a quick nap during their stay. Decorated in a woodsy minimalist style not unlike MUJI, Chidori has clearly captured the hearts of Saigoneers for the franchise has been rapidly expanding this year with a host of new locations, Vĩnh Viễn is one of them. New and off-the-beaten path, this location is less crowded, invitingly quiet, and has one of the most well-designed bathroom areas I've come across. To reach it, you first arrive at an outside courtyard on the second floor, with benches and a mirror that cater to long waiting periods. Inside the bathroom are two toilets in separate rooms in addition to a laundry room. I have visited a number of Chidori locations and been generally impressed with their cleanliness, here is no exception, though Vĩnh Viễn takes things up a notch with ambiance music and actual candles, each delicately adorned with a fresh slice of pineapple on top. A point, however, is deducted from the Accessibility column due to it being based up too many flights of stairs. For a brand of cafes that aspires to set itself apart from competitors by zeroing on comfort, Chidori's bathrooms have certainly proven themselves to be a premier destination for peaceful relaxation.
Hygiene: 5/5
Amenities: 5/5
Privacy: 5/5
Accessibility: 4/5
Ambiance: 5/5