Ever since I was a kid, I have had a general dislike towards vegetables, but green onion has always been an exception. I regard green onion as a garnish that can lighten up the whole dish, and it seems like whenever it's absent from my cơm tấm or xôi mặn, I will instantly lose my enthusiasm to eat. But during my teenage years, my affection for scallion was challenged for the first time, when I encountered a photo of Phú Yên's bánh canh hẹ online.
I was taken aback by the bold presentation of the dish, the dizzying amount of greenery was too much for me. From time to time, I would come across photos of bánh canh hẹ on the internet, and the weirdness of the dish made me think it was just a gimmick, so I never thought about trying it.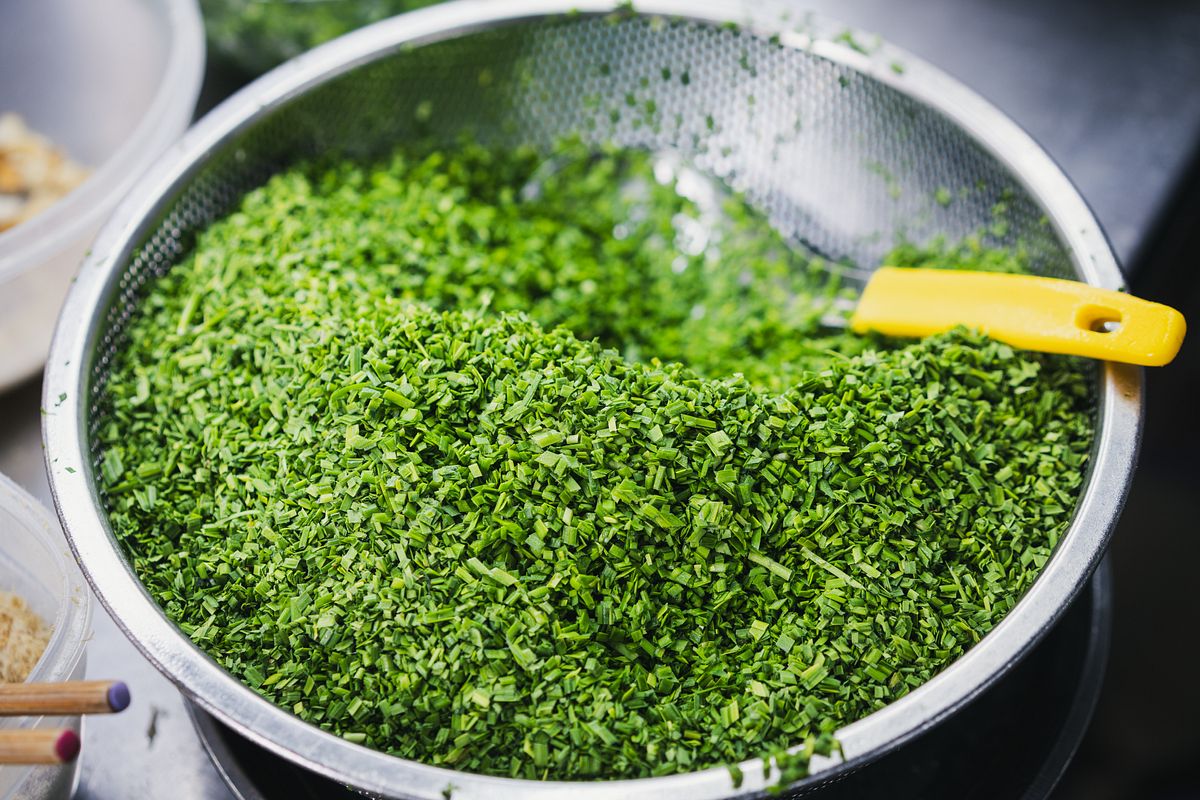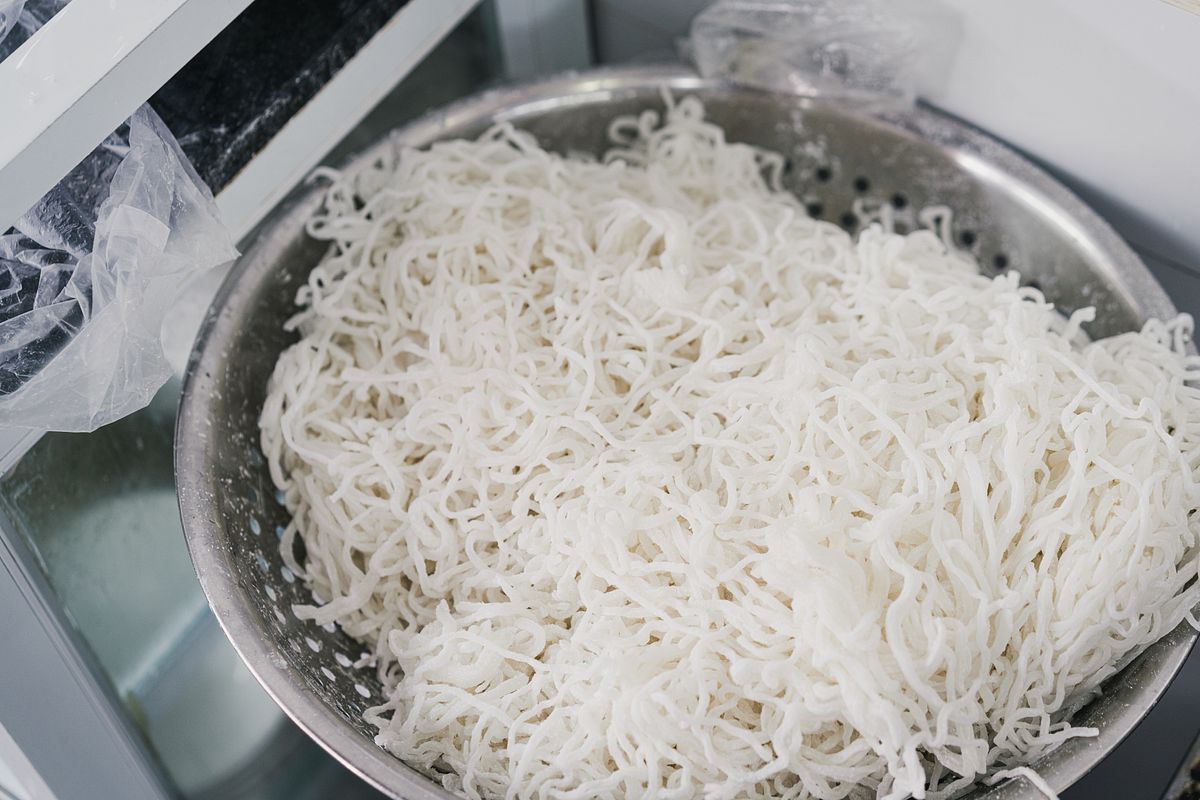 Fast forward many years later, bánh canh hẹ came up once again during a discussion meeting for Saigoneer's two-week noodle content chapter, where I learned that Phú Yên's bánh canh hẹ is a popular Central Vietnam delicacy with a humble beginning. It is made of cheap and accessible ingredients from the region. The noodle is made of Phú Yên's local rice, the broth is stewed from fish in the province's coastal areas. The green color of bánh canh hẹ comes from Phú Yên's local hẹ, a thinner version of green onion that emits a lighter and distinctive aroma. According to locals, the excessive amount of chopped chives is used as an alternative for other vegetables and also to ease out the broth's fishy smell.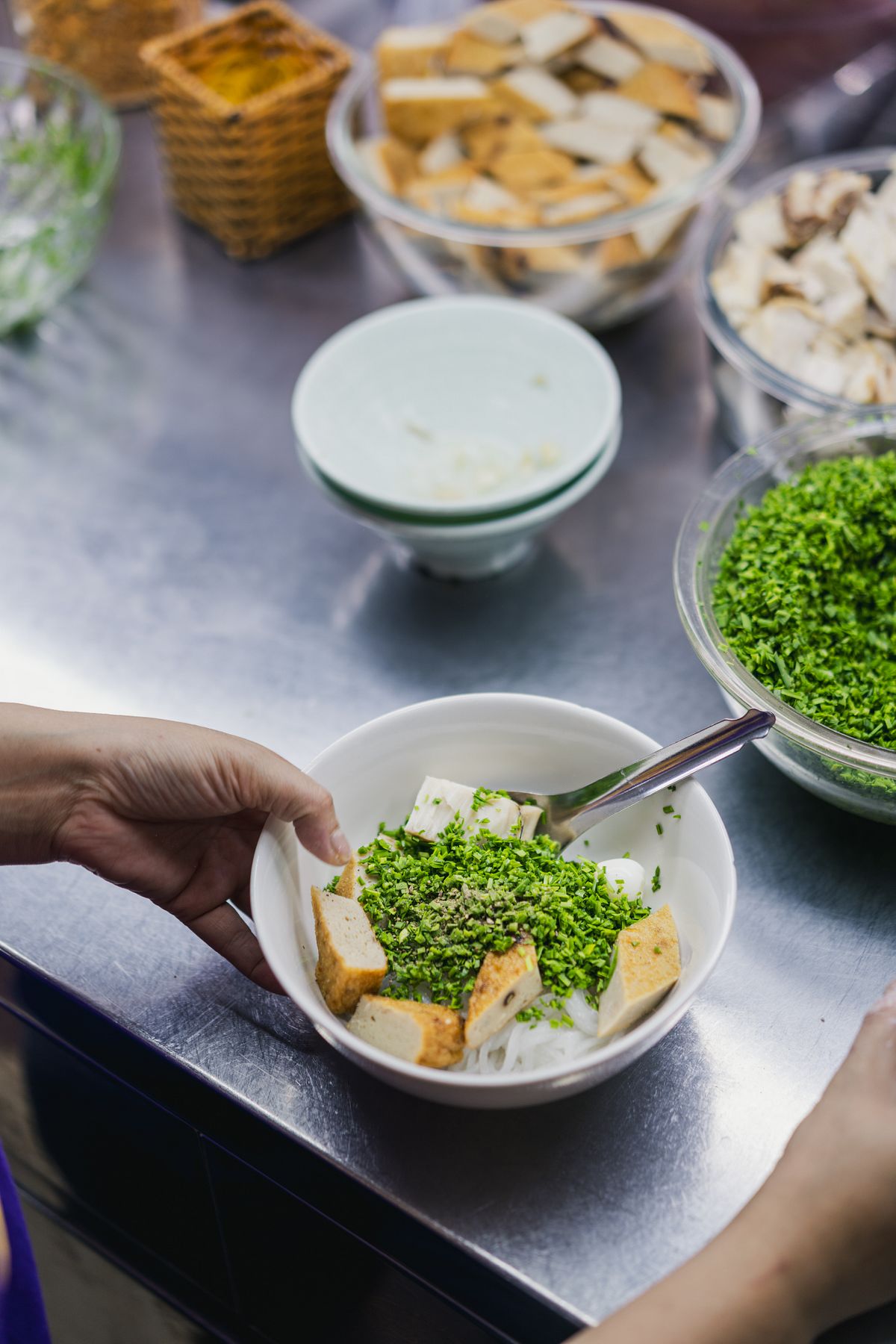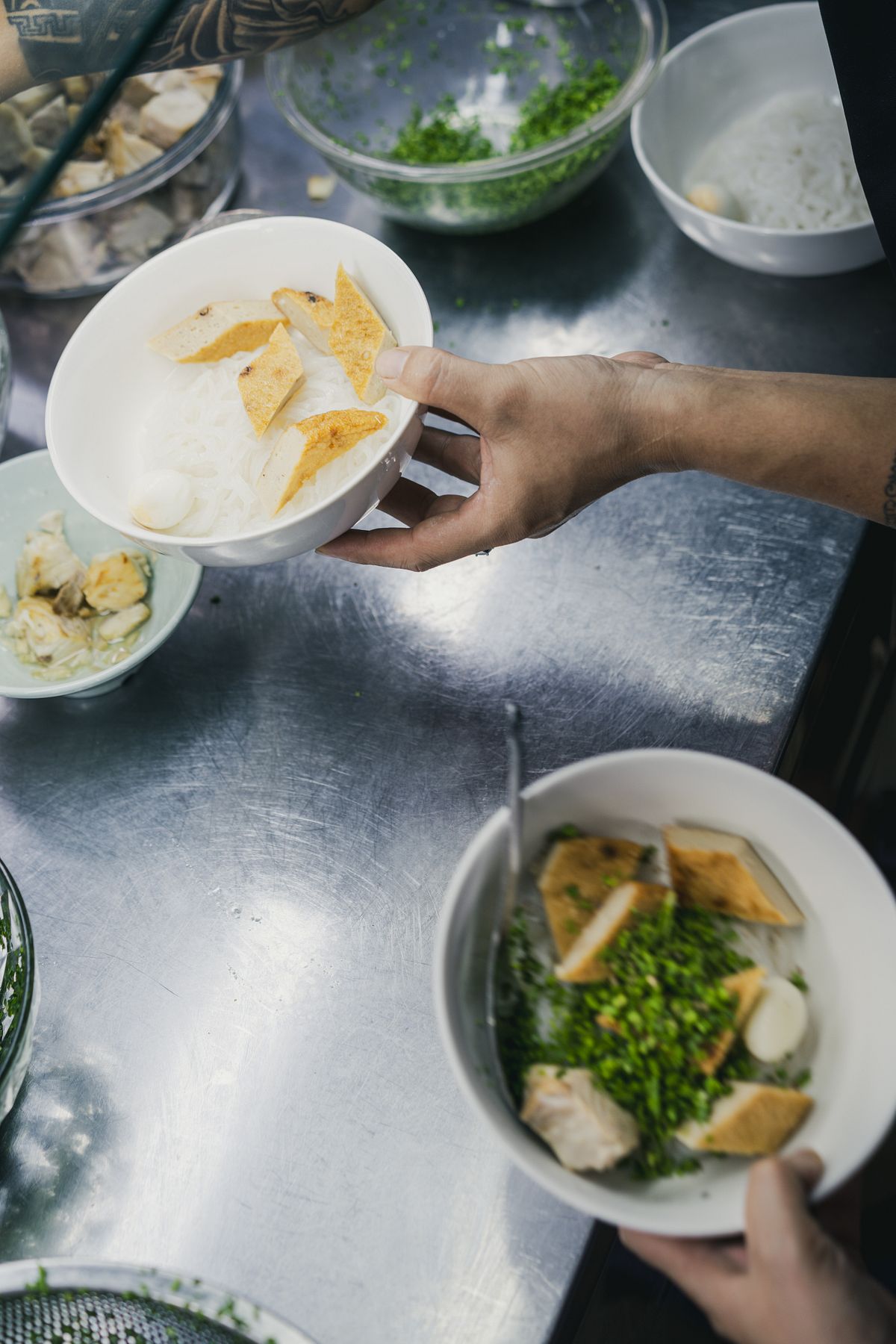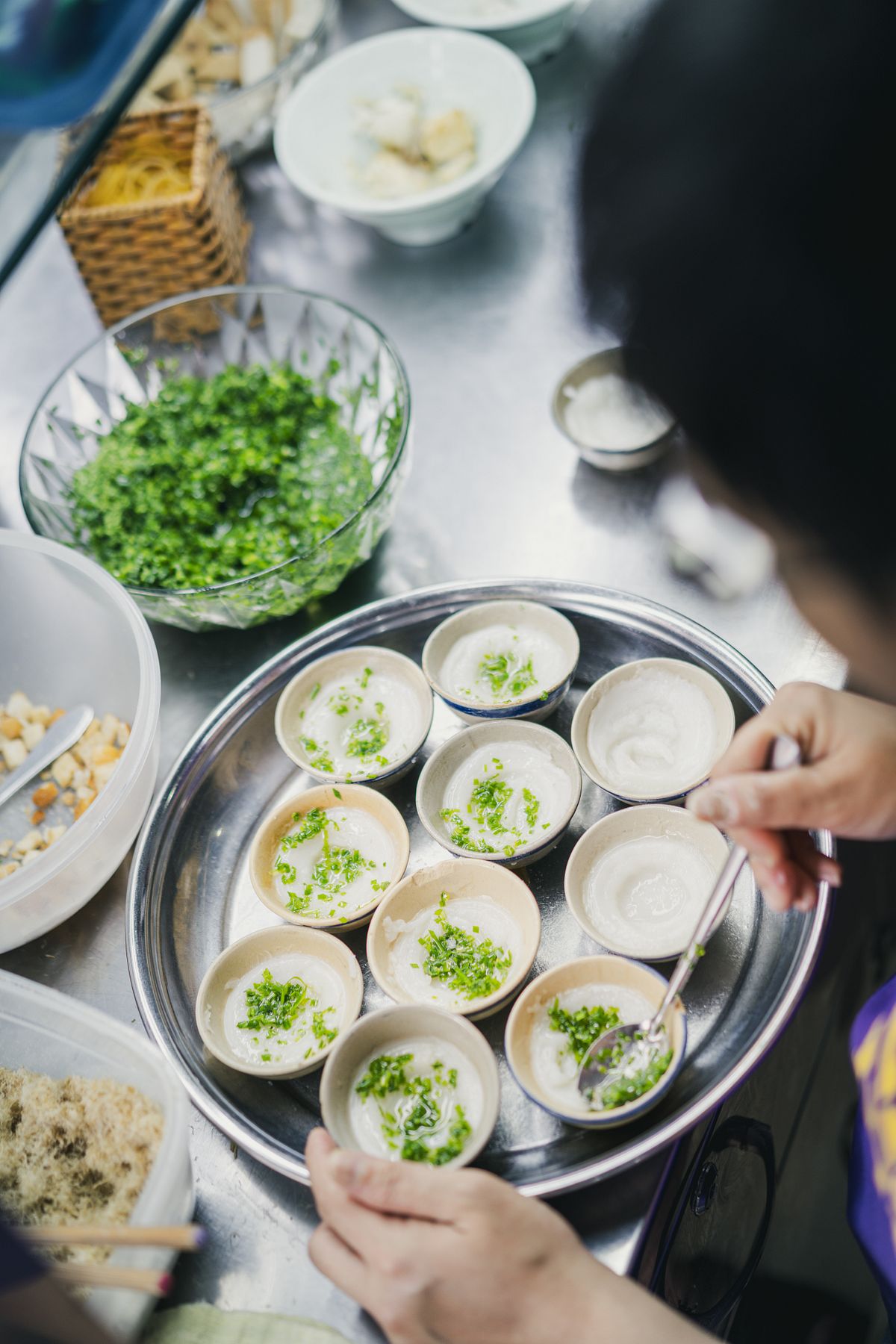 After learning more about the dish, I realized that I was unfairly judgmental towards it, missing out on a unique regional specialty. So I thought it would be a good idea for me to try it out to see what it's all about. An eatery named Bánh Bèo Cô Mai Phú Yên was recommended due to its popularity among Saigoneers.
Bánh Bèo Cô Mai is located on Hoa Sứ Street near the Phan Xích Long food heaven. We arrive at lunchtime and it is already quite crowded. Luckily, we still get the chance to have a quick chat with the waiter to find out about the place's history.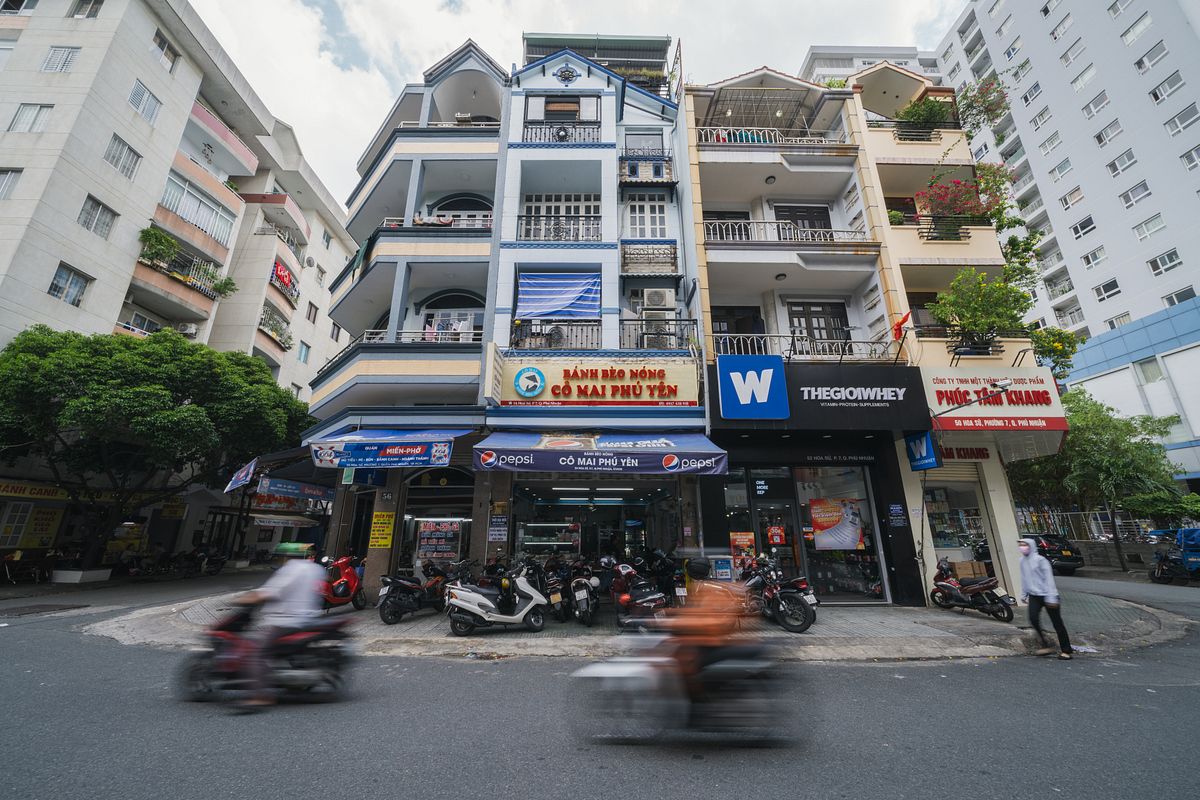 According to him, Cô Mai is run by a Phú Yên-born family, and it was first opened in Saigon about seven years ago, but before that, the family ran an eatery at the foot of Nhạn Mountain in Tuy Hòa, the capital city of Phú Yên. The menu at Cô Mai, identical to that of the old place, consists of three Phú Yên specialties: bánh canh hẹ, bánh bèo and bánh hỏi.
When asked about the cooking style of the dishes, he tells me about the family's efforts to keep the tradition going. "We cook in the exact same way as we did in our hometown. There is no change at all."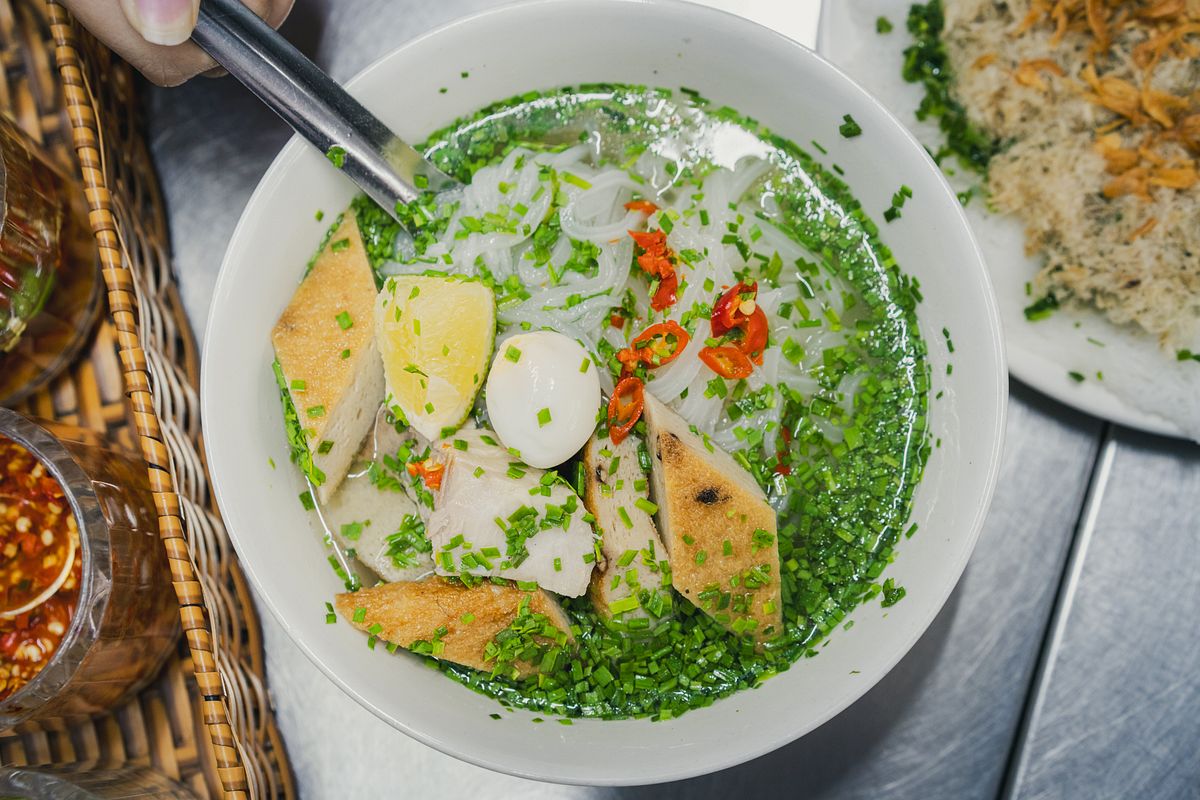 When able to observe bánh canh hẹ at close range for the first time in my life, I was amazed by its unique visual and surprised by its simplicity. The copious amount of chopped chives creates a layer of vibrant greenery on top of the broth, below, there are fried fishcake patties, boiled quail eggs and a slice of black mackerel — all very familiar toppings. Add in some chili slices and we have a simple, yet colorful and distinctive-looking, Phú Yên specialty.
Taste-wise, the unique flavor of bánh canh hẹ is mainly due to the broth. It has a very subtle fishy aroma that doesn't affect the overall taste. Combined with the delicate scent of Phú Yên's local chives, the mackerel slice and the fish patties, the soup offers up a pleasantly light and sweet flavor that makes me feel like I am dining near the ocean.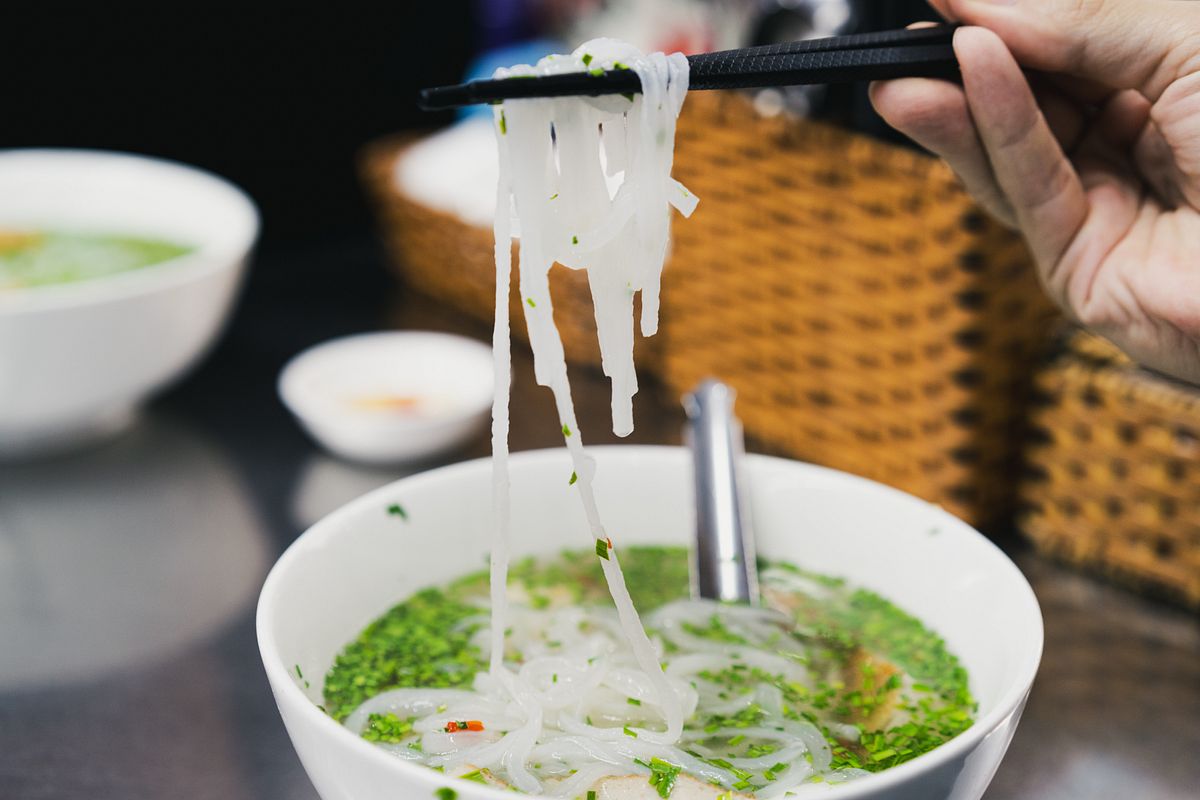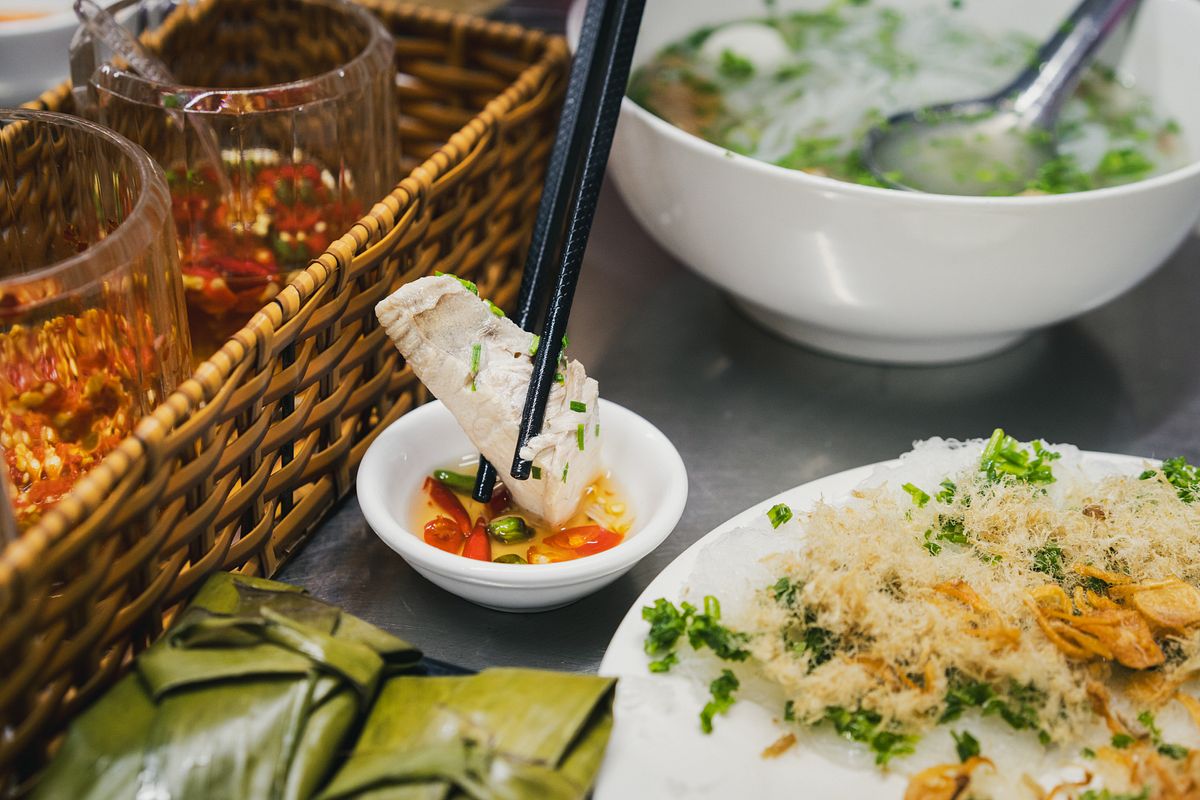 The main starch is a type of rice flour noodle that is thinner and less chewy than that in regular Saigon bánh canh dishes such as bánh canh cua. Upon tasting, I am treated with Cô Mai's well-cooked noodles with a soft and supple texture that's enjoyable to chew and makes you want to keep slurping.
The seafood toppings present me with two polar opposite qualities. The mackerel chunks have a tender and fatty texture. In contrast, the fried fish cake chunks are chewy with a sweet aftertaste. Dipping these toppings in the store's provided fish sauce mixed with minced chili can enhance the overall dish's oceanic feel.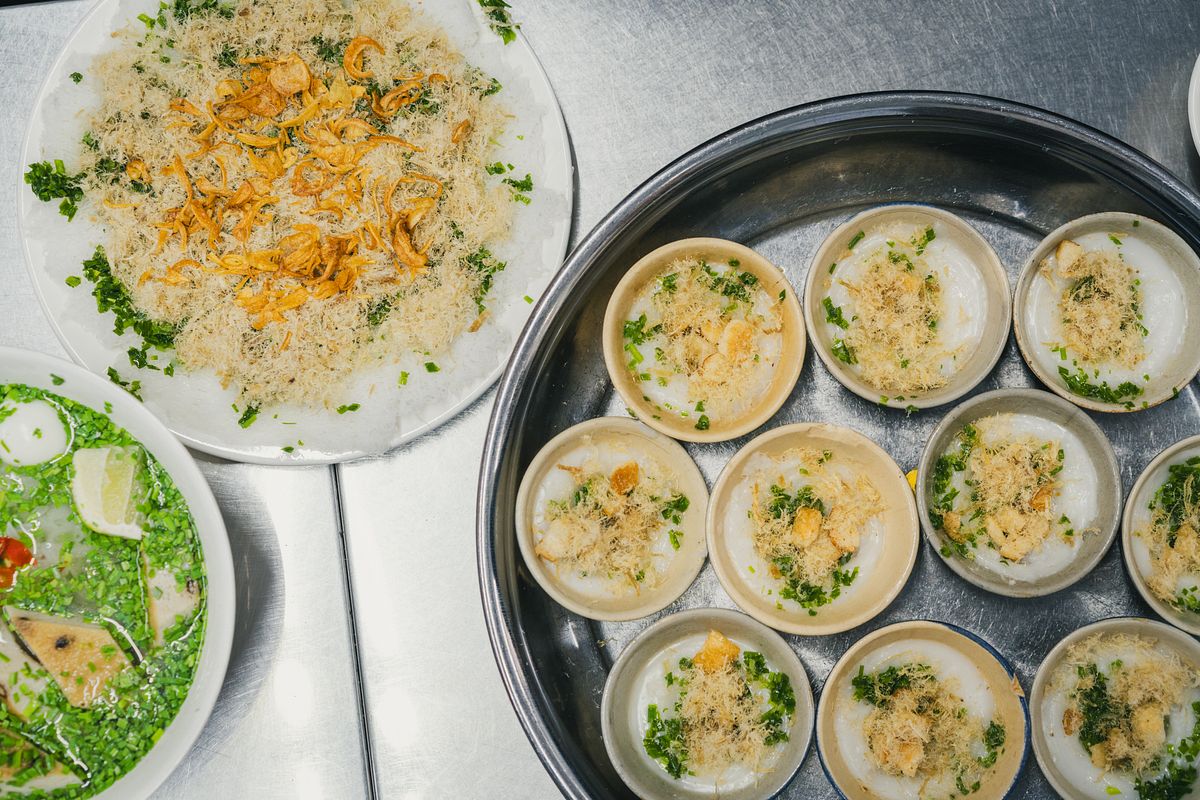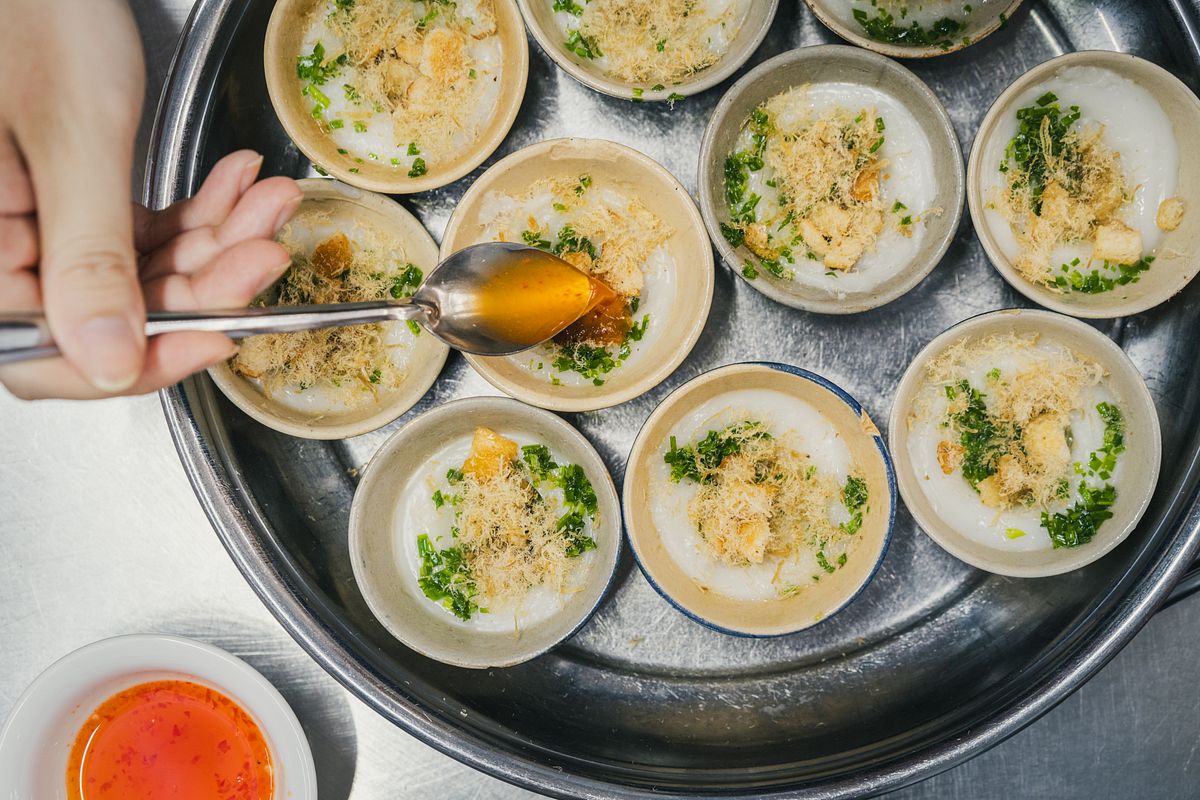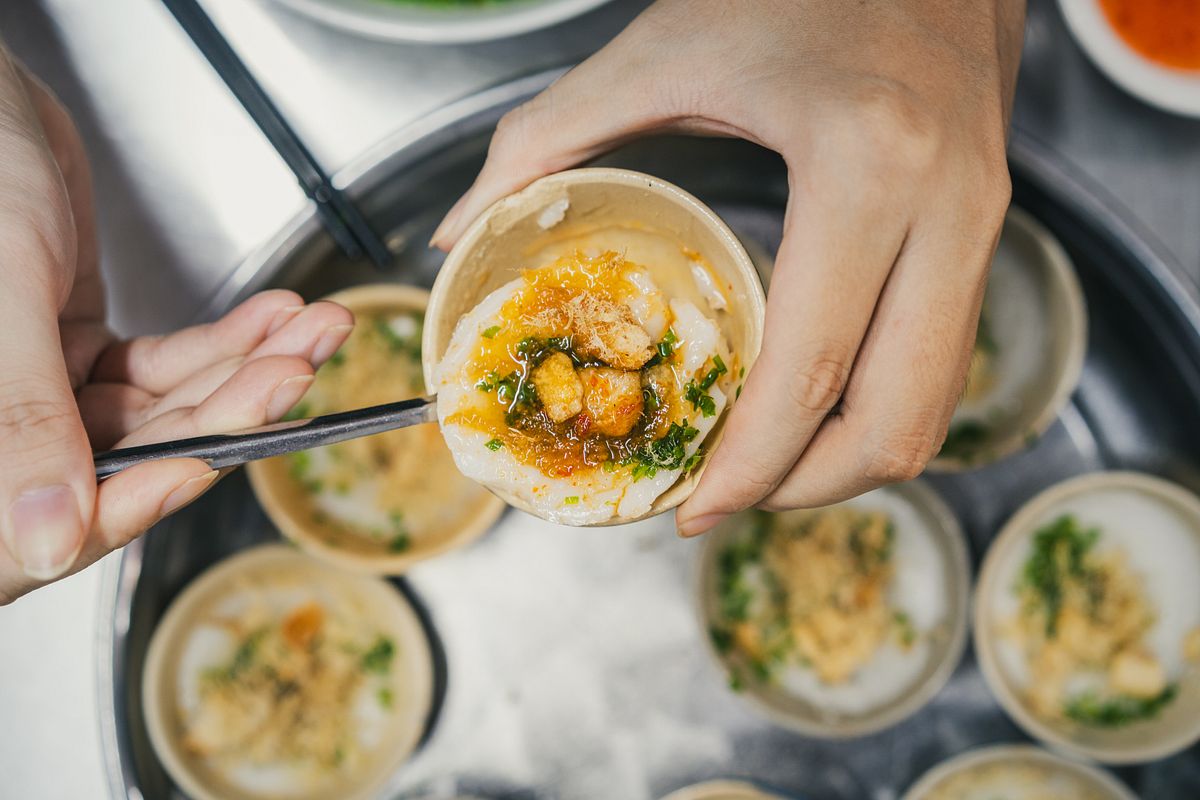 The bánh bèo and bánh hỏi are side dishes. One order of bánh bèo is served in 10 small bowls, likely meant to be shared among many people. The starches of bánh bèo and bánh hỏi are sprinkled with chives oil, pork floss, fried bread crumbs and fried shallots. The highlight of these two courses is the accompanying sweet-and-sour fish sauce.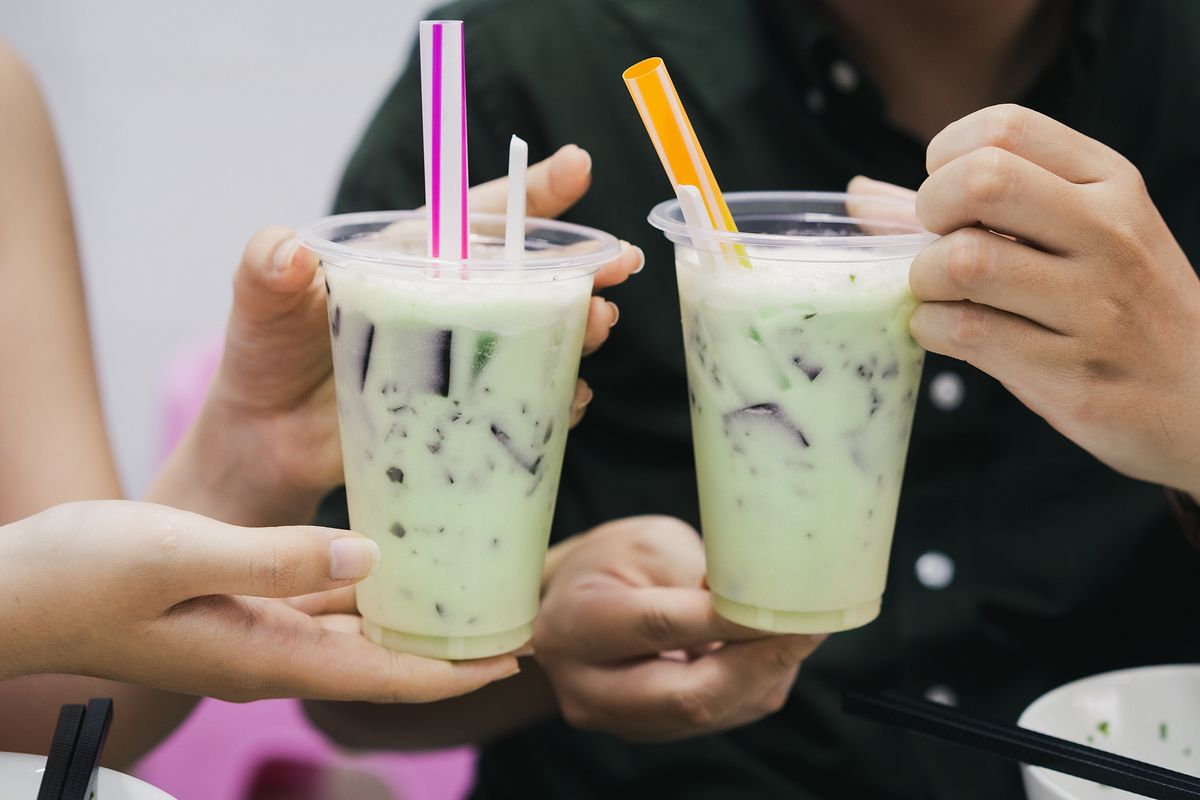 Overall, my first experience with Phú Yên's bánh canh hẹ was a success. Cô Mai's cooking is so good that I even came back a couple more times, and what I notice from my revisits is that the store seems crowded around the clock, which is an indirect statement of the eatery's food quality. So, if you're craving a light noodle dish that evokes the essence of the sea, you can't go wrong with Cô Mai's bánh canh hẹ, made just the way locals like it.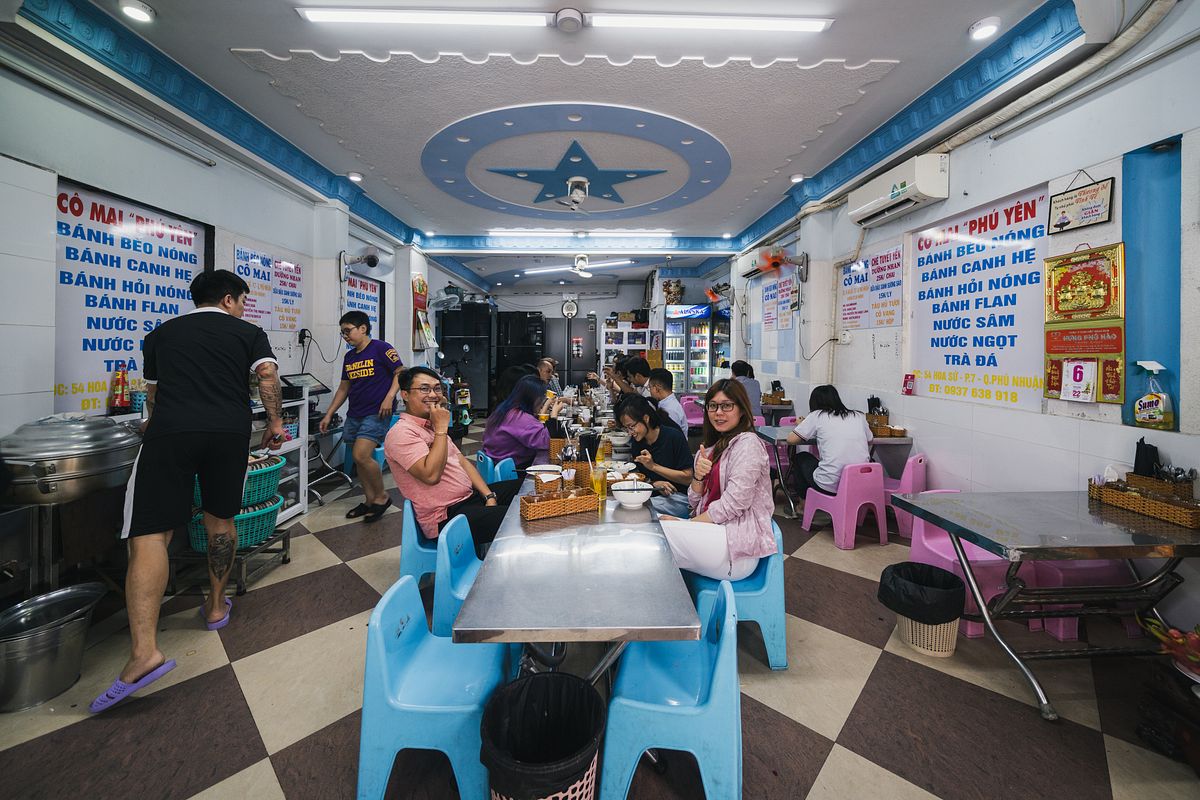 Bánh Bèo Cô Mai opens from 7am to 10pm. One bowl of bánh canh hẹ costs VND45,000, while the bánh bèo and bánh hỏi are VND40,000 each.
To sum up:
Taste: 5/5
Price: 4/5
Atmosphere: 4/5
Friendliness: 5/5
Location: 5/5
Bánh Bèo Cô Mai Phú Yên
54 Hoa Sứ, Ward 7, Phú Nhuận, HCMC