Recently, I've had the Mekong Delta on the mind. This month I made two trips down to research various elements of the watery region, and also spent time reading author Khải Đơn's tremendous delta-focused book of poetry Drowning Dragon Slips by Burning Plain; read my review of the book here. And while I haven't actually seen the movie adaptation Đất Rừng Phương Nam, it's been impossible to avoid the promos that feature a stereotypical wooden boat easing along a narrow delta channel, while white herons rise and farmers trudge into the field wearing colorful clothing with black khăn rằn.
The scent of rich alluvium, rank lục bình and ripe jackfruit blending with the acrid fumes stuttering out boat motors; dusk settling on flooded rice paddies, the amber sunlight granting the suggestion of a sheer nightgown; accents that seem to ensconce syllables in melted coconut candy, so words slowly slip out lips, sweet and sticky — each time I visit, I find something new to appreciate. This, of course, includes the cuisine: bubbling pots of balanced, refreshing canh chua, fried cá tai tượng and grilled cá lóc, juicy countryside chicken and shredded banana leaf salad and enormous bánh xèo made with creamy coconut milk.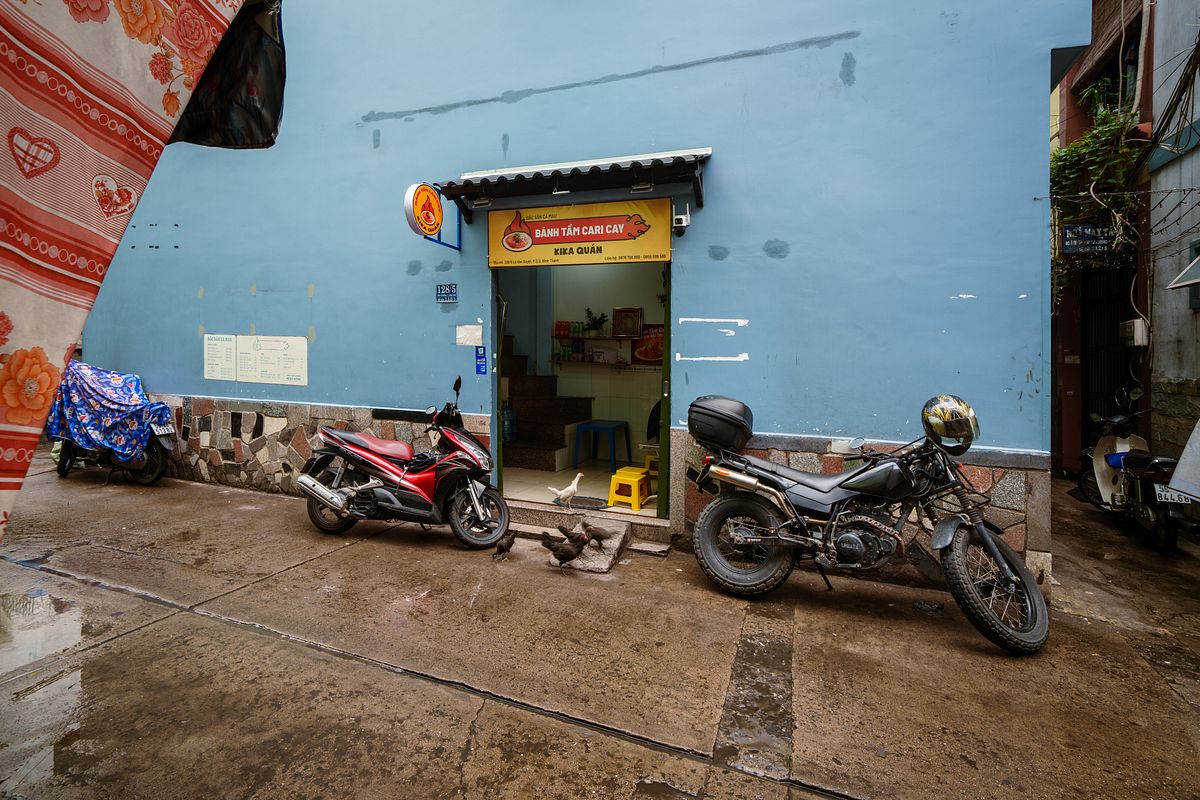 While the Mekong's food certainly deserves its reputation of being particularly sweet (I will never forget the time I bought a can of sugar-free Coke in​​ Hậu Giang and was given a satchel of sugar on the side), meals across the region have won me over thanks to the humble, home-cooked ethos that succeeds thanks to attentive preparation methods passed down through generations and incredible fertile soil and waters.
In all my many jaunts to the delta, I have yet to explore Cà Mau. Therefore, I have had little exposure to its food, or culture in general, which I am frequently told differs from much of the region thanks to its coastal location. I was thus quite excited to learn of a restaurant in Saigon selling bánh tầm cay cà ri. A Cà Mau specialty, the city has numerous shops and stalls selling it, with most locals able to point out their preferred spot. In Saigon, it's much harder to find.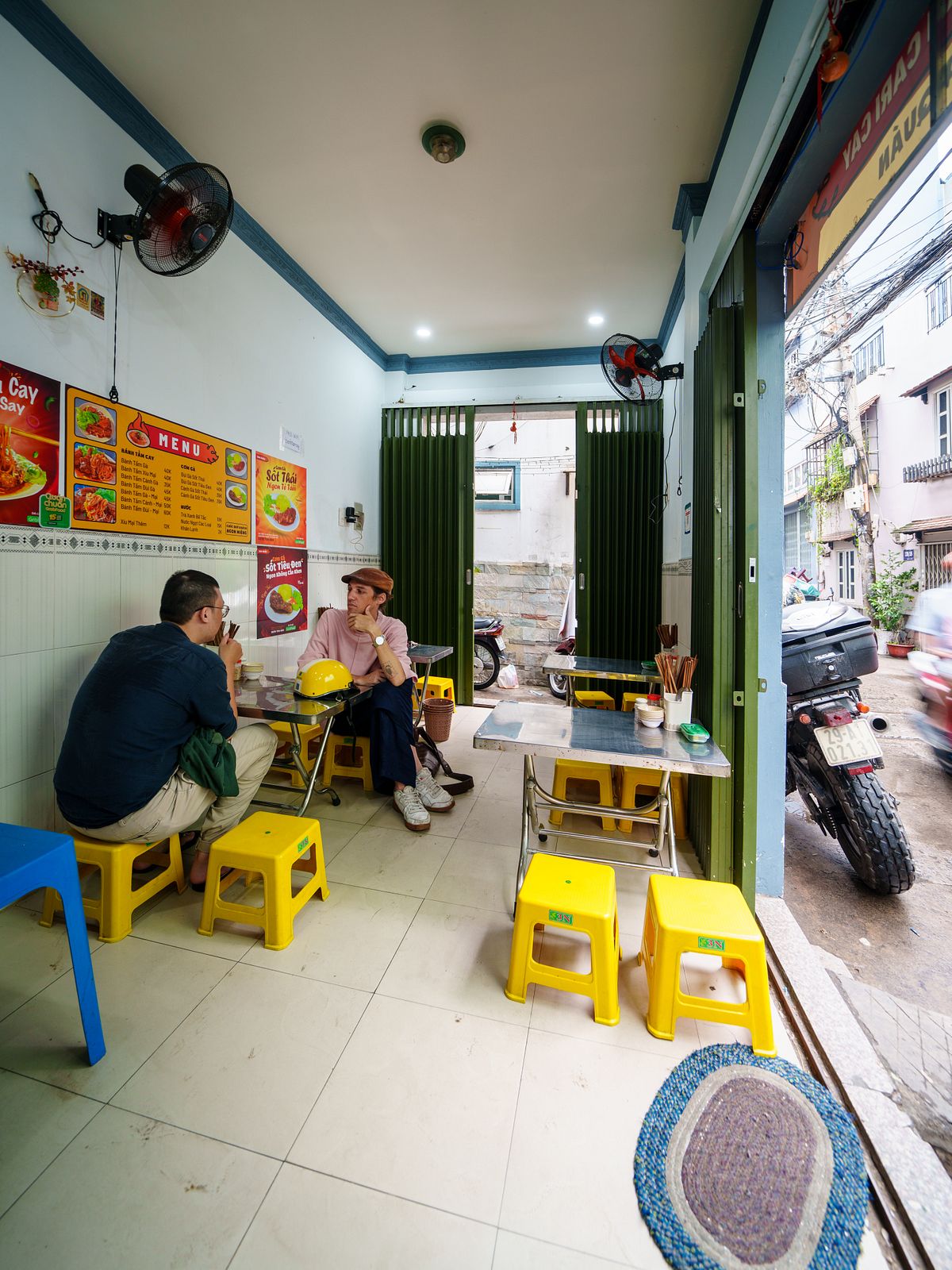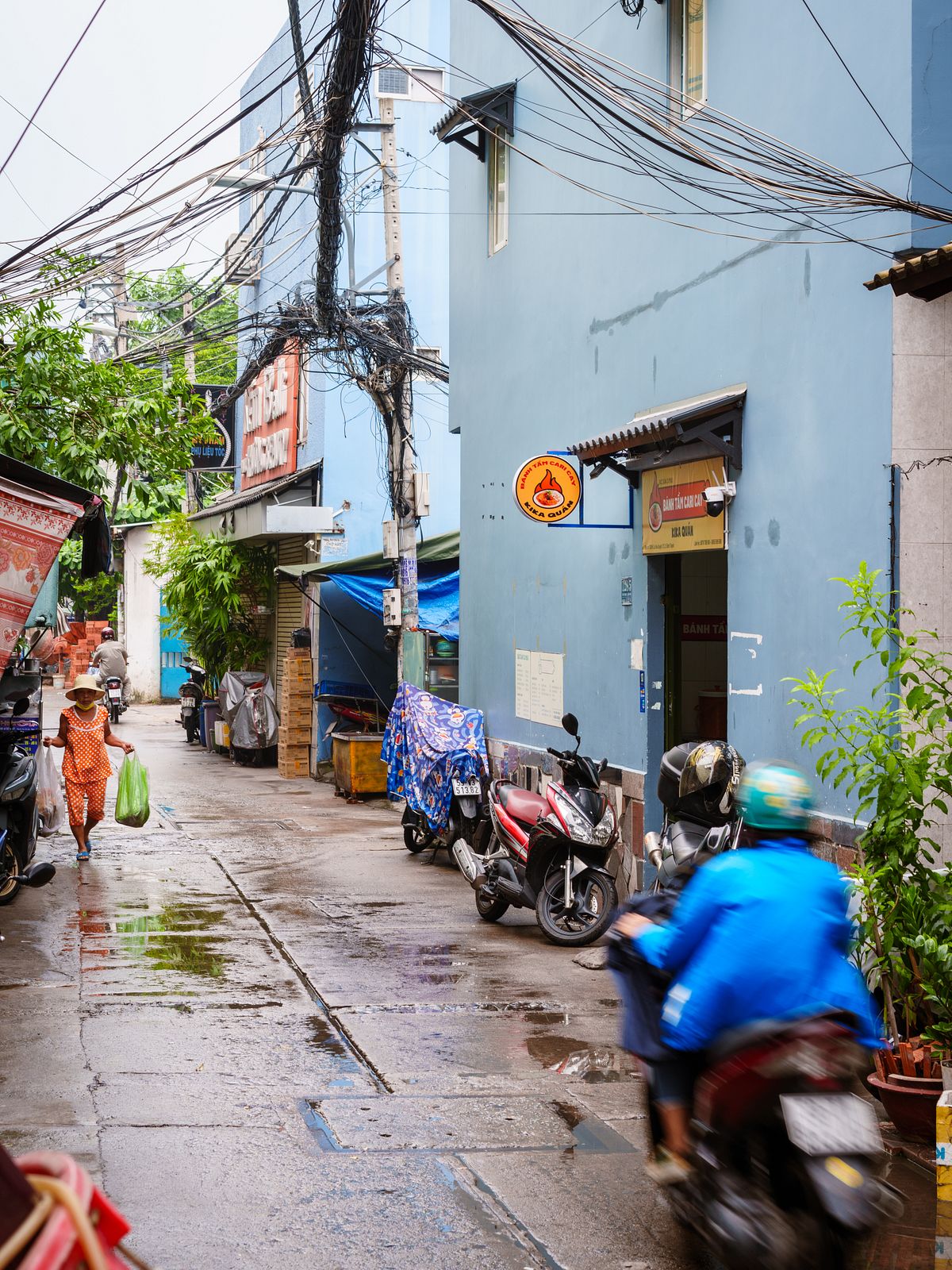 Bánh Tầm Cà Ri Cay Cô Xíu is located on an unnoteworthy hẻm in Bình Thạnh, not far from the Bông Bridge. A new sign reading Kika Quán hung above the tube house that Google Maps had led us to, and we quickly confirmed with the young man who greeted us that we were in the right place. While bright menus are painted on the wall and familiar metal tables with stools set up, the unmistakable arrangement of a family home including the open kitchen complete with cupboards and microwave, remains. As we settled down to the seats with the best natural light, chickens curfuffled in the alley beyond the doorway, reminding me of the ducks in Nguyễn Ngọc Tư's Cánh đồng bất tận.
Trần Thị Xíu, a 50-year-old Cà Mau native and proprietor of a well-known restaurant in her hometown opened this Saigon location at the start of this summer. She has since returned to the delta and left her son in charge of the operations. The bánh tầm noodles with cà ri sauce here come with chicken wings, drumsticks, xíu mại, or a combination of the three. We ordered a little bit of everything, eager to experience yet another noodle as part of our special Saigoneer noodle chapter that had already filled us with quite a few varieties of not only noodle types but preparation methods, broths and accompaniments.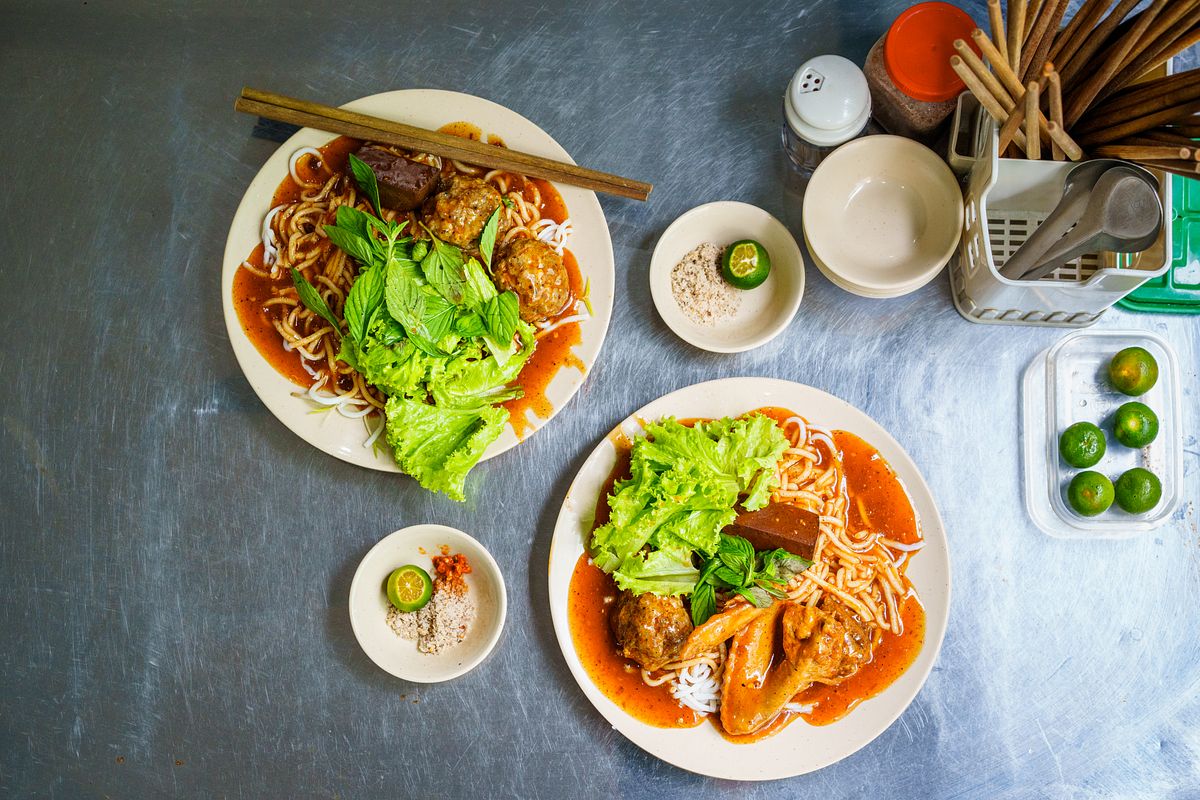 When the plates arrived, peeking out below a generous ladling of burnt-orange sauce, the noodles appeared like standard, blasé bún. However, after enrolling in an unaccredited crash course in Vietnamese noodles I knew that a key difference is that bánh tầm is not fermented and each hand-rolled strand thus consists of nothing but unadulterated rice flour. We conjectured that this difference made them of weaker constitution, causing them to break apart when picked up with chopsticks. By the end of the meal, my plate was filled with tiny tips, nibs and noodle nubs soaking in sauce. A transition to spoon ensured I could gather each severed strand without dropping any onto my pants in the process.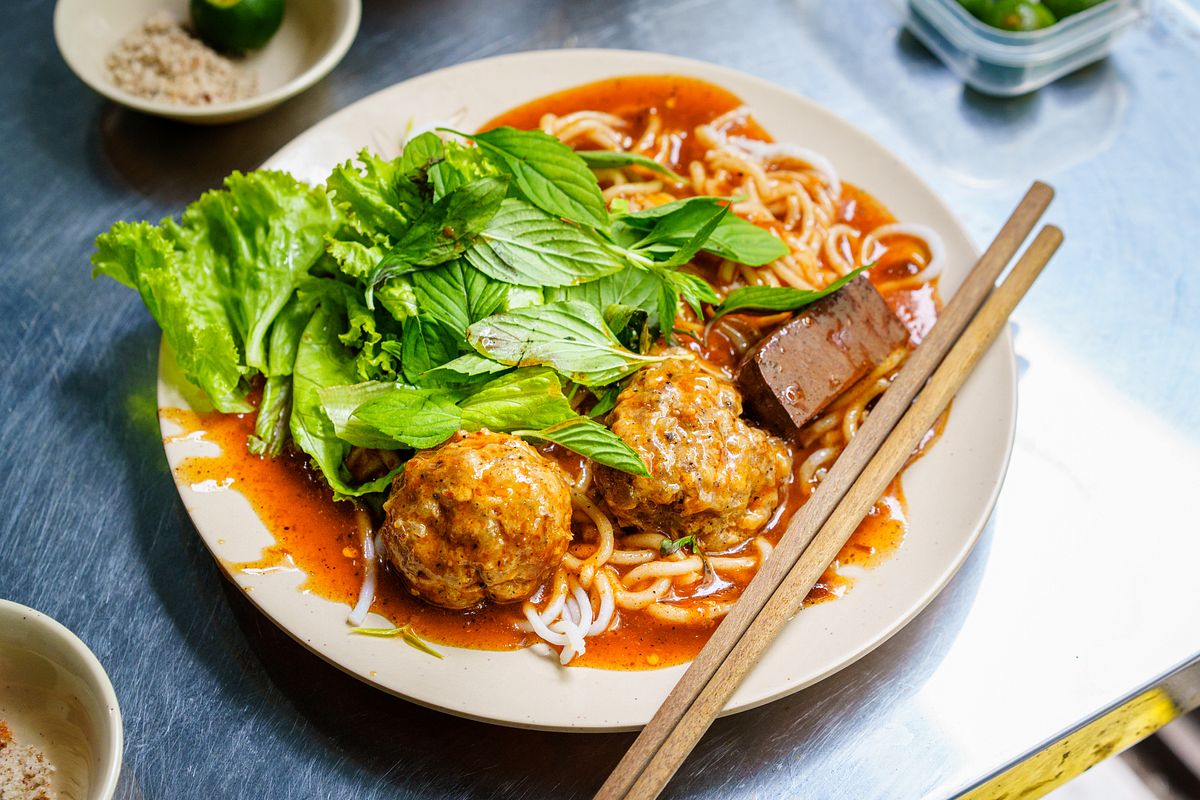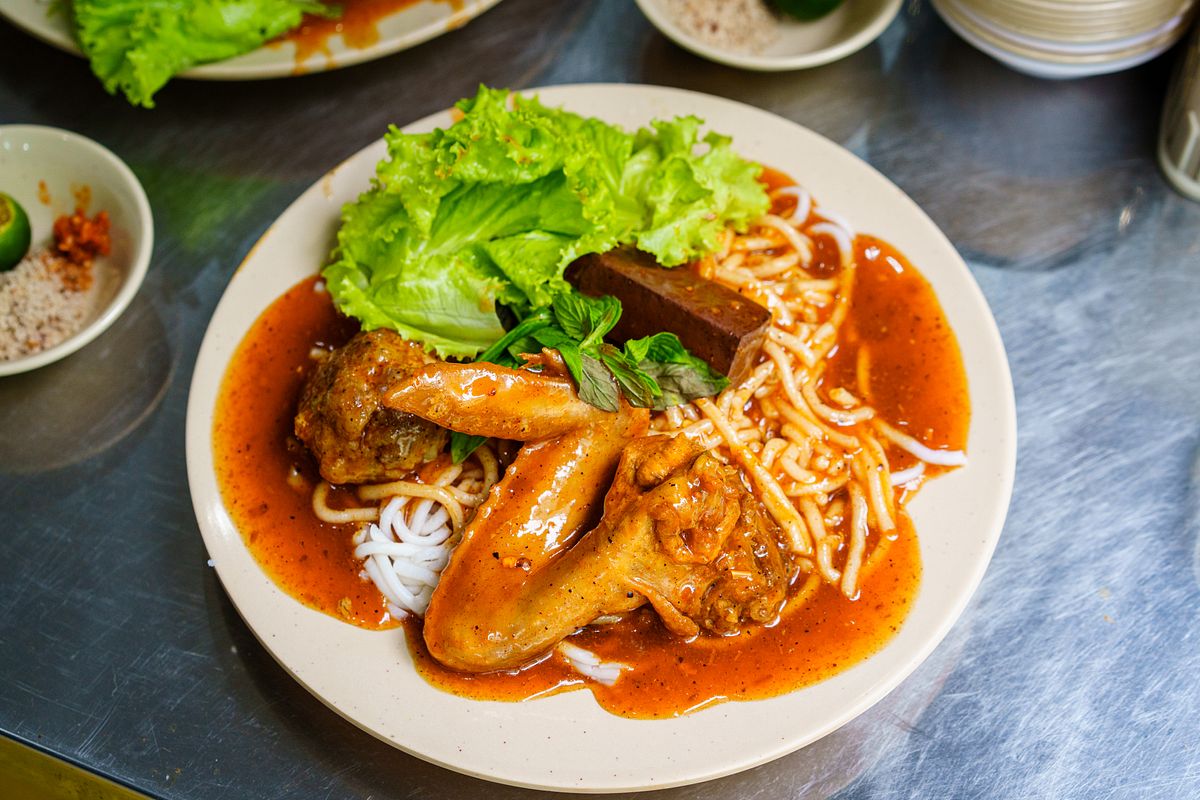 The sauce might be the greatest determinant of any diner's opinion on the dish here. Vietnamese curry originates in the Delta, due to the area's confluence of cultures including Khmer, but there is no standard recipe. It's impossible to tell exactly what is in the mixture here, though we could visibly identify vivifying pepper kernels and taste five-spice while its color suggested it lacked any curry powder itself. The Saigoneer team are not hot pepper maniacs, nor are we loblolly boys with tissue paper tongues. After a few bites, we deemed it not at all spicy — a "one out of five spice." But as the meal progressed, the heat lingered and accumulated and by the end we found it overwhelmed the flavor. Perhaps this means the spice level is perfect for everyone and no one?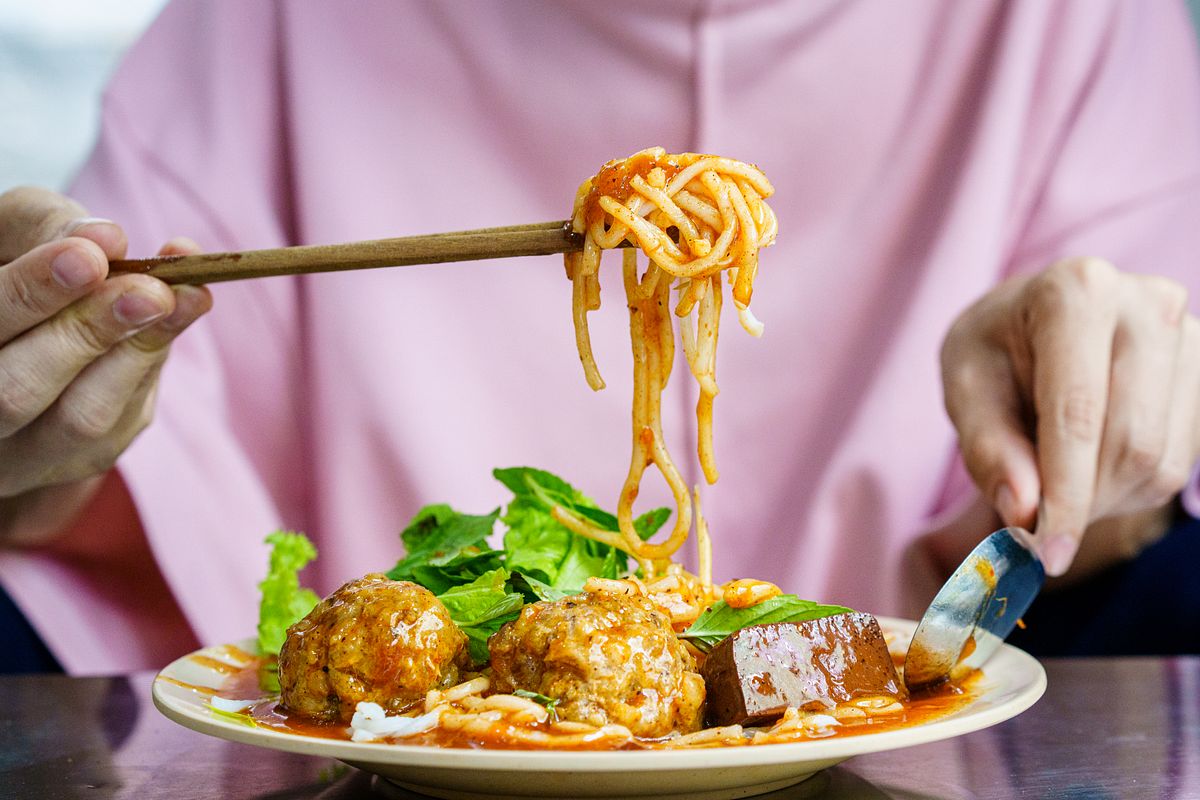 If the sauce doesn't convince you to return to the restaurant, the chicken certainly won't. A crisp and moderately greasy piece of fried chicken would be a perfect pairing for the sauce and noodles. Alas, the chicken appeared to be boiled, resulting in pallid, rubbery pieces that neither absorbed sauce nor added a satisfying crunch. Truthfully, they went uneaten. The meatballs, however, were much better. Moist and complex, they sopped up the liquid without disintegrating and gave the dish a heartiness ideal for a soggy afternoon or break before a busy day.
Ultimately, Bánh Tầm Cà Ri Cay Cô Xíu is a somewhat slapdash experience. Personally, I find the unmistakably family affair exemplified by the incomplete transformation from home to restaurant charming. And the food reminds me of something a close friend fond of cooking would make — a bit provincial, and perhaps in need of some further refinement, but made with a true desire to please oneself and one's loved ones. Much like the delta as a whole, the place is friendly, and genuine and earnest. Perhaps it's a bit flawed and faded around the edges, but I'll take that over fancy and artificial any day.
Kika Quán is open from 9am to 8:30pm.
To sum up:
Taste: 3/5
Price: 4/5
Atmosphere: 4/5
Friendliness: 3/5
Location: 4/5
Kika Quán - Bánh Tầm Cay Cà Mau
128/5 Lê Văn Duyệt, Ward 3, Bình Thạnh, HCMC