For someone whose entire life was dedicated to national progress, Thoai Ngoc Hau really didn't receive the treatment he deserved for his achievements. Marred by a wrongful conviction, even after his death, the official's reputation remained damaged, leaving many of his descendants to bear the brunt of their forefather's fate.
Thoai Ngoc Hau was born Nguyen Van Thoai in 1761 in An Hai village, previously located in Quang Nam Province under the Nguyen dynasty (now part of Son Tra District, Da Nang). His father was Nguyen Van Luong, a local official in charge of manning the city's temples and pagodas. Thoai also had a sister and a brother, Nguyen Thi Dinh and Nguyen Van Ngoat, respectively. He was better known among the people by the name Thoai Ngoc Hau, a portmanteau of his first name and official title.
From a young age, Thoai proved to be a sterling diplomat and enthusiastic civil servant. While 16-year-olds at the time probably spent their days exchanging love poetry through pigeons, Thoai instead joined the government as an assistant to Nguyen Anh, a teenage overlord full of testosterone-addled ambition and aggression. Apart from participating in many battles against Tay Son's forces, Thoai also played envoy in many a trip to neighboring nations like Laos, Siam and Chan Lap – a nation which once comprised most of Cambodia as well as a few of Vietnam's southernmost provinces – to considerable success.
His effort didn't go unnoticed and after the Nguyen dynasty was established he was appointed the governor of Chan Lap.
However Chan Lap's idyllic era was fleeting: at the beginning of the 19th century, the country fell into chaos. As it turned out, Chan Lap's royal family had more bad blood than the Kardashians; members of the clan fought and killed one another in the hopes of becoming Chan Lap's next ruler. Nguyen Van Thoai, along with two other officials, was tasked with bringing a troop of 13,000 into the nation for peacekeeping and also to ensure that one contender, Nac Chan, became the top dog. After that, Thoai was stationed in the country along with 1,000 soldiers, to guard Nam Vang (now Phnom Penh) and protect Chan Lap.
In 1816, Thoai resigned, citing health problems, and returned to the capital. However, many historians believe that the real reason behind the decision was due to a clash in work ethics and personality with Chan Lap's then reigning emperor Nac Chan.
Two years later, Thoai was assigned governor of Vinh Thanh (an old province, now part of the Mekong Delta) and entrusted with overseeing the widening of Dong Xuyen stream, a 31-kilometer waterway connecting Long Xuyen and Rach Gia, two vital cities in the region's economy. Nguyen Phuc Anh – known by then as Emperor Gia Long – decided to honor his effort by naming the canal and the adjacent mountain after him: respectively, Thoai Ha Canal and Thoai Son Mountain.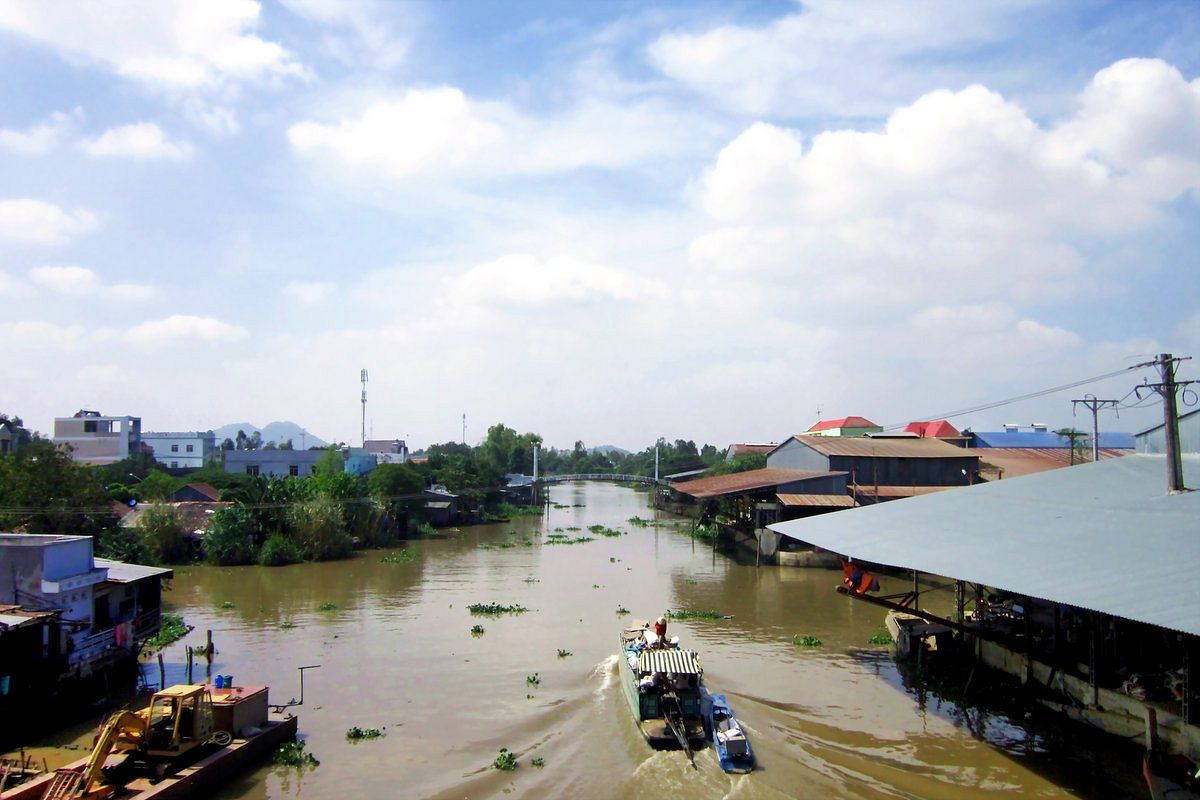 His work in the region was satisfactory enough that a year later, the emperor tasked him with completing another canal along the country's southwest border, linking the Chau Doc River all the way to the sea in Ha Tien. This project was one of the most complex and laborious infrastructure efforts of the time and of Thoai Ngoc Hau's career. Named after Thoai's wife, Chau Thi Vinh Te, the Vinh Te Canal took 80,000 laborers and five years to finish.
Thoai Ngoc Hau passed away in 1829 under Emperor Minh Mang. To show appreciation for his contributions to the country, the emperor rewarded his family with heaps of cash, premium silks and jewelry.
The family's luck, however, was short-lived. Not long after his death, Minh Mang received a document from a jealous official accusing Thoai of abusing his power during his time in Chan Lap. The document stated that Thoai Ngoc Hau had allegedly required Chan Lap citizens to submit rare lumber without paying them as required by law. Moreover, it also insinuated that the administrator forced local laborers to complete personal projects.
Enraged and disappointed, Minh Mang immediately seized all of the family's assets, demoted Thoai Ngoc Hau from second class official to seventh class and repossessed his property, making it available to the general public.
In 1830, a local official submitted a request to carry out maintenance work on Thoai's tomb. Minh Mang was so blinded by his hatred for Thoai Ngoc Hau that he answered with a resounding "no".
Thoai Ngoc Hau's name was only cleared later after an exchange between Minh Mang and Chan Lap's king. In hopes of strengthening the two country's diplomatic relations, Minh Mang sent a letter across the border, apologizing for Thoai's mistreatment of the Cambodian people and expressing hope that the two nations could maintain a cordial relationship after the "corrupted governor" had been punished. Surprised and confused, Chan Lap's king replied back saying that there was no need to compensate for the lumber, as Governor Nguyen Van Thoai had already settled that with the vendors.
Despite this belated revelation, his wrongful conviction wasn't lifted even after the reign of a few emperors. Only in 1880, under Emperor Tu Duc, the Trung Nghia temple was unveiled in Hue, honoring those who had greatly contributed to the country. Among the 1,532 names submitted for consideration was Thoai Ngoc Hau. The list eventually received the stamp of approval from Tu Duc, thus giving Thoai the commemoration he deserved. Nonetheless, it's important to note that in spite of being included in Trung Nghia's Hall of Fame, Thoai Ngoc Hau has never been officially exonerated, and it looks like he never will.
As depressing as the story behind Thoai Ngoc Hau's wrongful conviction was, he always seemed to be the type of civil servant who cared more about the impact of his work than the governmental accolades. At the end of the day, Thoai would be happy to learn that in the eyes of folks in the Mekong Delta, where his canals are located, his work and dedication have always been a blessing in their lives, then and now.
Before 1975, Saigon honored the governor by naming two streets after him: Nguyen Van Thoai Street (now Ly Thuong Kiet Street), which connects District 5, 10, 11 and Tan Binh; and Thoai Ngoc Hau Street in Tan Binh District (now Pham Van Hai Street).
In today's Saigon, Thoai has been relocated to a quaint street in Tan Phu District. However, his name is now also gracing the shirts and notebooks of the students of Thoai Ngoc Hau Secondary School, situated right in the heart of Tan Phu.
---
Related Articles:
---