While the snake bite victim is currently stable, he's facing many complications from the venom.
Last week, local media reported that Cho Ray Hospital in Saigon had received a patient who was bitten by a king cobra and in critical condition. The incident drew national attention after photos surfaced online showing him wrestling with the reptile while in the emergency room.
According to Nguoi Lao Dong, the patient is a 48-year-old resident of Tay Ninh, only known by his initials, PVT. On August 19, while working in a fruit plantation, T encountered a king cobra. He decided to capture the creature to sell it for money, but the snake bit him on his thigh.
A driver in the area spotted T on the street and drove him to the Tay Ninh General Hospital. Doctors at the medical facility transferred him to Cho Ray Hospital in Ho Chi Minh City upon realizing the extent of the envenomation.
Since the cobra attack made national headlines, Vietnamese from across the country have donated more than VND300 million to help with the family's treatment fees. Nguyễn Đỗ Trúc Phương, a Saigoneer living in District 1, organized a fundraising campaign online that resulted in more than VND200 million in contributions, reports Zing.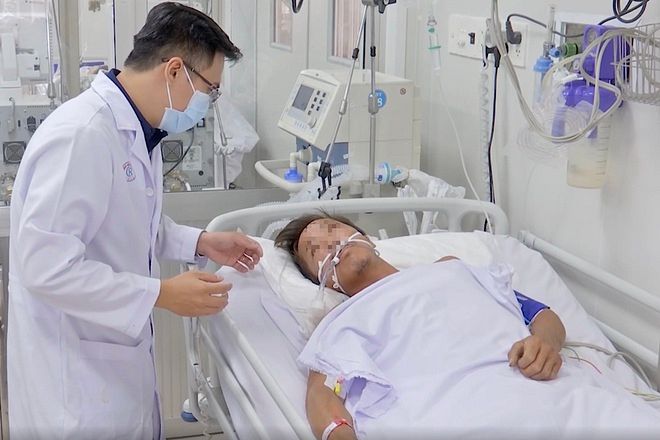 In an interview with the online news source, the victim's wife said that when her husband was admitted, she only had VND300,000 with her, which she borrowed from a relative. "I don't know what to say, I'm very thankful for everyone and the medical staff. The donations have reached over VND300 million so I can pay for his hospital stay," she said in Vietnamese.
She explained that T used to do odd jobs like construction work and spraying pesticides for fruit plantations in the community, but he had a traffic accident not long ago and was still recovering. The family was struggling to make ends meet, so T thought that selling the rare cobra could help pay for his children's new school year.
According to Dr. Nguyễn Ngọc Sang from the hospital's Tropical Diseases Department, the victim went through 15 doses of antivenom during the early phase of treatment, which amounted to around VND50 million. He's since been moved to the ICU for dialysis and monitoring of cardio-pulmonary complications.
The king cobra (Ophiophagus hannah) is the longest venomous snake in the world. It has a wide distribution across South and Southeast Asia. While generally shy and conflict-averse, it can attack when provoked or while defending incubating eggs.
[Top image via Nguoi Lao Dong]