Thanks to a goal in the 88th minute, Vietnam will advance to the quarter-finals for the first time in history.
Nguyen Cong Phuong walloped a shot over the Bahrain goalie's flailing arms to give the national team a 1-0 win. Up to that point the game had been even-matched with numerous momentum shifts and two controversial offsides flags that negated two Bahrain scores as well as a questionable red-card. The team's victory on Sunday against Japan, which propelled them into the semi-finals already, meant the team had already achieved their expectations for the tournament. They will now take on Syria in an effort to advance further.
In a scene reminiscent to the country post-U-23 victory, the streets of Hanoi were filled with raucous flag-waving fans. People all over the country could be seen watching the game thanks to recently acquired television rights. After the match, Prime Minister Nguyen Xuan Phuc issued an official congratulations to the team and broadcaster VOV announced a reward of VND500 million (US$4,300) for the players.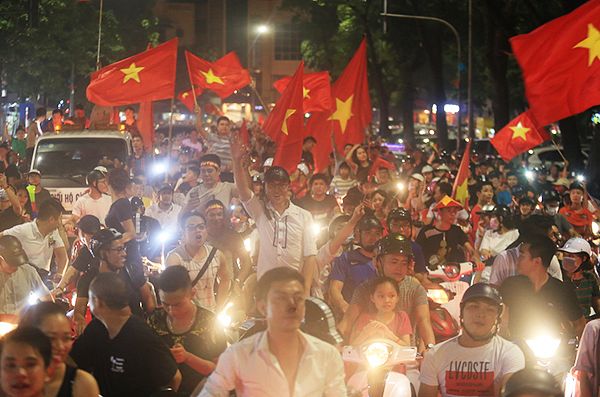 The win is yet another cause for celebration for the country's football program, which has been vastly exceeding expectations recently. The women's team in the tournament advanced to the quarter-finals as well and will play China-Taipei today.
[Top photo via Bao Bac Giang]
---

Related Articles:
---