"Am Muu Giay Got Nhon" ("How to Fight in Six Inch Heels") is an upcoming, fashion-focused romantic comedy directed by Viet Kieu filmmaker, Ham Tran, his first in Vietnam. Saigoneer sat down with Ham do get the lowdown on his new film.
The film, headlined by top Vietnamese talent including Kathy Uyen (who also produced the film), Truc Diem, Yaya Truong, Phuong Mai, Petey "Majik", and Don Nguyen, tells the story of Anne, a neurotic fashion designer from New York, who discovers her fiancée working overseas in Vietnam may be having an affair with a supermodel. With jealousy burning and their wedding date on the horizon, she conjures up a scheme to infiltrate the high fashion world of Saigon in order to catch him in the act. But her plan backfires when she befriends the supermodel and discovers that there is much more to life than living it through a series of checklists.
The film is slated for release on October 17.
Ham Tran immigrated to America in 1982. He received his MFA in Directing from the UCLA School of Film and Television where his thesis film, The Anniversary, won the prestigious USA Film Festival award for Best Short Film which qualified the film for the 2004 Academy Awards for Best Live Action Short. In 2008, Tran Executive Produced Spirit Award Nominated film "Owl and Sparrow," and Associate Produced the award winning documentary "Oh Saigon!" directed by Doan Hoang.
Tran founded Wave Releasing in 2009 where he has since helped secure US distribution for popular Vietnamese films. As an editor, he has edited most of the highest box-office grossing Vietnamese films such as, "Dong Mau Anh Hung (the Rebel)," De Mai Tinh (Fool For Love)," and Long Ruoi (The Big Boss). "
Do you find that there are significant differences between Vietnamese and American actors when directing?
I think when working with younger actors, there is not much of a difference in the way that we work together. For older actors, since they mainly come from theater, the tendency is to have bigger performances. In those cases, I just have pull back the projection and exaggerated expressions.
The pleasant surprise was how much the model/actors brought to the film. I was expecting to have to work a bit harder on performances, but each of the actors has a natural quality that made them the perfect cast for the role. They also each had great chemistry with Kathy, which was absolutely essential. I'm really blown away by Kathy's ability to switch between both English and Vietnamese so fluently and still giving a great performance.
Your directing style seems to be more refined than typical Vietnamese 'pop' films. Do you see this developing into a trend for Vietnamese cinema?
Yes, I've been following Vietnamese cinema over the last few years, and having edited a lot of local films also helps, but I find that the audience is very hip. They get subtlety, and prefer subtitles over dubbings, and more importantly are more keen to character development, story structure, and narrative flow. They won't be fooled by flashy marketing and cool posters. At the end of the day, a good story is what brings them into the cinemas and drives them to tell their friends to go see.
How did the collaboration with international actress Kathy Uyen (she starred in an episode of "How I met your mother" etc) come about?
I've actually known Kathy ever since she was at UCI. She actually interviewed me about my first feature film, "Journey From the Fall" when she was working at an Orange County based Vietnamese language TV show. Then, about a year or 2 after that, I contributed a little bit as an editor on "Spirits", one of Kathy's first feature films. We've always been good friends, and stayed in touch. Our paths crossed again when she starred in her first feature in Vietnam in a film called "Fool For Love", which I was hired on to edit. This film became a huge success in Vietnam, and really established Kathy as a star whom fans really love.
My participation on Six Inch Heels (Am Muu...) came about because Tim was producing an American feature film, and he said that he might have a Vietnam project for me. After I had read the script, I worked really hard to get the chance to direct. I'm really glad that Tim and Kathy trusted me to realize their amazing script. I think Kathy is incredibly talented and a really wonderful actress to work with. The icing on the cake is that we are friends and karaoke buddies as well!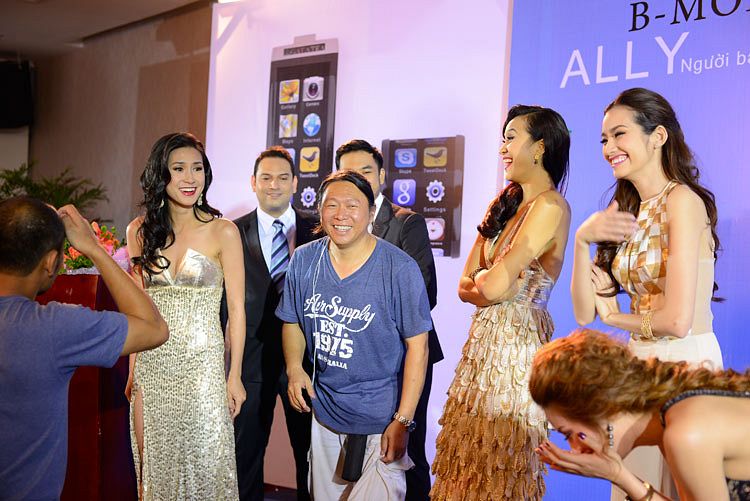 While watching the trailer, there are some dialogues that seem to criticize some of the fashion world's stigmas (models weight and perception of women's beauty). In one dialogue, a male fashion assistant replies to a model who is complaining about the fact that she is hungry, "Good! You are a model now." How did these elements come about? Is there an intention to criticize/mock the fashion industry?
I think a lot of the original commentary about the fashion world came about through Kathy's first-hand experience. Her best friend that she met in Vietnam is a "vedette" (top model), and Kathy has had a chance to peak behind the curtains of the fashion world in Vietnam. She has been storing little observations and funny details over the years that were eventually incorporated into the script; nothing critical, just very fun stuff.
What the film does for the fashion scene in Vietnam is that it humanizes the experience. Our models are not 2 dimensional hot girls, but rather, they are fully realized characters who are each very lovable in their own way. Without giving away too much, I think audiences will be pleasantly surprised by what they see, and I hope that they walk away feeling good about it.
There are some similarities with the film and book 'The Devil Wears Prada': the competitiveness among women, the remarks about looks and the way people should present themselves within the fashion world etc. Do you find any similarity between the fashion environments in the US and in VN?
Fashion is a scene in Vietnam. It is what is happening. That's why you have Cosmo, Esquire, Bazaar, Elle, and many other international publications establishing local branches here in Vietnam. We have a scene in a store called Runway, and the owner goes every year to Fashion Week in Paris to stock up her store line. Our costume designers, Nuchsuda and Panyagal, (both fashion designers themselves) work hard with many established designers such as Adrian (Ni), Anna Vo, Devon London, as well as upcoming designers such as Tuan and Huy to create a look book for this film that reflect international trends as well as staying fashion forward.
All those critical details aside the fashion, the beautiful models, and the runway shows, at the heart of this film is a story about friendship. Relationships come and go, but the friends you make for life, they are the ones who help you through the ups and downs of work, love, and family.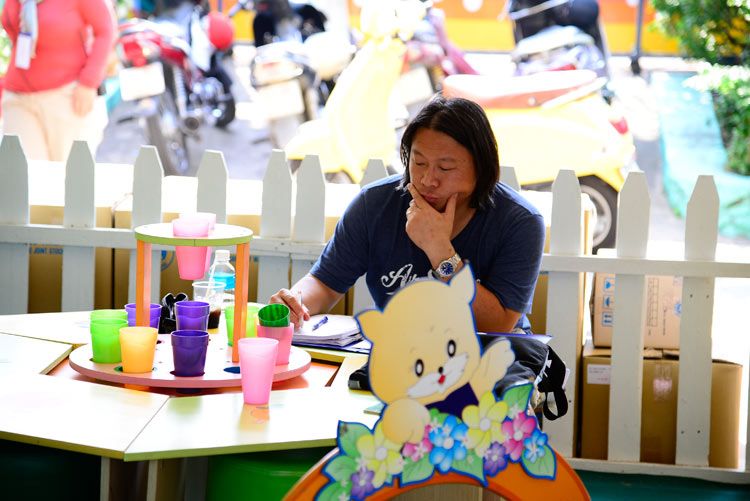 The cast for Am Muu Giay Got Nhon features a plethora of young, Vietnamese talent. Did you find challenges managing the personalities that come from such a talented cast?
I think I was very fortunate to work with this cast! They are the best part of the shoot. The work on the actual shooting days was made easier by the rehearsal that we had with the actors during pre-production. The hardest task for a director is when an actor reads her line and has no idea what her role is in the film. I was fortunate, because our lead cast understood immediately who their character was, so most of our rehearsal time was spent not having to through the mundane identity work. We played a lot with the blocking and the actions. We threw out lines that felt out of character, and even in some cases, our actors helped us come up with replacement dialogue that helped improve the scene.
I think the challenges were probably more about the long production days. One of the craziest moments for me was the evening we shot the fighting scene in the hallway. By the time we got to shooting that sequence it was already 2am in the morning. The actors had just finished their take. I turned around and 3/4 of the crew were passed out on the floor in the next room. We got so much coverage for a 28 day shoot, but that's a testament to how well the cast knew their material. Very fortunate indeed.
How do you see your role in the progression of Vietnamese cinema?
I try not to look at the bigger picture, because I think there's enough for me to manage just trying to make 1 film look and feel good. Personally, I like films with good story structures and amazing performances, so I do my best to ensure these qualities in my film. It's great to be able to work with Tim for exactly that reason. He is very meticulous and patience when it comes to getting the story to feel right, and the rhythm be tight. In this way, I think our film is different from other Vietnamese comedies.
I am very excited that a lot more films are being made in Vietnam, however, they are mostly comedies and action films. I look forward to the day when the genres diversify. I want to watch a terrifying Vietnamese horror film, a heartfelt drama, a science fiction film, a road film, an animated feature! Why not? I believe that we can have it all.
Check out the trailer for Am Muu Giay Got Nhon here: