In the summer of 2021, Hương Nguyễn decided to pivot away from her office job and launch an online thrift store called Vintage Hearts. She was motivated by how difficult it was to find clothing in Saigon that reflected her personal style — what she used to describe as "inspired by foreign pop singers on Pinterest," she tells me, but what is now known as "Y2K," or "year two thousand."
Paradigmatic of fashion's cyclical impulses, the Y2K trend is an embrace of early-2000s pop culture. Low-rise mini-skirts, hot pink camisoles, bootcut denim — all things that had populated the covers of American tabloids — exploded back into the mainstream a few years ago. In 2020, my friends and I lived in Los Angeles; every weekend, we ventured to the city's abundant flea markets, picking through piles and racks in order to infuse our wardrobes with Y2K flair. The markets were packed with young people, and they were all dressed according to the same nostalgic sensibilities.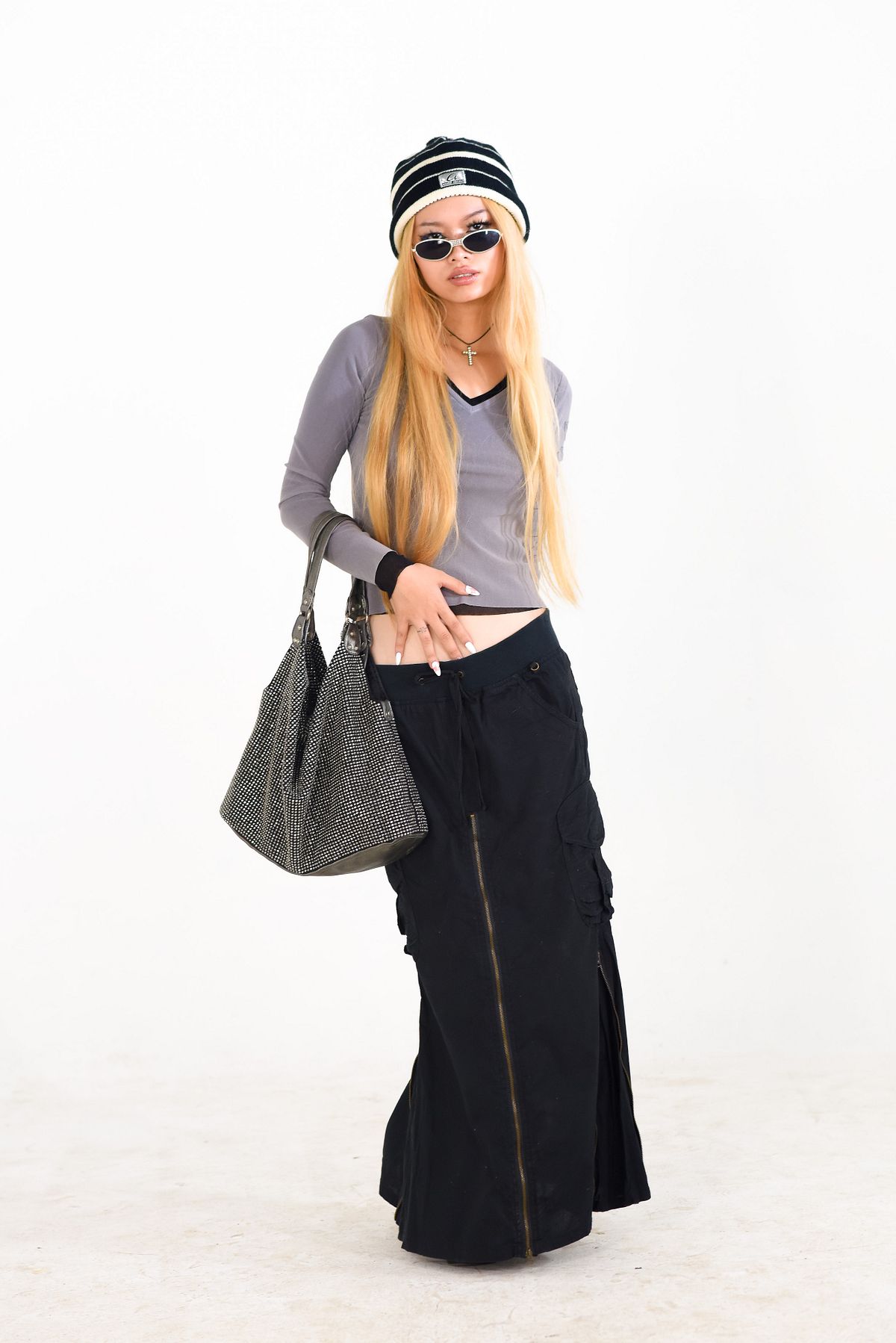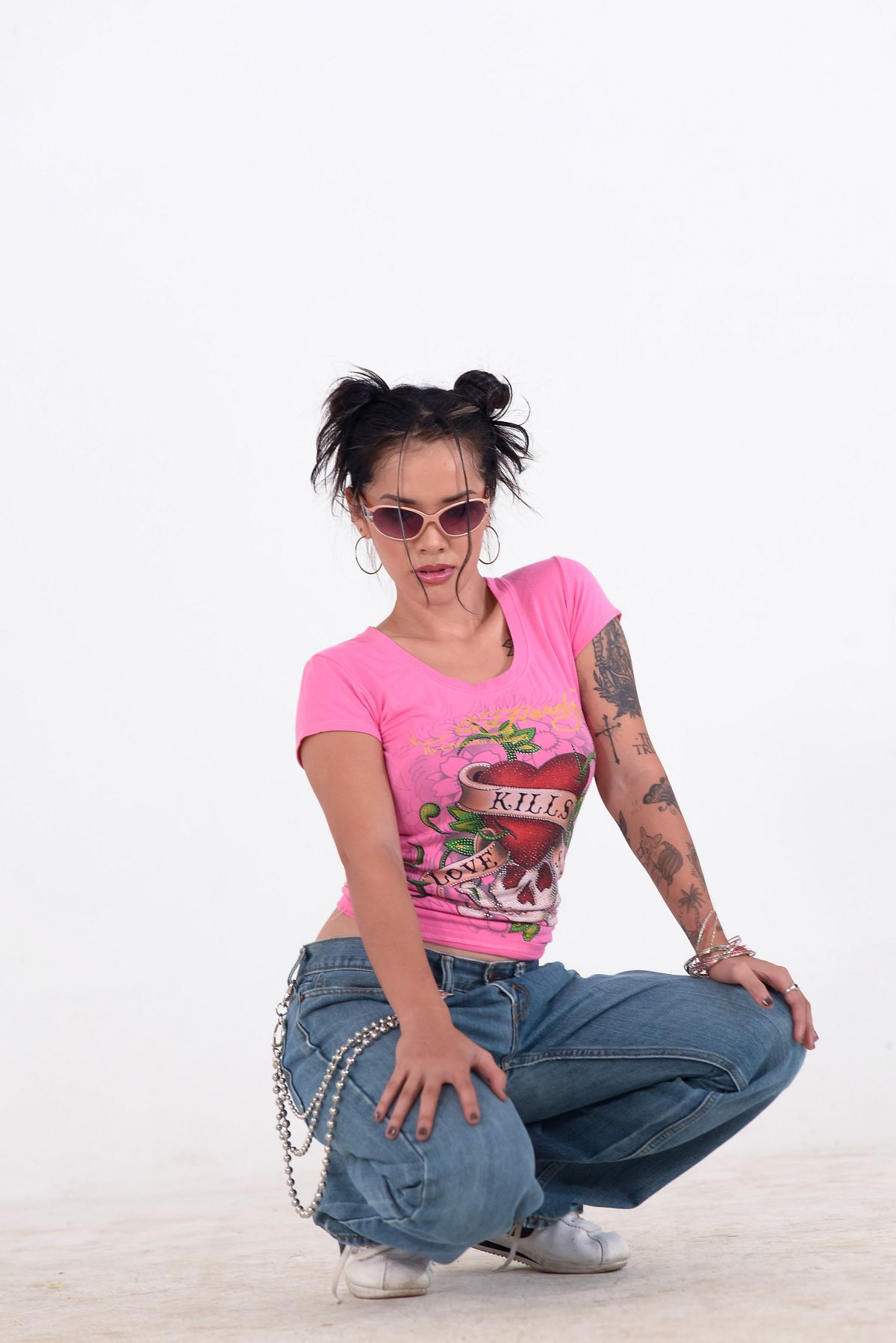 This summer, I've been surprised by the extent to which these sensibilities have taken root in Saigon. Thrift stores are ubiquitous, tucked in old apartment buildings and proliferating on social media. Their inventories appear straight out of the hyper-trendy flea markets of California.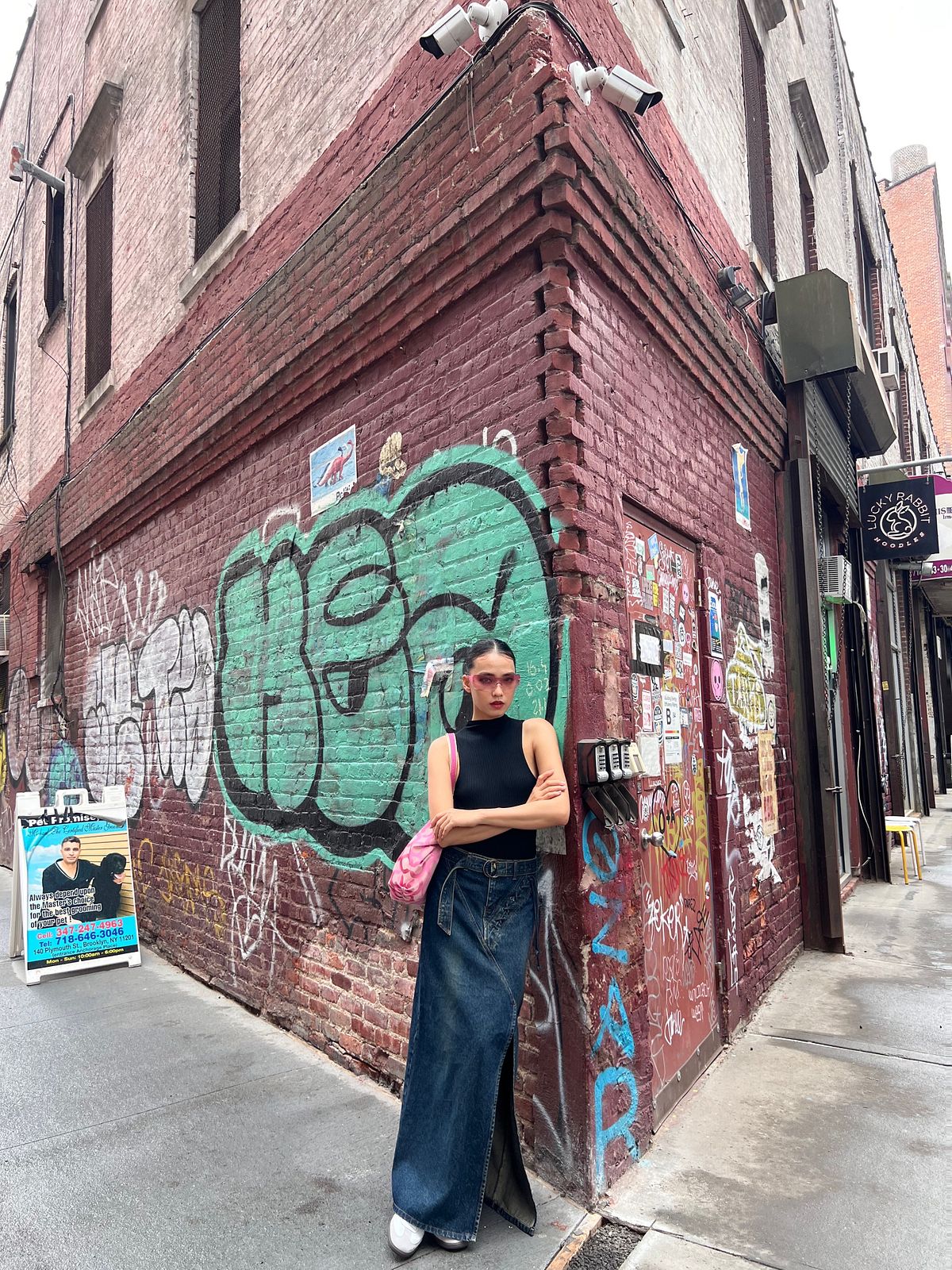 These looks can include Y2k, but also extend beyond it. While Saigon's thrift stores share similar sourcing techniques with much of the clothing coming from Japan and Korea, they've all settled into their own aesthetic niches. Bedazzled tops and chunky statement belts beckon from the storefront of Vintage Hearts, a brick-and-mortar that arose after its online popularity. At Hebe Vintage, another Saigon thrifting heaven, I discovered a hoard of denim maxi skirts, each one a canvas for funky stitching, pockets, and buttons. Meanwhile, the lacy and floral yet slightly grunge aesthetics of TikTok's "fairycore" thrive in the tiny room of Closete.
In other words, the problem that drove Hương to open Vintage Hearts isn't much of a problem anymore. All of the entrepreneurs I spoke to see themselves as part of the city's burgeoning thrift scene, one that dovetails with the global renaissance of vintage clothing amongst Gen Z-ers.
A thrifting wave in Saigon
As Saigon's thrift store owners tell it, the vintage craze is a foreign phenomenon that's only reached Saigon through the dual forces of the Internet and their own efforts. After living and working in Sydney, Australia, Anthony Trần realized that "vintage culture was not really known, and had no opportunity to develop in Vietnam." So in 2015, he founded Mayhem Saigon, one the city's very first thrift stores, a treasure trove of denim jackets, graphic tees, and Hawaiian shirts, to try and change this.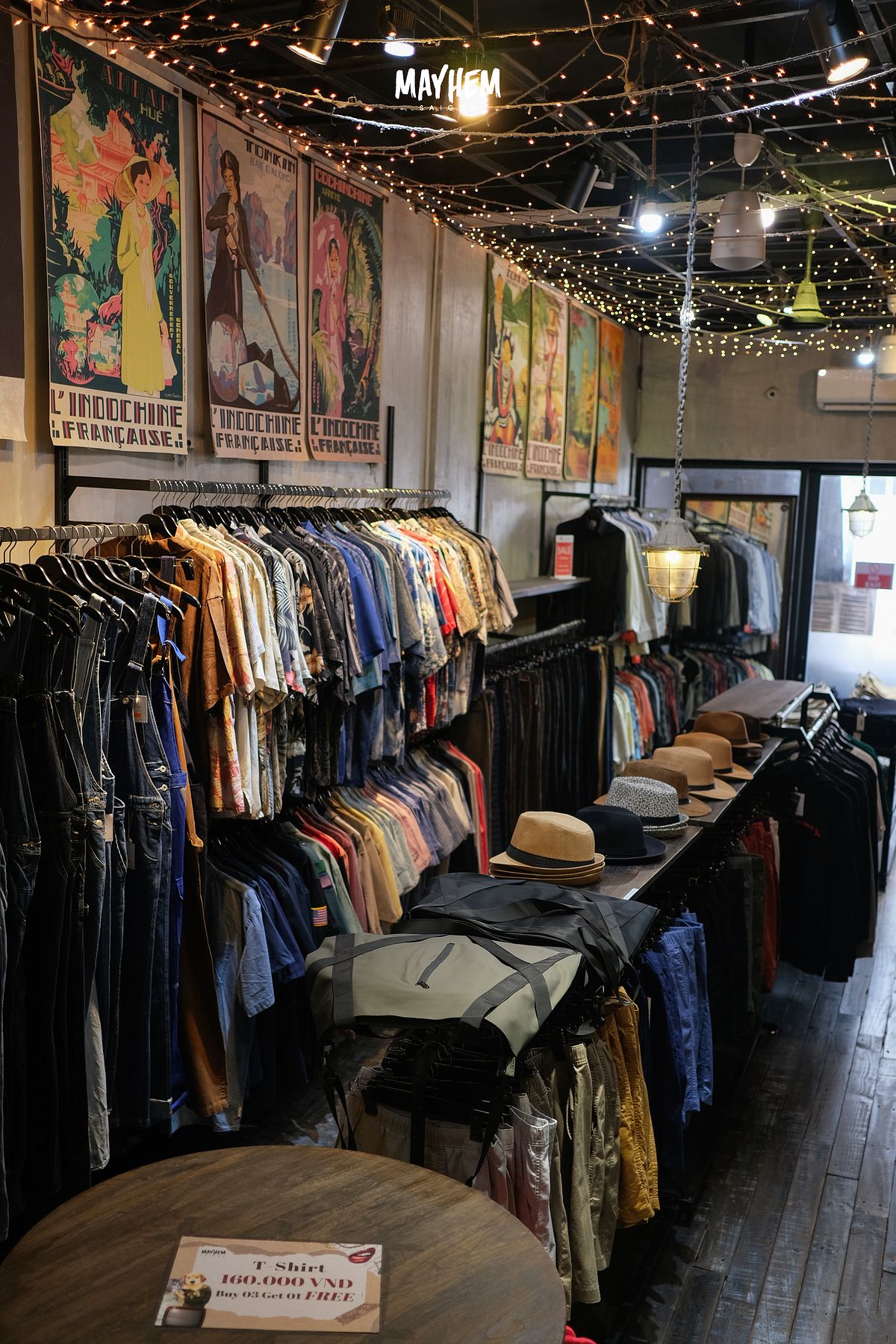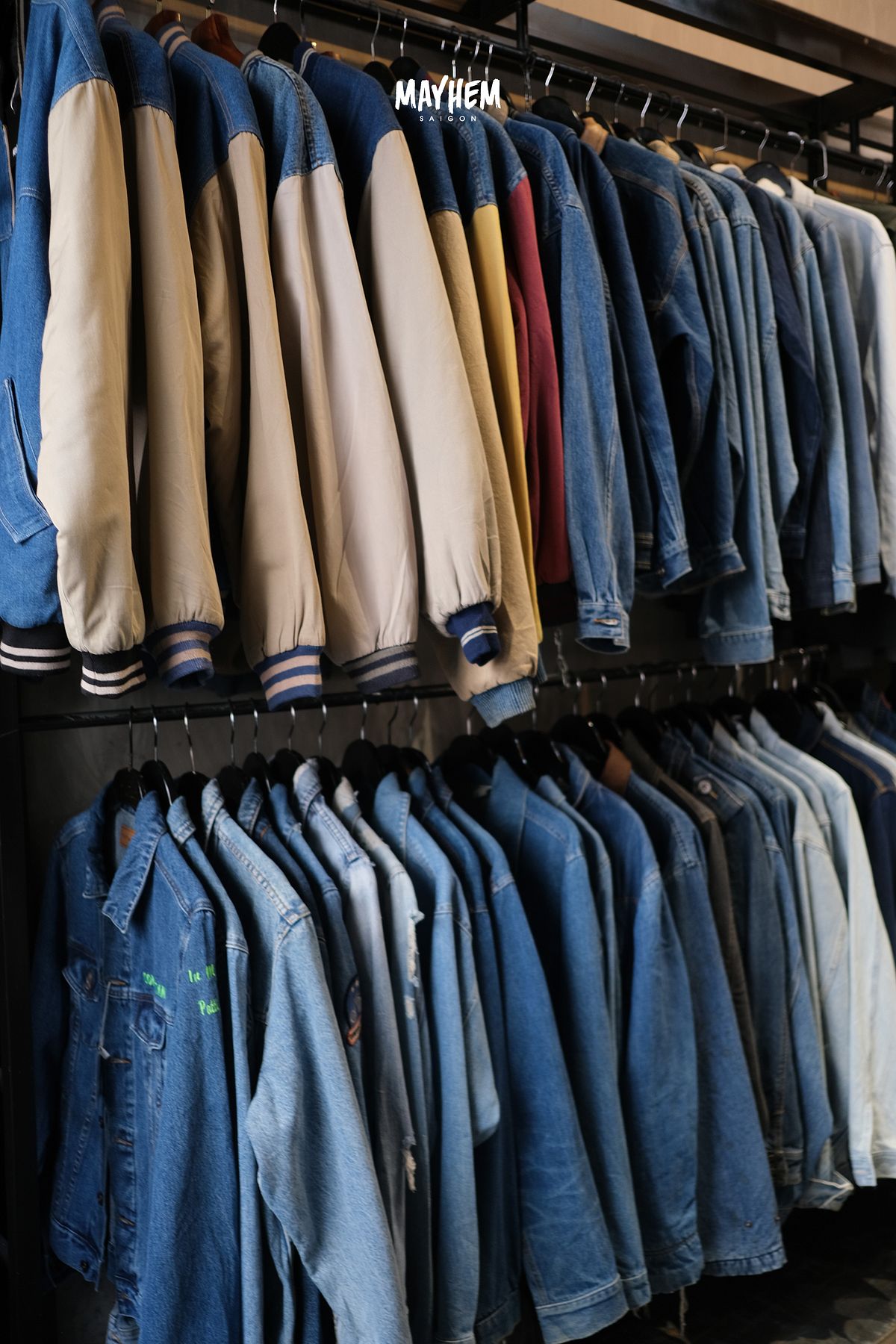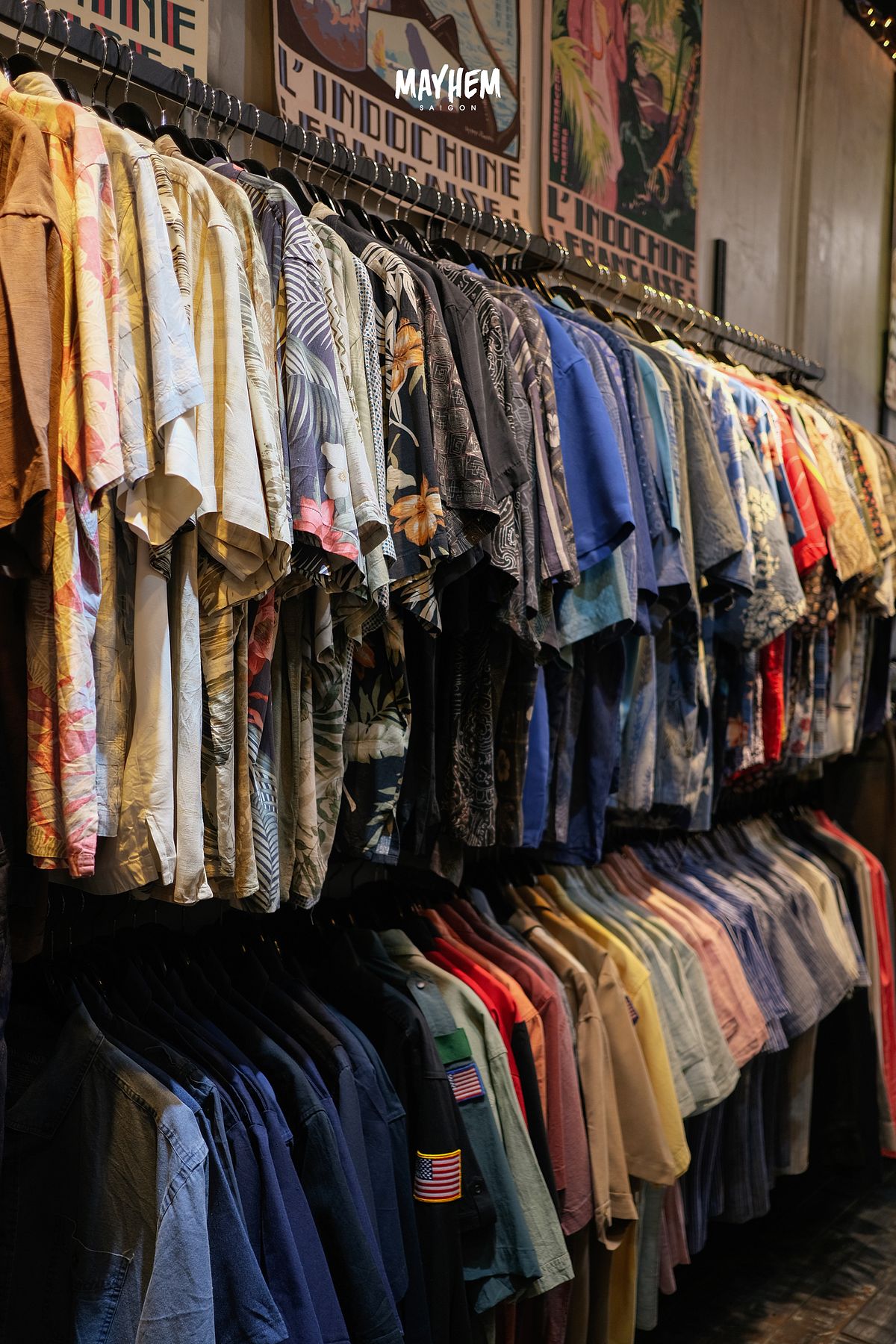 But back when Mayhem first opened, in America and elsewhere, thrifting was perceived as less of a fashion statement and more of a socioeconomic signifier. If it was a fashion statement, it was wielded by hipsters alone. Võ Nguyễn, co-founder of Hebe, remarks that secondhand culture has existed in Saigon "since the times of our parents." Indeed, older generations have always loved recovering used items for bargain prices. None of that, though, was necessarily cool. Thrifting's current form — stylish and style-defining — only "became a wave for the teens and young adults thanks to various social media platforms like Facebook and TikTok," he says.
The strength of this wave in Saigon has been as unexpected as it is exciting, even for those who believe in thrift enough to open a store. Closete, which also specializes in vinyl records, is owned by the trio of Anh Nguyễn, Chi Nguyễn, and Lý Kim Nhã. They purposely don't market their business, because they want to preserve it as a "lowkey" spot to "connect with the people who love fashion and music," Anh tells me. Much like a speakeasy, it's not very inviting from the outside. I stumbled upon it while exploring 42 Nguyễn Huệ, tentatively ringing the doorbell and wondering what lay behind the covered windows.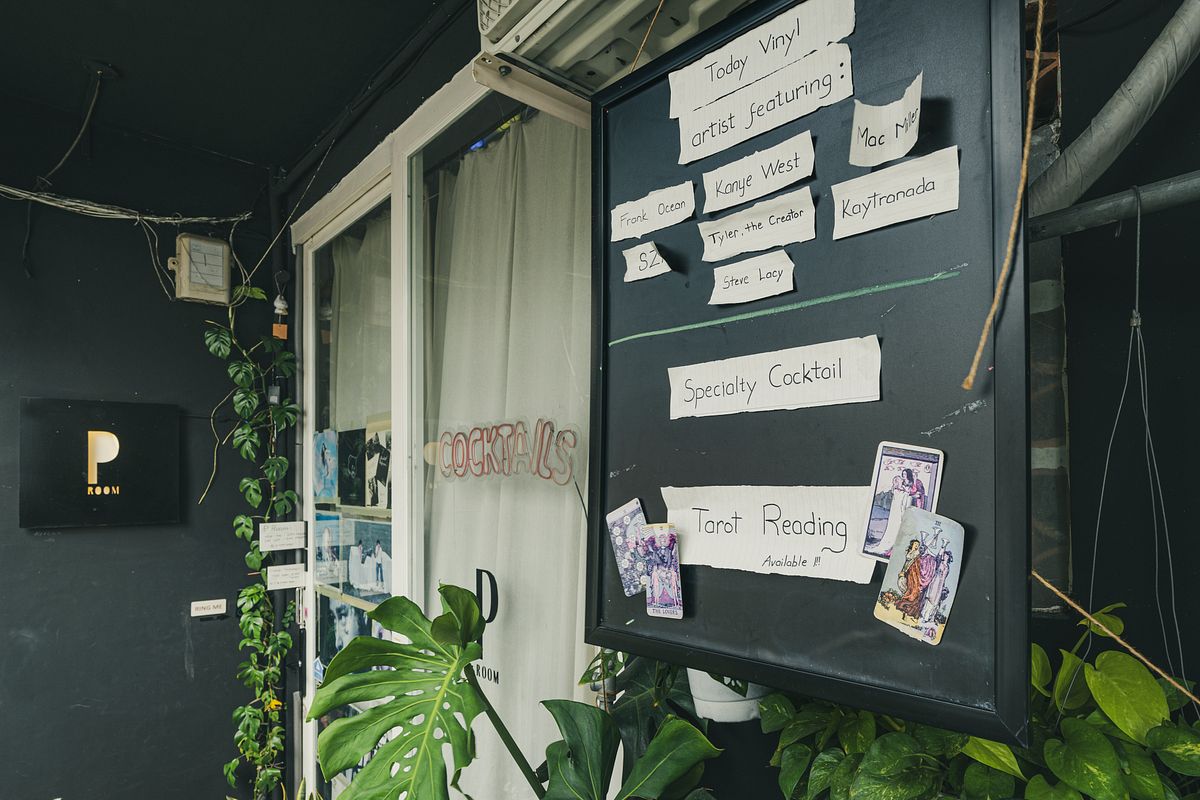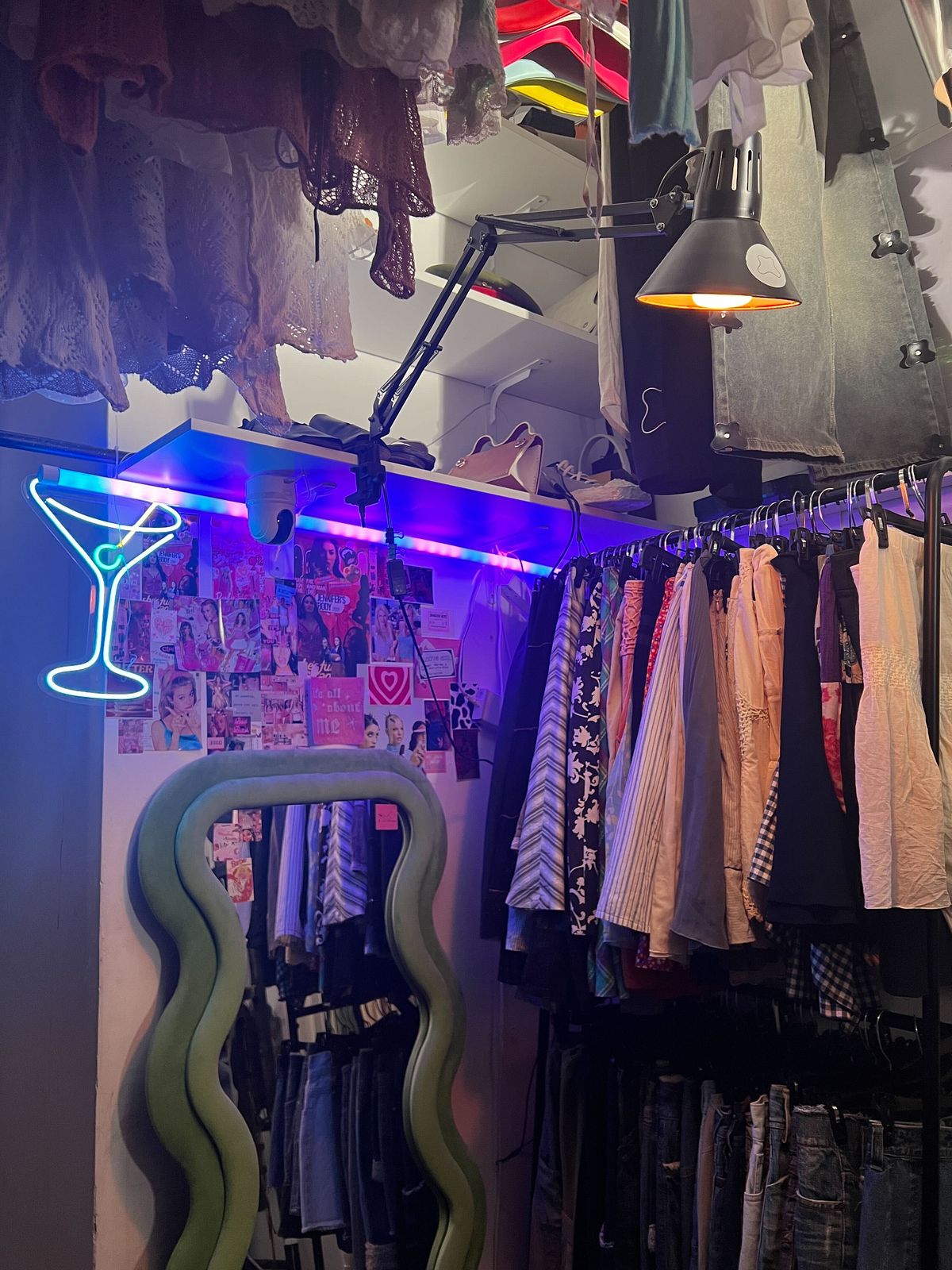 Yet, Closete's attempted stealth has hardly stymied the flow of shoppers to its doors. "When we first opened, people just came in. They ring the bell all the time," says Anh, who has a background in fashion design. He was initially inspired by how, unlike in Saigon, thrift stores inhabit "every corner" of his hometown of Portland, Oregon. But now, he's optimistic about Saigon's potential as a thrifting hub in its own right. "In one or two years, the scene's gonna be big," he predicts. "There's a lot of people coming here, and a lot of travelers that go here for thrifting."
Hunting for gems
When I peruse a thrift store, I'm not looking for the clean, simple silhouettes and basic blue jeans that populate mainstream brands. I want pieces that feel eclectic, slightly offbeat: a pair of jeans whose uneven wash betrays the toll of time; a top with a counterintuitive colorway; a sequined dress that edges on gaudy. There's a thrill to pulling something off a rack and realizing that I could maybe make it work. Hương describes it as "the feeling of excitement when finding a beautiful item that matches your aesthetic at random."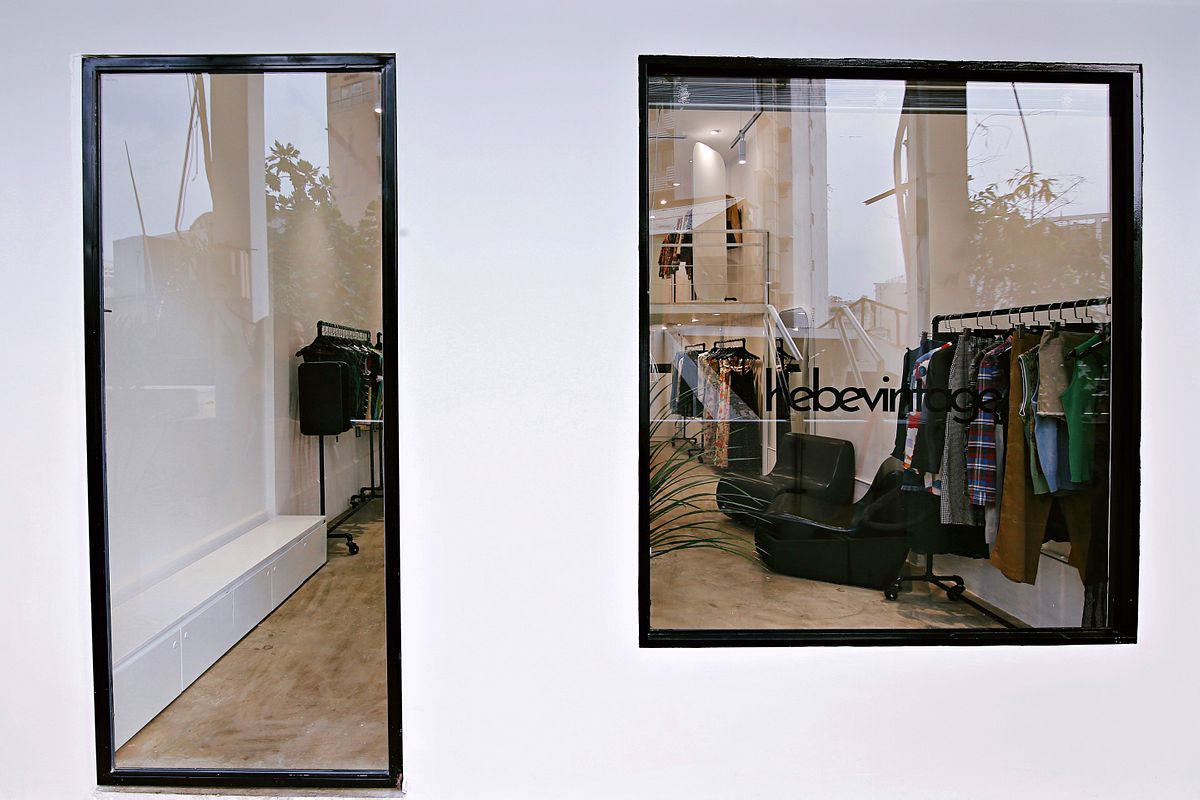 Hương, like the other owners I spoke to, gravitates to the hunt of thrifting: finding one's treasure amongst another man's trash, as the old adage says. Closete embodies this ethos with its mystery bags. Each contains an undisclosed, pre-styled outfit — an offering that I could never imagine at the likes of Zara or Uniqlo. It's an understanding of the fashion risks that their clients are willing to take. To thrift is to lean into unpredictability; you never know what one-of-a-kind item you're going to unearth, or what you're going to end up falling in love with.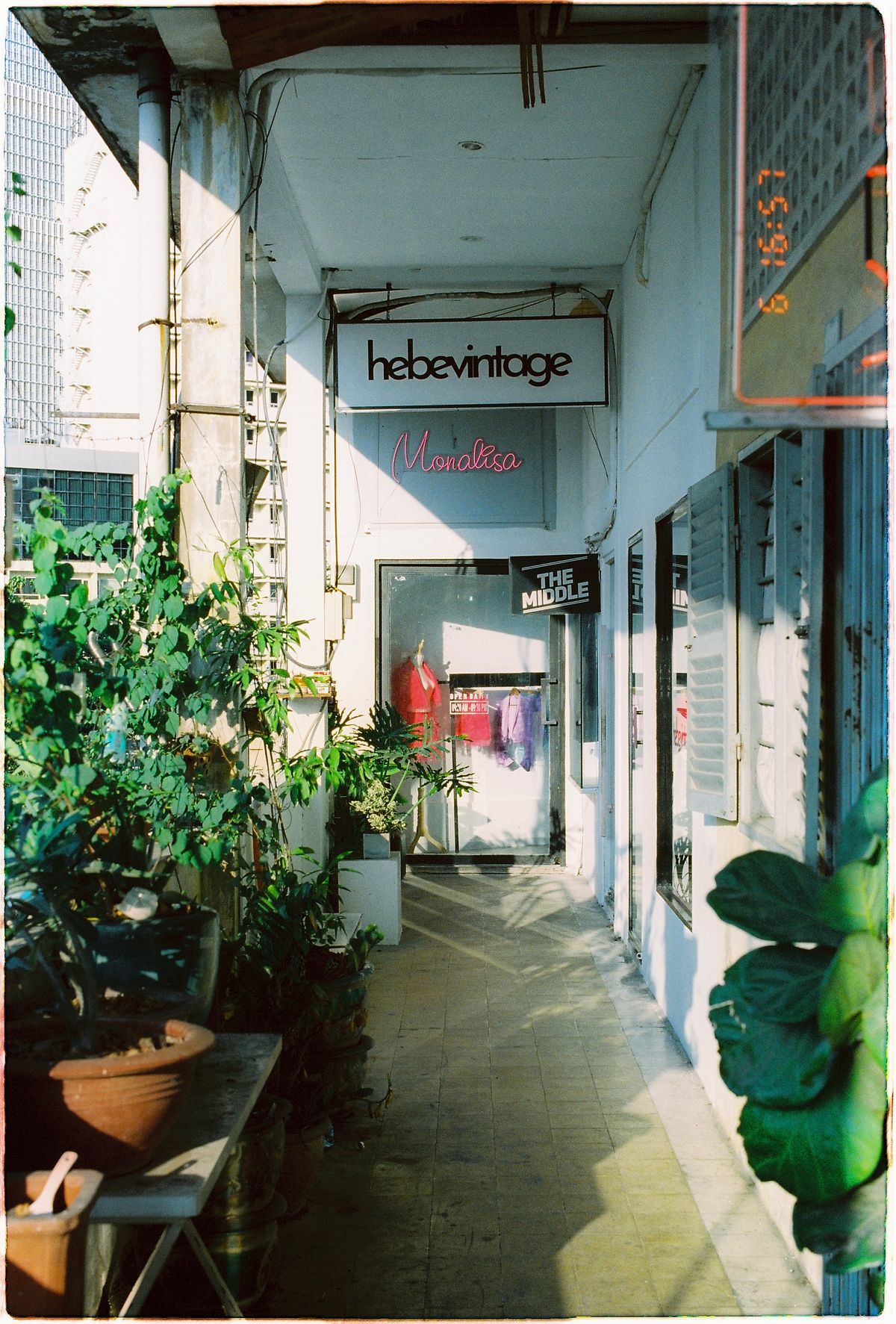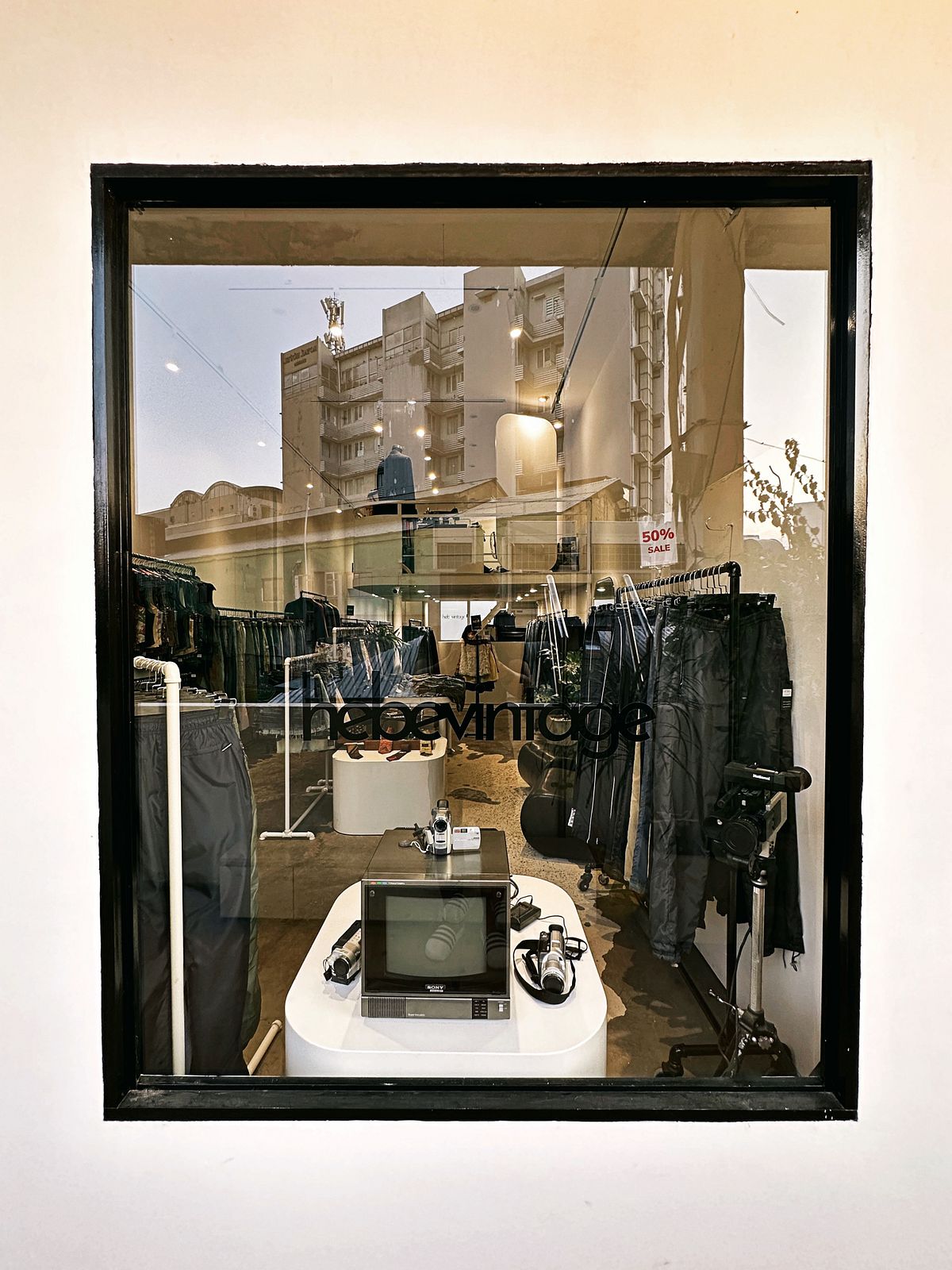 "A lot of these vintage clothes are very valuable, because back when they were produced, they weren't made as a 'ready-to-wear' type of clothing," explains Võ, referring to garments that are sold in finished condition and standardized sizes. "They weren't broadly manufactured like they are now. So when I get the chance to get my hands on these vintage clothes, it feels very different when I wear them, like my clothing is different from everyone else's." Through Hebe, he hopes to share this feeling with customers. That's why the store's inventory is "never repetitive," he says. "Like for our jeans, they all have different detailings. None of them are the same."
Võ harbors such a deep appreciation for the idiosyncrasies of vintage that he even collects pieces that don't fit him. "Selling to customers is easy," he says, "but owning these valuable clothes is very rare and difficult. They're from the '60s and '70s — a very long time ago — and their detailings are incredible."
Sustainable futures
Another oft-cited draw of thrifting is what Hương articulates as "the quality of time on each product, from fabric materials to seams." Irreplicable aesthetics are produced by the age of a piece; so, too, is a certain "comfortable and friendly feeling when wearing them," she says.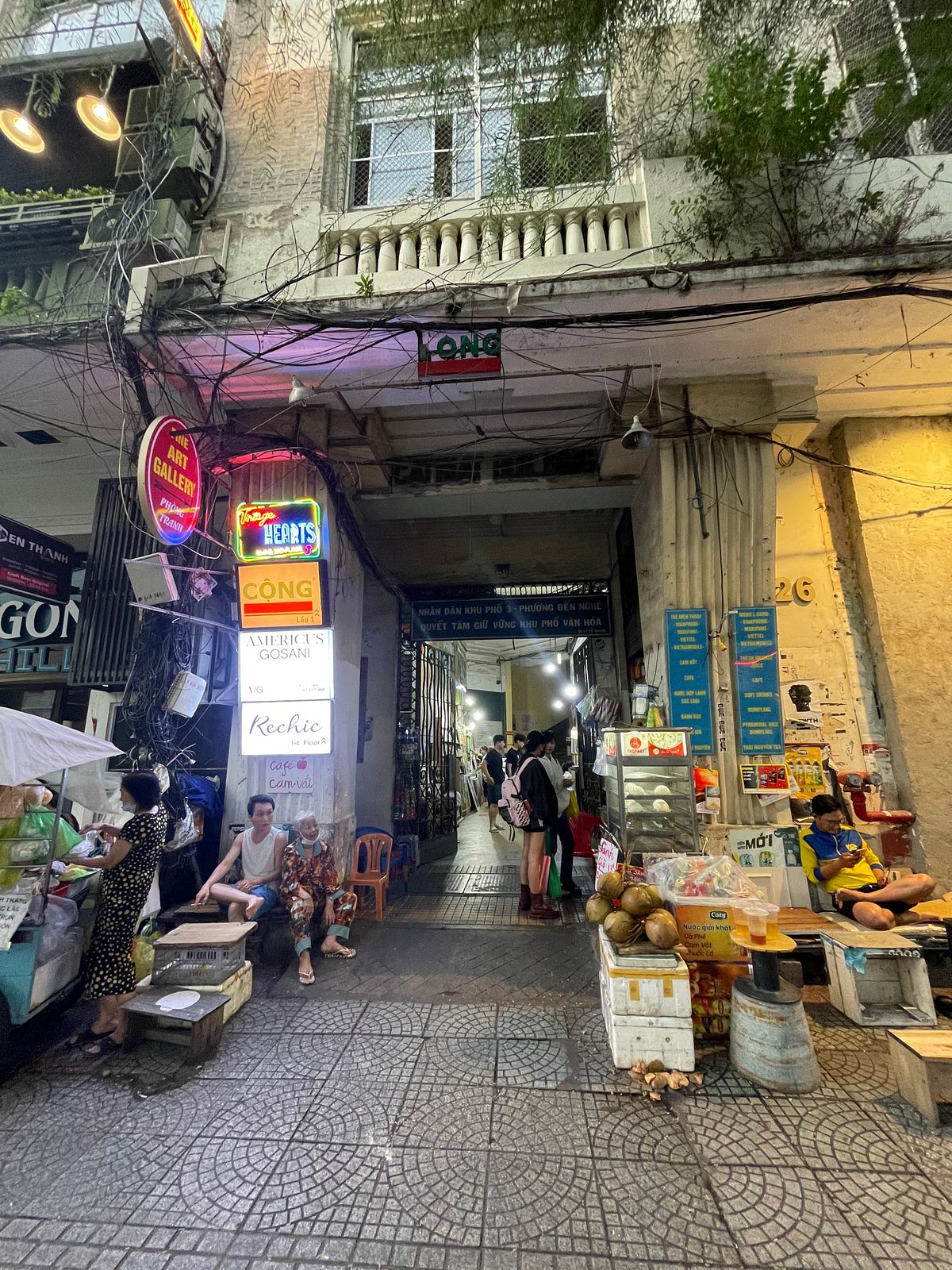 But the worn-in nature of vintage clothes is not just a stylistic asset. It is, critically, what makes thrifting as environmentally friendly a trend as it is a fashionable one. "Reuse, reduce, recycle" is Mayhem's mission, says employee Lan Võ; they even repair products with minor defects to render them usable again. By giving old pieces new life instead of tossing them out, thrifting constitutes a much-needed alternative to fast fashion, which generates 92 million tons of textile waste per year.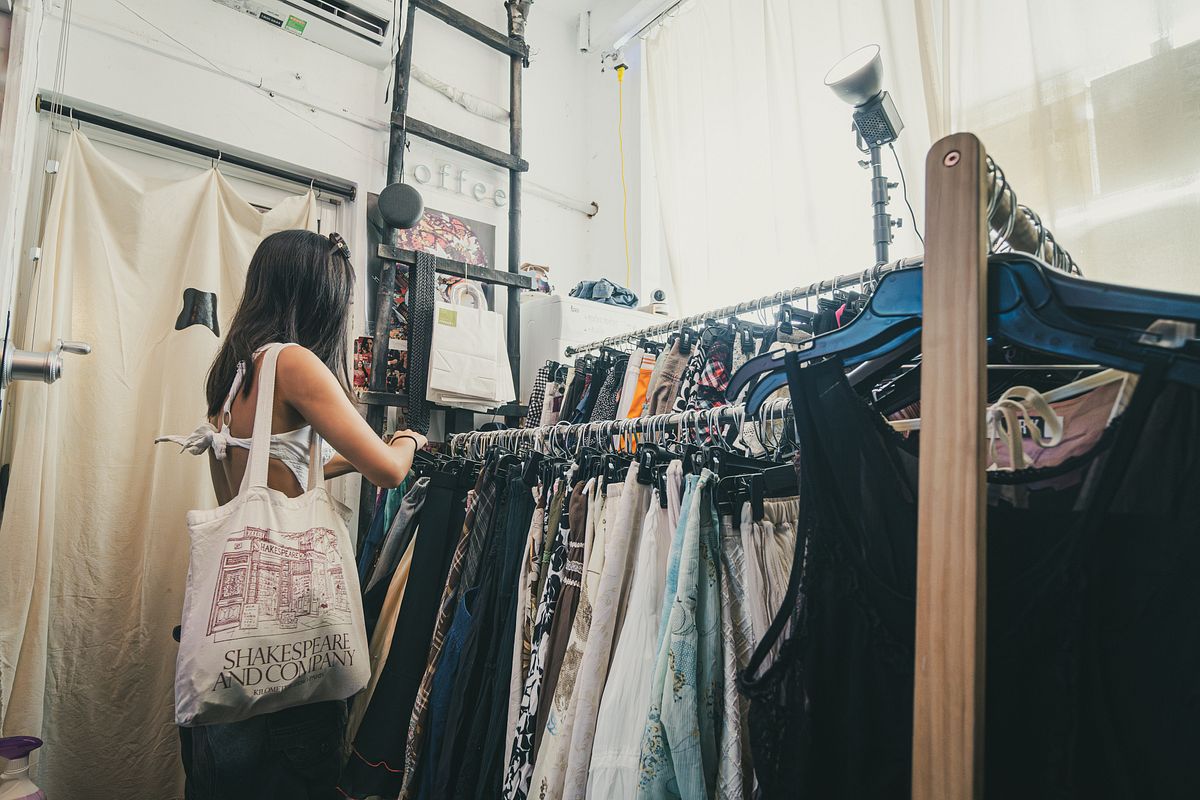 "In the fashion industry, they've spread the idea about sustainability. So now, a generation understands what it has to do," says Anh. Thrifting is a particularly "smart way to buy used stuff," he continues, because the item "already looks good. Someone else already picked it, and they'd been using it for a while. They added some character to it." New clothes require a period of breaking-in, of softening the fabric. But Anh believes that with thrifted clothes, "when you put them on, they just fit."
Thrift shopping, then, means more comfort, more individuality, and more environmental responsibility. Closete's future aspirations are oriented toward checking all of these boxes. I had assumed that Closete's name was an allusion to the fact that the store is, indeed, closet-sized, but according to Anh, it's a manifestation. The owners want to get a bigger space that actually functions as a closet, where people can store, trade, and rent out their clothes. These trading posts exist abroad, but not in Saigon, he says.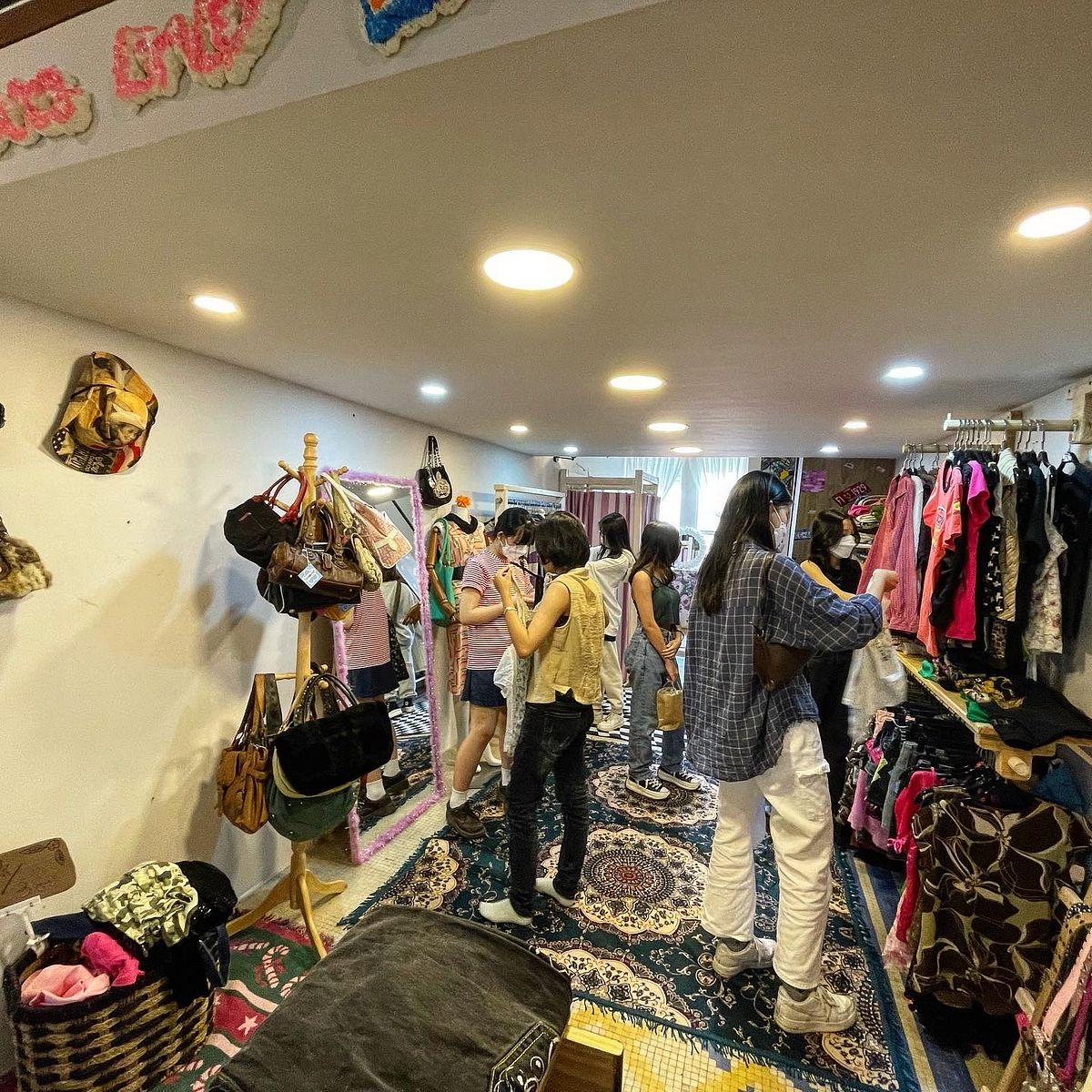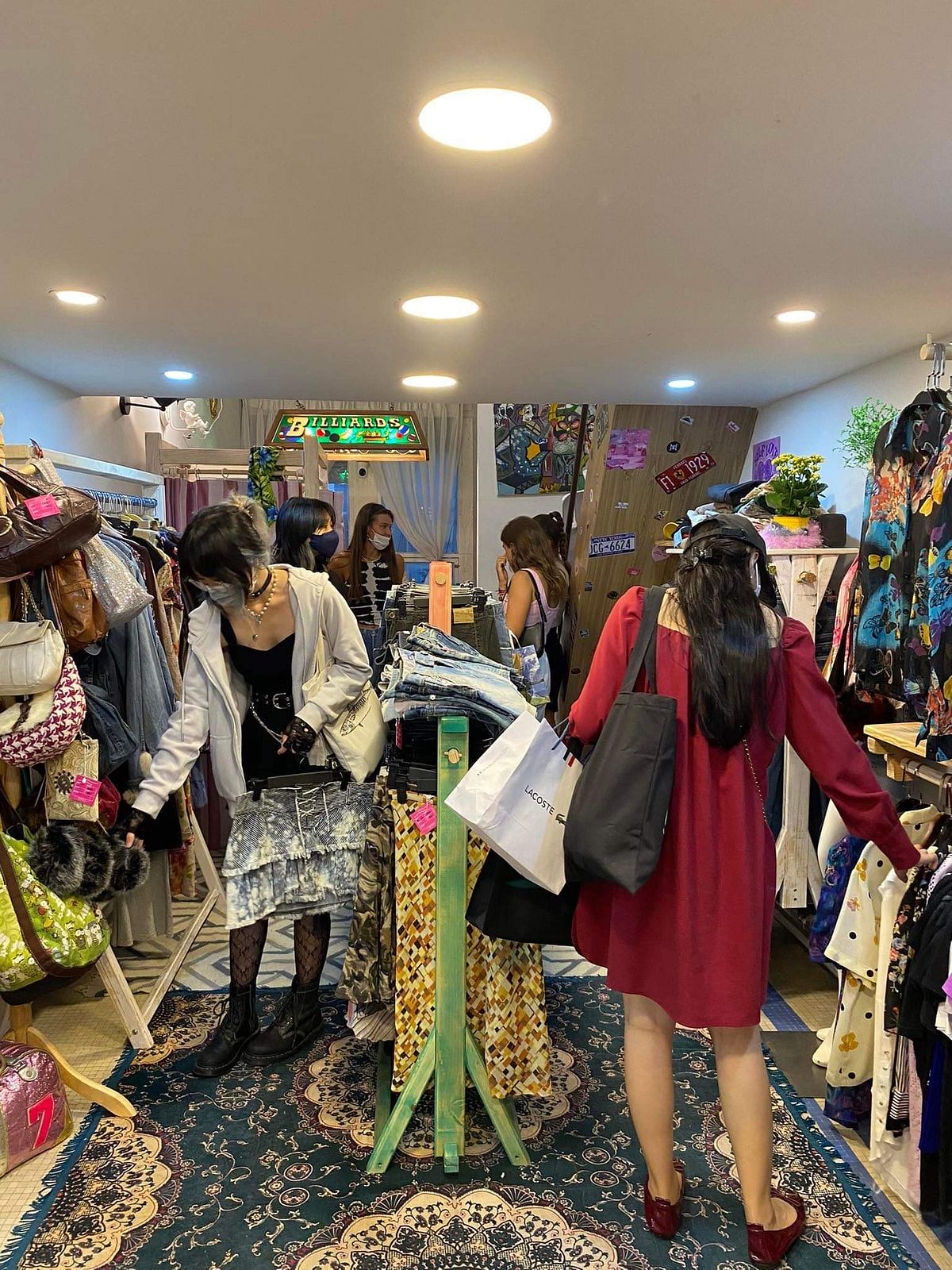 "I wonder why they don't do that here, because we have a lot of clothes that we don't wear," Anh explains. "Bring your clothes here, and I will clean them, I will make them look good. I'll put them on a shelf, and people might like them again."
More than any concrete plans for expansion, though, Saigon's thrift store owners simply hope that sustainable, unique, and thrifted clothing continues its spread throughout the city. Võ and his partner Trần Thị Diệu Hương had no professional experience in fashion before opening Hebe. "But the more I do it, the more I love it, especially the feeling of receiving positive love from Vietnamese people," Võ says. "And gradually, as people learn more about it, the Vietnamese market is understanding vintage culture."