Whale worship started from a folk belief harbored by fishermen seeking help from the gods to endure the arduous days spent at sea, but over time, it grew to become one of the most prominent spiritual practices of Vietnam's fishing communities, especially in Phan Thiết. This reverence of whales reflects the people's fervent passion for life, and a benevolent coastal culture that seeks harmony between mankind and nature.
Tales of whale worship in folklore
The worship of cá Ông — the honorific people often used to refer to whales and other large marine creatures — is a common religious practice that plays a crucial role in the life of coastal communities from Đèo Ngang, Quảng Bình Province to the south. There are several fables in our ancient lore surrounding this animist belief.
Chăm folklore speaks of the story behind Eh Wa, a peasant living in La Dak Village. Aspiring to help his people and nation, Eh Wa makes the treacherous trek to the Middle East in hopes of learning from a sorcerer. During the apprenticeship, he wants to return home, but wasn't allowed to. He steals his mentor's raft to cross the ocean to go back, but is discovered. The sorcerer, angry at the betrayal, curses Eh Wa to be swallowed by ocean waves. In an instant, the sky turns furious, and a typhoon with giant waves destroys Eh Wa's raft while he is eaten by sharks. The soul of Eh Wa lingers on inside a whale, becoming Po Riyak, the God of Waves to rescue drowning fishermen in the middle of the sea. People establish temples to give thanks to him every year.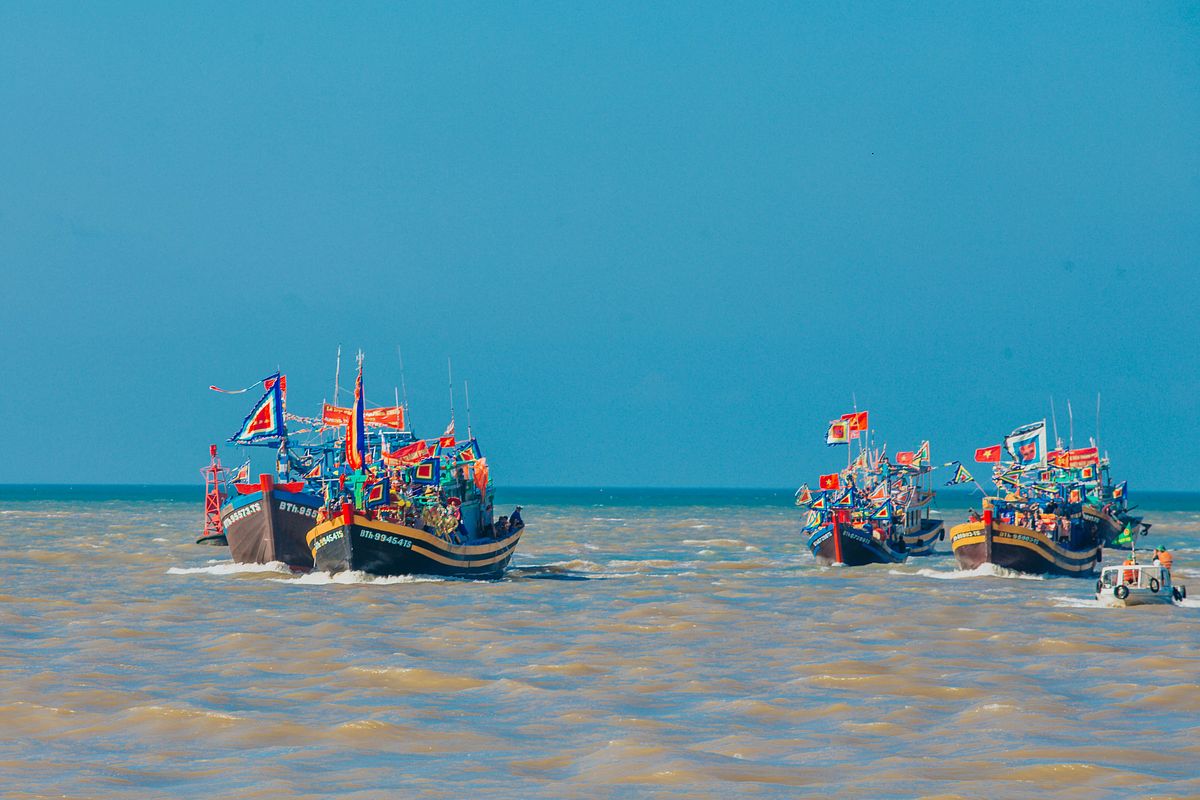 Beside oral lores, an appreciation for whales is also mentioned in Đại Nam nhất thống chí, a series of geographical and historical encyclopedias from the 19th century: "Whales are called Đức Ngư. They're altruistic and often save people who fall into the ocean. At the beginning of his reign, Emperor Minh Mạng bestowed them the title Nhân Ngư, while Emperor Tự Đức renamed the title to Đức Ngư."
The common people have their own set of honorifics for these gentle giants, like Ông Nam Hải, Ông Lớn, Ông Chuông, Ông Cậu, Ông Khơi, etc. They believe that cá Ông is a mythic creature that can protect them in daily life. Making a living out at sea is a trade rife with risks and unknown dangers, so this faith helps empower them to face everyday vicissitudes, and slowly becomes ingrained in folk spiritualism. As whale worship spread, coastal villages started building many temples and organizing elaborate rituals like yearly Cầu Ngư Ceremonies. Beached whales, known as cá Ông lụy bờ in Vietnamese, are given proper funerals, attended by everybody in the community.
Celebrating Cầu Ngư festivals in Phan Thiết
Much like coastal communes across the nation, Phan Thiết residents have maintained their whale worship rituals for centuries. Vạn chài, or floating villages, in Phan Thiết organize ceremonies and festive occasions into many activities for the people to pray for good weather and bountiful fish harvests.
On the morning of the festival day, life along the Cà Ty River takes on an unusually hurried pace. The Cồn Chà fishing port stirs awake before the sun rises amid the clamor of fishing boats docking and lively banters of seafood sellers and buyers. The port is especially vibrant today, thanks to rows of boats covered in fluttering pennant flags.
When the first sun rays slowly leave the horizon, washing over the wooden boats, it's time for the vessels to make a trek to the sea for Lễ rước lệnh to invite Ông Sanh and other marine deities back to the temple. Their bows, sharp and proud, pierce the water to ride the waves. After arriving at Lao Island, the elderlies on the boat read a ceremonial oration before the procession heads back to the mainland, walking along the Cà Ty River, over Dục Thanh Bridge, to the final destination: Vạn Thủy Tú Estate.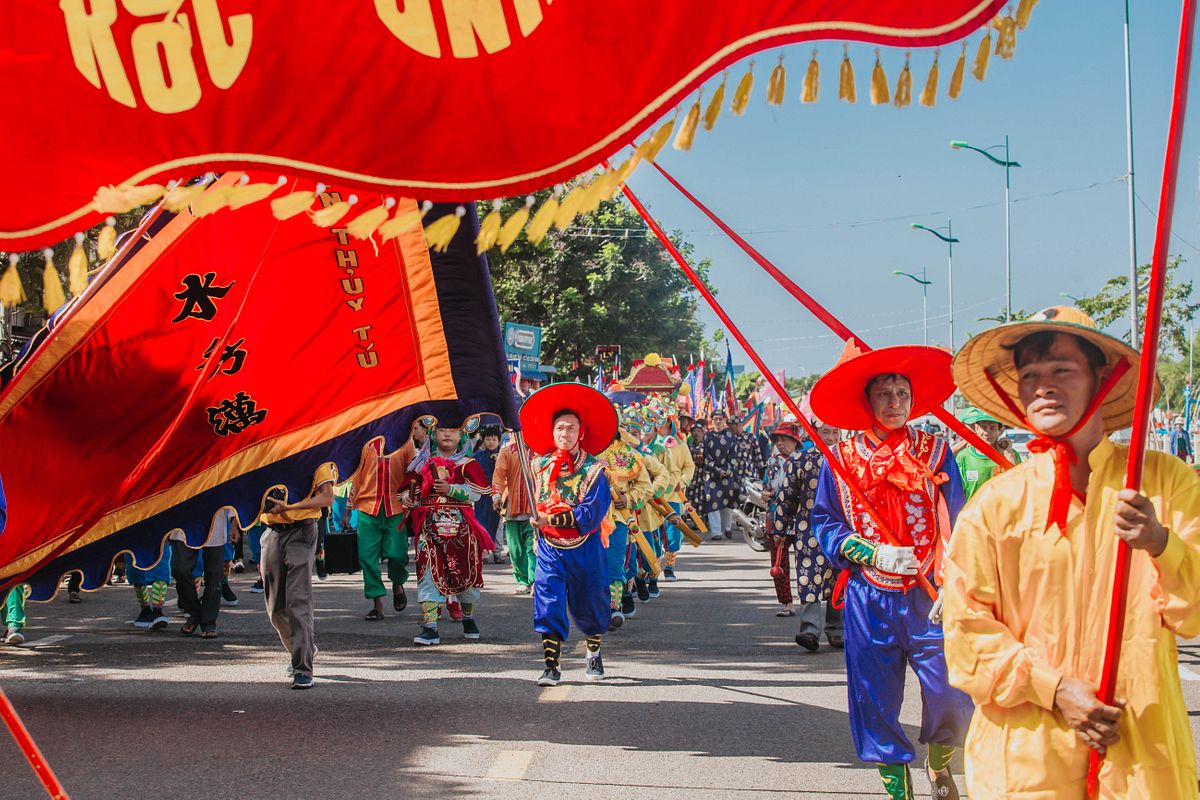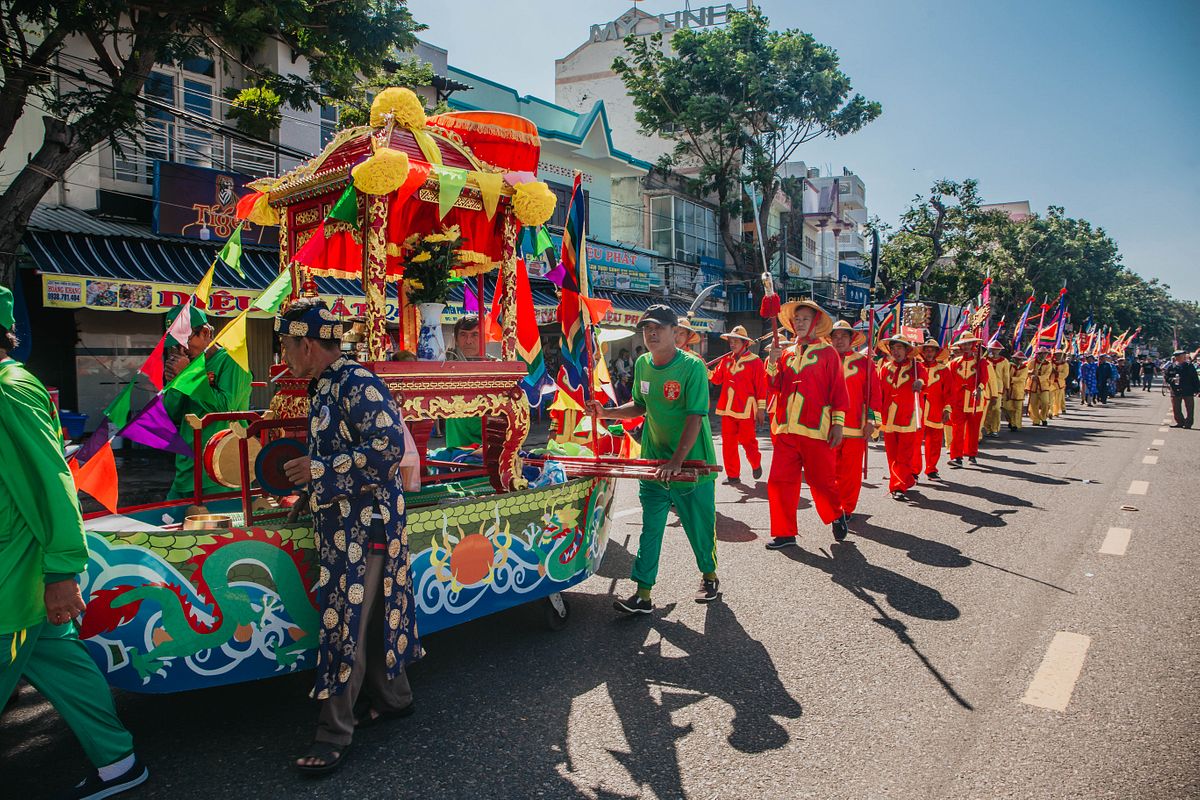 The festive parade makes its way across town, bringing along resounding gong strikes and tunes of hát bả trạo. Hát bả trạo is a form of folk performance art often practiced during whale worship ceremonies or funerals for cá Ông. "Bả" means to grip and "trạo" refers to the oar, and the song lyrics are well wishes, expressing the people's hope for hospitable weather and stability to face the dangers of maritime endeavors.
A team of bả trạo performers is made up of 3 section leaders (ông tổng) and 12 oarsmen (con trạo). The spectacle is conducted by the leaders: a bow leader (tổng mũi) who stands at the boat's head as the main vocalist; a cabin leader (tổng khoang) in charge of welfare on ships, represented by a fishing pole; and a helm leader (tổng lái), who stands behind holding an oar. The oarsmen stand in two lines, paddles in hands, and re-enact seafaring activities like paddling and pulling the net while singing along with the section leaders.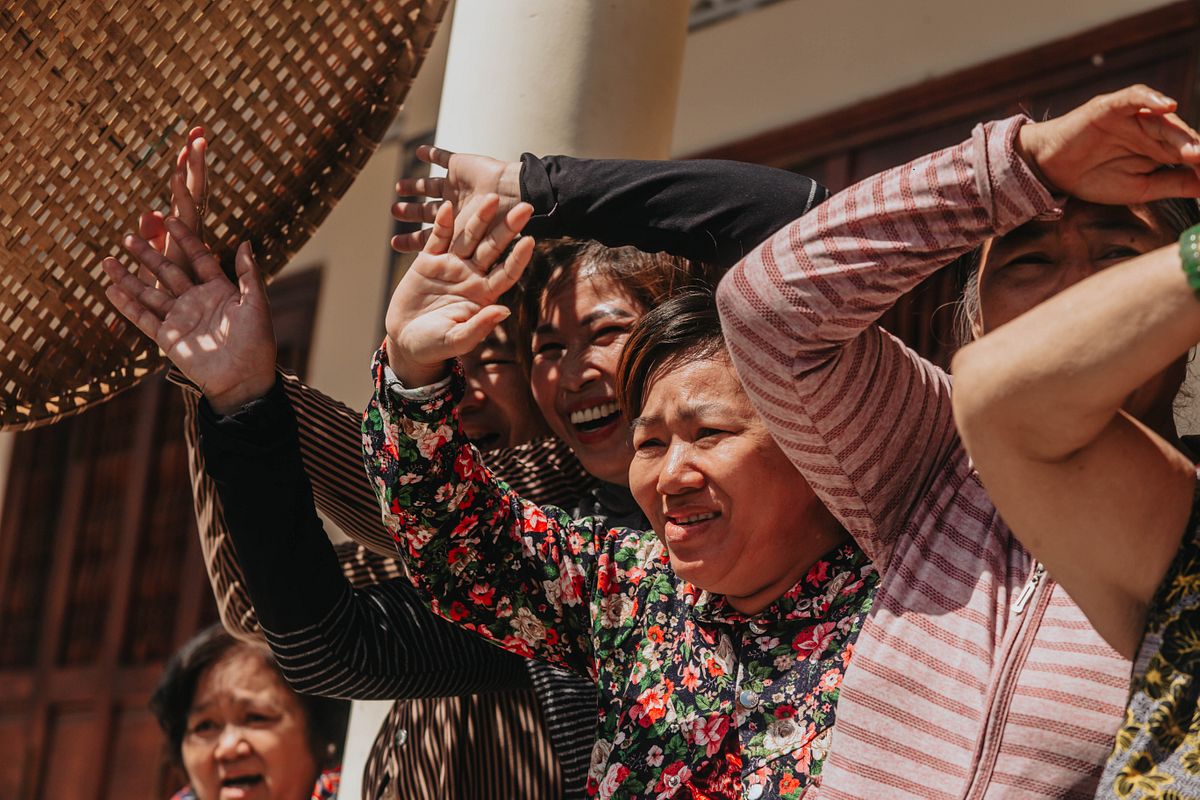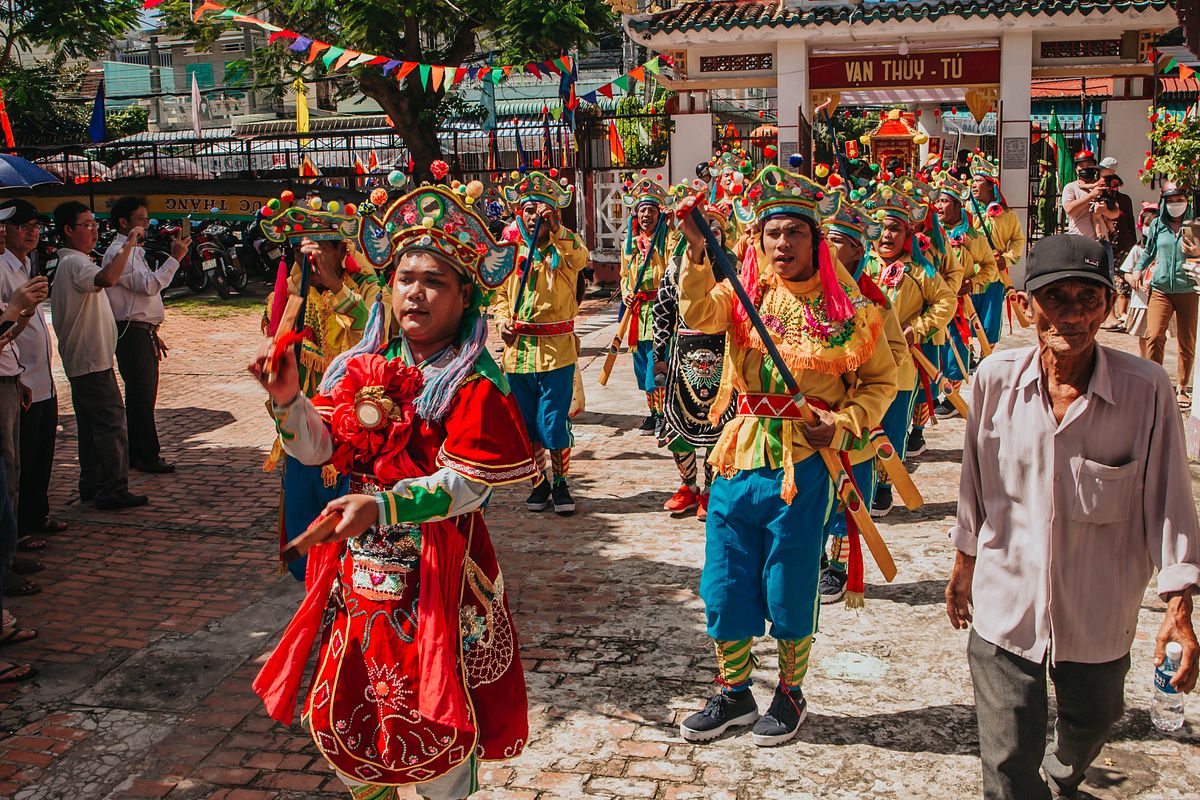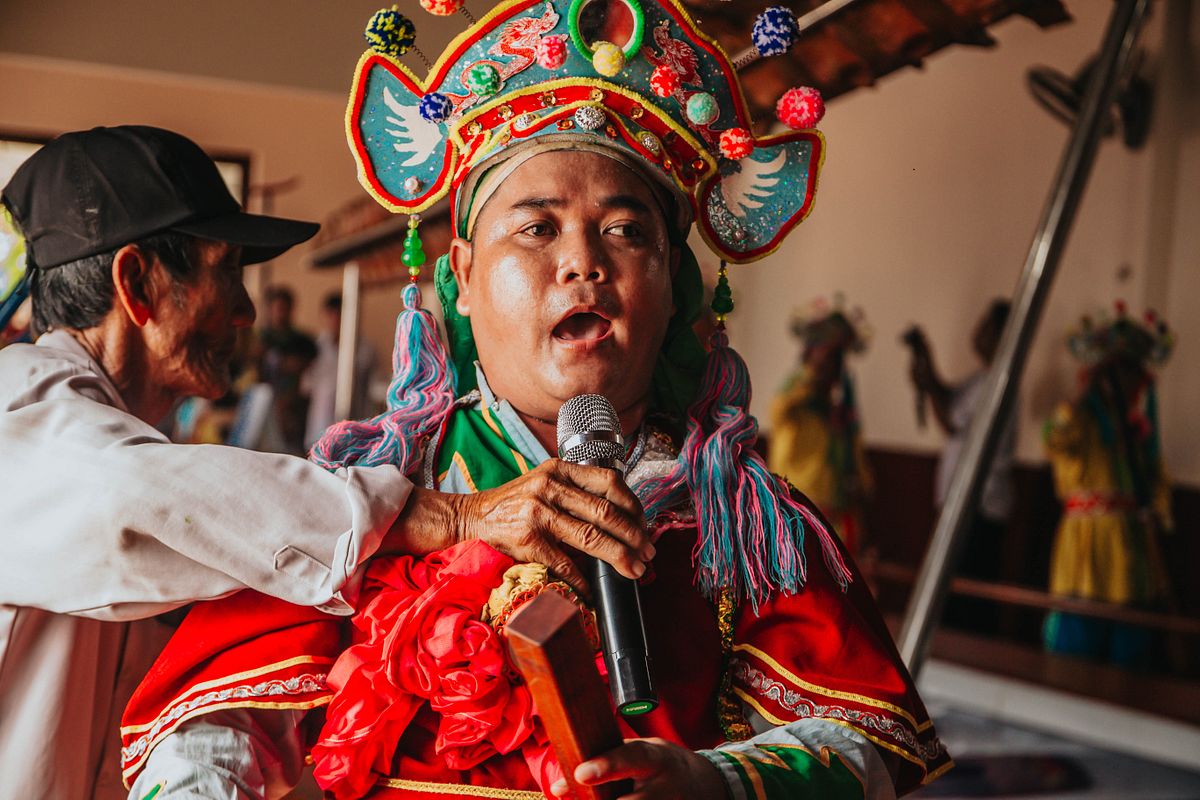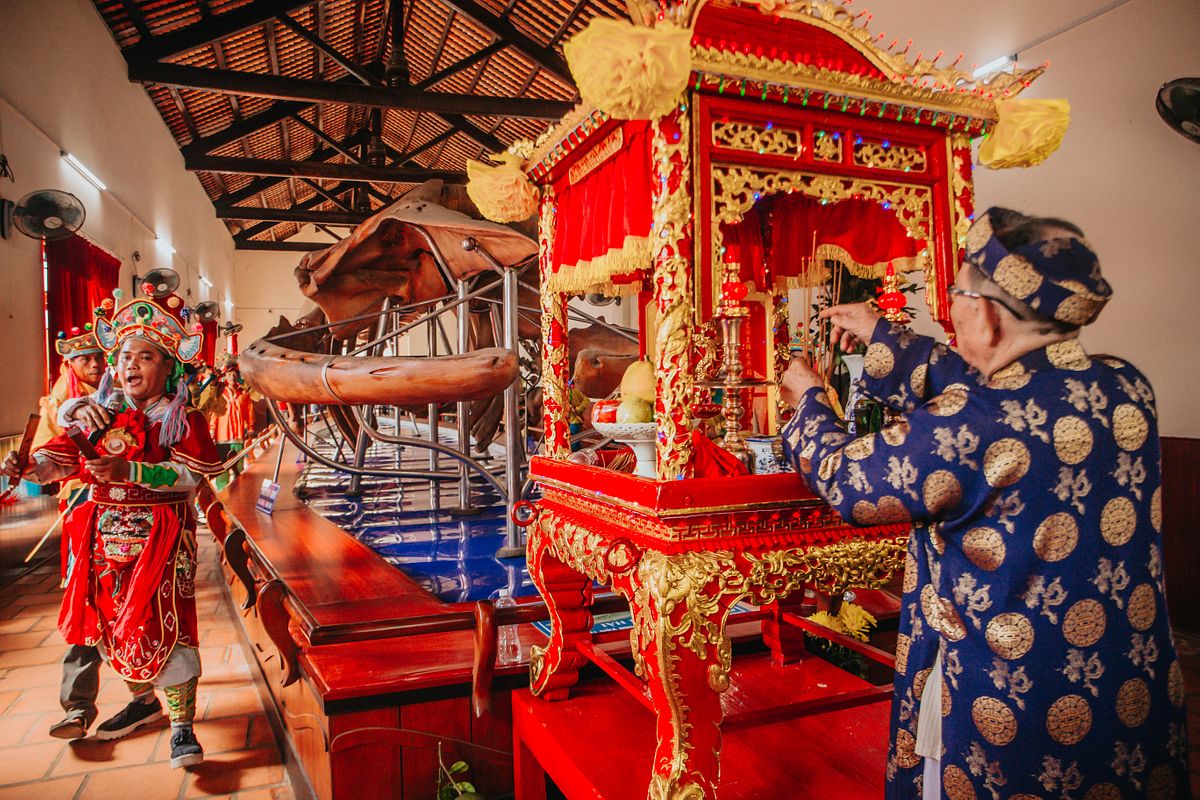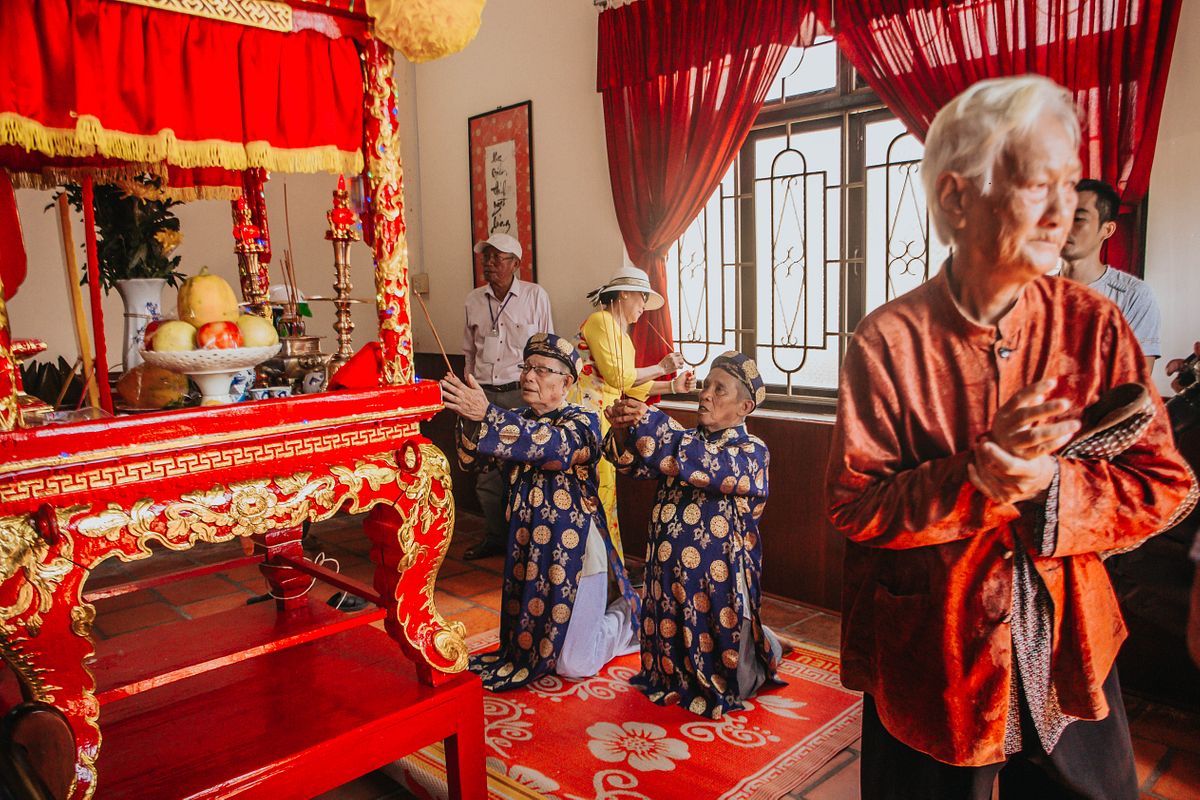 Right after the ritual to escort cá Ông back to the estate, an offering platter consisting of freshly slaughtered pork, alcohol, and other items is organized. A guiding rule for what to offer to the god is that items can't contain seafood. Apart from formal proceedings, whale worship occasions are also important events helping to build the bond between local people, who partake in feasts, folk arts, and other festivities together.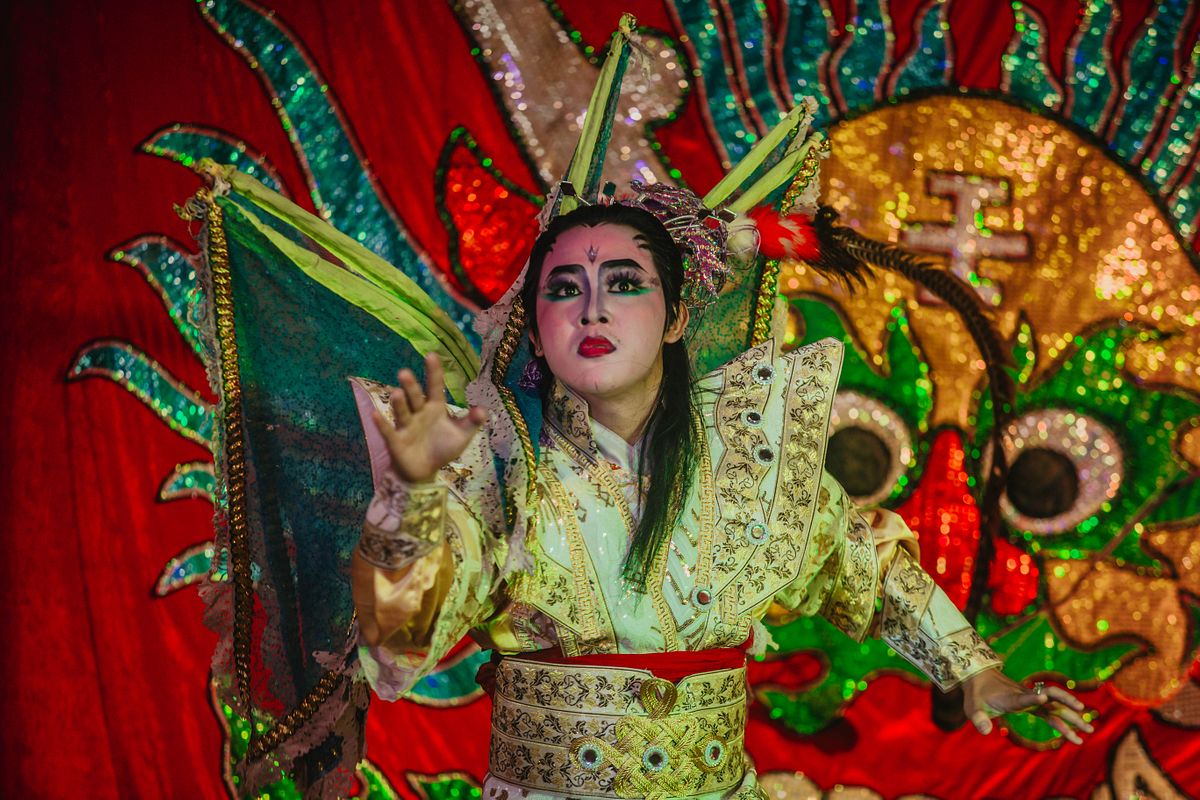 The Vạn Thủy Tú Estate and the rich history of maritime spiritualism
In addition to playing host to Lễ cầu ngư, the temples and estates also serve as mini museums recording numerous artifacts and documents portraying the multi-faceted culture of maritime provinces.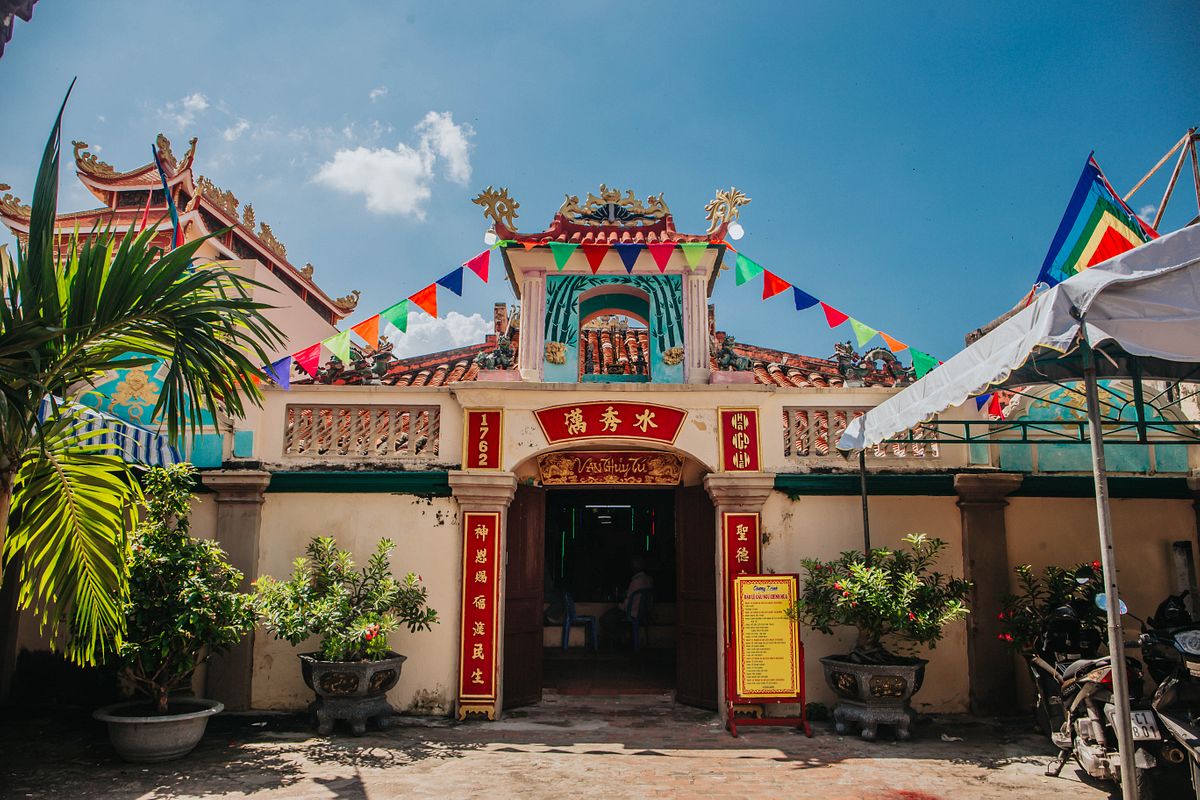 Vạn Thủy Tú, located in Đức Thắng Village, is one of Bình Thuận's oldest vạn, dating back to the 18th century. Nguyễn Giác, an Thủy Tú elder and local leader, shared: "The Vạn Thủy Tú Temple was established in 1762 by fishermen to worship Nam Hải. At the time, the gate opened right into the sea, but today, the beach has grown by 100 meters." Beside Nam Hải, the temple is also dedicated to the forefathers of the local fishing trade.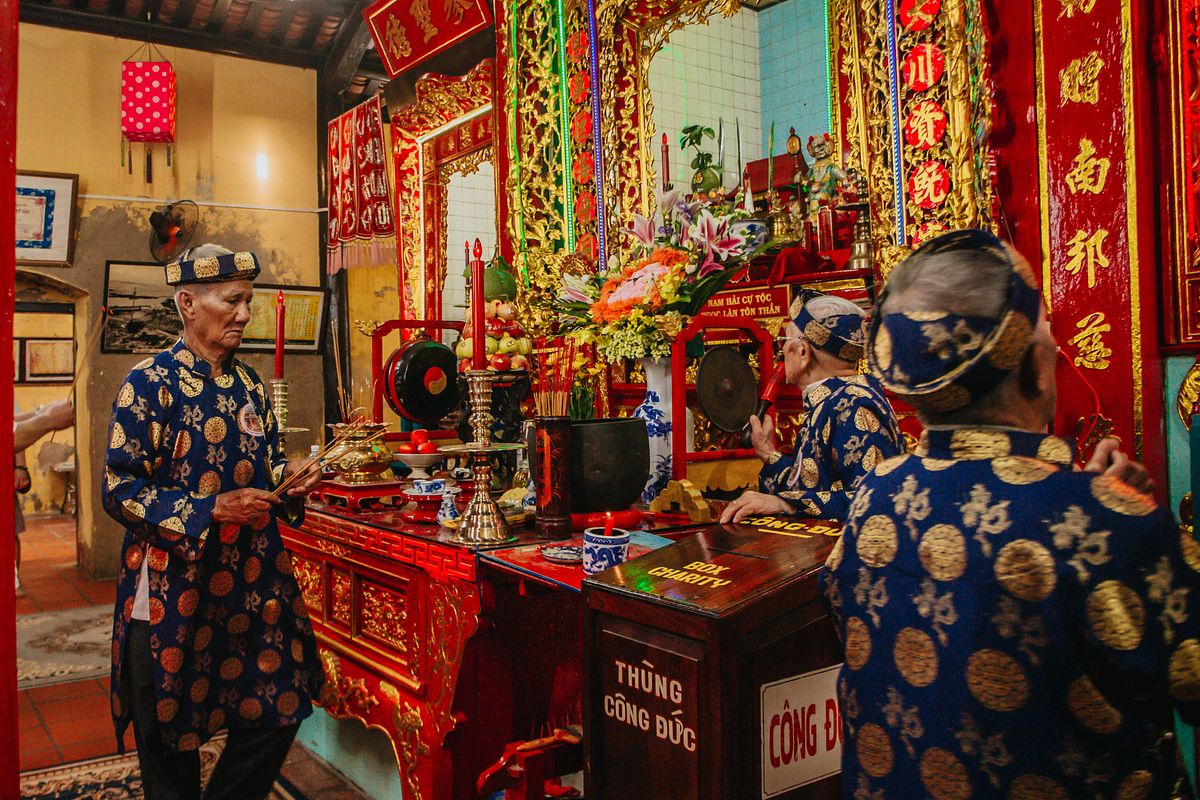 The front of the temple faces the east. Inside, there's the main altar, a front room, and an altar to the pioneers. The courtyard, known as Ngọc lân Thánh địa, is the burial ground of cá Ông. The Vạn Thủy Tú temple and estate not only harbors great architectural and spiritual importance, it's also a fascinating site for marine biology and history studies. There are over 100 sets of cetacean skeletons from different periods of time and of varying sizes, all preserved and revered at the temple. It's also the home of a 22-meter-long cá Ông skeleton, believed to be the longest of its kind in Southeast Asia.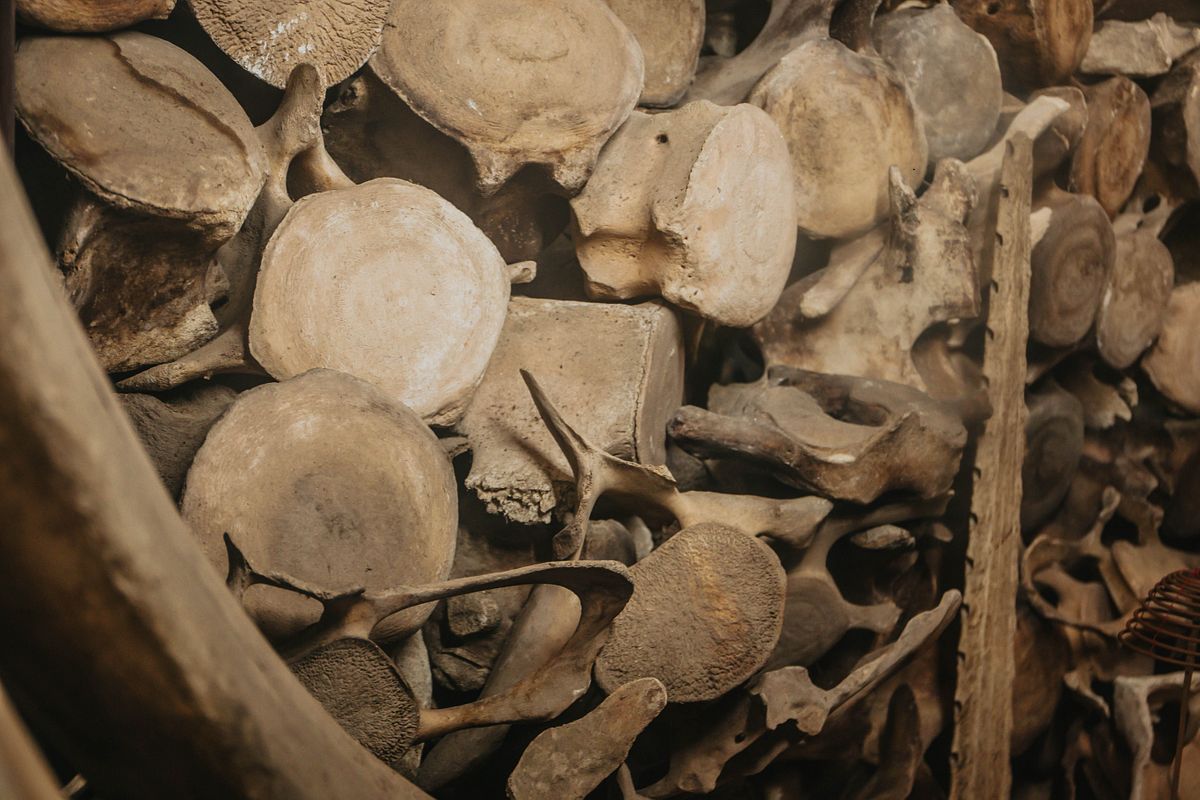 Remarkably, Vạn Thủy Tú plays host to a number of rare Hán-Nôm relics, such as 24 royal documents from emperors of the past — including Thiệu Trị, Tự Đức, Đồng Khánh, Duy Tân and Khải Định — to honor Nam Hải. During Thiệu Trị's reign (1841–1847), he issued 10 of these documents.
According to historical texts, Nguyễn-era monarchs were especially reverent of cá Ông because whales have rescued members of the royal families many times. The ship of Nguyễn Ánh, for example, was stuck in a typhoon while on the run from Tây Sơn forces. During the catastrophe, Nguyễn Ánh was reportedly saved by a whale. After taking the throne and becoming Emperor Gia Long, Nguyễn Ánh bestowed the title of Nam Hải Cự tộc Ngọc lân Thượng đẳng thần to the whale.
Over the years, Nguyễn emperors titled whales Đại Càng quốc gia Nam Hải. Burial rituals for beached whales during imperial rule were closely regulated. According to Thạch Phương and Lê Trung Vũ, authors of the book 60 lễ hội truyền thống Việt Nam (60 Traditional Festivals of Vietnam), the imperial government dictated that, should a whale carcass appear in any village, the village head must report immediately to higher officials to carry out inspection. Then, the government will provide needed materials and land to honor the dead cá Ông.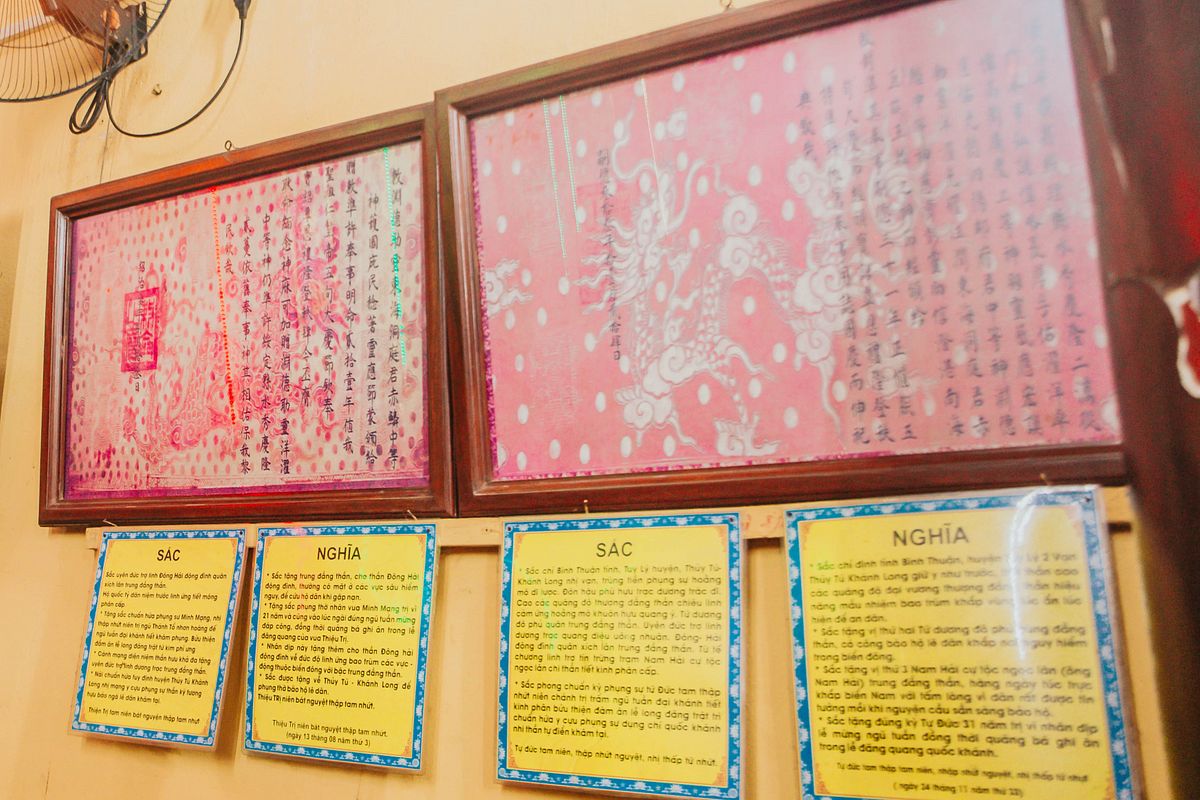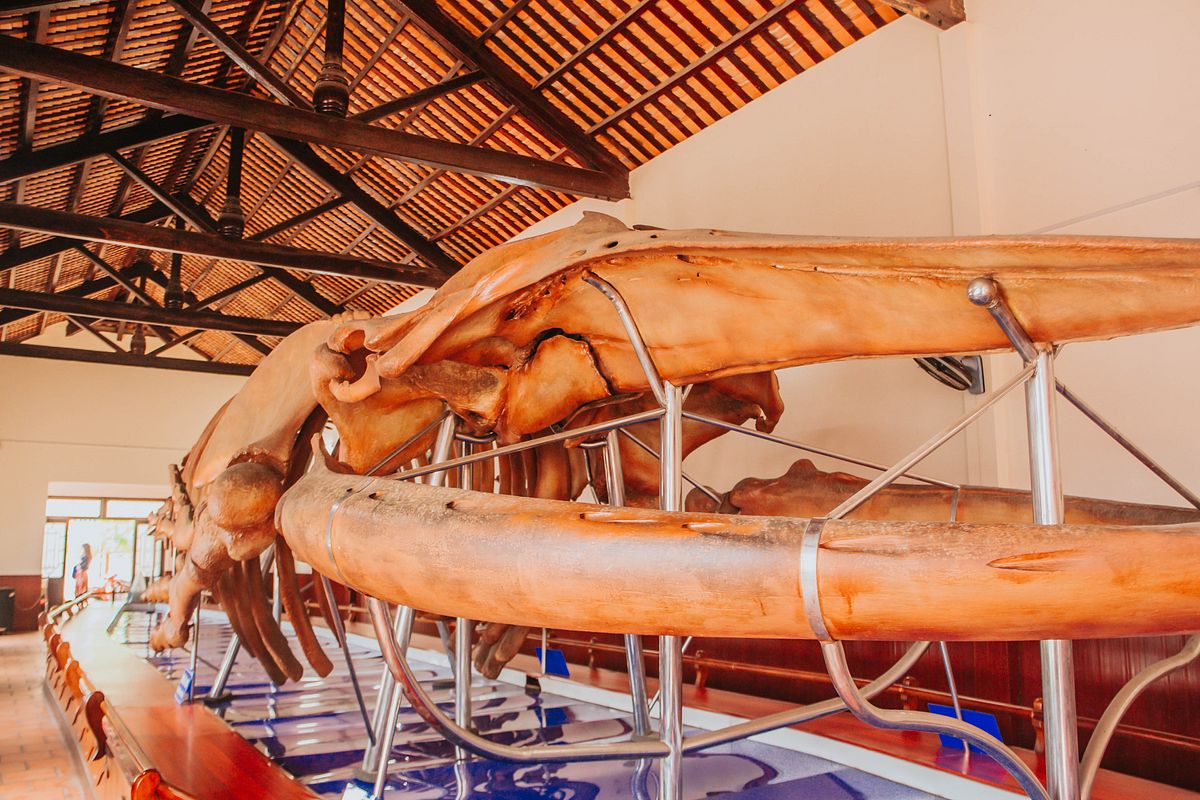 Apart from serving as a house of worship, Vạn Thủy Tú temple is the forever home of Southeast Asia's largest whale skeleton. According to local elders, in the 18th century, a giant cá Ông carcass drifted from the sea to right in front of the village. It was estimated to be 65 tons and spanned 22 meters. Village leaders and residents carried the whale to land and organized a proper funeral service. After 3 years, once the carcass had completely decomposed, the remaining bones were brought to the temple and assembled for worship.
Information from the Phan Thiết Cultural Office shows that the skeleton belongs to a fin whale (Balaenoptera physalus), comprising 63 different segments. The skill is 2.4 meters wide while the jaw bone is 3.1 meters long. This skeleton is not only crucial in local folk culture, it's also an invaluable evidence of Vietnam's biodiversity.