Hải Thượng Lãn Ông Boulevard (the former quai Gaudot) in central Chợ Lớn preserves several elegant old colonial shophouse buildings, but perhaps the most interesting of all is the one at No. 45, once the modest headquarters of Cantonese millionaire and philanthropist Quách Đàm.
This is Part 1 of our miniseries on the origin story behind Chợ Lớn. Read Part 2 here.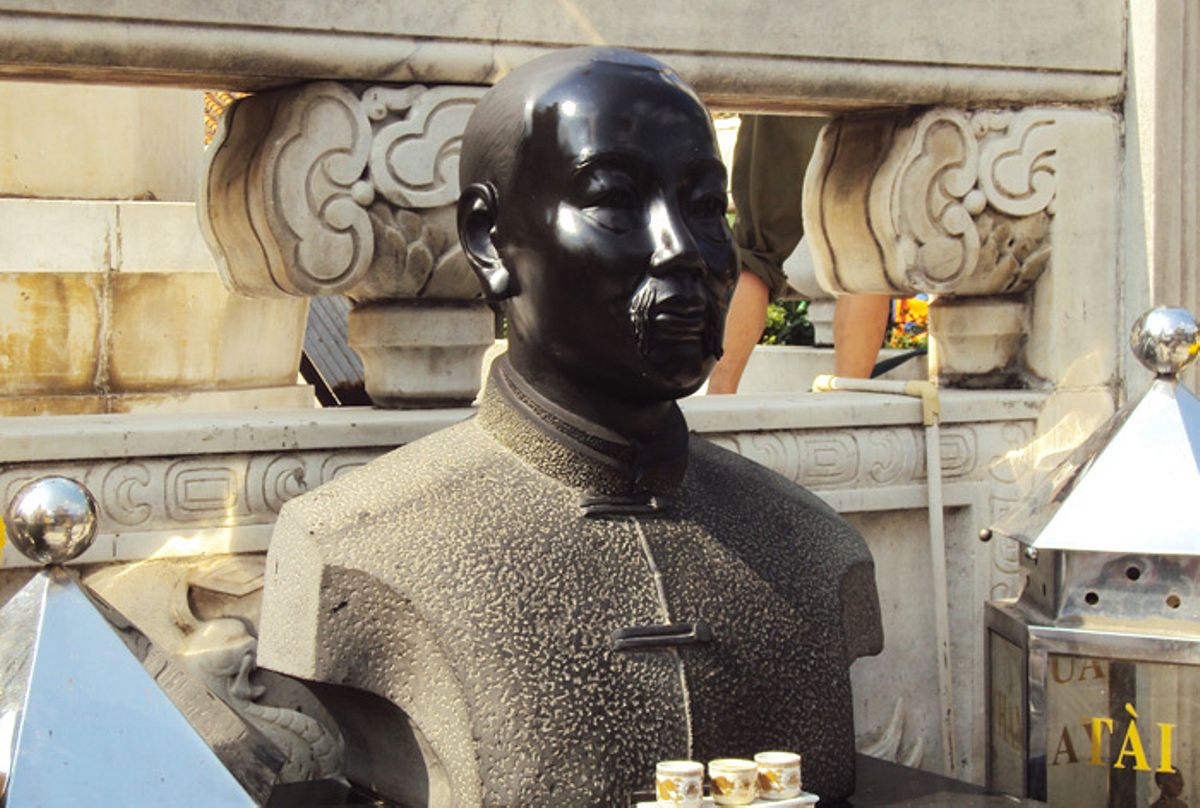 Born in 1863 in Longkeng Village, Chao'an District, Chaozhou Prefecture of Guangdong province, Quách Đàm (郭琰 Guō Yǎn) left home in the mid-1880s to make his fortune in French Cochinchina. Starting out by buying and selling bottles, he later progressed to the trading of buffalo skins and fish bladders. By the 1890s, having ploughed the money he made from these early ventures back into business, he had acquired his own steamship and set himself up in Cần Thơ as a prosperous rice merchant.
In around 1906–1907, Quách Đàm relocated to Chợ Lớn, founding a new company known as Thông Hiệp, its name a quốc ngữ romanization of two auspicious characters from a Chinese poem.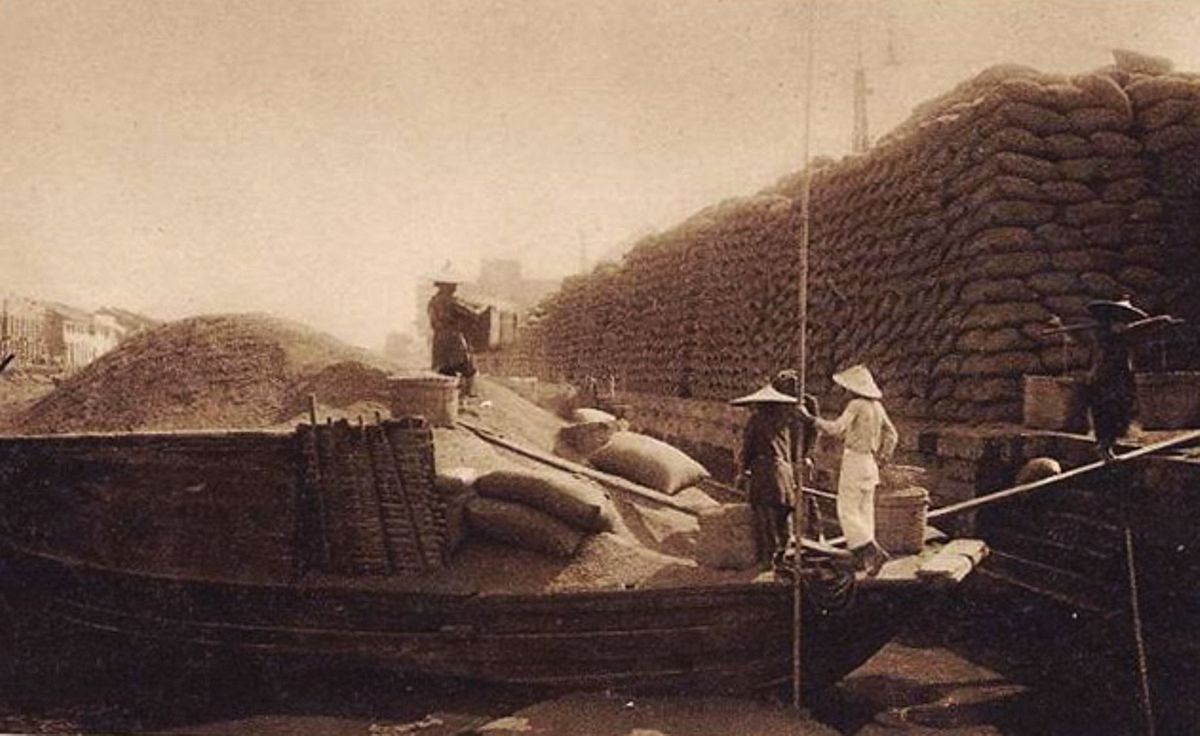 The company initially rented a magasin de dépôt at 55 quai Gaudot, a two-storey shophouse directly overlooking the Chợ Lớn Creek which then ran right through the centre of the town. However, a geomancer is said to have convinced Quách Đàm that the most auspicious shophouse on the wharf was in fact a few doors east at No. 45, a three-storey building which at that time was the offices of soap makers Nam-Thái and Trường-Thành. Beneath that building was said to be the head of a dragon whose body stretched out to sea, promising to whoever worked there that the money would keep flowing in.
By 1910, Quách Đàm had relocated his headquarters to 45 quai Gaudot. However, despite his repeated attempts to purchase the building, the owner refused to sell. Quách Đàm was thus obliged to continue renting this modest shophouse as his company headquarters. Over a century later, it still bears the "TH" (Thông Hiệp) logo which Quách Đàm had inscribed on its parapet.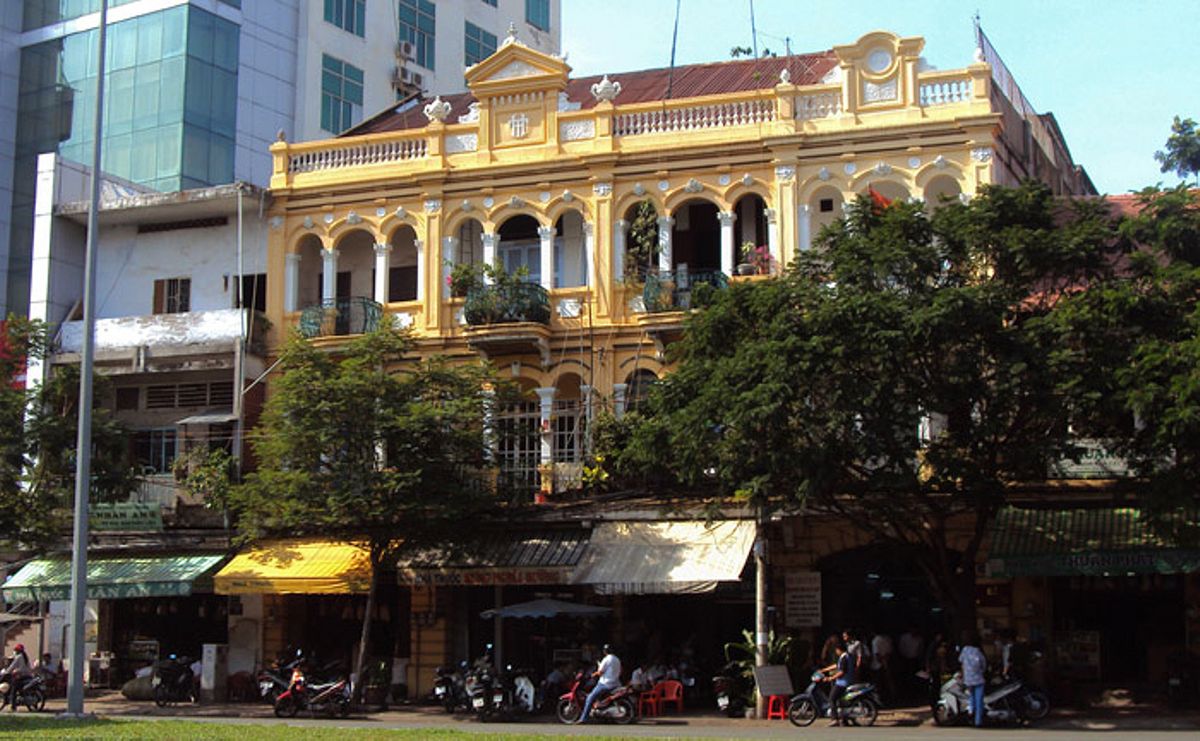 In subsequent years, in addition to his factory in Cần Thơ, Quách Đàm built two large rice husking mills at Chánh Hưng (now District 8) and Lò Gốm (now District 6). He also registered the Quach-Dam et Cie shipping company in Phnom Penh to manage his burgeoning fleet of four steamships.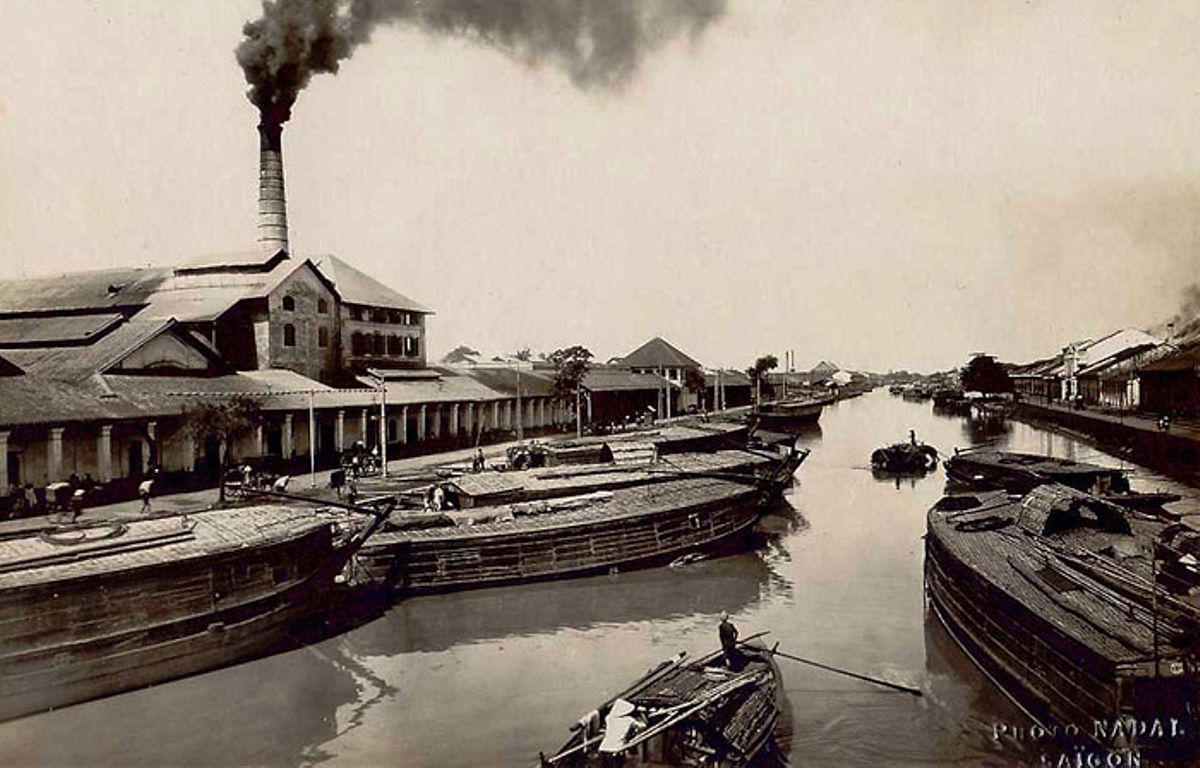 However, the business venture which really cemented his fortune was the acquisition, in around 1915, of the Yi-Cheong Rice Factory, the largest and most profitable rice mill in Chợ Lớn. By 1923, statistics published by the Revue de la Pacifique showed that every 24 hours, the amount of paddy processed in Quách Đàm's mills amounted to 230 tons at Chánh Hưng, 250 tons at Lò Gốm and a massive 1,000 tons at Yi-Cheong, confirming his status as the most successful rice merchant in Cochinchina.
With money came prestige and power. As early as 1908, Quách Đàm was one of the few Chinese businessmen to become a member of the Chợ Lớn Municipal Council, and in this capacity he served for many years as 3rd Deputy Mayor of Chợ Lớn, taking an active role in city affairs. He built a spacious family residence at 114 quai Gaudot, on the north bank of the creek, and is said to have enjoyed being chauffeured around town in what the French newspapers called his "beautiful automobile."
It was during this period that Quách Đàm began to make a name for himself as a prominent philanthropist, "royally subsidising many hospitals, schools and workers' associations and never remaining indifferent to poverty." (obituary in the Echo Annamite, 1927). He was particularly active in funding local nurseries and schools for the blind.
For much of the last decade of his life, despite being beset by ill health and also suffering partial paralysis, Quách Đàm continued to play an active role in Chợ Lớn's business and community affairs. Today he remains best known for the crucial role he played in the establishment of the Bình Tây Market.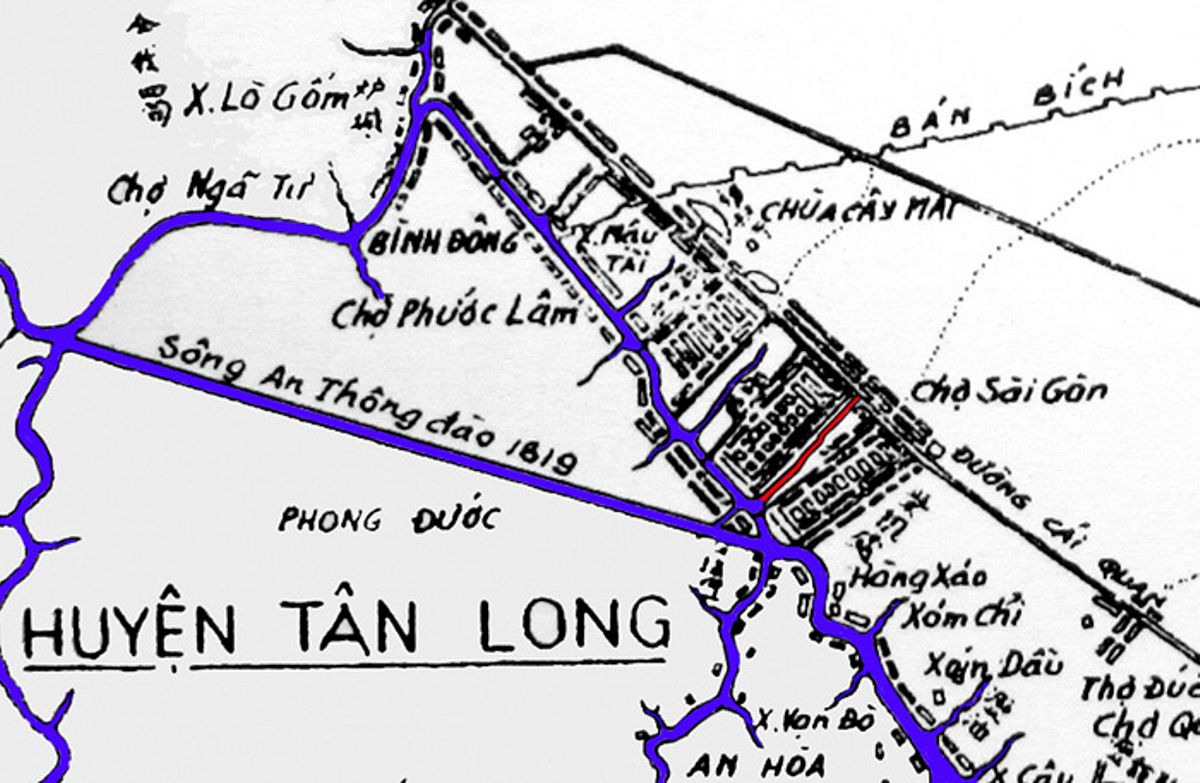 Before the arrival of the French, the main market in the Chinese settlement went by the name of Dī Àn (堤岸) or Tai Ngon, literally meaning "embankment," a name which is believed to reference the extensive reconstruction which followed the destruction of the Tây Sơn attack of 1782. In the 19th century, that market appears on several maps, not as Tai Ngon but as "Sài Gòn," the name the French appropriated after 1859 to rechristen the former Bến Nghé as their new colonial capital, Saigon.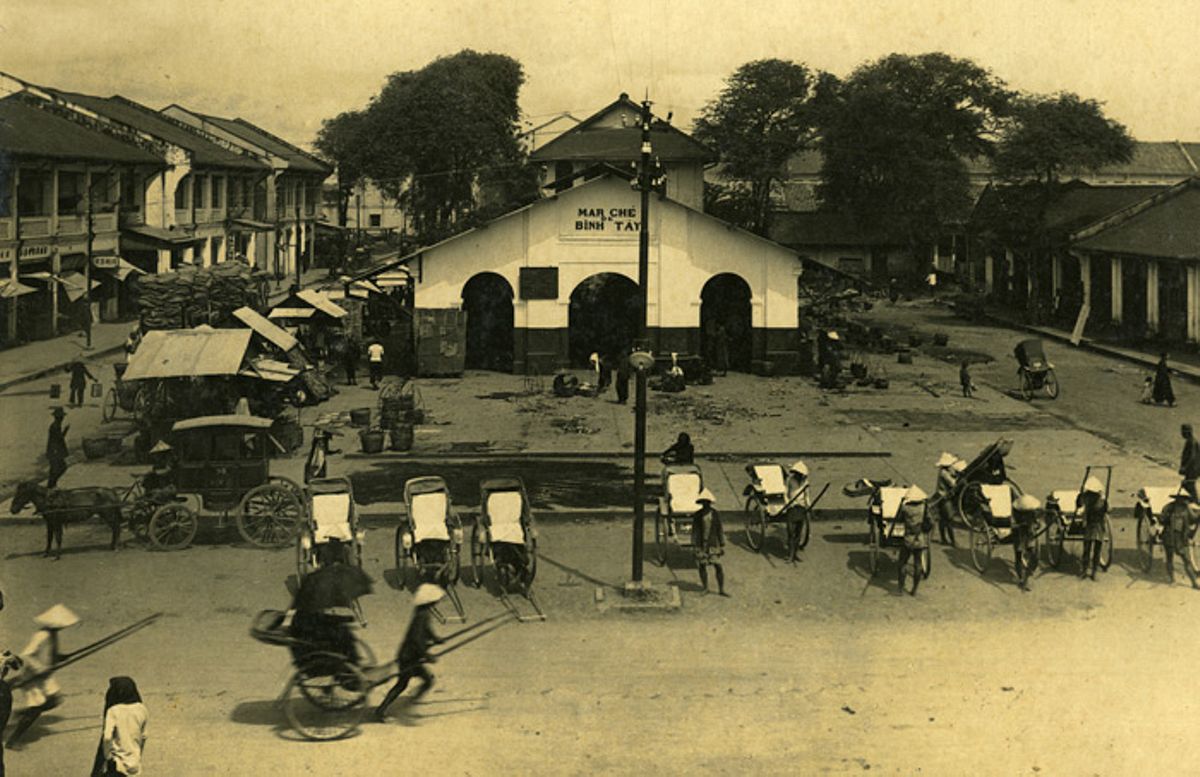 Located in the vicinity of the modern Chợ Rẫy Hospital, the old Tai Ngon market was originally connected to the Chợ Lớn Creek by a waterway known as the Phố Xếp Canal (now Châu Văn Liêm Street). However, after the conquest, the French established a new main market right in the centre of Chợ Lớn, on the site occupied today by the city post office, leading eventually to the abandonment of the old market and the gradual disappearance of the Phố Xếp Canal.
By the early 20th century, as Chợ Lớn grew in economic importance, French newspapers complained frequently that the Marché central de Cholon "had become too small for the ever-increasing number of its users." However, what really sealed its fate was the 1925 scheme to fill the Chợ Lớn Creek and its connecting waterways and replace them with roads. After that project was completed, merchants could no longer access the central market by boat.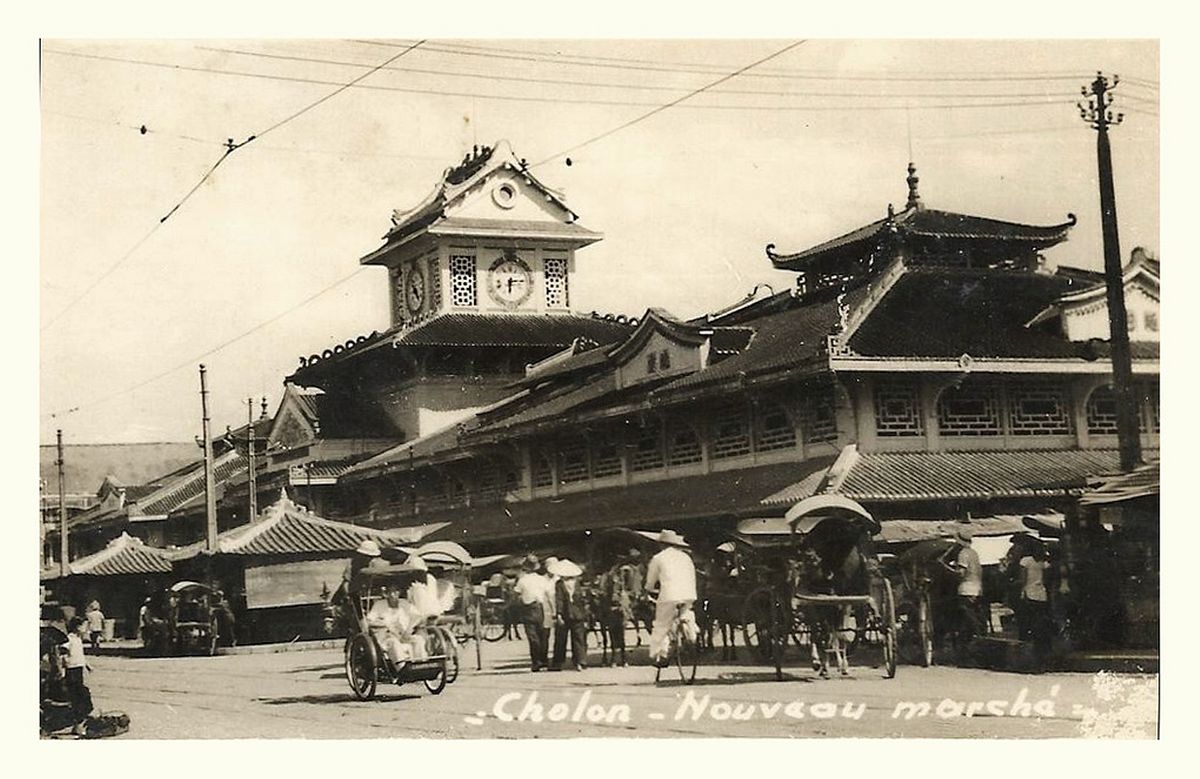 In fact, for several decades before the filling of the Chợ Lớn creek, an ever-increasing number of merchants had relocated their business to the Bình Tây Market, which opened in the late 1870s and became even busier after 1891, following the completion of the canal Bonard, known in Vietnamese as the Bãi Sậy Canal), an alternative waterway dug to connect central Chợ Lớn with the lower reaches of the Lò Gốm Creek. The canal Bonard ran straight past the Bình Tây Market and its wharf was always busy with merchant shipping.
Tim Doling is the author of the guidebooks Exploring Huế (Nhà Xuất Bản Thế Giới, Hà Nội, 2018), Exploring Saigon-Chợ Lớn (Nhà Xuất Bản Thế Giới, Hà Nội, 2019) and Exploring Quảng Nam (Nhà Xuất Bản Thế Giới, Hà Nội, 2020) and The Railways and Tramways of Việt Nam (White Lotus Press, 2012) For more information about Saigon history, visit his website, historicvietnam.com.