For someone like me that was raised in the land of Banksy – London – in which the east part of the city is nothing less than a playground for graffiti artists, where street art is considered something to be preserved as a cultural heritage rather than something that will bring you trouble; Saigon appears quite behind in this respect. Graffiti spots can be counted on the fingers of one hand.
That is why when I heard that New Zealander born (now based in Melbourne) street artist Regan Tamanui A.K.A Ha-Ha was in town, not even a 38' fever stopped me from going to meet up with him.
Considered one of the 50 most influential street artists of all time, Regan is the first artist to take part in the 'Artist residency' initiative at Saigon Outcast.
His visit to Saigon is part of a long trip across Asian countries; he was recently in Singapore where he took part in an art exhibition about the iconic Australian outlaw Ned Kelly, who has been of a particular interest to the artist for many years.
Other passions of his include the research of Big Foot, the connection between humans and machines and the investigation of life from outer space and beyond human perception of reality.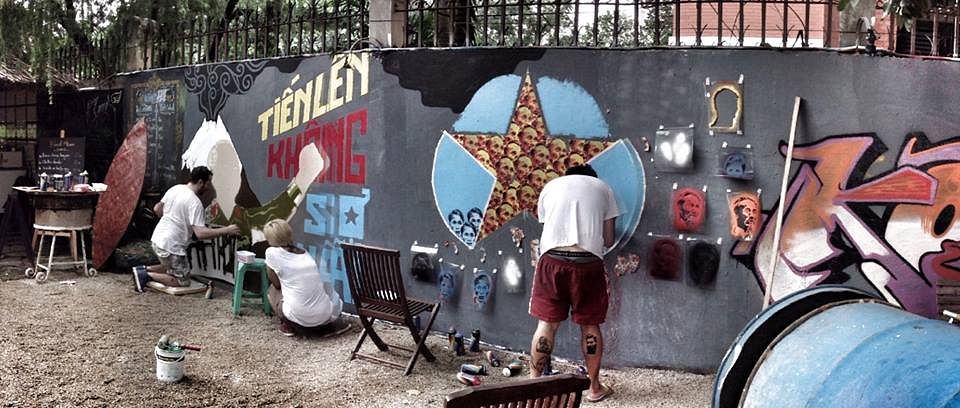 He considers himself a research street artist and by talking with him, I think the definition is accurate. Our conversations ranged from Big Foot, the terrorism of the media, Jung and aliens. It was really fascinating, even more so when you realise how much of his research resurfaces in his stencil works.
He focuses on stencil portraits of people that represent the collective consciousness of archetypes. The portraits are the result of the integration of two or more portraits from either different people or from portraits of one person at different stages of his/her life. For instance he combined the picture of Jesus with the one of British occultist Aleister Crowley to examine the forces of good and bad. Another one that I particularly liked is 'Easten Davis-Robot', the birth of trans-humanism and the merging of humankind with machines.
The artist's research focuses on investigating archetypes, for instance, between relationships, friendships and the human-beast. "If I have to understand who I am, I also have to understand who the other people are and how we are connected. Art is a form of meditation that helps you understand who you are".
Each portrait is the result of a number of stencils (varying from 6 up to 80) overlapping on one another which are then sprayed. He does not use photoshop in any of his work and he hand cuts all the sheets.
During his residency at Saigon Outcast, he has been working on different projects including teaching kids how to use, cut, and work with stencils, participating in the Comic book workshop "Doodle" and obviously making graffiti on Saigon Outcast's walls.
On the 3rd of November, the exhibition "Delineation" will mark the end of his residency. The exhibition is about the art of stencil and the artist's use of layers to reveal the architecture behind the final portraits. Visitors will have the opportunity to see his work, take away with them a printed version of some of his portraits and also meet the artist, who, I can guarantee, is extremely friendly and interesting to talk to.
Here's an awesome time lapse video of Ha-Ha creating his work:
p>
---
Related Articles:
---