Following constant ruptures to the Asia-America Gateway (AAG), Vietnamese telecommunication firms and government agencies are planning to build three new cables to ensure that the country's internet users can enjoy a dependable connection.
---
Related Articles:
- Repair Date, Maintenance Period Announced For Vietnam's Broken Undersea Internet Cable
- Are Sharks To Blame For Vietnam's Broken Internet Cable?
- Vietnam To Build New Internet Cable Through China As Breaks Plague Undersea Cable
---
Lam Quoc Cuong, a representative for VNPT told Zing last week that the first additional cable, known as the Asia Pacific Gateway (APG), will become operational next year and run at speeds of 54 terabytes per second, a significant improvement over the AAG's 2.88 terabytes per second.
Map of the APG. Image via Korea.net.
VNPT, Viettel, Japan's NTT Docomo, China Telecom and China Unicom are the main investors in the 10,400km APG that will run between Da Nang, Singapore, Malaysia, Japan, Taiwan, Thailand, South Korea and Hong Kong.
Another undersea cable, the 25,000km Asia Africa Euro 1, will connect Vietnam with Europe and, like the APG, will go live in the coming year.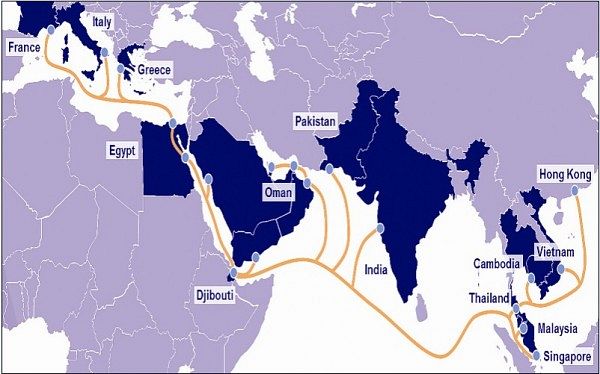 The Ministry of Information and Communication announced last month that Vietnam is also planning to build a land-based cable to China.
The AAG cable has ruptured three times this year alone with the latest instance occurring on May 26.
Since the US$560 million, 20,000km AAG cable went into operation in 2011, it has broken in at least a dozen instances, each time on the section that connects Vietnam and Hong Kong.
Officials have blamed everything from sabotage to poor quality materials for the cable's inconsistency. Hungry sharks chomping on the cable, mistaking it for food, has become an inside joke among local netizens.
[Top image via Wired]