An underwater challenge during this year's installment of The Amazing Race Vietnam is not sitting well with environmentalists.
Season 6 of The Amazing Race Vietnam officially premiered in July. Like its international predecessor, the reality TV show takes teams of contestants through several stops across various geographical destinations, where they have to undertake challenges to move forward. This year's Vietnam version became the center of controversy after the sixth episode recently aired.
The episode is based in Phu Yen, a coastal province famous for its exquisite beaches and coral reefs. To proceed past this stop, contestants had to put their scuba diving skills to the test by solving a puzzle on the beach using a clue they observed underwater. What got the show into trouble with netizens was how the production team placed the submerged clue — a steel frame with a handful of cement blocks — straight onto a coral reef.
Many viewers were quick to point out that the heavy-looking structure could cause irreversible damage to the reef, which took many years to grow. Among the most censorious was a comment by Sasa, an independent marine animal rescue group based in Da Nang.
"We were really shocked to see this through the Facebook page of a friend," the group says of the underwater challenge. "You can see in the photo that they put the steel frame right on a colony of brain coral."
According to the group, human interference could harm the algae layer, with which the coral has a mutual relationship, helping the damage to spread. "Coral brain is among the slowest-growing types of coral, at just 1-2 millimeters a year," they add in the post.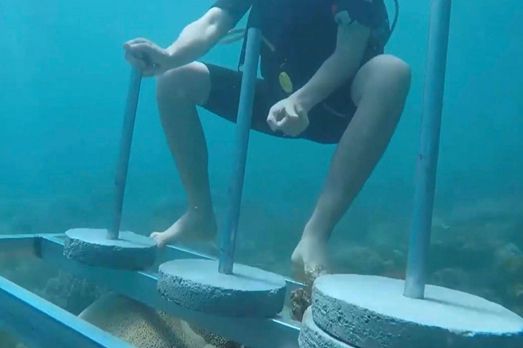 Dr. Vo Si Tuan, director of the Nha Trang Oceanography Institute, also warned of the detrimental effects of human and tourism on coral species in an interview with Tuoi Tre.
"It takes thousands of years to form a coral reef. I'm not saying that we can't touch coral reefs at all, but when you interact with them you need to be mindful and knowledgeable," he said. "Through our observation of Phu Yen's reefs, we see that tourism here is developing rapidly, resulting in tourists treading in reefs and stomping on them. These are destructive behaviors that need to be regulated."
After the online complaints started piling in, the team behind The Amazing Race Vietnam responded with an apologetic statement two days ago on the show's official Facebook page. The statement explains that originally the challenge would have made contestants swim across the reefs to an underwater sandbar to look for the clue, but due to changing water levels and opacity, the crew had to move the steel frame to the coral reef for better visibility.
"Our crew made a mistake when we moved the clue to the reef. We understand that it's wrong and would like to apologize to viewers and Phu Yen," the post reads. "We'll use this as a learning experience to make sure it won't happen again in the future."
[Images are screenshot from a video by YouTube channel CuocDuaKyThuVN]
---

Related Articles:
---