♫ And the bún mộc on the train goes round and round. Rolling down the track ♫
Lyrics to made-up nursery rhymes would spring to mind whenever the miniature engine, hauling assorted food and drinks as freight, passed by our table. A replica steam locomotive that once ran in North America in the 19th century, this model train traverses a much more humble distance than its real-life counterpart.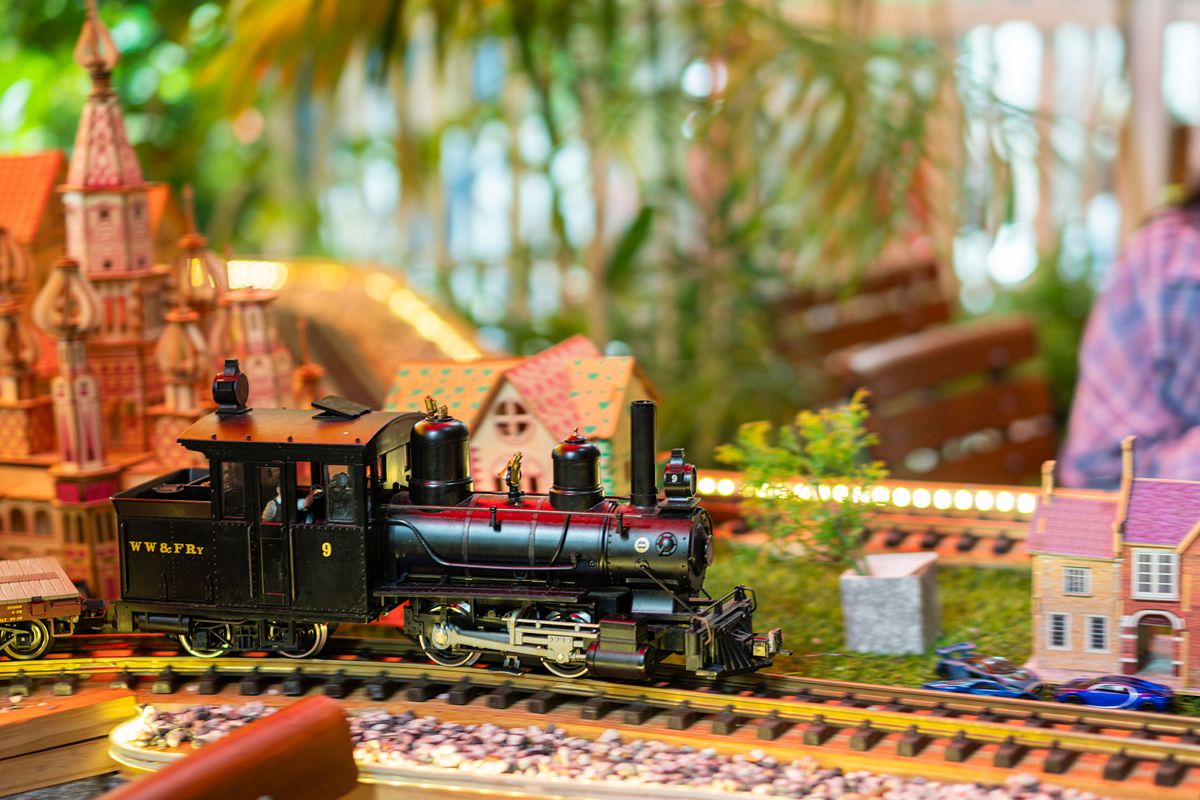 Its entire journey circles around a 15-meter track surrounded by dioramas of iconic landmarks and figures from around the world. Here, a colorful St. Peterburg-styled cathedral is a neighbor to a Japanese minka and an American farmhouse.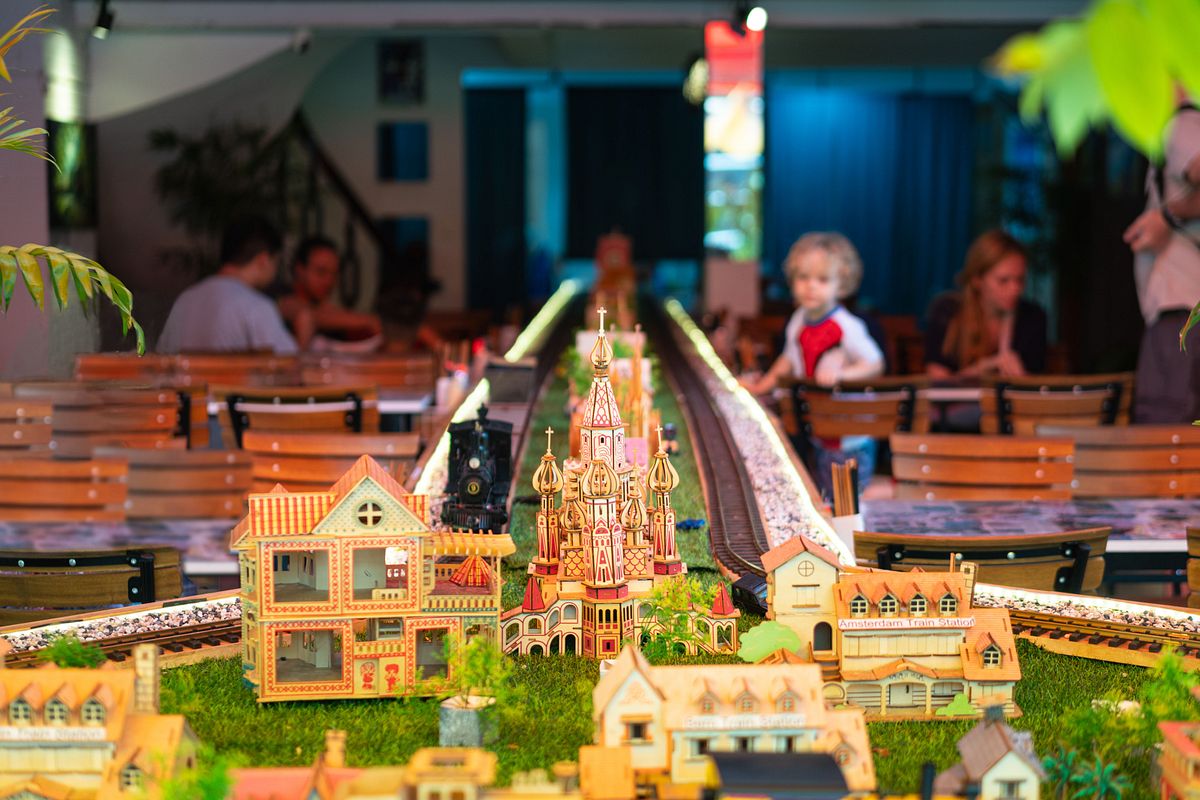 The little train, naturally, is the star of The Train Restaurant, a quirky railroad-themed bistro situated in the heart of Phú Mỹ Hưng, District 7. The owners, husband-wife duo Maxime Godin-Murphy and Nguyễn Thị Thêu, spent half of their 2022 gallivanting through nine European countries with their kids. The trip was made almost entirely by riding Europe's extensive railway network.
"We love traveling by train," Maxime says with a grin. "It's one of the best ways to travel the world because we can see each country's landscape better than by flight." It's a sentiment that Saigoneer wholeheartedly agrees with.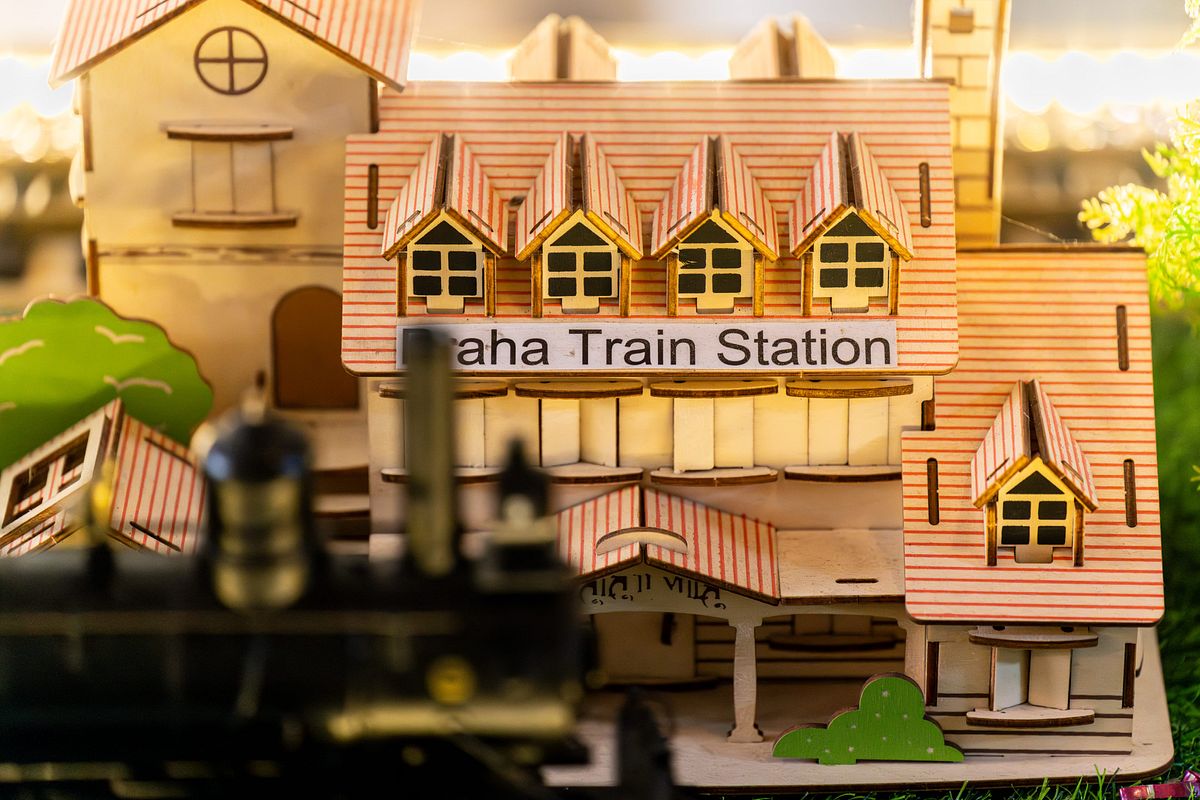 Their journey took an unexpected turn when they arrived in Prague. "There was a very beautiful train restaurant," he recalls, "and it was one of the family activities that we were recommended to do, so we wanted to go see that. We ended up really enjoying our time there with the kid and we decided to bring the concept to Vietnam."
Two suitcases packed with train models from Paris and three weeks of assembly later, The Train Restaurant was ready to embark on its maiden voyage.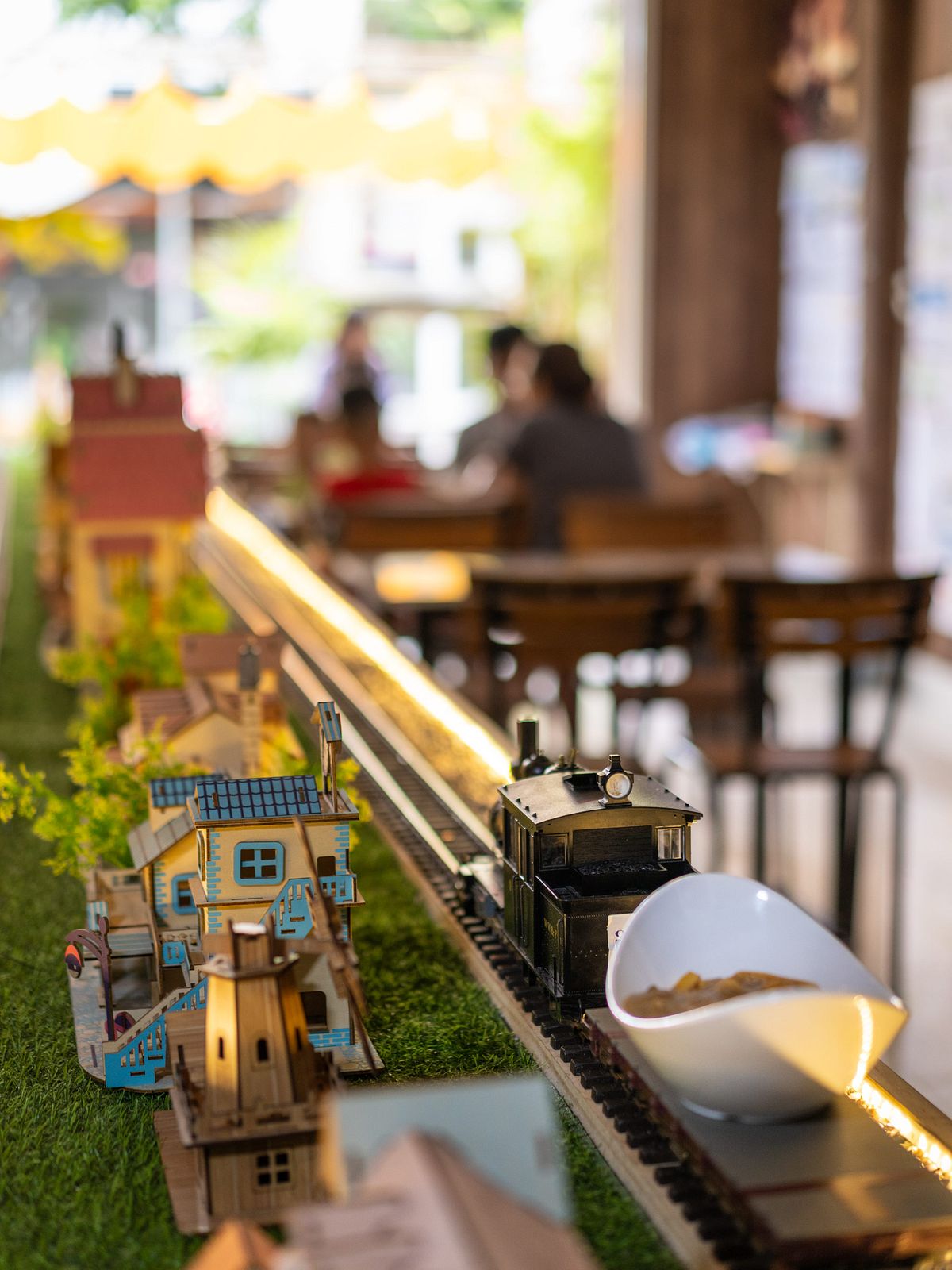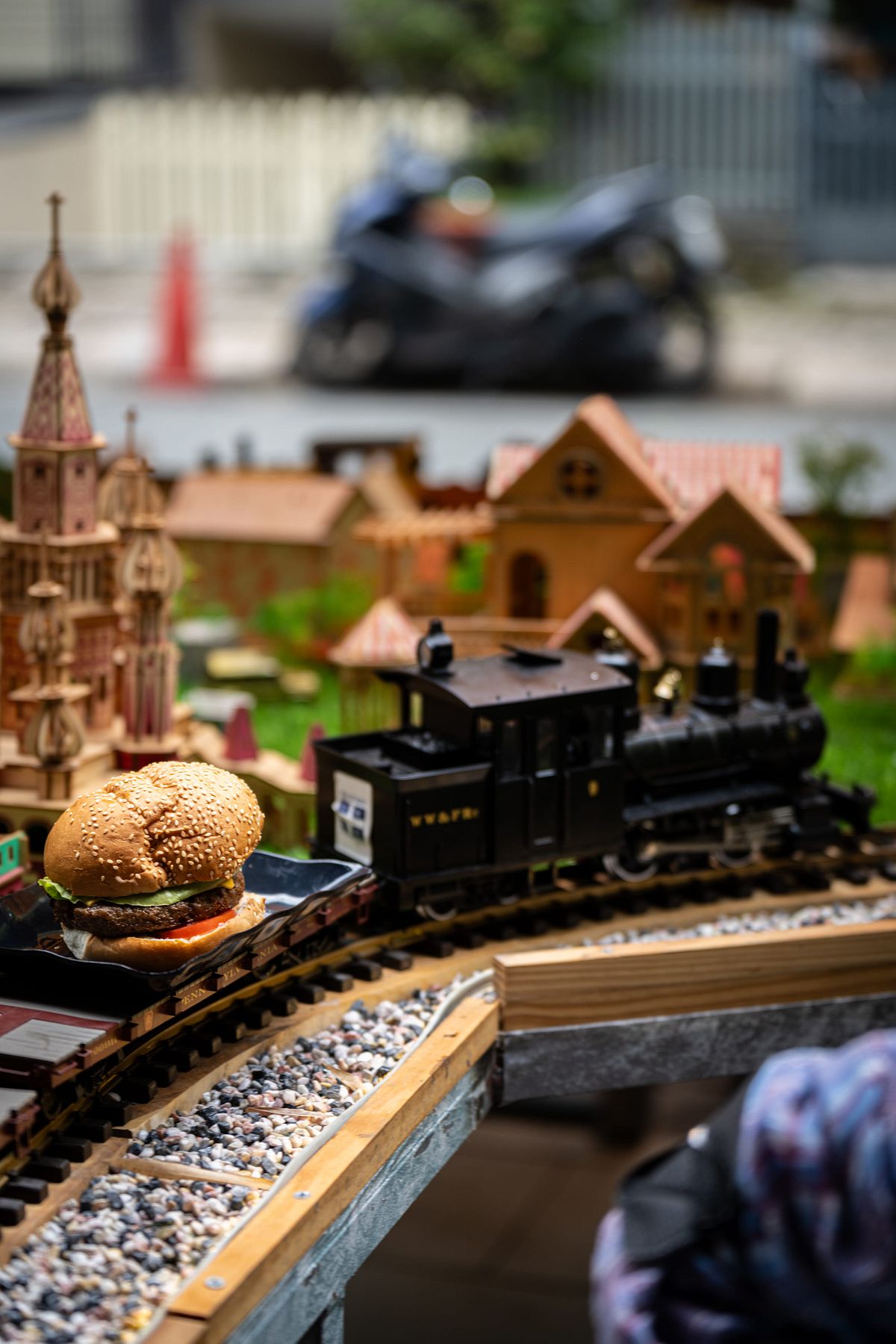 The open-space bistro is inundated in a hodgepodge of railway memorabilia — tables covered with vintage articles, a snapshot of the North-South line trailing by the coast, and an engine-shaped menu that casually dispenses existential wisdom: "Life is a train, get on board."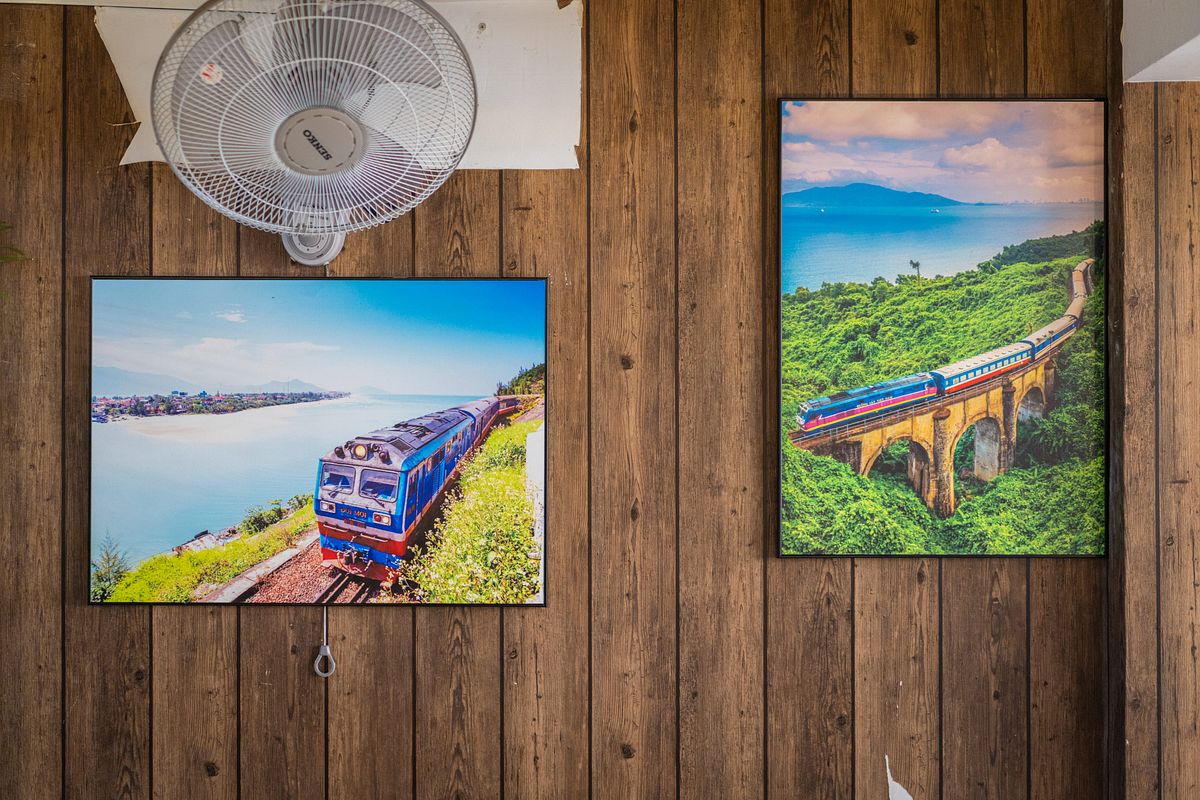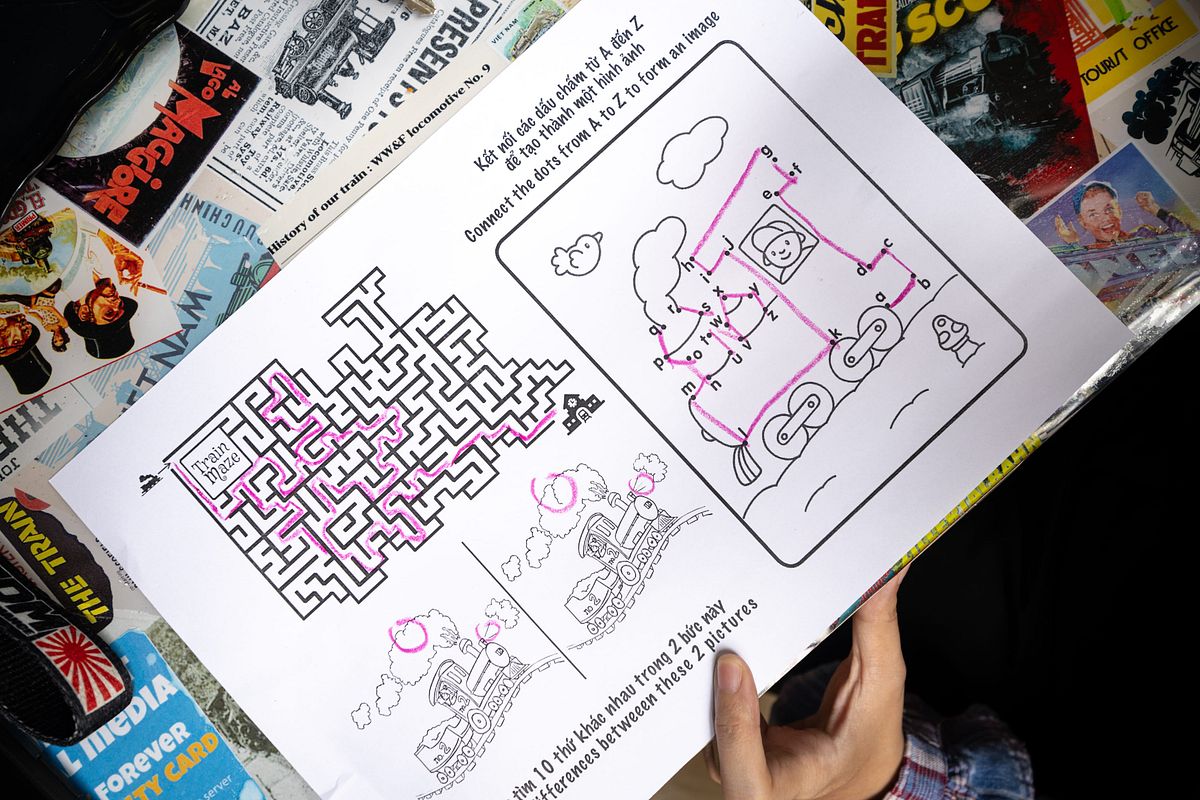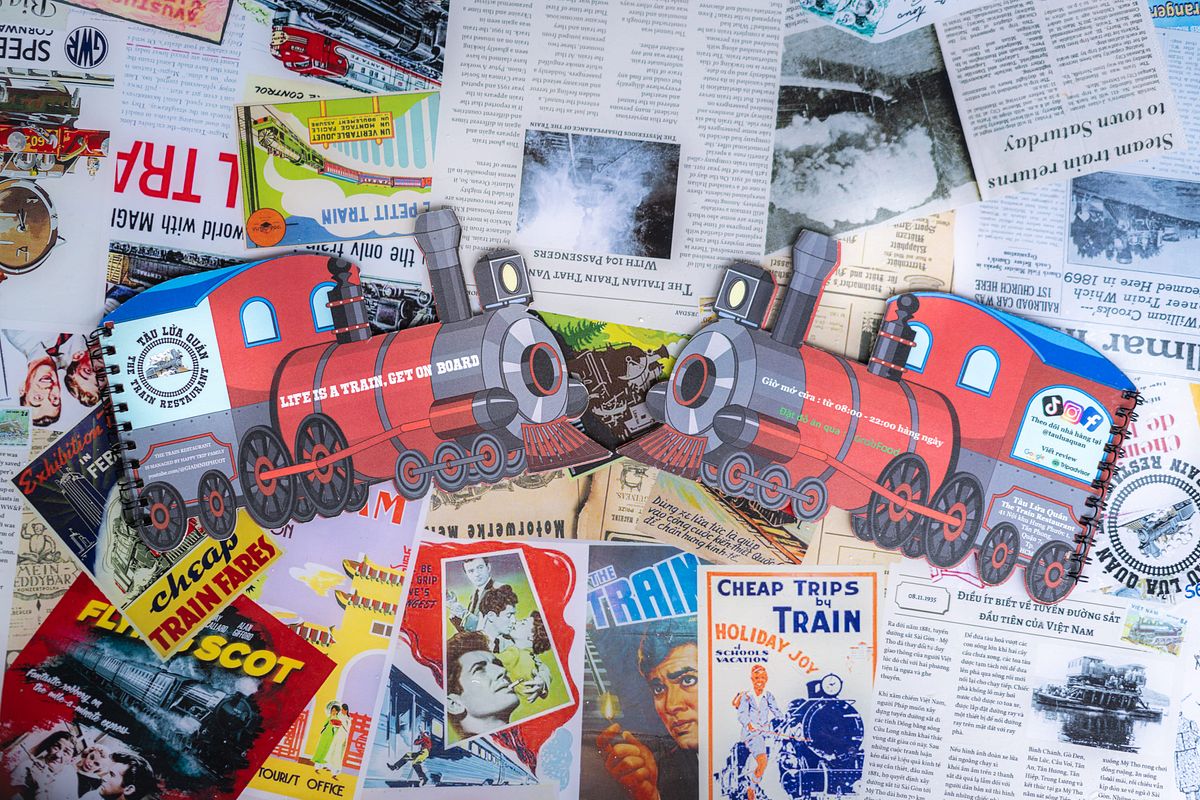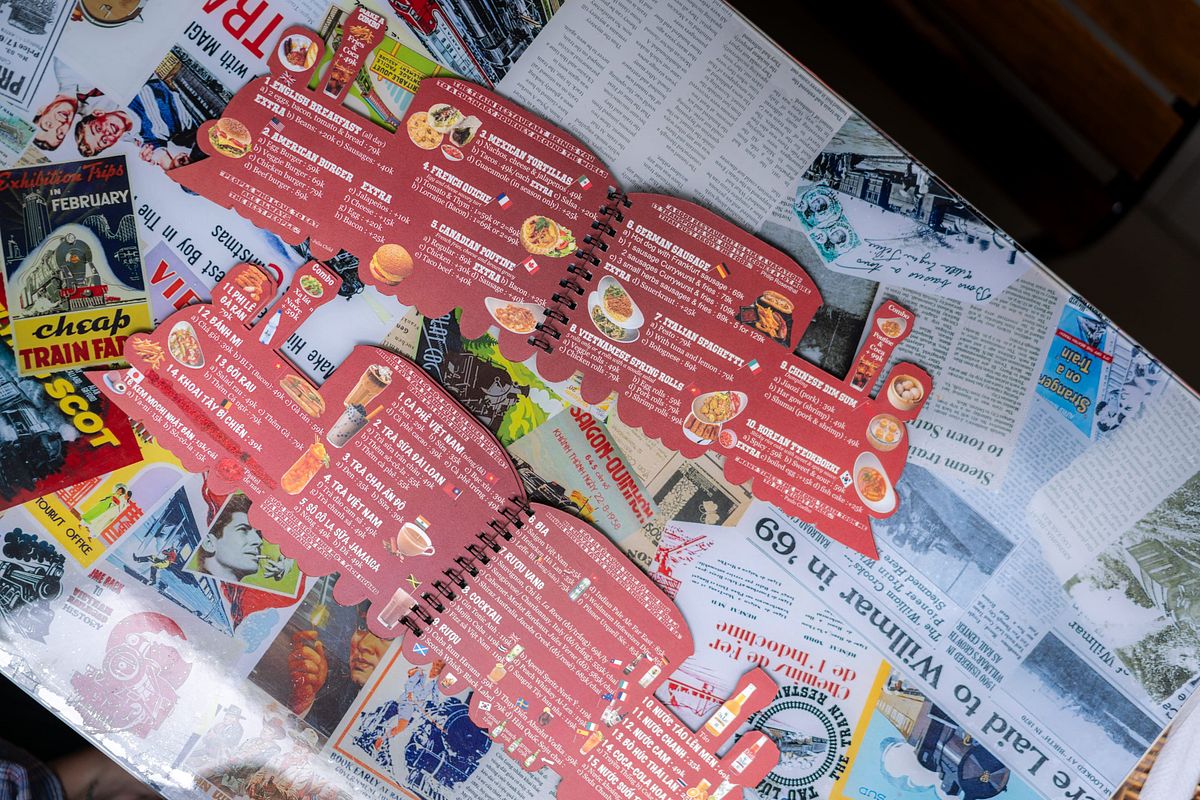 While the restaurant's main attraction is its method of delivery, its food selections are also surprisingly delectable. "The idea is to keep people in a traveling mood," he explains. The couple had picked out dishes from 10 different countries to represent a culinary passport, sampling casual street food like Korean tteokbokki and German currywurst.
We ordered a bowl of poutine and bún mộc, which were extra special, as they are food that originally hails from the couple's respective hometown in Québec and Kim Sơn. The saucy, cheesy poutine and warm, brothy bún mộc are a nice reminder to always carry a piece of home even when you're trotting the globe.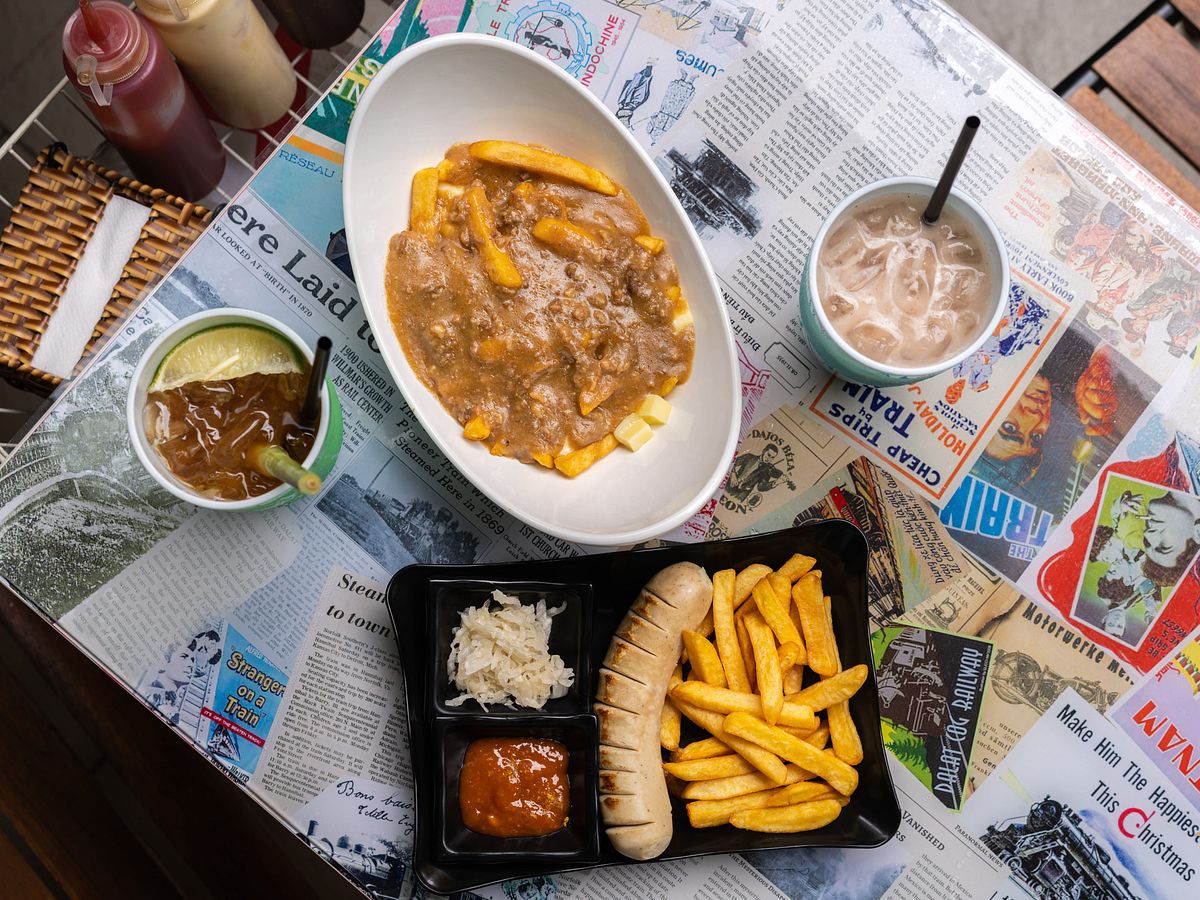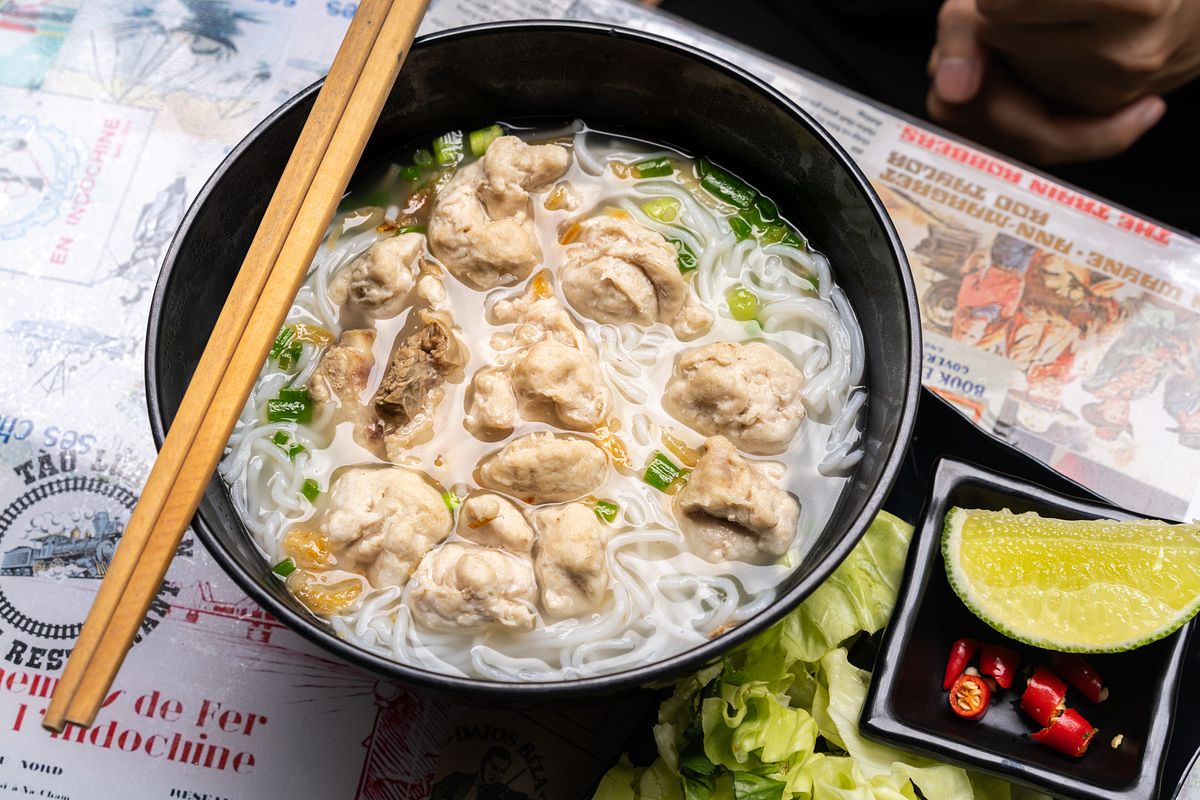 The Train Restaurant is a popular destination for families with young children, but we can't help but be giddy as the train makes laps around our dining scape. There's something about being surrounded by a miniature world, eating fries and coloring worksheets as grown-ups that sparks childlike wonder. So in a world that moves too fast, take a delightful detour from the ordinary, take a bite from a toy train, it might be the trip you never knew you needed.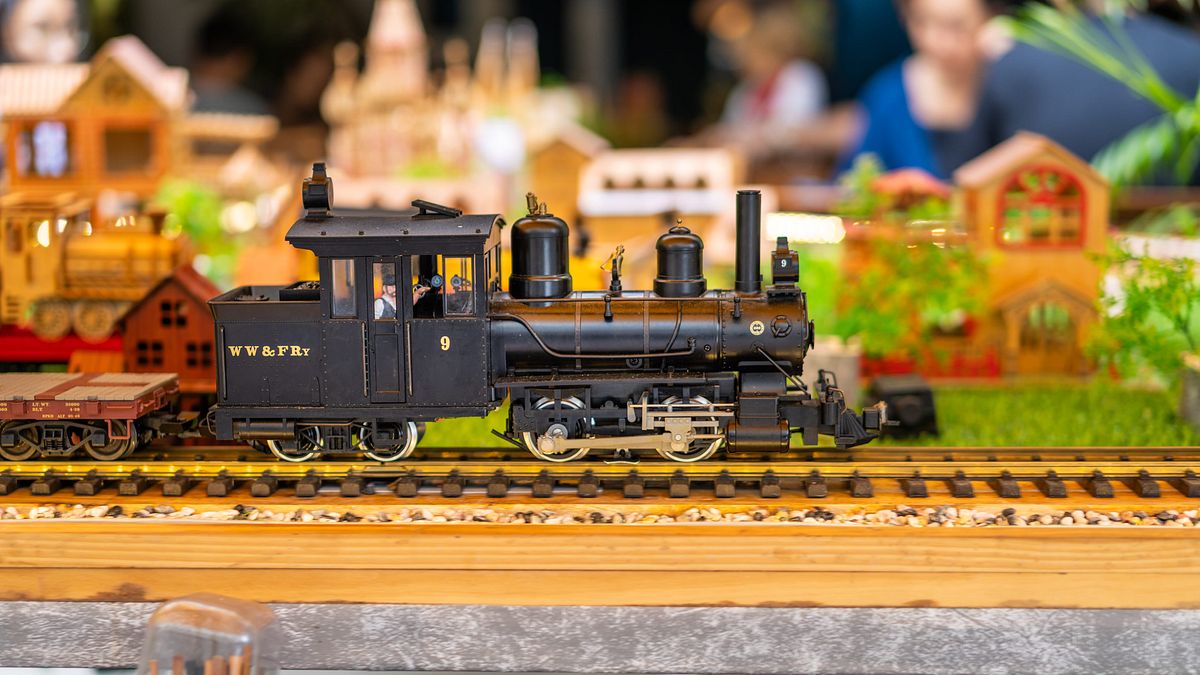 The Train Restaurant is open everyday from 8am to 10pm at 41 Nội khu Hưng Phước 1 Street, District 7, HCMC.