According to online retailer, Amazon.com, vinyl is its "fastest growing music medium." With a 745% increase in sales since 2008, many are proclaiming the comeback of our favorite analog audio (sorry 8 tracks). Now, some Vietnamese artists are looking to vinyl to increase "musical sophistication" in the local market.
But as vinyl gains ground in the West, where buyers have access to an extensive used market, many doubt that newly-pressed, pricey, Vietnamese vinyl can move beyond a niche market.
Selfishly, we want vinyl to succeed in Vietnam. The cracks and pops add a unique and authentic texture to its musical contents. It reinforces the idea of listening to a full album, providing deeper context and sometimes a story, unheard when skipping around tracks on iTunes.
Last week, Giao Huong Xanh (green orchestra) Music and Film Communication Company and Tre (Youth) Production started a project called "Vietnam Vinyl" and plans to reprelease some of Tre's 1990s albums in vinyl. Orchestral, opera and pop music will be the first genres to be produced:
"The first albums to be released on vinyl are the orchestral Vinh quang Viet Nam (Glorious Vietnam) by composer Tran Manh Hung and his opera singer wife Hong Vy, ballad Mua thu khong tro lai (Fall Nevermore) by late opera singer Le Dung, and Ha Noi mua vang nhung con mua (Hanoi in the no-rain season), a collection of pop songs about the city."
According to producers, most of these albums, set to be released in the next few months, were edited and remixed with production being done in the US.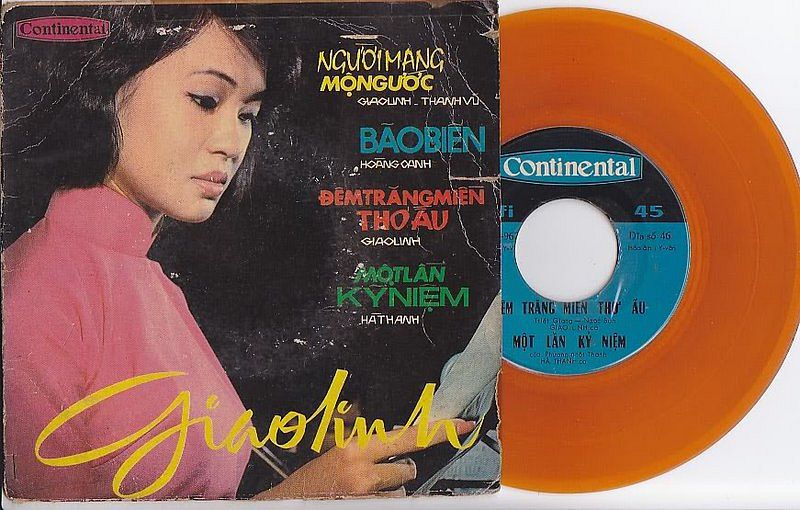 The first run is extremely limited and pricey with only 500 total copies being pressed at a sticker price of VND900,000 to VND1,240,000 each.
Composer Quoc Bao hopes that the medium catches on as Vietnamese consumers look to higher-quality products:
"Our life is getting better, but our enjoyment of music is getting worse. I think the Vietnam Vinyl project is a way to restore the elegance of Vietnam's music...[it would] stimulate a return to listening to music in the right manner."
In the end though, it will all come down to price.
In the US and Europe, one can buy used vinyl at bargain prices – around $10 for a popular album in good condition. The records being reproduced by Giao Huong Xanh however, plan to be sold for up to VND1,200,000, making them far out of reach for the normal consumer. With illegal downloads and CDs the norm in Vietnam, it's hard to see how the masses will shell out big bucks for vinyl. Oh, and record players are going for VND9.8 – 85 million (maybe you could steal one from Cuc Gach Cafe? Just kidding...).
Vietnam Vinyl is "risky, too risky," admitted Thuy, a Giao Huong Xanh employee, saying that the medium is relatively known by locals and remains a hobby due to high prices.
Phan Van An, deputy director of Tre Production echoed this, saying that he expects "many difficulties, resistance, and ignorance."
Thuy said that if pop singers like Ho Ngoc Ha, My Tam, and Dam Vinh Hung release vinyl records, their fans would be willing to buy them:
"I believe that vinyl records have stood the test of time and returned, and will become popular instead of remaining exclusive, especially records of Vietnamese music."
Even then, we're not covinced this would make the difference.
Here's a slideshow of some pre-1975 Vietnamese vinyl albums:
Related Articles:
Old Songs and Album Covers from Vietnam's Musical 'Golden Era'
Vietnamese Artists Mix Electronic, Hip Hop and Traditional Music
[Thanh Nien // Image via Katie Mollon]