How lucrative is being a professional basketball player in Vietnam? To help make ends meet, "some work at fast-food restaurants," admits Ho Chi Minh City Wings small forward Nguyen Ky Quan.
That reality is a stark contrast to the United States, where players sign US$100 million contracts and the National Basketball Association's (NBA) biggest stars are household names, appearing in movies, commercials and ad campaigns while providing fodder for reality shows and media gossip. Up to 20,000 fans attend each game, and TV broadcasts bring the action to millions more on a nightly basis. Finances and popularity seem to be the greatest aspects separating the game abroad from here in Vietnam.
Compared to America, where basketball was invented in 1891, the sport is relatively new to Vietnam. First introduced informally through various tournaments and clubs in large cities, the country welcomed its first professional team in 2009, when the Saigon Sports Academy (SSA) created the Saigon Heat to play in the new ASEAN Basketball League. Based on the positive response to the Heat's performance, SSA's ownership entity, XLE Group, created the Vietnam Basketball Association (VBA) in 2016. Now nearing the end of its fourth season, the tournament currently includes six teams from four different cities that play a 15-game regular season, followed by the playoffs.
The level of play in the VBA is impressively high, with players zooming up and down the court, dribbling the ball as if it were an extension of their arms. Athletes jostle, slam and occasionally shove into each other for leverage and loose balls, with the occasional slam-dunk bringing fans to their feet. And games come with all the fanfare often associated with the sport, including mascots tossing free T-shirts into the crowd, skilled cheerleaders with impressive dance performances, lighthearted halftime activities and raucous hip-hop music playing behind an air-horn assisted hypeman.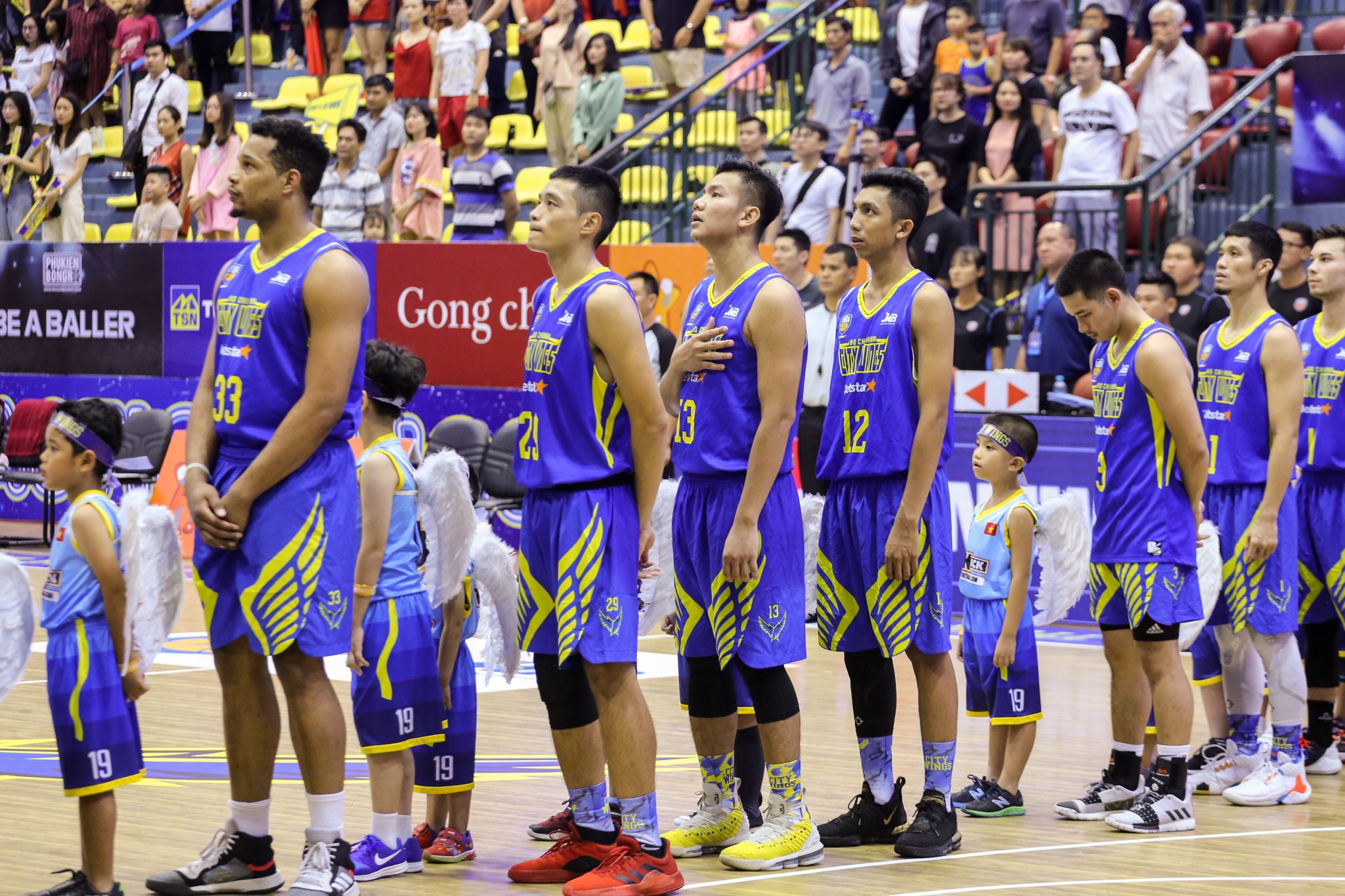 But for all the similarities with its western iterations, there are clear differences in the VBA, none starker than what life is like for players in the league. There's the obvious financial factor: it was reported last year that Vietnamese players received an average of VND12 million per month, significantly less than most V-league football players of marginal success, and nothing akin to the NBA, which just saw a plethora of deals worth more than US$100 million. It's more than just money though. Many players still live at home with their parents and drive their own motorbikes to games, squeezing in past indifferent street food vendors. When the Wings arrive at their District 3 gym, they aren't met by fans clamoring for autographs; they enter alongside old ladies who share the gym for yoga classes and kids practicing martial arts
A Look Inside the League
Born and raised in Saigon, 22-year-old Nguyen Ky Quan has confidence and charm that belies his young age. He sat down with Saigoneer to explain why he started playing basketball, his three years in the league, and where he sees the sport headed in Vietnam.
The first time Quan saw his friend with a basketball in middle school, he was enamored and knew he had to play the game. The desire made sense for someone who was already 1.8 meters tall by the time he was in eighth grade. In line with stereotypes, his parents did not support his passion, fearing that it would impact his studies. He explains that one of his older sisters devoted too much time to sports and ultimately dropped out of school on account of it. He didn't let his parents discourage him though, and played with various local teams and in pickup games while still keeping his studies up. He credits his sister with supporting him, and also making sure he didn't make the same mistakes she did. He made a special point to thank her and express his gratitude for being the one person who always believed in him.
His hard work paid off; three years ago, while just starting out at university, he was drafted by the Wings. In the period since, as he's matured and gotten stronger, his playing time has steadily increased, alongside his stats. A major contributor, he takes pride in the team's success: the Wings have gone from the very bottom of the league, with a single win in 2018, to a record of eight wins and seven losses which landed them in the playoffs for the first time in three seasons.
Anyone who has flown a domestic airline may rightfully feel cramped, so imagine what it is like for these tall athletes, as they have to get to games across the country flying coach. This, exacerbated by motion sickness, represents the worst part of playing in the VBA, according to Quan. But it's more than worth it to get to play the game he loves and help inspire the next generation. He also seems surprised, but humbled, by some of the attention he has received, including random people online asking him to endorse shoes and other items on Instagram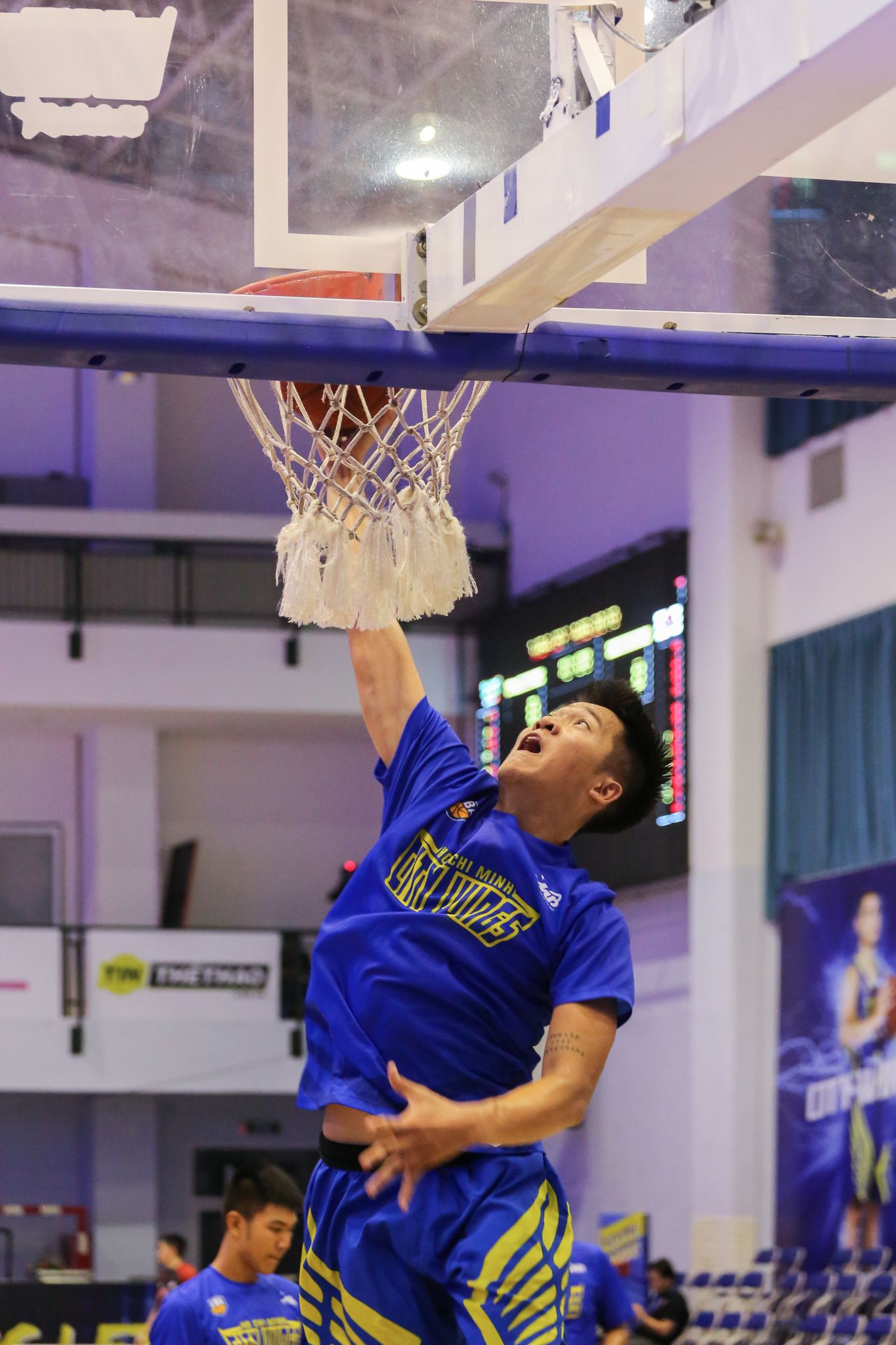 "Get hungover," Quan says with a grin when asked what he will do if the Wings win the championship. Such a state would be a drastic change from the healthy regimen he diligently maintains during the season. As with most professional sports, the players must be in peak physical form. With two-a-day practices, gym sessions, away trips and games, there isn't much time to party, after all. Not to mention the second jobs, family obligations and education that many players need to manage.
Whether they win the championship or not, basketball will hardly end for Quan when the season comes to a close in October, however. He'll play with some local clubs and continue to supplement his income by coaching, a common practice among players. And in the fall, university classes resume. He is pursuing a degree in sports management and events in the hopes of a finding a career in the field once his playing days end. With his father and two sisters now in Canada, Quan feels responsible for providing for his family here in Saigon, which keeps him motivated to study hard.
Growing Pains
As with any new entity, the VBA has faced obstacles in its development. Rules have needed revising and fans educated. As recently as last year, it wasn't uncommon to see people in the stands cheer wildly at any basket, regardless of which team scored it. But now, Quan says fans understand a lot more and have a greater appreciation for the nuances of the game.
One of the challenges the VBA has had to deal with is its reliance on foreign players. Per league rules, each team is allowed one foreign-born player of any race or nationality and two foreign players of Vietnamese descent. The rest must be Vietnamese, with a number coming directly from each team's home city. Their roles are abundantly clear the moment one sees a game Thanks in part to their early exposures to the game and natural physiques, the foreign players usually score the majority of points and have the most time with the ball, to say nothing of their prominence on banners, promotional material or press. Their presence, along with the mostly-foreign coaches, necessitates that teams use English and hand signals on the court to communicate
Some critics attest that the foreign players, while noticeably larger and more experienced, don't represent the greatest the west has to offer, and yet still get the majority of attention. Quan admits that, at least initially, there was some jealousy from the local players. But over time he said attitudes changed as locals came to see them as having skills to impart. And as local talent rapidly improves, beating the interlopers provides a source of pride. Still, Quan says he looks forward to the day when all-native players comprise the league.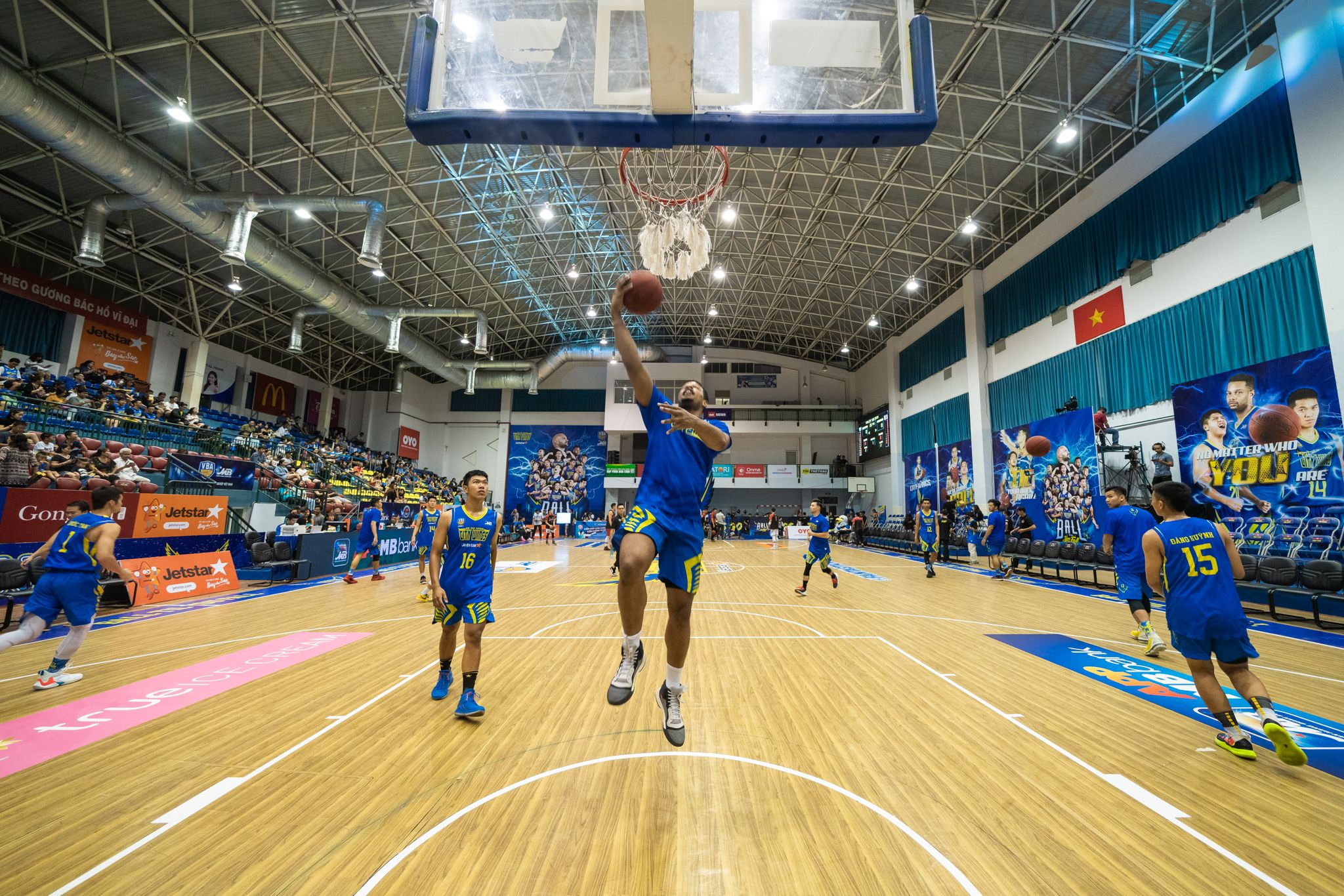 The Future of Basketball in Vietnam
"I'd like it to be like the Philippines," Quan says, referring to that nation's rabid love for the sport. He knows that means reaching future fans and players when they're young. In the past decade, there has been an increasing number of people committed to achieving the same goal. For the last five years, the NBA has held clinics and classes as part of a global outreach and education program called NBA Jr. In 2010, Mychal Tu Nguyen, a 44-year-old Vietnamese-American residing in Saigon, founded the Vietnam Basketball Academy and Vietnam Sports Academy to develop student athletes.
It's not impossible to envision a day when those initiatives lead to Vietnam producing a local talent that rises to the sport's highest international stages, like Yao Ming, Yuta Tabuse or Hamed Haddadi. When asked if he foresees Vietnam ever making the Olympics, Quan says with a laugh, "Maybe in 20 or 30 years." That should hardly be the only indicator of the sport's success here, of course. Getting young kids interested and involved while building fan awareness is a tangible goal. As Quan explains: "I want everyone in Vietnam to love basketball like they love football."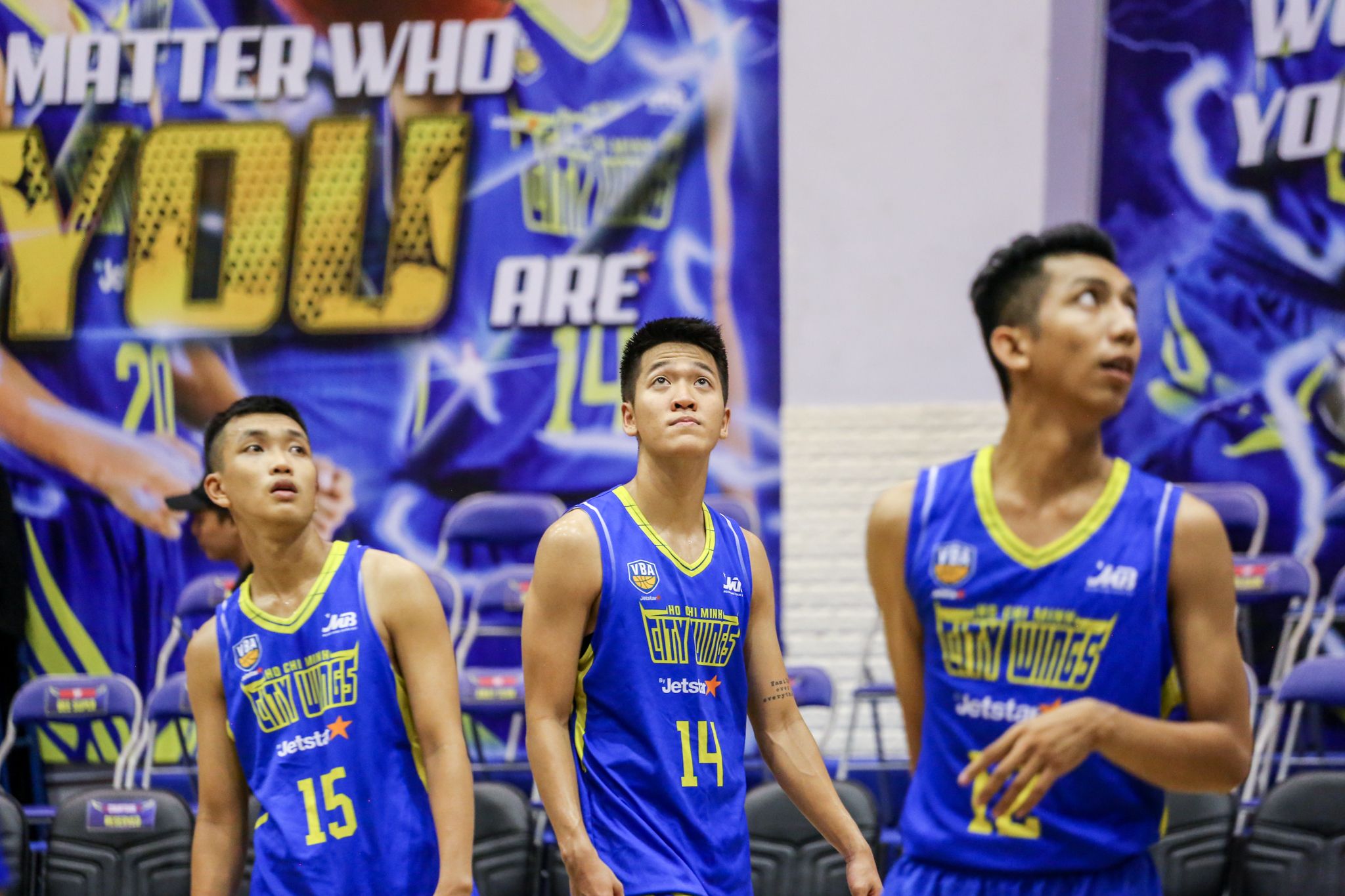 The rise of basketball involves more than just local institutional efforts, however. Social media has brought countless trends, styles and hobbies to Vietnam in the last two decades, and basketball is no exception. In 2015, Vietnamese television began broadcasting live NBA games. Streetwear fashions and sneaker culture are also bringing the sport to new fans through tangential means
One can certainly identify many macro and micro trends in the VBA: the increased influence of foreign cultures accelerated via the internet; the rise of Vietnam's middle class and increased ability to pay for experiences; continued deference to international experts; commodification of hobbies; the role of corporate entities in daily life; the evolution of celebrity culture and key influencers. But not everything needs to function as a thesis, and life is better when some activities can remain pure escapism.
Ultimately, it may not be fair, let alone useful, to view professional basketball in Vietnam in contrast to its existence in other nations. Whether it is inspiring young people to take on a healthy pastime, providing Saigon residents a fun, affordable and unique activity to enjoy together, or giving sports fans a means to celebrate and bond, the introduction of the VBA is without question a great development for Vietnam.