If you are thinking "another bar in town," think again. Last month, The Observatory officially celebrated its opening, with the photographic exhibition of Mai Huyen Chi and an incredible line up of music and visuals, including a mix between electronic and traditional Vietnamese music.
Situated at the corner of Le Lai and Ton That Tung, The Observatory occupies a two storey building which seems to have been designed perfectly for what the owners had in mind. There are distinct spaces – a cosy bar on the ground floor, main lounge/dance floor, gallery and terrace on the second floor.
So far, you would say "OK, how is that different from other bars?" The observatory is 'divided' in three purpose areas: the information area, the gallery and the multi-purpose space.
The information area features an interactive map of Saigon, 'Saigon Underground', which offers information for Saigonese and visitors about what's going on in the buzzing city. It is subdivided in six categories – art collectives, venues, Vietnamese food and drinks, music promoters, art spaces and concept stores. There are many reasons to love this idea, it includes, for instance, shops that mainly offer online services or do not have a physical location which naturally make them less known to new comers. Also, since the Observatory is a walk away from the backpackers' area, I really hope that it will give visitors and tourists an honest gateway to what our beautiful and eclectic Saigon is really about. Information is hard to get here, most venues and events are promoted via Facebook (which are hard to know unless you or your friends live here) and travel guides tend to mention the usual suspects.
Saigon is more than just Apocalypse now, cheap beers on Bui Vien and insane motorbike drivers.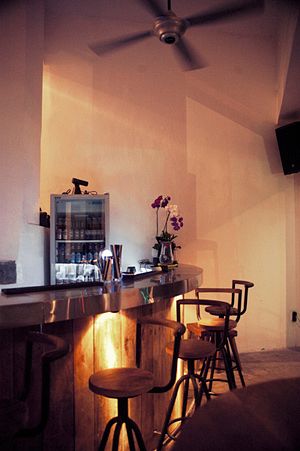 The gallery area is intended to be an experimental platform rather than a 'gallery' in the traditional sense of the term. It is about promoting contemporary, innovative art and also about evolving Vietnamese art. The owners are at times responsible for its programme but they happily allow other curators to run exhibitions or workshops.
The multi-purpose space welcomes music performances, screenings and visual art.
'Retractor' is a reading group where people can freely join to talk about books and ideas. It runs every Tuesdays from 6.30 p.m. for about two hours.
Every Thursday night is dedicated for the 'Optimistic club,' a night for experimental DJs and good vibes.
As part of their screening programme, they are working with Doc Lab from Hanoi and the Future shorts.
Sundays will be a bit more chilled out with 'We should hang out,' an afternoon of DJs and barbeque on the terrace.
There is more but I do not want to spoil the surprise. Their intentions are quite ambitious but they seem to know what they are doing.
"We want to specialise on smaller events as much as possible. We do not want to repeat events that other people or venues have done. Our programme reflects the Observatory personality," one of the owners said to me during our chat.
I could not agree with him more. With the exception of few other spots in town, there is a tendency in Saigon for people to participate in the cultural and the night scene mainly through events. Consequently, to enthral customers, venues often come up with events that do not reflect the personality of the place or of the owners, making everything look a tad too similar.
You should keep the Observatory under your radar as one of the new players in town that will add an original mix to the exciting and, I am happy to say it, growing alternative cultural scene.
Note: The Observatory has moved to 85 Cach Mang Thang 8, District 1, as of August 2018.