There are few things that surprise us in Vietnam these days – a gaggle of geese draped from a motorbike, electricity workers on precarious ladders, hell, even a volcanoes sprouting from the streets. But a recent creation from Swiss Architecture firm, Bureau A, may have you doing a double-take. For you see, it's a 7 story tricycle that houses a mobile kitchen and performance space.
Deezen reports that the bike was built for Tadioto, a local bar and cultural center. The frame is made from blue-painted steel tubes, its roof from PVC and even features battery-powered electric fans and lights.
According to Architect Daniel Zamarbide, the main purpose of this mobile device was to, "do a sort of humble 'performance' using local know-how and culture."
A more detailed description and diagrams were offered by Bureau A:
Everything is dense in Hanoi, including the milk in your coffee. Everything is used. In unexpected ways "things" live different lives, they reincarnate continuously into new functions, passing from one life to another without a moment of respite. In Hanoi, this magic of creativity ends up in everyday life as opposed to art museums. The blue, a vertical Bia Hoi for Tadioto accompanies this creative movement.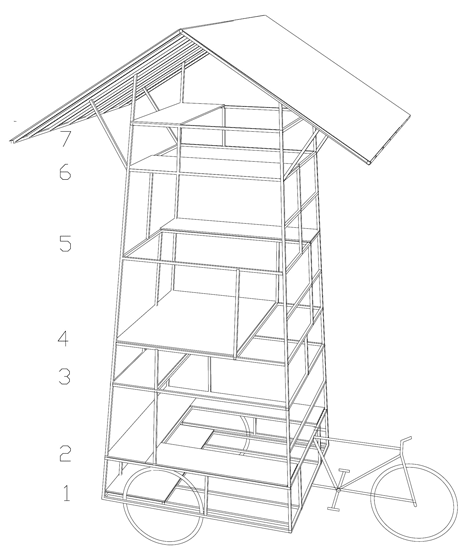 Conceived as a support for small pieces of lives, as an ephemeral house or as a vertical street food restaurant, it might deviate from its original yet wide function and become something else, an unexpected urban animal. A mini-concert hall? A poetry podium ? It probably just needs to circulate, to stroll around the busy streets of Hanoi and then it'll decide by itself which disguise to adopt.
You can check out the mobile in action in the video below:
---
Related Articles:
- Behold: The Invisible Bike Helmet
- Vietnamese Architects Unveil Awesome Modular Bamboo Home Design
- KN House: Blurring the Line Between Inside and Out
---
[H/T Dezeen // Photo via Boris Zuliani]